The wings from these spots are hot—in more ways than one!
While we love Buffalo cauliflower, there are times when we crave something a bit heartier. Thankfully, there are plenty of filling plant-based chicken wings around town that are so realistic, you'll be doing a double-take. Here is a list of the best vegan wings in LA.
Food Truck
From Buffalo, St. Louis BBQ, and Nashville to Lemon Pepper and Garlic Parmes'n, Drippin' Wangz has you covered in the plant-based wings category. For those who prefer the drumstick vibes, order the "bone-in" wings. If you'd rather eat your hotties in one fell swoop, request the boneless option. Whichever version you choose, get ready to be blown away by every bite.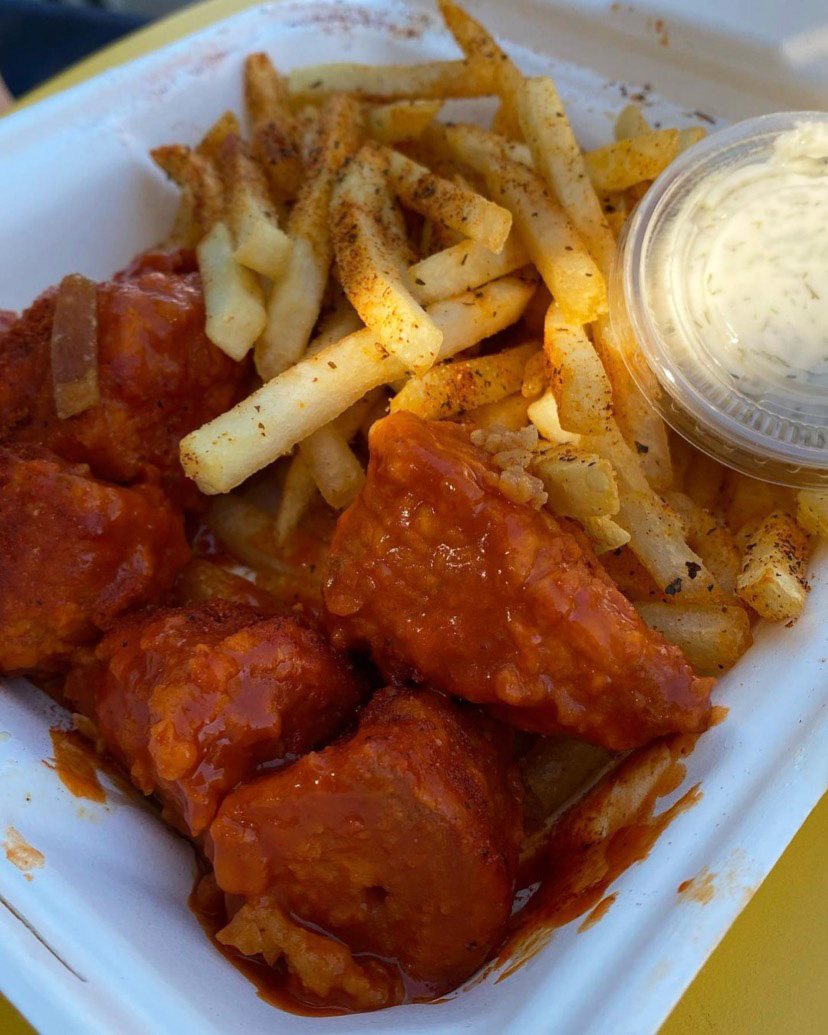 Photo credit: @vegan_aficionado on Instagram
Hollywood
Doomie's Home Cookin' is known for crafting up wickedly unique and tasty vegan meals and their Buffalo Legs are no exception. Their realistic rendition of this finger-licking appetizer comes with four pieces of meat-like drumsticks on wooden dowels. They're tossed in Buffalo sauce and served with a side of vegan ranch to complete the flavor profile. Follow up with an entree, side, or dessert if you're extra hungry!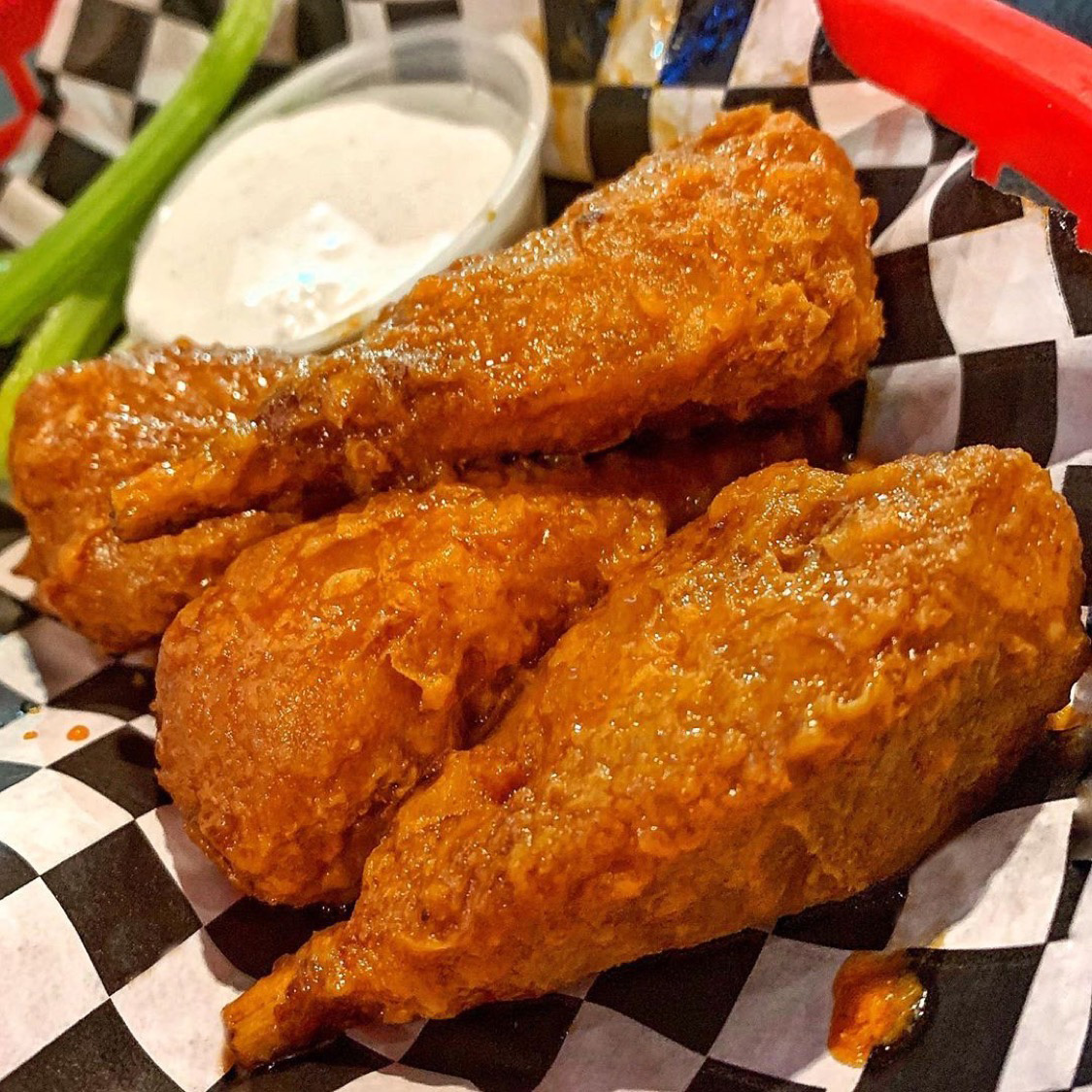 Photo credit: @veganbuffaloboys on Instagram
Silver Lake
This delicious and affordable vegan spot sources all of its ingredients from small, organic farms in the community. My Vegan Gold's Vegan Drumsticks are made of soy protein and come slathered in Buffalo or BBQ sauce. Each order comes with four wings and is only $8. What a steal!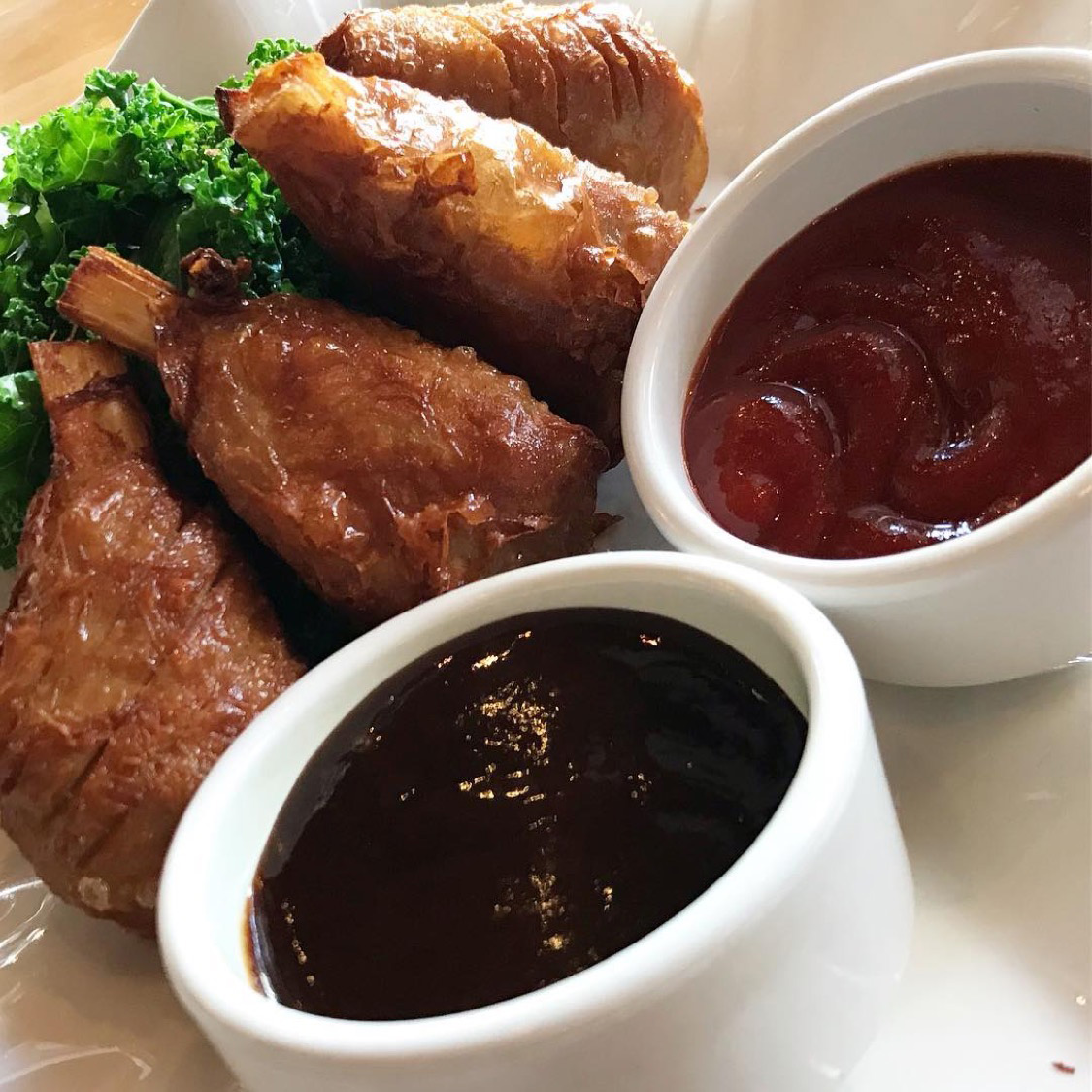 Photo credit: @vegginny on Instagram
Downtown LA & Food Truck
Whether it's #WingWednesday or any other day of the week, going to The Vegan Hooligans is always the move. This plant-based spot is known for serving nostalgic comfort foods like burgers, patty melts, milkshakes, fries—and of course, wings! Their wings can be made with Buffalo, BBQ, or Mango Habanero sauce, and every order is topped with a drizzle of vegan ranch and sprinkle of green onions.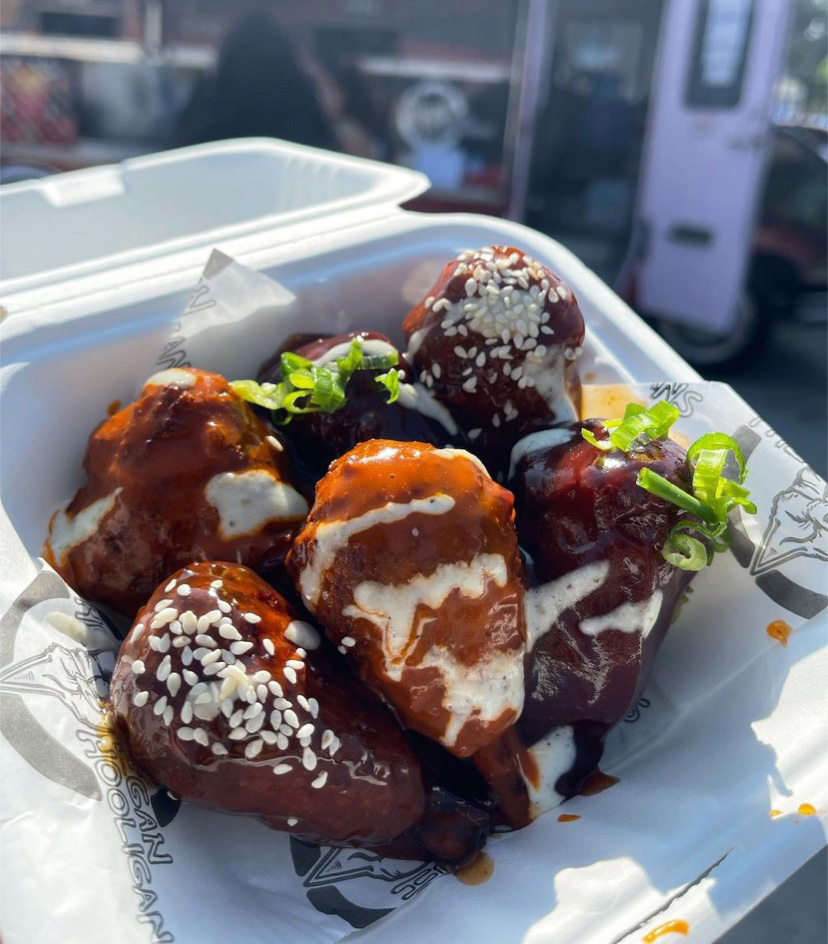 Silver Lake
If you have yet to check out The VTree, you're missing out on some of the most flavorful vegan soul food out there! Chef Velvet's famous Fried Drumz are seasoned to perfection with 32 spices. You can order these crispy, flaky handhelds in original or Cajun varieties, and there's a gluten-free option if that's your jam.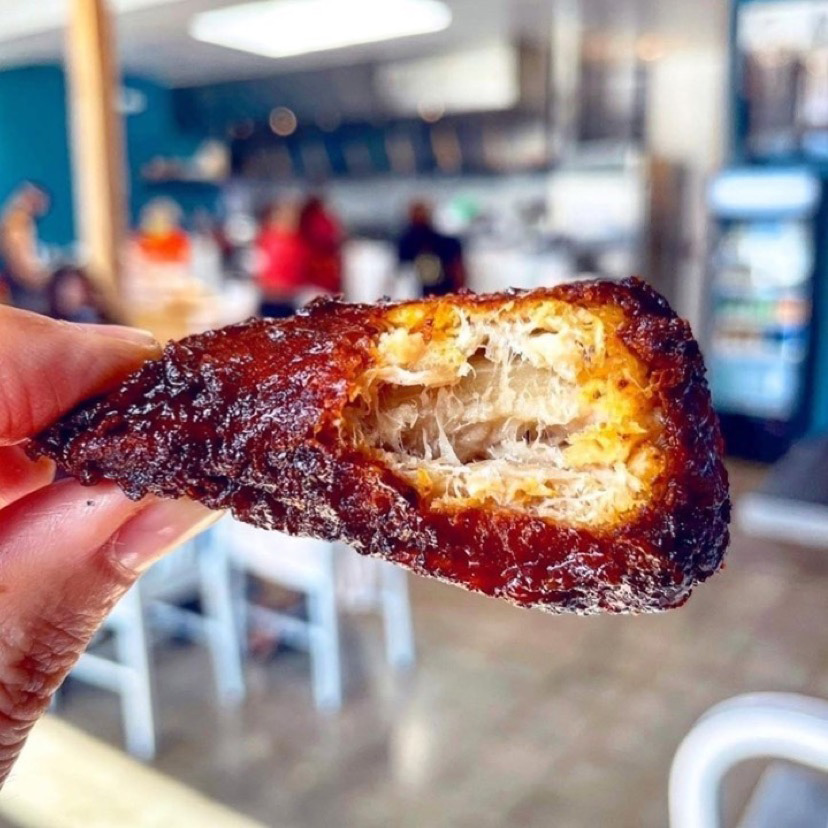 Photo credit: @chefchloe on Instagram
Pop-Up
If you want to earn the official vegan wing enthusiast status, order from this vegan pop-up. Wingz CA's menu features several sauce and dry rub options like Garlic Parsley, Lemon Pepper, BBQ, Jerk Chicken, Buffalo, Mango Habanero, Nashville Hot, and—for all you daredevils—Ghost Pepper. Be sure to order a side of ranch or "honey" mustard!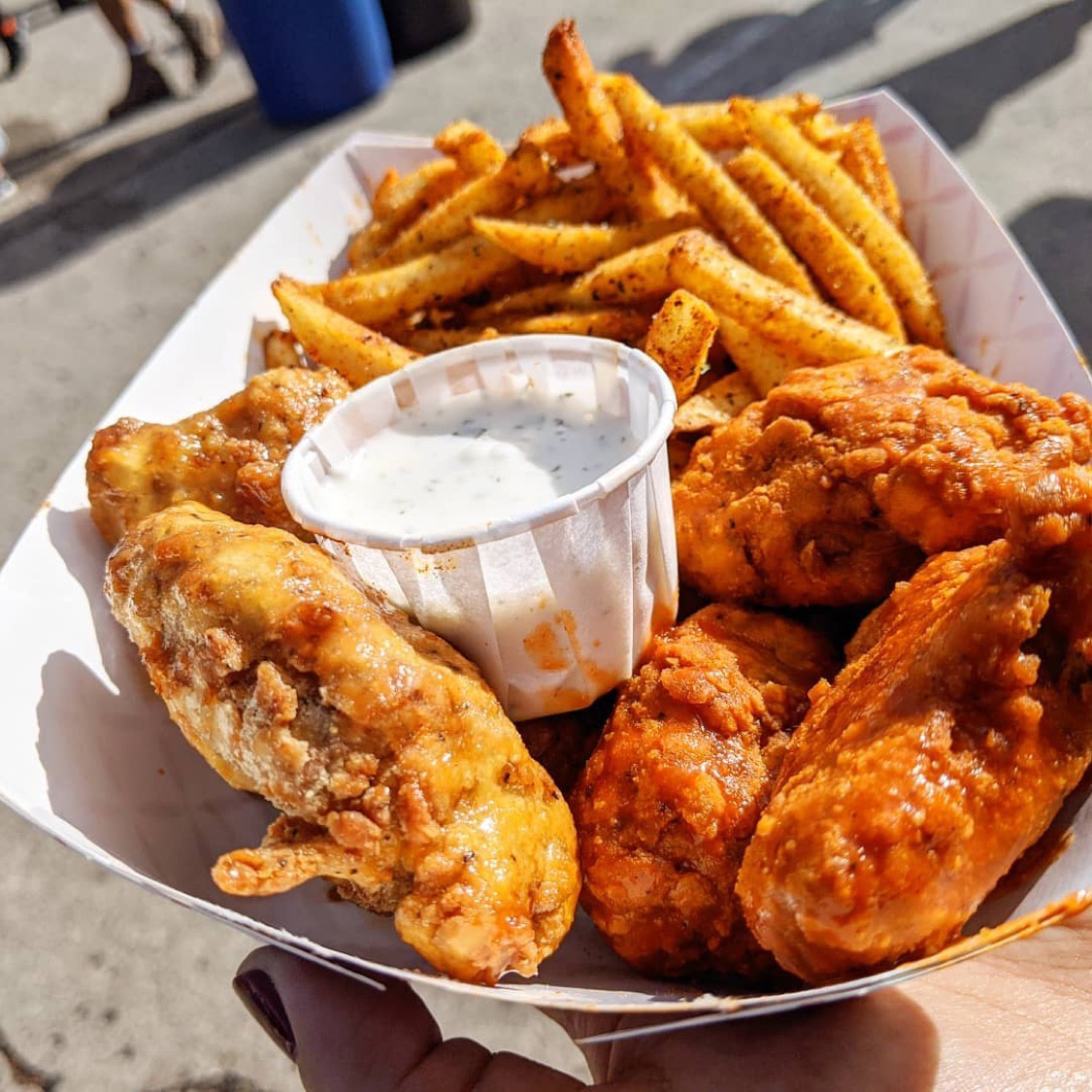 Del Rey
In addition to offering flavorful vegan Thai food, LA Vegan dishes out vegan wings! Their Hot Wings come with five veggie-based chicken pieces that are deep-fried and flavored with a special hot sauce. Can't handle the heat? No worries! You can select the spiciness level to meet your taste buds where they're at. Pro tip: Order a glass of Thai Tea to wash it all down.
Photo credit: @thatcantbvegan on Instagram
South LA
While this plant-based soul food spot is known for making jackfruit-centered dishes, Jackfruit Cafe's vegan drumsticks are just as buzzworthy! You can try the wings tossed in teriyaki sauce and placed on a bed of pasta, on top of a soul food plate with mac 'n' cheese and cornbread, or with your favorite dipping sauce.
Photo credit: @kedishaeats on Instagram
Melrose
Vegan-Friendly
Love Baked Wings offers vegan wings that are made from a secret blend of chickpeas and various seasonings done up in your flavor of choice, like Spicy Lemon Pepper or Vegan Buffalo. Amp up the heat with a side of vegan Buffalo sauce or balance out the spice with vegan ranch.
Carson
Vegan-Friendly
The Carson location of this minority-owned restaurant has a few plant-based options—including wings! Orleans & York Deli's Vegan Lil' Hotties with Fries is one of our favorite items to order. The plate comes with vegan chicken wings coated in your marinade of choice (we like the Lemon Pepper flavor) and served with a side of fries. While you're there, we'd suggest ordering the Vegan Gumbo Mumbo Platter to take home with you! Please note: While their Vegan Lil' Hotties and Fries dish is made with all-vegan ingredients, these items are cooked in the same oil as their shellfish.