Check out our list of plant-based grocery products from Walmart's store brand lines.
From supercenters to neighborhood markets, shoppers can find a wide variety of plant-based products at Walmart stores. Of course, these chain grocers offer cruelty-free basics like fruits, veggies, grains, and beans, but more recently they've added tasty vegan alternatives to veg out on, as well! Beyond the brand names, Walmart's store brands, Great Value and Equate, have joined the movement in offering both purposefully plant-based and accidentally vegan products, and you need to try them ASAP! Check out our list of the best vegan store brand products at Walmart.
Refrigerated Items
Great Value Plant-Based Shreds
Available in mozzarella, cheddar, and a blend of mozzarella and cheddar, these Plant-Based Shreds are a Walmart must-grab. This vegan cheese is free of both soy and gluten and is made in part from potato starch and coconut oil. We see vegan nachos, veggie flatbreads, and homemade mac 'n' cheese in our future.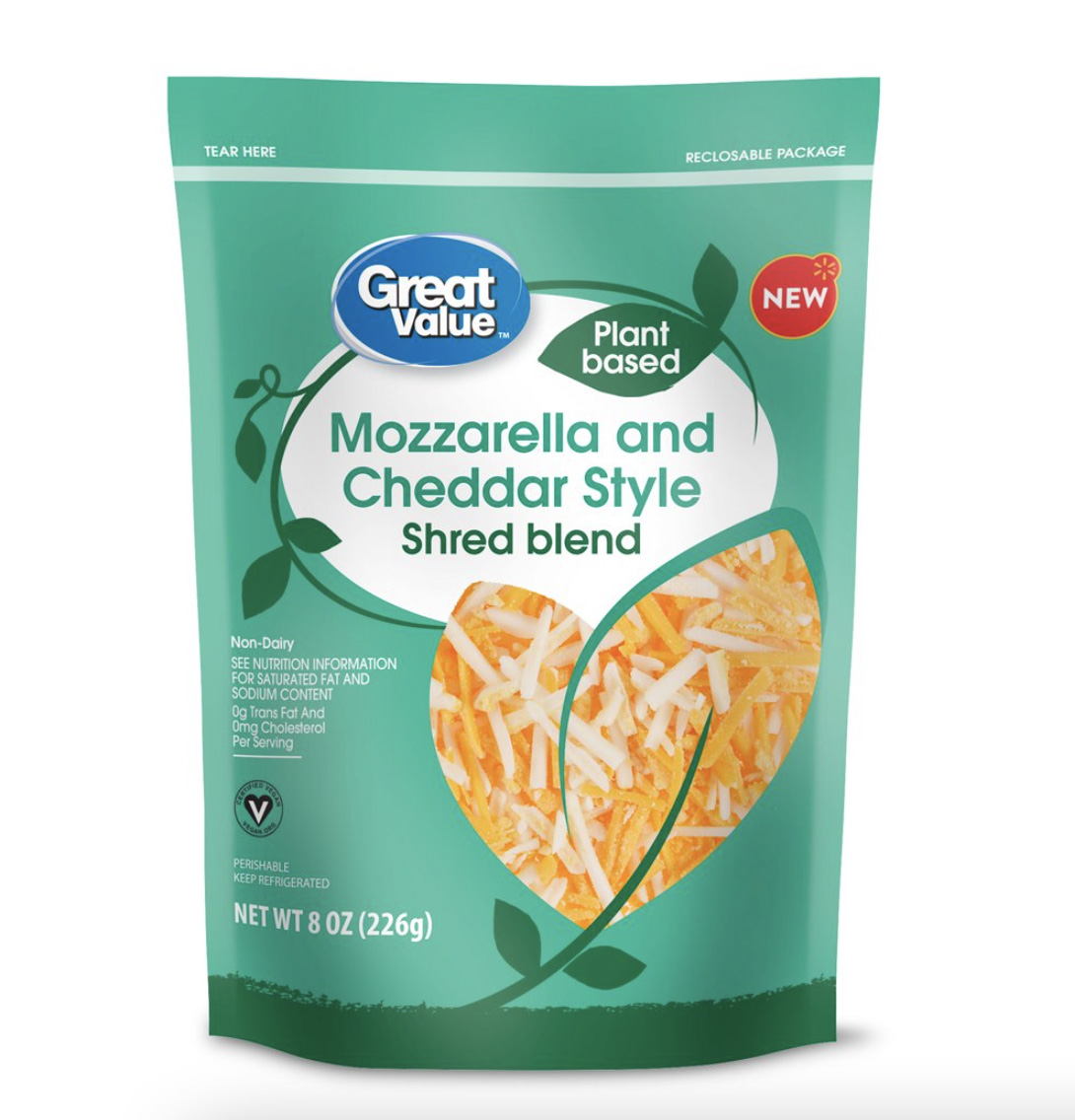 Great Value Almond and Soy Milk
The Great Value brand is at it again! The Walmart store brand has several non-dairy milks to choose from, including almond milk in original, original unsweetened, vanilla, vanilla unsweetened, and chocolate options. Shoppers can also purchase original soy and organic vanilla soy milk at this American grocery store.
Frozen Items
Great Value Chick'n Patties
Another Walmart staple—Great Value Chick'n Patties. Each patty is packed with 12g of plant-based protein from wheat and faba beans, making it a tasty addition to a satisfying meal. Load a toasted bun with chick'n, veggies, and your favorite dips, or go totally rogue with veganized baked chicken parmesan.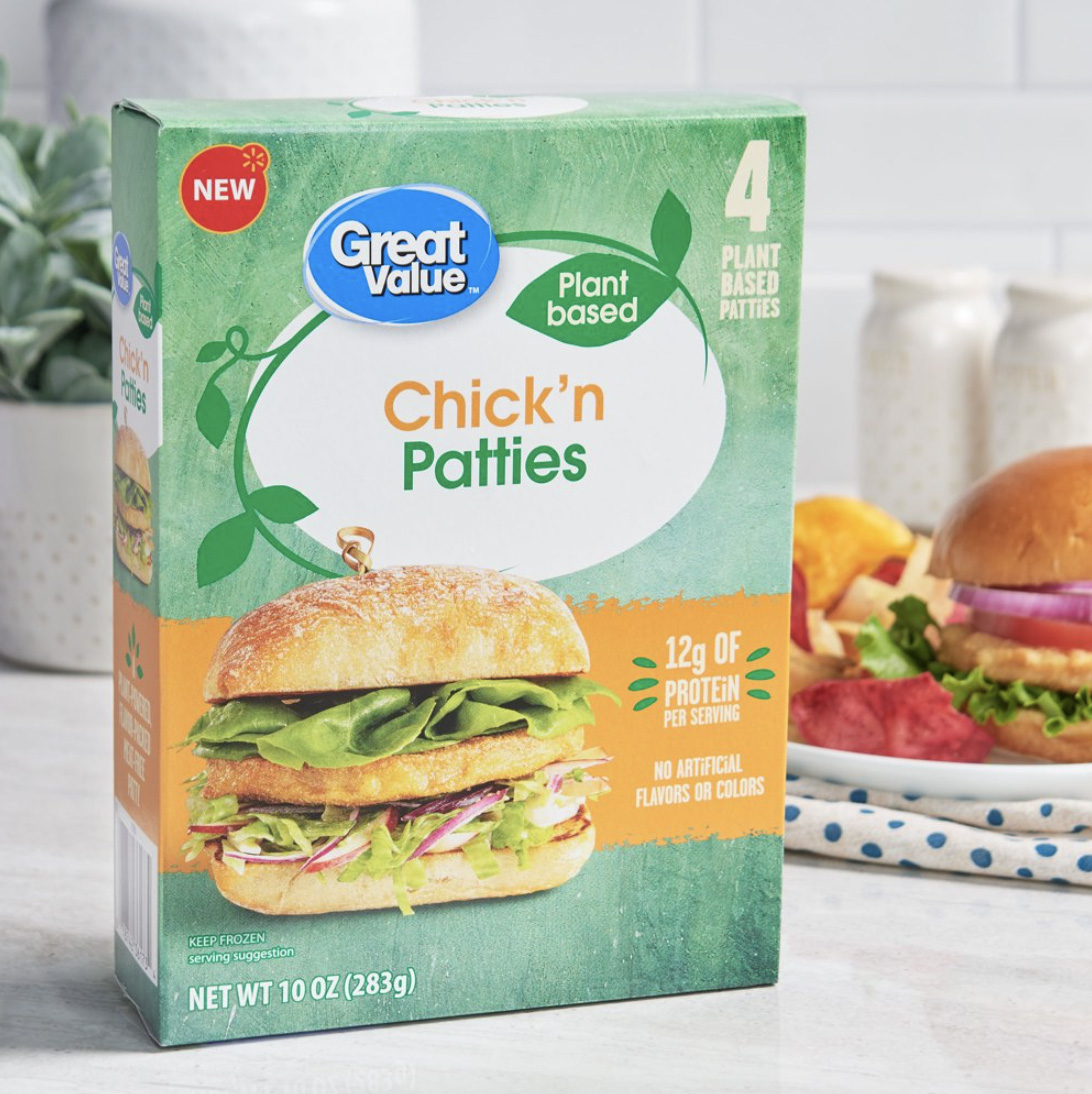 Great Value Chipotle Black Bean Veggie Burgers
We can already picture these protein-rich legume burgers grilling away at our next backyard BBQ. Made with black beans, brown rice, and a variety of veggies and spices, these Chipotle Black Bean Veggie Burgers are bringing the heat and packing the protein (each patty contains 10g!). Three words: add to cart.
Great Value Chick'n Tenders
Another freezer snag that you can't pass up, these plant-based Chick'n Tenders are always a hit. Ready to pair with veggies, fries, and dipping sauces aplenty, this nostalgic snacker is a crowd favorite. Whether you're feeding a big group or a hungry party of one, add these vegan tenders to your menu.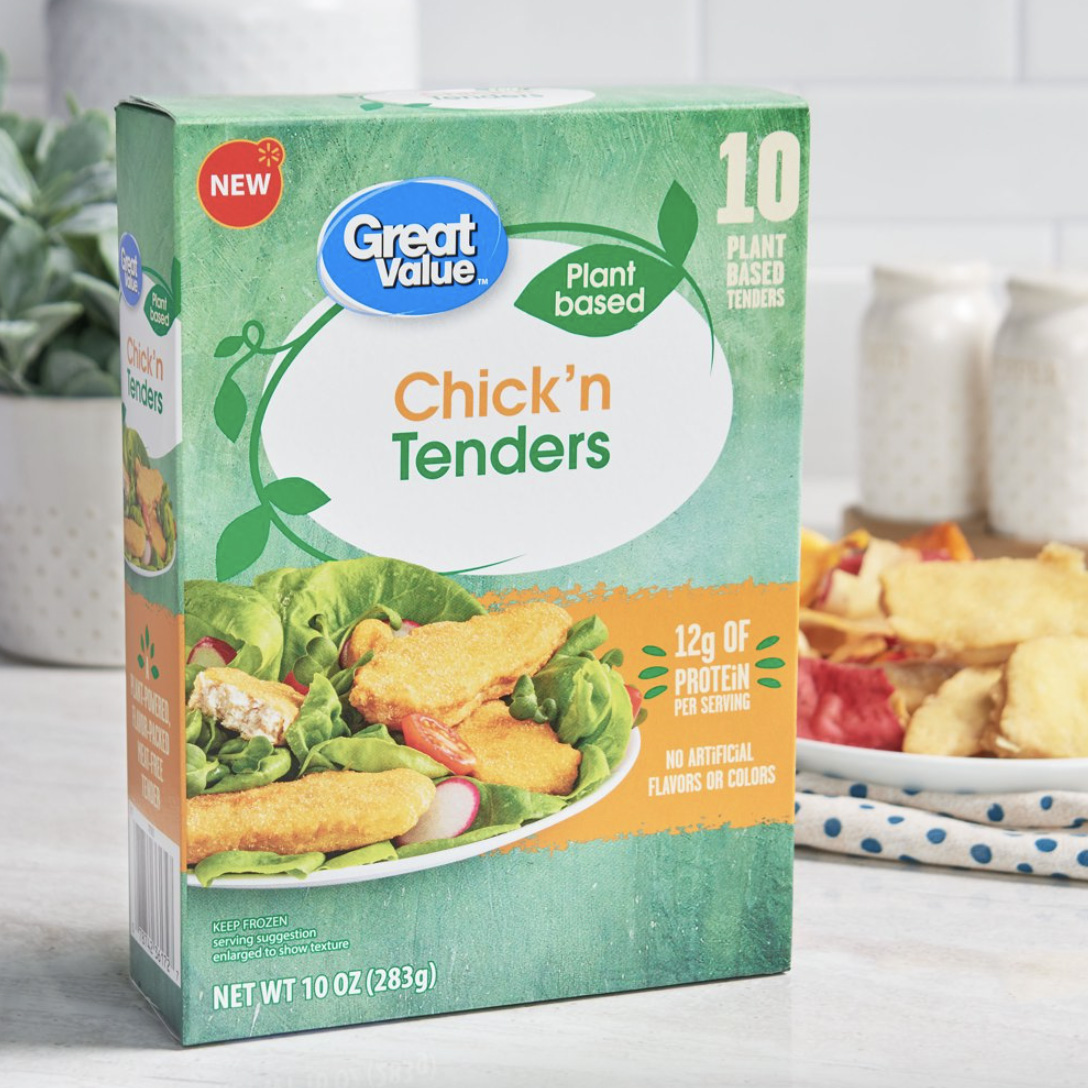 Great Value Original Veggie Burgers
Perfect for burgers, wraps, sandwiches, and more, these Original Veggie Burgers are where it's at—Great Value by Walmart seriously has the hookup. The plant-based protein is sourced from soy, faba beans, and peas. Each patty contains … wait for it … 18g of protein per serving! These freezer favorites are sure to keep you feeling full.
Shelf-Stable Items
Great Value Twist and Shout Chocolate Sandwich Cookies
These store brand sandwich cookies were made for dipping in peanut butter and dunking in plant-based milk. With tasty cocoa cookies filled with dairy-free cream, what's not to love? Keep these Twist and Shout Chocolate Sandwich Cookies in the pantry for the moments when you just need something sweet.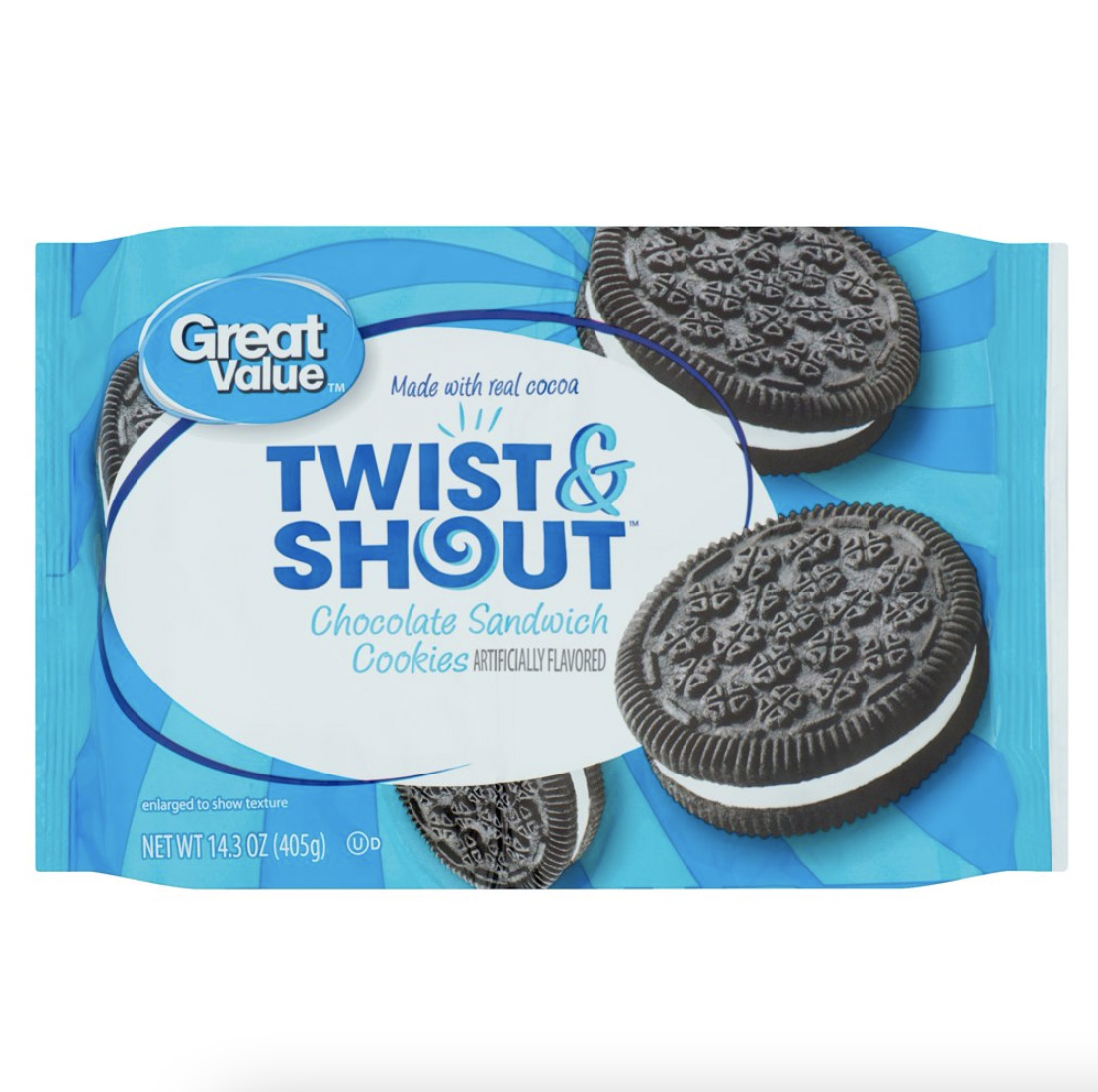 Great Value French Vanilla Almond Granola
Whether you're pairing with soy milk, topping coconut yogurt, or snacking by the handful, this French Vanilla Almond Granola from Walmart is a must-try. This store brand cereal is tasty, crunchy, and much less expensive than name-brand varieties. Keep some on hand for plant-based parfaits and smoothie bowls alike.
Great Value Organic Lentil Soup
Keep a few cans of this Organic Lentil Soup on hand for easy meals, soup starters, and unplanned sick days spent on the couch. This nutritious canned soup is packed with lentils, organic veggies, and spices. We love this convenient comfort meal served over potatoes or rice for an extra boost of plant-based goodness.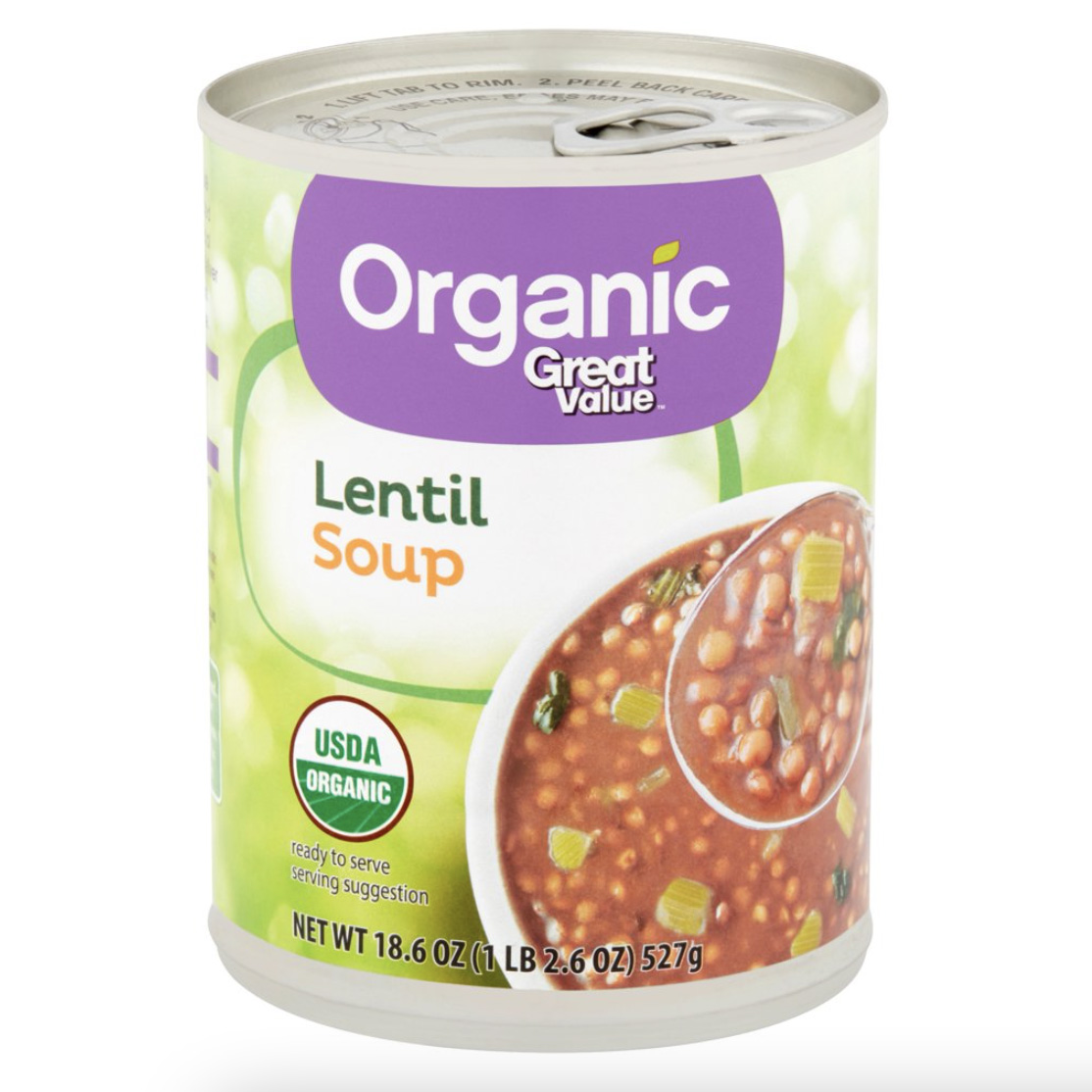 Great Value Instant Mashed Potatoes
Why wait for the holidays to enjoy mashed potatoes? While we love scratch-made mashed spuds, having these Instant Mashed Potatoes on hand is a game changer. Think of creative mashed potato dinner bowls topped with plant-based chicken, corn, vegan cheese, and gravy. BRB, we are seriously drooling over this easy-to-prepare side dish.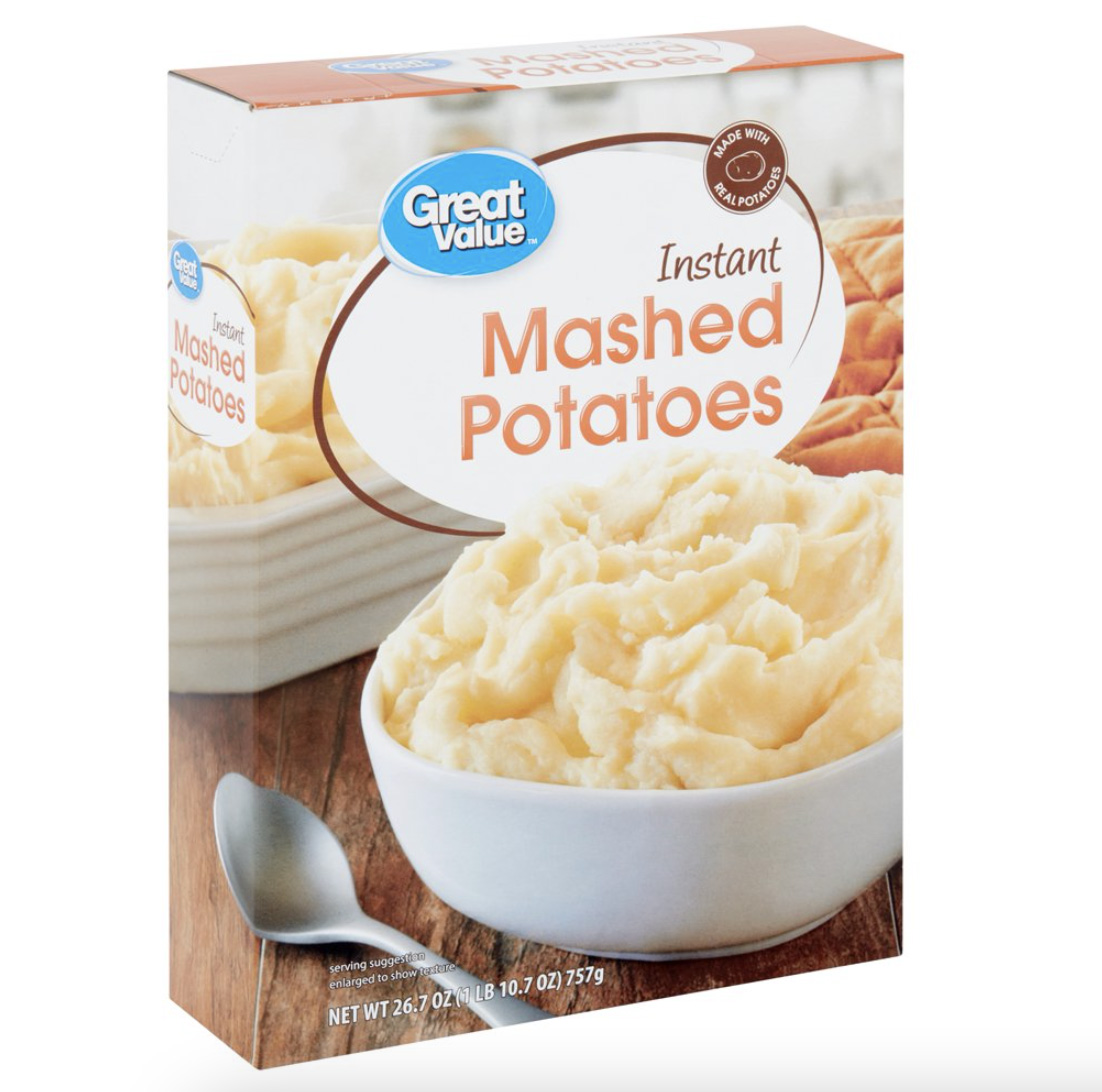 Great Value Egg-Free Ribbons
They're like egg noodles, but vegan! These eggless ribbon noodles were made for plant-based takes on classic casseroles loaded with vegan meats, gravies, and cheeses. Keep a bag or two of these Egg Free Ribbons on hand for cruelty-free stroganoffs and baked mac 'n' cheese. These inexpensive noods are a new pantry staple!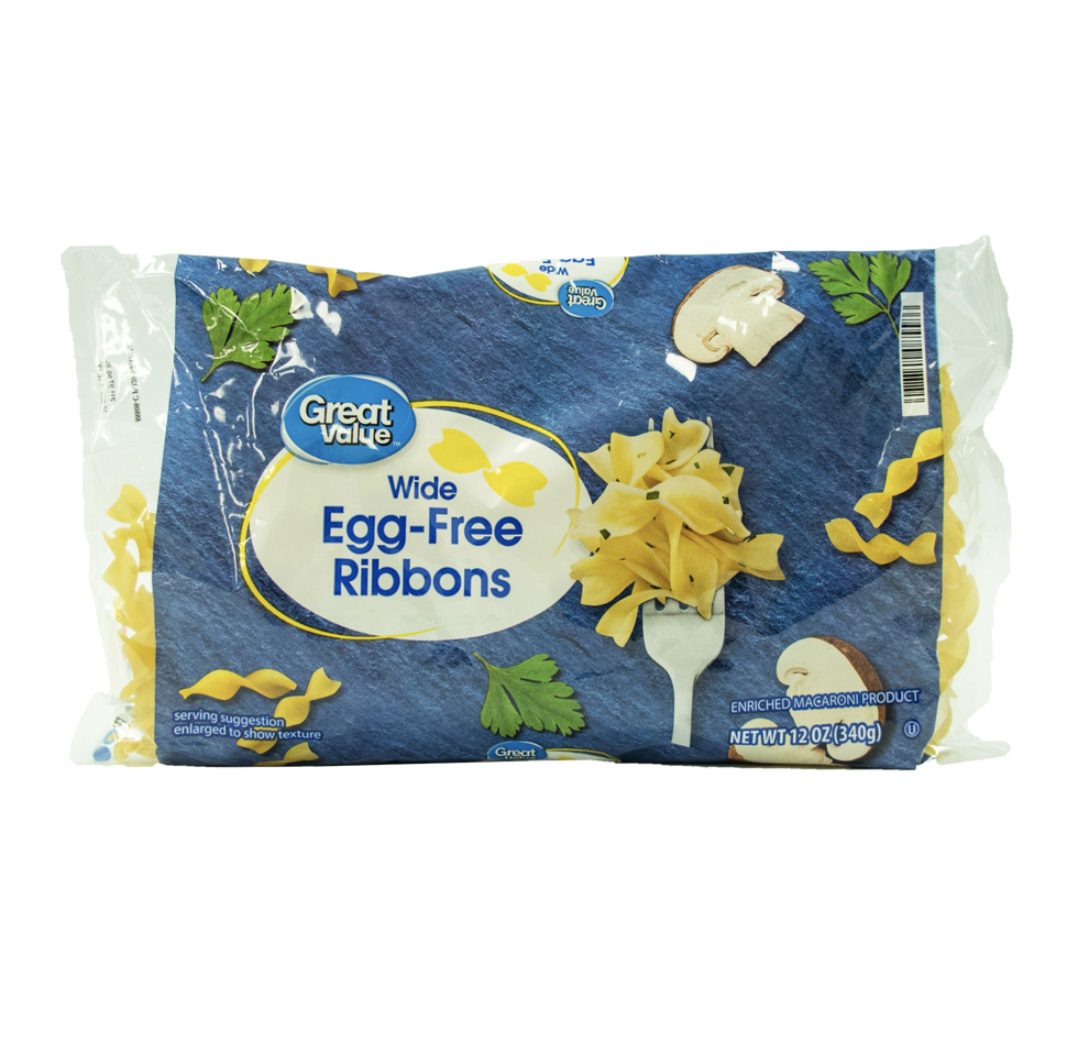 Great Value Fudge-Covered Peanut Butter-Filled Cookies
Peanut butter and chocolate—can you even name a better food combo? These accidentally vegan treats are giving us major Girl Scout cookie vibes! You'll definitely want to add these Great Value Fudge-Covered Peanut Butter-Filled Cookies to your cart the next time you're shopping at Walmart for all your favorite plant-based goodies.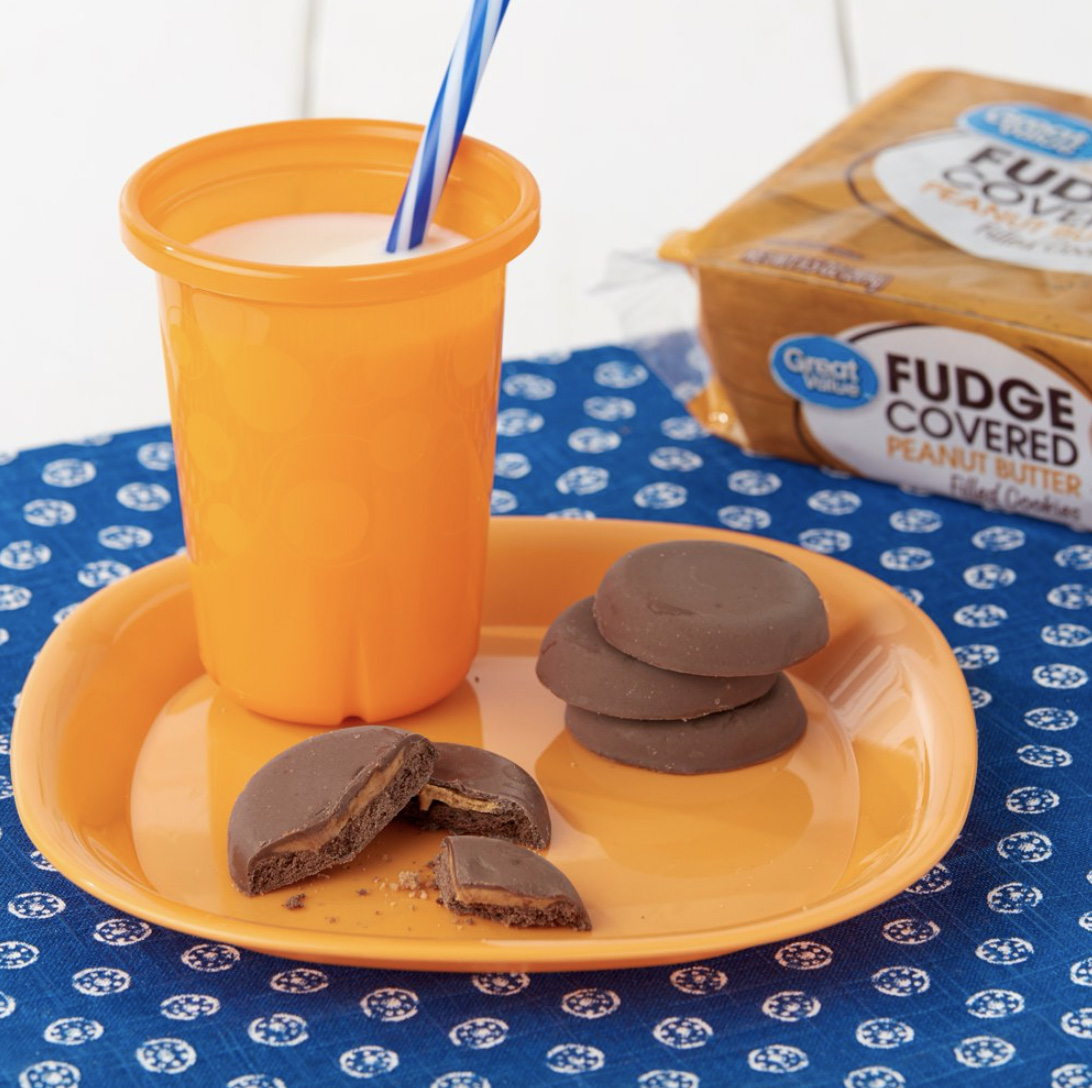 Equate Plant-Based Protein Supplement
Available in both rich chocolate and smooth vanilla, this great-tasting protein shake is totally plant-based. The Equate Plant-Based Protein Supplement contains a protein blend made from peas and quinoa and packs 30g of protein per serving. Try blending up with frozen bananas and almond milk for a rich, creamy, post-workout shake.