'Tis the season for comfort food and sweatpants. We're rounding up some of our favorite go-to comfort food indulgences—found between two slices of bread—from around the city. All of these sandwiches pair nicely with the cozy loungewear overtaking your closet since the beginning of last March, am I right?
West Hollywood & Redondo Beach
Pura Vita, by Chef Tara Punzone just opened a brand new second location in Redondo Beach, so we had to include this date night favorite at the top of our list. The Sicilian "Tuna" Melt (GF option available) is a must-have! Just as cozy as your favorite onesie, the garlic aioli and melted vegan mozzarella combine perfectly for an afternoon pick-me-up.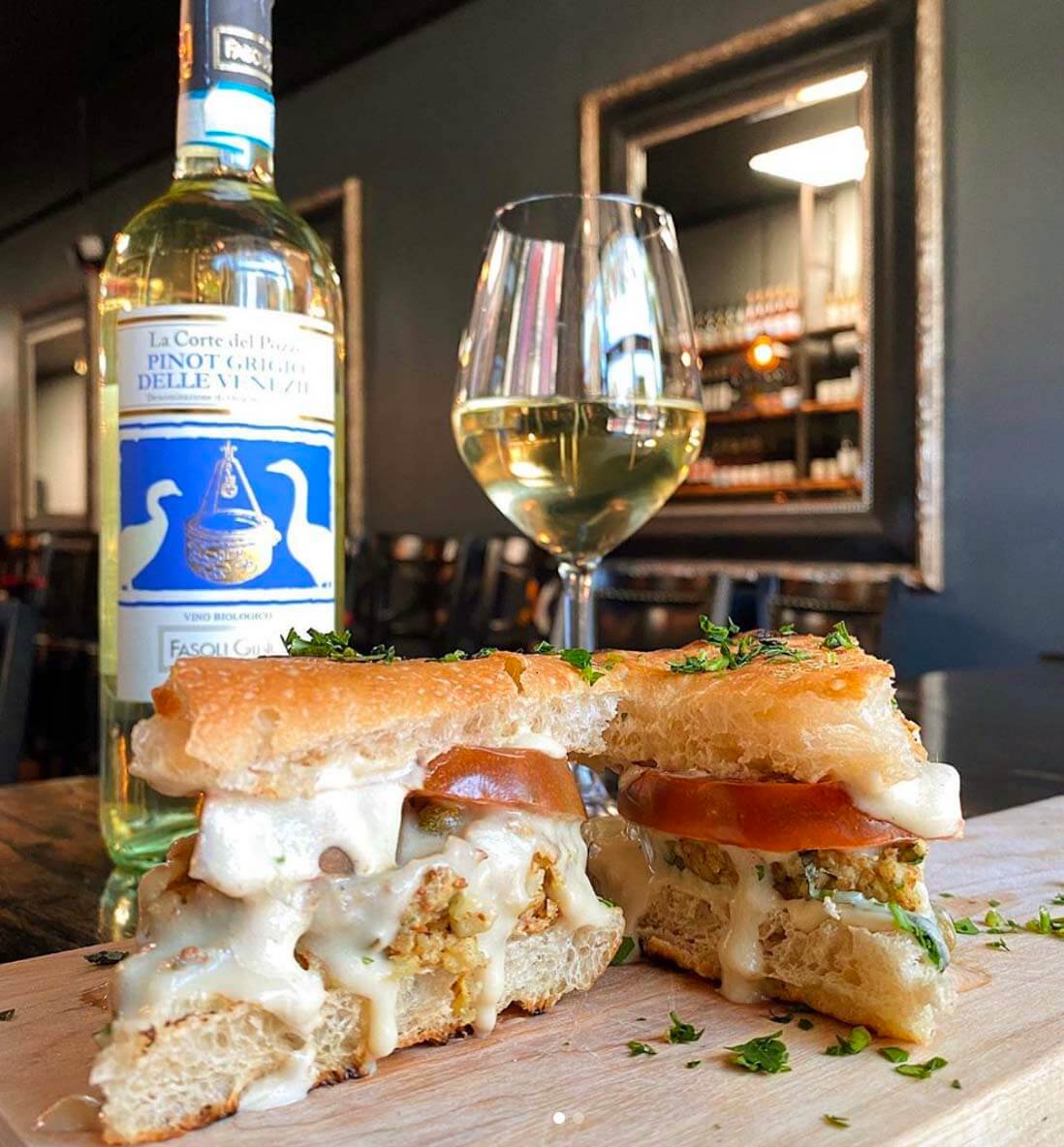 Hollywood
For those weekend brunch vibes, Doomie's stays open all weekend long, serving up their full menu, and brunch favorites. Whatever time your craving hits, Doomie's has you covered. Our favorite is the crowd-pleasing Monte Cristo, served until 3:30pm on Saturdays and Sundays. It's a perfectly indulgent French toast sandwich stuffed with their fully vegan house-made cheese, bacon, and eggs. Truly satisfy that late-night munchie fix or Sunday Funday indulgence by adding a side of crispy potatoes with your sandwich.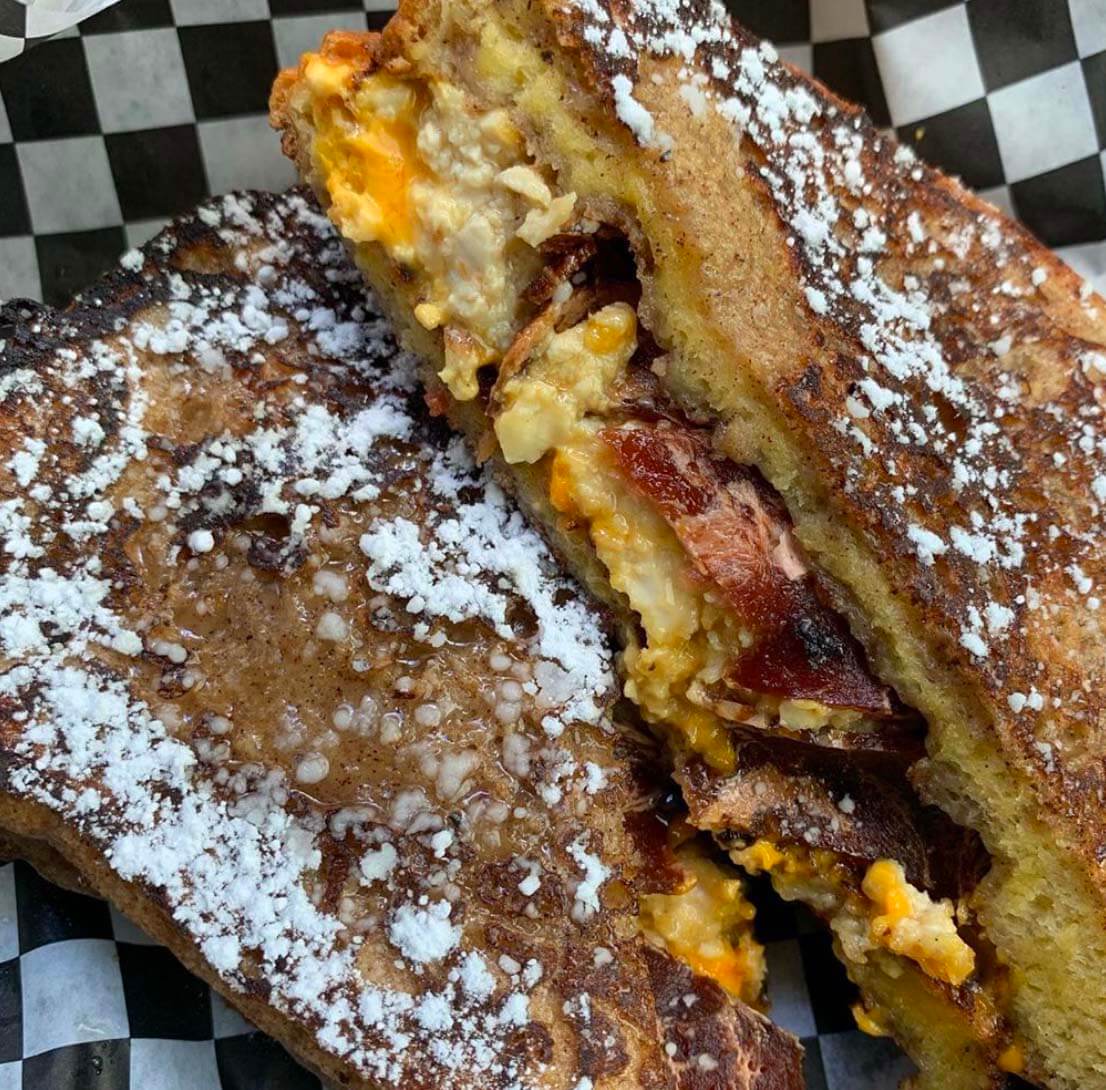 Photo credit: @lolograce on Instagram
Hollywood, Encino, & Westwood
Launched in SoCal ten years ago, Fat Sal's promises to be your favorite guilty pleasure, and they've hit the mark again with their Vegan Fat Falafel. Topped with tomatoes, cucumbers, dill, hummus tzatziki sauce, and fries—yes, fries!—this bad boy only gets better when paired with their vegan milkshake. The only problem you'll have is figuring out how to take a full bite of this mile-high-piled sandwich!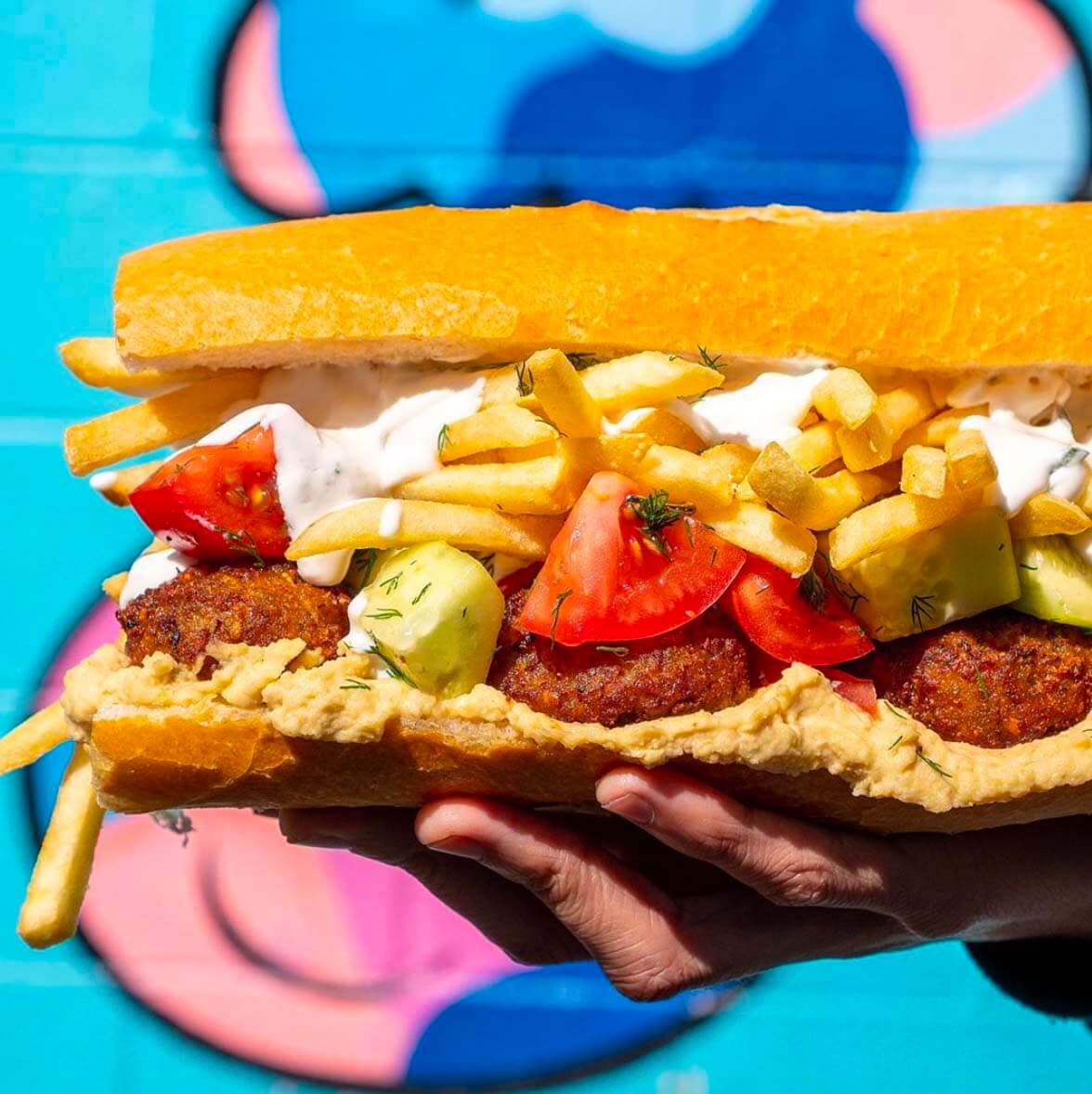 Multiple Locations
For the days you're needing that classic, nostalgic, club sandwich, the Deli Sub at Veggie Grill hits the spot. New to the menu, and already a hit, the Deli Sub comes stacked with sliced cold cuts, provolone cheese, and all the fixings. We throw our sandwich into the toaster oven at home to get it melty and perfectly cozy.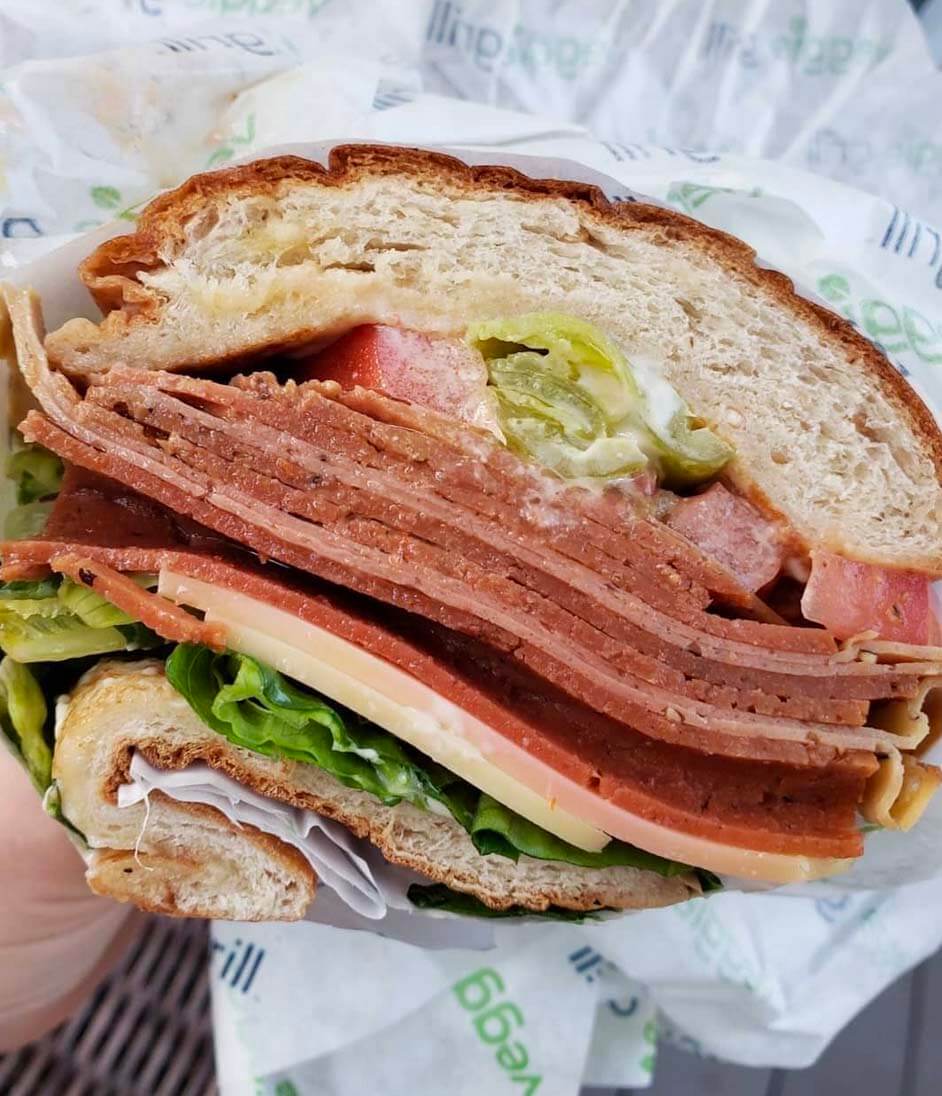 Photo credit: @vegexpertboston on Instagram
by CHLOE. – Hot Chicky Sandwich
Silver Lake
To spice up your life, get your hands—both hands—on the Hot Chicky from Silver Lake favorite, by CHLOE. Loaded with super crispy tempeh chicky, house-made "Comin in Hot" Sauce, purple slaw, and pickles on a potato bun, it's the perfect combo of sweet, spice, and everything nice.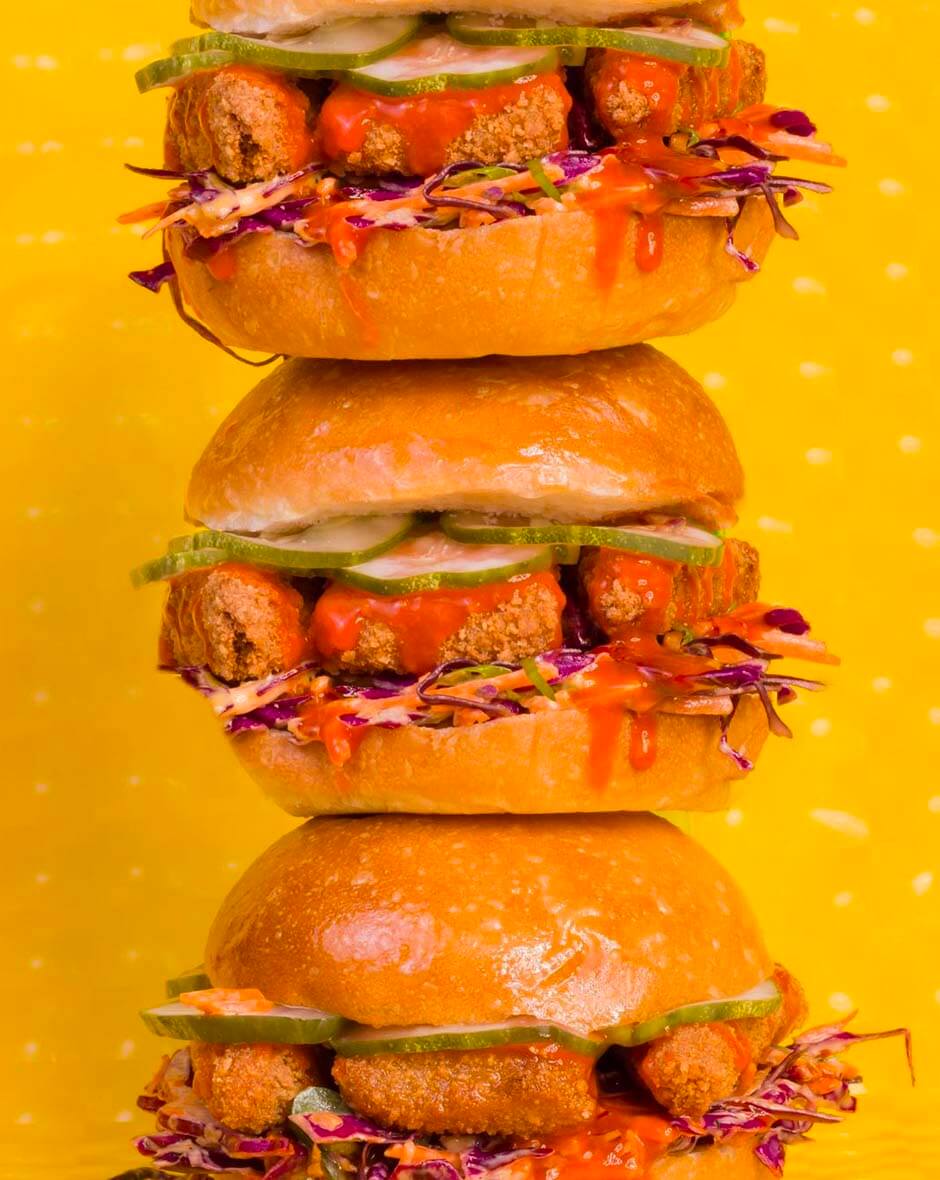 East Hollywood
If you haven't taken a trip to The Good Good, you could honestly visit once a week for three months and never run out of perfect vegan pastries and savory toasts, but today, we're highlighting their Truffle Melt. Ground mushroom meat made with six different mushrooms, sautéed spinach, black truffle oil, and Violife cheese all ooey-gooey on a crispy baguette has us drooling just thinking about it.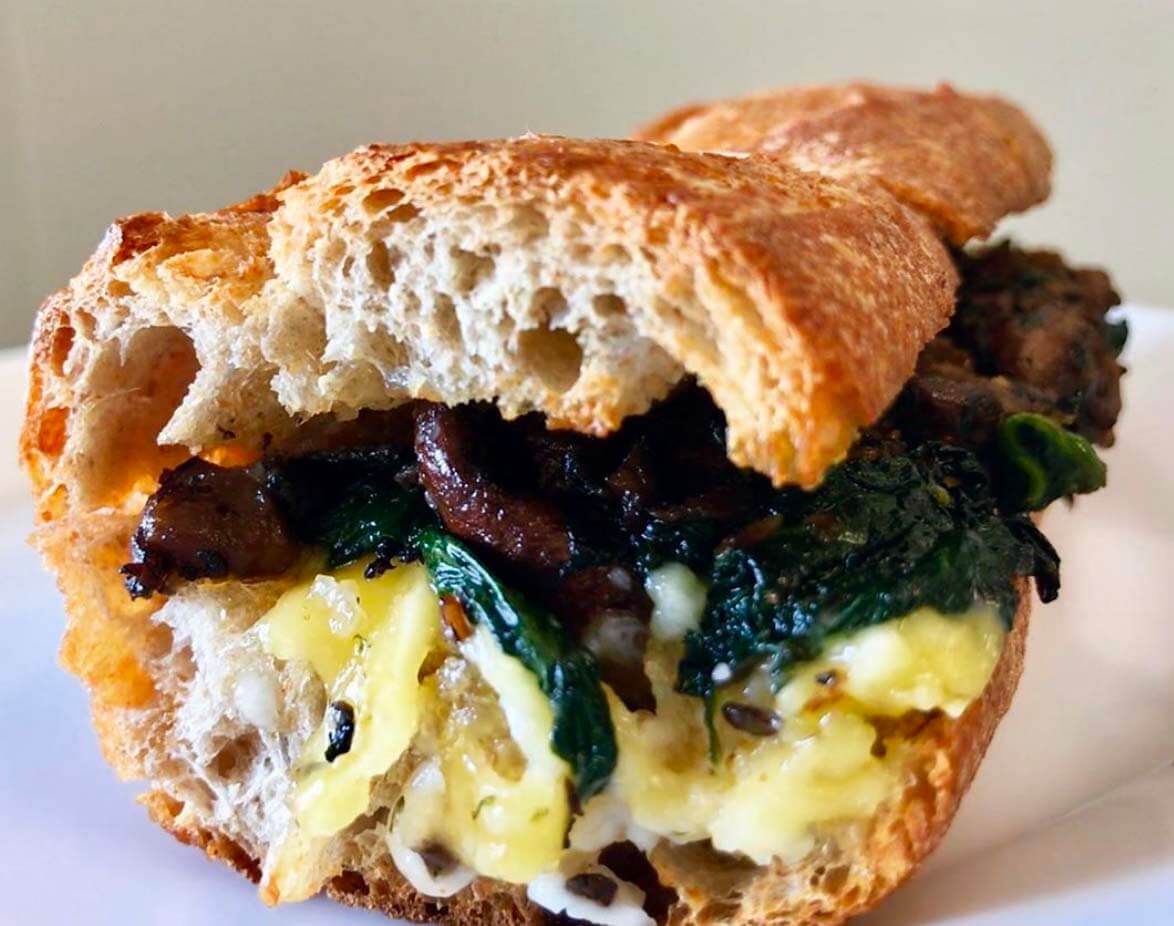 Never Caged – Vegan Mac & Chicken Sando
Mid-City – Delivery Only
For when those cold weather fall carb cravings hit and you can't decide between pasta and a sandwich, have both—with the Mac & Chick Sando from Never Caged. A must-try, this beauty is sweet, spicy, savory, and pairs perfectly with a side of fries.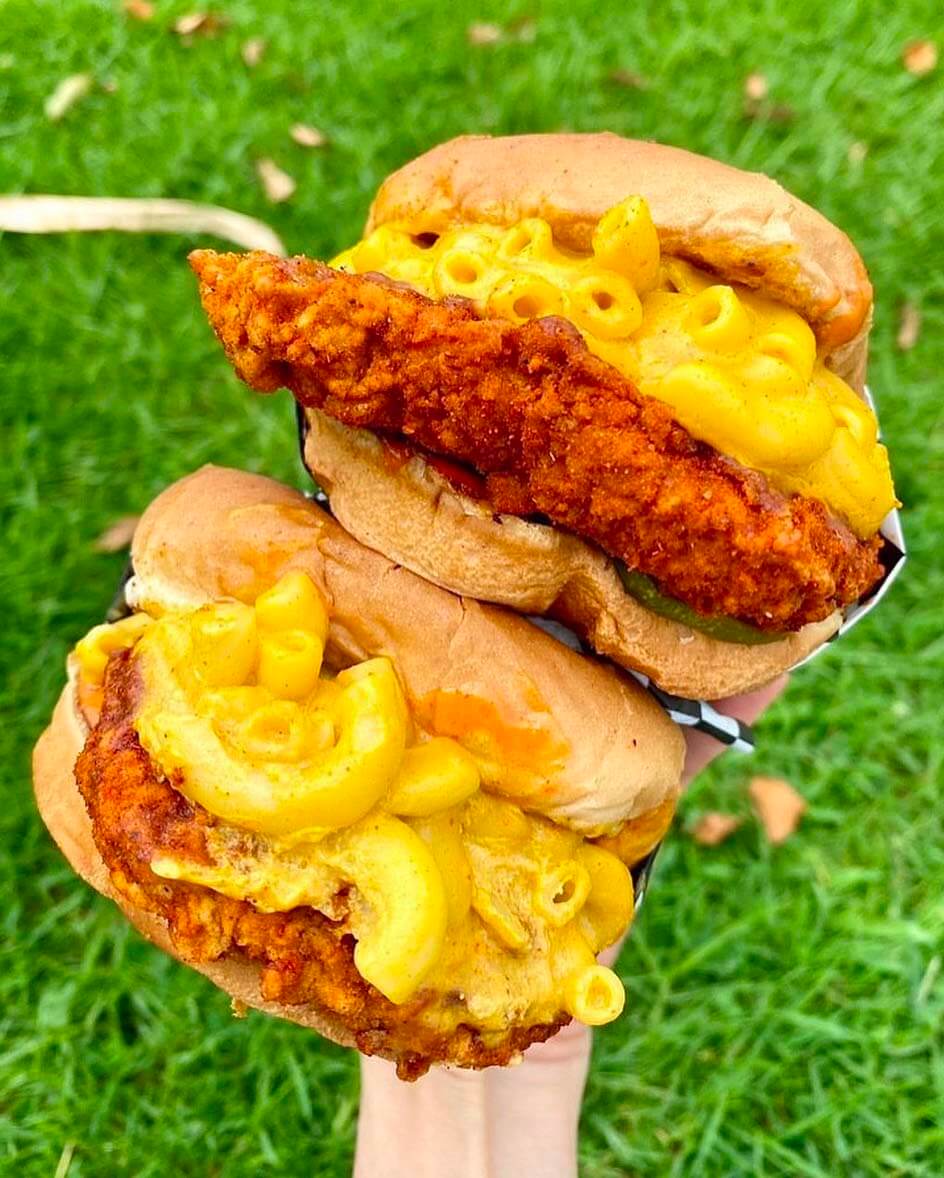 Photo credit: @jodiesveganeats on Instagram
Multiple Locations
This wouldn't be a cozy sandwich list of comfort foods without the classic go-to fall favorite, the Reuben, and there's no better in the city than the beauty at Locali. The top seller on their vegan-friendly menu for good reason, this melty sandwich features marinated vegan deli slices, cheese, and sauerkraut, and is absolutely smothered with homemade vegan Russian dressing on classic rye.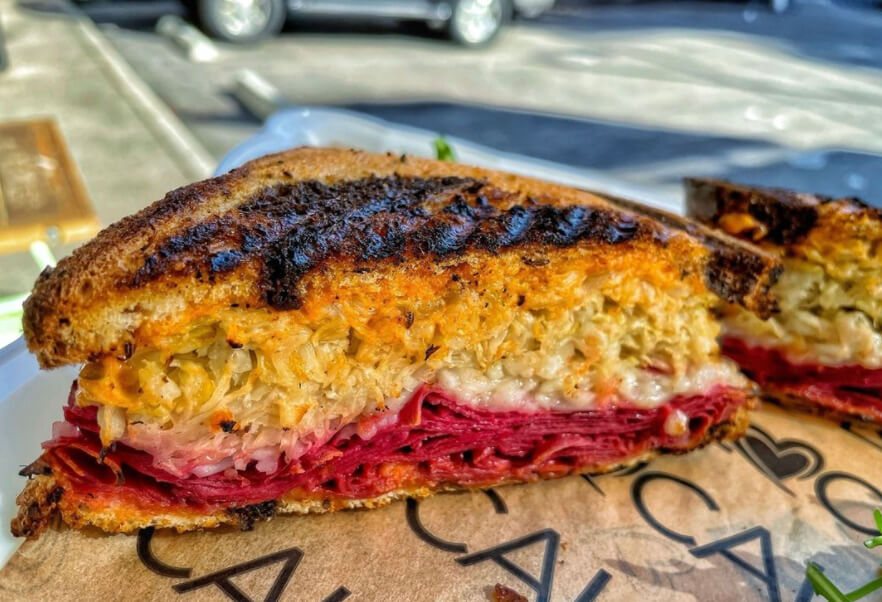 Multiple Locations
Mendocino Farms is perfect for your afternoon lunch excursion, and has tons of vegan options on their menu, ranging from deli sides and soups, to salads, to one of our personal favorites—the Vegan Banh Mi. Packed with veggies, tofu, and just enough heat, there's still a healthy serving of greens in with this comforting ciabatta panini.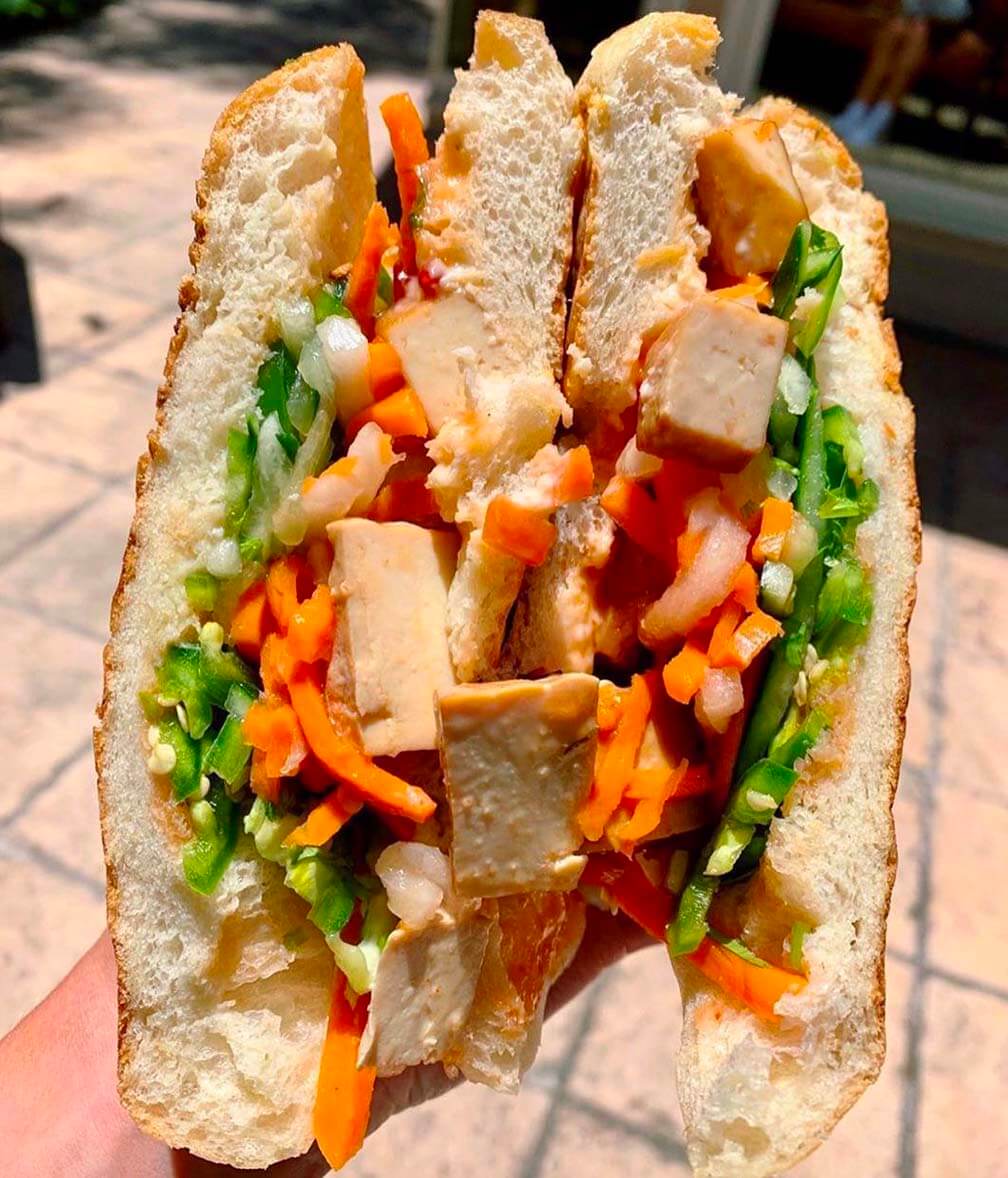 Photo credit: @munchin.a.bunchin
Burgerlords – Sourdough Garlic Melt
Chinatown & Highland Park
Providing unique, appealing, and melt-in-your-mouth delicious menu options, Burgerlords went fully vegan and hasn't looked back. Their Sourdough Garlic Melt is one-of-a-kind and flying out the door at both locations. Their own vegan patty topped with Follow Your Heart cheese, 2,000 Island dressing, grilled onions, and garlic oil is like a hug in the form of a sandwich between two slices of rustic sourdough.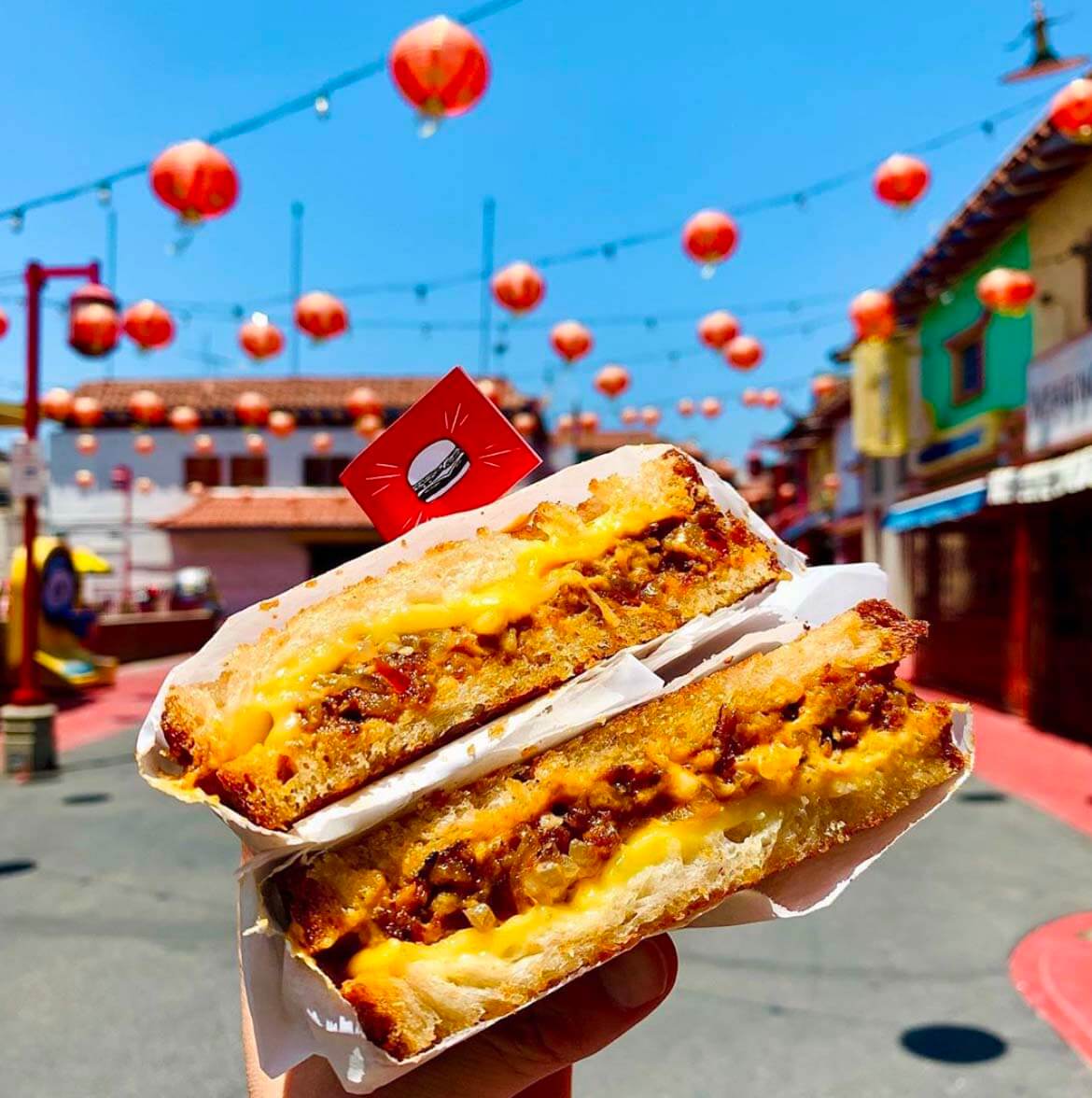 Ike's Sandwiches – Vegan Pee Wee or Meatless Mike
Multiple Locations
The Dutch Crunch Bread at Ike's is what has us coming back time and time again to check off all of their veganized sandwiches. Each location features a fully veggie menu, with clear markers for any sandwich that can also be made vegan. Our personal go-tos include the Pee Wee, featuring vegan turkey, house-made French dressing, purple slaw, and Swiss cheese, and the ever-indulgent for a crisp, fall day, Meatless Mike, a melty meatball sandwich which holds Peta's title for "Best Vegan Meatballs in America." Have to say we agree!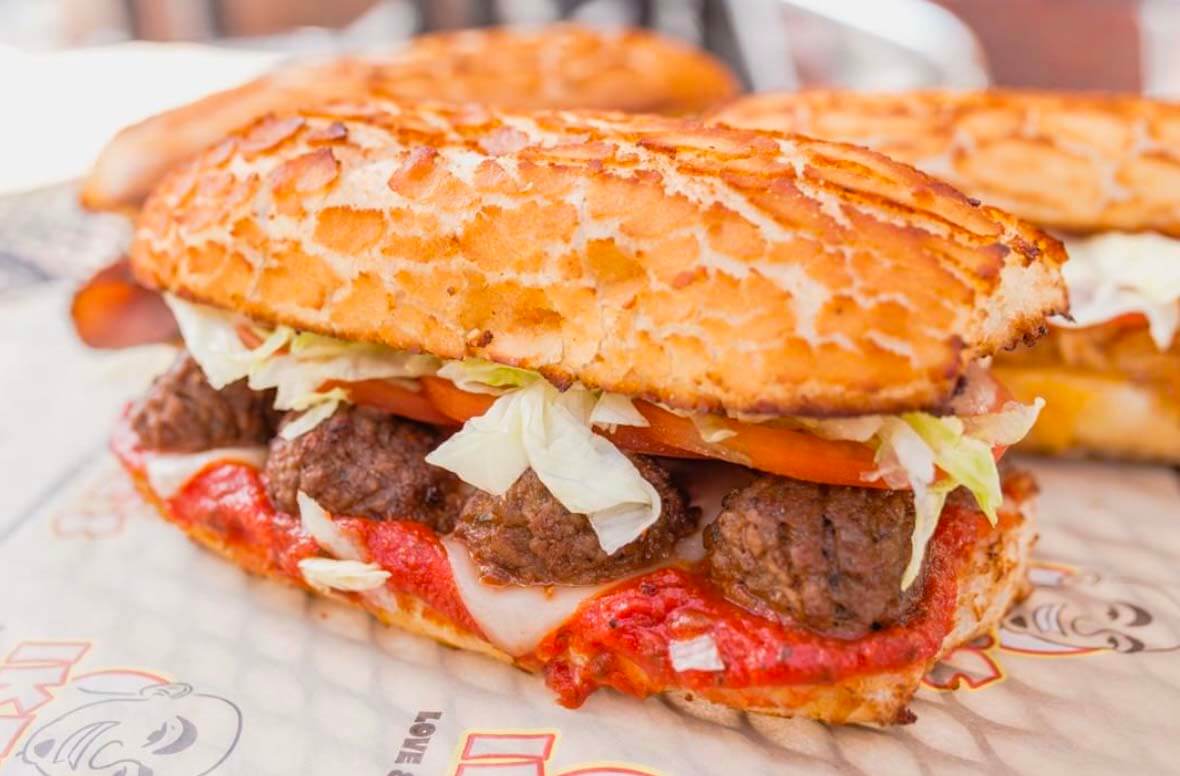 M Cafe – Tempeh Sandwich
Fairfax
Though not a fully vegan establishment, M Cafe specializes in macrobiotic cuisine and features one of the best tempeh sandwiches we've ever had! Cornflake-crusted (can we just have a bowl of that?) turmeric marinated crispy tempeh, slaw, vegan mayo, and dill pickles packed into a gluten-free sesame brioche bun make this a must-have on this roundup. BRB, ordering now!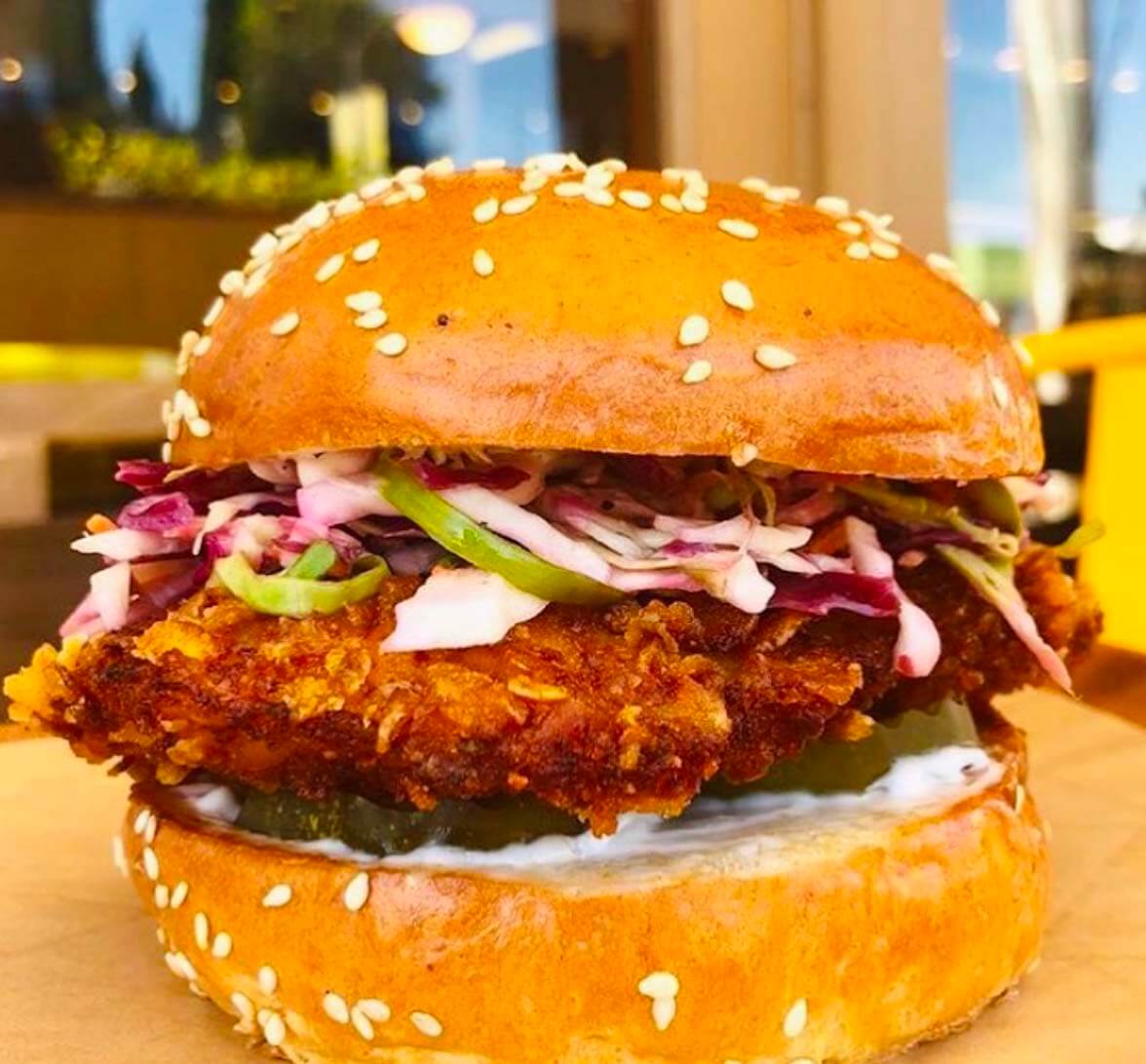 Creamo – Ice Cream Donut Sandwich
Silver Lake
If you're looking to have your cozy sandwich in the form of a dessert—because duh, right?—look no further than the new hot spot, Creamo. New to Silver Lake, Creamo was recently launched by the same geniuses behind Donut Friend and encourages visitors to get their ice cream and donut fix all in one quick pit stop. The Motion City Sandwich is a raised Bismarck donut stuffed with a scoop of ice cream (they have 16 fully vegan flavors to choose from) and rainbow sprinkles. It's perfect to help beat this lingering LA heat!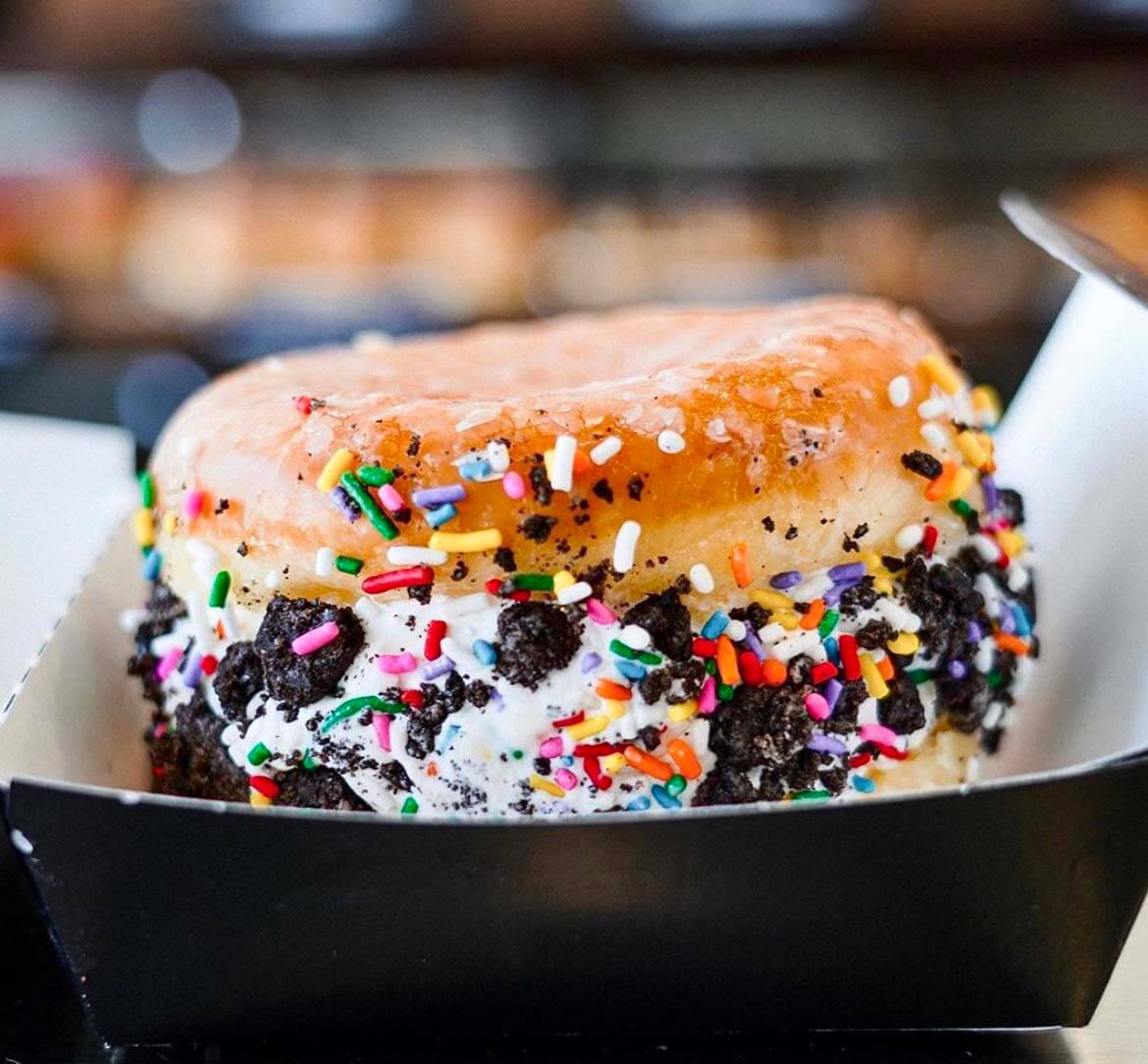 Photo credit: @jendodaro on Instagram
Mid-Wilshire
Powerplant Superfood Cafe recently switched from vegan-friendly to fully vegan and gluten-free and we couldn't be more thrilled! It's hard to pick just one go-to sandwich at this hot spot in mid-city, but the vegan breakfast sandwich is a must-try! Between two delicious brioche buns, you'll find a house-made fennel and sage tempeh sausage patty smothered in vegan scrambled eggs, a thick slice of fresh tomato, and avocado. The sauce is what makes this sando stand out from the rest—the spot's take on a vegan Russian dressing marries all the savory flavors together brilliantly.
Glassell Park
Just opened this summer, Little Barn Coffee House was an instant hit. After overwhelming support during their first month open, the business went from vegan-friendly to 100% vegan! Top pick on our list and a must-have Sunday morning breakfast is their OG Breakfast Sandwich featuring marinated tofu, tomato, basil, red onion, and vegan cheese stacked on a croissant or gluten-free bagel. Yum!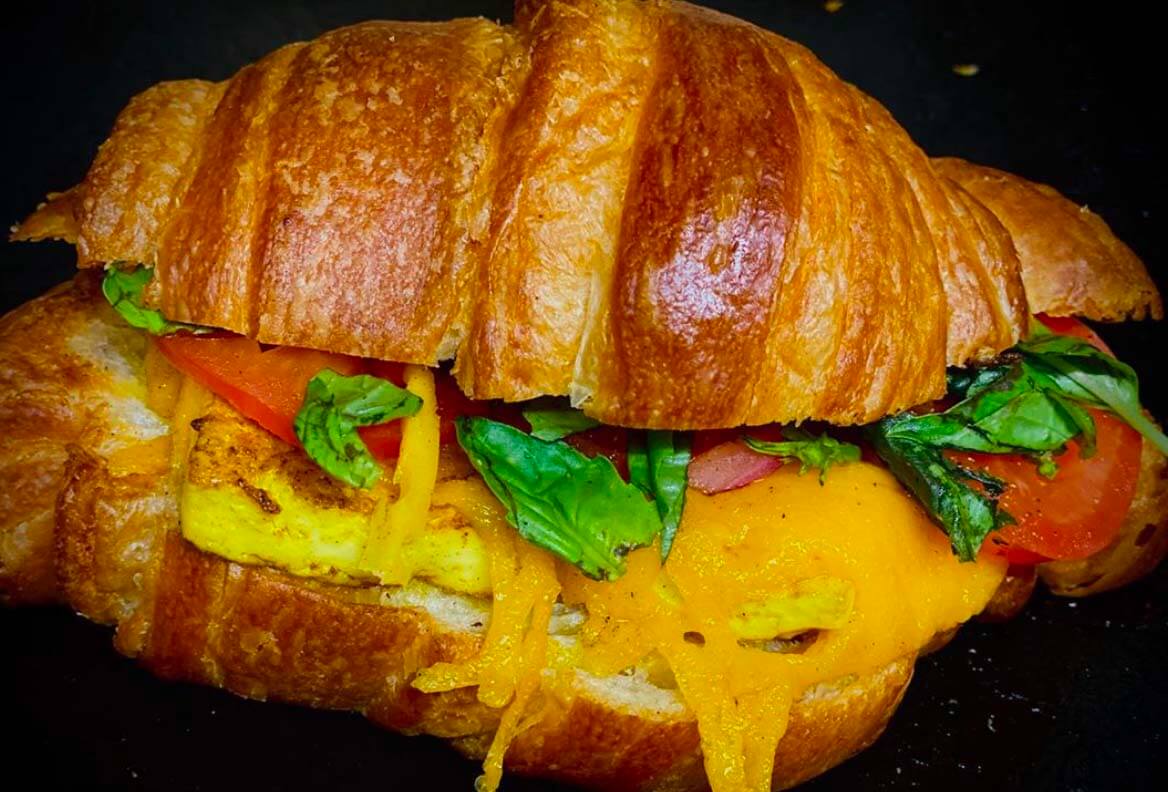 Food Truck
When the craving hits for some sweet and spicy Southern-inspired eats, you'll be hard-pressed to find a better fix than the Triple OG Sando from Lettuce Feast. Check locations on their site and pre-order, because they do and will sell out! This beauty between two buttery buns is a hand-breaded southern chick'n patty with ranch dressing, cheeze, pickle chips, lettuce, tomato, and your choice of sauce.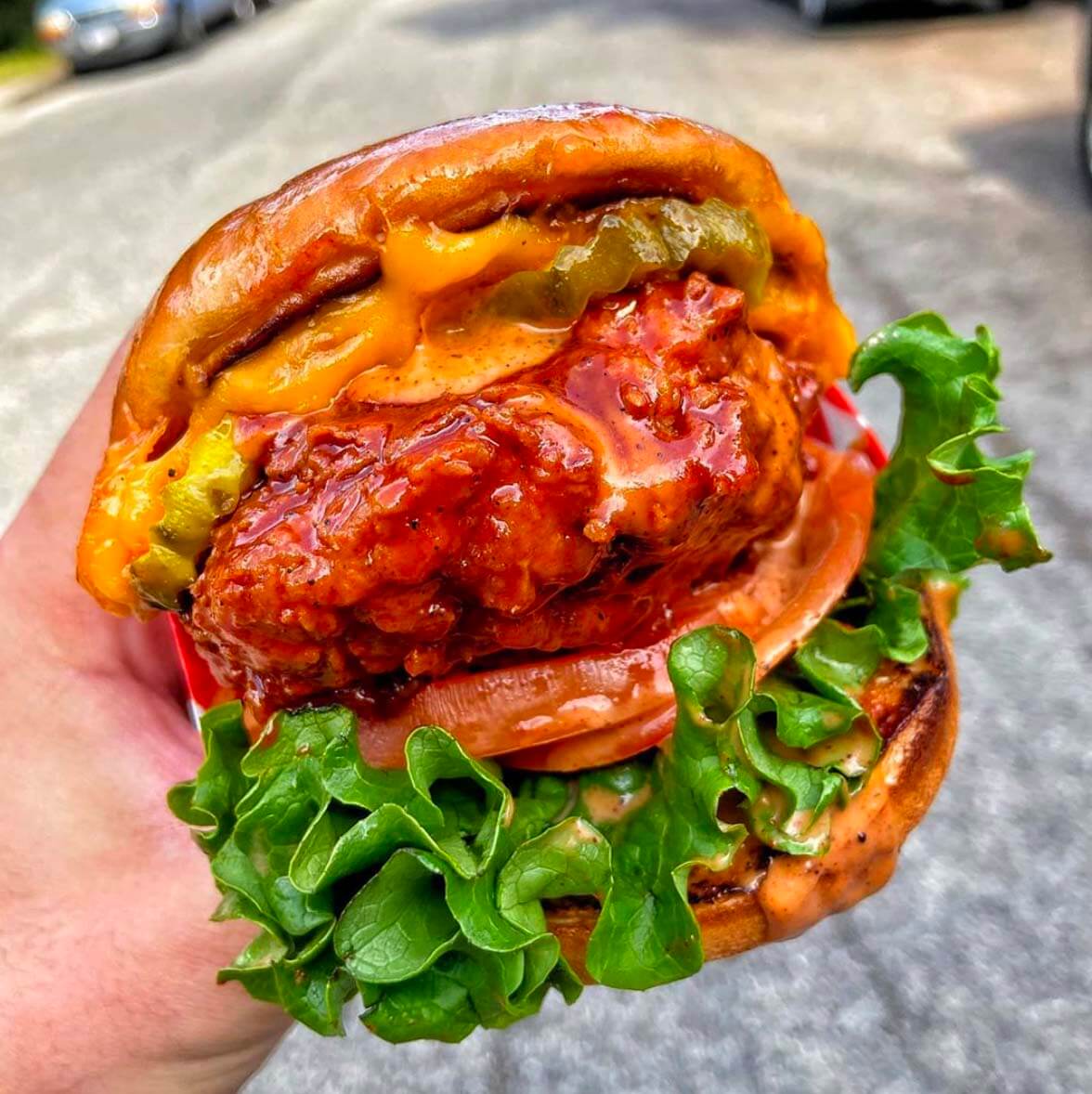 Lincoln Heights
We dare you to try to get a full top to bottom bite of the appropriately named "Big Vegan Torta" from Cena Vegan! Bragging rights aside, this flavor bomb is a highlight on Cena Vegan's already impressive menu. A traditional Mexican sandwich served on an oversized roll with your choice of vegan meat, beans, guac, chipotle crema, tomatoes, and pickled red onions, this burst of flavor will make all your weekday woes disappear.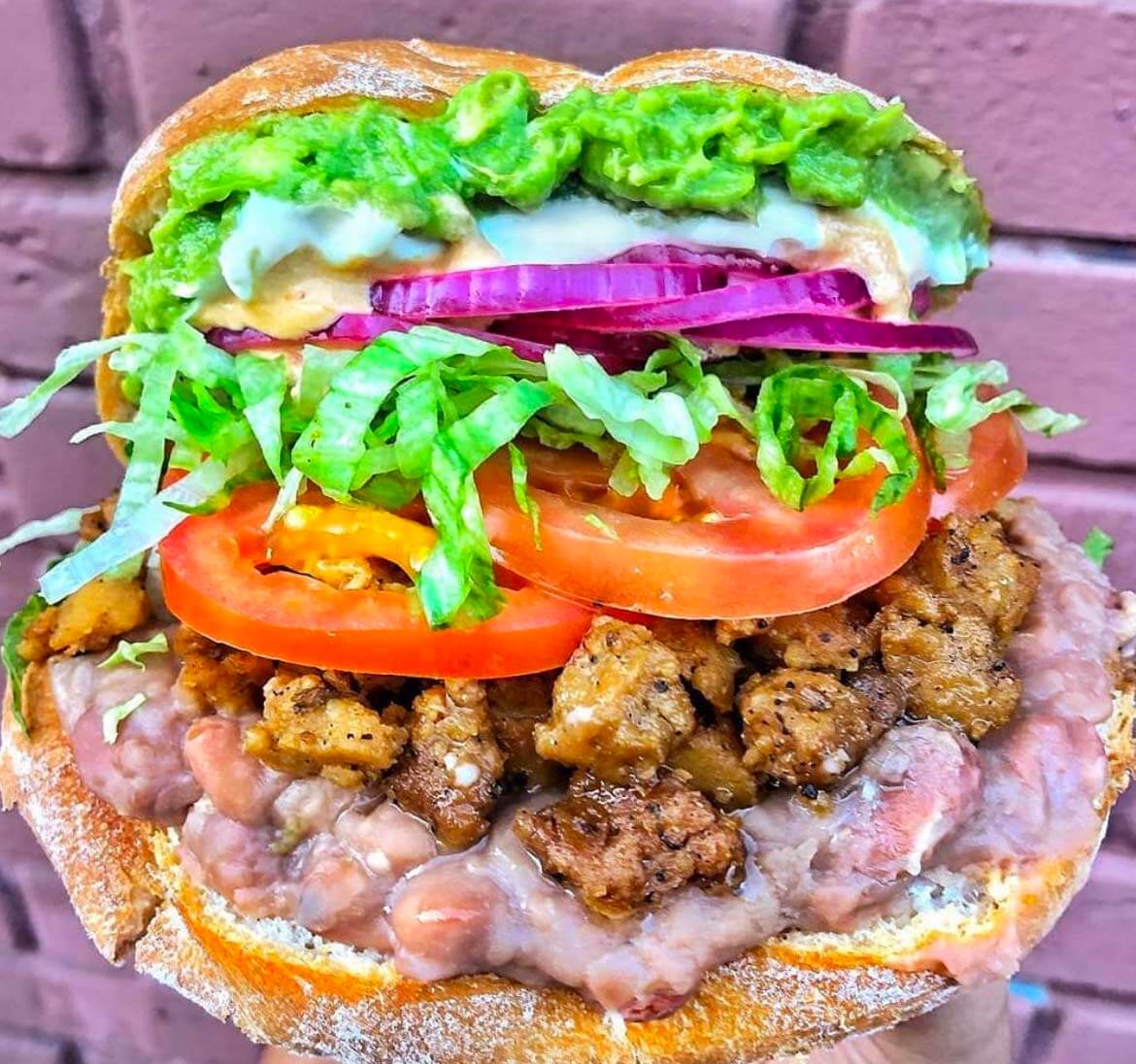 Photo credit: @msvegan on Instagram