It's easy enough to find vegan restaurants with a simple internet search these days, but much more difficult to decide what to order when you get there! With that in mind, here's a list of the top 15 vegan items you can order in Long Beach. Whether you want a quick appetizer, a hearty meal, a savory dessert, or even a refreshing drink, this list has it all.
RELATED: The 17 Best Vegan Sandwiches in Los Angeles
---
Want even more vegan food, news, and lifestyle content? Subscribe to VegOut LA Magazine or VegOut NYC Magazine!
Appetizers
Zippy Fries – Seabirds Kitchen
The cheesy fries you never knew you needed. These fries started off as a once-weekly special and became so wildly popular that they're now a staple on the regular menu! The house-made "zippy" cheese sauce is one of the best nacho cheeses in the game, and has been known to convert even the most hard-nosed skeptics. Locals go wild for this dish topped with house-made Seabirds sauce, spicy mushrooms, and green onions.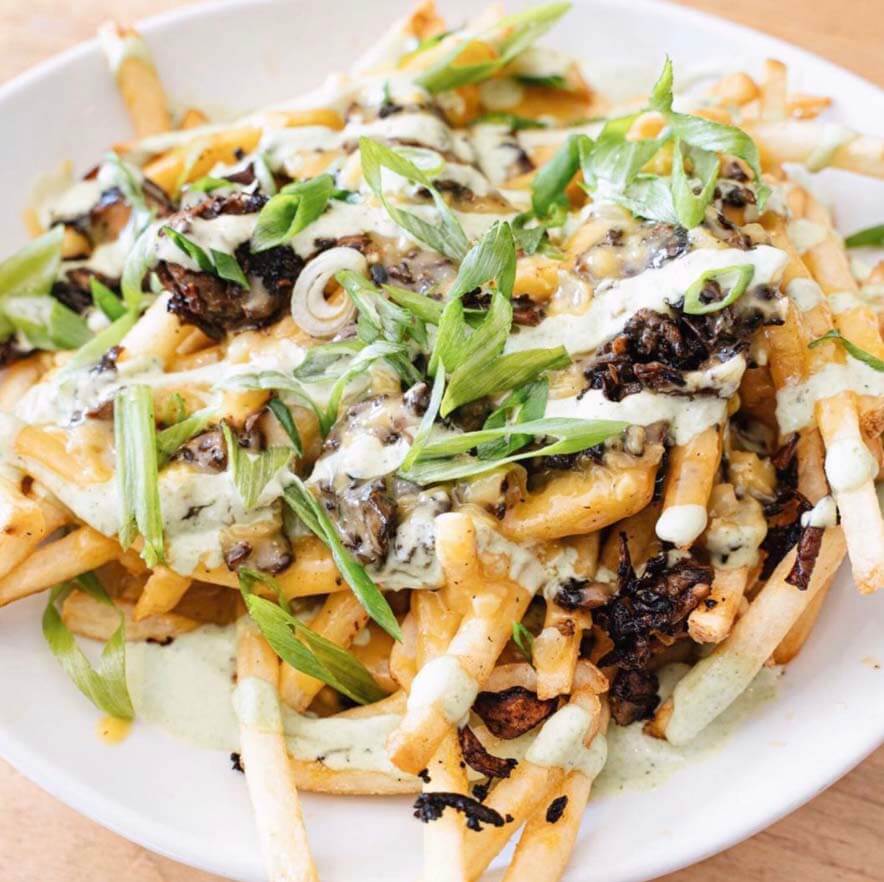 Potato Flautas – Little Vice
This vegan-friendly spot offers a ton of plant-based options, but their flautas are a definite must-have. Filled with perfectly creamy potatoes, vegan cheese, and caramelized onions, and topped "Little Vice" style, these flautas can be made vegan by simply omitting the cotija. They're served with the perfect amount of house-made habanero salsa and guacamole to dip, and will have you scraping the plate to get every last bite!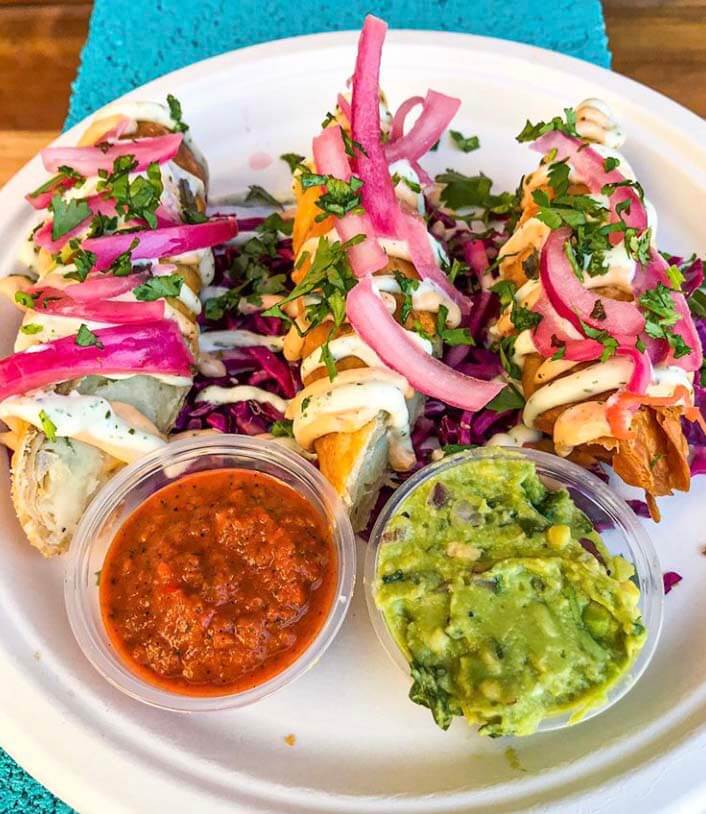 Purple Taquitos – Seabirds Kitchen
Seabirds has quickly developed a loyal following in Long Beach, and you're likely to see a plate of these at just about every table. But don't be surprised if you decide one order just isn't enough! Perfectly crunchy and topped with house-made curtido, creamy chipotle sour cream, and house-made almond feta, the Purple Taquitos make for a great starter to share with the group. Go ahead and order an extra side of that sour cream, too. You can thank us later.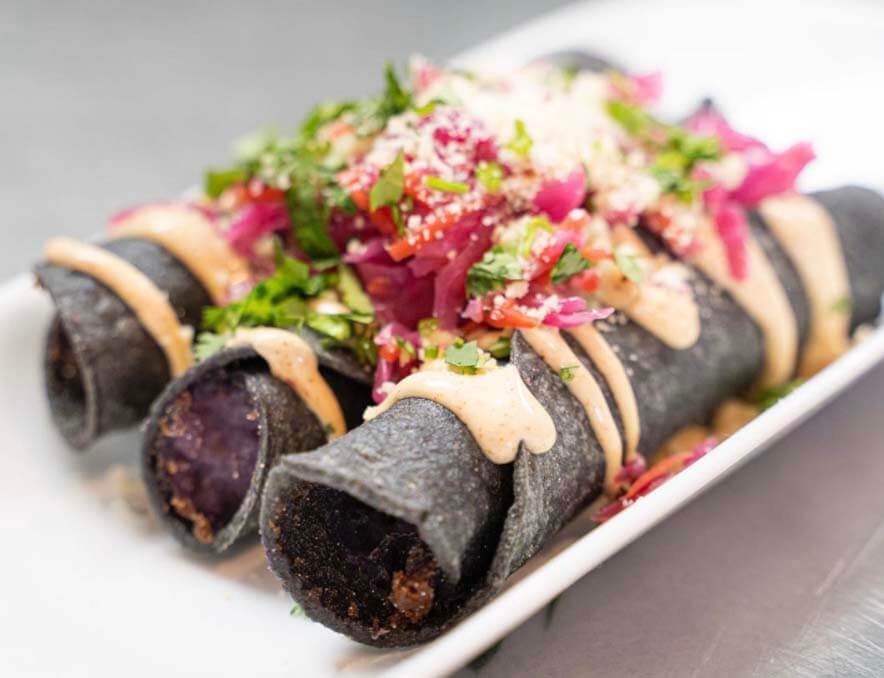 Breakfast
Veggie Garden – Viento Y Agua Coffeehouse
This vegetarian coffee shop is a beloved member of the Long Beach community, and their bagel sandwiches have something of a cult following. The Veggie Garden comes loaded up with sprouts, hummus, cucumbers, olives, tomatoes, and lemon pepper on your bagel flavor of choice. Grab an oat milk latte as well and you'll look just like a local. They also have vegan cream cheese available to add, as well as plenty of vegan options in the pastry case.
Grilled Burrizo – The Wild Chive
It's not just the locals that are thrilled that Wild Chive finally opened a brick-and-mortar! The beloved pop-up has been providing the best vegan comfort breakfast food around since 2017. While the restaurant has grown and you can order virtually anything you could dream of during their weekend hours, this breakfast burrito will always have a special place in the locals' hearts. Stuffed with tofu scramble, soyrizo, garlic kale, veggies, potatoes, and served with the best chipotle aioli you've ever had (order an extra side of that, for real), The Burrizo is a Long Beach classic.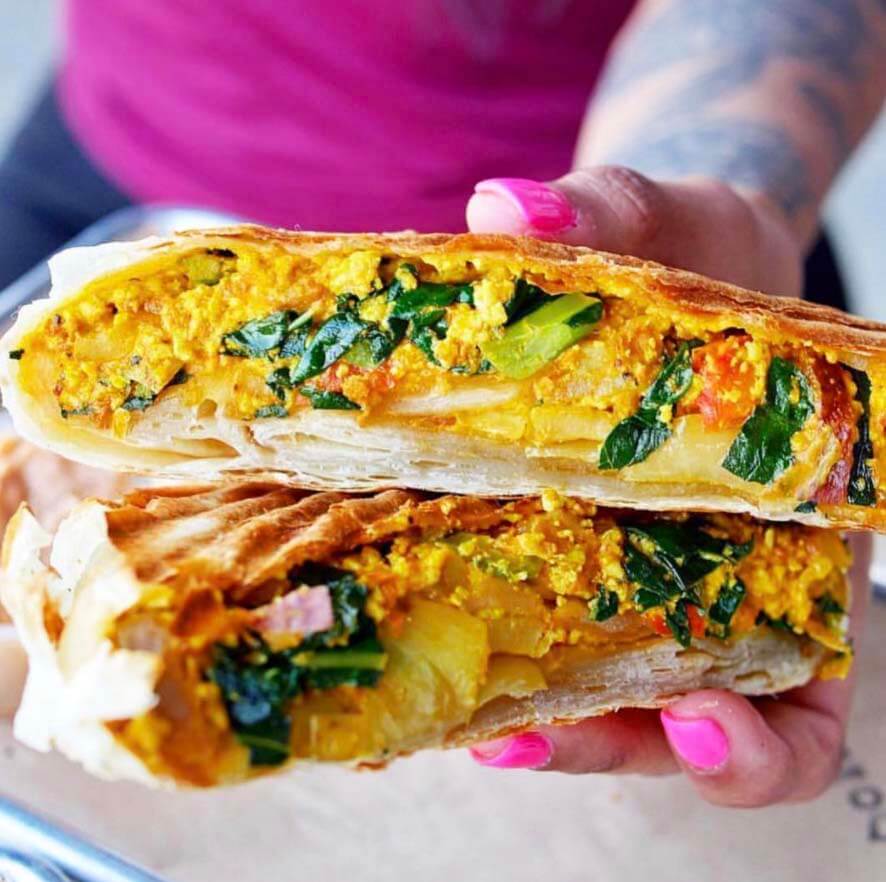 Photo credit: @veganfatkid on Instagram
Drinks
Summer Nights – Salud Juice
Carrot. Orange. Lemon. Mint. If you think such a simple combination couldn't be the best thing you've ever had to drink, you'd be wrong. It's the perfect combination for a sunny day, or a rainy day … or really any day of the year. Salud boasts plenty of great juice flavors and raw food options, but there's a reason you'll find this juice in the hands of countless locals as you walk down 4th street. It's the perfect blend of refreshing, hydrating, and nourishing, and it's delicious to boot!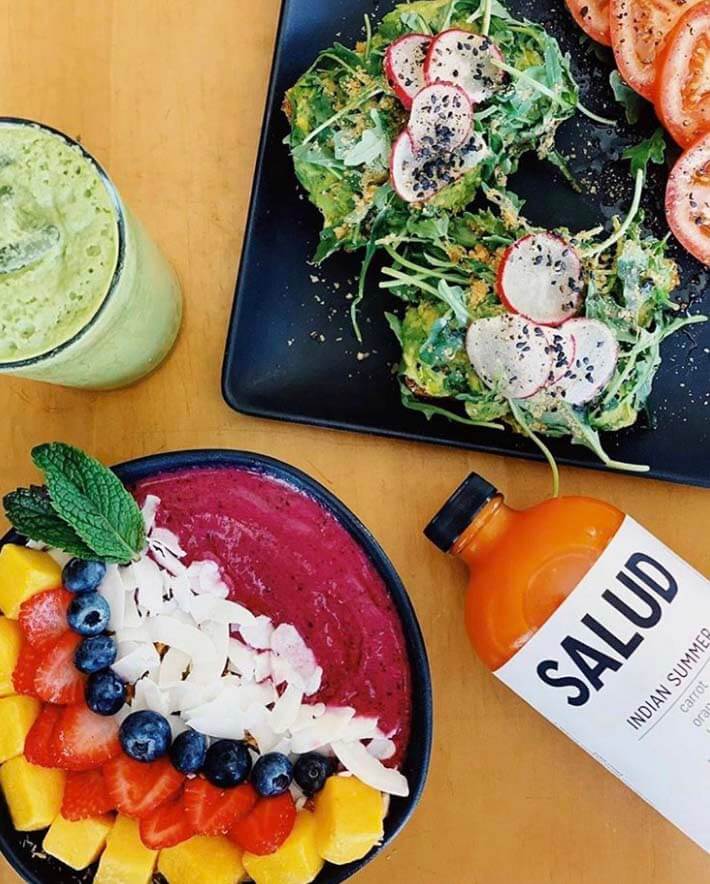 Cookie Dough Milkshake – Ahimsa Vegan Cafe
This all-vegan cafe offers a ton of good food options, but their shakes are next level. They provide a variety of flavors from which to choose, including at least one rotating special, but the Cookie Dough Shake is where it's at. Made with their own house-made cookie dough, ice cream, and chocolate sauce, this treat is the perfect option to wind down with after a long bike ride down 4th St. or to take to-go after a delicious dinner. Pro tip: Order a chocolate chip cookie on the side and crumble it into the shake for a food coma that will be well worth it.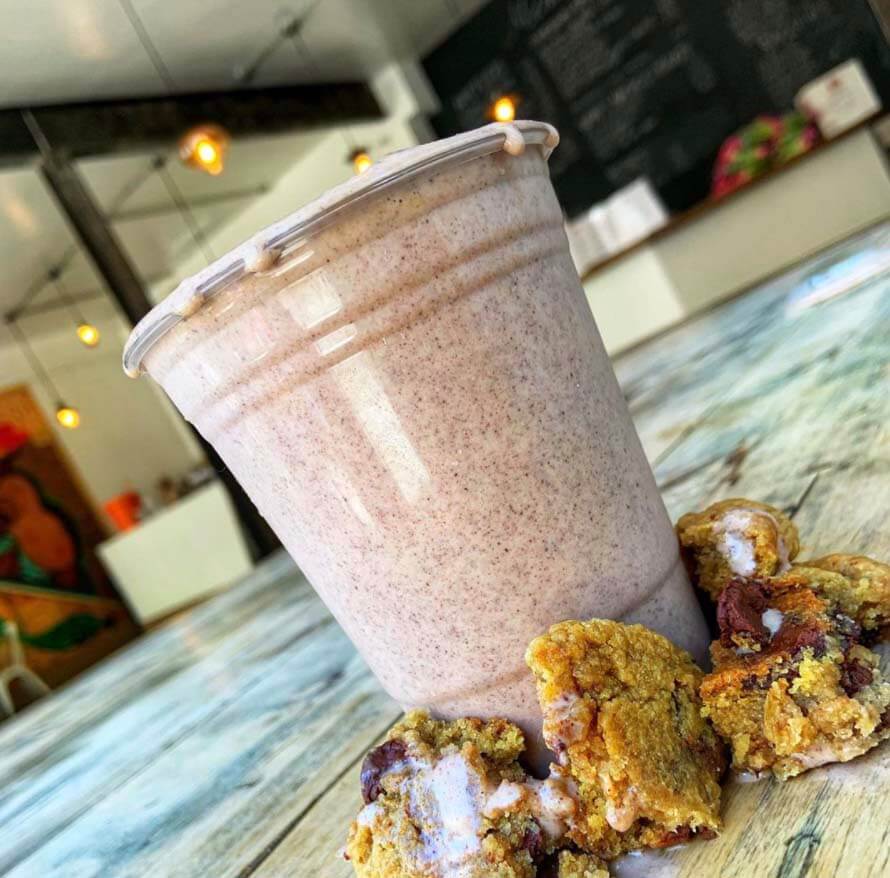 Rosemary Latte – Wide Eyes Open Palms
This pop-up-turned-coffee-shop puts the farm in farm-to-table. They source all of their produce from local farms and farmers markets, and make all of their syrups and nut milks in house. The rosemary latte is made with their house-made rosemary syrup, high quality coffee, and to make it vegan, just ask for it to be made with their house-made nut milk (macadamia and almond). All of their lattes are delicious, but this one is a must-try when you're in the neighborhood and looking for a pick-me-up.
Entrees
Vegan Hangover Ramen – Sura Korean BBQ & Tofu House
Sura Korean BBQ is another long beach favorite that boasts a large vegan menu as well. Start off with the vegan fried mushrooms (trust us on this one), and order your Hangover Ramen whether you're hungover or not. Filled with a bunch of fresh veggies, your personalized spice level, and a rich broth that warms you to your soul, it's no wonder this ramen has a loyal following among the locals. If you want to spice it up even more, you have the option to add a vegan fried egg. Mmm, mmm, ramen.
Vegan Tuna Nirvana – Blue Bird Sushi
This small sushi spot is a neighborhood favorite, where half of the menu is vegan! It's an extensive menu to boot, boasting about 15 rolls and several other options, including ramen and veggie appetizers. While all of the vegan rolls are delicious, the Vegan Tuna Nirvana takes it to the next level. Marinated tomato serves as the fish substitute, and the roll is stuffed with veggie tempura, with fried tofu and avocado on top and a creamy, spicy sauce drizzled all over. All rolls are "Buy 1, Get 1 50% Off" during the week, so grab a few friends and try them all!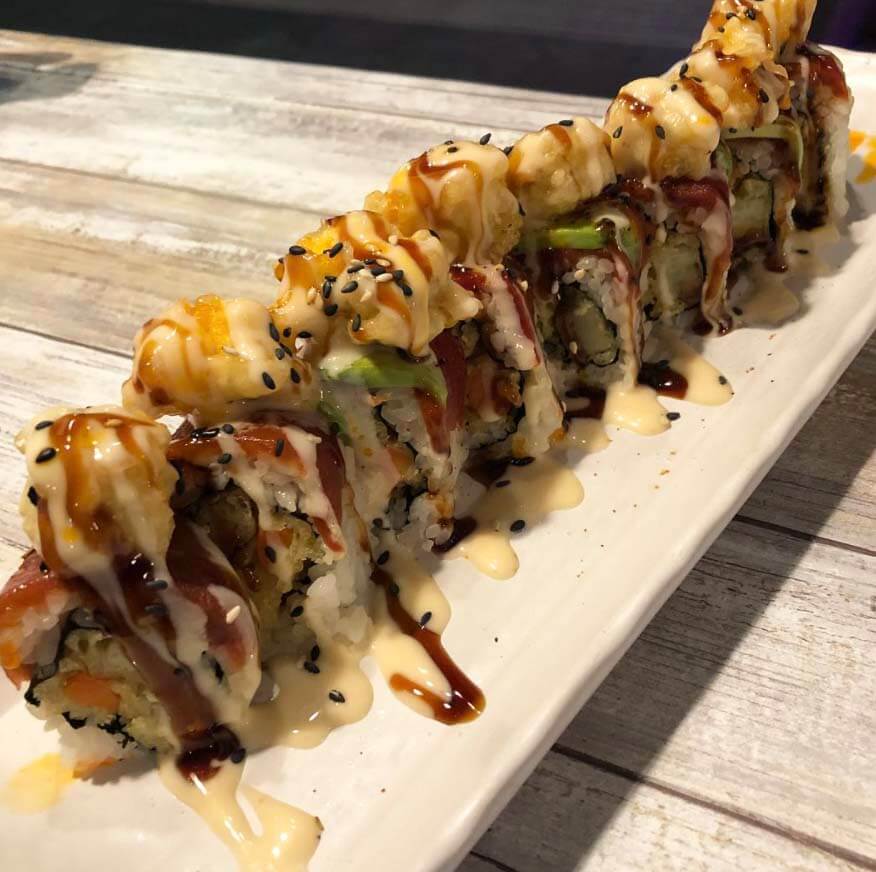 Falafel Pita – The HipPea
This hole-in-the-wall has been a Long Beach staple since its inception in 2016. The menu is small, but with The HipPea, that just means that everything offered is fantastic. The pita and falafel are made fresh daily, using authentic Egyptian recipes passed down through the owner's family. This pita is packed with your choice of falafel flavors (flavors change daily), pickled veggies, and lettuce. Don't forget to stock up on their sauces on the way out! They're all vegan, from the zesty mango sauce to the creamy tahini.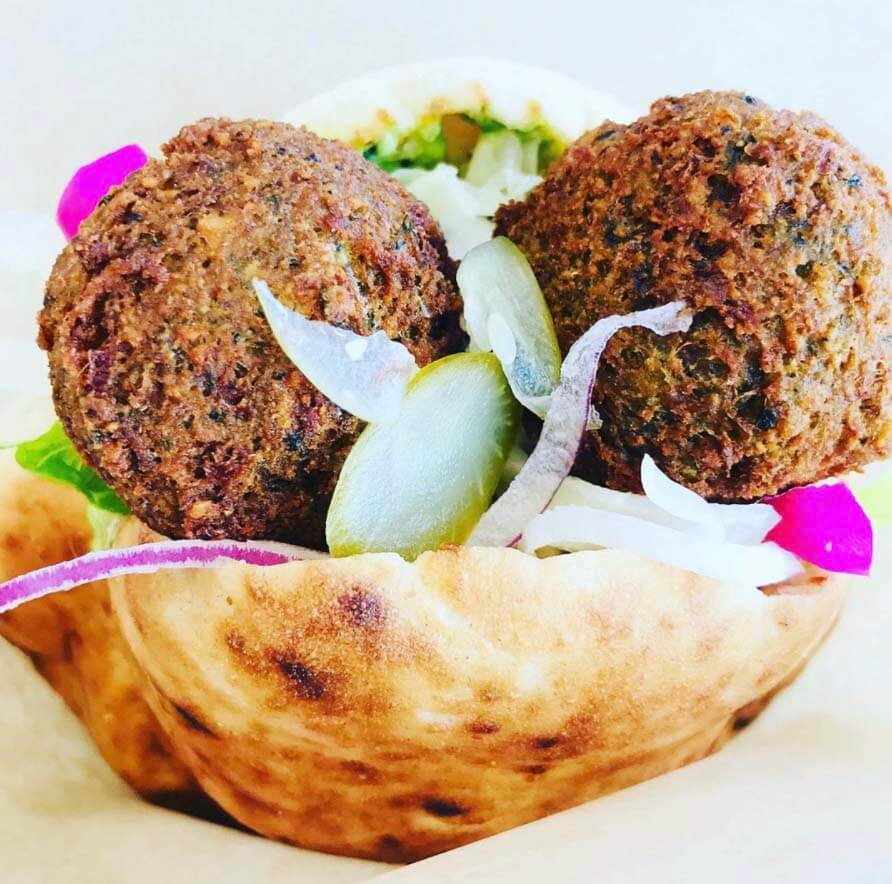 The "Ish" BBQ Cheezeburger – Under The Sun
Fully raw and fully delicious, Under the Sun is a great option for people searching for a healthier meal. While the entire menu is phenomenal (keep an eye out on those daily specials—they're incredible), the BBQ burger is next level. A house-made patty sits on top of a house-made dehydrated bun, with house-made cream cheese and house-made BBQ sauce … did I mention that they make everything in house? Served with a side of their cheesy, dehydrated kale chips, this meal will leave you full and satisfied.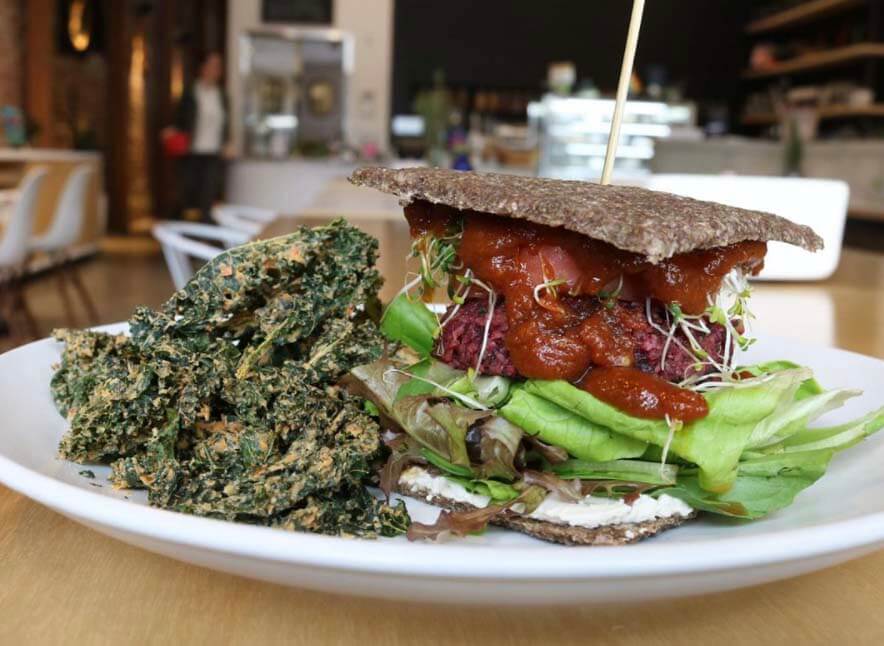 Dessert
Vegan S'mores – Plunge
Somewhat of a hidden gem in Long Beach, Plunge is located on the 2nd floor of a luxury apartment complex on the beach. With views of the water from just about every table, Plunge feels like a posh restaurant in your friend's living room. While they offer plenty of vegan options, the Vegan S'mores are a definite must-try. Layered with cold chocolate mousse, graham crackers, and topped with a bruleed vegan marshmallow, this is one dessert you don't want to skip.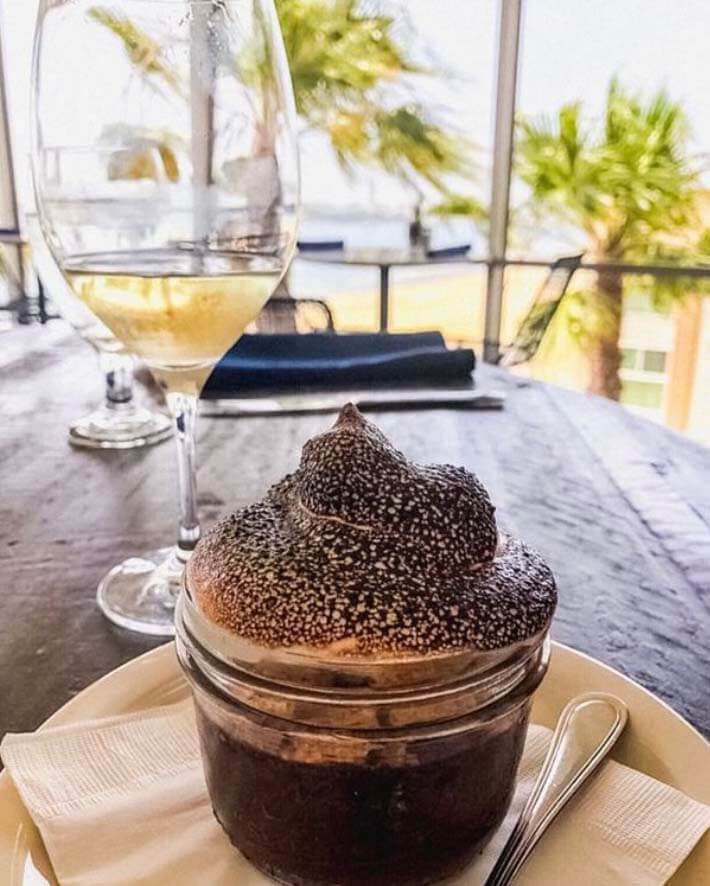 Photo credit: @foodstagramlongbeach on Instagram
Brownie a la Mode – Hug Life
This all-vegan ice cream shop has been a welcome addition to the Long Beach vegan scene, and with their daily late-night hours, it's the perfect place to grab a snack when those after-dinner munchies hit. Their brownies are the perfect balance of gooey and rich, so while this dish may seem like a heavy commitment, every bit is worth it. Choose two ice cream flavors to pile on top of your brownie, and then load it up with your favorite toppings like vegan marshmallows, caramel sauce, nuts, and sprinkles.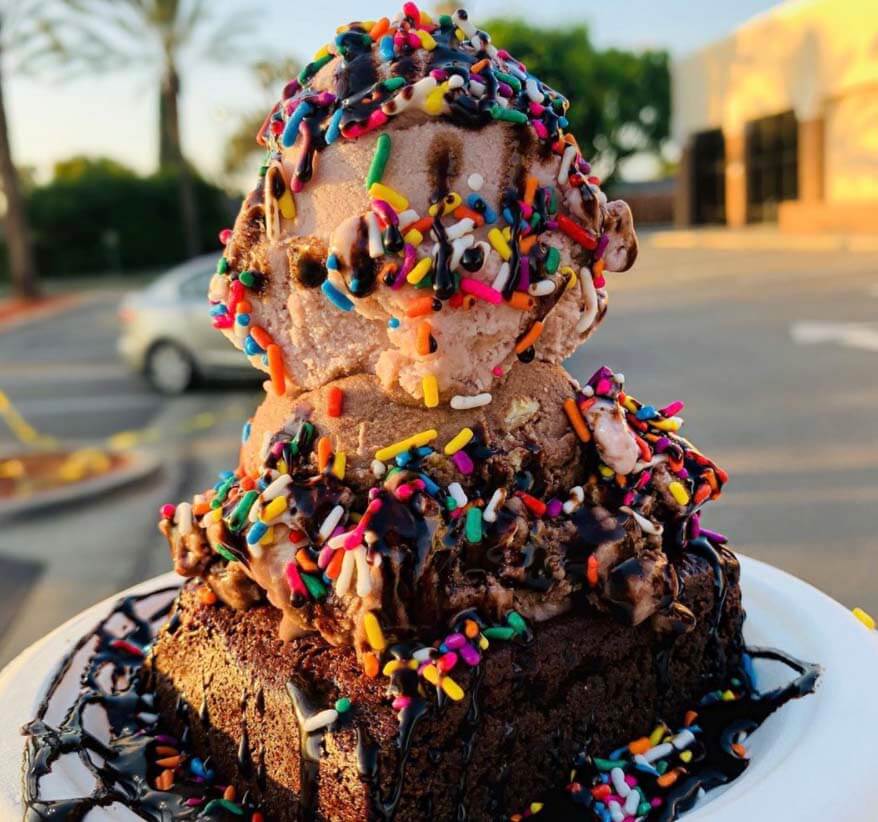 Raw Cheesecake – Under The Sun
Any dessert you get from Under The Sun is going to blow your mind, but the raw cheesecakes are exceptionally delicious. Flavors rotate according to what's in season, so you're likely to find different flavors in the case every couple of weeks or so. Some past highlights have included Celestial Rose, Persimmon, Passion Fruit, and Almond Butter. And if one slice just doesn't seem like enough, Under The Sun does custom mini and full-sized cheesecakes as well—just give them a few days notice.