These convenient simmer sauces were made for quick and easy plant-based cooking.
Do you love the idea of cooking up tasty vegan meals, but aren't sure where to start? Simmer sauces can be great for flavor inspo and culinary creativity. These premade sauces are packed with ingredients and spices you might not typically have on hand and pair well with your favorite cruelty-free ingredients like vegetables, legumes, and grains. Keep reading for the 10 best vegan simmer sauce brands to try next!
Made with simple ingredients, Mike's Organic Foods sauces are rich in flavor and totally vegan. The chef-curated brand offers Tikka Masala and Sri Lankan simmer sauces along with a variety of plant-based curry pastes and spices for creative meal prep. We love these options with potatoes, chopped veggies, and chickpeas.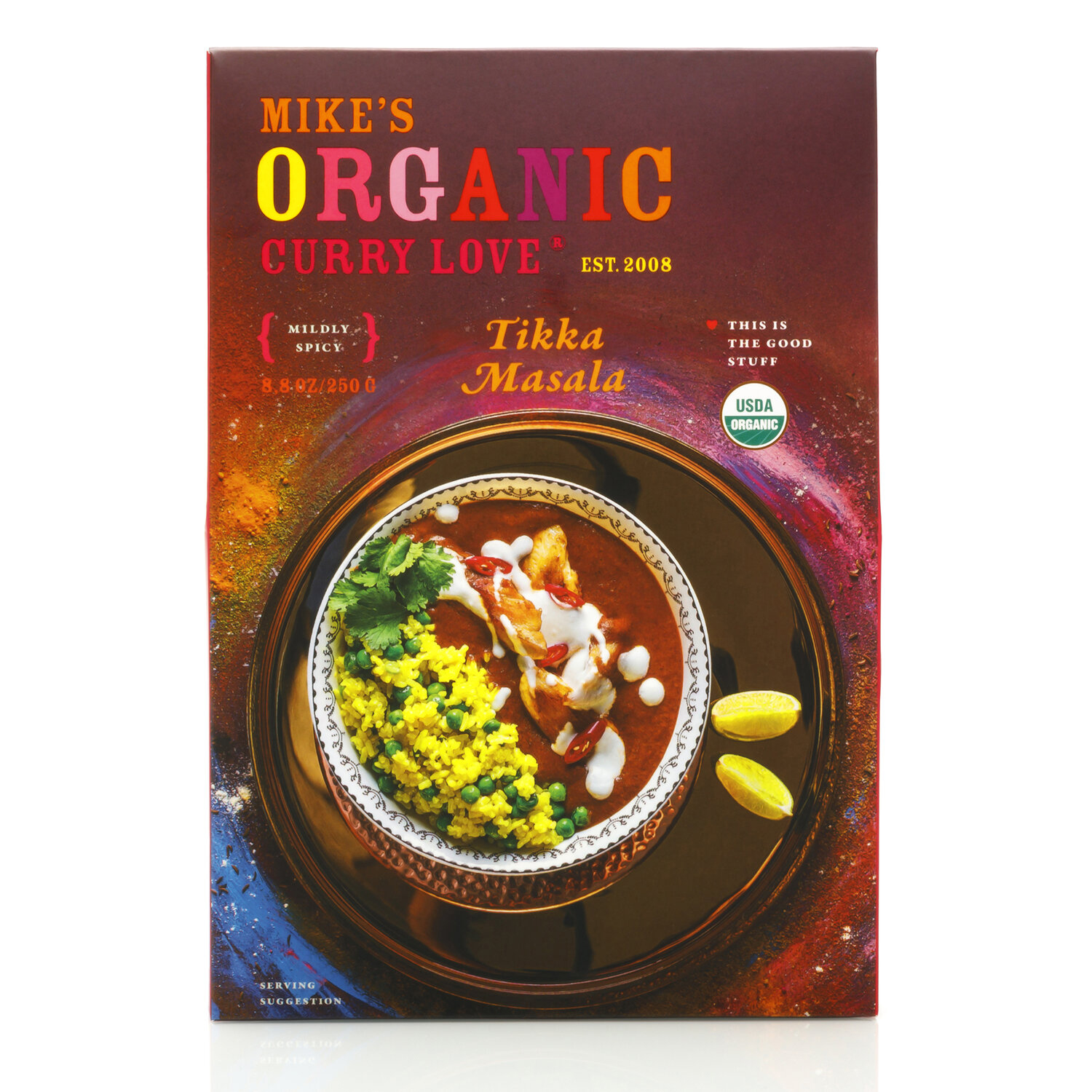 DIY your own Moroccan feast with Mina's collection of plant-based sauces. From Harissa and Shakshuka to a variety of flavorful jarred Tagines, these products are sure to pack flavor and save time. Try the Moroccan Chicken Cooking Sauce with plant-based poultry, chickpeas, or tofu and serve over crusty bread or couscous.
Vegan-Friendly
Looking to spice up your life? Enjoy flavors from around the world with Saffron Road simmer sauces. Vegan options include Korean Stir Fry, Lemongrass Basil, Pad Thai, Thai Mango, and Thai Red Curry. Pair these sauce packs with plant-based protein, a rainbow of vegetables, and your favorite grains.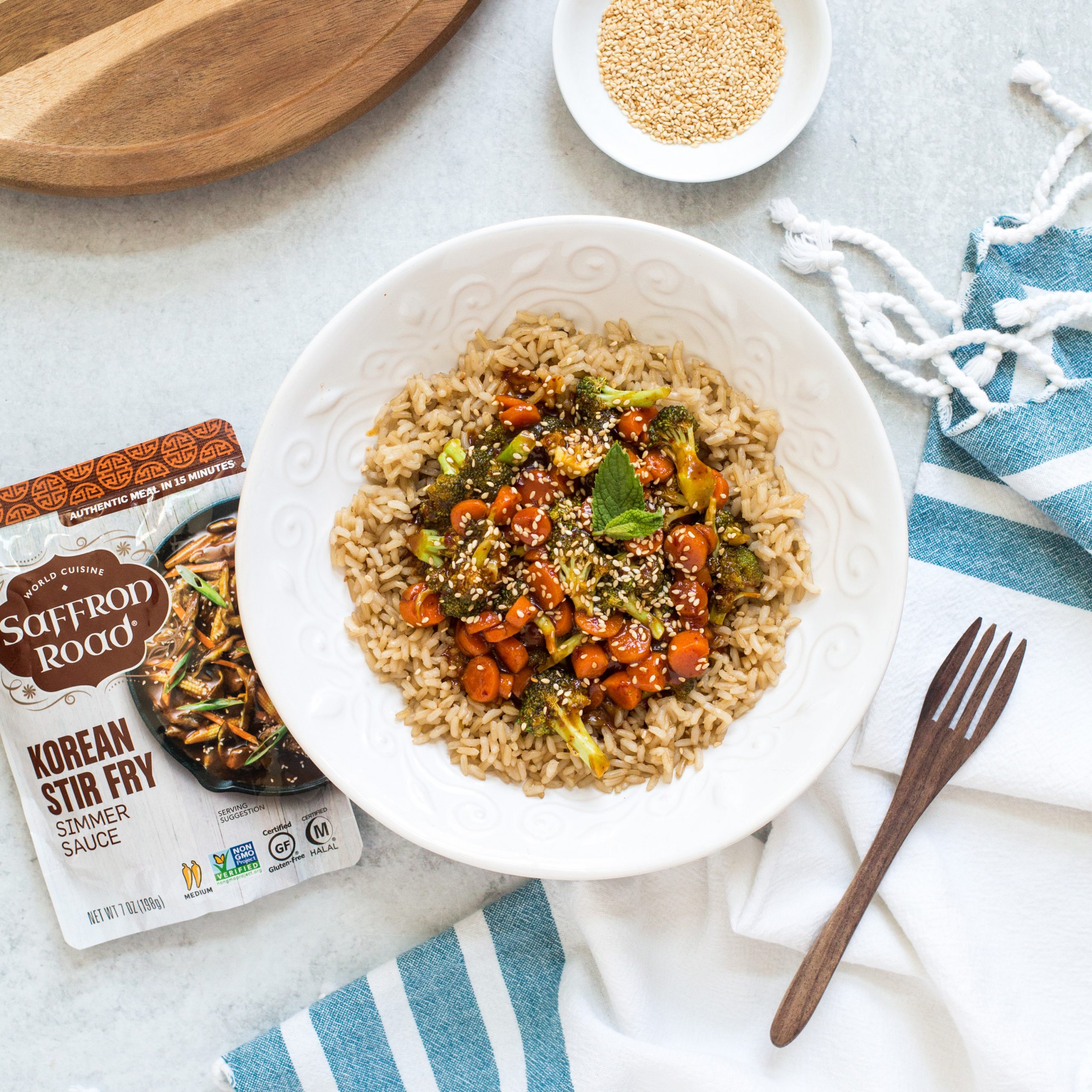 Photo credit: Lillie Vaughan / Saffron Road
Vegan-Friendly
This organic brand is serving up more than just spices. They offer products made to give your home-cooked meals the glow-up they deserve. Vegan simmer sauces from Simply Organic include Fajita, Taco, and Enchilada pouches along with the new Madras Curry and Korean BBQ options.
Vegan-Friendly
Maya Kaimal Foods offers a variety of Indian simmer sauces. While not all options are vegan, the Vegan Tikka Masala, Spicy Vindaloo, and Goan Coconut are where it's at! Pair with your favorite veggie dishes or whip up a fancy flatbread with a simmer sauce base and creative plant-based toppings.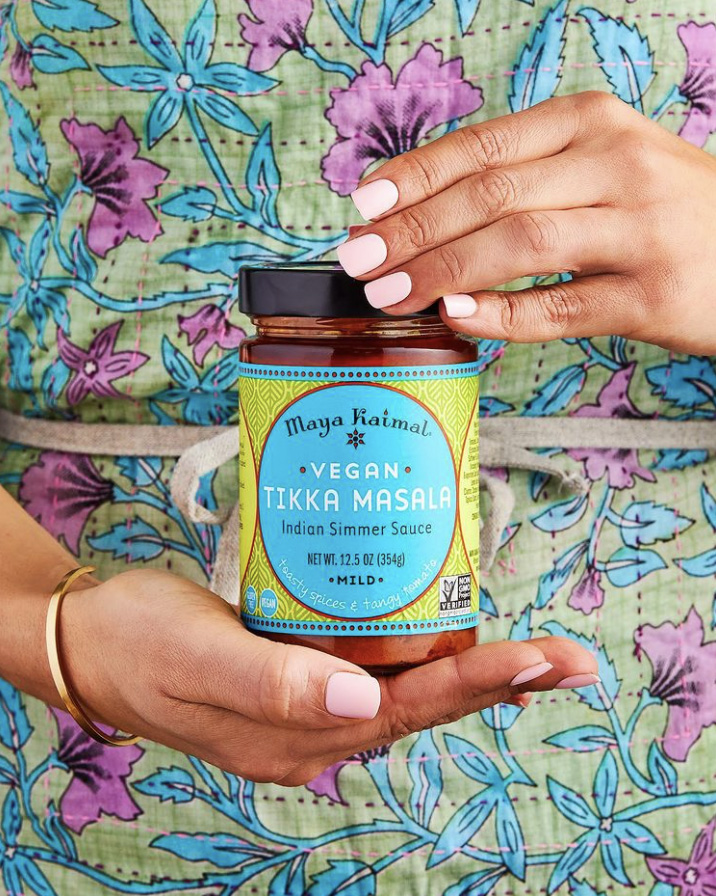 Vegan-Friendly
Chosen Foods globally inspired simmer sauces are an easy choice for your plant-based cooking endeavors. Opt for the Guajillo Pasilla, Spanish Romesco, and Muhammara sauce varieties for your next semi-homemade meal. We're loving the Romesco sauce simmered with black beans and peppers and served over rice. Cheers to no-fuss cooking!
Vegan-Friendly
Both the Vindaloo and Coconut Curry sauce varieties are vegan, made with simple ingredients, and taste totally homemade. Find these jarred simmer sauces, serving suggestions, and recipes organized by sauce variety from Nidhi Jalan, the Masala Mama herself, on their website. Homemade sweet potato Vindaloo Tacos? Coming right up!
Vegan-Friendly
Looking for simple, yet gourmet, meals in the comfort of your home? Indian Life plant-based Coconut Cashew and Medium Curry Sauce were made for just that! They're seriously easy to use—just heat your sauce, add your ingredients, simmer, and serve. Try with cubed tofu, chopped spinach, and grape tomatoes over basmati rice.
Vegan-Friendly
Love gourmet Mexican food, but don't know how to replicate it at home? Frontera offers a variety of sauces that contain bold seasonings and authentic ingredients. Snag one of the many sauce pouches made for plant-based enchiladas, slow cooker Tex-Mex dishes, and loaded skillet meals. We love the Veggie Taco Skillet Sauce made with fire-roasted tomatoes and green chilis.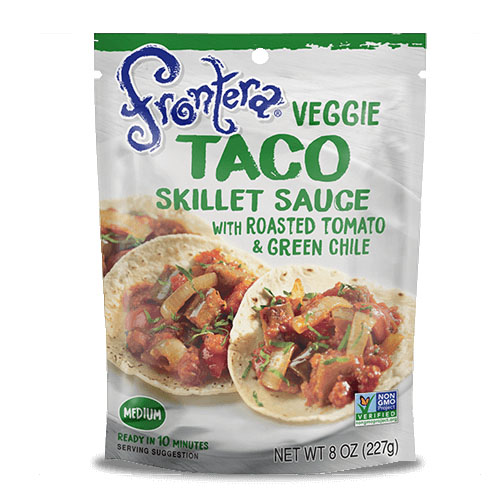 Vegan-Friendly
While this American retail company sells kitchen and home products, they also sell a variety of tasty food options including plant-based simmer sauces. From Roasted Garlic Pan Sauce and Coconut Turmeric & Lime Sauce to Romesco and Vegetarian Braising Sauce, Williams Sonoma offers several culinary cuisine avenues to explore in your plant-based kitchen.