We're taking a road trip from Ventura down to San Diego in search of the best plant-based sushi the area has to offer.
Southern California is known for many things—from the beaches to the glamour of Hollywood to wine country, SoCal seems to have it all. But did you know that the region also has an abundance of the best vegan sushi in the world? Whether you're up the coast in Ventura or down in San Diego, you'll have no problem locating and indulging in some of the finest vegan sushi options around the country. Here's a list of our favorite vegan sushi spots in Southern California, starting at the Northern tip in Ventura and making our way down the coast to San Diego.
Agoura Hills
Ma-Kin Vegan Sushi may be the new kid on the block, having just opened their doors to customers this past July. However, it didn't take them long to make a dent in the vegan sushi scene of the greater Los Angeles area. Ma-Kin offers a wide assortment of vegan sushi rolls and other Japanese nourishments, including their famous Sexy Lady Roll, Dynamite Roll, Rolls Royce Roll, and so much more. Ma-Kin's menu is 100% vegan, and most of their ingredients are organic and non-GMO. They are family-owned and passionate about providing the best sushi experience in an animal-friendly way. Here's an inside tip: Order the cheesecake for dessert; it'd be hard to find vegan cheesecake as good as Ma-Kin's anywhere else in the world!
Studio City
Vegan-Friendly
Gokoku has been a North Hollywood vegan staple since its opening in 2016. Yes, they do have delicious (and mostly vegan) ramen but don't let the name fool you—they also have an incredibly extensive menu of vegan sushi. Founder and chef Shanshan Liu Estacio opened Gokoku to provide a diverse plant-based menu. Some of their best vegan sushi offerings include Crispy Rice With Spicy Tuna, Dynamite Crab Meat Roll, and a Popcorn Vegan Roll. On top of the vegan sushi and ramen, Gokoku offers delectables such as Vegan Crunchy Avocado, Fried Cauliflower Wings, and more!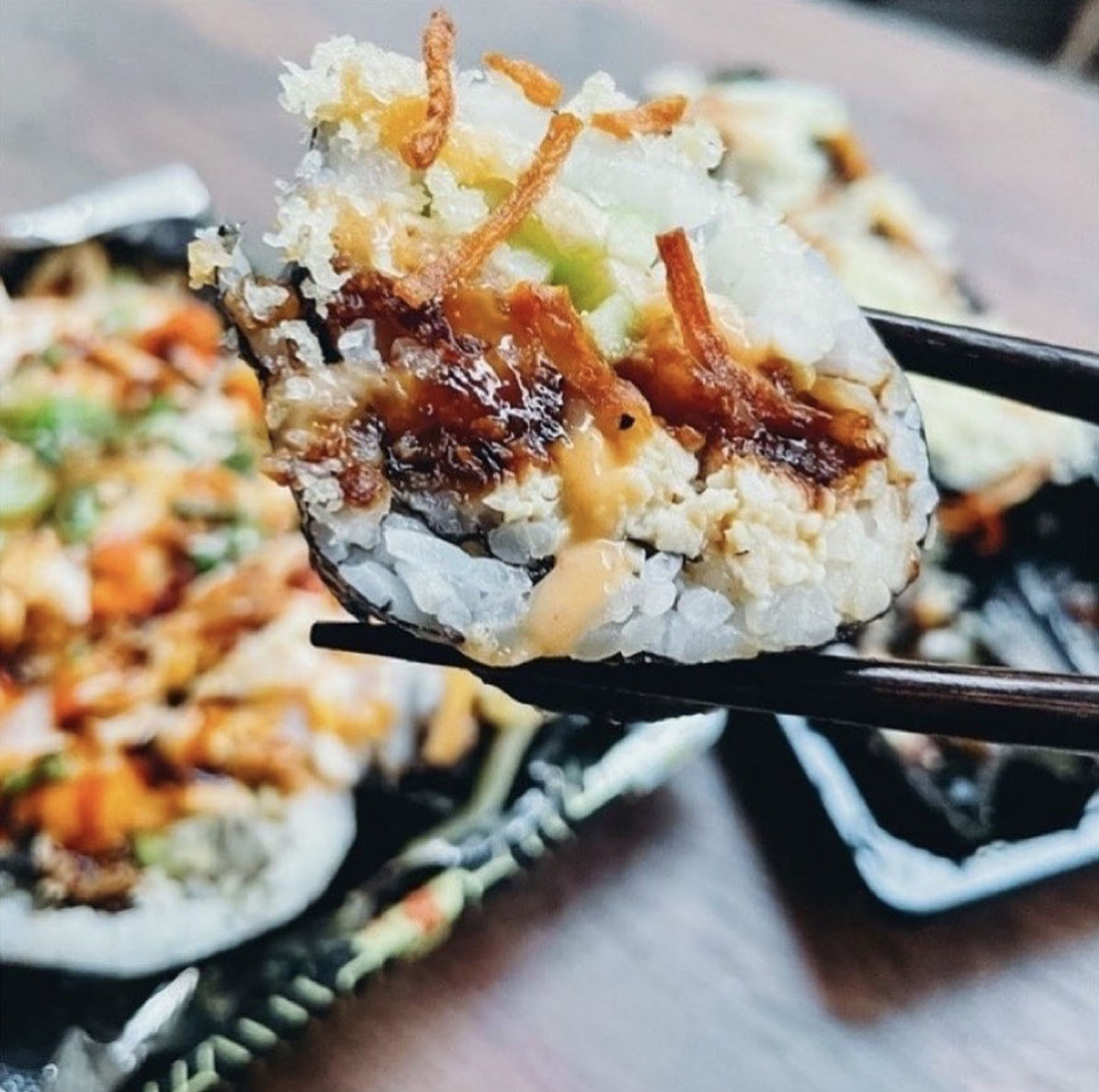 Photo credit: @kristinsveganarchive on Instagram
Downtown LA & Culver City
Shojin's mission is to provide authentic Japanese cuisine that is organic, gluten-free, macrobiotic, and completely natural. All of their impressive dishes are created with a health-conscious mentality. Sushi dishes include the Baked Crab Hand Roll, Dynamite Roll, and Dragon Roll—but, if you're feeling special, we recommend trying the Purple Treasure or Kiss of the Spider Woman. Shojin also offers vegan ramen, noodles, and desserts such as their Salted Baked Potato! Shojin is 100% plant-based and currently takes reservations through their website.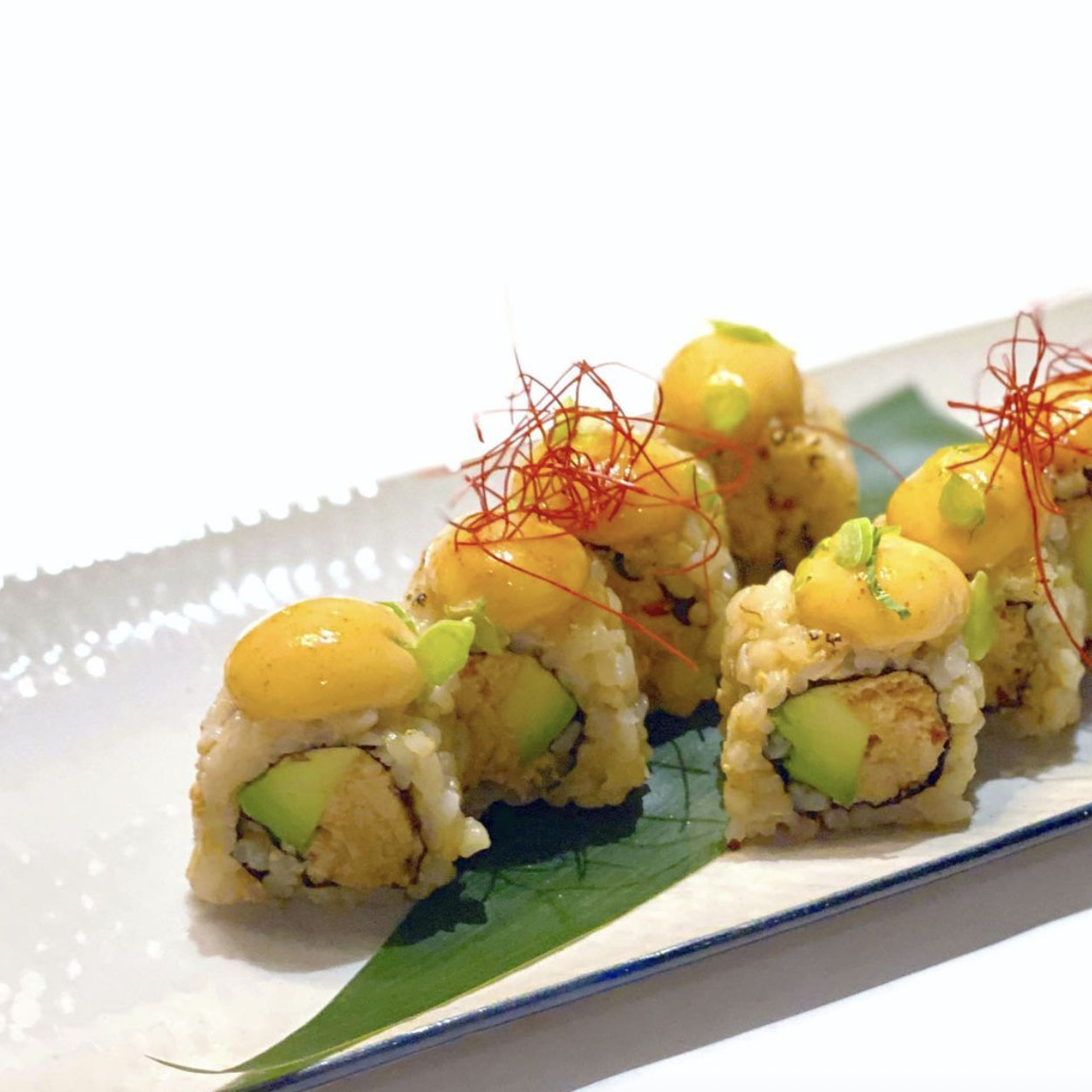 Long Beach
Another new vegan sushi spot, Vegan Castle, is quickly making an imprint in the lives of Long Beach residents. Founded by sushi chef Tony Do (a former Kenshō chef), Vegan Castle offers a wide range of Japanese delectables. From a sushi standpoint, Vegan Castle's standout rolls include the Ocean Roll, Volcano Roll, and Shrimp Tempura Roll, but it doesn't stop there! Vegan Castle's menu also includes Crispy Vegan Tacos, Zesty Fries, Hand Rolls, and more. At this rate, Southern California will have more vegan sushi options than its non-veg counterparts in a few years' time.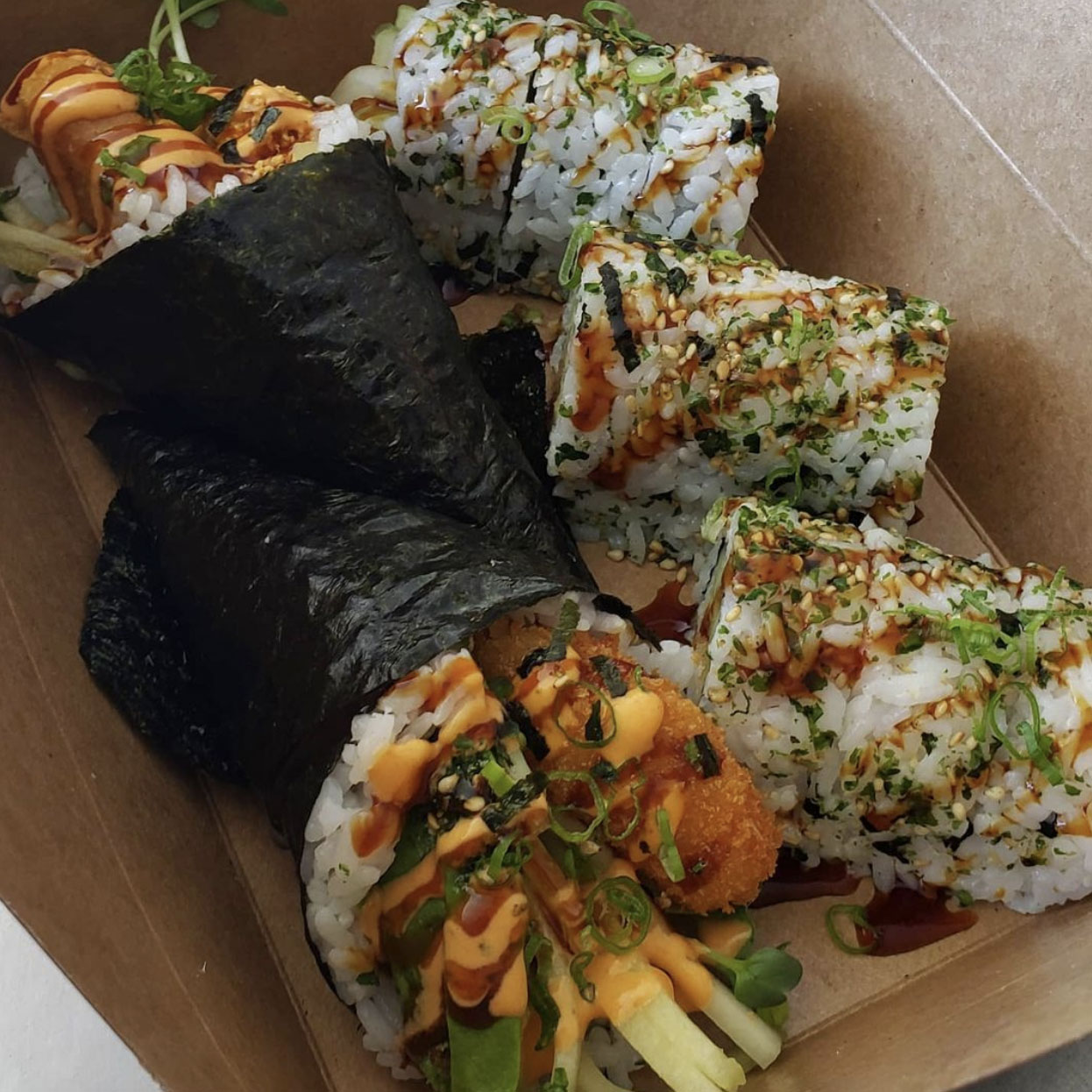 Westminster
Kenshō Vegan Sushi has been serving up some of the finest vegan sushi that Orange County has to offer since its opening in 2018. They provide an incredible selection of sushi, but before we get into that, we have to shout out their nigiri options, including Spam, Salmon, and White Tuna. A few of their sushi rolls include the Spider Roll, Caterpillar Roll, Spicy Tuna-Less Roll, and many more! Additionally, they offer a selection of traditional Japanese appetizers, hand rolls, and sides. Kenshō Vegan Sushi is 100% plant-based and open daily.
San Diego
Let's get right to the point—if you're in San Diego and craving vegan sushi, then look no further because Now Sushi has you covered! Their menu is 100% plant-based and includes sushi, noodles, and more. Now Sushi's mission is to eliminate animal cruelty and promote the welfare of all beings. Their best vegan sushi offerings include the Rocky Roll, Marilyn Roll, Saving Nemo Roll, and more. Now Sushi is open daily for dine-in and takeout.