Stay safe at home and get a box of vegan pizza delivered from one of these stellar spots in LA! So many things in the world have been turned upside down due to the coronavirus pandemic. With everything in daily life that's different, there is still one thing we can count on to provide us a sense of normalcy––pizza delivery! There's nothing more comforting than a box of cheesy, carby vegan goodness! Here's where you can get your fix in Los Angeles––without even leaving your bed.
Fresh Brothers
Delivery available throughout Los Angeles, San Fernando Valley, Orange County, & San Diego
This vegan-friendly pizza joint has got it going on! Pick from their Vegan Cheese, Pepperoni, or Da Works. Oooh—what's in Da Works? Daiya mozzarella, Impossible sausage, vegan pepperoni, mushrooms, green peppers, and onions. That works for us! If you're a picky eater and Da Works doesn't work for you, create your own pizza with the toppings of your choice! And for a lil' something on the side, add in an order of Vegan Chick'n Tenders or a Fresh Salad.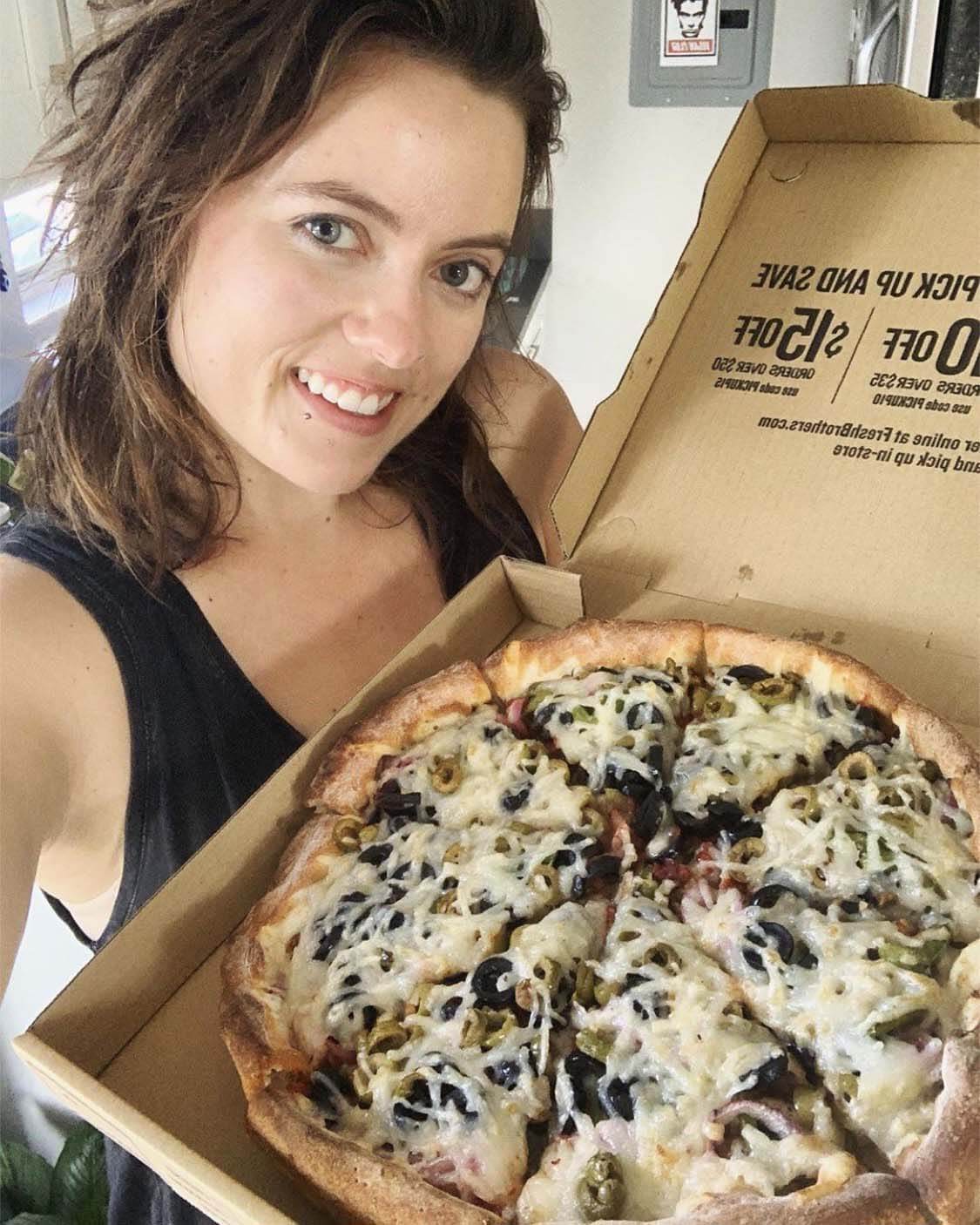 Purgatory Pizza
DTLA
You already know what's up at Purgatory Pizza but we'll refresh your memory (and make you hungry)! Their vegan pies, available in 14" and 18" sizes, are all crafted with house-made cashew mozzarella. They have a load of great variations to choose from like the Buffalo Bill with buffalo ranch, marinated cauliflower, red onions, cherry tomatoes, scallions, and a sprinkle of red pepper flakes. This next one might be a touchy subject, but they also have a few pizzas with pineapple on top! Whatever your pizza preference, you can now get it delivered within a 5-mile radius from their restaurant. (Formerly 3 miles).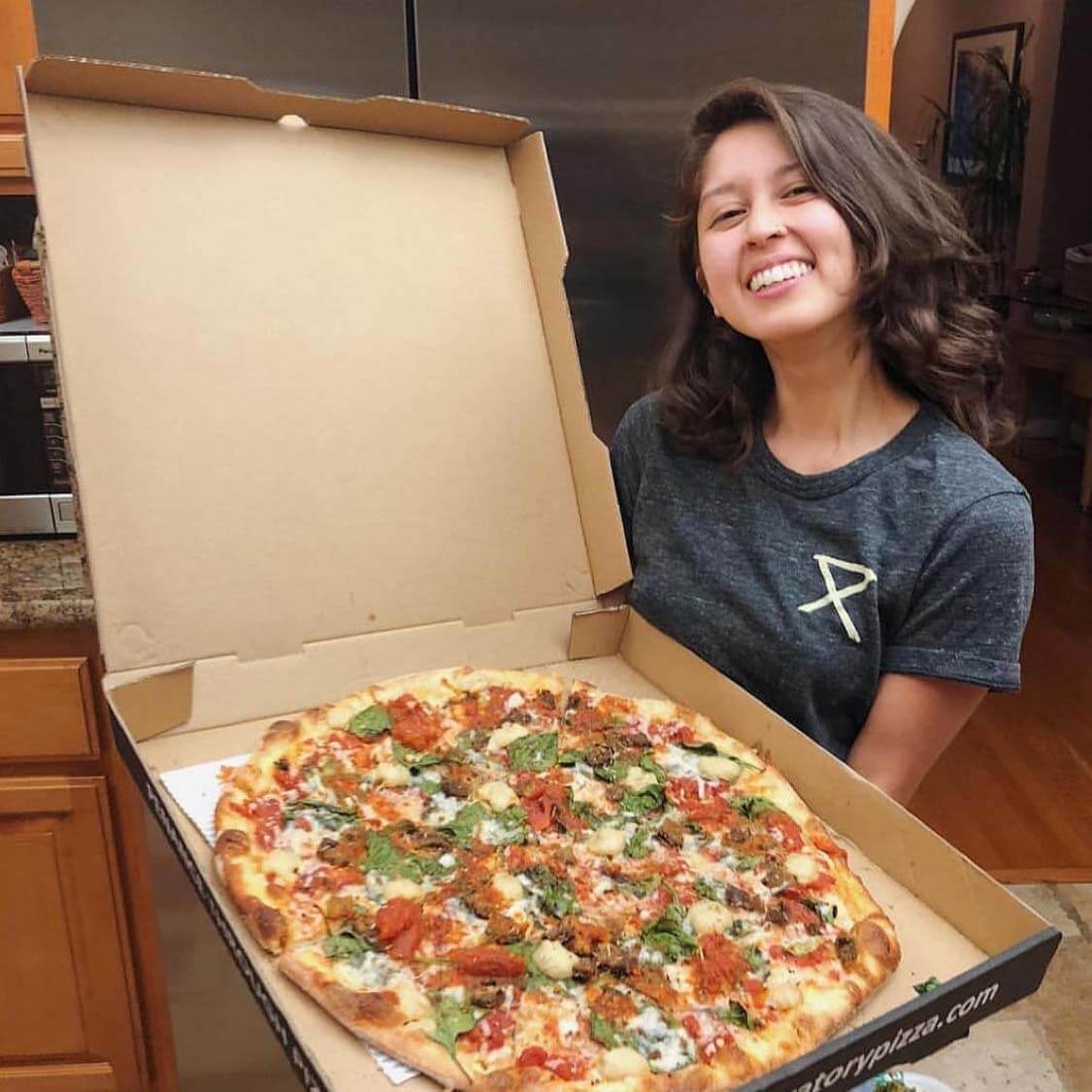 Photo credit: Jasmine Briones / @sweetsimplevegan on Instagram
Cruzer Vegan Pizza
East Hollywood
When you order at Cruzer, there's no need to specify for your food to be made vegan, it's ALL vegan! They've got classics like Cheese, Pepperoni, and Margherita as well as more experimental pizza flavors like the Phillysteak, Indian Kima, Ratatouille, and Jamaican. Their wide variety of pizzas means you can order from Cruzer for quite some time before getting bored. Challenge accepted! Delivery is available within a 3-mile radius of their shop.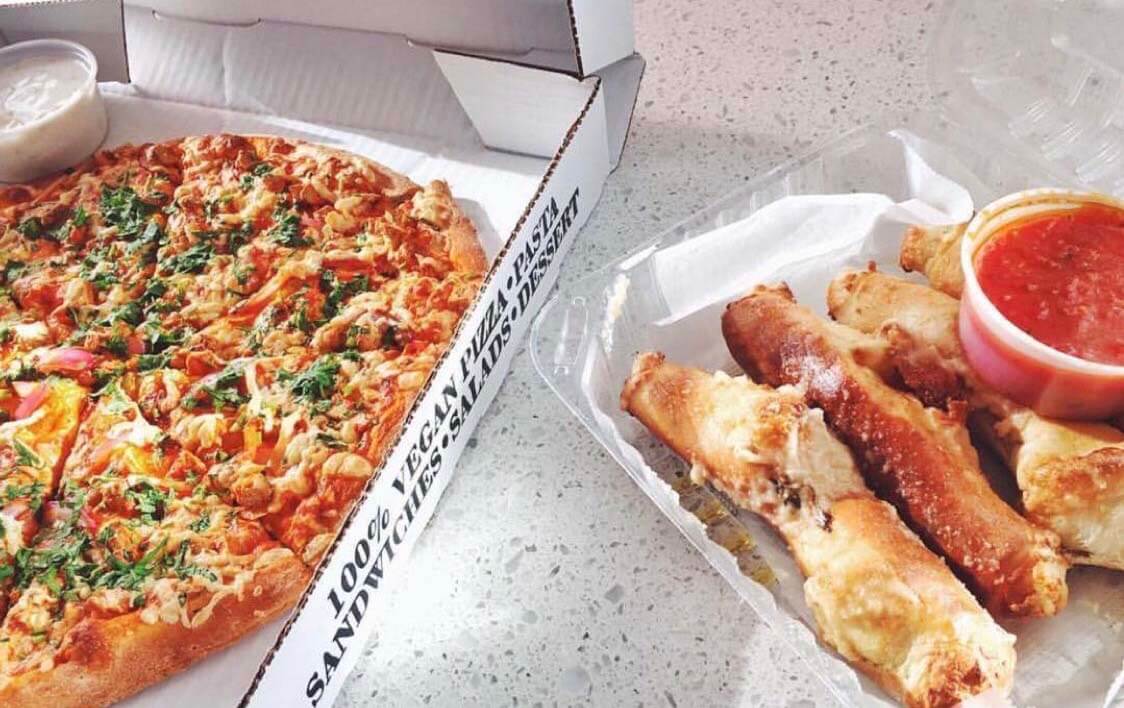 Julie Goes Green
Palms
This all-vegan Italian spot looks out for your health as well as the environment! All of their to-go items come in a biodegradable container—yep, even the pizzas! Some of their tasty toppings include sautéed tempeh, vegan chicken, and BBQ cauliflower. And any pizza can be made on their gluten-free crust, hallelujah!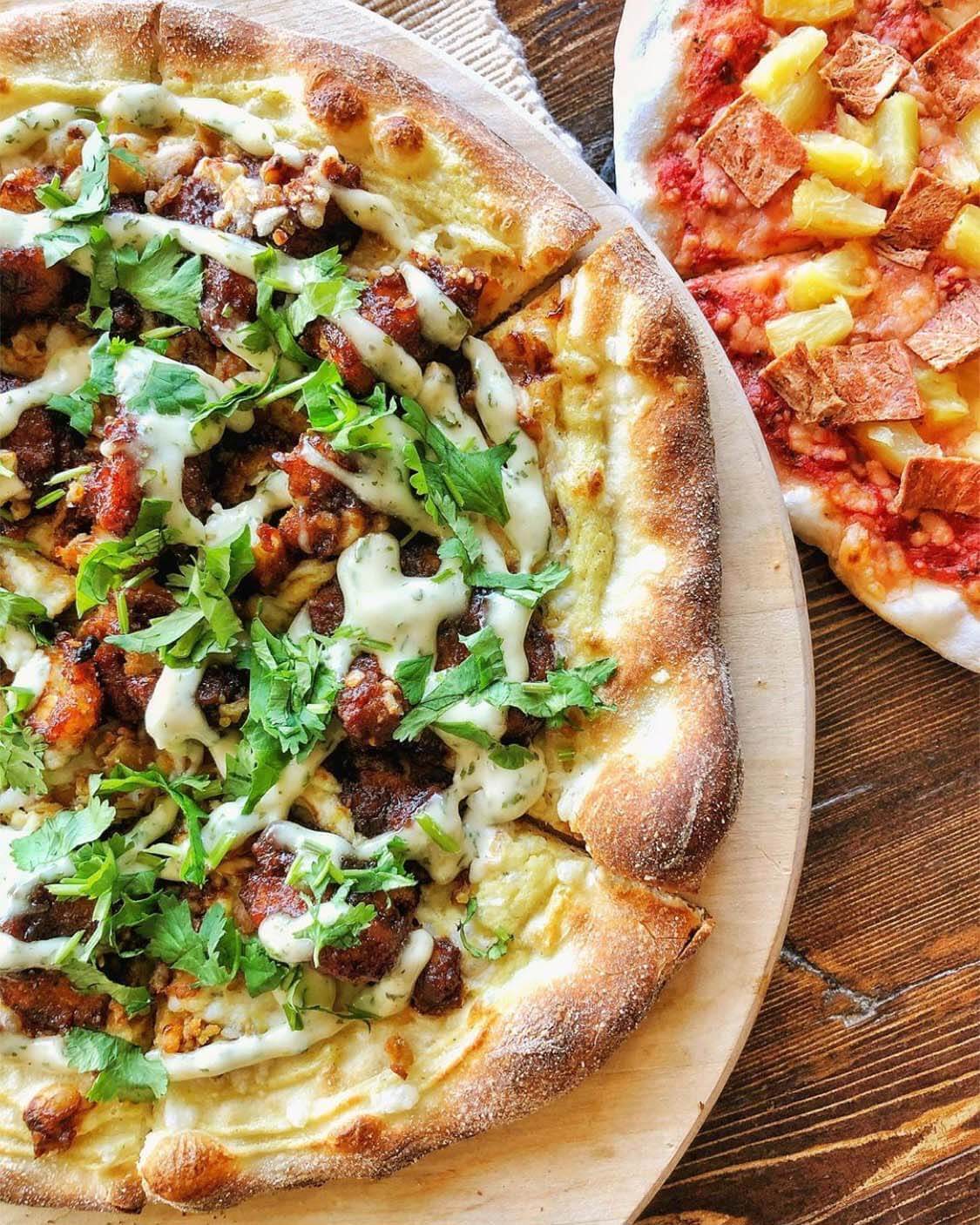 Pura Vita
West Hollywood
Pura Vita makes the most magical Italian food––so magical in fact, that they announced plans to expand to their very own pizzeria! This announcement was before all of the COVID-19 craziness, so they've had to postpone the new location, but that doesn't mean they have to postpone the pizza-making! Chef Tara Punzone and her Pura Vita crew are breaking out pizza specials on their menu for takeout or delivery. And there's an option for gluten-free peeps too!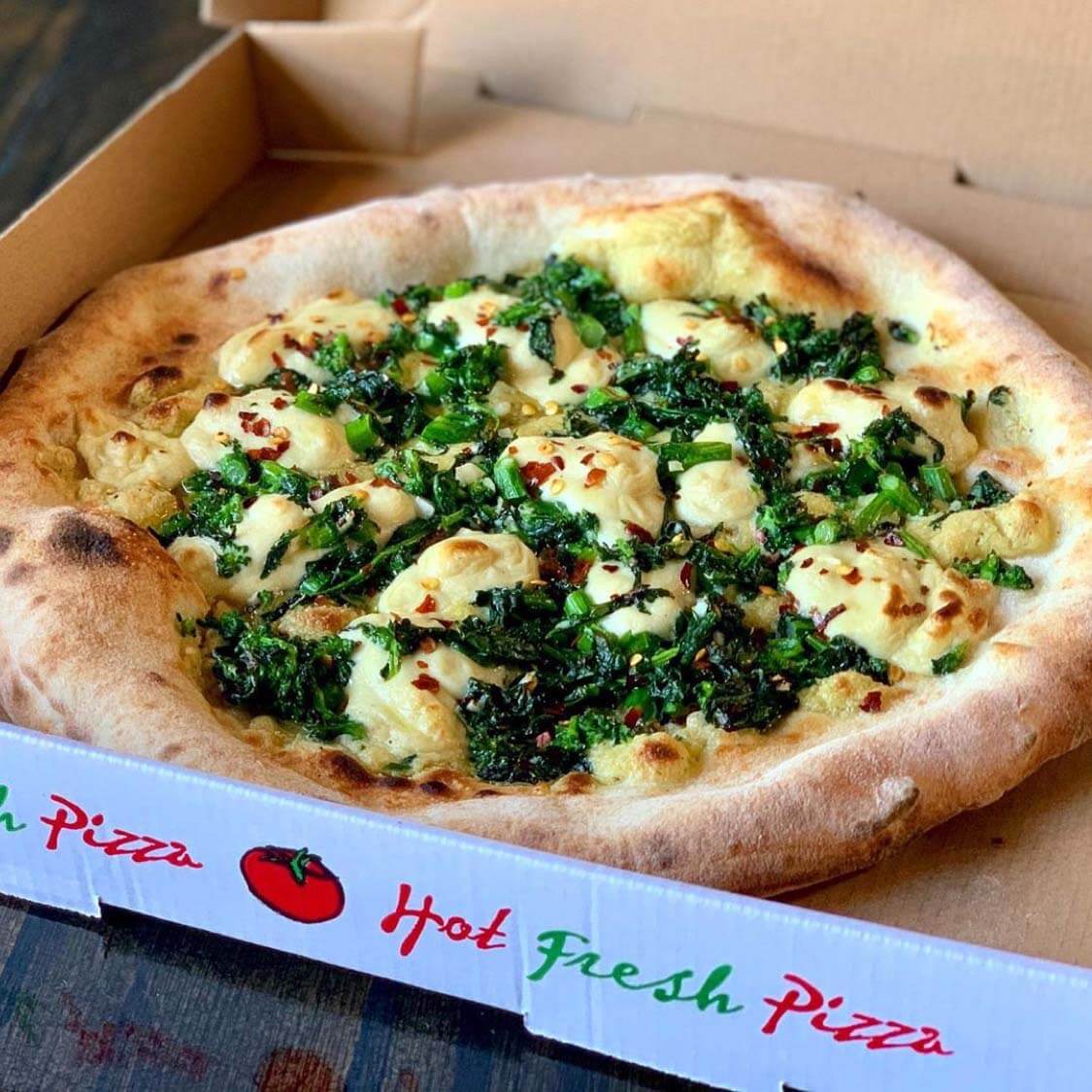 Pizzanista
DTLA (Long Beach temporarily closed)
Pizzanista's Vegan Supreme Jesus comes loaded with three different plant-based meats––pepperoni, sausage, and bacon. But that's not it! This 18" circle of goodness is additionally topped in green peppers, Kalamata olives, mushrooms, red onions, spinach, garlic, tomatoes, and Daiya cheese. That's just one of the many great plant-based pizzas you can enjoy from this vegan-friendly spot. And keep your eyes peeled for specialty pies like their Vegan Breakfast Scramble or Vegan Mac and Cheese pizza! Need plant-based ranch to pair with your slices? They've got that too!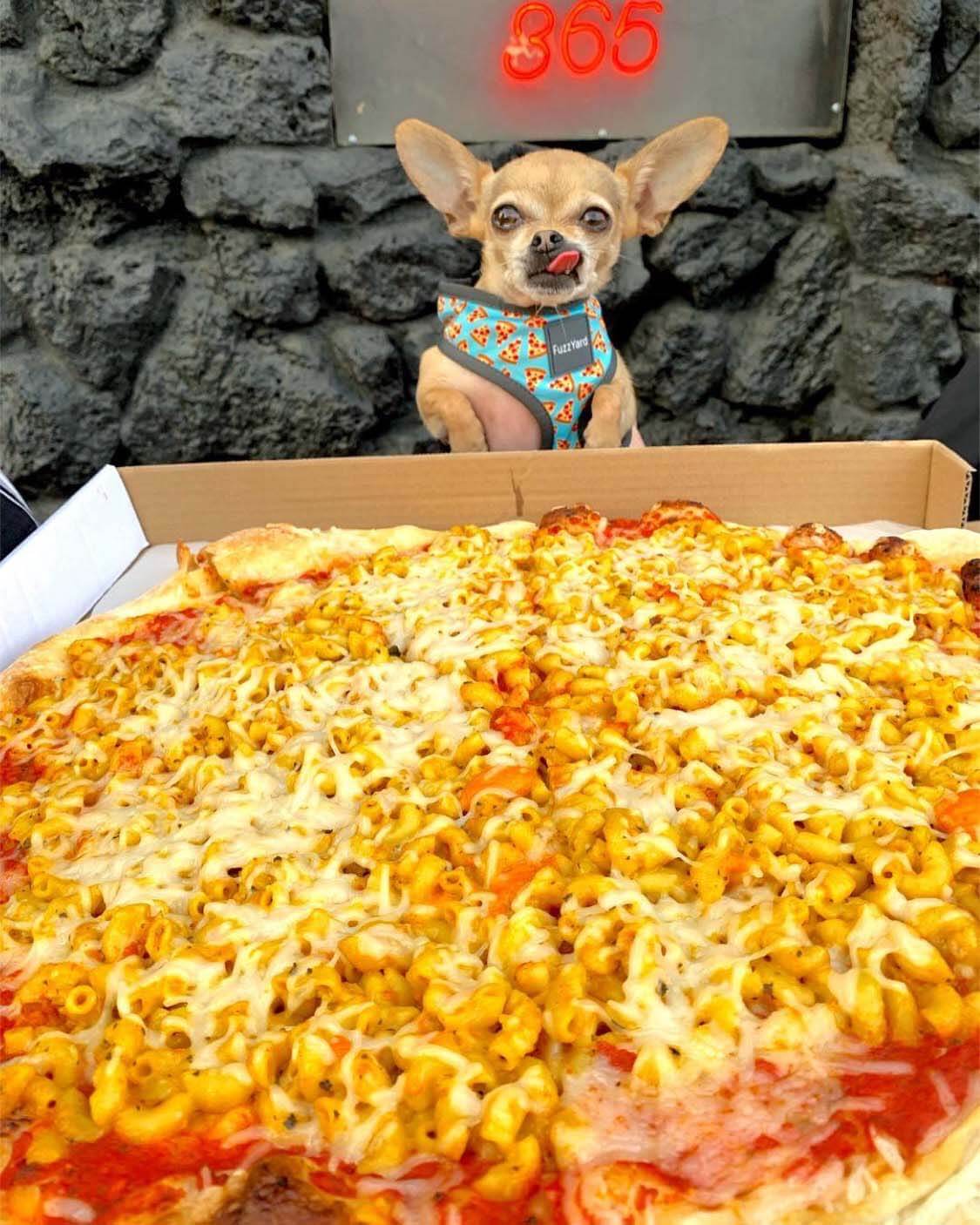 Photo credit: @yolandi_eats_la on Instagram
Love Amaro Pizzeria
Riverside
This pizza-centric vegan pop-up is offering delivery services from 10am-10pm every day. And from 10pm-10am, you can get your fix via pickup. Do you know what that means? You'll have access to drool-worthy pies 24 hours a day, 7 days a week! Their Roasted Garlic Diablo, Pepperoni, Sausage, Margherita, and Cheese pizzas are just $10 each! They've also got special menu items such as Chili Dogs, Breakfast Burritos, Chilaquiles, and more. Check out their Instagram page for menu specifics and delivery details.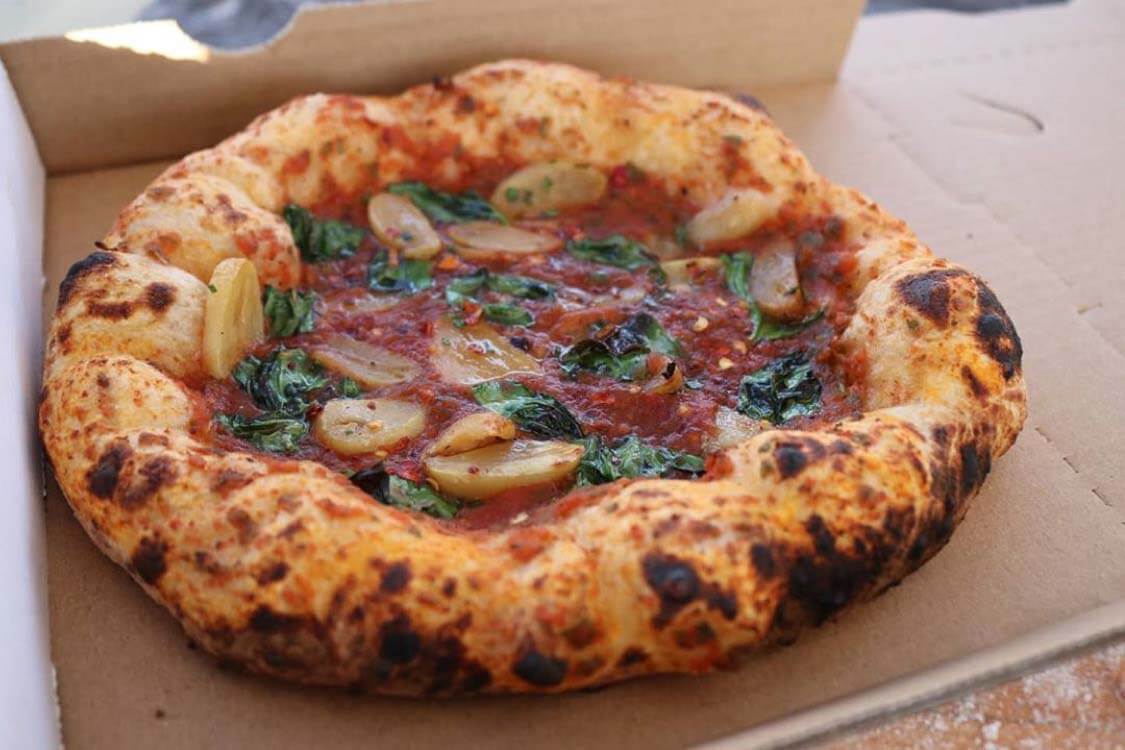 Masa of Echo Park
Echo Park
Where are our deep dish fans at? Hopefully at home in quarantine! Well, we're about to rock your world with this news. Masa of Echo Park serves vegan deep dish pizzas in four different varieties. Holla! They've also got Vegan Thin Crust Pizza, Mozzarella Sticks, Garlic Bread, and Minestrone Soup. Wow, there really is a vegan version of everything!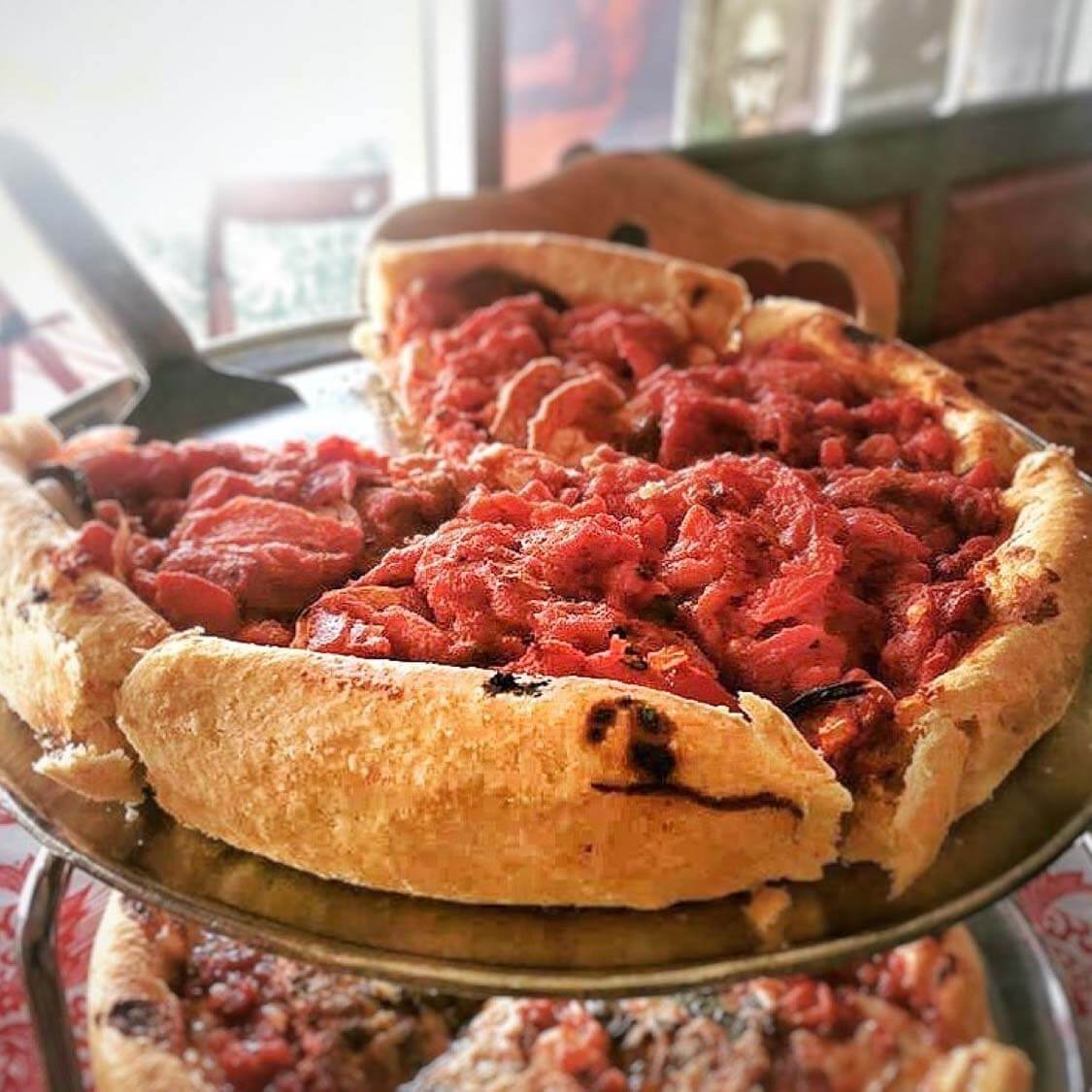 Photo credit: @eatvegan on Instagram
Double Zero
Venice
Speaking of deep dish pizza, have you tasted the one from Double Zero? If your answer is no, you're gonna want to change that to a yes! Hey, you might as well take advantage of your time in quarantine and taste as many vegan pizzas as humanly possible, right? While the deep dish pizza is a rotating menu item at Double Zero, you can always order their classic pies––which is what they're known for! Pesto, Truffle, Bianca, and Potato are some examples of what pizzas you'll find. And most of their pizzas can be made gluten-free and nut-free too!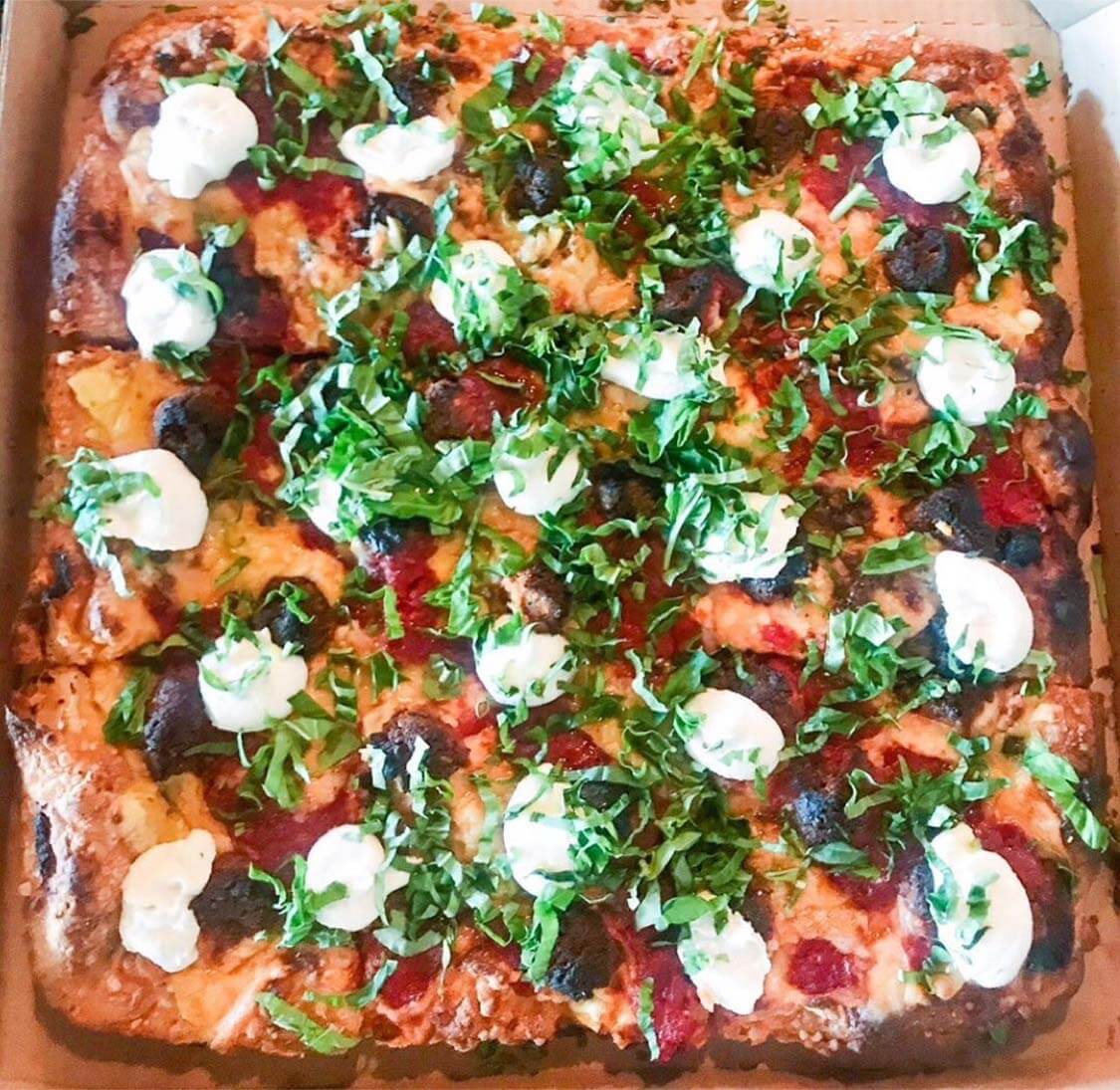 Blaze Pizza
Multiple Locations
If you weren't able to properly celebrate Pi Day this year, Blaze has a great deal that lasts until the end of the year! This vegan-friendly pizza chain normally serves pizza for $3.14 all day on March 14th. Due to the amount of customers this stellar discount would bring in, they extended the offer to promote social distancing! Until 12/31/2020 you can get one 11" pizza for just $3.14 when you use the Pi Day reward on their app––what a steal! If you need some guidance on what is vegan at Blaze, we've got your back! The Original, Gluten-free, and High Rise doughs are all vegan. You can top it with Red Sauce, Daiya Cheese, Vegan Spicy Chorizo, and whatever veggies you're in the mood for!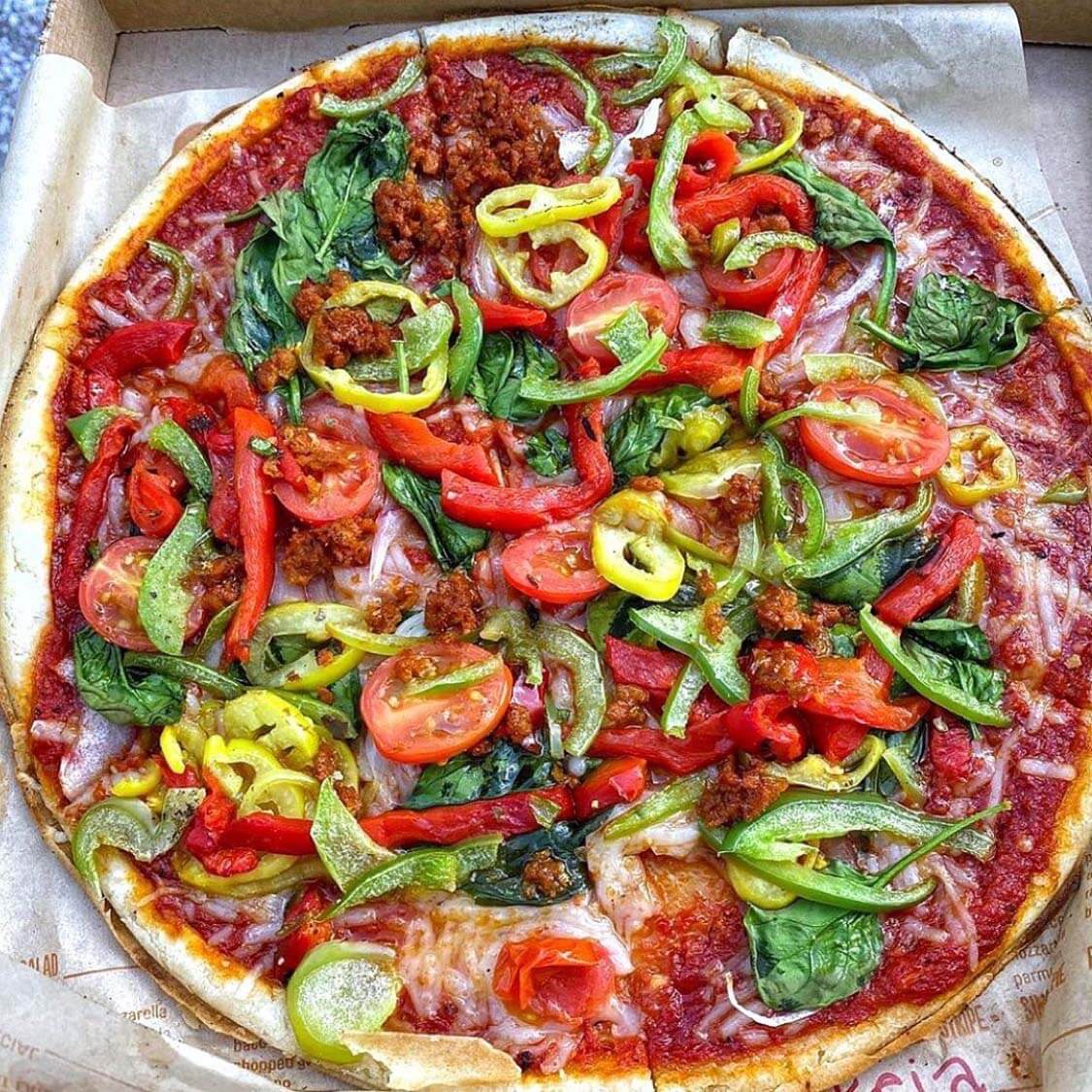 Photo credit: @preparation30_ on Instagram
RELATED: 7 Vegan Burrito Spots in L.A. Open During COVID-19
---
Want even more LA vegan food, news, and lifestyle content? Subscribe to VegOut LA Magazine!