While many NYC delis and restaurants have had to temporarily close due to the COVID-19 pandemic, there are many that are still open for delivery. We've got you covered! Here's where you can order deli style sandwiches delivered straight to your door.
Sarge's Delicatessen and Diner
Manhattan – 3rd Ave location
New York delis call to mind sandwiches piled high with meat and dairy products, but Sarge's Delicatessen and Diner is breaking the mold as they offer a 100% plant-based corned beef option, created and made by Jenny Goldfarb at Unreal Deli. We suggest ordering the Plant-based Corned Beef on rye bread with sauerkraut for the real deal. Place delivery orders by calling Sarge's 3rd Ave location directly as this option is not listed on the online menu. Orders can be placed daily between 8am-11pm.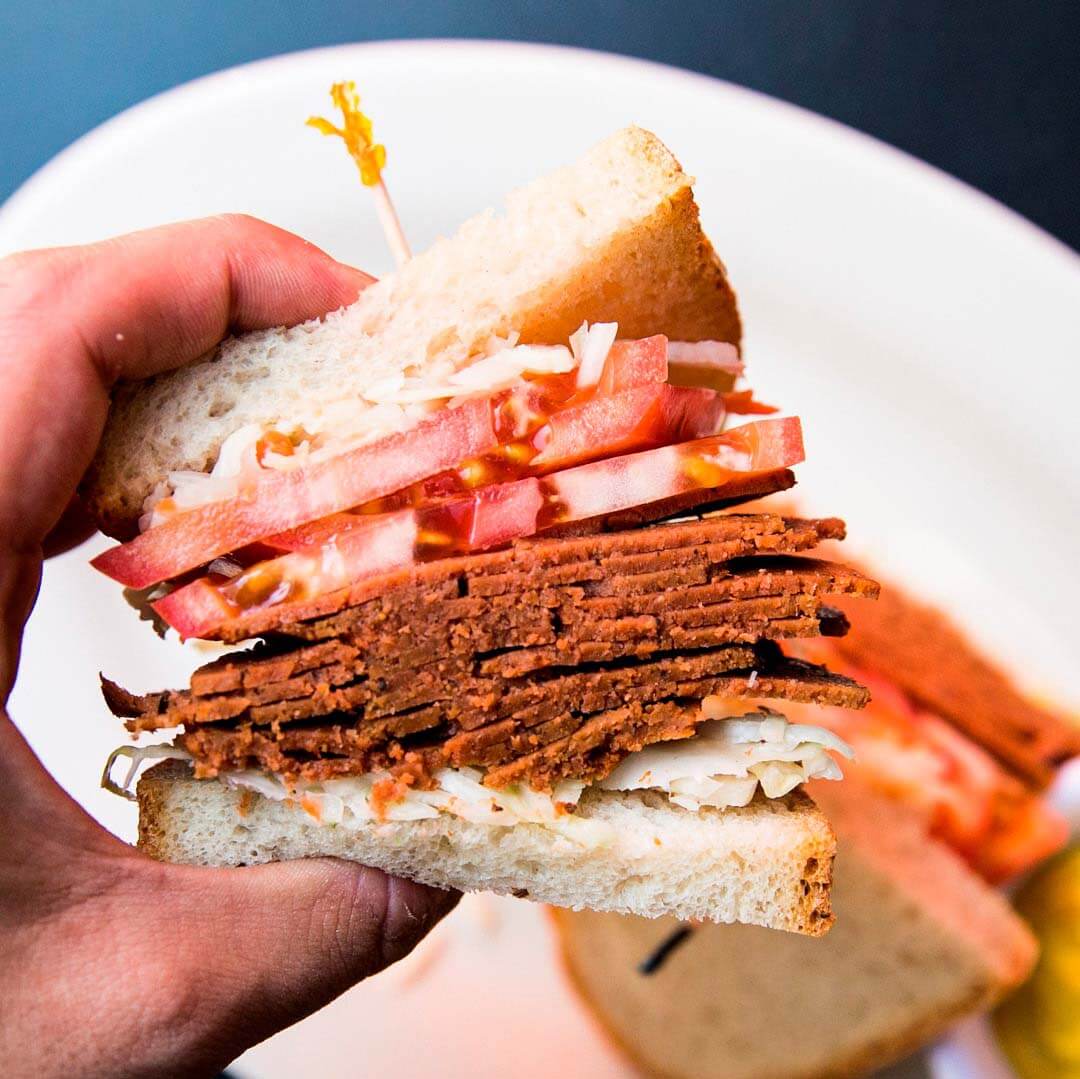 Freshco Grocery & Deli
Manhattan
Freshco offers both grocery and deli items, and there is no shortage of vegan sandwiches on the menu. Their unique plant-based options include a Vegan Ginger Chicken Cubano, Atlas Vegan Club Sandwich (vegan turkey, vegan bacon, tomato, spinach, vegan cheddar) and Vegan Tofu Salad on Multigrain to name a few. The vegan sandwiches are made on baguettes or multigrain bread. They also carry many vegan grocery items such as Beyond Meat products, vegan ice creams and even Unisoy Vegan Jerky—YUM! You can place orders with Freshco via Seamless daily from 8am-10pm. We've already got the Cubano in our cart!
Vegan Grill
Bronx
Vegan grill is a New York corner deli with a twist—everything is always 100% plant-based. You can order everything from a Bacon Egg and Cheese for breakfast to a Beyond Chopped Cheese Sandwich for lunch. The deli also offers appetizers, salads, burgers, bowls, smoothies and juices. We think the Sausage Egg and Cheese Sandwich with a fresh pressed juice sounds like a balanced breakfast. Vegan Grill is taking orders for delivery on Grubhub and Seamless 24 hours a day, so if you're craving a plant-based cold cut sandwich at 3am, Vegan Grill has you covered.
Hana Food
Brooklyn
Hana Food is a Brooklyn deli and grocery store all in one. The sandwich menu offers a separate "Sandwiches for Vegetarians" section, where you'll find lots of vegan options as well. Veg-friendly options include items like the My Girlfriend Sandwich (vegan pesto chicken salad, vegan bacon, vegan cheese, sprouts and cucumber served on a spinach wrap) and the Pretty Woman Sandwich (vegan bacon, vegan cheese, sprouts, tomato and guacamole on whole wheat bread). We think Julia Roberts would be proud! If you do go with the Pretty Woman Sandwich, modify it to be made without the crab cake as this comes on the unmodified version and is not a vegan ingredient. Hana Food is open for delivery 24 hours per day for all of your grocery and sandwich needs, both of which can be ordered online through Grubhub or Seamless.
Toad Style
Brooklyn
Toad Style is a 100% vegan sandwich spot that serves soy-free, palm oil-free and non-GMO eats. All menu items are also made in house, so you know you are getting your food fresh. Our favorite sandwiches include the BBQ Pulled Jackfruit Sandwich and the Banh Mi Bun, an Asian style sandwich served on a potato bun. If you like to keep your sandwich company, order the Pizza Fries as a side. Toad Style is open 11am-11pm daily and you can order for delivery online via Seamless.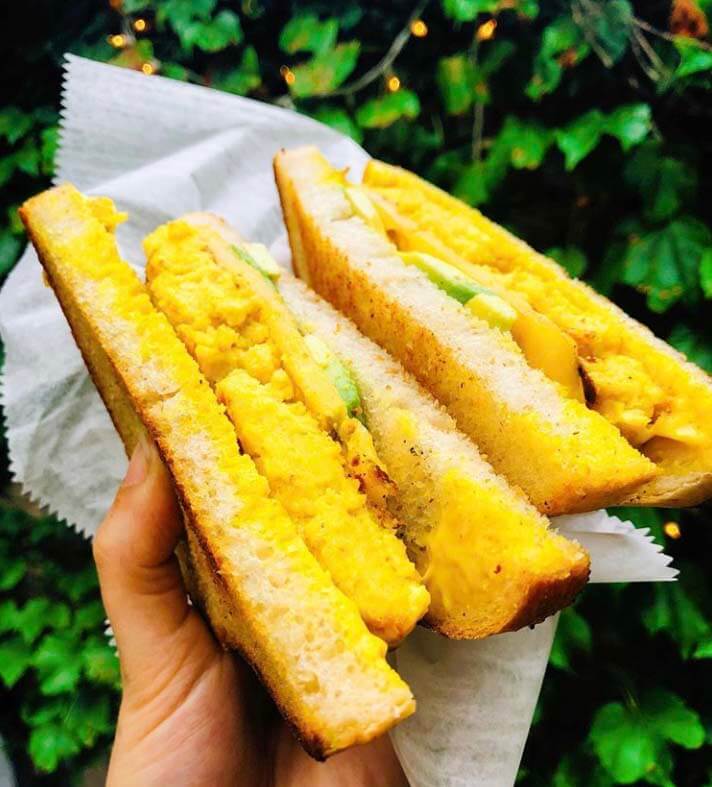 Ikraveit Foods
Queens
Ikraveit is here to satisfy your vegan sandwich cravings as there are a variety of plant-based options on the menu. Vegan items have their own sections, so you can easily identify the veg-friendly dishes. Start your day with the Vegan Tex-Mex Breakfast Wrap, or order a Vegan Chicken Cheesesteak Sandwich for lunch. Ikraveit also offers plant-based cakes, cookies, and whoopie pies. If you'd like a sweet treat to accompany your sandwich we recommend adding a slice of Vegan Cookies N' Cream Cake to your order. Ikraveit is taking orders via Seamless, Grubhub, Delivery.com and DoorDash 24 hours a day except Sundays. You can order groceries online as well.
LifeThyme All-Natural Market
Manhattan
LifeThyme is located in Greenwich Village and offers "wonderfully natural" products to help you feel your best self. Deli options include a Spicy Seitan Wrap made on a whole wheat tortilla and packed with homemade seitan, spinach, cucumber and spiced with tomato and chipotle peppers for a kick. LifeThyme also offers vegan sides like Oil Free Tempeh and Baked Potato Fries. Their market section includes vegan grocery items such as Miyoko's Creamery cheese and Veggie Meatballs. LifeThyme is open 11am-7pm daily, but hours may vary at this time. You can place sandwich and market delivery orders by calling them directly or online through Mercato.
RELATED: Best Vegan Pizza Delivery in NYC
---
Want even more NYC vegan food and lifestyle content? Subscribe to VegOut NYC Magazine!