If your parents ever told you to stop eating your food with your hands, Ethiopian food is for you! Injera (a spongy flatbread) comes with most dishes, and it's absolutely encouraged and customary in Ethiopian dining to use it as a vehicle to scoop up each delicious and flavor-packed bite. Not only that, but nearly half the population of Ethiopia are Ethiopian Orthodox Christians who traditionally eat vegan on Wednesdays, Fridays, and other fasting days, totaling over 200+ days per year. We're rounding up some of LA's best spots to try this vegan-friendly cuisine below!
Leimert Park
Azla Vegan is a fully vegan, counter-service Ethiopian spot serving up quick, traditional Ethiopian stews, along with sides, salads, authentic drinks, and specials, including tofu tibs, and their take on Taco Tuesday. Brunch has officially returned with new items including an everything bagel with smoked lox and turmeric roasted potatoes with awaze aioli. Their full menu even has a fudgy brownie that's both vegan and gluten-free—that is if you still have room! Guests can take some of Azla's famous hot sauces and spice blends to-go to recreate classic Ethiopian dishes at home.
Little Ethiopia
Right in the heart of Little Ethiopia, while most spots on the strip of restaurants have several vegan or vegan-friendly options, there's no second-guessing needed at Rahel Vegan. The spot offers tons of flavor-packed entrees, sides, and combo plates and the full menu is available for outdoor dining.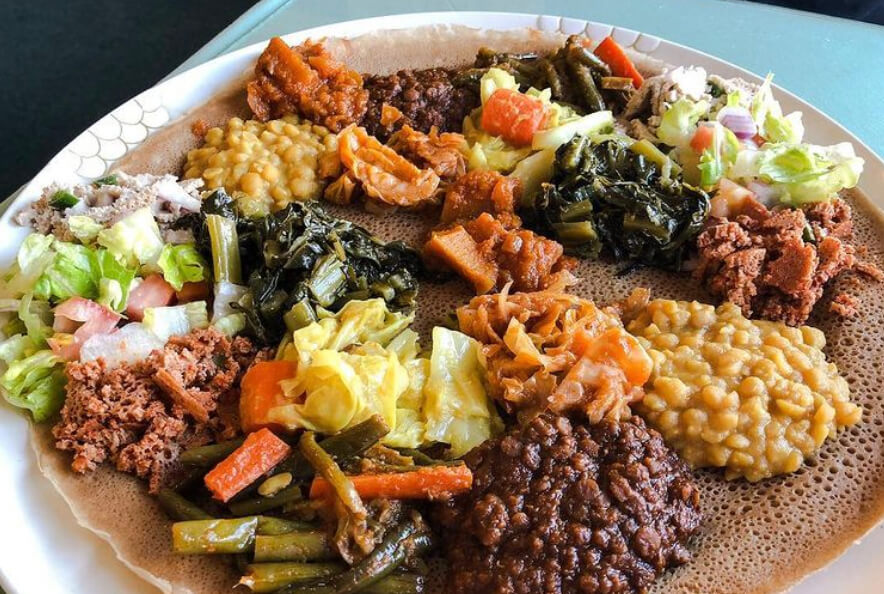 Photo credit: @tiffanybennicke on Instagram
Santa Monica & Pop-Up
After quietly opening and closing in West LA, T&T has found a new home in Santa Monica, set to open in August. The menu is entirely vegan, mostly gluten-free, and completely delicious. Branded as vegan food with an Ethiopian twist, some menu standouts include the Enkulal Firfir, made with tofu scramble, and green power pancakes topped with bananas, turmeric, and chia sauce. For those anxious to try before the new restaurant opens, Smorgasburg LA returns July 4th and T&T has a standing booth there.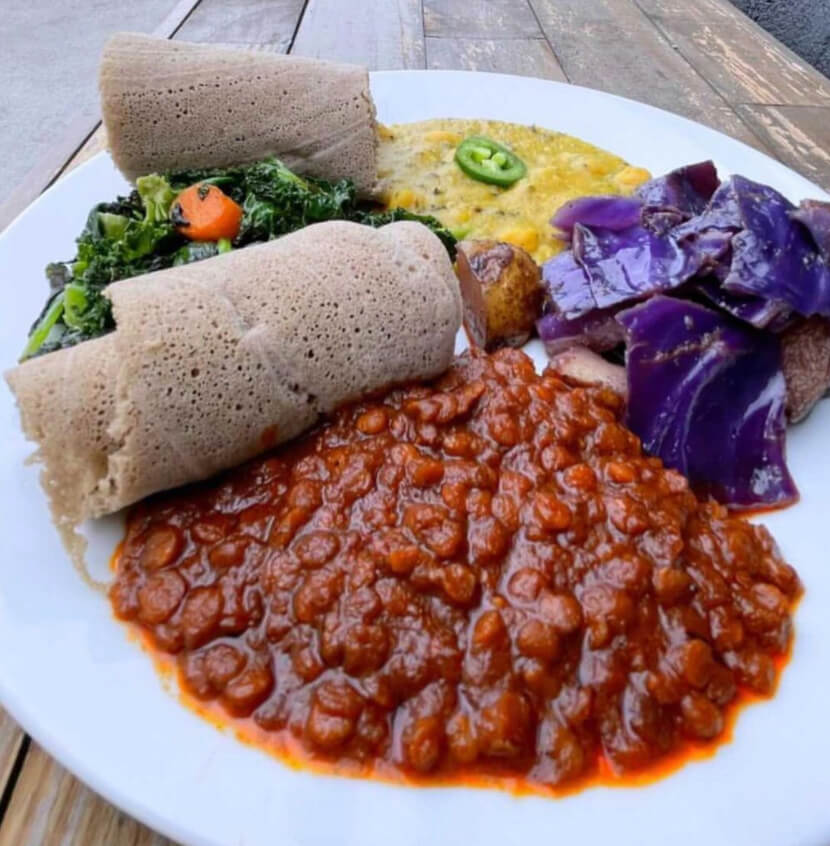 Photo credit: @pooohjaa on Instagram
Little Ethiopia
It's no surprise that Meals By Genet was featured on Best Things I Ever Ate on Food Network. One visit and you'll be saying the same! Though not entirely vegan, the menu is easily customizable and clearly labeled. All of the sides can be combined into an ultimate veggie combo and are vegan as is, while the tofu tibs entree can be veganized by asking the chef to cook the dish with oil instead of butter. Meals by Genet recently switched to a takeout-only model, also opening occasionally for private pre-booked events.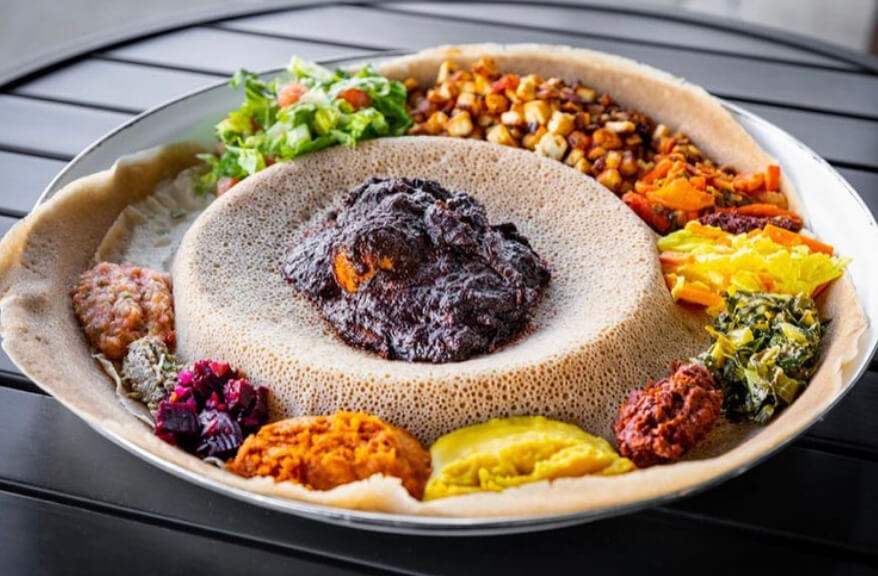 Little Ethiopia
Another amazing spot to check out in Little Ethiopia is Rosalind's Ethiopian Cuisine. The vegan-friendly menu offers a Vegan Goodness platter that features six of their hearty vegan sides (Gomen, Shiro, Messere, Kek, Fassolia, and Tikil Gomen), or check out the Lentil Sambusa, served with a pastry shell and stuffed with jalapenos and herbs.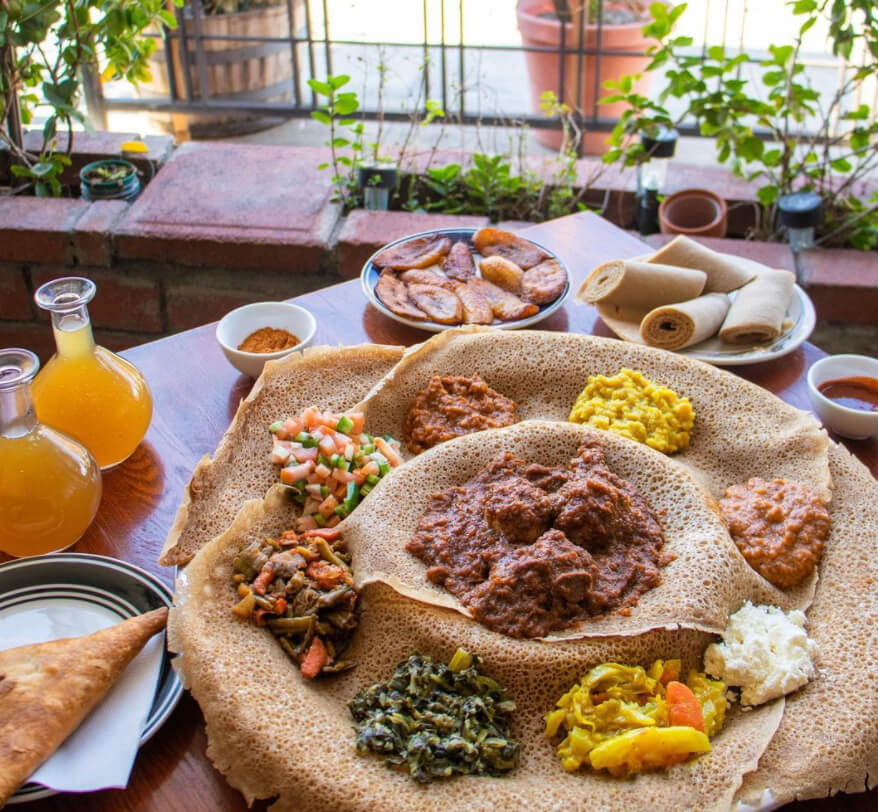 Little Ethiopia
Messob Ethipoian Restaurant has been around since 1985, even before there was a Little Ethiopia in Los Angeles. A staple on the strip of restaurants and shops, this spot is vegan-friendly with an amazing combo plate called Vegetarian's Delight with no adjustments needed. Stop in with friends and add on one of their creative cocktails that utilizes flavors like butternut squash, blueberry, or coffee.