Wondering where to find both vegan AND gluten-free options in NYC? Here at VegOut, we understand that the task of determining whether a dish is allergy-friendly can be tedious, which is why we've done the research for you! We've compiled a list of 6 spots open for pickup and delivery, and highlighted some of our favorite plant-based and gluten-free eats from each one. Read on to find out which restaurants we recommend so you can keep your belly full and body happy.
Blossom
Manhattan – Upper West Side Location
Blossom has become a staple with NYC's vegan scene, as they've been serving animal-free eats since 2005 in a historic Chelsea townhouse, and have since expanded to a second location on the Upper West Side. If you're looking for unique vegan and allergy-friendly dishes, this is the place for you. Start your meal with the risotto croquettes known as Buffalo Arancini, which are packed with flavor and topped with tasty bleu cheese sauce. We also love the gluten-free Nachos, which come topped with pico, jalapenos, black beans, sour cream, guacamole, and tapioca cheese, perfect for a stay-at-home snack. If you're craving a fresh pie, we recommend trying the Wild Mushroom pizza topped with cashew cheese, mozzarella, arugula, marinara, and truffle oil (sub gluten-free crust). Of course, a meal is not complete without dessert, so if you agree, go for the rich, decadent Chocolate Ganache. Boozy cocktails, wine, and beer are also available for pickup and delivery. Orders can be placed through Seamless, Grubhub, Postmates, or by calling Blossom directly at the Upper West Side location only. If you would also like to help out the staff during this challenging time, there is a Blossom Employee Relief Fund on the restaurant's website in which you can make a donation to help team members who have become unemployed as a result of the NYC shut down. Each week, Blossom will be donating a meal to the healthcare staff at a different New York City area hospital. You can make a contribution to this program for just $12 through blossomnyc.com/blossomgivesback or via Seamless, Grubhub, or Postmates.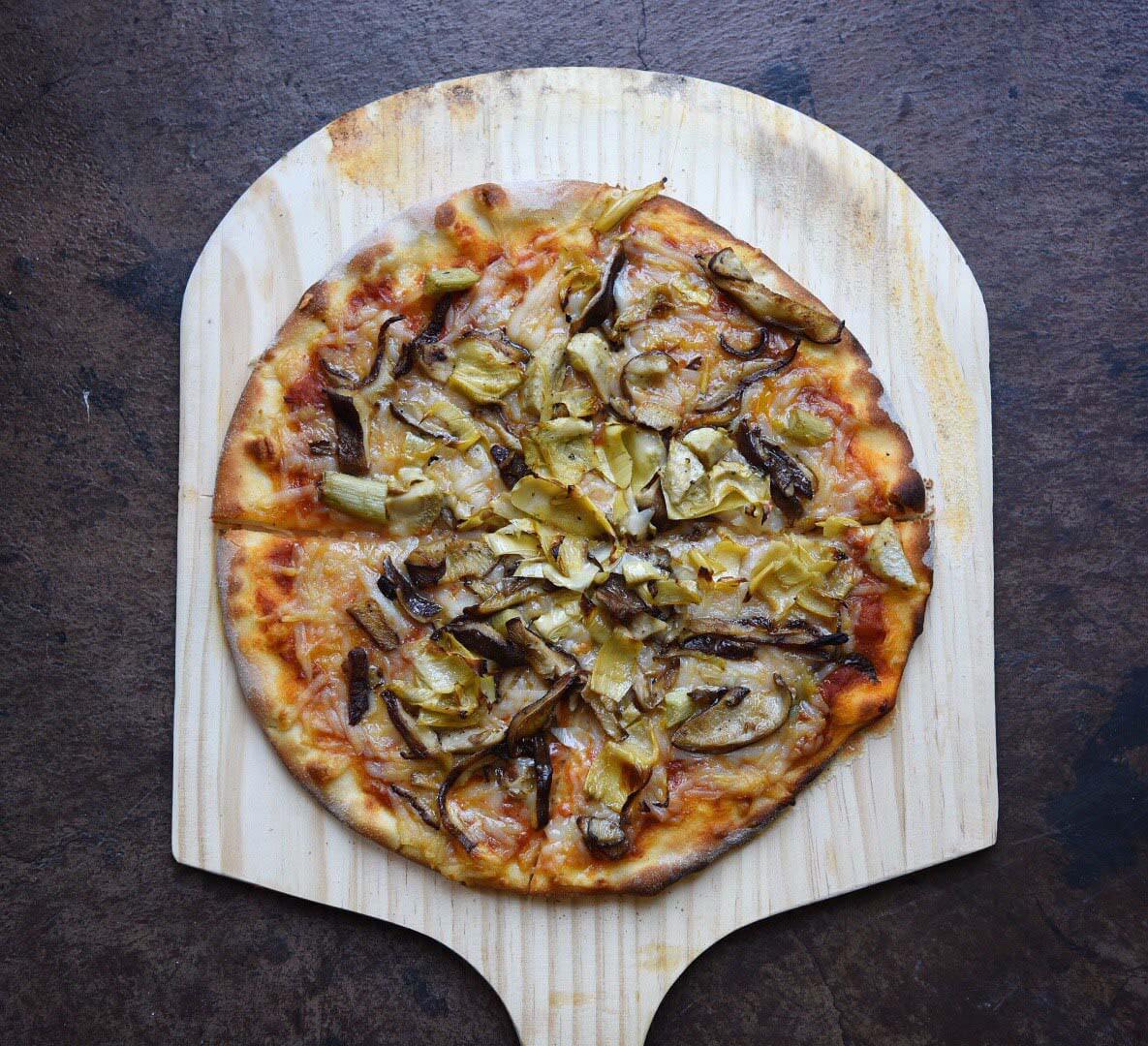 MTHR Vegan
Manhattan
MTHR Vegan presents a healthier, plant-based alternative to the popular overly processed and meat-centric restaurant chains. This vegan fast food spot also has plenty of gluten-free options, including burgers, bowls, salads, and more. If you're a fan of Beyond Meat products, order the Beyond BBQ Burger, which comes smothered in onion, mushrooms, MTHR's BBQ sauce, cabbage slaw, and can be made on a gluten-free bun upon request. The Tofu Coconut Curry Bowl filled with grilled tofu, mixed veggies, coconut curry sauce, cashew lime crema, and brown rice is also a delicious option. Shaken margaritas are the restaurant's signature beverage, so be sure to check out the drink menu—Jimmy Buffet would approve! The restaurant is open for pickup and delivery via Grubhub or mthrvegan.com. Please note MTHR is closed on Mondays.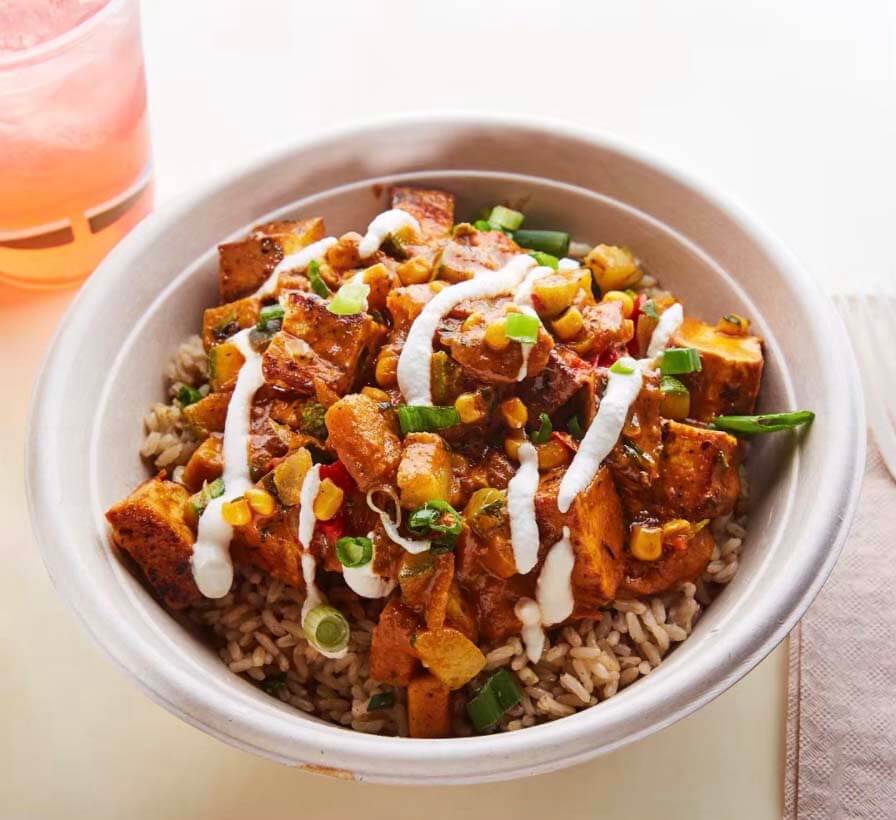 Pure Ktchn
Manhattan
Stay healthy and well fed with the power of organic superfoods served at Pure Ktchn. While not 100% vegan (fish & egg are used in some dishes), the restaurant offers many plant-based and allergy-friendly options such as bowls, salads, tartines, and sweets. Start your morning with the Acai Protein bowl, crafted with a blend of banana, acai, cherries, almond butter, coconut milk, vegan protein, cinnamon, and topped with banana, hempseed, chia seed, and goji berry. Tired of plain old avocado toast? Jazz it up with the Seeded Avocado Tartine—2 pieces of organic superseed gluten-free bread topped with cashew cheese, avocado, seed mix, and Hungarian paprika. All of the desserts at Pure Ktchn are both vegan and gluten-free, so you can indulge in the healthiest way possible. Satisfy your sweet tooth with the Chestnut and Chocolate Parfait, or if fruity flavors are more your jam, go for the Pink Dragon Cheesecake made with a walnut-date base crust, almond cheese, and pink dragonfruit. Orders placed at the 46th St location via purektchn.com will receive 10% off for both pickup and delivery. Please note that the new Lexington Ave location is not currently taking orders, but keep checking Pure Ktchn's Instagram for updates.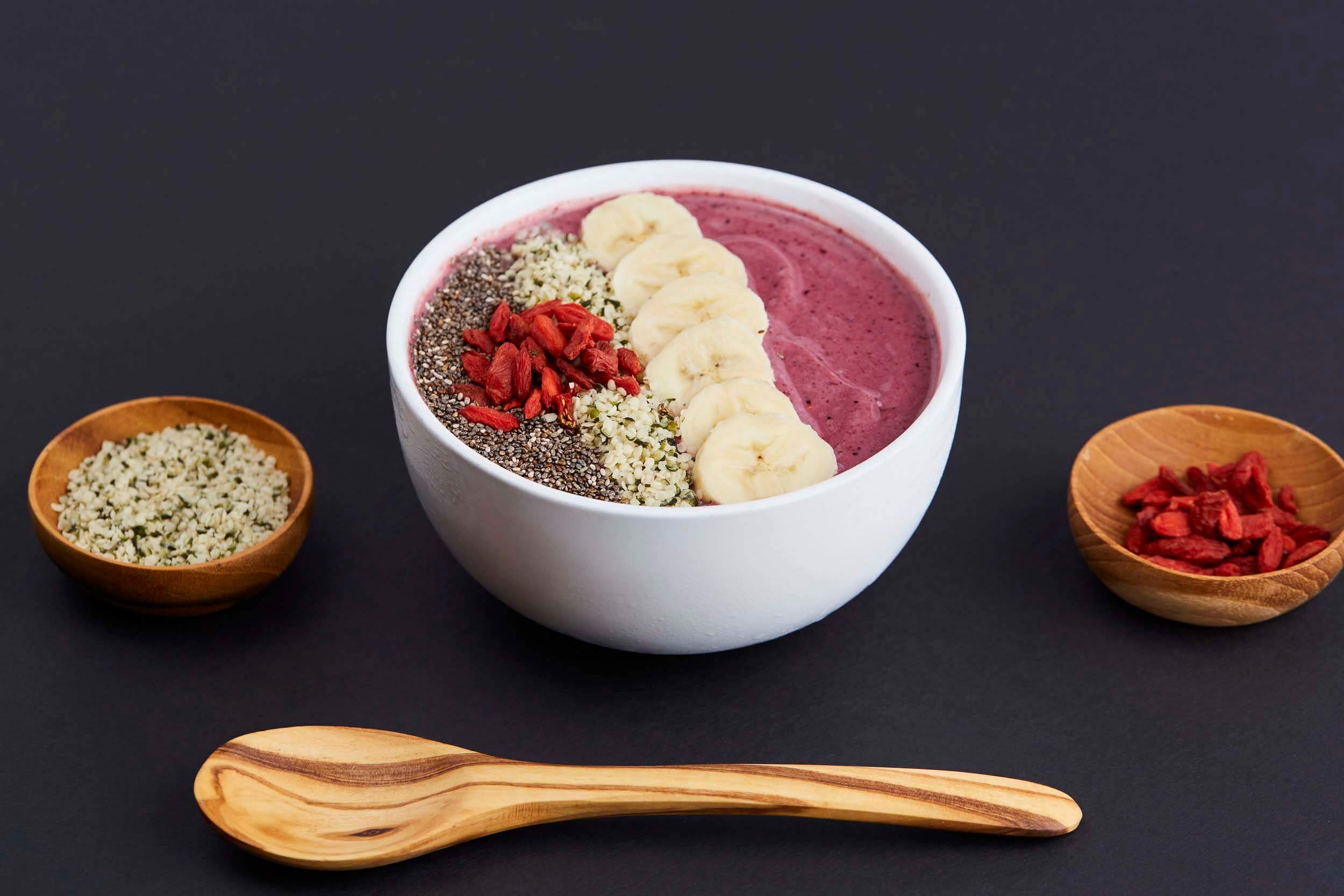 Next Level Burger
Brooklyn
The standard American burger gets a plant-based makeover at Next Level Burger, a 100% plant-based burger joint that serves vegan shakes, burgers, salads, hot dogs, and a selection of draft kombucha. Most of the options can be made gluten-free with modifications, which can be specified upon ordering. If you prefer your burgers monster-sized with lots of toppings, go for the double stack known as The Animal Burger, which can be made gluten-free by substituting the sausage style patties with 2 mushroom patties, sub avocado for tempeh bacon, and by switching out the buns. Wash it all down with one of Next Level's Dreamy Shakes, which include flavors like Peanut Butter Cup, Cookies N' Cream, Strawberry, and Orange Cream—drool! You can order for takeout or delivery through DoorDash, Postmates, Favor, Grubhub or the restaurant's website.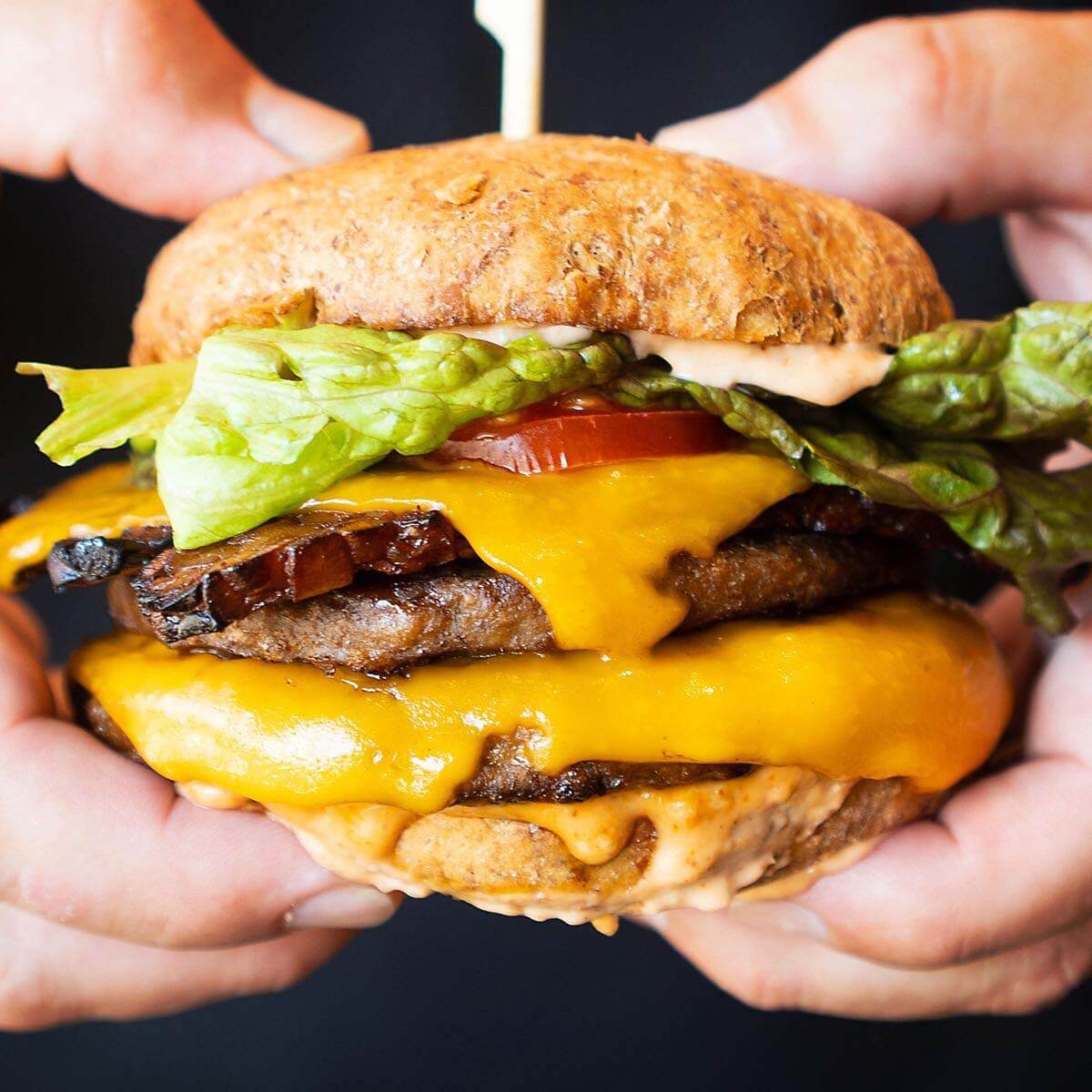 VSPOT
Multiple Locations
Known for tasty empanadas, spicy buffalo strips, and arepas, VSPOT serves Latin comfort food with a vegan twist. The Tradicional Arepas is a gluten-free dish that mimics the Colombian favorite, as it's made with thick corn masa and covered with mozzarella cheese. The Quesadilla Supreme can also be made gluten-free when subbed with rice tortillas and comes stuffed with cheese, chipotle refried beans, sweet plantains, and scallions with a side of sour cream, guacamole, and salsa verde. The perfect quarantine snack in our opinion, at least! Be sure to also order a side of Plantano Maduro, deliciously seasoned plantains served with zesty mayo. Orders for pickup and delivery can be placed at VSPOT Brooklyn. Please note that the Vegan Food Court location in Manhattan is temporarily closed.
VSpot has teamed up with Support + Feed, an initiative that was created to help those in need during the COVID-19 crisis, and to also provide support for both LA and NY plant-based restaurants that have been impacted negatively due to the shut down. If you would like to donate to their mission, you can do so by visiting vspot.restaurant.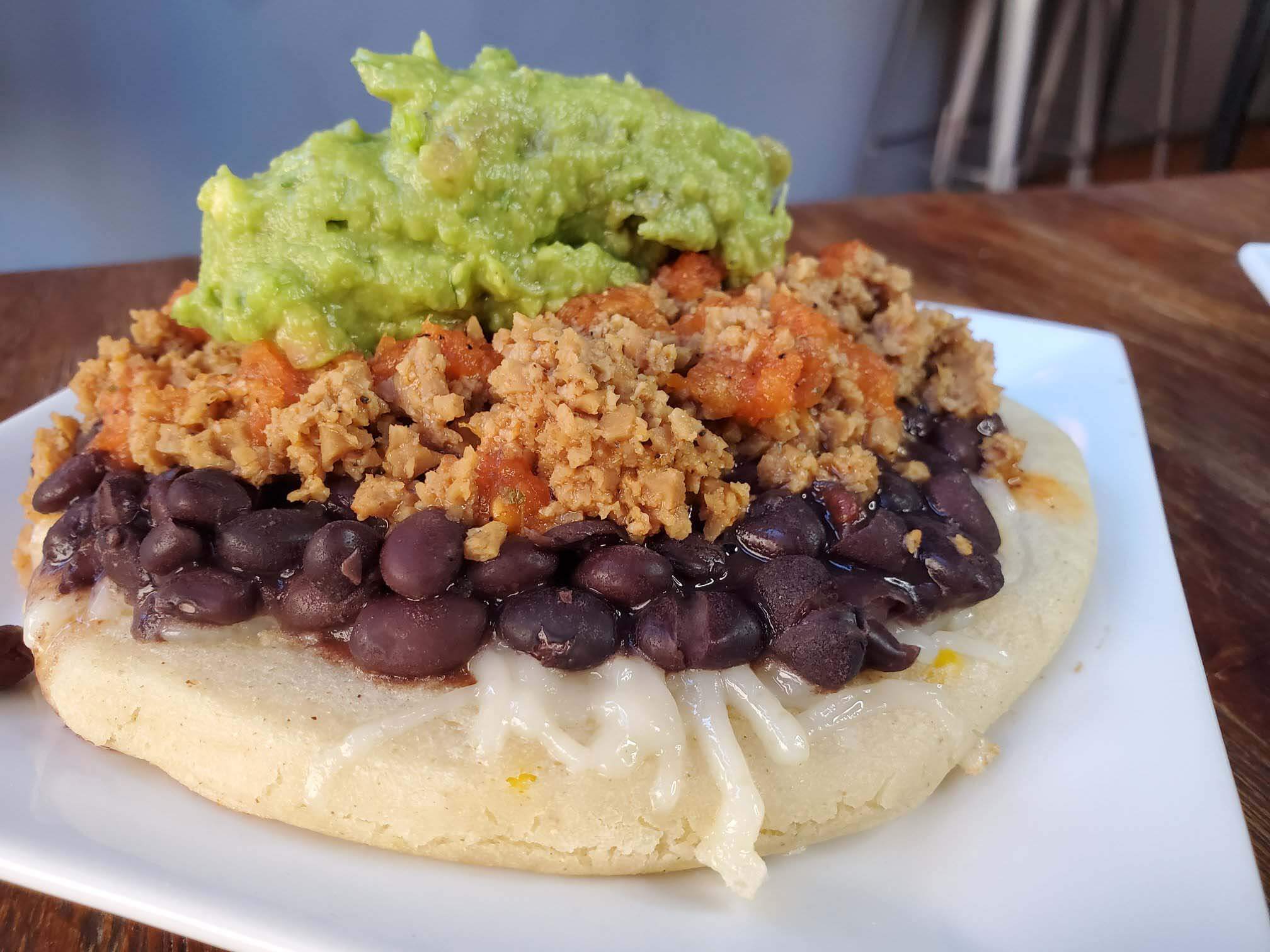 Abracadabra
Brooklyn
This magical haven of vegan delights is our go-to spot for breakfast, lunch, or sweet treats. Abracadabra is not fully plant-based, however there are many vegan-friendly and gluten-free options on the menu. Fuel your morning with the Inca Warrior Power Cookie, made with cocoa chocolate chips, sunflower seeds, maca powder, and chia seeds. If decadent, rich desserts are your idea of a balanced breakfast, order the enchanting Magic Maca Brownies and add a Matcha Rose Latte for a caffeine boost. While the fresh baked items are the star of the menu, you'll also find tasty savory options like the Lentil-Quinoa Balls, and the Vegan Omelette on a gluten-free wrap. Abracadabra is currently taking orders for delivery only via Seamless, Delivery.com, and Grubhub.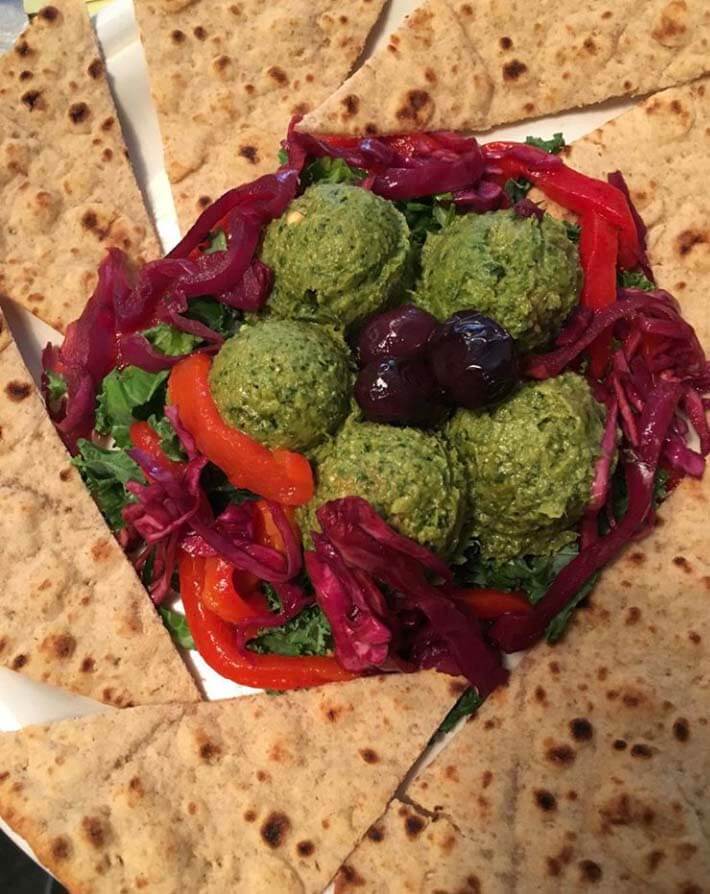 RELATED: Where to Order Vegan Brunch for Takeout or Delivery in NYC
---
Want even more NYC vegan food and lifestyle content? Subscribe to VegOut NYC Magazine!