The vegan breakfast sandwiches at these LA restaurants go hard! They say breakfast is the most important meal of the day, so it might as well be the best, right? RIGHT! From classic fast food-style copycats to more innovative variations like chicken & waffle or apple-filled handhelds, there are so many amazing vegan breakfast sandwiches around town. Here are our favorites!
Fairfax
NOMOO's Truffle Cheese Breakfast Sandwich is one of the most epic vegan breakfast dishes in all of LA. In between a perfectly toasted English muffin lies an Impossible sausage patty, folded JUST Egg, slab of melted American cheese, crispy hash browns, slices on slices of avocado, and copious amounts of truffle cheese sauce. Sounds delicious, right? This all-vegan joint also has some stellar menu items for lunch and dinner—burgers, fried chicken sandwiches, fried oyster mushroom wings, fries, shakes, and more.
Glassell Park
If you want to bite into a nostalgic, comforting vegan breakfast sando, pay a visit to this all-vegan coffee shop! From bacon and sausage to eggs, cheese, and veggies, there are plenty of glorious plant-based fillings that can be placed between a housemade biscuit or flaky croissant. Order one of their sip-worthy lattes to complete your meal!
Photo credit: @jodiesveganeats on Instagram
Fairfax
Burgers aren't the only craveable handhelds this vegan joint serves up. They also offer a mean breakfast sandwich with folded JUST Egg, slice of American cheese, and their iconic Peruvian green sauce on a soft and fluffy English muffin. For a little extra protein and flavor, you can add an Impossible breakfast sausage patty or make it a meal to add hash browns and a drink! VOWburger is open as early as 8am.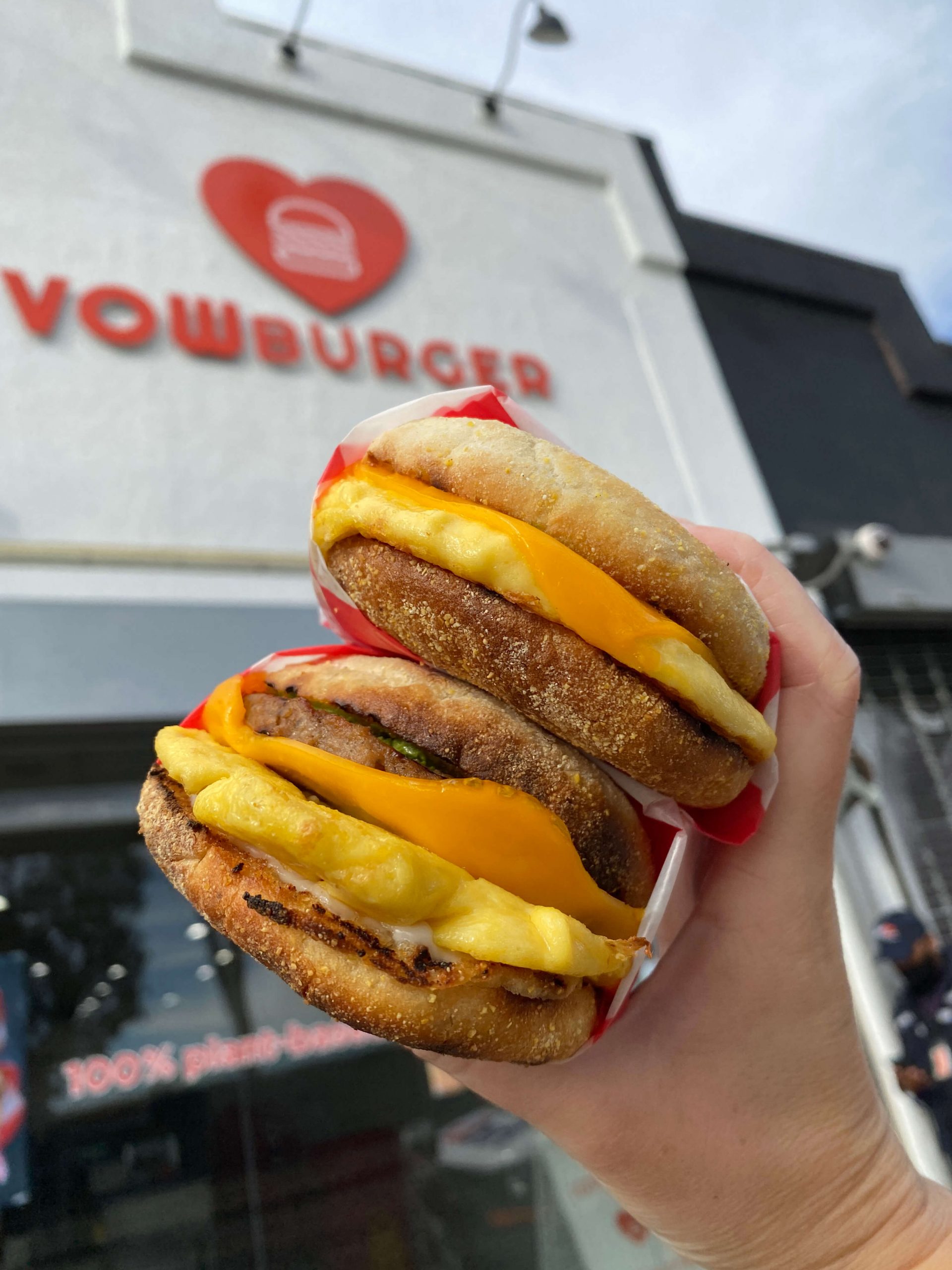 Beverly Grove
This plant-based restaurant never fails to impress us with its mouthwatering bites—from breakfast to dessert! Their classic breakfast sandwich is the restaurant's upscale, all-vegan take on a nostalgic McDonald's sando. It comes with folded JUST Egg, sausage patty, shallot potato cake, a slice of melted American cheese, habanada aioli, and a side of breakfast potatoes. Their waffle breakfast sandwich, The Waffler, features folded JUST Egg, tempeh bacon, a slice of American cheese, and jalapeño aioli. It's served with a rich and decadent brown butter maple sauce and a side of potatoes. You can't go wrong with either (or both)!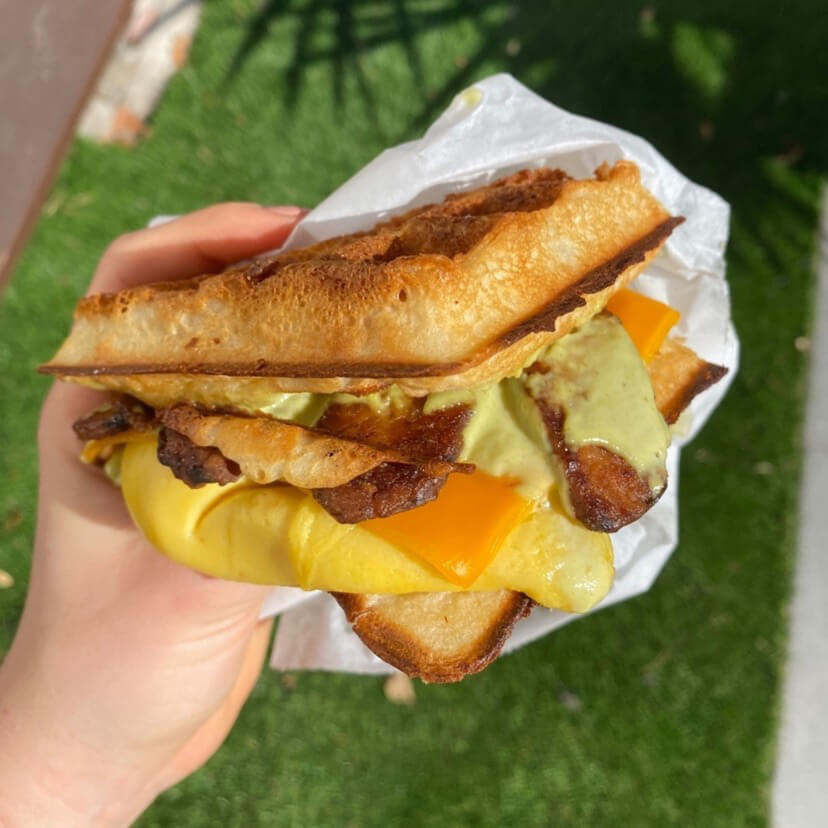 Mid-City
This charming cafe is vegan, gluten-free, and they serve breakfast all day? Wow, dreams really do come true! Powerplant's breakfast sandwich contains layers of house-made tempeh sausage, vegan scrambled eggs, tomatoes, avocado, and a drizzle of Russian dressing on a gluten-free brioche bun. It's served with a side of your choice and pairs well with a cup of joe, matcha latte, or your favorite morning beverage.
Highland Park
Did you know this vegan fried chicken joint serves brunch on the weekends? Now you do! If you stop by on a Saturday or Sunday between 11am and 2pm, you can order Wolfie's breakfast sandwich which features a house-made sausage patty, a slice of cheese, and a folded egg on a beautifully toasted English muffin. Their other brunch items include an oh-so-tasty cone of chicken & waffles, a plate of comforting biscuits and gravy, and a beautifully wrapped breakfast burrito.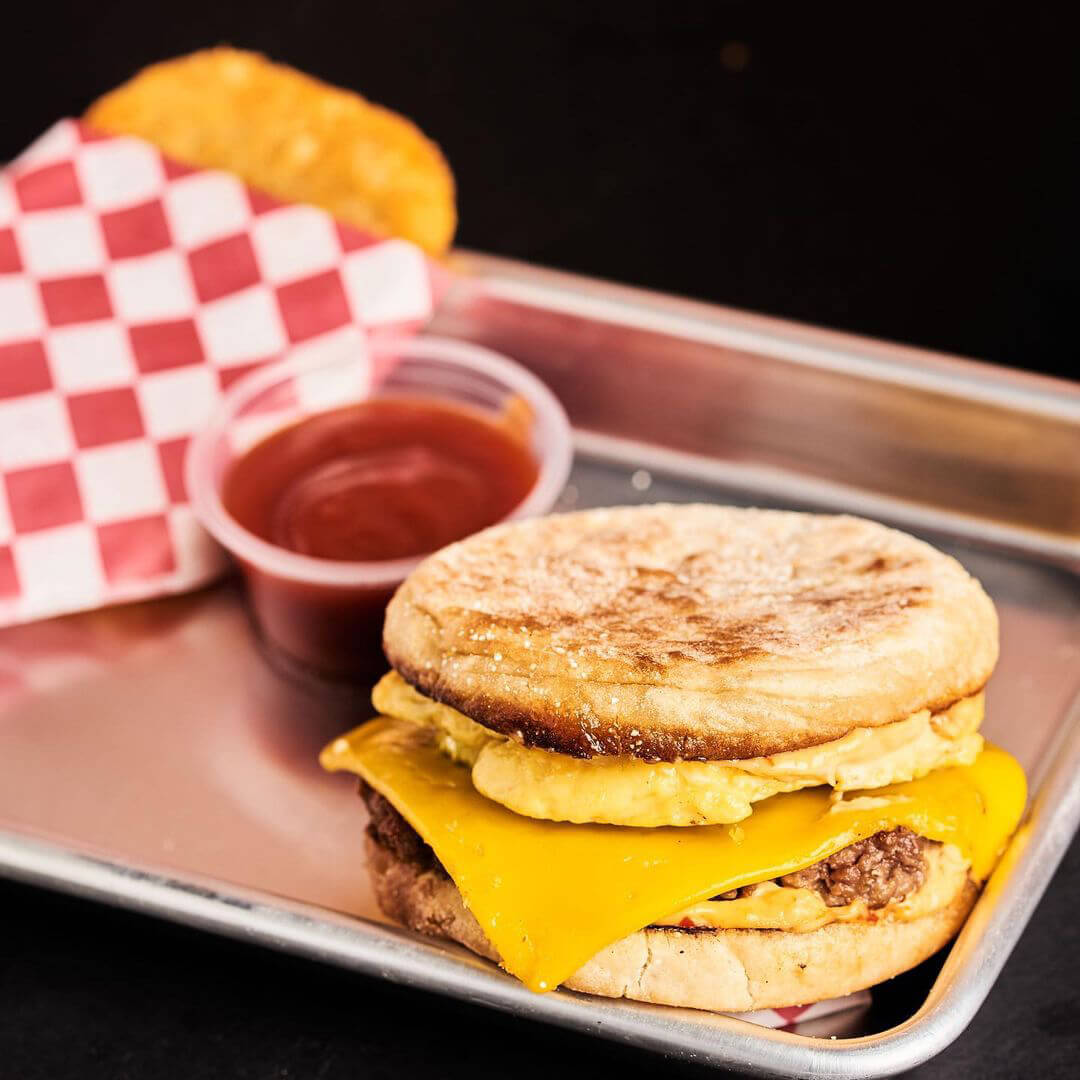 Multiple Locations
This plant-based fast food joint was one of the first spots to make a vegan breakfast sandwich that rivals the real thing—and they don't just offer a classic version, they have a plethora of flavor combinations from which to choose! Whether you're in the mood for an English muffin filled with eggs, cheese, and sausage, a bagel layered with a fried egg and bacon, or two waffle pieces loaded with fried chicken, there's bound to be a handheld that fills your brekkie craving.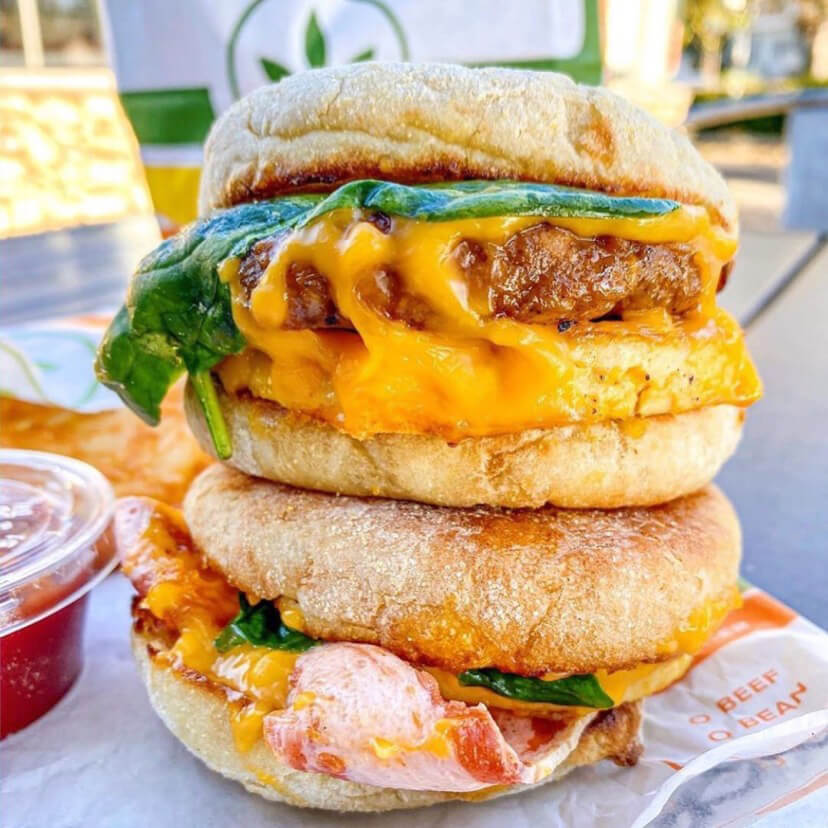 Photo credit: @vegan_kween on Instagram
Multiple Locations
ICYMI: Peet's Coffee now has a breakfast sandwich that's 100% vegan without any modifications! The Everything Plant-Based Sandwich features a Beyond Meat sausage patty, folded JUST Egg, and a slice of melted vegan cheddar. Want to know the best part? It's served on an everything bagel. Oh yeah, baby!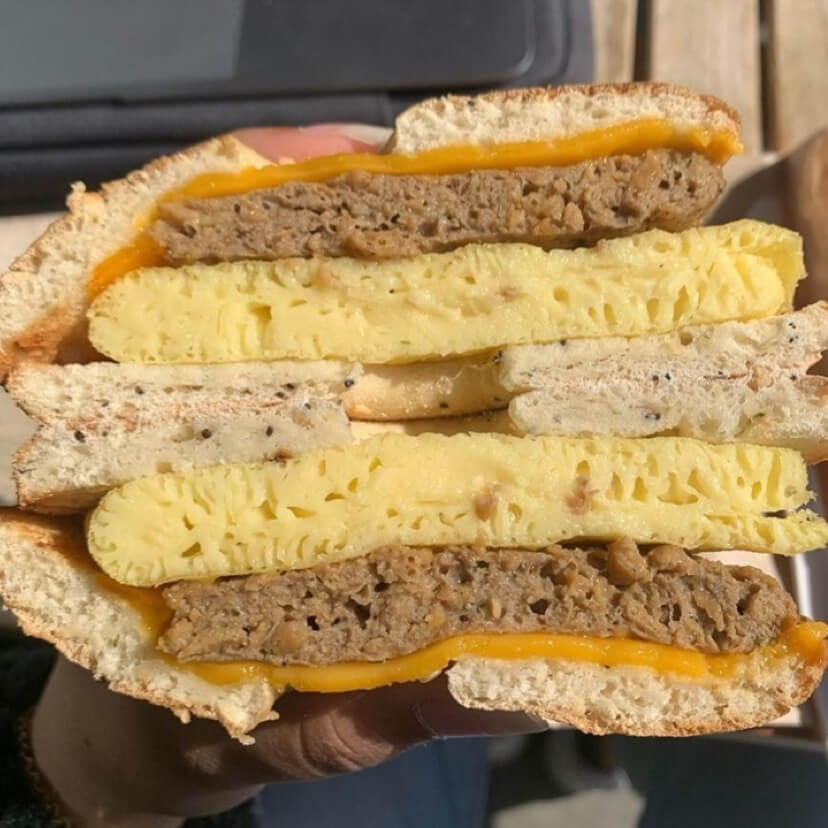 Photo credit: @pinkveganconcha on Instagram
Santa Ana
From breakfast, lunch, and dinner to dessert and midnight snack, Munchies is your one-stop shop for vegan comfort food! In the realm of breakfast sandwiches, there are two main options—the VcMuffin and the Epic Breakfast Sub. Both are loaded with satisfying savory ingredients and can be customized to the nth degree. There are plenty of gluten-free options as well.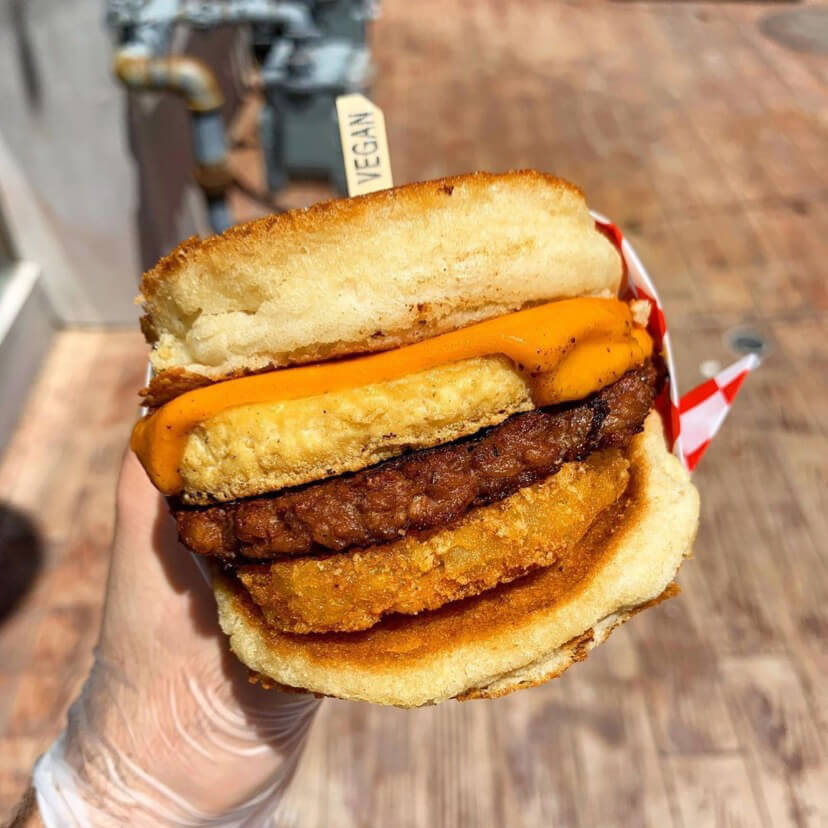 Beverly Grove
Crossroads Kitchen won this year's VegOut Award for best vegan restaurant and best upscale vegan restaurant, so you know they're the real deal. One of our go-to orders for weekend brunch is their Impossible Breakfast Sausage Sandwich with fingerling potatoes and fresh fruit. It hits the spot … Every. Single. Time.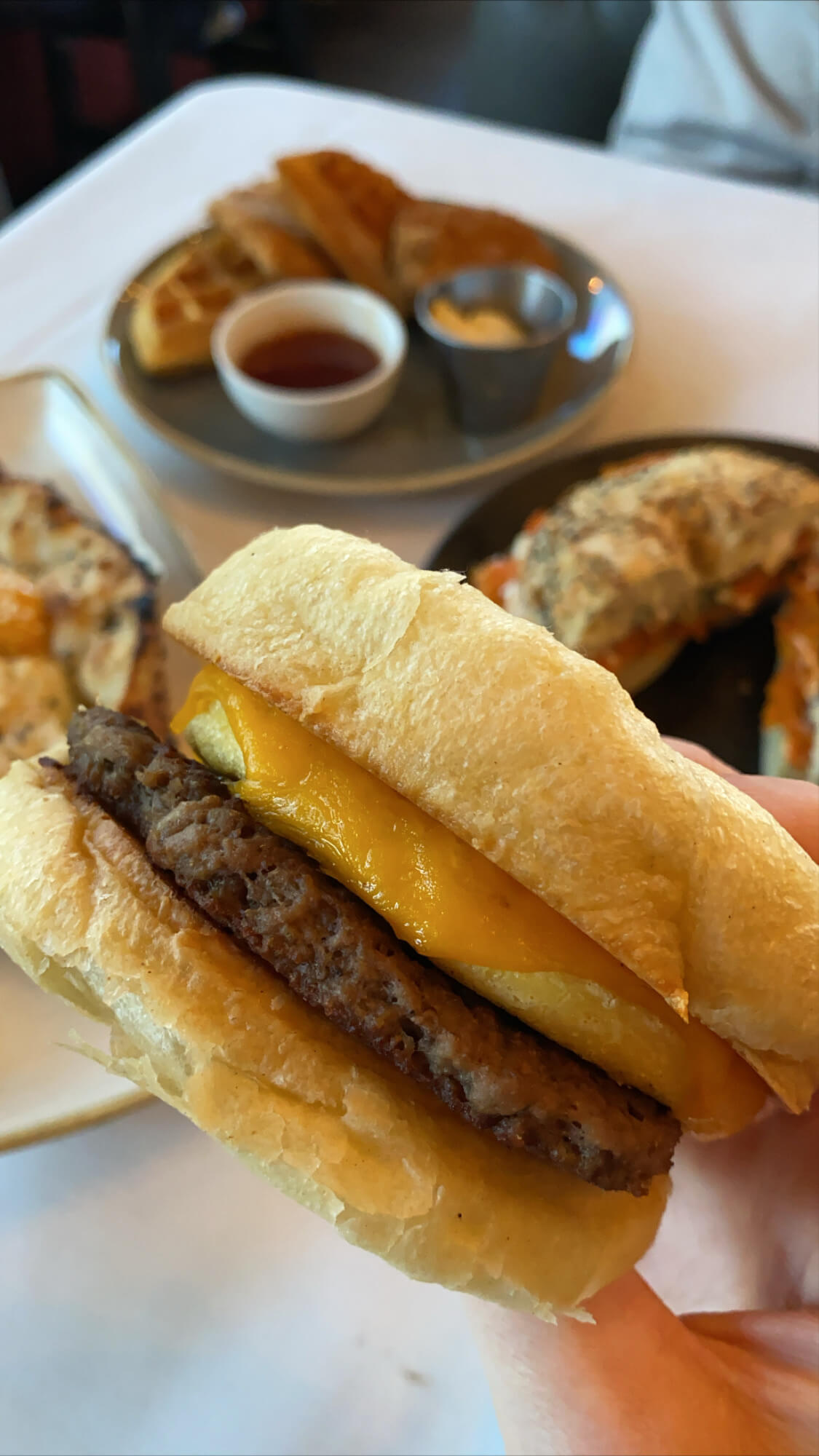 Silver Lake & West LA
The Brekky Bee at this all-vegan burger joint is one to write home about! It's made with JUST Egg, Violife cheddar cheese, crispy hash browns, and your choice of an Impossible or Beyond Meat patty drizzled with their house-made roasted pepper sauce. Do we have any East Coast-ers in the house? You'll absolutely love the Bagel Egg 'n' Cheese sandwich!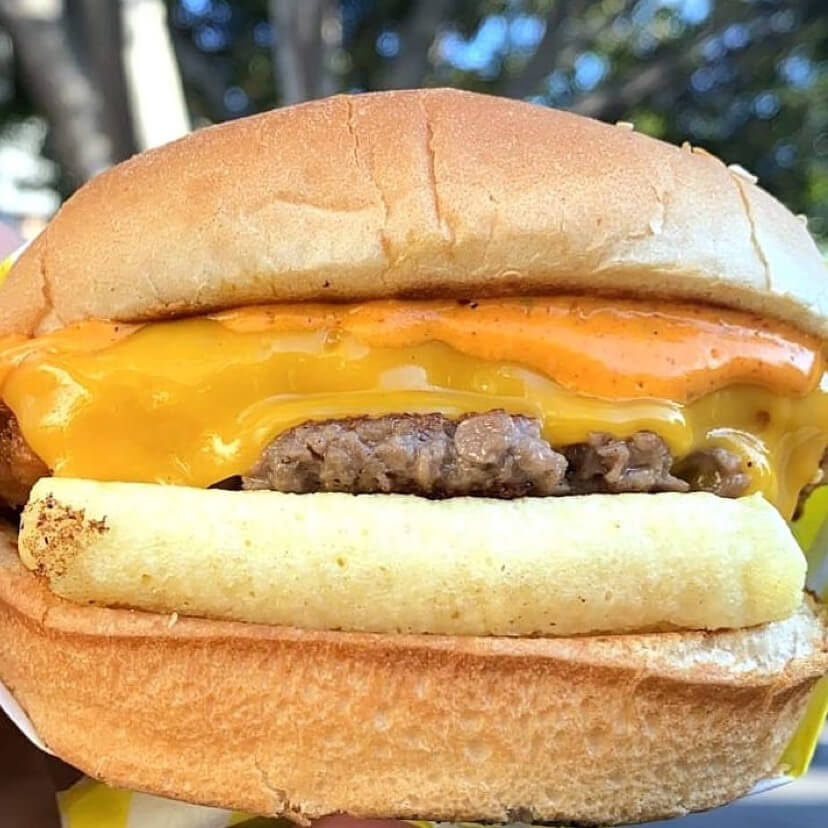 Silver Lake
If you want to venture off the beaten path of traditional breakfast sandwiches, pay a visit to this hip vegan eatery for the apple sandwich. This beautiful brunch handheld is layered with slices of gala apples, prosciutto, smoked gouda, avocado, organic peanut butter, heirloom tomatoes, capers, vegan mayo, and coleslaw on toasted sourdough bread. It sounds a bit unorthodox but after just one bite you'll be craving apple sandwiches all day, every day!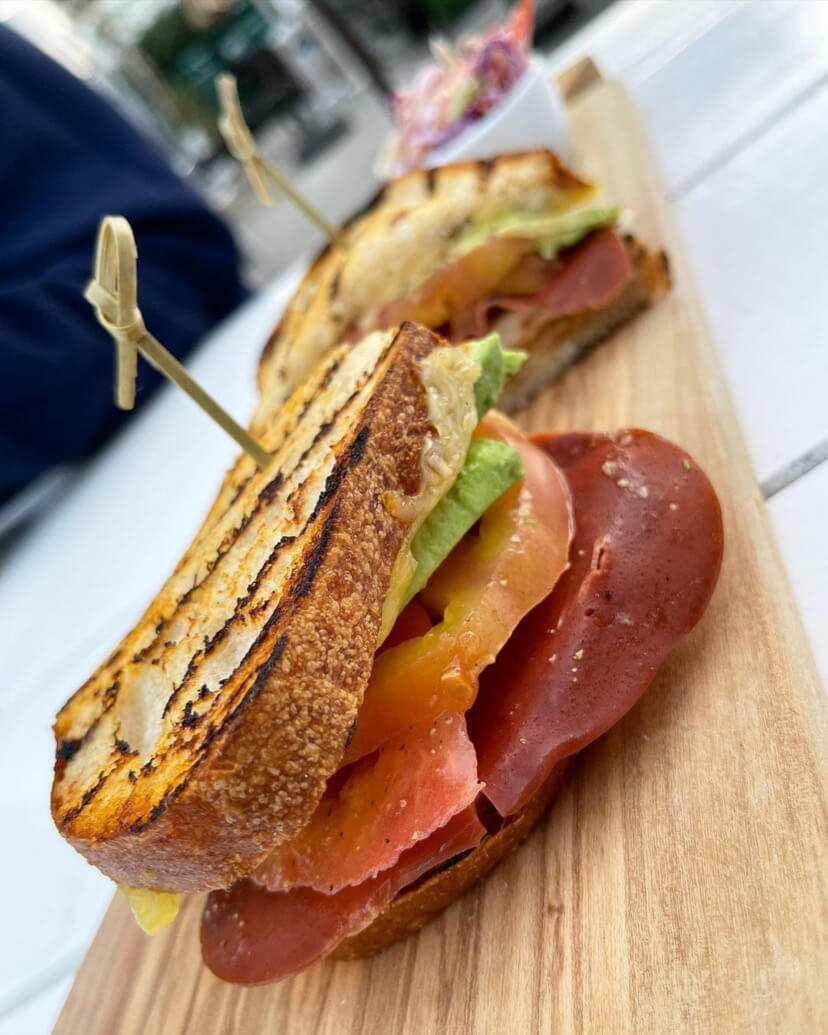 Photo credit: @hungrybearla on Instagram
Multiple Locations
This past March, Philz Coffee added themselves to the short list of coffee chains that serve all-vegan breakfast sandwiches (Starbucks, wya?). The Philz Plant Powered Sandwich is made with a Beyond Meat breakfast sausage patty, slice of Daiya cheese, and folded JUST Egg. It's a great item to grab on the go and pairs beautifully with a cup of their oh-so-popular Tesora coffee blend.
Beverly Hills
This newly-opened vegan French bakery is one of our new favorite spots in the city! From croissants and danishes to cookies and cake slices, there are so many fancy-schmancy delicacies to choose from. But for those of you in the mood for a sando, we'd definitely recommend trying the Breakfast Croissant. It's a savory croissant breakfast sandwich that features folded JUST Egg and Daring chicken with tomato, cheese, lettuce, Cholula, mustard, and sweet chili sauce. The flavor combination is truly impeccable.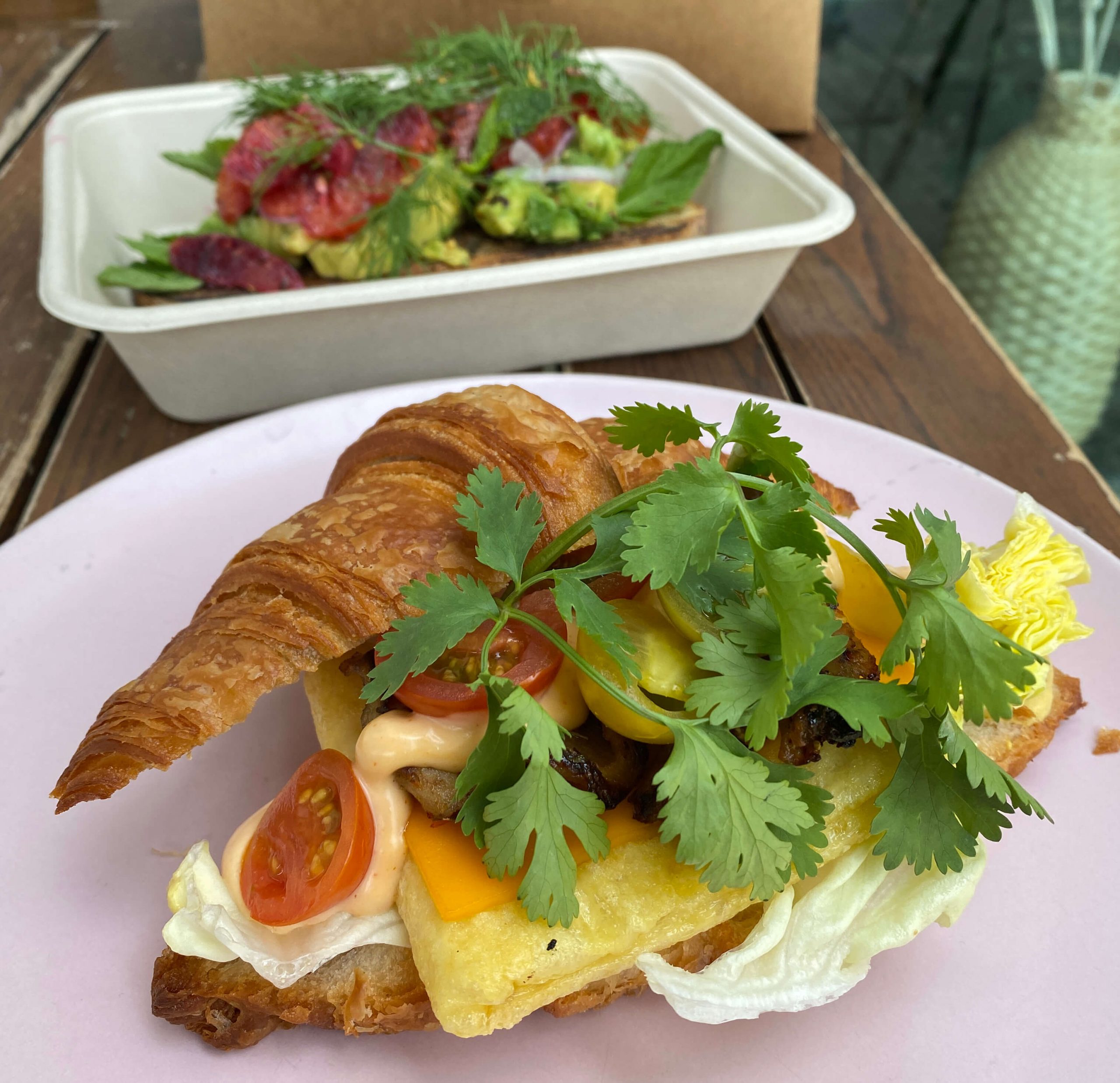 Larchmont
While not 100% vegan, this trendy burger joint offers quite the selection of drool-worthy vegan noms—including animal-style fries and onion rings! But today's topic is breakfast sandwiches (no, really?) and the one at Uncool is pretty darn amazing. It comes with specially-seasoned Impossible sausage, a slice of vegan smoked gouda cheese, crispy hash brown, a handful of arugula, and a generous drizzle of uncool sauce and maple syrup. Yum!