Back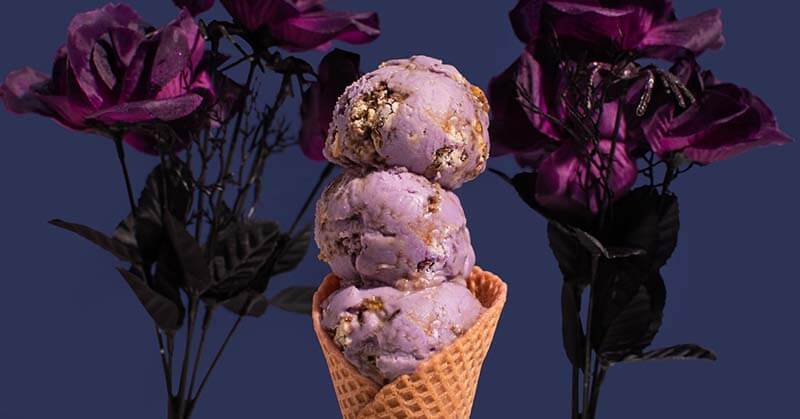 13 Spots for Spooky Vegan Sweets in Los Angeles
Get in the Halloween spirit with these spooky vegan desserts in Los Angeles! From cupcakes, donuts, and cake pops to conchas and milkshakes, these frightfully festive treats are the perfect way to celebrate the haunted holiday.
RELATED: 16 Spots for Pumpkin-Flavored Vegan Eats in Los Angeles
---
Want even more vegan food, news, and lifestyle content? Subscribe to VegOut LA Magazine or VegOut NYC Magazine!
Cocobella Creamery
Hollywood
Cocobella Creamery is breaking out the most flavorful frozen frights for Halloween! Their limited-edition Trick or Treat flavor is a vanilla oat milk base, colored grey with activated charcoal, and mixed with the most nostalgic candy from Halloween's past––chocolate bars, Skittles, and vegan M&Ms. The Twixie flavor is made from the same base but this time, it's loaded up with house-made "Twix" bars. And last but certainly not least, the RIP 2020 Bella Bar! This sarcastic sweet features the Trick or Treat flavor, coated in black chocolate, and decorated like a tombstone––because let's be honest, we all want this year to be over! All month long, Cocobella is offering a $1 kids scoop for those 12 and under, and on Halloween only, kids 12 and under who wear a costume will receive a FREE scoop!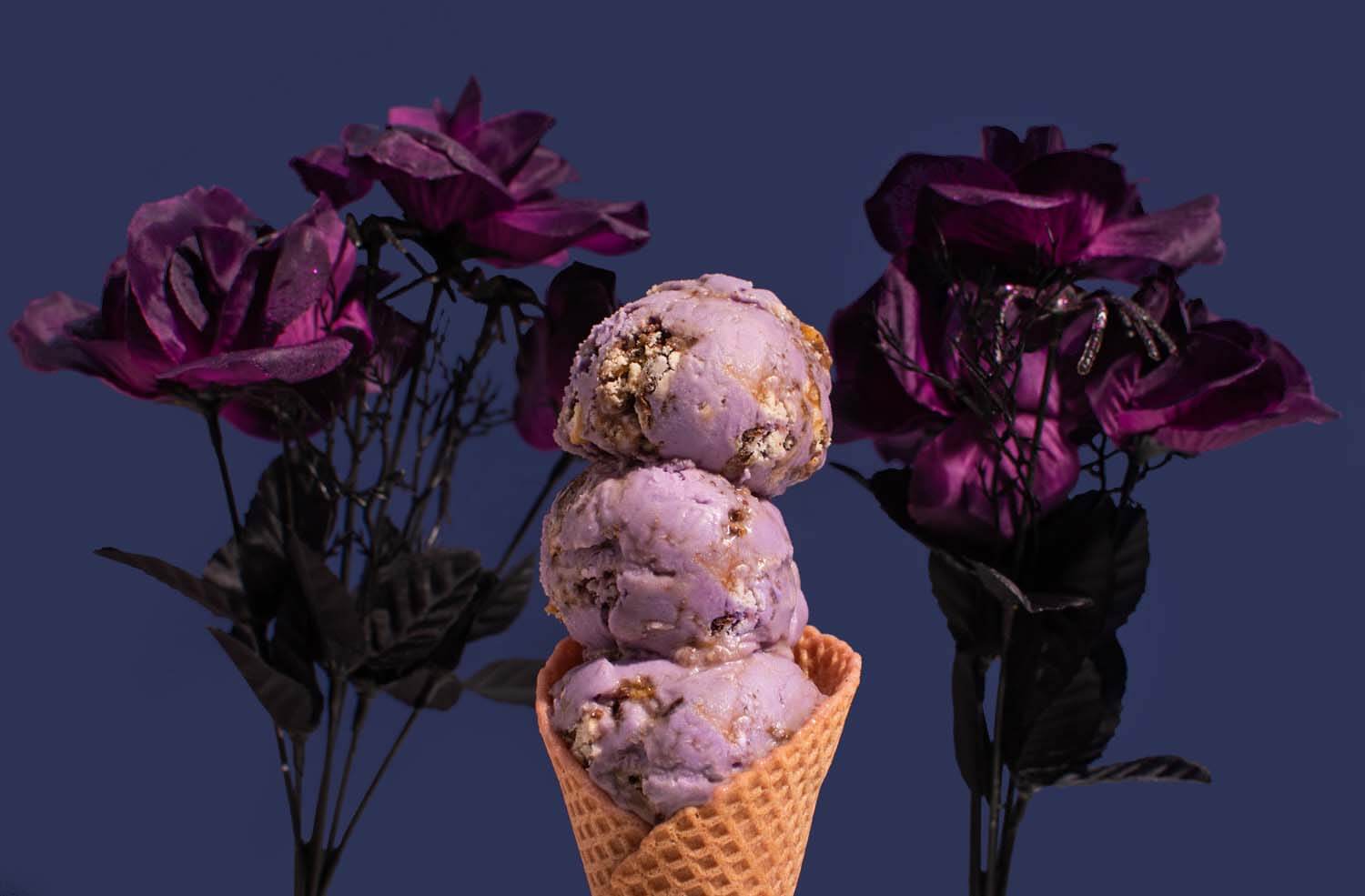 Two Birds Baking Co.
Delivery & Hapa Cupcakes in Fullerton
Who doesn't love a good pun, especially when it's edible? In honor of the spooky season, this all-vegan bakery just launched their Cereal Killer cupcake. This scary sweet is a cereal milk vanilla cupcake topped with vanilla cereal milk buttercream and pieces of Cap'n Crunch! (And yes, Cap'n Crunch is vegan!) For an additional price, you can add cupcake toppers decorated as the most iconic Halloween characters like Chucky, Ghostface, Hannibal Lecter, and more.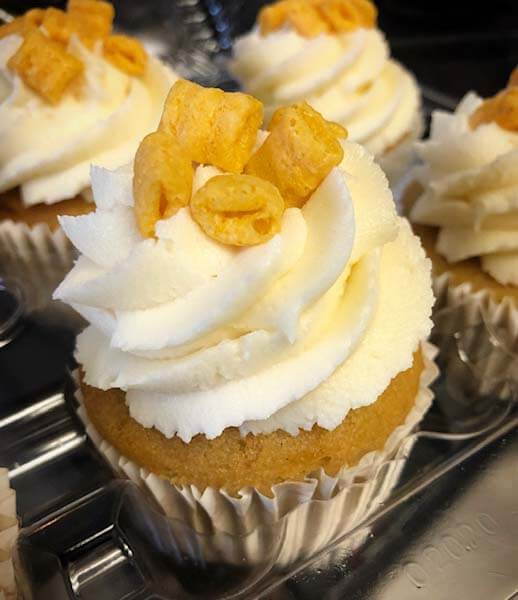 Karma Baker
Westlake Village
'Tis the season for Halloween cupcakes at Karma Baker! When you visit their brick-and-mortar between October 23rd and 31st, you can pick up a two- or six-pack of these vegan and gluten-free confections decorated as jack-o'-lanterns, ghosts, monsters, and mummies. Want to secure these plant-based cuties for guaranteed pickup? Place an order ahead of time over the phone at 747-222-7379.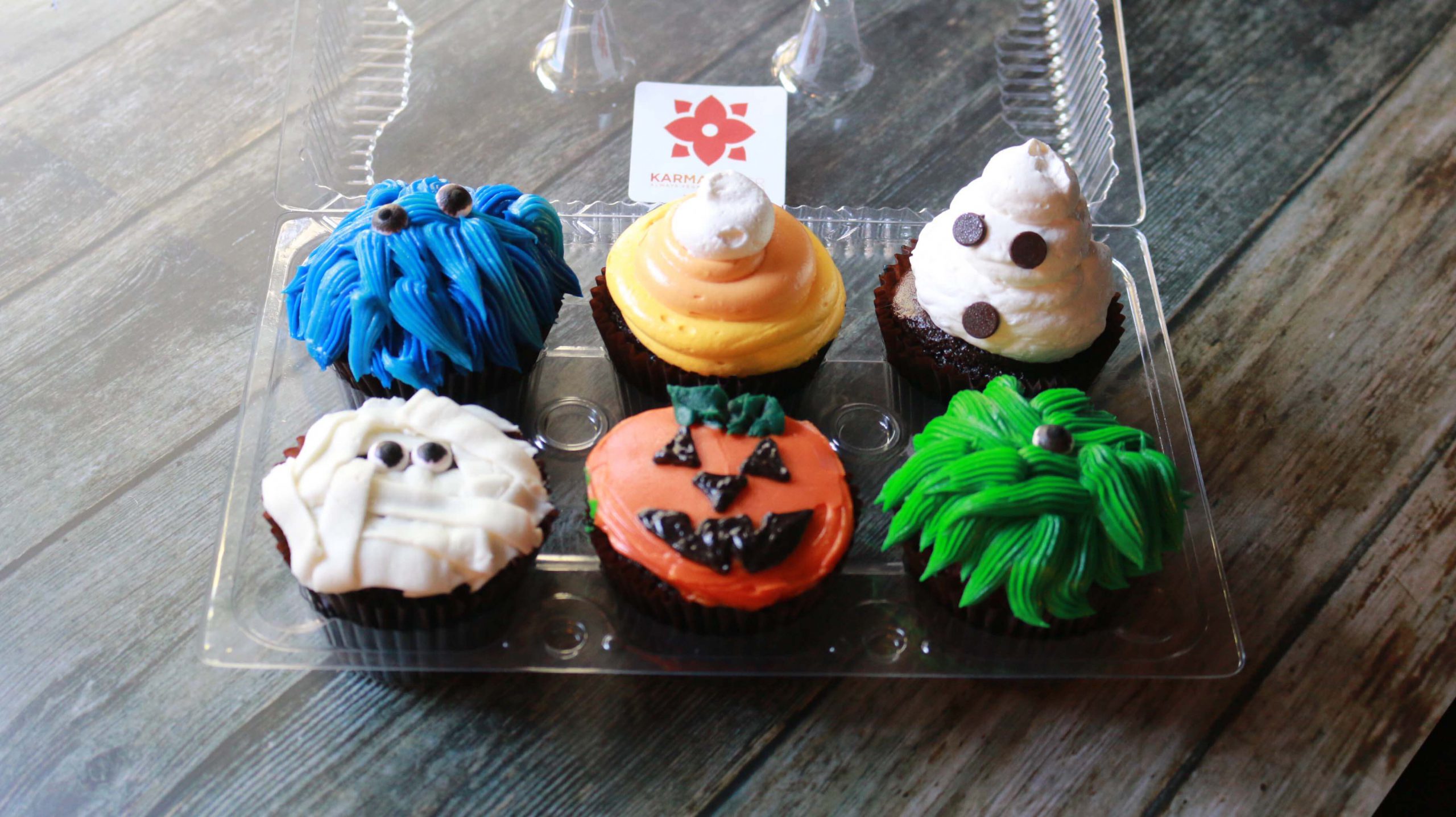 Yoga-urt
Echo Park & Glendale
Calling all the monsters! Stop by Yoga-urt during the week of Halloween for one of the cutest holiday desserts we've ever seen—the Monster Cone! Your flavor of choice will be swirled inside a charcoal cone and dressed up in edible toppings to look like a sweet, yet scary creature. Can't stop by during Halloween week? The charcoal cone will be available for the last two weeks of October.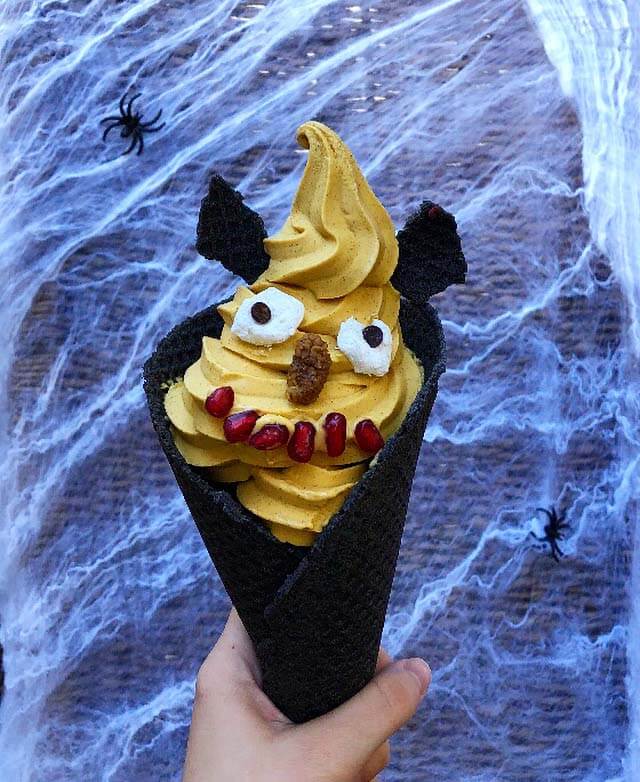 Baked Vegan Sweets
Long Beach
Baked Vegan Sweets is spookifying just about everything in their shop including cake pops, ding dongs, brownies, cookies, cupcakes, cake slices––literally everything! For you thrill-seekers out there, we'd recommend ordering their extra terrifying (yet tasty) Ouija Cookies. Eat them if you dare … Stay tuned on their Instagram page for special Halloween events leading up to the big day.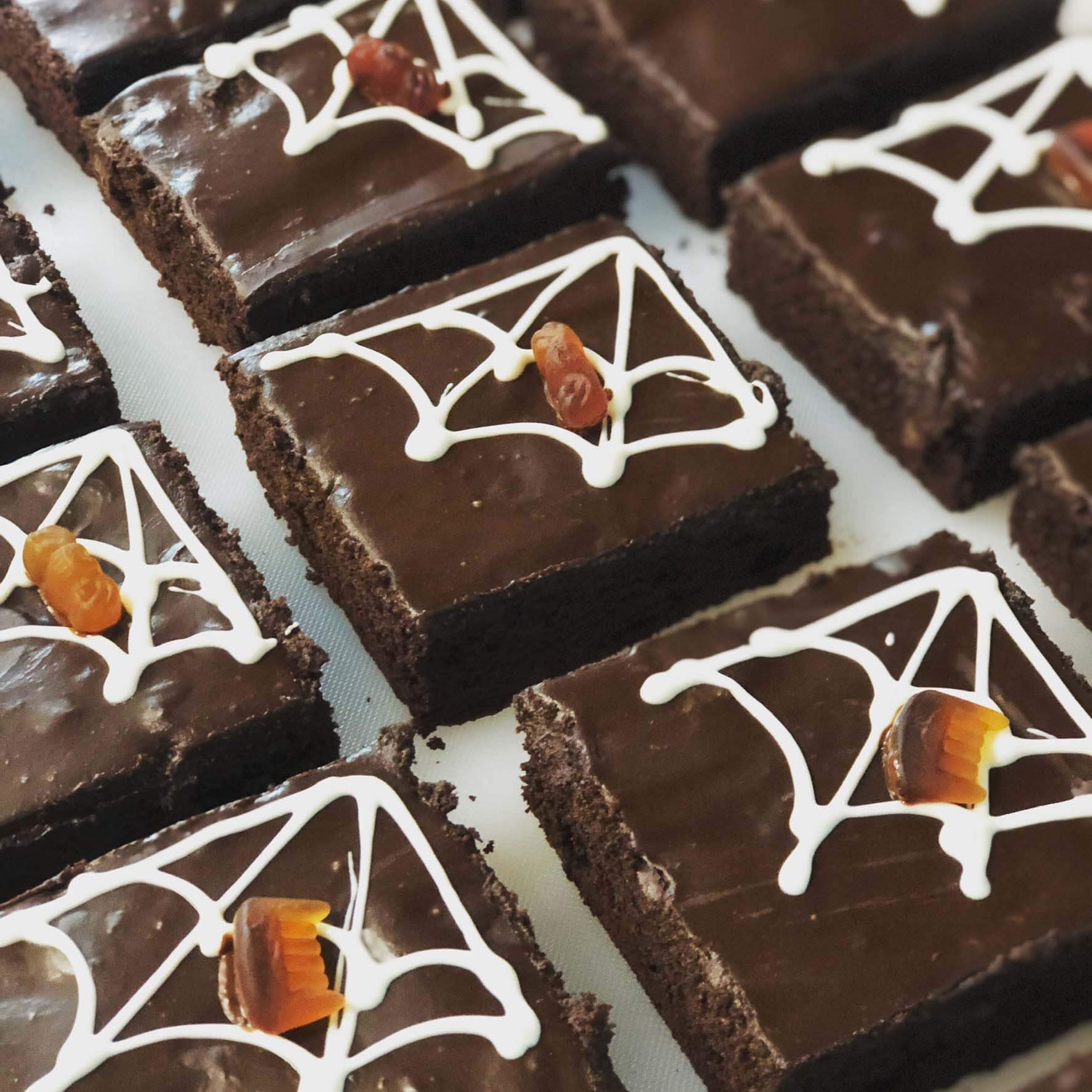 Hello Cake Girl
Boyle Heights
First they're spooky, then they're sweet! What are we referring to? The hauntingly delectable Halloween desserts from Hello Cake Girl! Choose from their vegan and gluten-free Pumpkin Jack O' Lantern Cupcake, Monster Eyes Cupcake, or Spooky Brownie. Or don't choose, and get all three—plus some donuts, cinnamon rolls, coffee cake, and whatever else suits your fancy. If you can't already tell, we like to stock up at this sweet spot!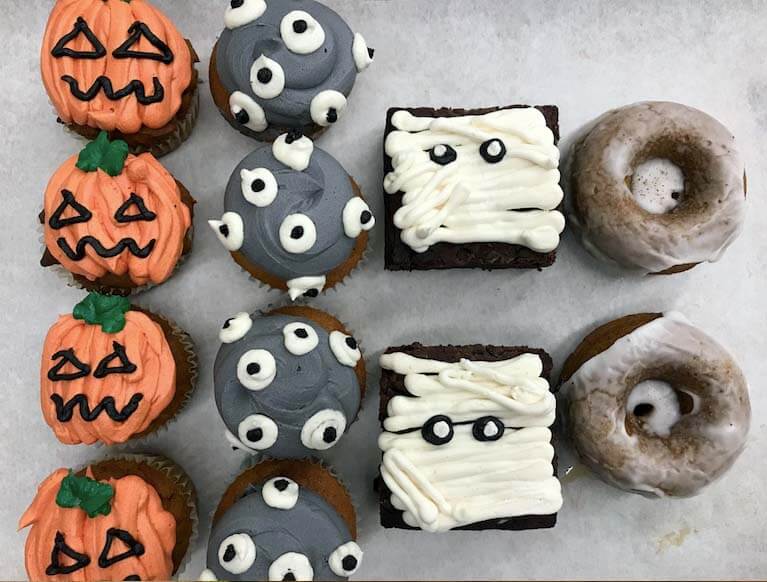 Vegan By Victoria's
Santa Ana (East LA coming soon!)
Vegan By Victoria's is celebrating Día de Muertos (aka the Day of the Dead) with their vegan Pan de Muerto. This pan dulce is a staple in Mexican culture during the weeks leading up to the holiday—and it's absolutely delicious! The all-vegan Panaderia is also whipping up limited-edition chocolate-flavored Black Conchas and Orange Cempasúchil (marigold) Conchas in the flavor of pumpkin spice. Mmm!
Donut Friend
Highland Park & DTLA
All hail Donut Friend this All Hallows Eve! Instead of their X-Ray Speculoos donut, ask for the X-Ray Spookuloos donut! What's the difference? Other than the change of vowel, it's the same raised donut filled with cookie butter and topped in a chocolate glaze. Instead of the traditional criss-cross decoration, they create a spider web design for an even more Instagrammable ring of sweet delicious dough! We'd also suggest snatching up a few orange, yellow, and red sprinkled donuts.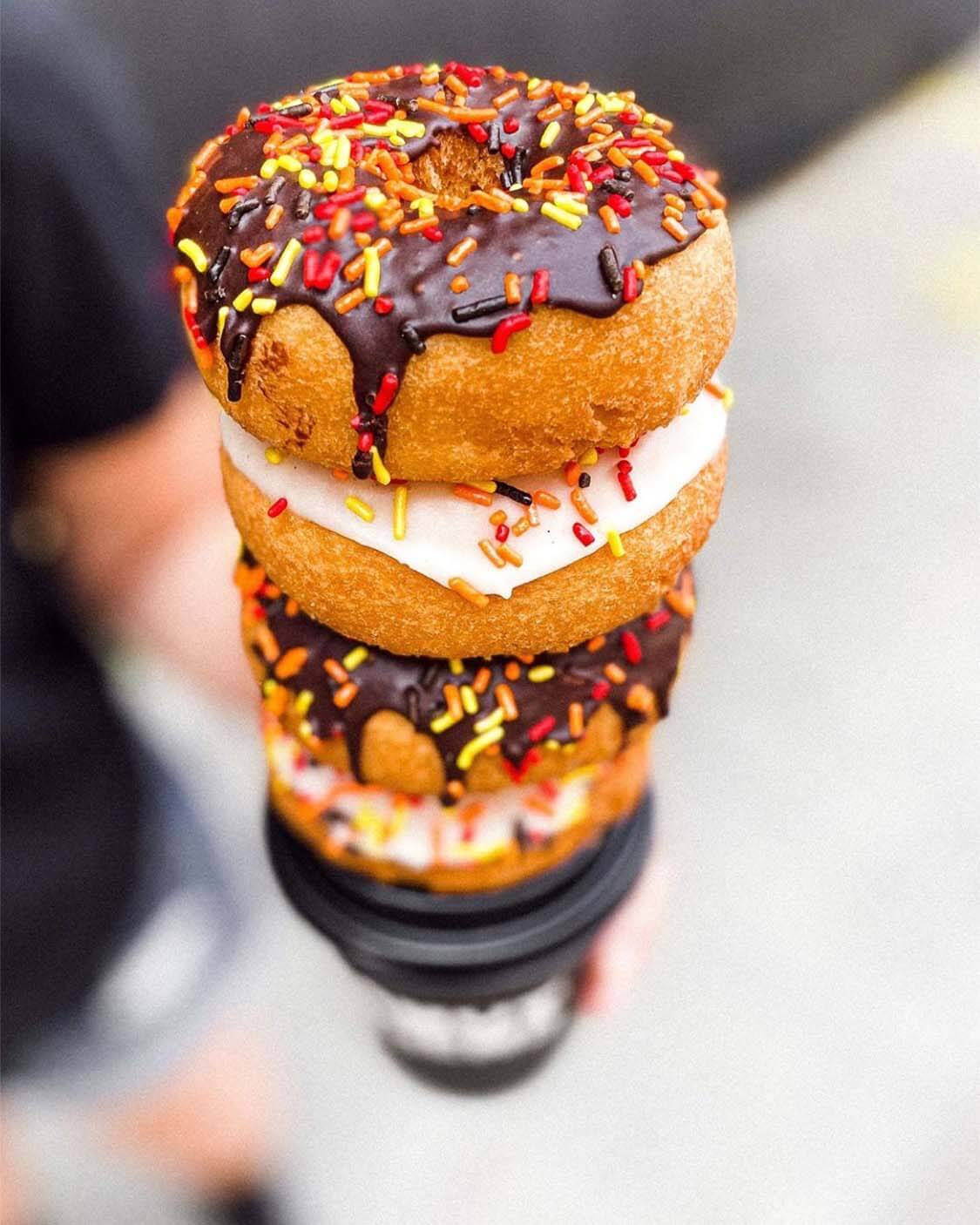 Photo credit: @jendodaro on Instagram
Baked Vegan Vixen
Pop-up
Baked Vegan Vixen's My Bloody Valentine Bar is our most recent obsession! It's a red velvet brownie with white chocolate chips, golden Oreo cookies, and cream cheese frosting topped in strokes of bright red "blood spatter" frosting. They've also got orange, black, and green cupcakes, cookies––and our favorite, slutty blondies! Check out @bakedveganvixen on Instagram to track down these seasonal treats at their next pop-up.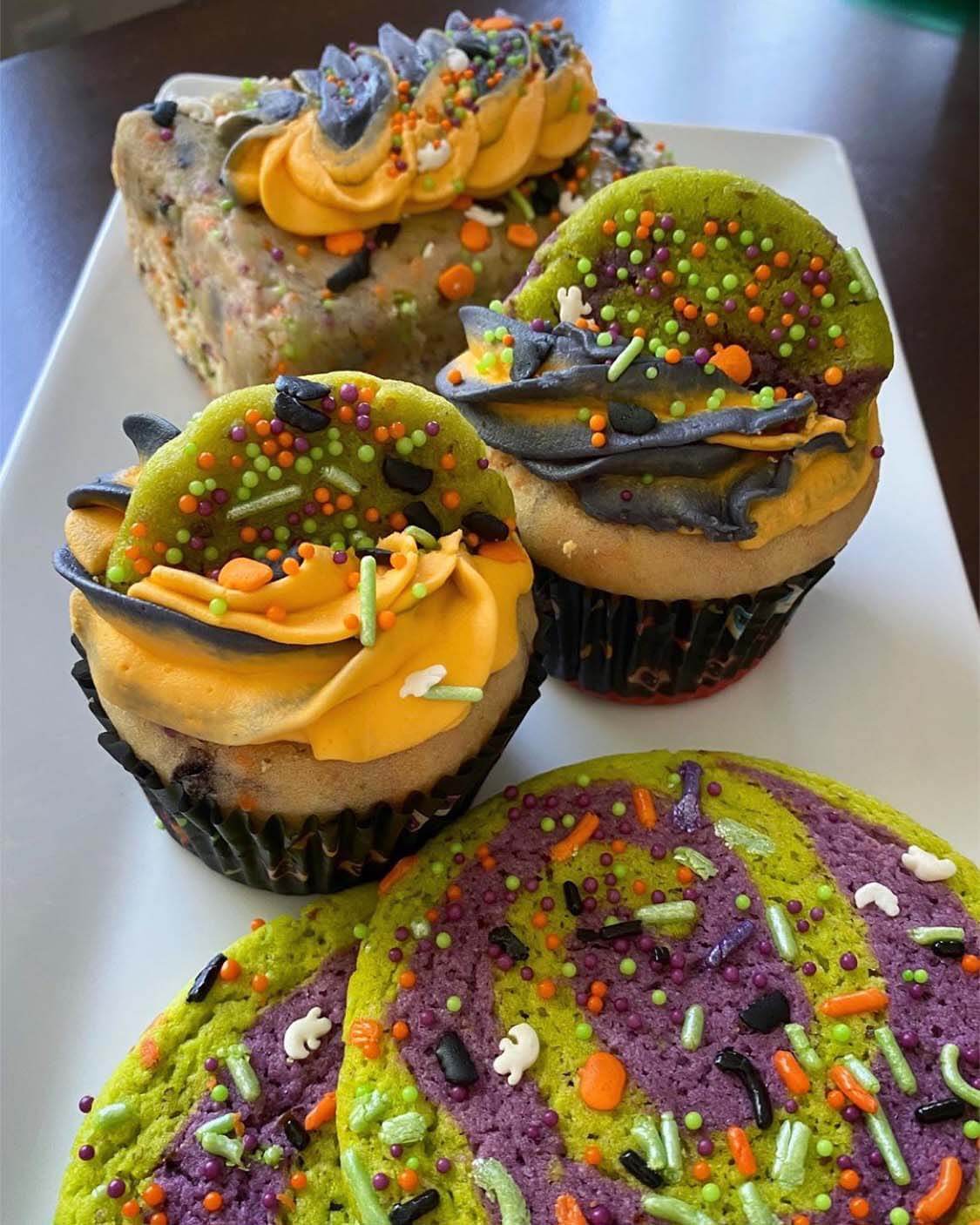 Photo credit: @sweetandsaucyvegan on Instagram
Rising Hearts Bakery
Culver City
Because what screams Halloween more than cupcakes decorated like brains, eyeballs, graves, and ghosts? They might be free of gluten, but they're full of flavorful frights! Whether you're team chocolate or vanilla, this vegan, gluten-free, and kosher bakery can make your most wildly wicked dessert dreams come true this fall.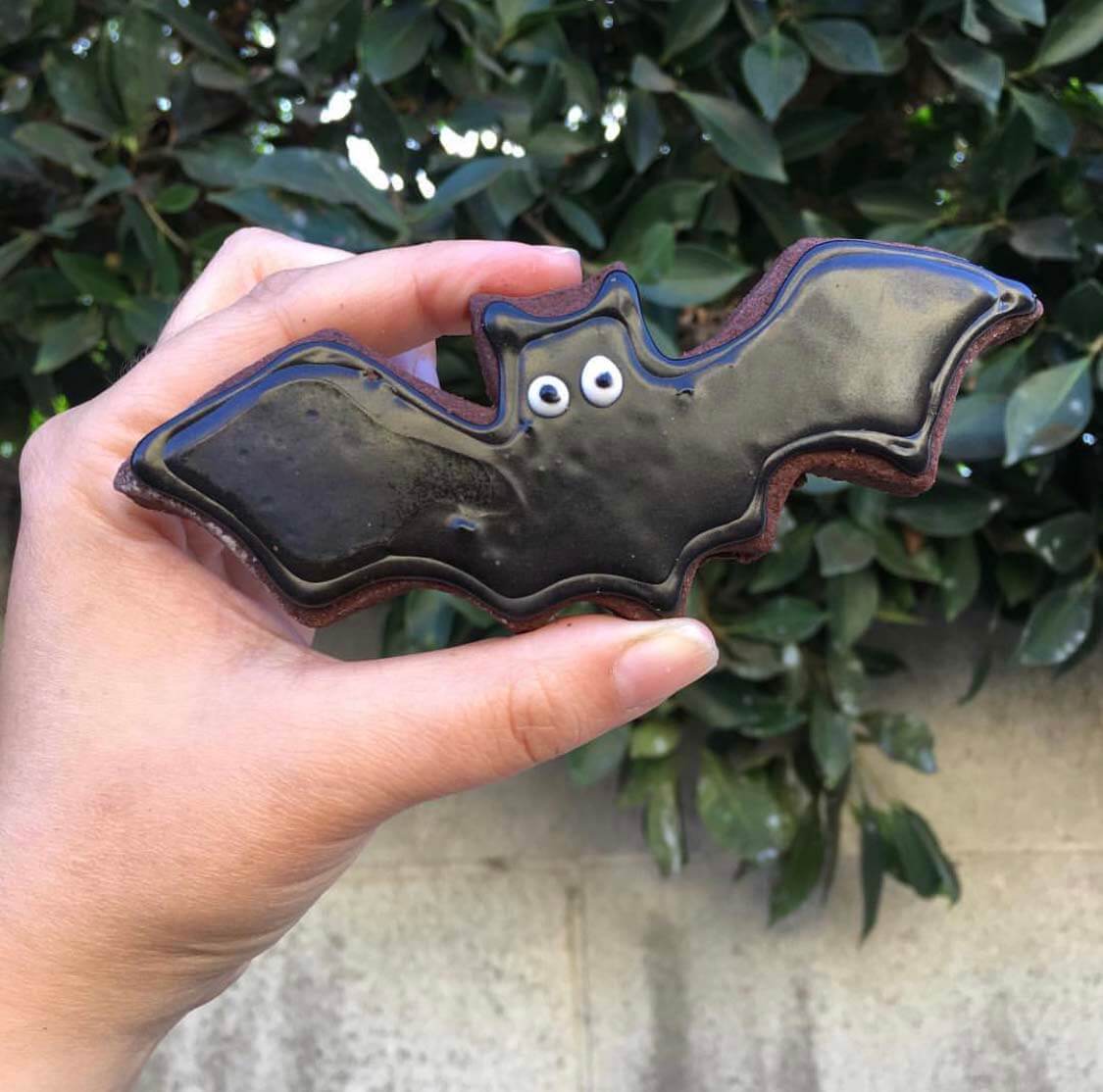 Toluca Bakery & Cafe
Toluca Lake
Toluca Bakery and Cafe is another rockin' place to pick up vegan Pan de Muerto. Want to grab some other fun and festive pan dulce? This vegan-friendly joint has Candy Corn and Pumpkin Conchas for the occasion. Load up a box to take home for the fam—and maybe even conduct a taste-test on the drive home!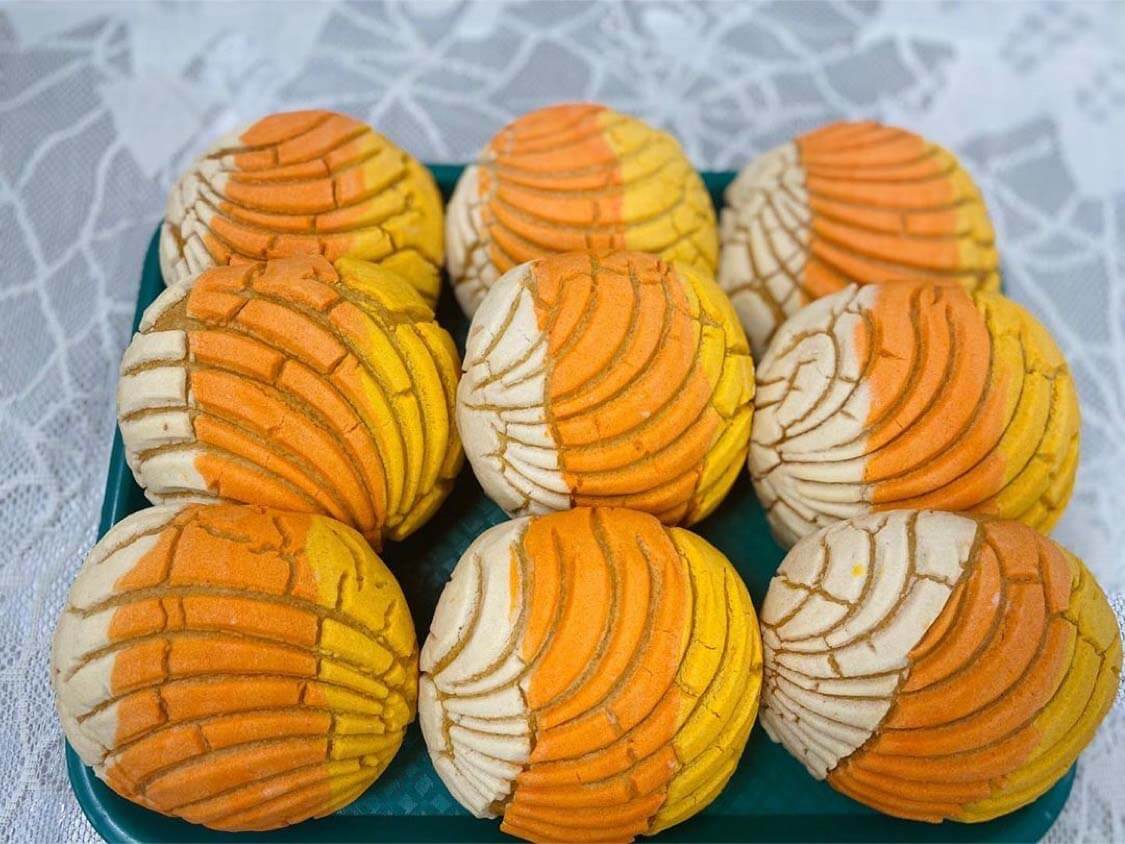 Monty's Good Burger
Echo Park, Koreatown, Beverly Grove, & Riverside
Monty's Good Burger has to be the best spot for seasonal shakes! This month, they're bringing back the drool-worthy Havok's Harvest Spiced Pumpkin Shake in collaboration with Davey Havok. This sippable dessert is made with pie crust on the bottom, a harmonious blend of vanilla soft serve and organic pumpkin purée, a swirl of whipped cream, and a sprinkle of pie crust on top. It may not seem too spooky, but pair it with their glow in the dark Halloween Misfit Tee to get in the spirit!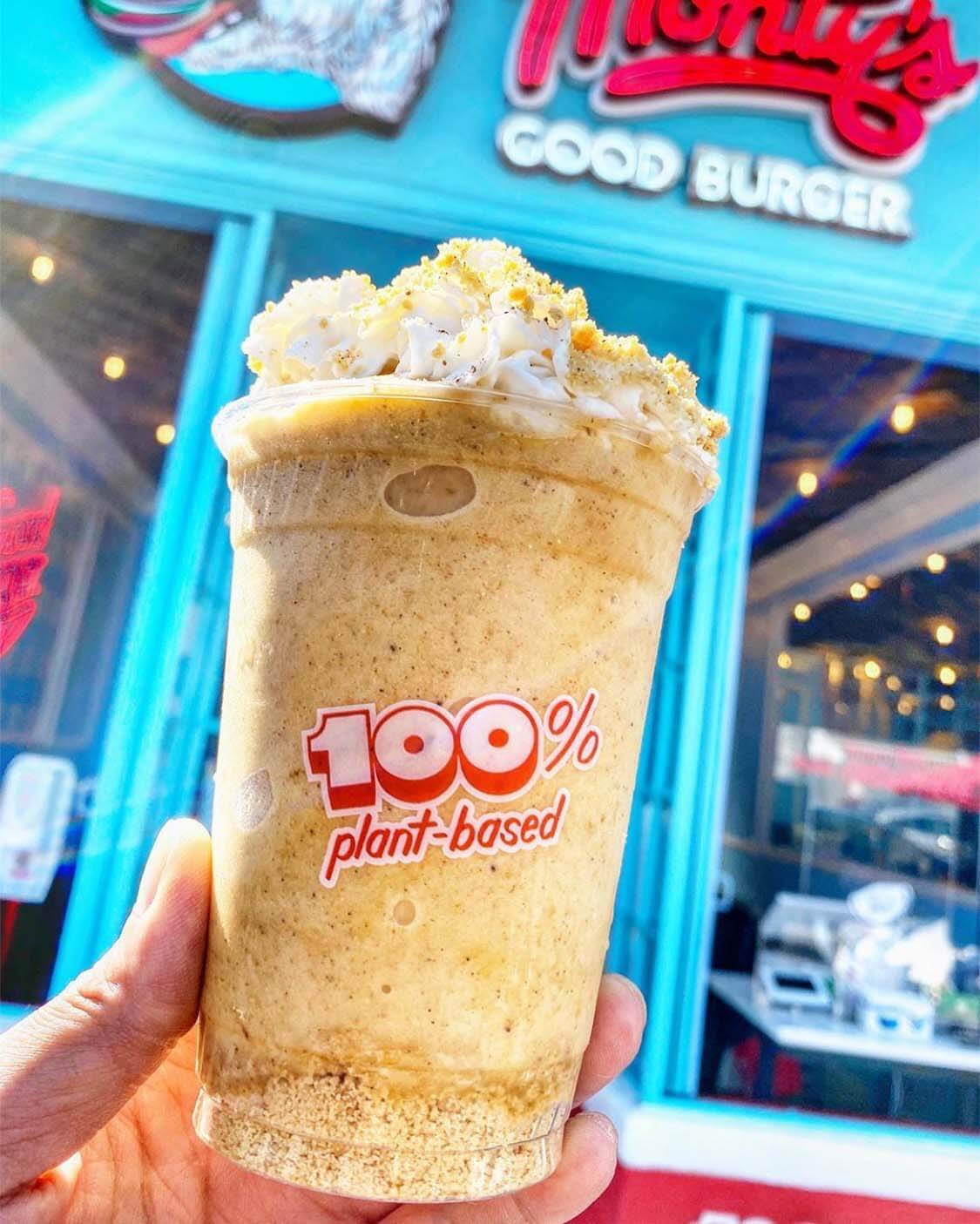 Photo credit: @alnevereatyou on Instagram
Leberry Bakery
Pasadena
Donut you wish it was already Halloween? We do too! That's why we've been ordering Leberry Bakery's Vegan Halloween Donuts to get in the spirit! This vegan-friendly bakery is also offering 6-inch Skull Cakes and Fang-tastic Cakes in vanilla, chocolate, or red velvet flavors. Sign us up!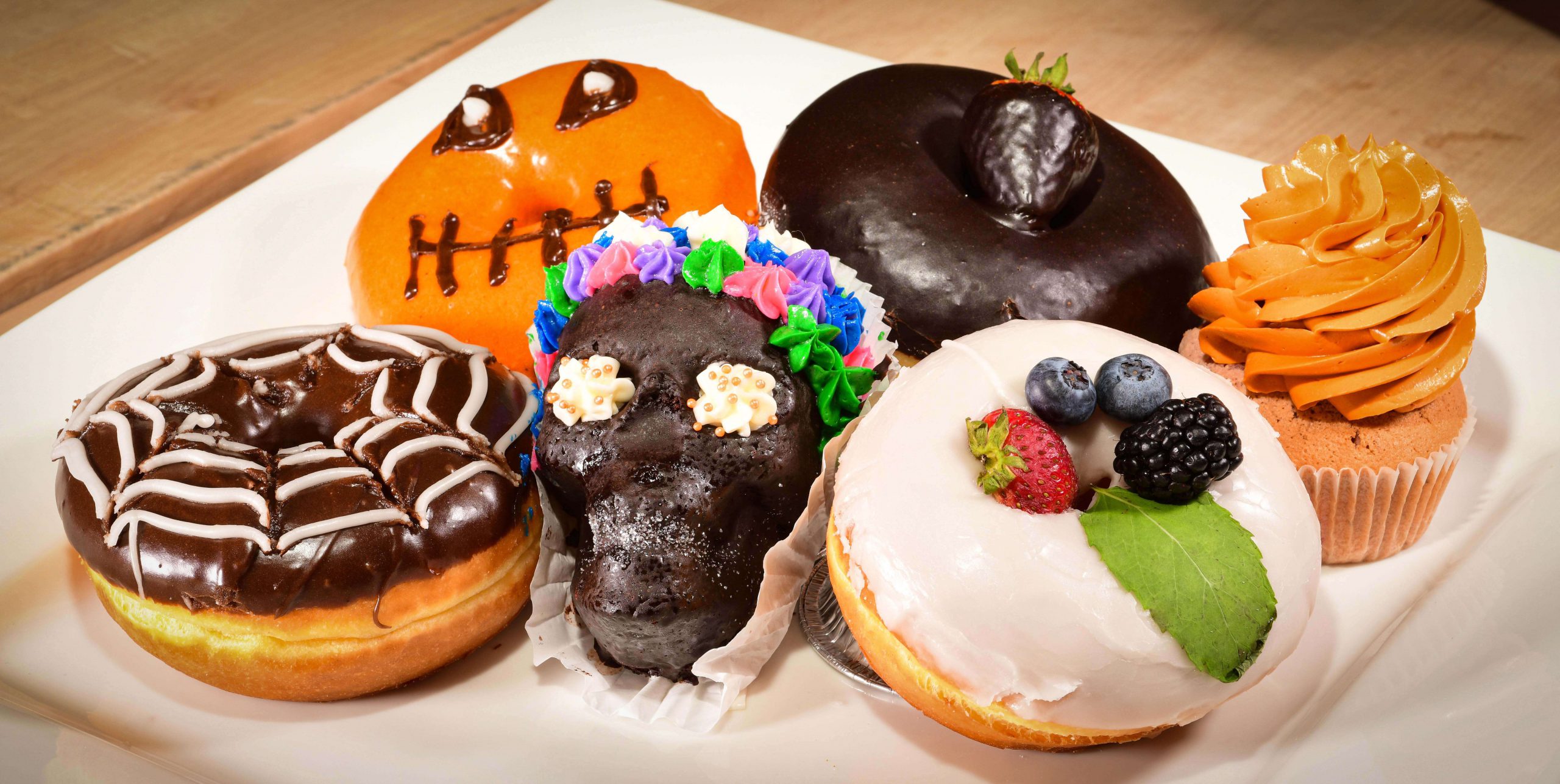 Allie Mitchell
@alliemitch
Allie is a writer, musical theatre performer, yoga instructor, and walking vegan restaurant directory. On any given day, you can catch her making tofu scramble, scouring Trader Joe's for new plant-based products, or watching The Lizzie McGuire Movie! Visit her website at alexandrammitchell.com.
Articles by Allie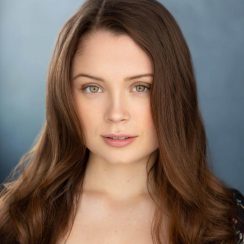 More from VegOut
Subscribe Now
Get the premier vegan food and lifestyle magazine delivered to your door (or inbox!)
Order the magazine!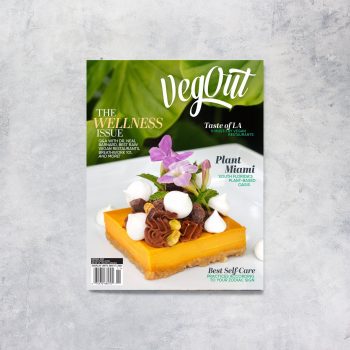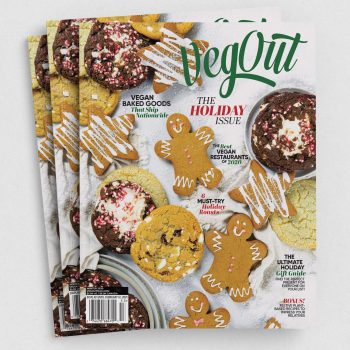 Navigation