First they're spooky, then they're sweet!
The best way to cure the spookies is with some sweets! From cupcakes, donuts, and cake pops to conchas and milkshakes, these frightfully festive treats are the perfect way to celebrate the haunted holiday. Here's a list of 13 spots for vegan Halloween desserts in Los Angeles.
Hollywood
Do you want to indulge in the flavor of a caramel apple without all of the mess that comes along with eating one? Order a scoop of Dear Bella Creamery's Caramel Apple ice cream! With house-made caramel and dollops of granny smith apple jam mixed throughout, this seasonal sweet is a must-try! From noon-11pm on Halloween, kids under the age of 12 in costume will receive a complimentary scoop of choice, and dogs in costume will receive a complimentary Pup Cup!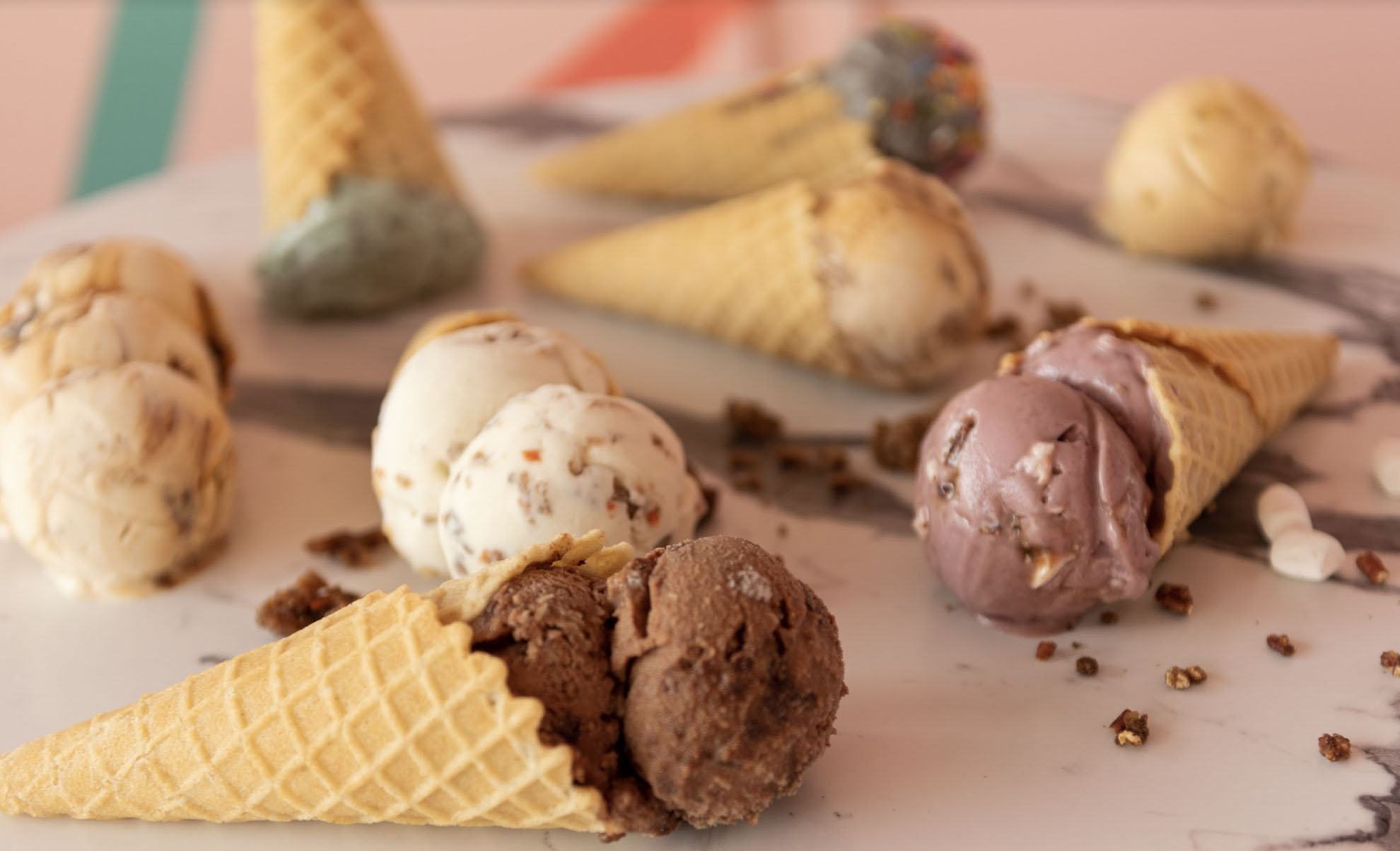 Westlake Village
'Tis the season for Halloween Mummy Donuts at Karma Baker! These chocolate rings are drizzled in vegan white chocolate and topped with adorable (and edible) googly eyes. You can also find other Halloween-inspired treats like cupcakes and sugar cookies. Everything is vegan, gluten-free, and soy-free.
Long Beach
This vegan bakery is spookifying just about everything in their shop including cake pops, macarons, brownies, rice crispies, tarts, cupcakes, and cake slices—literally everything! If you'd like a sampler box, Baked Vegan Sweets has small, medium, and large Trick-or-Treat Boxes with a variety of goodies. They're available for presale until October 20. After that, you can find Halloween-themed treats at the bakery daily (while supplies last).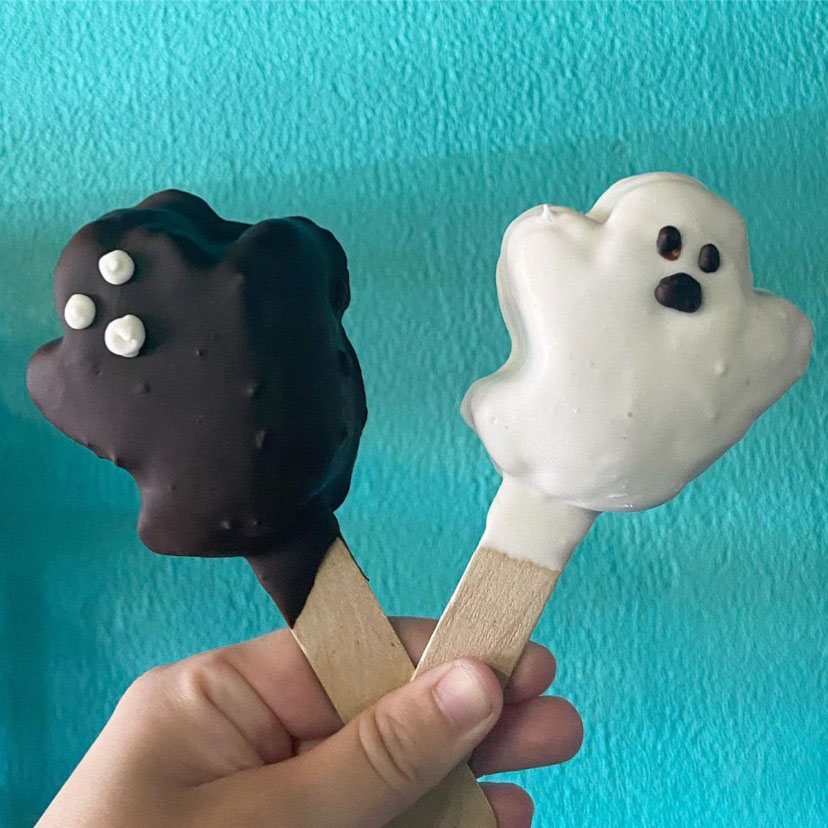 Toluca Lake
While traditional candy corn isn't vegan, the Candy Corn Conchas from Toluca Bakery & Cafe are! These soft, sweet rolls can also be found in a pumpkin rendition alongside the bakery's vegan Pan de Muerto.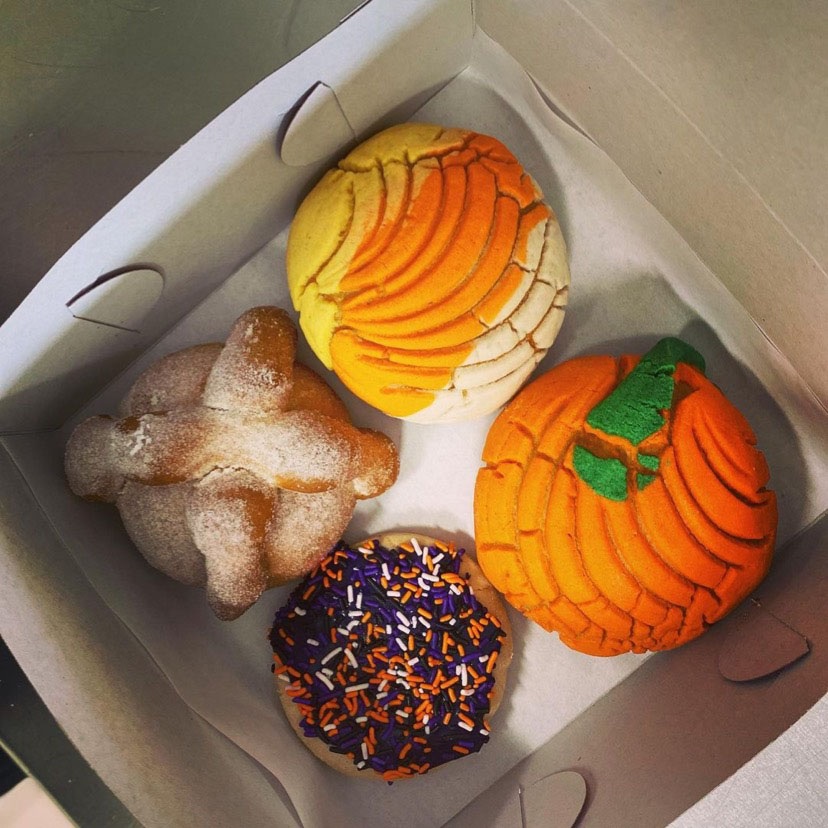 Larchmont & Santa Monica
Do vegans eat brains? Only if they're brains made of plant-based frosting! The popular female-owned vegan bakery is whipping up some pretty epic treats this fall. From cupcakes frosted in the likeness of ghosts, mummies, Dracula, and brains to full-sized skeleton cakes, these goodies will make your Halloween party the coolest on the block!
Nationwide Delivery (Downtown LA Location Coming Soon!)
Who knew one dessert could be so frightful and fancy? Veron is welcoming the holiday season with several vegan French macaron flavors. The Chocolate Orange Macaron is colored black with activated charcoal chocolate and loaded with blood orange buttercream. The Pumpkin Extra Spice Macaron is made with all sorts of fall spices, like ginger, cinnamon, and nutmeg. Last but certainly not least, the Caramel Apple Macaron features an apple shell with a gooey coconut caramel center. You can order these goodies online until October 26 or track down Veron at one of their many pop-ups this month.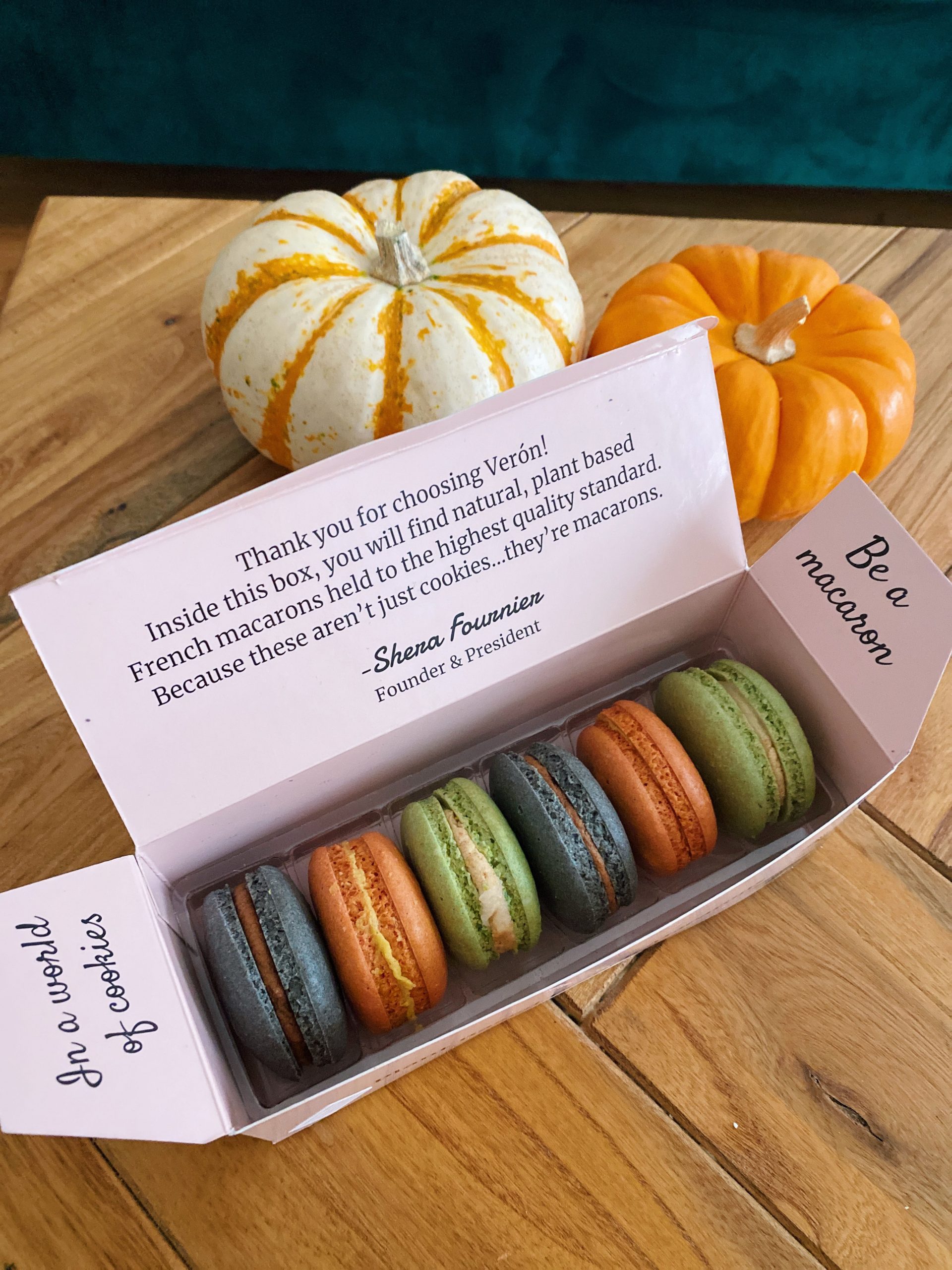 Delivery & Hapa Cupcakes in Fullerton
Two Birds Baking Co. is serving up decadent delights for horror movie superfans and scaredy-cats alike. By that we mean this bakery stocks family-friendly cakes decorated with frosting pumpkins as well as cupcakes with the most infamous villains on top—like Freddie Kruger. Don't worry though, it's just fondant!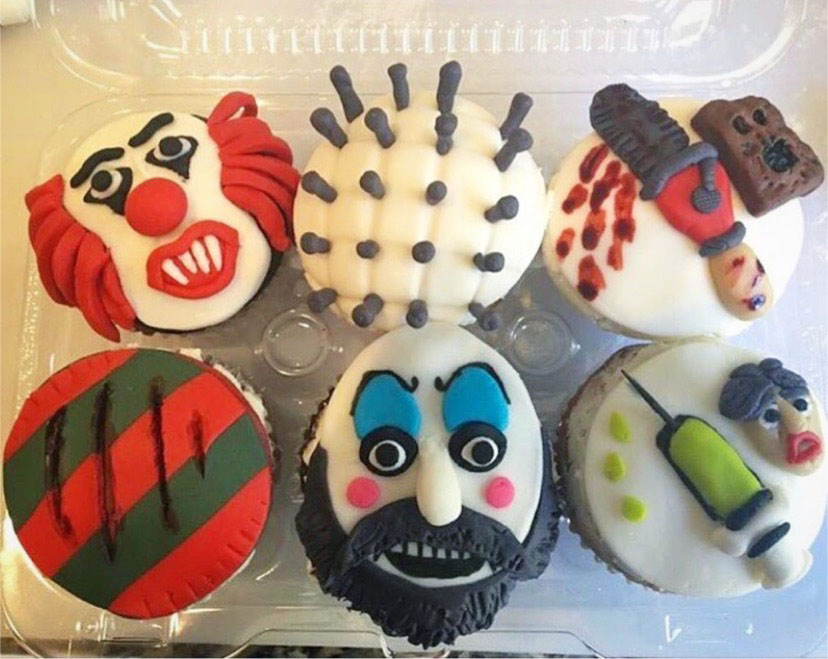 Echo Park, Glendale, & Santa Monica
Calling all the monsters! Stop by Yoga-urt during the week of Halloween for one of the cutest spooky concoctions we've ever seen—the Monster Cone! Your flavor of choice will be swirled inside a charcoal cone and dressed up in edible toppings to look like a sweet yet scary creature.
Culver City
Bats and ghosts and pumpkins—oh my! Rising Hearts Bakery is breaking out Halloween-themed sugar cookies this October. But don't let the cookies' spookily decorated appearance scare you away, they're actually really sweet.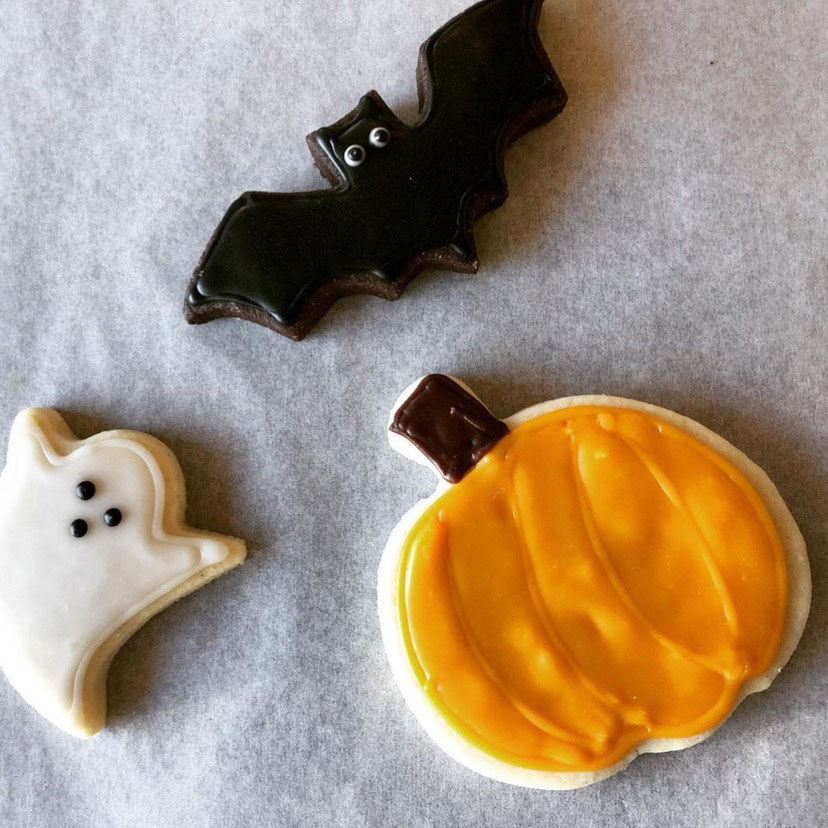 Santa Ana
From Frankenstein and Ghostface to Jack Skellington, Soy Concha Bakery is turning the most iconic Halloween characters into conchas! This vegan panaderia is also offering Pan de Muerto for Día de Muertos (aka the Day of the Dead).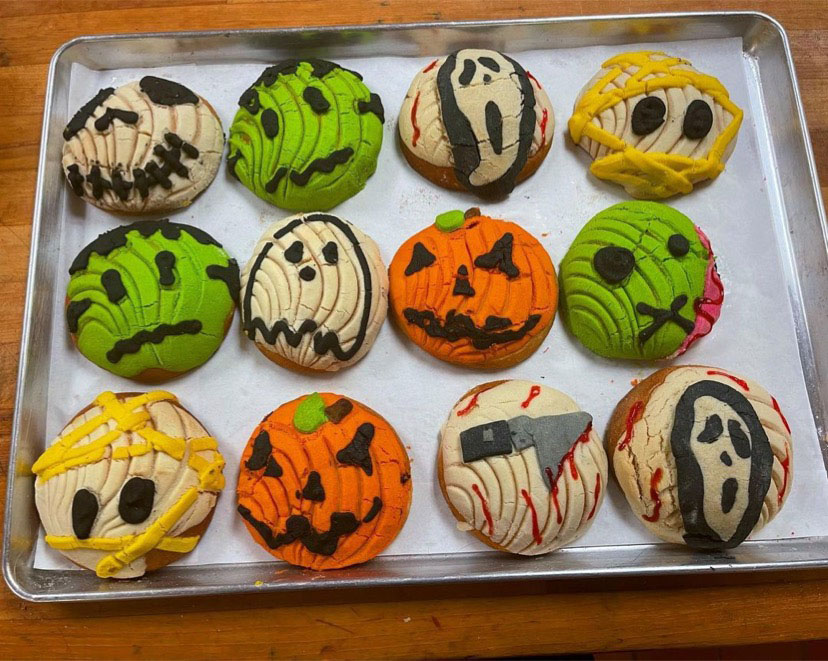 Silver Lake, Highland Park, & Tarzana
Vegan-Friendly
Magpies Softserve's Halloween Pie is back in action this year! The frozen vegan pie features layers of Midnight Chocolate with fudge, caramel sauce, devil's food cake, and caramel whipped cream on top. It's insanely delicious!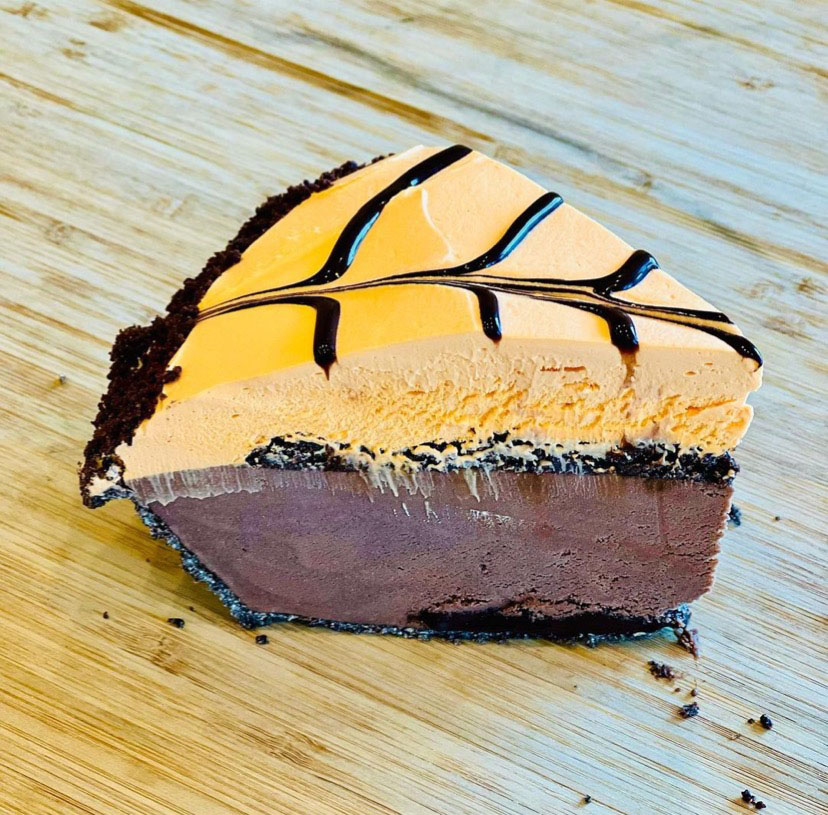 Pasadena
Vegan-Friendly
Donut you wish it was already Halloween? We do too! That's why we've been ordering Leberry Bakery's vegan Halloween donuts to get in the spirit. Other festive finds include sugar cookies frosted to look like skulls and cupcakes decorated to look like pumpkins.
Multiple Locations
Vegan-Friendly
This season, Salt & Straw debuted a brand new seasonal vegan flavor—Double Bubble Toil & Trouble. It's a blue bubble gum ice cream with chewable fruit-flavored bubble gum pieces mixed throughout. As scary as it may seem, this scoopable treat is colored naturally with blue spirulina and flavored with real fruit.