Get your shrimp on—vegan style!
Most restaurants have mastered the vegan versions of burgers, chicken, and beef, but how often do you find vegan shrimp on the menu? This item is pretty rare, but we've made it a little easier for you! After fishing for all of the best seafood-like dishes, we've curated a list of the top 13 places for vegan shrimp in Los Angeles.
Pop-Up
Crispy fried shrimp with a satisfying secret sauce to dip 'em in? This vegan pop-up speaks our love language! Vēginning Vegan's other innovative eats to nosh on include Lobstah Mac n Cheez, spirulina-colored Blunana Pudding, and Sweet Potato Pie Cones.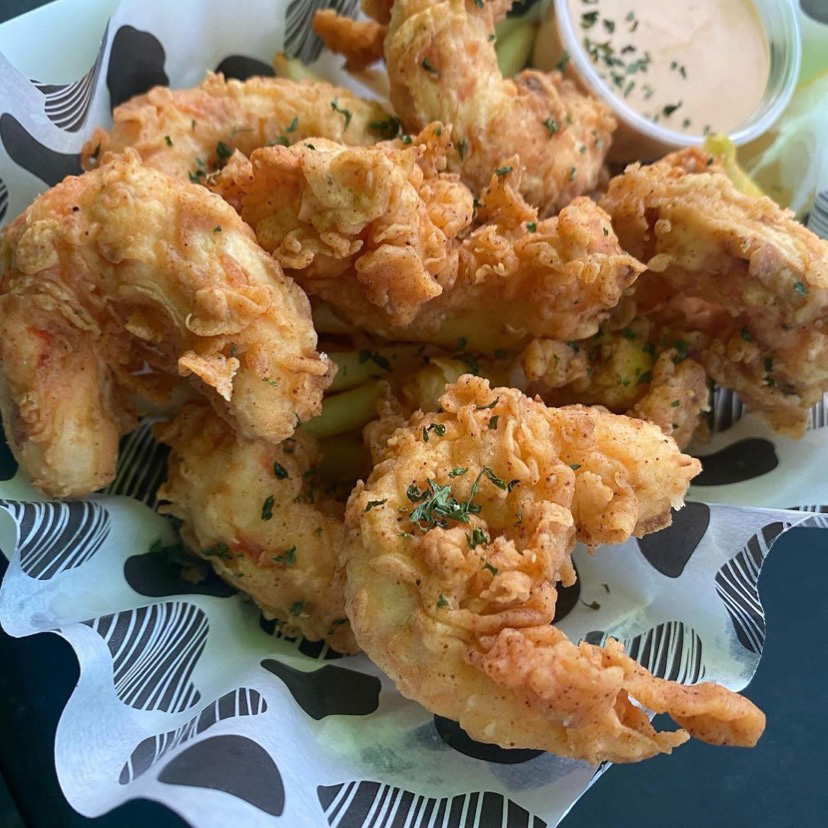 Beverly Grove
The shrimp combinations are endless at this Thai fusion joint! Choose soy shrimp as your protein on any of their a la carte, noodle, rice, or curry entrees. If you're looking for a shrimp starter, order the Mee-Krob or Tom Yum Soup, but don't forget to leave room for shrimp tacos. The tacos feature soy shrimp, shredded cabbage, salsa, cilantro, and spicy gluten-free chipotle mayo, all resting on a warm soft shell corn tortilla.
Photo credit: @dami.funes on Instagram
Culver City, Woodland Hills, & Downtown LA
While we're on the Thai cuisine train, let us introduce you to the plant-based shrimp options at The Vegan Joint! Golden Shrimp, Lemon Shrimp, and Sate with shrimp are a few dishes we'd suggest trying. If you're feeling soupy, slurp on the Wonton Soup which includes spinach, wheat flour wonton, soy shrimp, and garlic. You can also add shrimp to any curries, noodles, or rice plates!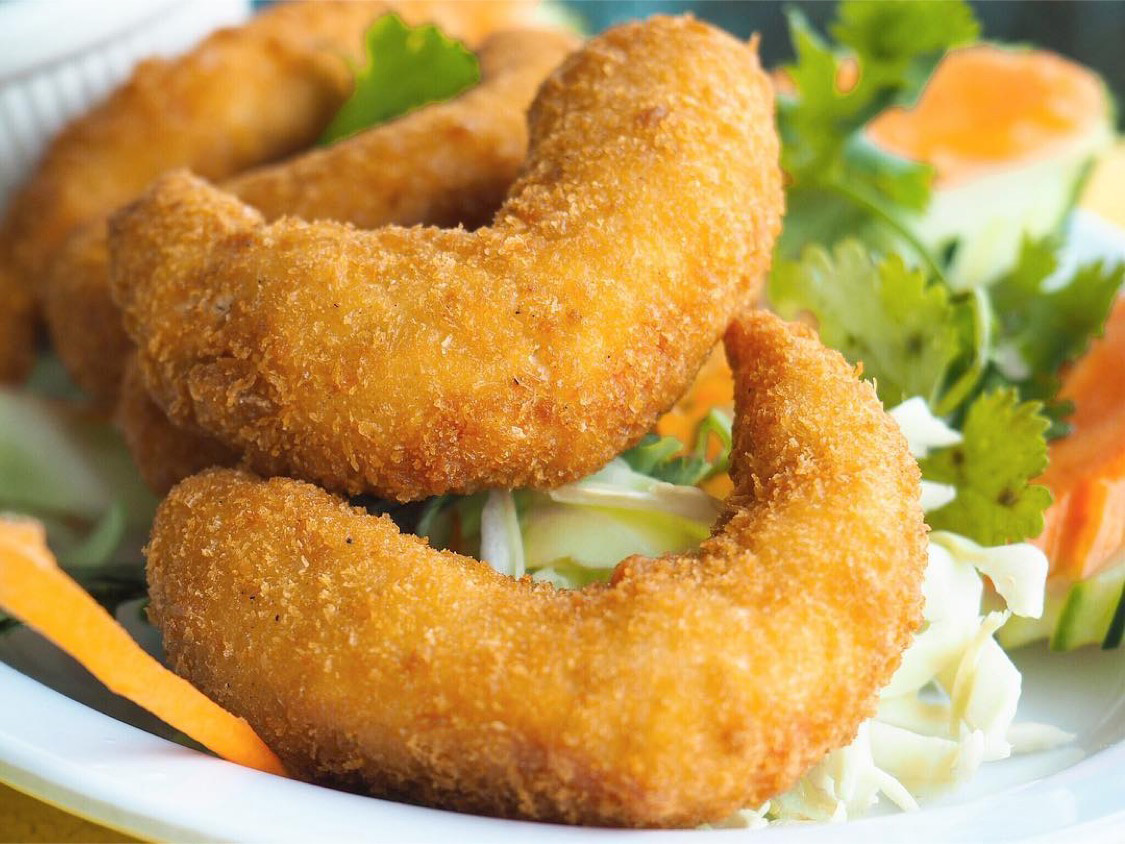 Photo credit: @losvegangeles on Instagram
Pop-Up
This plant-based pop-up created a dish we didn't even know we needed until we heard its name—Vegan Pineapple Walnut Shrimp! Served over a bed of white rice and topped with a flower, this beauty pleases all five senses. Orange Shrimp and Spring Rolls are Srey Vegan's other shrimp dishes to nosh on.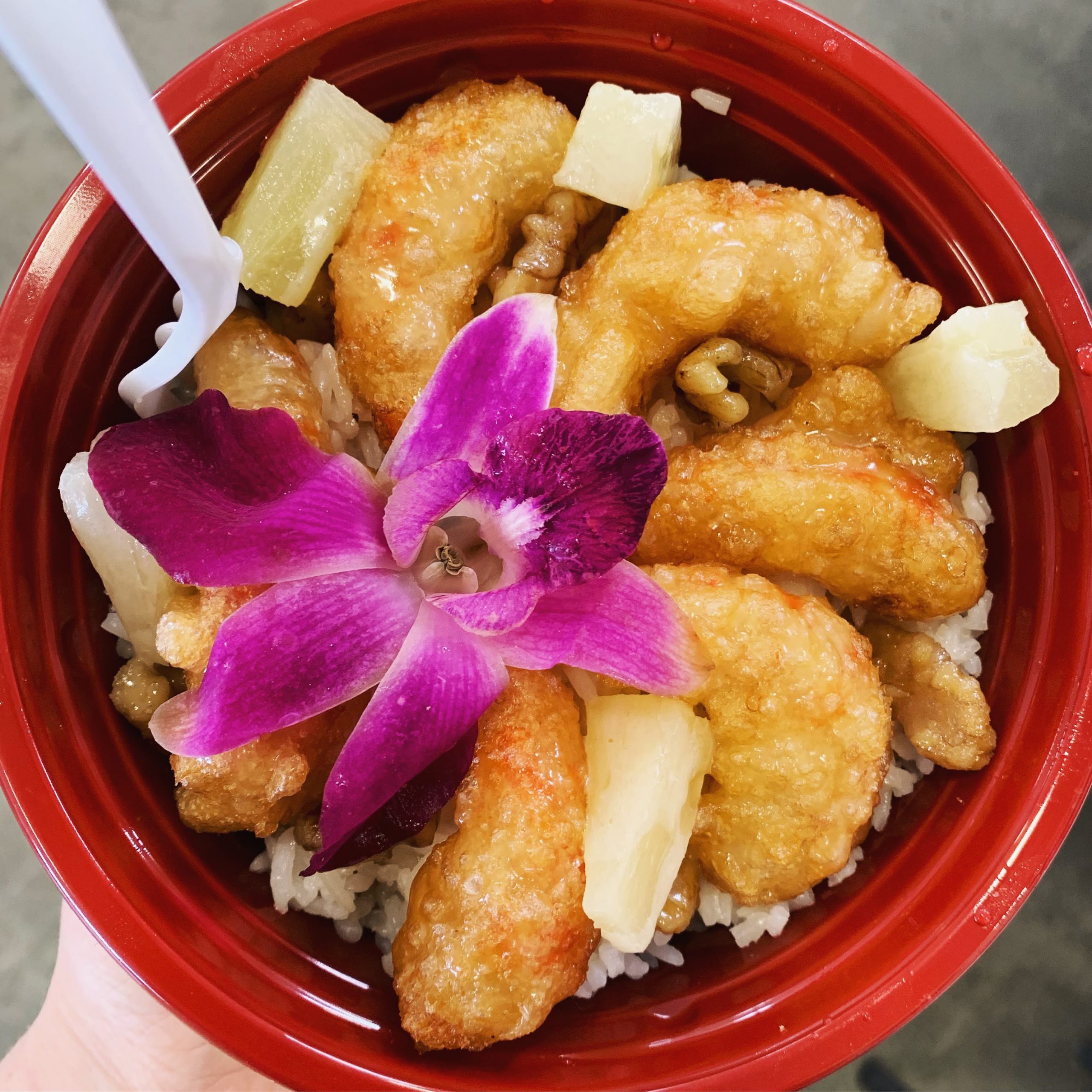 Palms
At this all-vegan Italian spot, you can add shrimp to any pasta, pizza, or salad—like the Tony Spicy Pizza which is topped with tomato sauce, red onion, green bell pepper, tomato, jalapeno, shrimp, and mozzarella. The Shrimp Scampi and Mexican Shrimp Cocktail are two other seafood-inspired dishes at Julie Goes Green that are rare to find vegan.
Hollywood
Doomie's knows exactly how to serve shrimp—fried! Their Fried Shrimp is beautifully breaded, fried, and served with a side of tartar and cocktail sauce. Maybe try throwing them on some of their freakishly tasty fries or request a few of their other hot appetizers, like the Fried Avocado and Jalapeno Poppers, to create a sampler trio.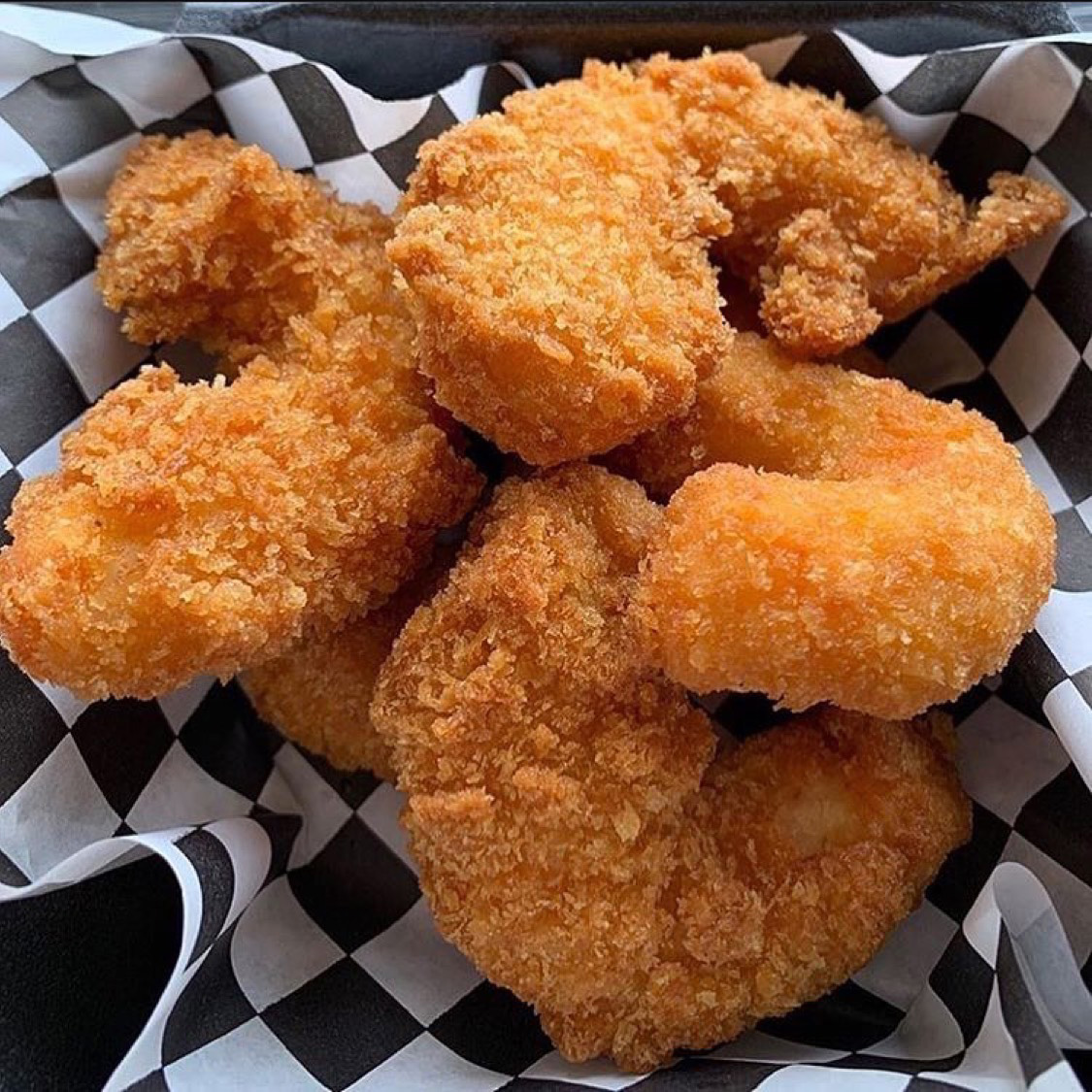 Photo credit: @vegan.babe on Instagram
Silver Lake
No one knows flavor quite like Chef Velvet of The VTree! Her famous Cajun Shrimp, made from vegetable protein, is one of the best items on the menu. Grilled or fried, you can't go wrong—but whatever you do, don't walk out of those doors without ordering a side of mac 'n' cheese.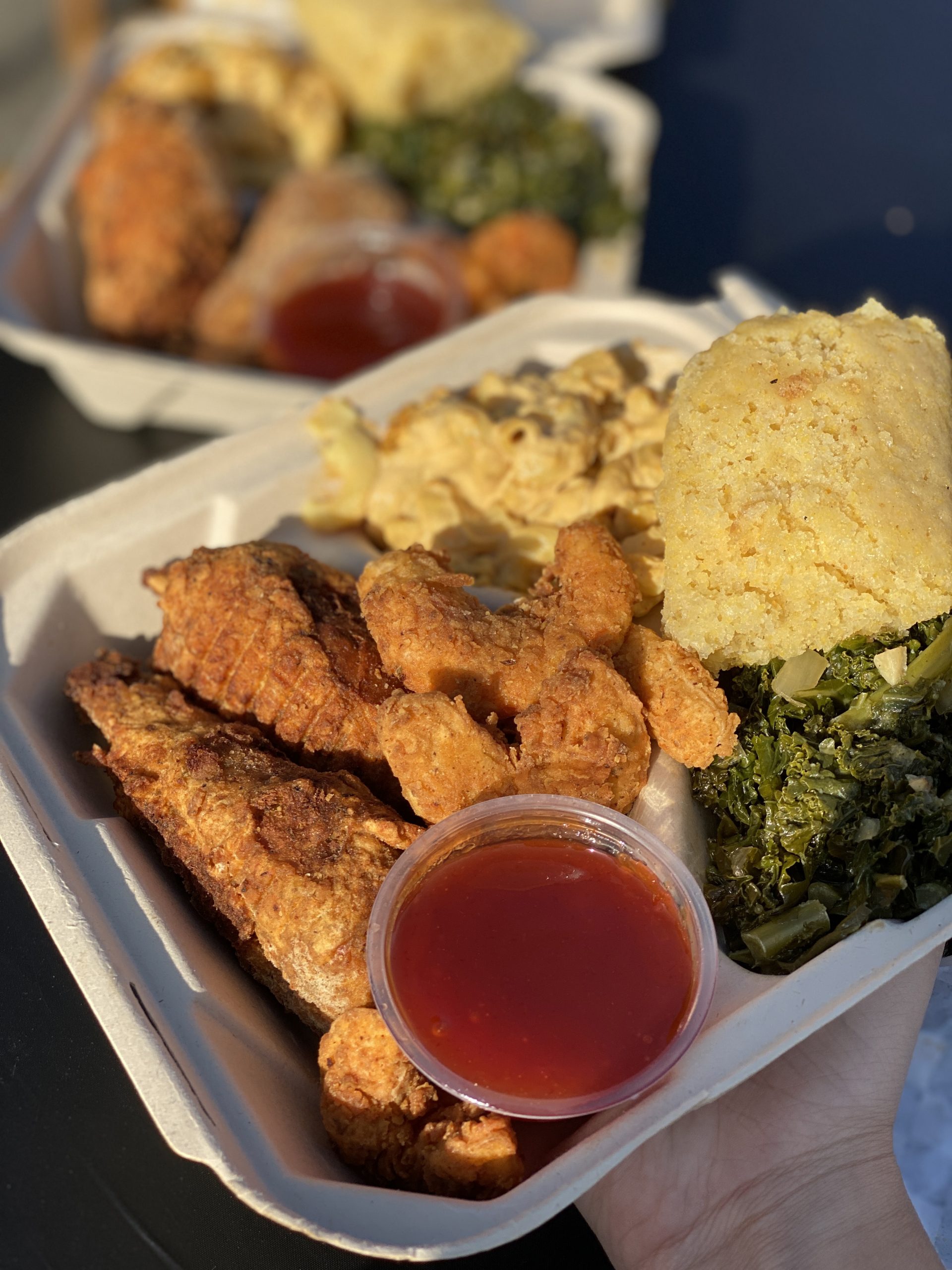 Fullerton
Aside from Chicana Vegana's Grilled Shrimp Tacos, you can add the seafood alternative to several other menu items. We love the Cali-Bae Rito loaded with grilled shrimp, seasoned fries, shredded cheese, cashew sour cream, and guac.
Los Feliz
Guess what this place has? If you guessed more shrimp, you're a winner! The Shrimp Dinner includes fried soy shrimp, steamed broccoli, cauliflower, carrots, zucchini, and gluten-free wild rice or grilled potatoes. You can also add the cruelty-free crustaceans to any salad, rice, or noodle entree, or get them as a side.
Photo credit: A.J. on Yelp
Food Truck
Want to dig into crispy vegan shrimp on a bed of three-cheese Alfredo fries? How about in a quesadilla with guac, pico, and sour cream on top? Or maybe over a bowl of grits with a Hennessy glaze on top? If you said yes to any of those questions, track down the Kick Ass Vegan food truck to place an order!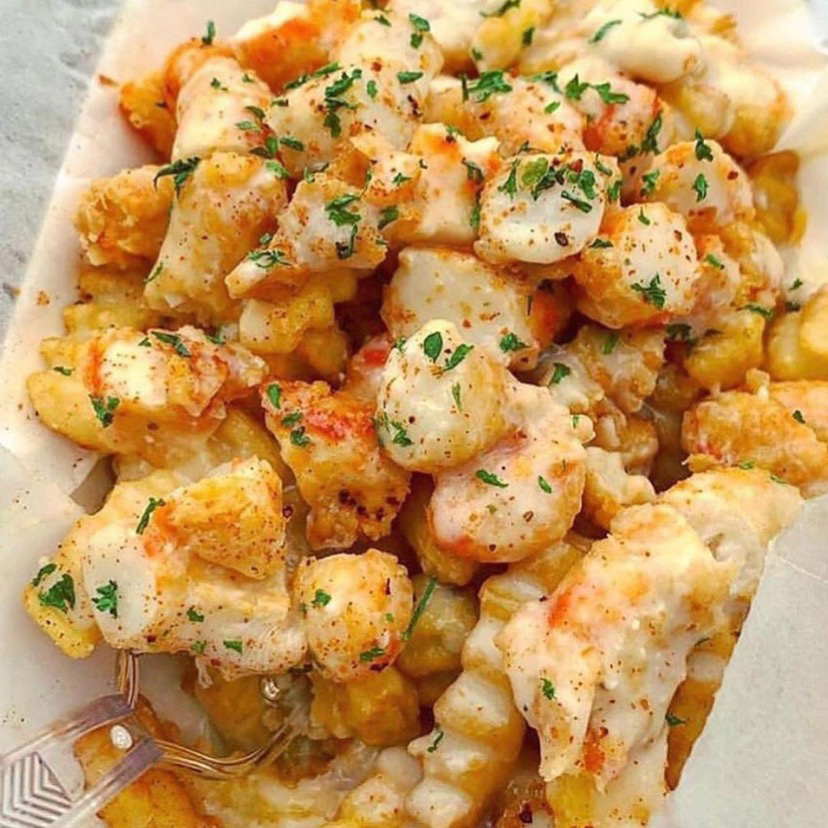 Santa Ana
This fusion restaurant is a collaboration between Chef Adrian Garcia of Naughty Boy Sushi and Chef Syler Tanksley of Munchies Diner. Together, they make some of the most mind-blowing menu items, infused with an Asian flair. A few of the shrimp-tastic dishes served at Naughty Panda include the Naruto Roll, Lemon Garlic Shrimp Bowl, and Shrimp Banh Mi.
Pop-Up
From po' boy sandwiches and bowls of grits to plates of chow mein and soul food platters, Voodoo Vegan's fried shrimp is featured in a wide variety of dishes. Their soy-free oyster mushrooms are another favorite of ours.
Downtown LA
Feeling saucy? Stop by The Vegan Hooligans' brick-and-mortar or track down their food truck to order some Shrimp Fries. Doused in your choice of Buffalo, Mango Habanero, or BBQ sauce, these plant-based shrimps are sure to have your mouth watering in no time!