Back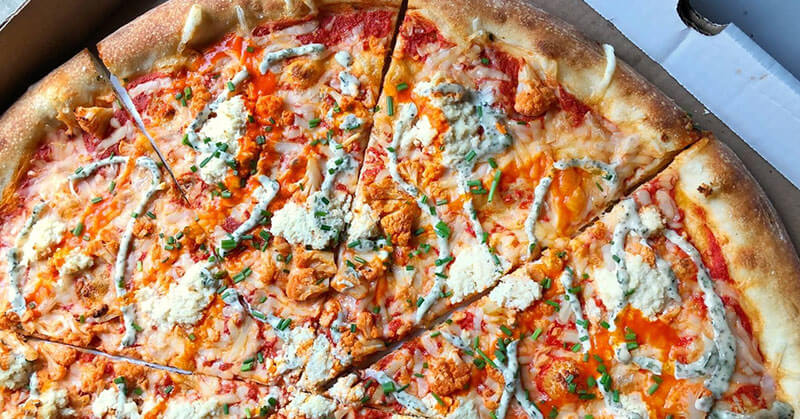 12 Must-Try Vegan Pizza Spots Across the United States
2021 is here and vegan pizza is alive and thriving! Thankfully, the days when vegan pizza meant flimsy crust, store-bought tomato sauce, and overcooked veggies that no one actually liked are long behind us. If you made it through the vegan pizza apocalypse, congrats! And if you're just joining us on your vegan journey, welcome to the party. Here are a few of our favorite spots to grab a slice (or a whole pie) of vegan pizza across the states.
Philadelphia
Owned by the same minds that brought you Blackbird Pizzeria (a longtime staple in the Philly vegan food scene), 20th Street Pizza is your go-to spot for square pies with thick, chewy crusts. The pizzeria is dedicated to using fresh, local ingredients. They source all their veggies from area farmers and use Philly's The Conscious Cultures's vegan mozzarella. We're a big fan of the classic Grandma, with its tomato sauce, mozzarella, olive oil, and basil in a deep pan crust. If you're more of a thin-crust lover, try the Balboa—pistachio pesto, lemon ricotta, roasted tomato, vegan sausage, and arugula all drizzled with olive oil make this pie a must-try. 20th Street Pizzeria is open from 2-9pm Wednesday-Sunday for pickup or delivery only.
Los Angeles
Purgatory Pizza is an LA staple and one of the most vegan-friendly restaurants in town. They offer a dedicated vegan menu with specialty pies, pasta, calzones, and sandwiches. Known for their signature thin crusts and pop-culture-referenced pizza names, the pies at Purgatory are as West Coast authentic as you can get. The Buffalo Bill is a local favorite and comes topped with creamy buffalo sauce, marinated cauliflower, red onion, and scallions. If you're in the mood for a deep-dish, opt for the Vegan Gordon Bombay—cashew mozzarella, smoked almond ricotta, tomato, pesto, and almond Parmesan pan-baked with garlic and olive oil round out this pie that's out of this rink. Don't forget to add a bottle (or five) of their housemade vegan ranch to your order!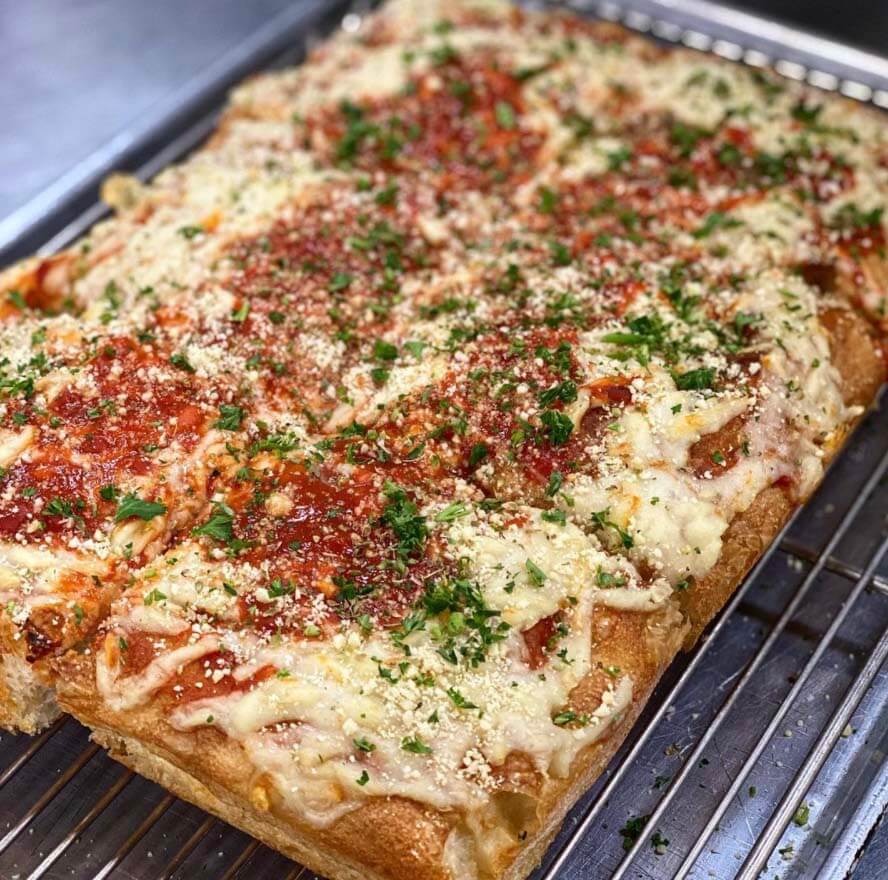 San Francisco
From the team that brought you Millenium, Above Ground is San Francisco's first all-vegan brewpub. Featuring a curated cocktail menu, classic veganized bar food, and an extensive pizza menu, this pub is a vegan haven in the Mission District. With ten different pizzas to choose from (and they can all be made gluten-free!), there's something on the menu for everyone. A bestseller is the Celery Root Alfredo Pizza, which comes piled with celery root, cauliflower, smoked kohlrabi, and roasted brassicas, and finished with Miyoko's mozzarella and cashew alfredo. Craving something sweet? Try the Apple Pie pizza—roasted apples, brandy, cinnamon sugar and an oat-pecan crumble will surely satisfy that sweet tooth. Above Ground is open Thursday-Saturday nights, so treat yourself to a little Netflix and vegan pizza after a long work week!
Chicago (Nationwide Shipping)
If you say "deep-dish" five times … you might get close to an idea of what House of 'Za serves up. The fully vegan pizzeria was once a brick-and-mortar staple in Chicago, but has since switched gears in order to keep their staff and community safe and are now operating solely as a nationwide delivery service! You have the option to order stuffed deep-dish pizzas filled with house-made mozzarella, tavern-style pies with house-made meats, pan pies with house-made marinara (did we mention they make everything in-house?), or even a combination of the above delivered right to your door. And if you live east of Texas, the pies ship for free! They also offer monthly specialty pizzas, so be sure to check those out before you make your purchase.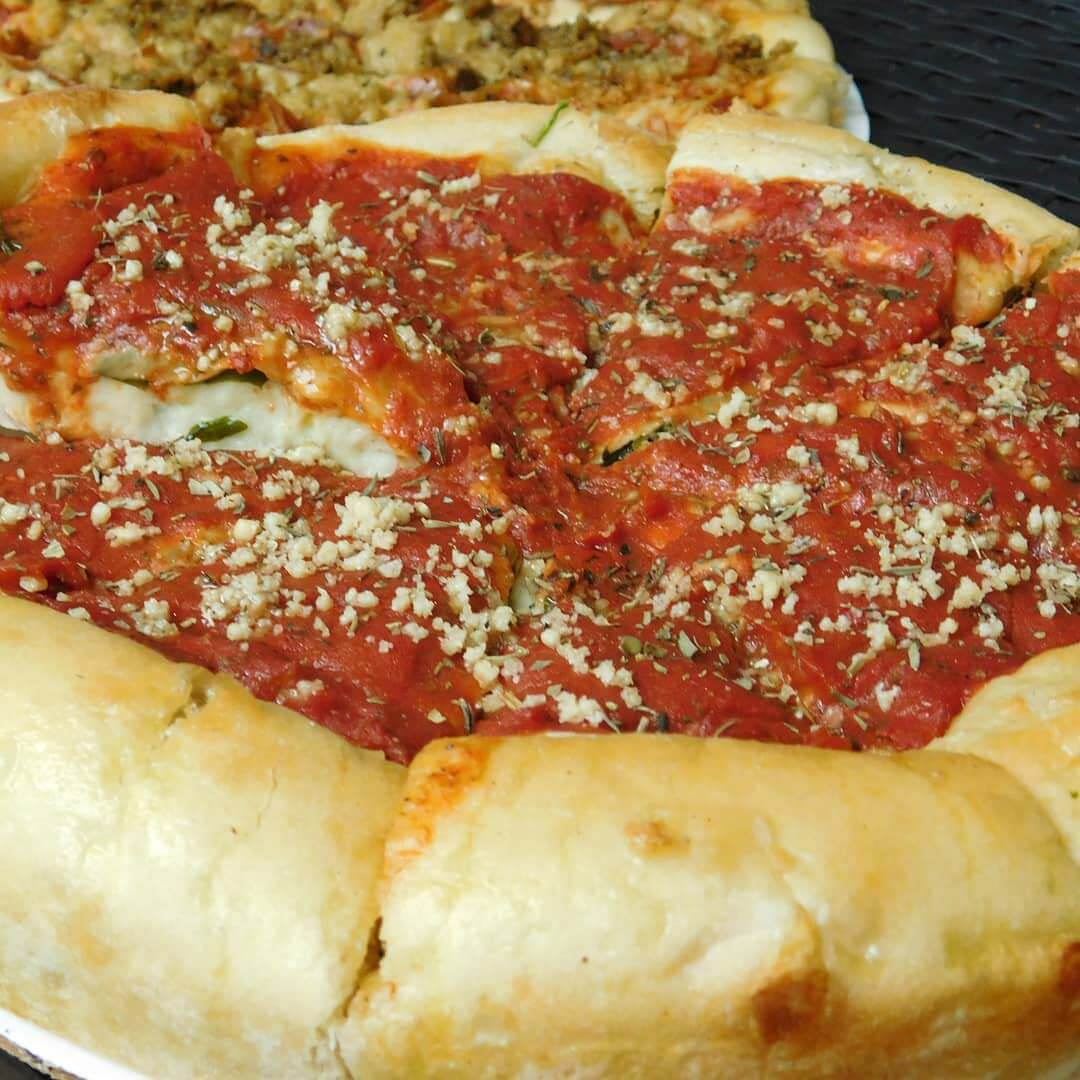 Multiple Locations
The fully plant-based pizza chain from vegan chef Matthew Kenney is expanding rapidly and with good reason! The pies at Double Zero are out-of-this-world creative and savory, with their house-made cheeses like cashew mozzarella and herb macadamia ricotta making these pies unlike any other vegan pizza you've ever had. We love the Pepperoni, an upscale throwback to the traditional favorite, and the Potato, because carbs on carbs is always a recipe for success! Keep an eye out for rotating weekly specials.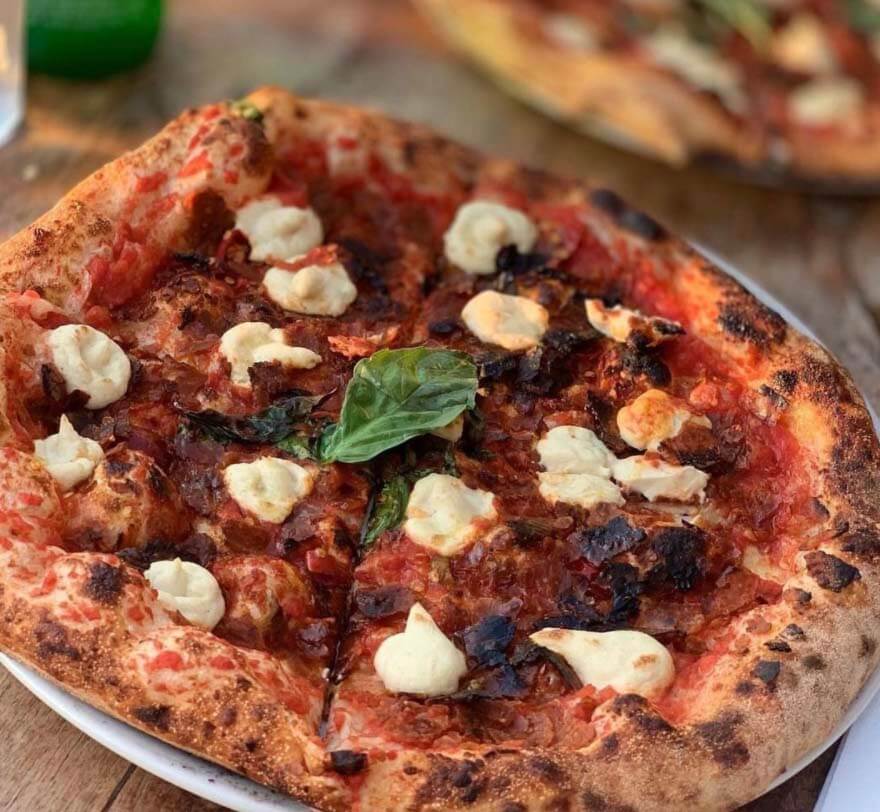 Las Vegas
An Evel Kneivel-themed pizza joint in Downtown Las Vegas? We're in! Evel Pie has a killer vegan menu that includes pizzas, garlic knots, meatballs, and even vegan chicken fingers! Evel's pies are heavy on the vegan meat and are made with creamy Follow Your Heart cheese. If you're more of a veggie fan, opt for the 420. It's a fungi lover's dream with shiitakes, portobellos, and white button mushrooms. Our tip? Add garlic and a side (or more!) of their creamy jalapeno cilantro sauce … you can thank us later. Bonus: All of their pies can be made on a gluten-free crust!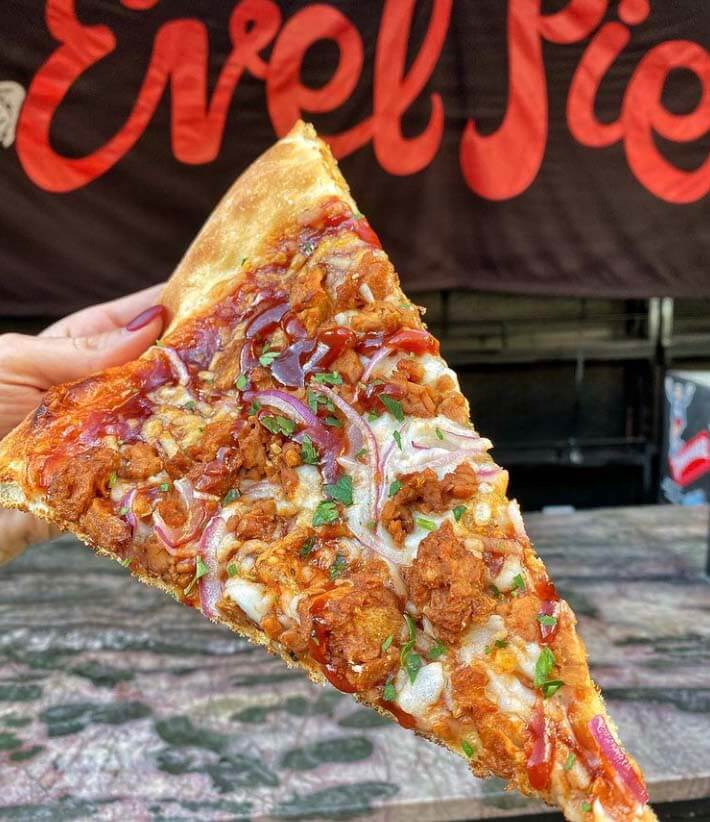 Portland
You may recognize the pies at Rudy's Pizza from that Portland influencer you follow on Instagram. But more than making your mouth water through the screen, the pies at Rudy's will leave a lasting impression on your taste buds. Aside from their weekly specials (which we can't recommend enough), Rudy's offers seventeen vegan pizza options—all of which can be made gluten-free. If you're picky about your vegan cheeses, you have the option of choosing Violife, Daiya, or Follow Your Heart for every pie. The pizzeria is one of the first in the nation to offer Field Roast's new plant-based pepperoni, so be sure to give that a try when you're ordering!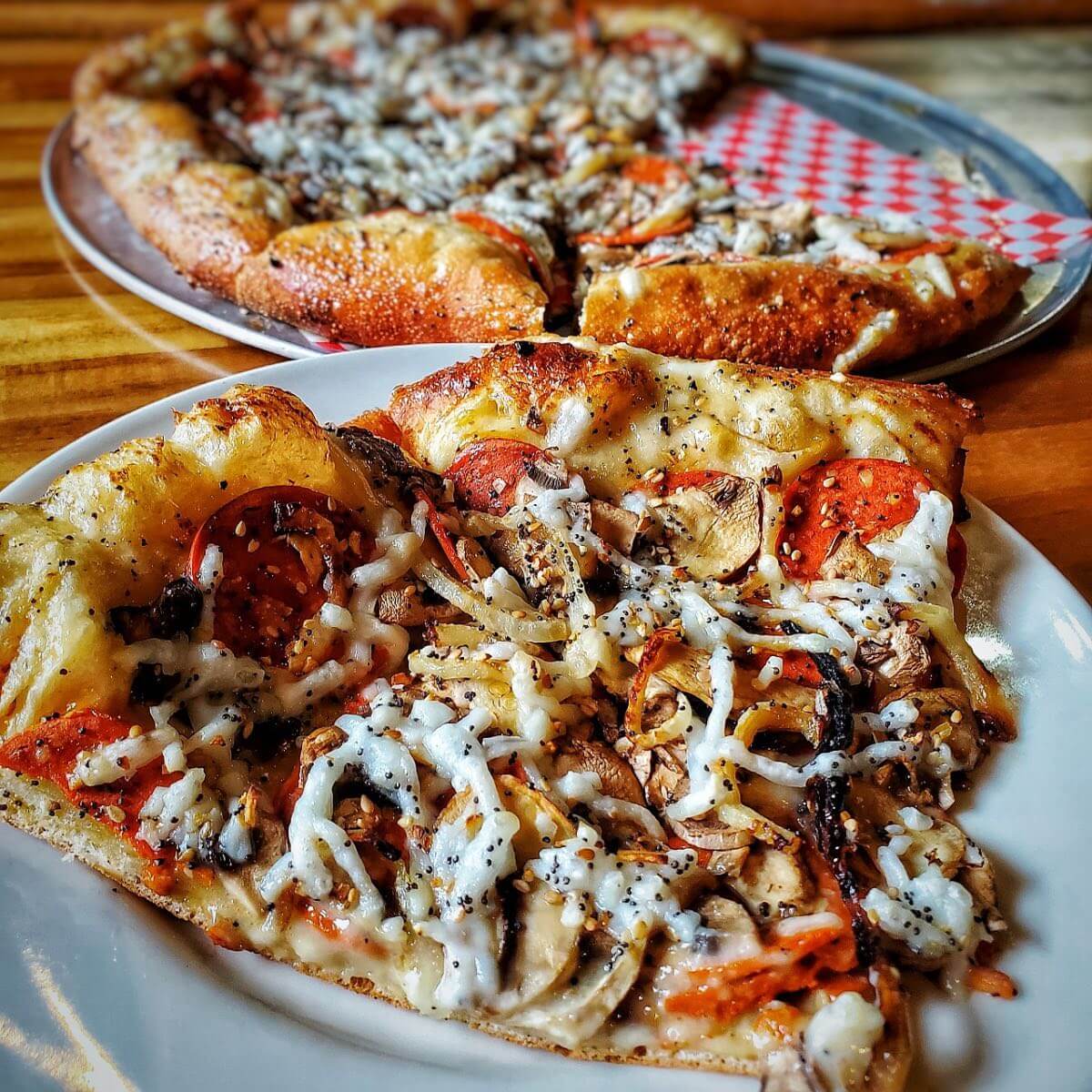 Austin
When a business makes the jump from food truck to brick-and-mortar in the middle of a pandemic, you know the food has to be good. Known for their house-made mozzarella and "beetaroni," fully vegan Li'l Nonnas has a loyal local following, and you do not want to sleep on their specials. One of their latest is the Chick-Fil-Ain't—piled with house-made chik nuggs, waffle fries, pickle chips, mozzarella, and topped with a house-made creamy and smoky mustard sauce, this special continues to sell out daily. All of their pies can be made gluten-free, and be sure to order a few sides of their vegan ranch as well! Li'l Nonnas makes it a priority to regularly donate a portion of their sales to various charities and nonprofits, so give them a follow @lilnonnas to see what they're up to next.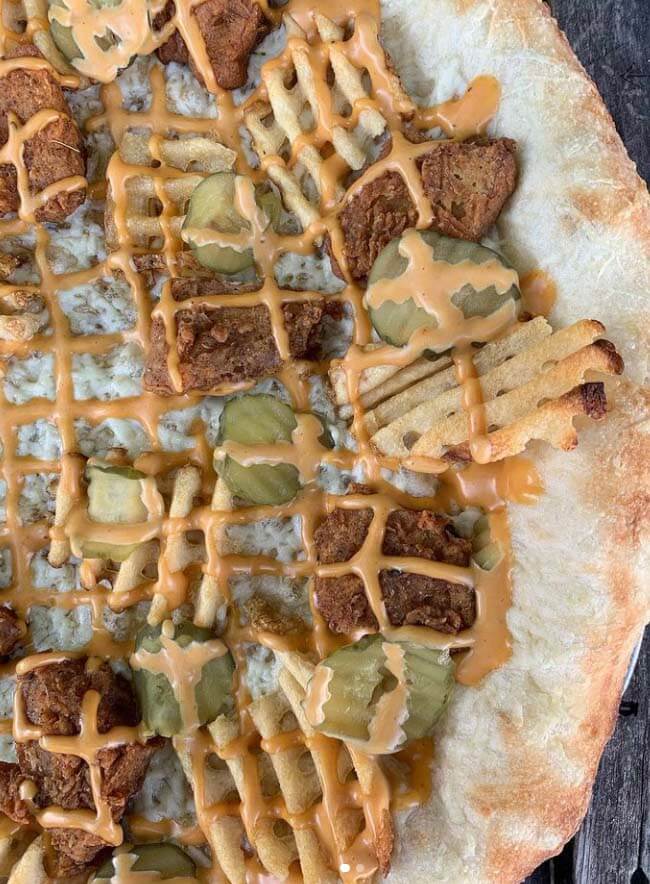 Atlanta
Plant Based Pizzeria has not only ended the pineapple-on-pizza debate (it's 2021 folks, anything can go on pizza), but has posed a new debate—do peaches go on pizza? The answer is a resounding yes. Their Georgia Peach pie boasts roasted peaches, Beyond Meat spicy sausage, and jalapenos over vegan mozzarella and basil tomato sauce, and it. is. phenomenal. If you're not a fan of mock meats, sub out the Beyond Meat for their walnut meat no problem. The Pizzeria has only been open for a couple years, but their success in Atlanta is only improving. They've recently opened a second location in Sandy Springs, which has already been met with a great reception by the local community.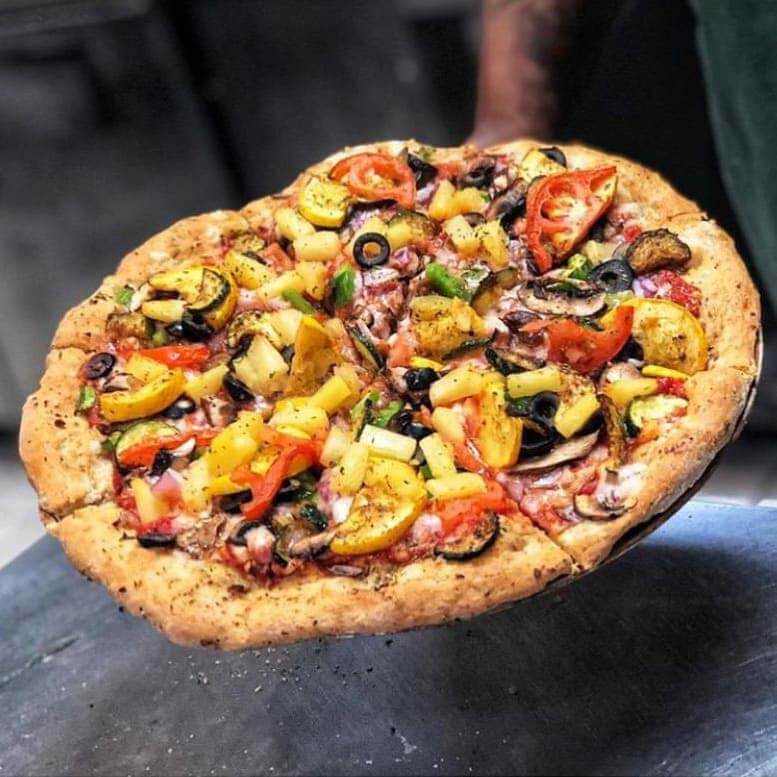 New York
On a list of the best vegan pizza joints in the nation, Screamer's will always make the cut. Famous even on the West Coast, Screamer's has been serving up delicious vegan versions of classic NY-style pizza by the slice since 2016. They have two locations in Brooklyn, each with a separate menu, so be sure you check them out online before you order. You can't go wrong with ordering the classics like Pepperoni or Supreme, but they have plenty of loaded options if you feel like branching out. Exhibit A: The Napoleon Dynamite—tater tots, garlic oil, house chili, red onions, and nacho cheese piled up on top of vegan mozzarella will have you saying "heck yes!"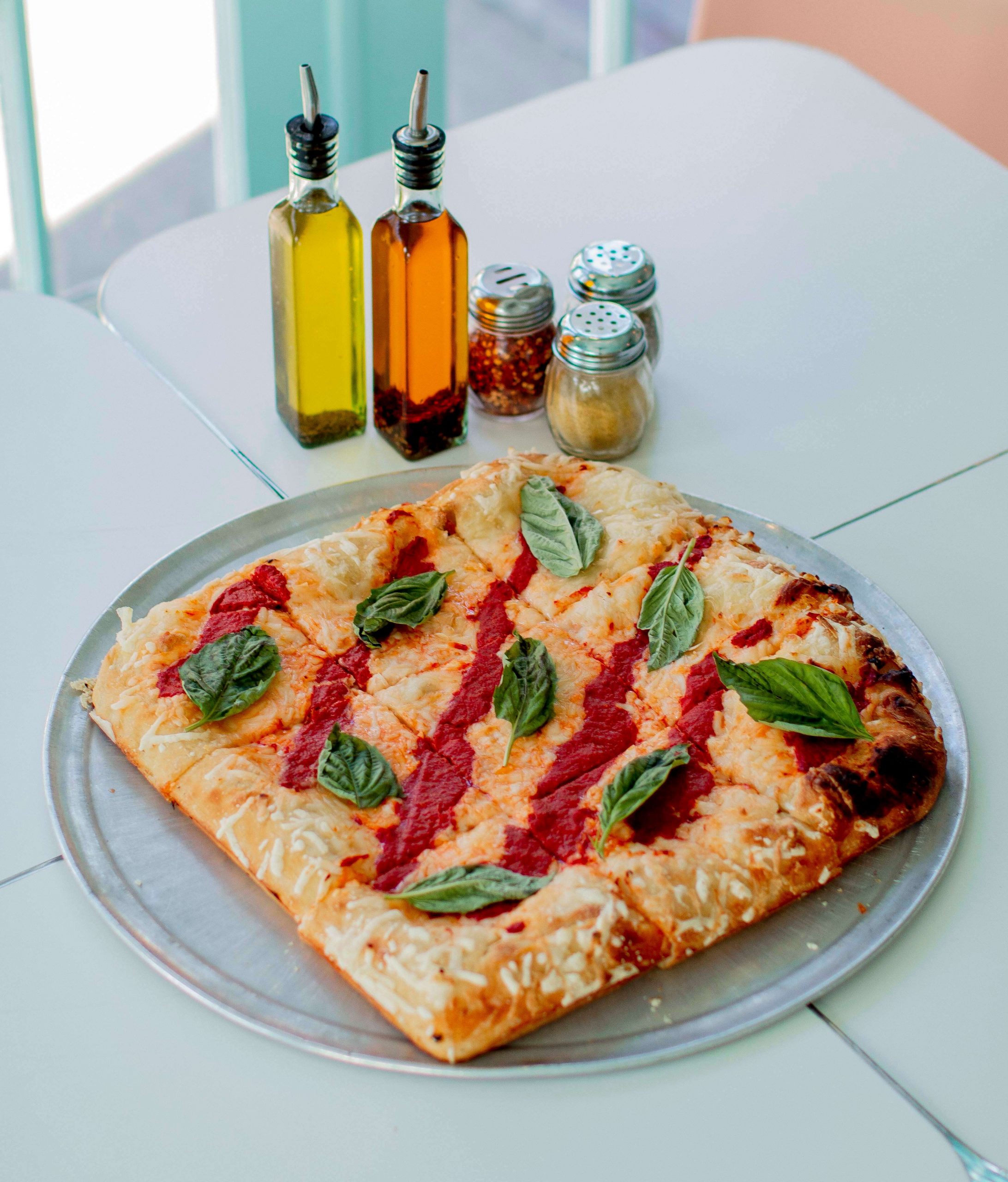 Photo credit: Cassandria Alvarado
Multiple Locations
If you're lucky enough to live in the PNW, chances are you've eaten at one of this spot's six locations. If you're just passing through, let us fill you in. Sizzle Pie, while not entirely plant-based, has an unbelievably good vegan menu. They carry both Follow Your Heart and Violife mozzarella, and all of their signature sauces are vegan, so be sure to order a side or two! If you're a fan of spicy, we recommend the Buffalo 666, which boasts shredded buffalo jackfruit, veggies, and their house-made vegan ranch and wing sauce over your choice of vegan mozzarella. Stock up on some vegan cookies before you go and you're in for a killer night in.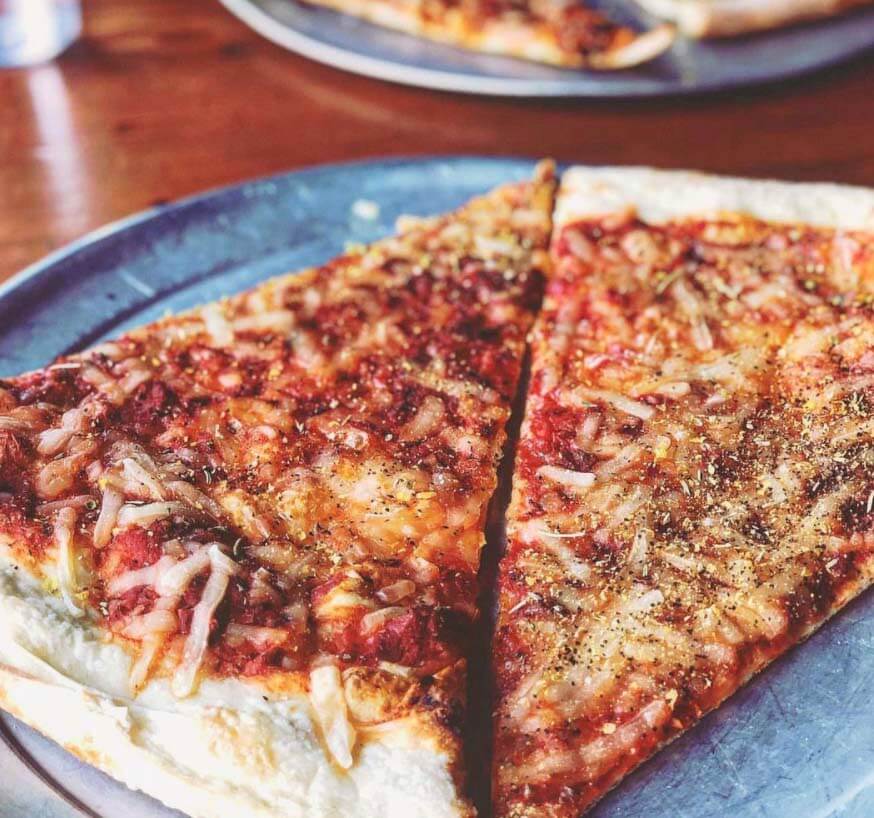 Chicago
Located just a stone's throw from Wrigley Field and Lake Michigan, Kitchen 17 has been a staple in the Chicago vegan food scene since 2013. Known for their house-made meats and cheeses, the pizzas at this 100% vegan spot are unparalleled. All of their pizzas can be ordered as New York, pan, or deep-dish style, and their options range from traditional cheese and marinara to mac 'n' cheese-stuffed deep-dish. Our pick? Order the Jalapeno Popper, which comes loaded with cheddar, marinara, jalapenos, and seitan bacon. Kitchen 17 has also begun shipping their frozen pies to select locations throughout the United States. For a limited time, you can order a Frozen Winter 4-Pack, which comes with four of their most popular pizzas delivered straight to your door for $28. Check out their website to see if they're shipping to your area!
Feature image: Screamer's Pizzeria
Cayla White
@cayla__white
Cayla is an event planner, copywriter, catering manager, and vegan foodie. If she's not working, she's probably catching one of her favorite composers in concert, riding her bike to the movies, watching a gorgeous sunset at the bluff in Long Beach, or convincing her girlfriend to go out to eat at another vegan restaurant … again.
Articles by Cayla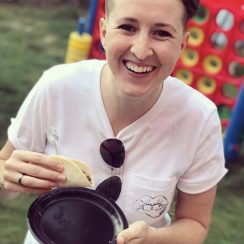 More from VegOut
Subscribe Now
Get the premier vegan food and lifestyle magazine delivered to your door (or inbox!)
Order the magazine!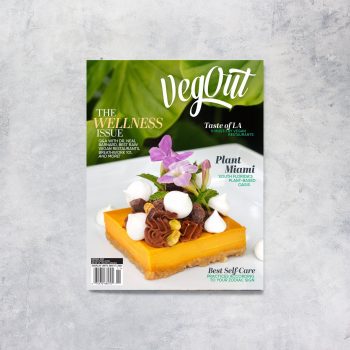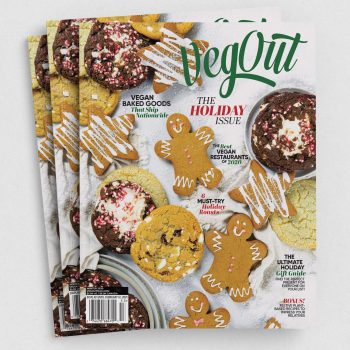 Navigation