Shake up your monotonous meals with these fresh and fun Trader Joe's food combos! When you walk into Trader Joe's, expect a warm welcome of low prices, innovative ingredients, and a vast array of vegan products. There are so many inspiring items, however, that it may seem a bit overwhelming to navigate what is vegan, what tastes good, and what pairs best with each product. Good thing you've got our nutrition fact-stalking skills! We've scoured the aisles of the most woke grocery store in all the land (a.k.a. Trader Joe's) to find the best vegan products and combinations, and here they are! Whether you're prepping for tonight's NBA All-Star game or the work week ahead, you're in for a delicious time.
Jumbo Cinnamon Rolls + Coconut Cream Cold Brew
Kick off your morning (or afternoon, or whenever you rise out of bed) with a sweet and sticky cinnamon roll alongside a swig of cold brew! We're not sure who came up with the idea to swirl up some dough, douse it in cinnamon, and drench it in frosting, but we're here for it. What we do know about cinnamon rolls is that they can occasionally be found with all-vegan ingredients, like the ones at Trader Joe's! While you bake your glorious rolled-up buns, pop open a can of this caffeine-packed Coconut Cream Latte Cold Brew, and get your morning IG scroll on!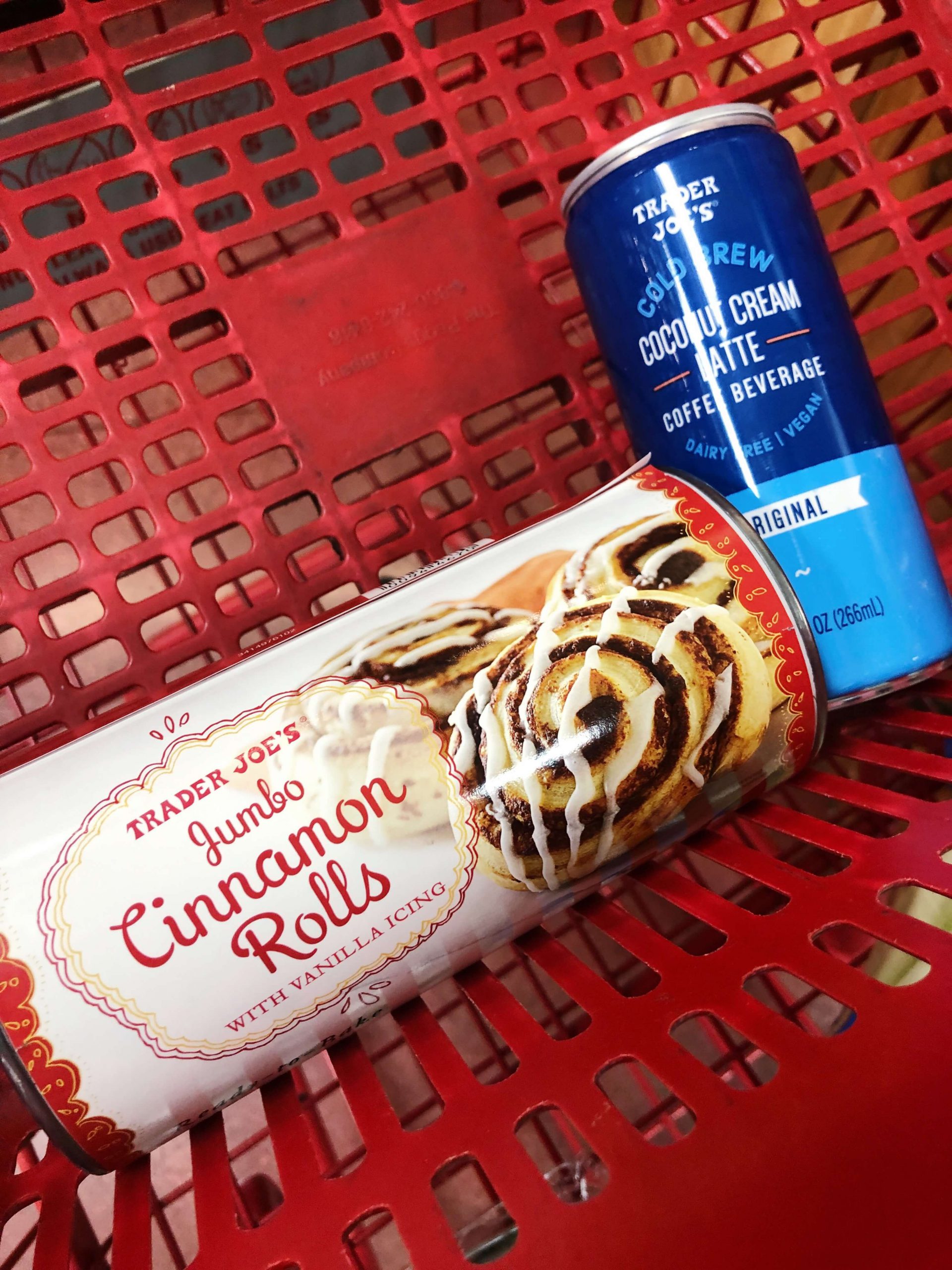 Gluten-Free Waffles + Cookie Butter + Coconut Whipped Topping
What's better than waking up to the taste of warm, hearty waffles? Waking up to the taste of warm, hearty waffles slathered in Crunchy Cookie Butter, complete with a copious amount of Coconut Whipped Topping! Do yourself a favor, and ditch your traditional maple syrup. Fuel up, instead, with a sweeter, more flavor-licious brekkie combo! If you have yet to salivate over a scoop of Cookie Butter, this cookie-fused spread is the holy grail of vegan pantry must-haves. Side note: the Multi-Grain Toaster Waffles from TJ's are NOT vegan, only the Gluten-Free Toaster Waffles are vegan.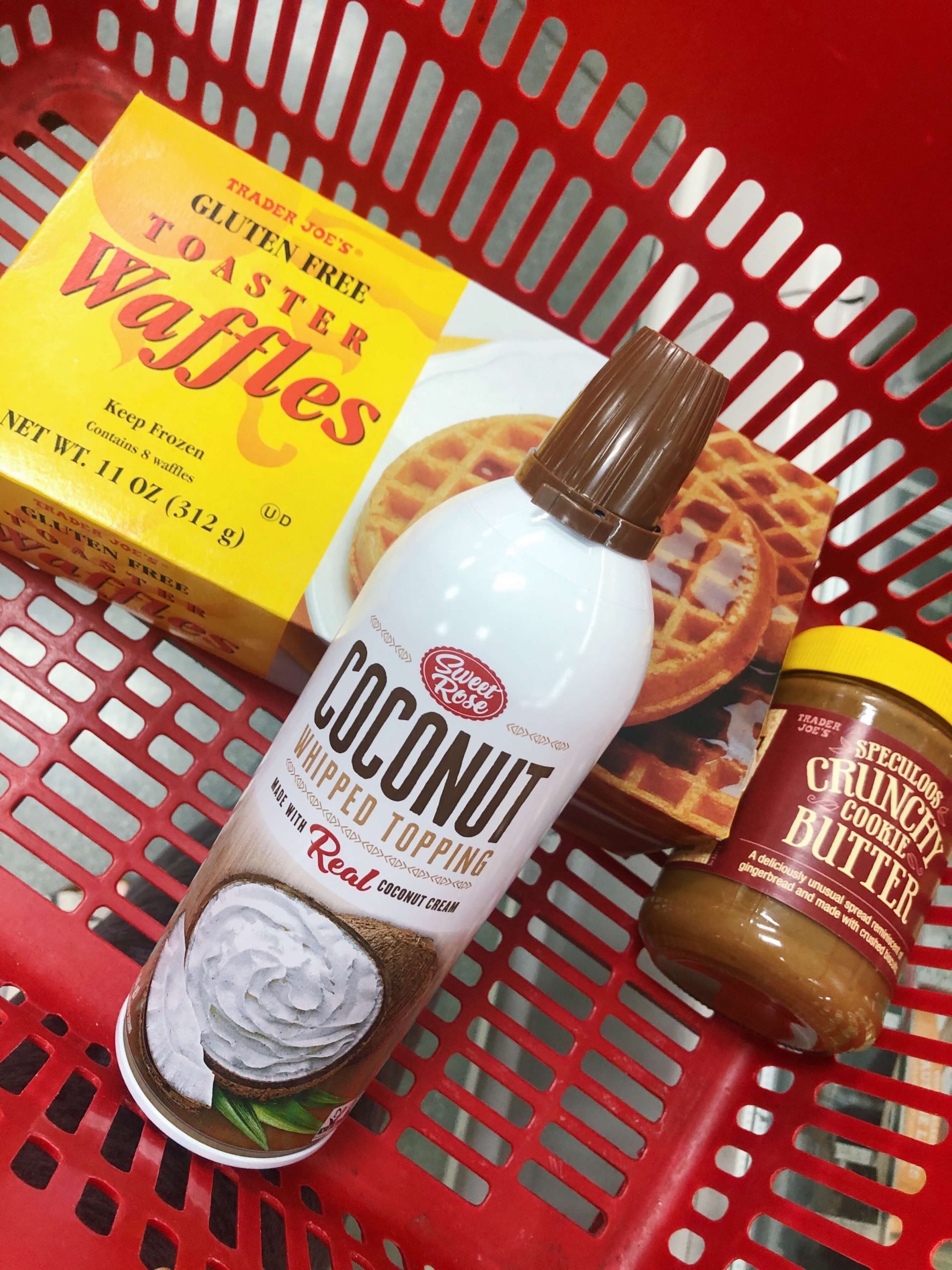 Big Soft Pretzels + Cashew Fiesta Dip
Childhood nostalgia meets the contemporary health scene of Trader Joe's with this tasty twosome! Dive these big and bakeable soft pretzels in this warm and creamy cheese-flavored dip for the ultimate snack homerun. Think baseball game concessions, but take out the baseball, unhealthy ingredients, and loud fans––score! And the ingredients in this delicious cashew and vegetable-based dip are mind-bogglingly nutritious.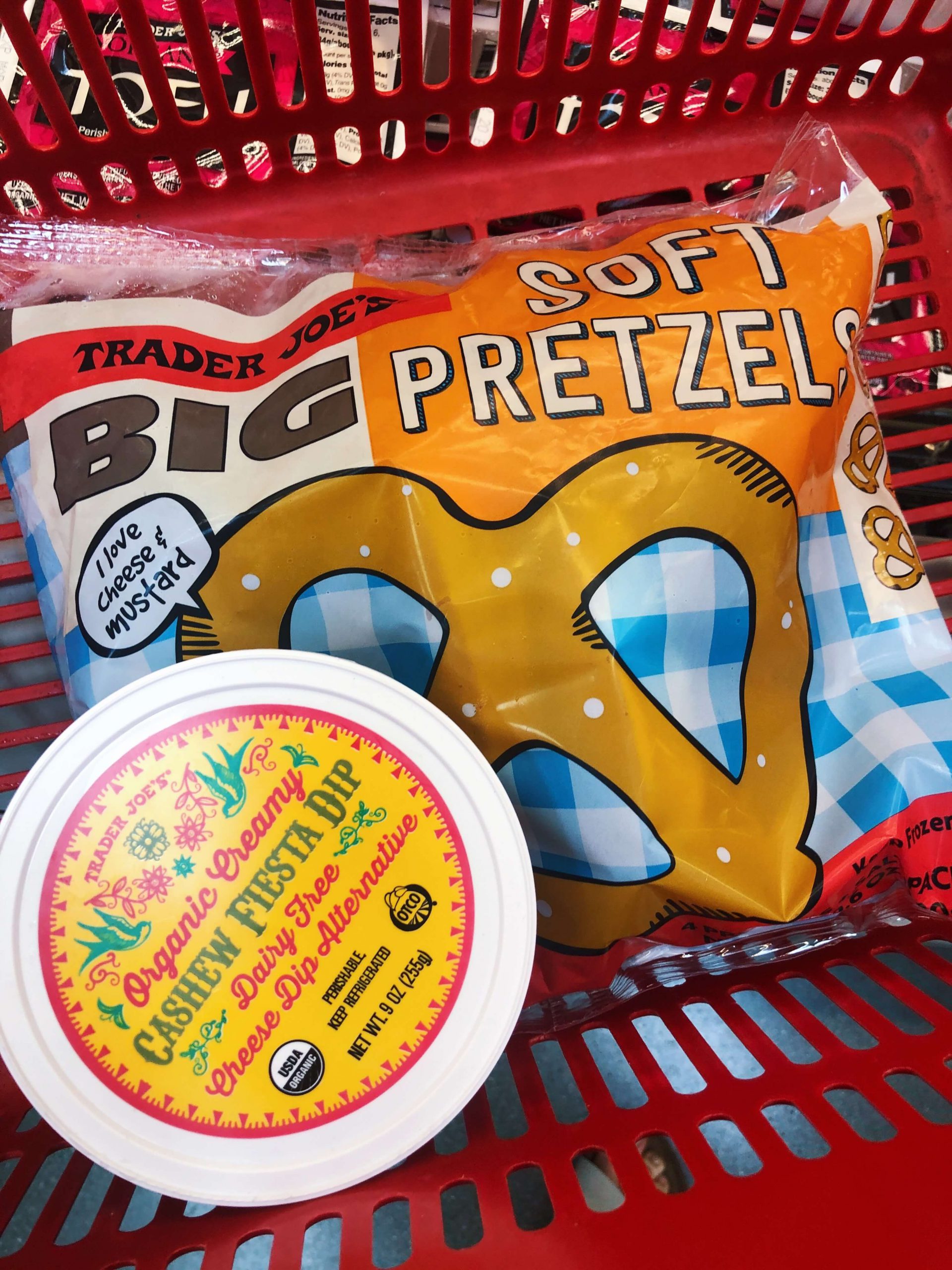 Veggie Collard Green Wrap + Chili & Lime Flavored Rolled Corn Tortilla Chips
If you're in need of a quick lunch on-the-go, ditch your bland peanut butter and jelly sandwiches or microwave dishes laced in freezer burn, and pick up this dynamic lunch duo! Recharge with the refreshing crunch of this veggieful wrap dipped in a complimentary tahini sauce. Then kick it up a notch with these hot and crunchy cuties––they're like Takis with a Trader Joe's twist! Basically, that means they are a bit cheaper with cleaner ingredients. Is it lunch already?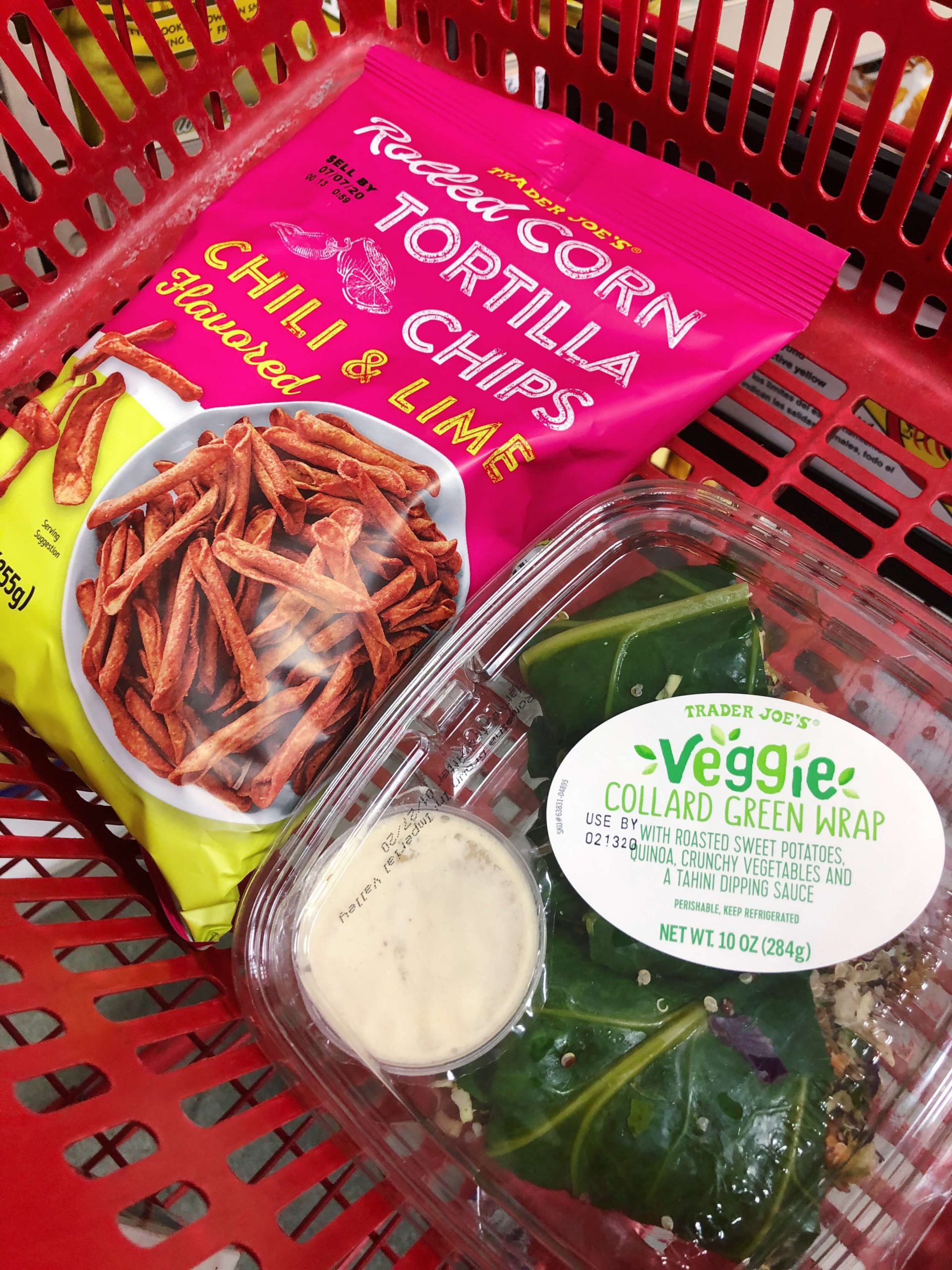 Roasted Plantain Chips + Guacamole
Feed your snack frenzy the best way we know how, with chips and guac! This time, swap out your basic, everyday tortilla chip with these circular pieces of plantains. What are plantains? According to our friends at Google, the word "plantain" literally translates to "cooking banana." Yep, that about sums it up! It's a starchier, greener, and more savory relative of its sugary yellow counterpart. What is guac? If you're not already into this green, creamy, and versatile avocado amalgamation, you're CANCELLED. #sorrynotsorry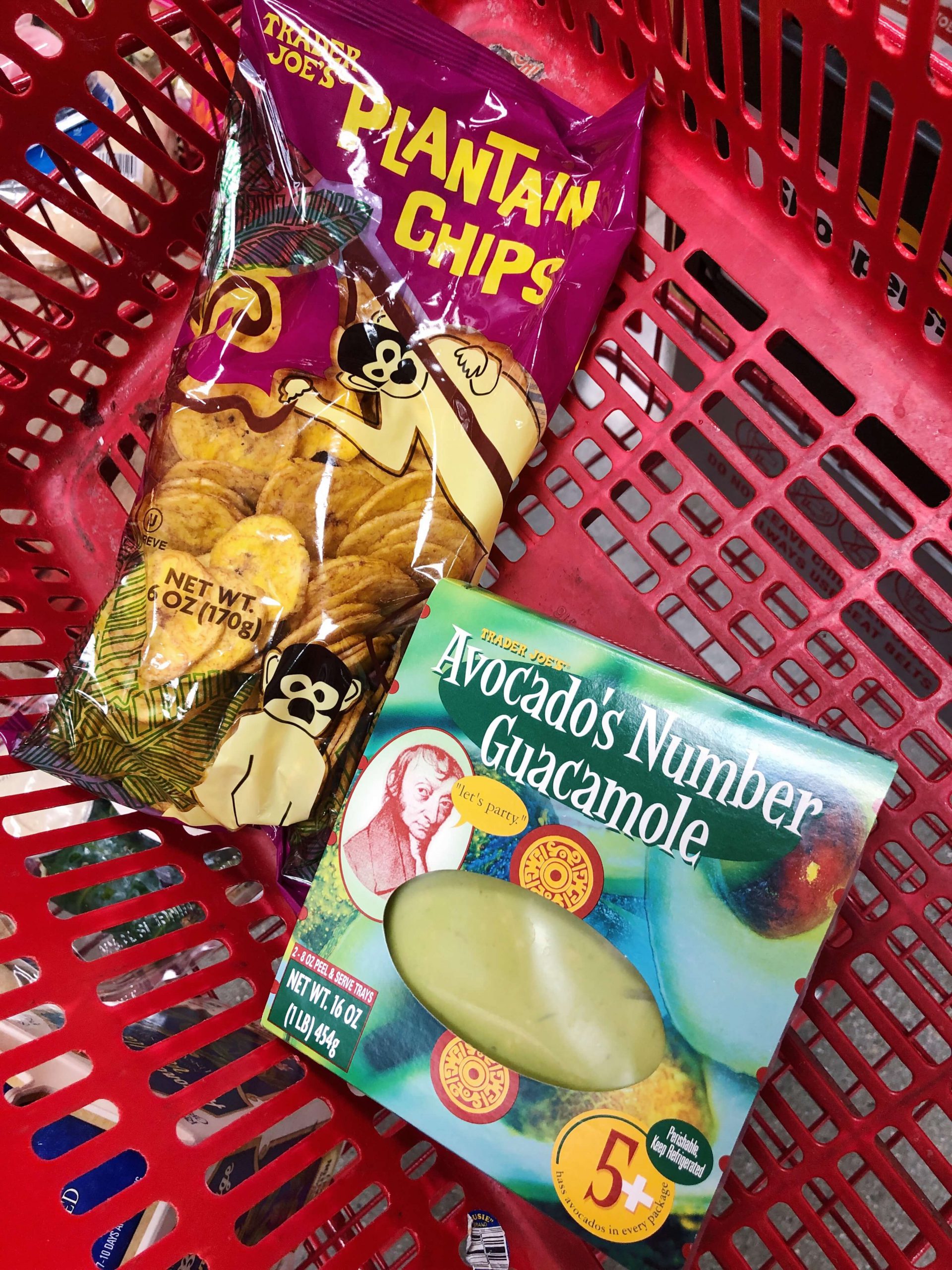 Cauliflower Gnocchi + Pesto
Escape carb city and venture on down to the world of low-carb Cauliflower Gnocchi! But first, let's take a moment to reflect on the trend of cauliflower. It all began back in 2011 when Mohawk Bend launched this weird, unknown dish called Buffalo Cauliflower. Hah! Fast forward to 2020 where we live in a world of cauliflower-based dishes that are low in carbs, but high in nutrition and flavor! And when we say world, we mean it! Cauliflower pizza, burger buns, steaks, and more! Trader Joe's has played an integral role in this revolution of normalizing those pale broccoli-looking vegetables with an array of unprecedented healthy meals, like this gnocchi. And the only way we like to cook any pasta-type dish is to submerge it in pesto. Can't find an affordable and tasteful vegan pesto? TJ's has that too!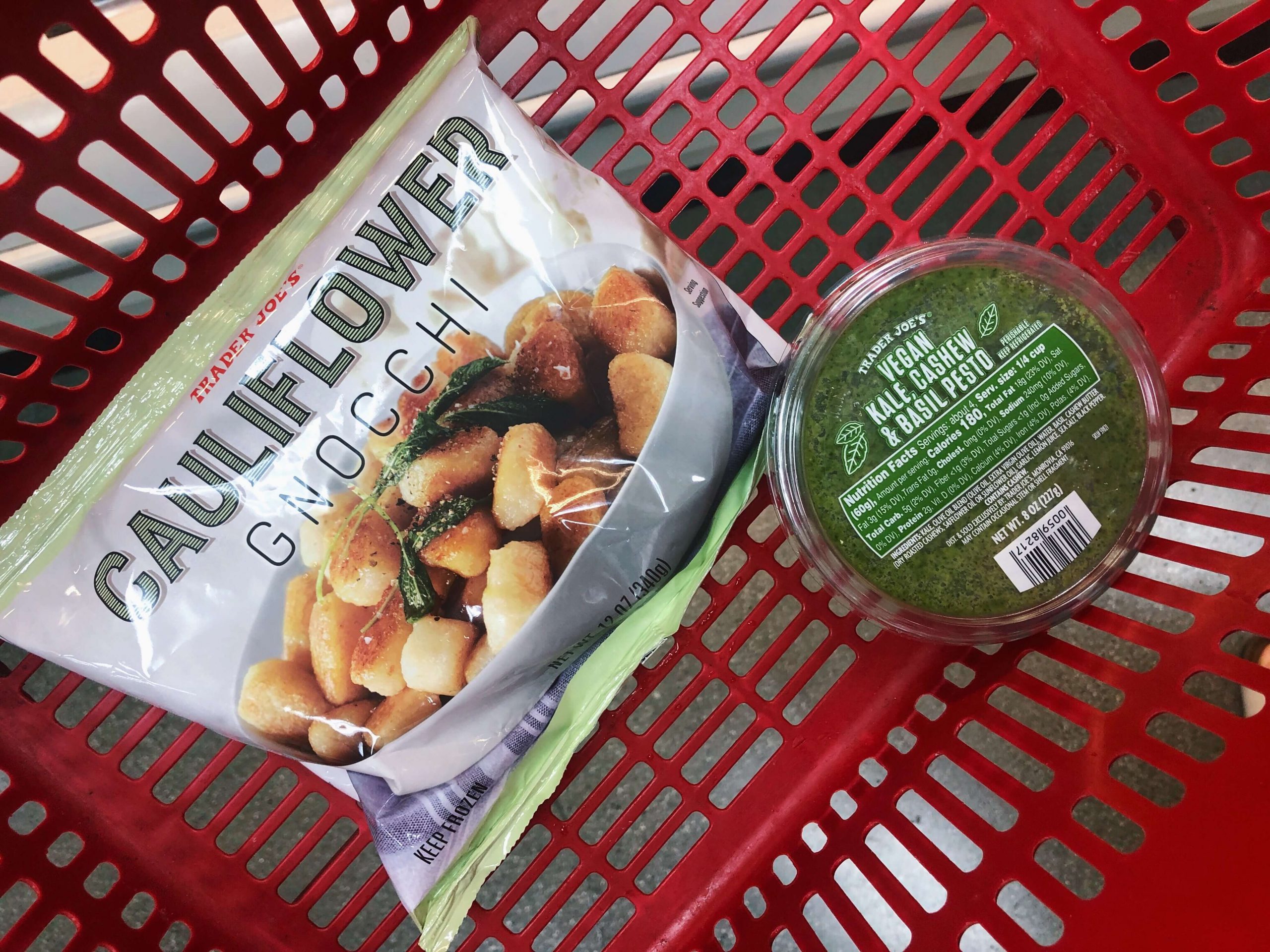 Chicken-less Mandarin Orange Morsels + Riced Cauliflower Stir Fry
If you're into this whole cauliflower thing, grab this stir fry bag and dish up an Asian-inspired dinner. This Riced Cauliflower Stir Fry is the best way to trick your mind into downing your daily dose of veggies––disguised as rice! While you're in the frozen aisle grab the Chicken-less Mandarin Orange Morsels to complete your meal! Leave it to Trader Joe's to think up the wittiest names for their products. How else can you explain chicken-flavored bites with no trace of chicken? Nailed it!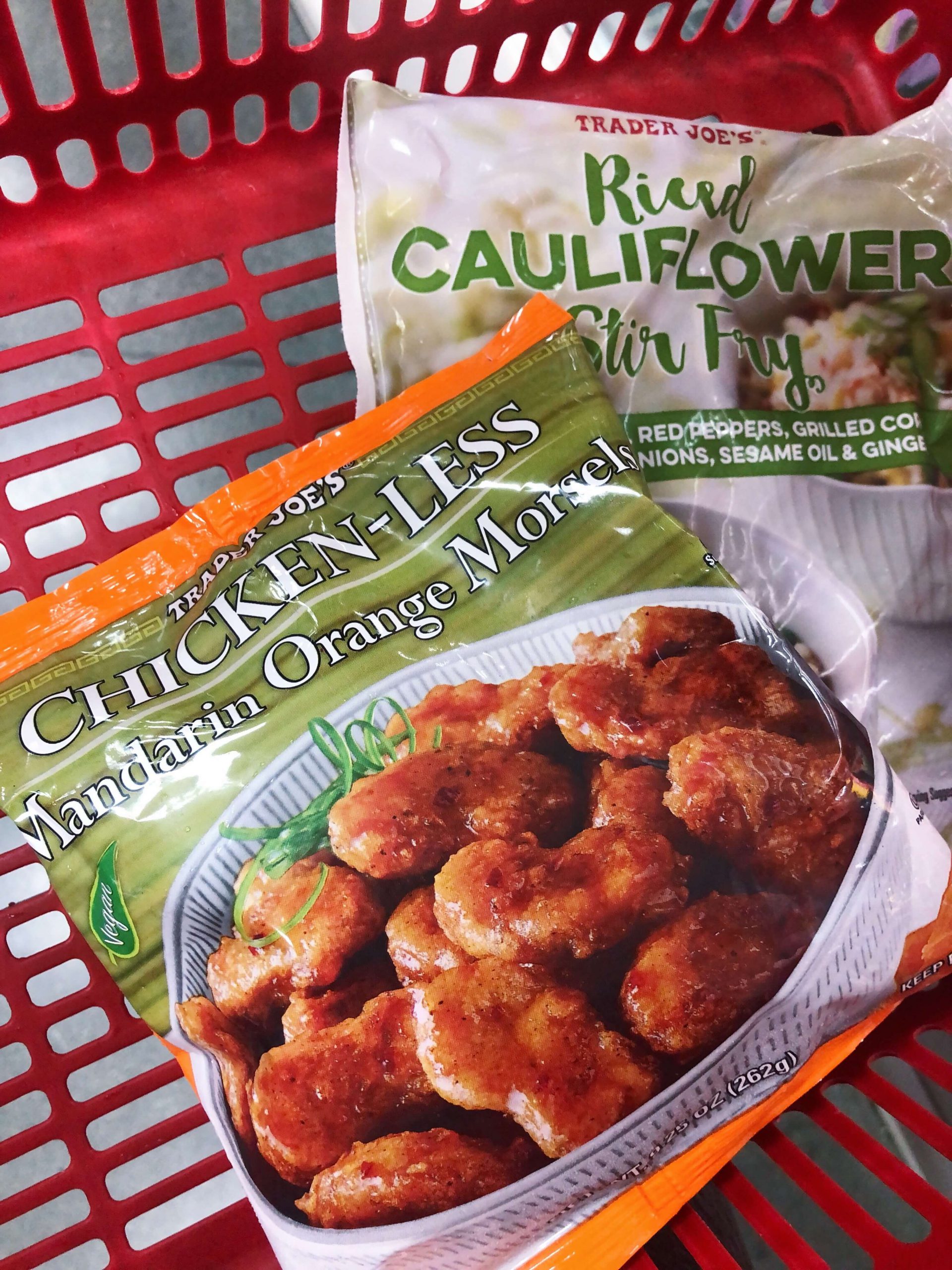 Mini Vegetable Samosas + Amba Mango Sauce
While we're on this cultural cuisine kick, let's take our taste buds to India! There's something so charming about miniature foods and TJ's nails the spice, size, and crunch of these Mini Vegetable Samosas! What better sauce to dive these crispy, flaky, veggie-filled pockets than in mango chutney? Yum!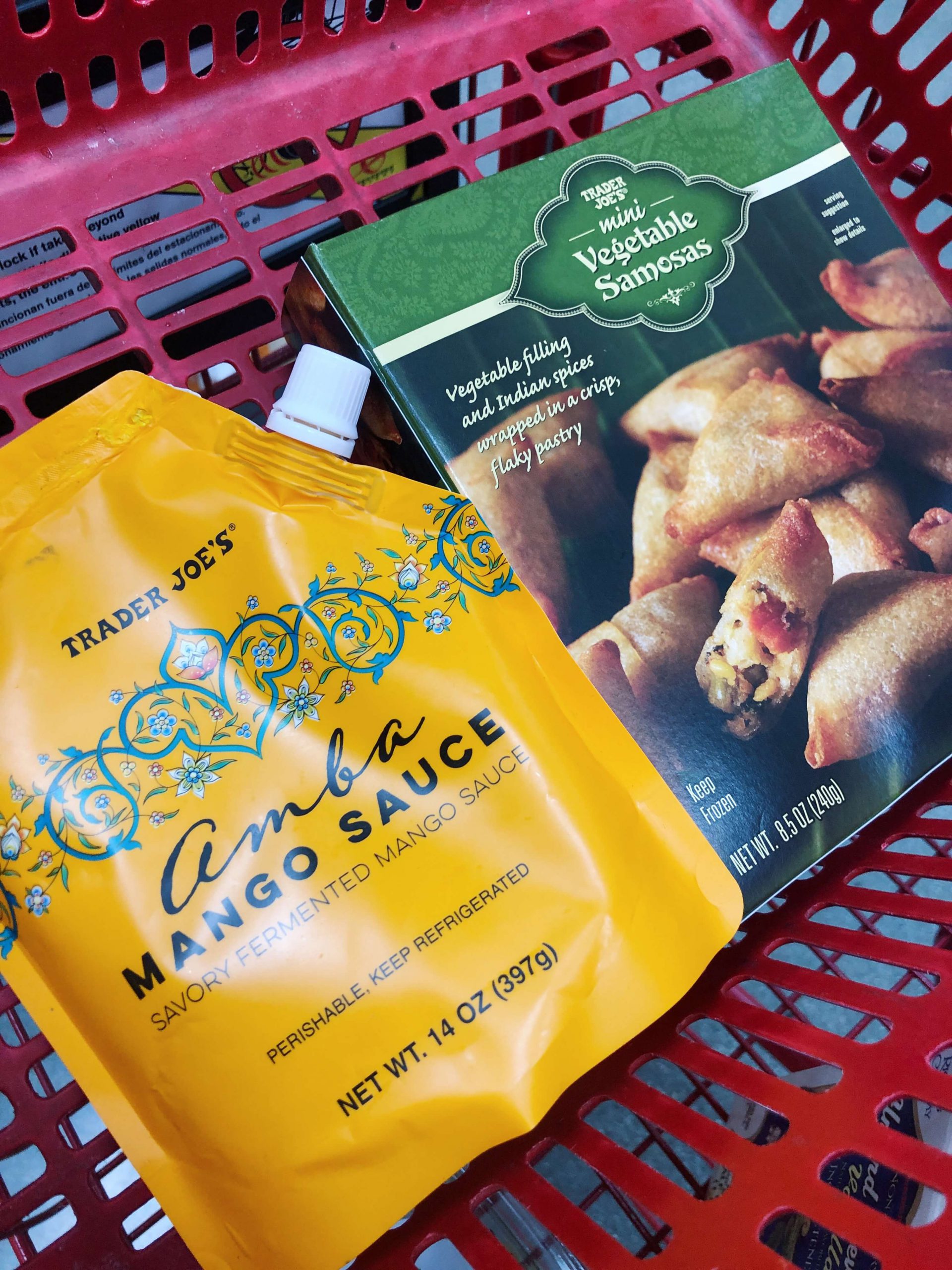 Pasta + Tomato Basil Marinara Sauce + Meatless Meatballs + Nutritional Yeast
This quality quartet is our way of paying homage to all of our vegan ancestors who lived in a world where the only vegan dish was pasta. Whew, how times have changed! Here are step-by-step instructions on how to achieve this classic, homey dish! First, toss your pasta of choice in a bubbling pot of boiling water––we chose TJ's gluten-free Brown Rice Penne Pasta! After that, heat up your sauce of choice mixed in with these stellar Meatless Meatballs. Once everything is nice and steamy, mix your pasta, sauce, and meatballs together, and sprinkle or pour Nutritional Yeast atop your pasta pile. Voila!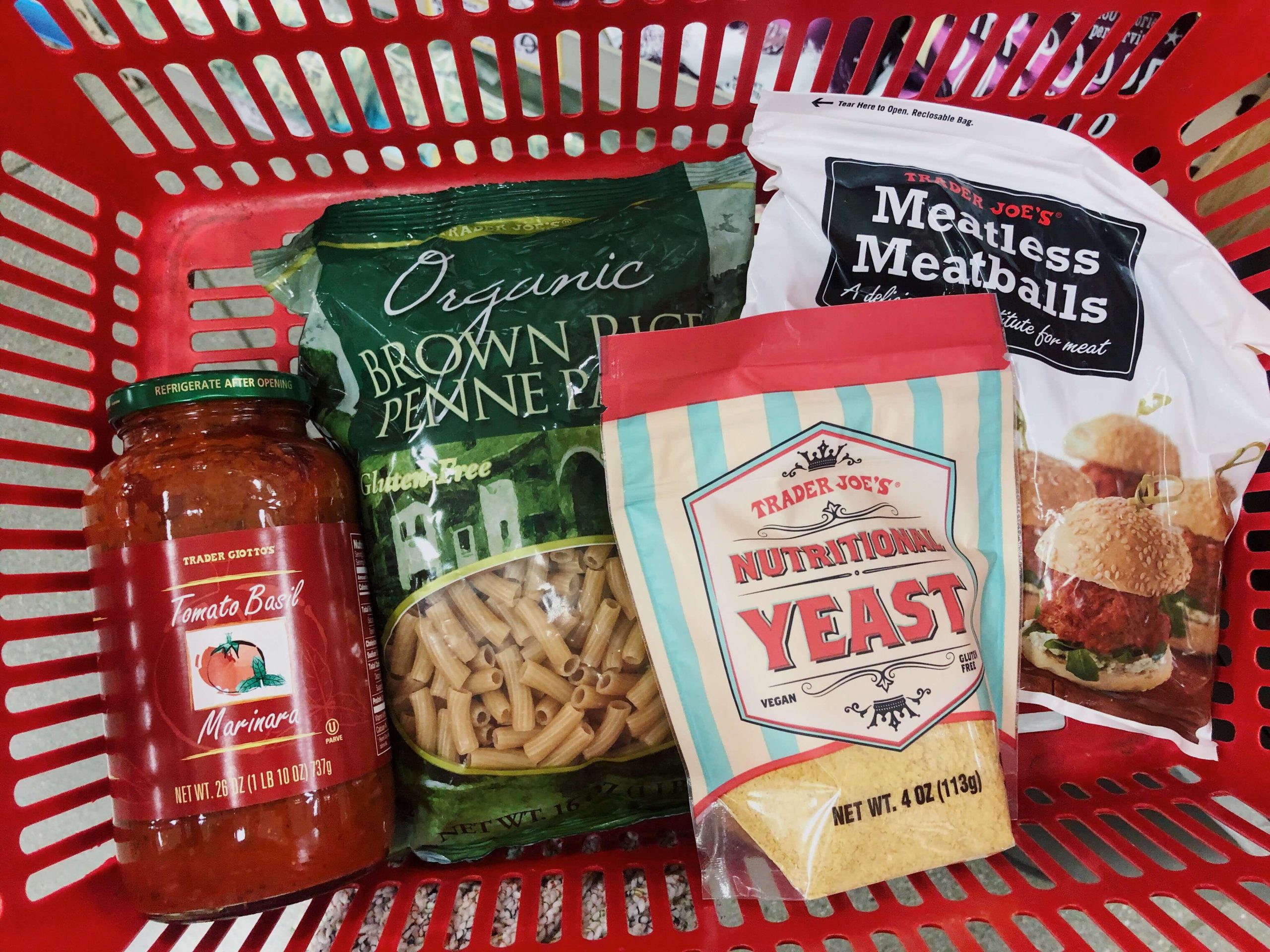 Oat Beverage + Vegan Chocolate Chip Cookies
And last but certainly not least, dessert! ICYMI, Trader Joe's has some daaaaannnnkk vegan cookies! There's Chocolate Chip, Oatmeal Chocolate Chip, and Trail Mix flavors, but this time around we went with the classic route and snagged a Chocolate Chip bag. Now, no cookie is complete without a sweet soak in plant-based milk. Trader Joe's continued their trend of being woke AF when they launched a new oat milk line a few months ago. Any time oat milk is an option, we always choose that! Happy dunking!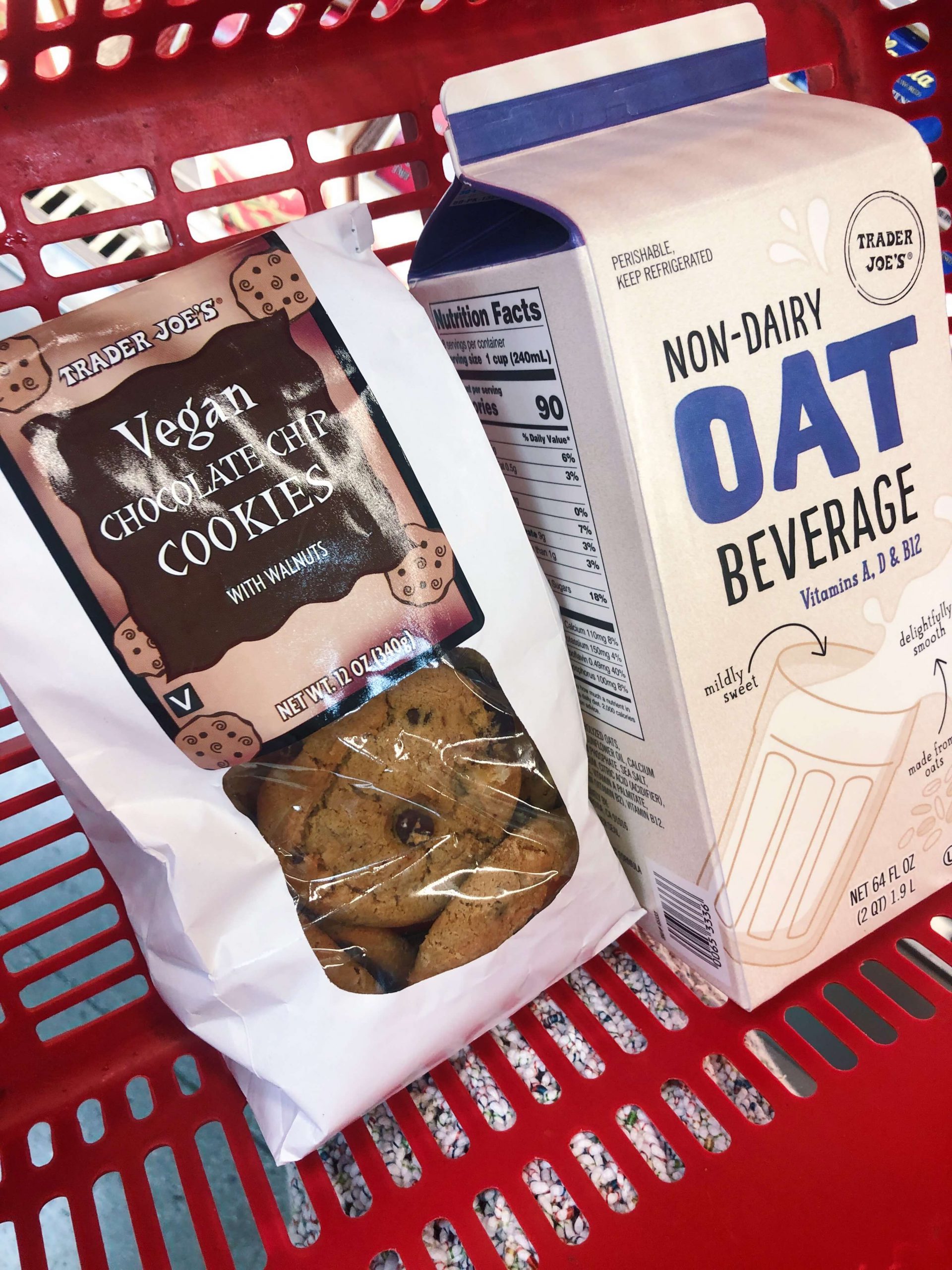 Everything But The Bagel Seasoning + ANY AND EVERYTHING
But wait, there's more! This bonus blurb isn't about a specific combination, it's about one product that should be combined with any and everything! In the spice section of Trader Joe's, you'll find this seasoning that harnesses the flavor of an everything bagel, without the bagel. Shake it on avocado toast, hummus, a bagel with cream cheese, a veggie sandwich, or anything else you can think of!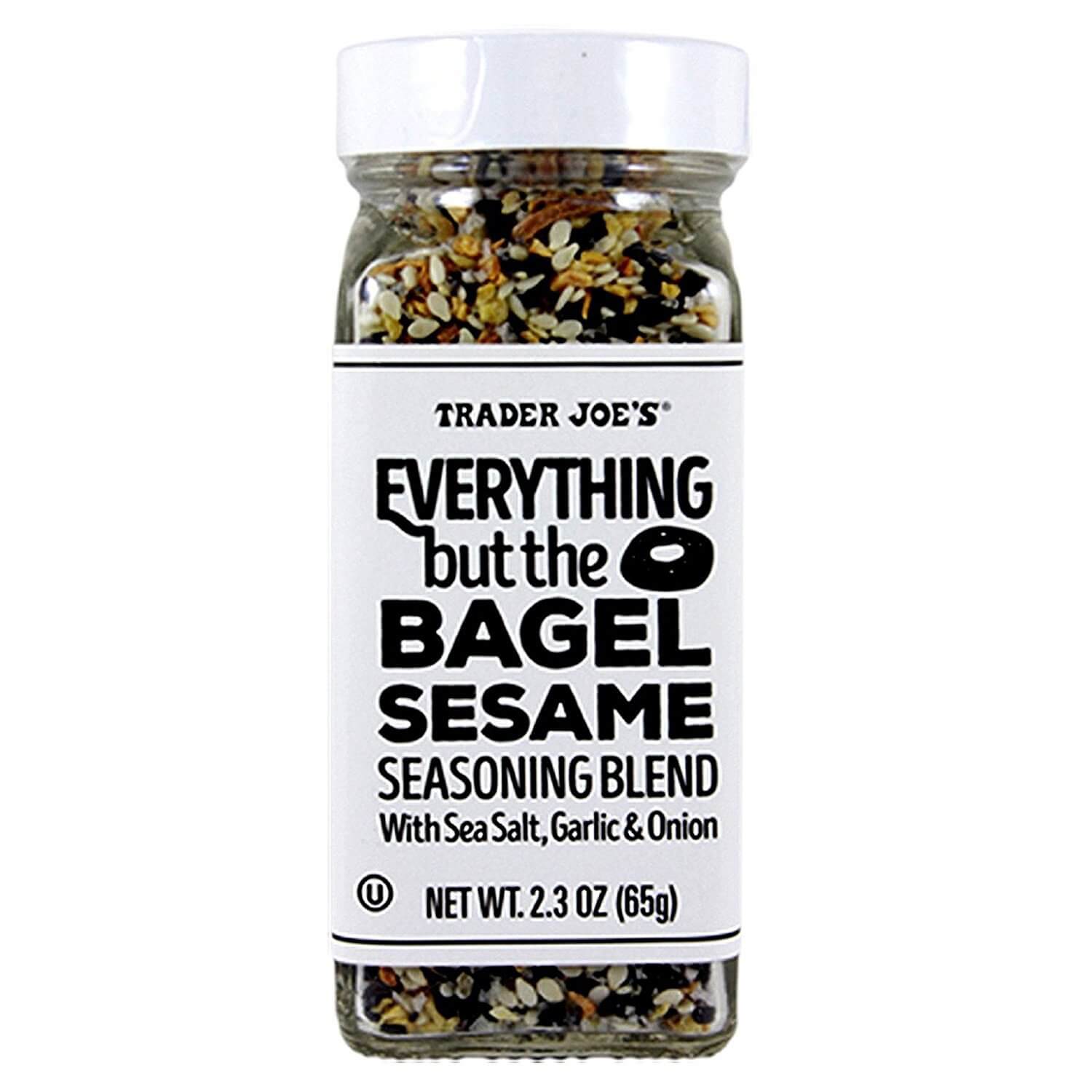 RELATED: 15 Best Vegan Items at Trader Joe's
---
Want even more vegan food, news, and lifestyle content? Subscribe to VegOut LA Magazine or VegOut NYC Magazine!