The buffalo cauliflower from these LA spots is crispy, delicious, and straight fire (literally and metaphorically)! Buffalo cauliflower has to be one of the best dishes ever invented. It has that same comforting taste and feel of wings, but still makes you feel slightly healthy—because, ya know, cauliflower is a vegetable and vegetables are good for you, right? Check out this list if you're on the lookout for spots that serve these spicy, fiber-filled bites in LA.
Echo Park, Pasadena, Culver City, & Agoura Hills
No trip to Sage is complete without an order of cauliflower! Their cauliflower wings can be tossed in your choice of buffalo, sweet & sour, or BBQ sauce (with a side of celery, carrots, and ranch). Can't decide on just one flavor? Go all out and order the 3-wing platter which comes with an assortment of florets tossed in all three sauces. Or you can even try their show-stopping buffalo cauliflower in a salad, wrap, or on top of a pizza!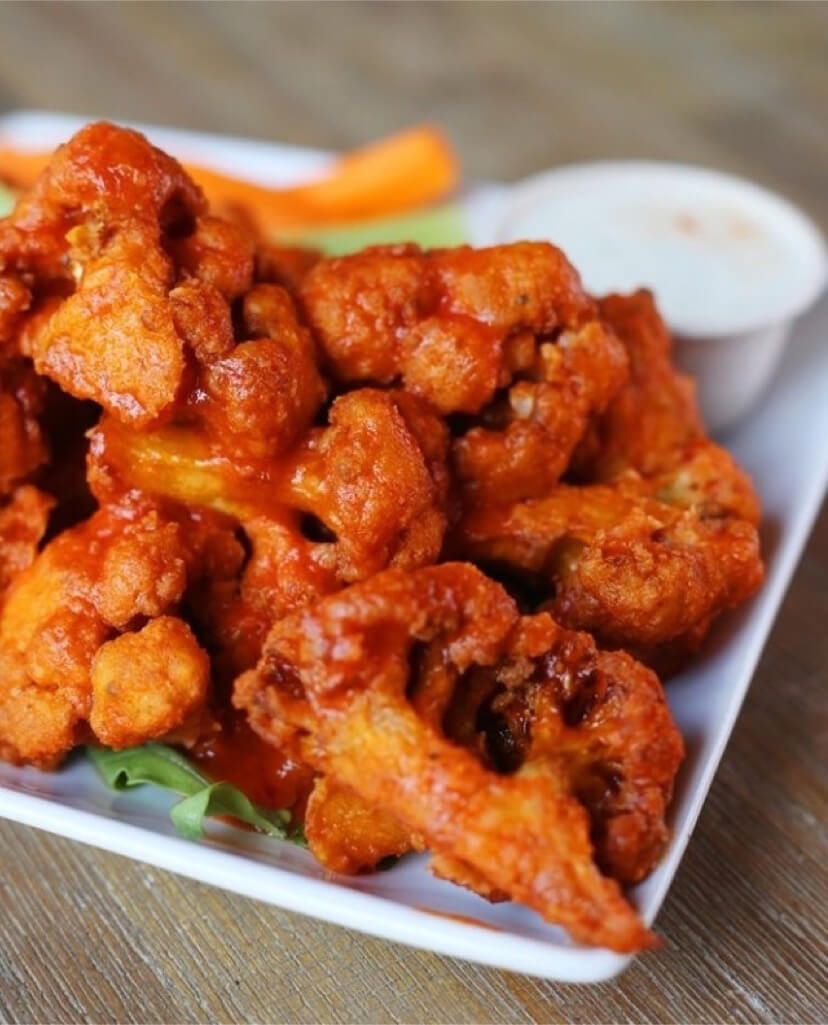 Palms
This all-vegan Italian restaurant is the perfect destination for pizza, pasta, and buffalo cauliflower. Their rendition comes battered, fried, and tossed in hot sauce or BBQ sauce alongside house-made vegan ranch with carrots and celery. While you're there, grab the latest issue of VegOut Magazine!
Downtown LA
This spot may be known for their vegan deep-dish pizza, but did you know they have buffalo cauliflower too? Of course they do! Purgatory Pizza's version of the popular appetizer is breaded and served with a side of spicy buffalo sauce and vegan ranch. It's the perfect pregame for a few slices of vegan-friendly 'za.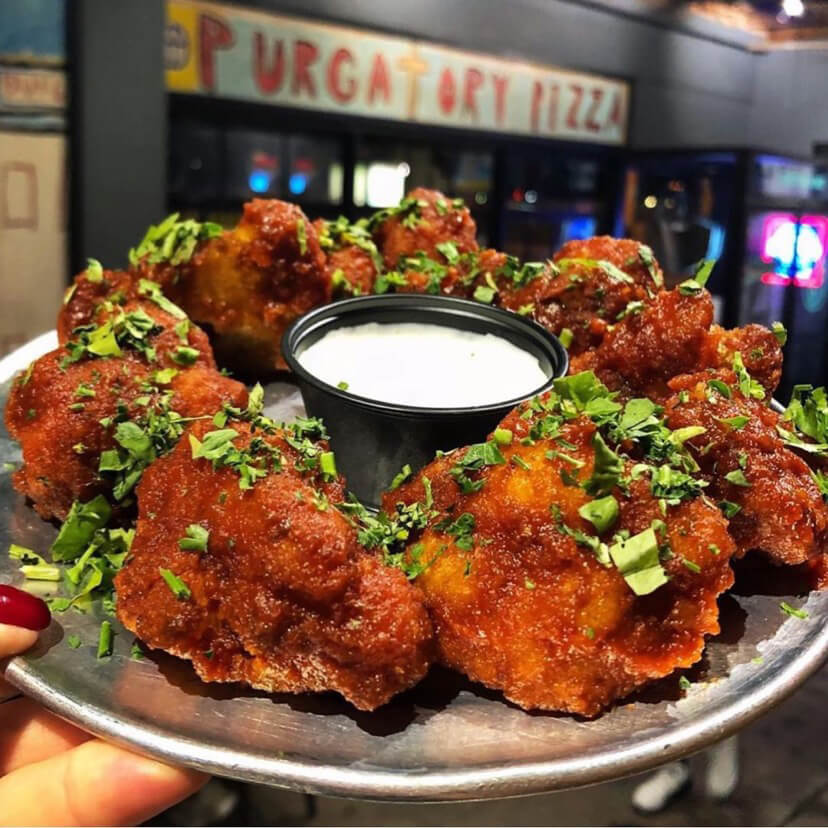 Photo credit: @meatlessmolly on Instagram
Echo Park (temporarily closed)
Mohawk Bend is a vegan-friendly gastropub in the heart of Echo Park. They offer some of the best buffalo cauliflower with the creamiest, most craveable vegan bleu cheese dressing. They were actually the first restaurant in LA to serve buffalo cauliflower—so you know they're the real deal. Mohawk Bend also serves a wide selection of other vegan options including pizzas, burgers, and chili cheese fries!
Food Truck
Who serves mac 'n' cheese bites, buffalo cauliflower, and truffle fries all on wheels? If you guessed the Word of Mouth food truck, then you are a winner! Their buffalo cauliflower is tossed in the perfect amount of buffalo sauce and accompanied with a side of celery, carrots, and house ranch. Take our "word of mouth" (get it?) and catch this truck ASAP!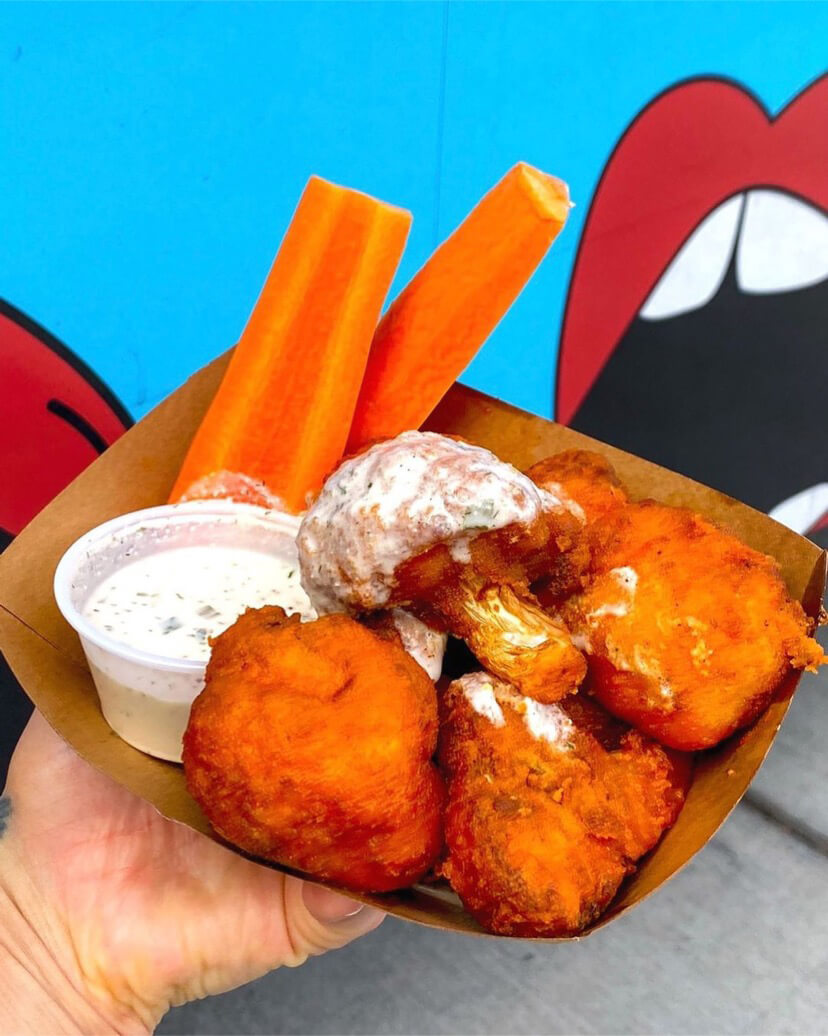 North Hollywood
Raw vegan friends, fear not! True Earth Vegan Cafe, an all-vegan, raw-friendly spot in the North Hollywood Arts District has you covered for all of your buffalo cauliflower needs. Their raw vegan buffalo cauliflower is marinated in a probiotic buffalo sauce that's made with apple cider vinegar, paprika, garlic, cayenne, and sea salt. It's served with nut-free Daiya ranch dressing.
Photo credit: @spookyannie13 on Instagram
Multiple Locations
We're feeling grateful because Cafe Gratitude has a variety of wonderful plant-based eats, which obviously includes their buffalo cauliflower. Their dish features breaded cauliflower coated in adobo buffalo sauce and is served with celery and ranch dressing. It's almost too good to share!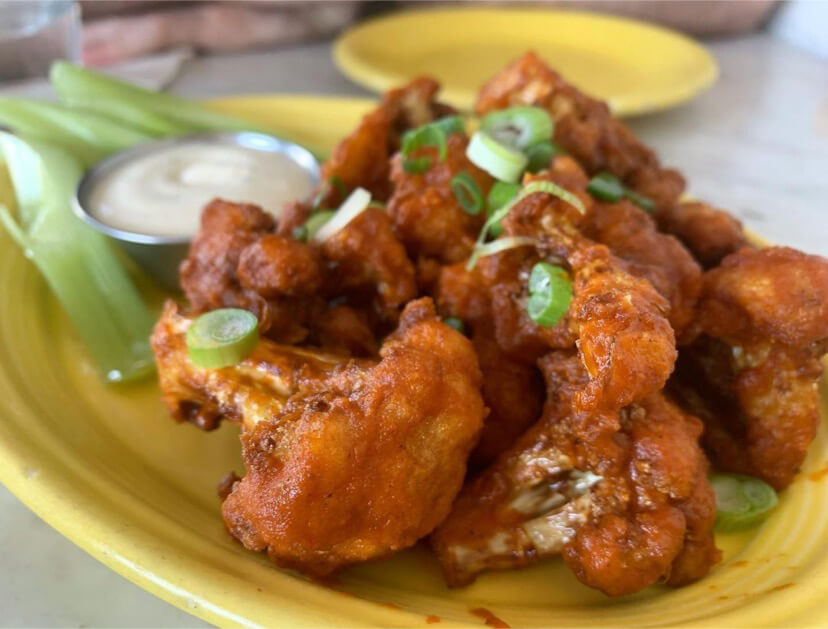 Photo credit: @seitanmademedoit on Instagram
Multiple Locations
Veggie Grill's crispy cauliflower is made with fresh cauliflower florets in panko breading with a coat of buffalo-style or orange dipping sauce. We'd recommend completing your order with one of their many new entreés, like the Reuben sandwich or Double BBQ Mac Burger!
Westwood & Costa Mesa
Native Foods is a vegan fast casual joint with a huge menu. Their spicy cauliflower dippers are fried, panko-crusted cauliflower florets tossed with your choice of buffalo or Thai chili cilantro sauce and served on a bed of shredded cabbage, carrots, and green onion—with a side of ranch dipping sauce, of course! Don't forget to grab their nostalgic vegan oatmeal creme pies for dessert!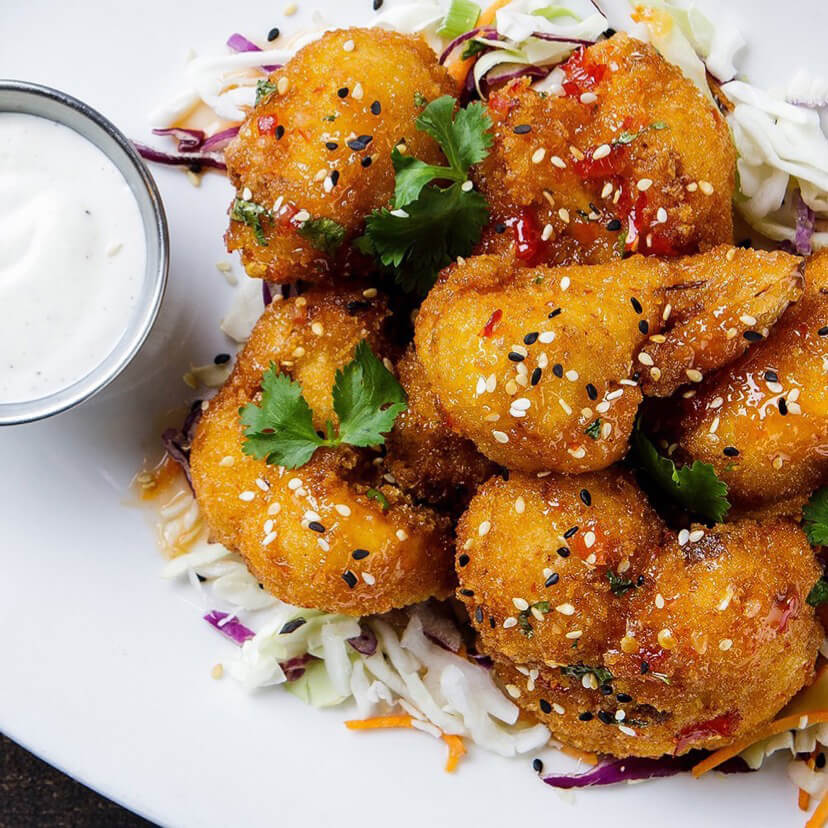 Hollywood & Mid-City
This vegan-friendly Hollywood spot is doing it right with their vegan Korean fried cauliflower. Although it is not technically "buffalo cauliflower," it's almost like a Korean twist on it, packed with flavor. Order it original or spicy, and select your choice of rice, fries, or sesame salad as a side.