Whether you'll be spending Valentine's Day with your sweetheart or taking home a treat for yourself to enjoy with your favorite Netflix rom-com, everything tastes sweeter when it's heart-shaped and covered in chocolate. We're rounding up some of LA's best dessert offerings this Valentine's Day to satisfy your sweet tooth with some romantic flair.
Hollywood
All month long, Cocoabella Creamery will be serving up red velvet cupcake flavored ice cream as a Valentine's Day special. With an oat milk base, the ice cream is cream cheese flavored and mixed with chocolate shavings and chunks of freshly baked cupcakes. We're drooling already! Choose the new flavor for a scoop or two, build an ice cream sandwich, or pick up a pint to-go. You can't go wrong!
Westlake Village
Always at the top of our list with the cutest treats around, Karma Baker is offering a Valentine's Date-Nite Box featuring beautifully decorated desserts almost too good to eat. Almost. Made in small or deluxe sizes, the boxes are available for LA pickup or nationwide shipping. Just be sure to order by February 5th to receive in time for the holiday.
Pickup and Delivery
Conversation hearts have been a Valentine's Day staple since the days of leaving cute cardboard Valentines on your crush's desk in school. This season, Verón has put a spin on the nostalgic treat, offering their plant-based French macarons in a 5-pack box with cute sayings. Pick up locally or order online before February 10th for delivery.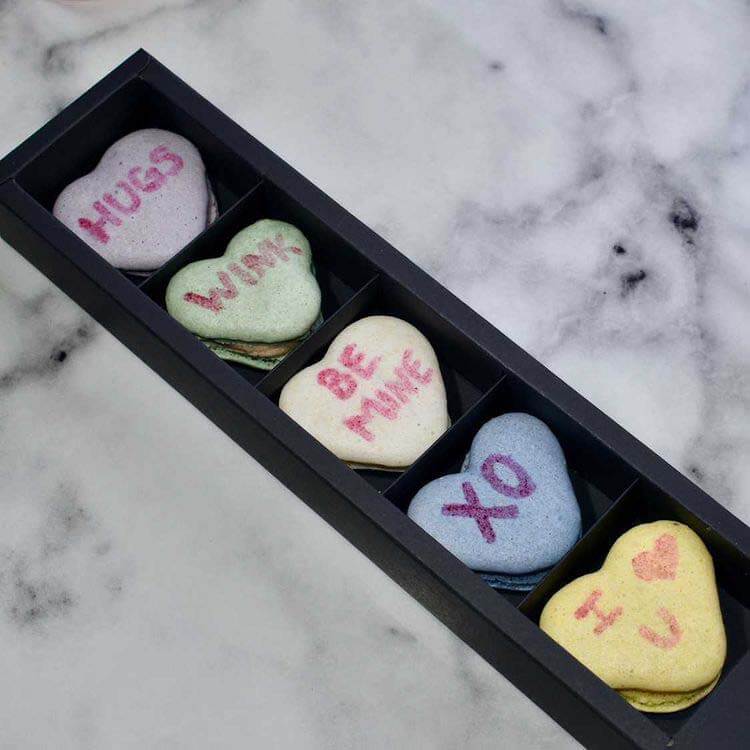 Long Beach
Mom may have told us not to play with our food, but Baked Vegan Sweets is helping the kid in all of us come out. Order your hot cocoa bombs in double dark or white chocolate strawberry and watch them melt before your eyes into a super tasty drink by adding your favorite non-dairy milk. Order by February 6th for local pickup on February 13th or 14th.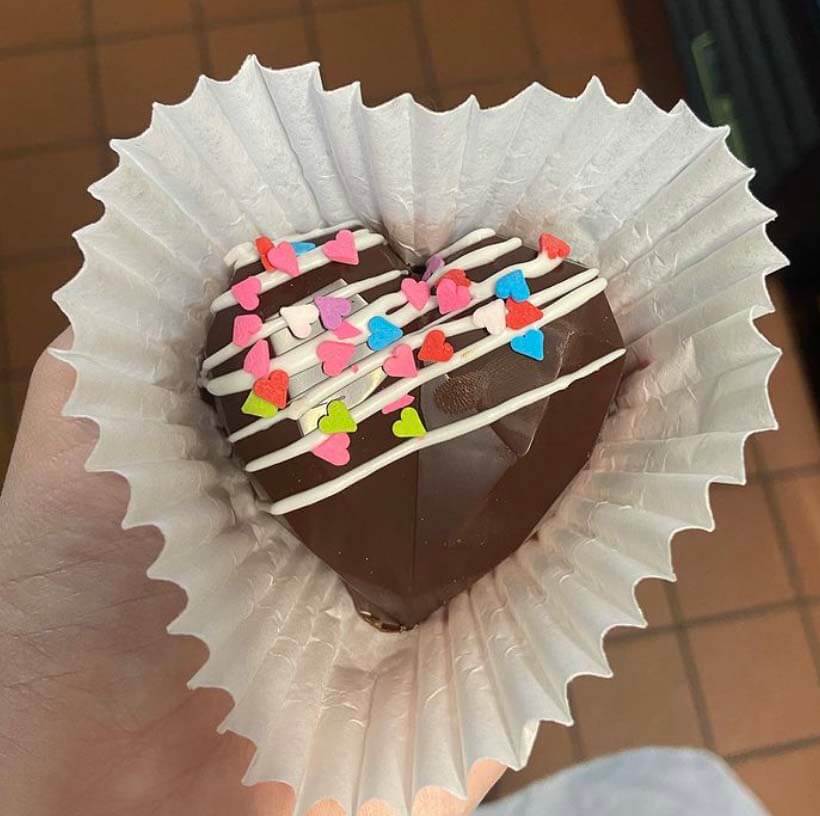 Fairfax & Sherman Oaks
Hot on the heels of their new store opening in Sherman Oaks on Friday, February 5th, Sugar Taco has not one, not two, but three Valentine's treat offerings this year. Choose from creamy strawberry horchata or pink-themed conchas or doughnuts.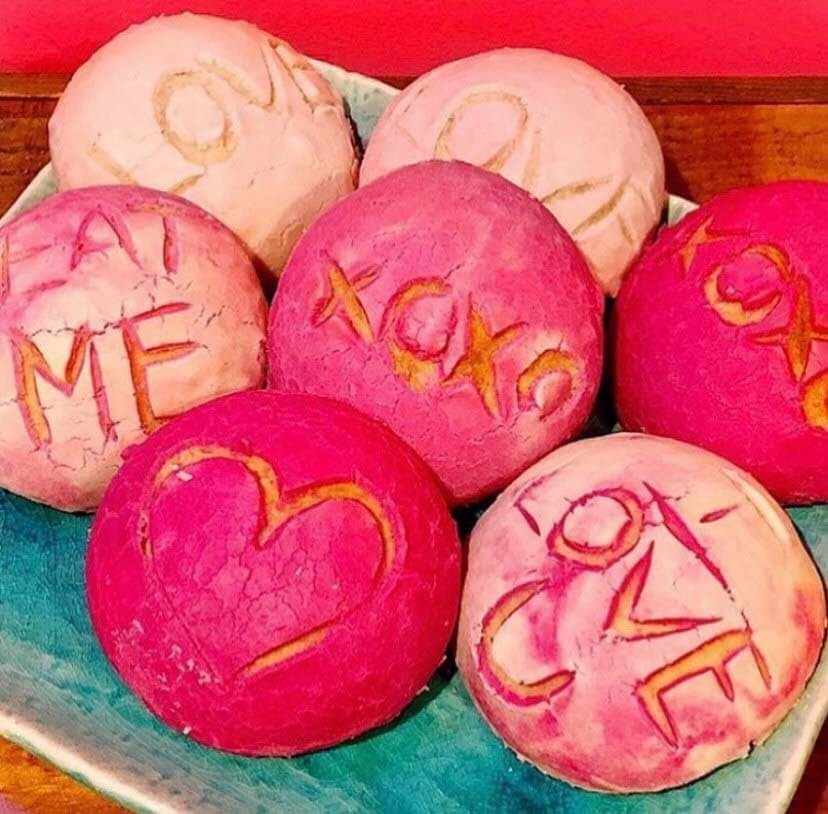 West Hollywood
As if there weren't enough reasons to head to Pura Vita for a date night, Chef Tara Punzone has done it again with a Valentine's Day menu with all the pink fixings. The dessert offerings round out the menu with a choice of a salted caramel tart or gluten-free vanilla bean raspberry cake. Yum!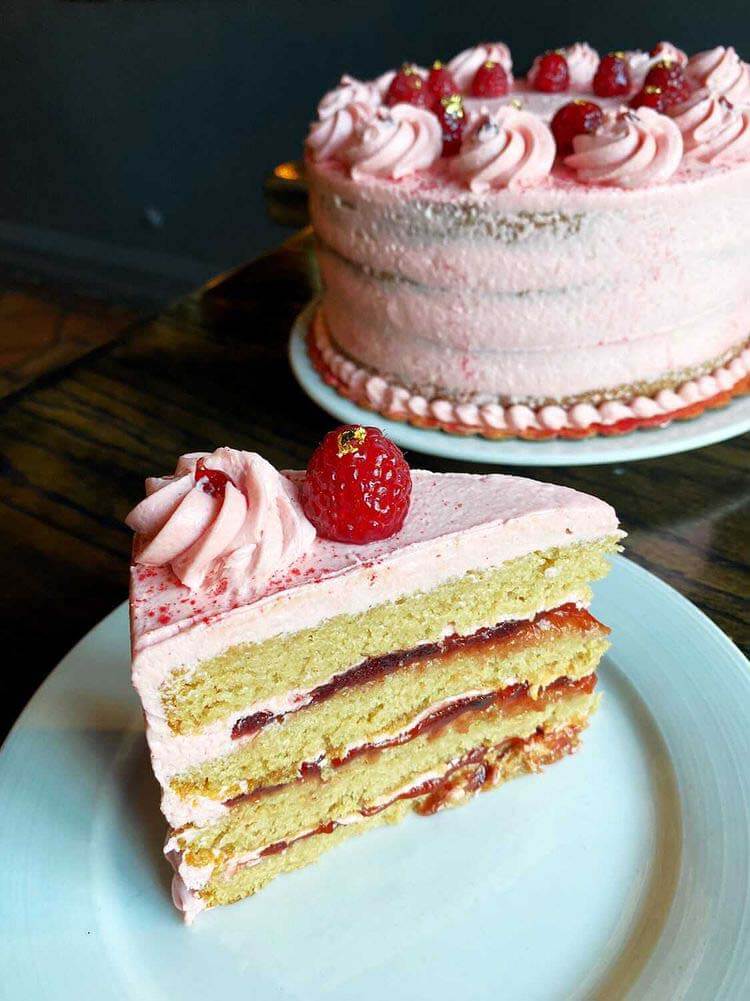 Culver City
With a name already synonymous with kissing, of course Make Out will be offering adorable mini chocolate strawberry tarts for the most romantic day of the year. Grab a pair of these sweet treats so you and your significant other won't have to argue over the last bite.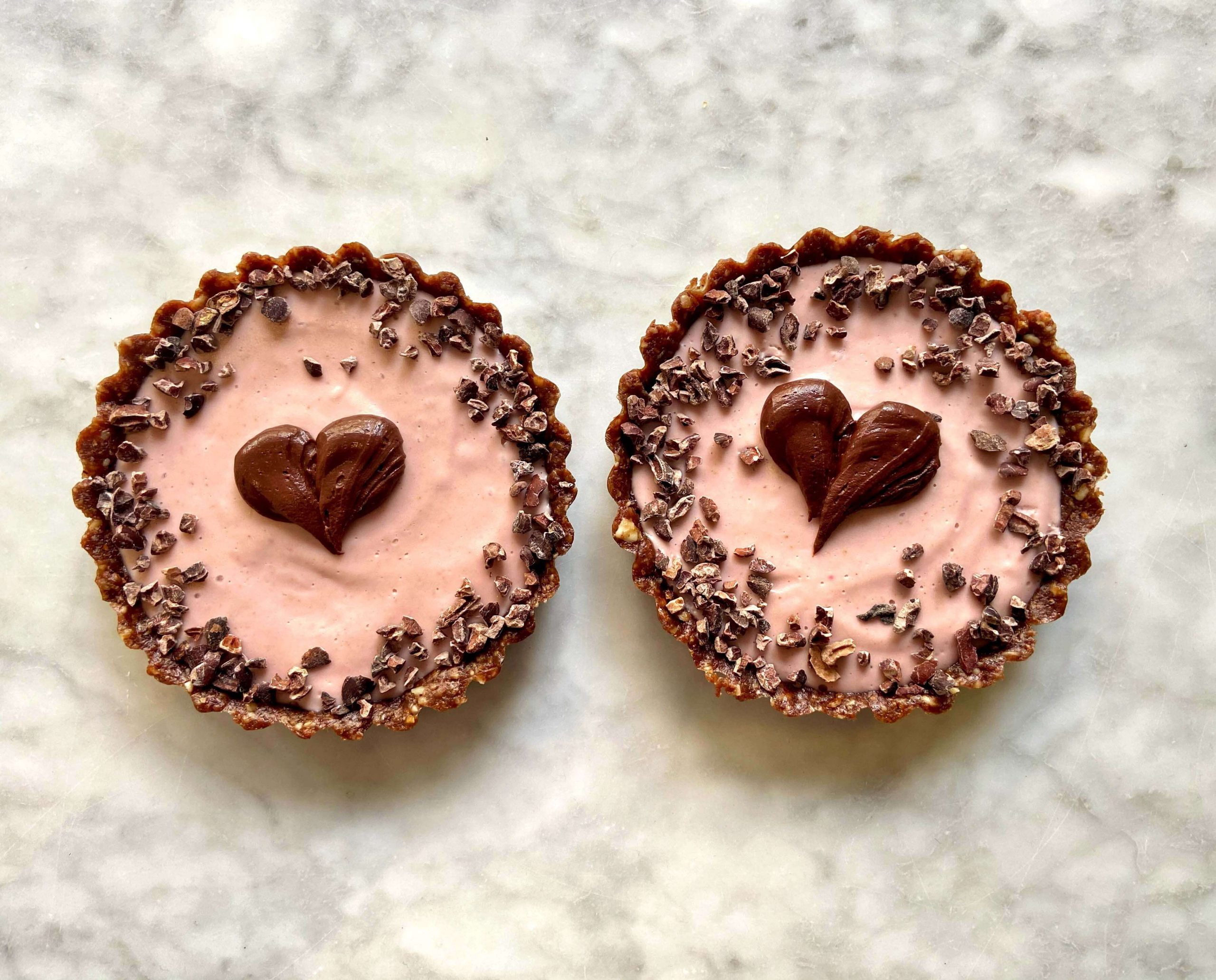 East Hollywood
The Good Good always has the best line up of bakery sweets. If you're planning ahead, preorders are open for custom heart-shaped cakes with the option of adding a personalized message to your sweetheart, or you can take the "Be Mine" literally and enjoy all to yourself! Day of, the shop will have Valentine's Day-themed, chocolate-dipped, strawberry cupcakes and doughnuts.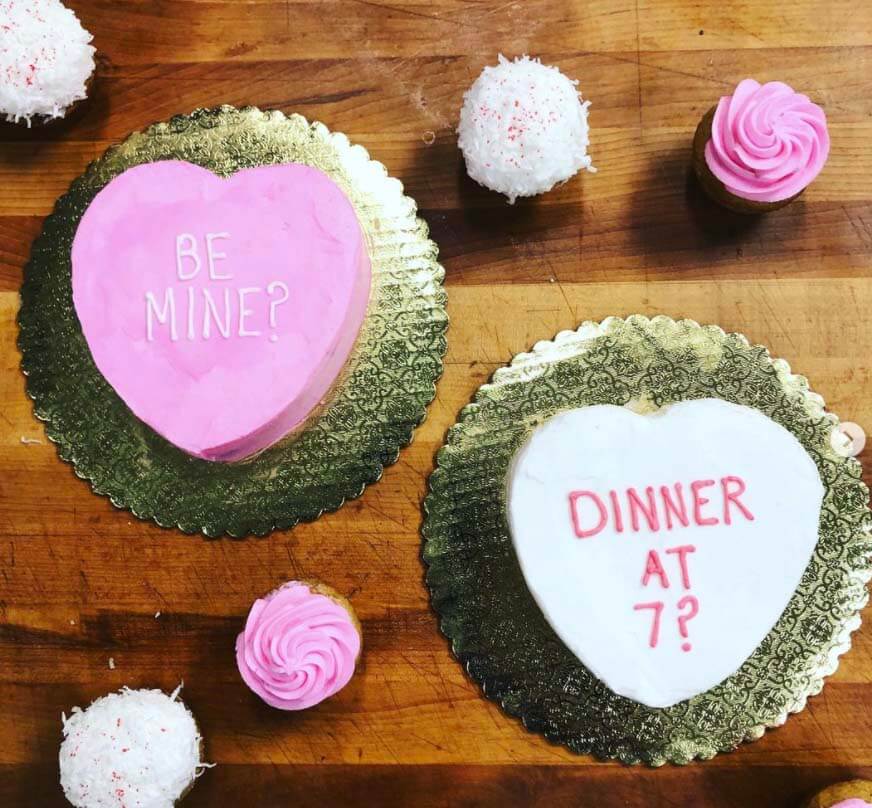 Echo Park, Beverly Grove, Koreatown, & Riverside
Monty's Good Burger is bringing back a holiday-themed shake favorite this year. The St. Valentine's Strawberry Shake is back and just as sweet as ever. For when you want your holiday dessert on the go, this heavenly treat features a chocolate-dipped organic strawberry and yummy non-dairy whipped cream on top.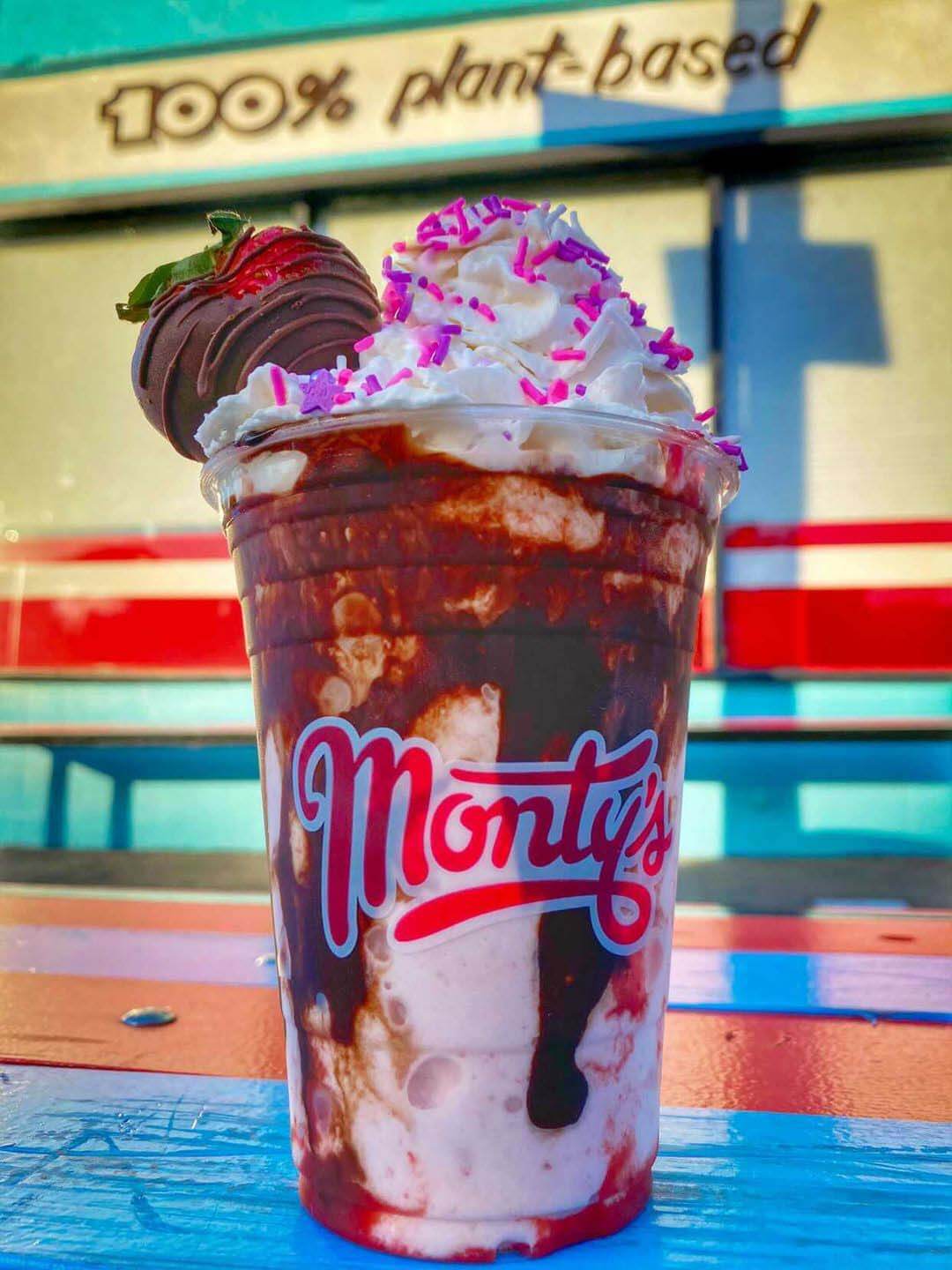 Silver Lake
Just relocated to a brand new location in Silver Lake opening just in time for Valentine's Day, The VTree will be serving up their signature red velvet cupcakes—made by Chef Velvet—for the holiday. Just as delicious as they look, these cupcakes are baked to namesake perfection!