These vegan birthday cake-flavored products are something worth celebrating! Whether it's your big day or not, we can all admit that cake is delicious, so why not treat yourself any chance you get? That's why we scouted out the best-tasting vegan treats that taste like a sprinkle-coated slice of yellow cake. Here are our favorites.
RELATED: The 13 Best Vegan Canned and Bottled Lattes
---
Want even more vegan news, food, and lifestyle content? Subscribe to VegOut LA Magazine or VegOut NYC Magazine!
Lenny & Larry's
Let's face it, the best thing about birthday parties is the cake. This year, skip the event planning, invitation sending, and post-party cleaning, and cut to the chase––or should we say cake! Lenny & Larry's Birthday Cake Complete Cookie encapsulates this festive flavor without all of the added sugars, fats, artificial ingredients, and best of all, the hassle. Each cookie holds 16 grams of protein and 10 grams of fiber achieved from vegan, non-GMO, soy-free, and kosher ingredients. Party on!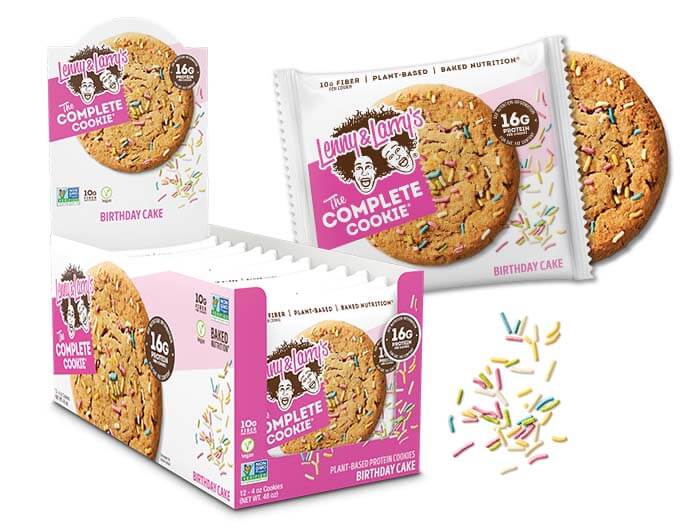 Good Snacks
With this next product, you can kiss the days of boring protein bars flavors goodbye! Good Snacks' Birthday Protein Bar harnesses the taste of a moist and craveable slice of birthday cake with an added dose of nutrients. This grab-n-go snack is soy-free, gluten-free, and certified vegan. Each bar comes in at 15 grams of protein and a whopping 13 grams of fiber. Who knew cake could be so healthy?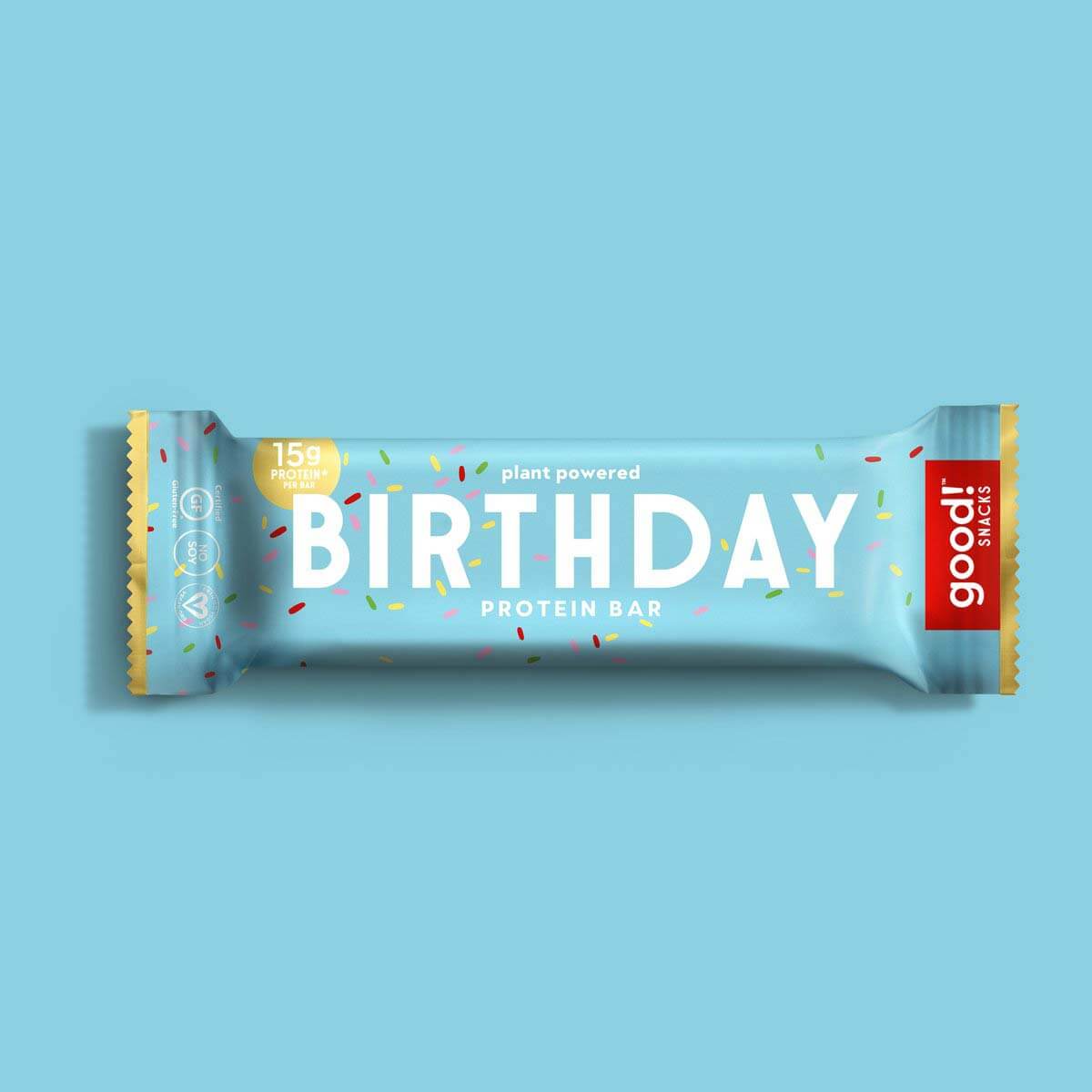 Emmy's Organics
What happens when you combine birthday cake, cookies, and coconuts? You get these adorable bite-sized Birthday Cake Coconut Cookies from Emmy's Organics! These circular beauties are composed of a vanilla coconut cookie with white chocolate chips and vibrant vegan sprinkles mixed in. They're made from non-GMO ingredients that are vegan, gluten-free, soy-free, and kosher. Woohoo!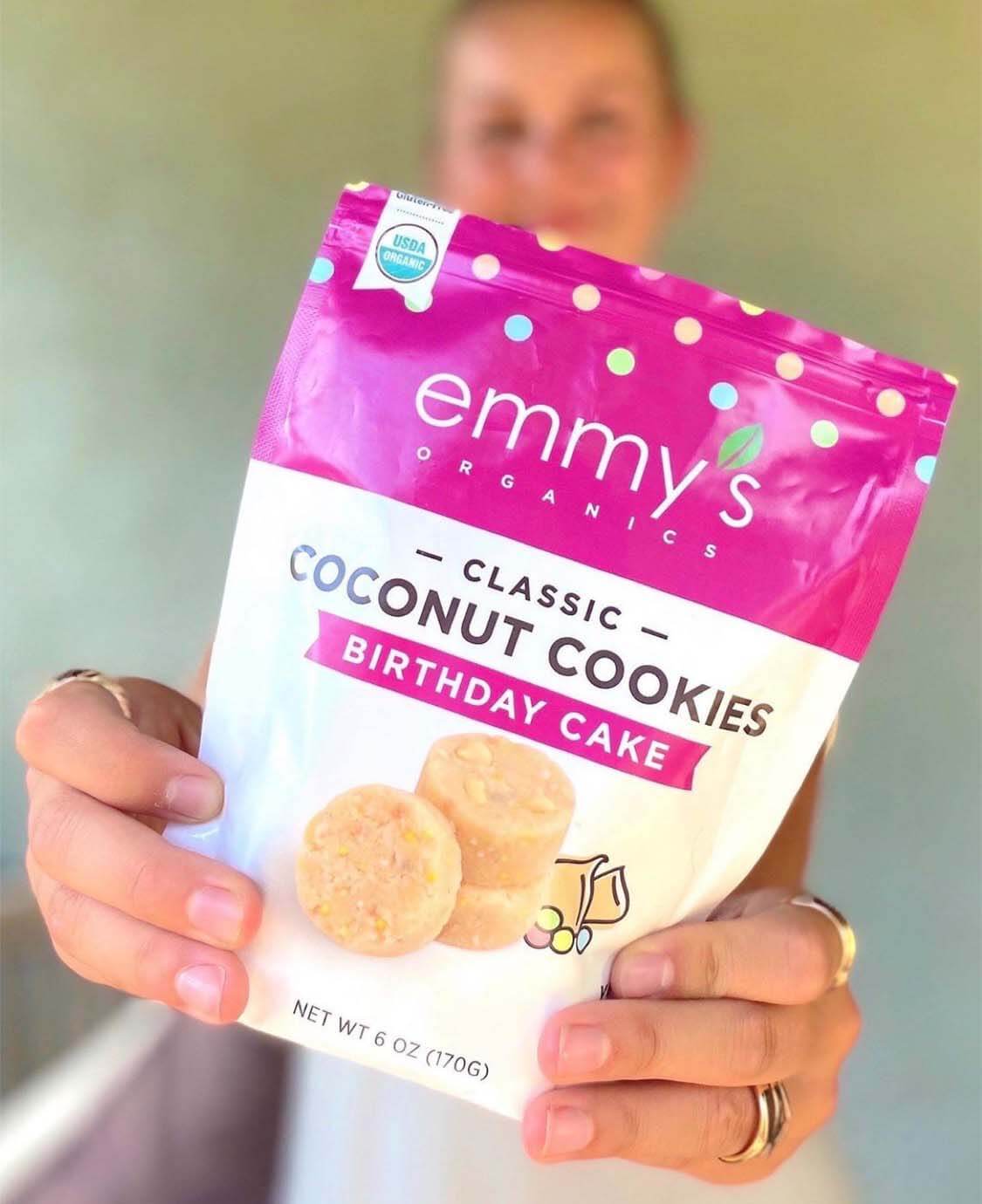 NadaMoo
Want to know what's at the top of our birthday, half birthday, quarter birthday, and everyday wishlist? Nada Moo's Birthday Cake Cookie Dough Ice Cream! This rich and creamy coconut cutie is vegan, non-GMO, and gluten-free––we repeat: GLUTEN-FREE. Track down a pint for yourself using the store locator on their website or get it delivered straight to your door.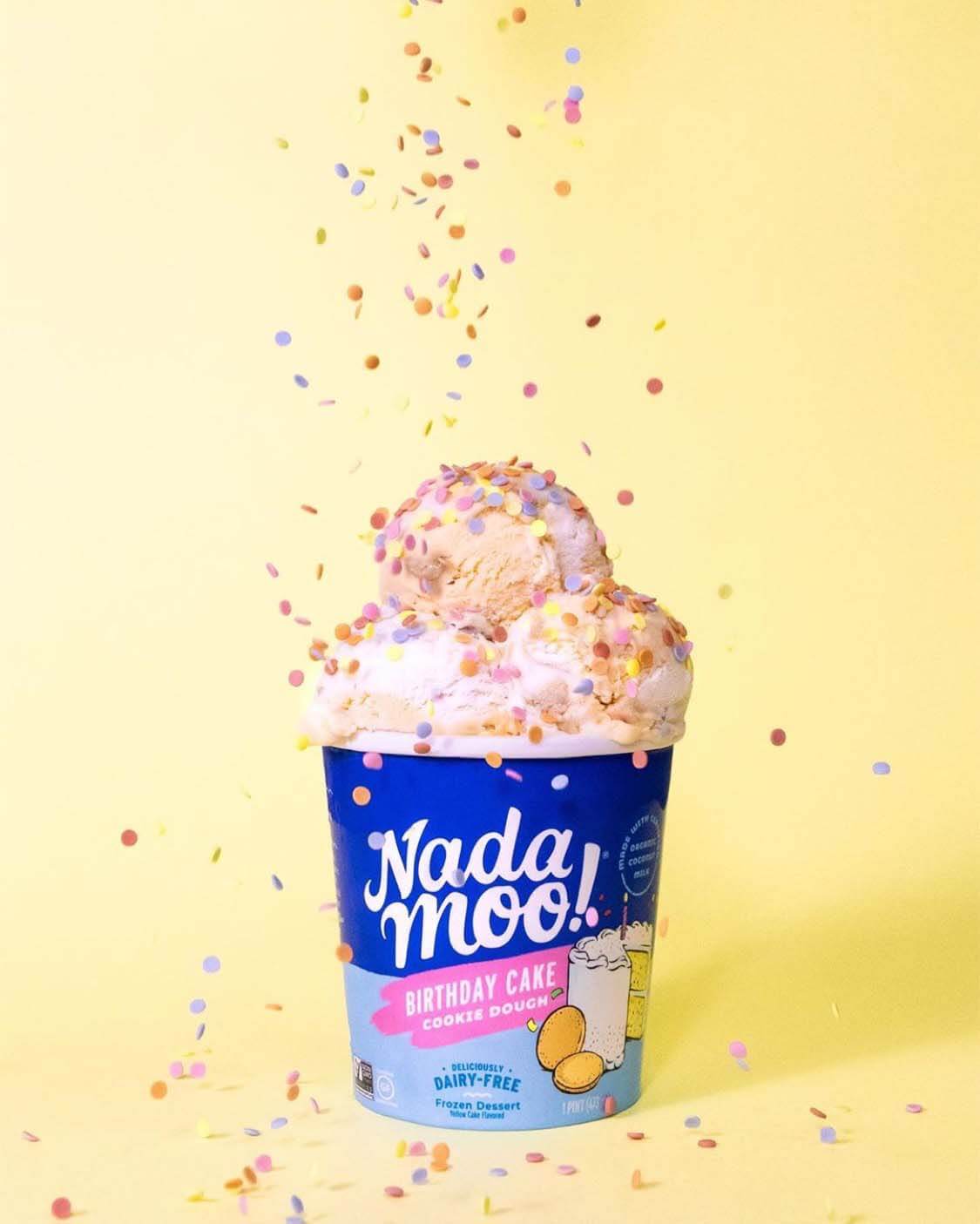 Koia
If you like to lick the spoon while baking, then you'll love Koia's Cake Batter Keto Shake. This drinkable dessert offers you 12 grams of complete protein made from brown rice, pea, and chickpea proteins with only 5 grams of net carbs and 3 grams of sugar. Not to mention, it tastes amazing. We'll drink to that!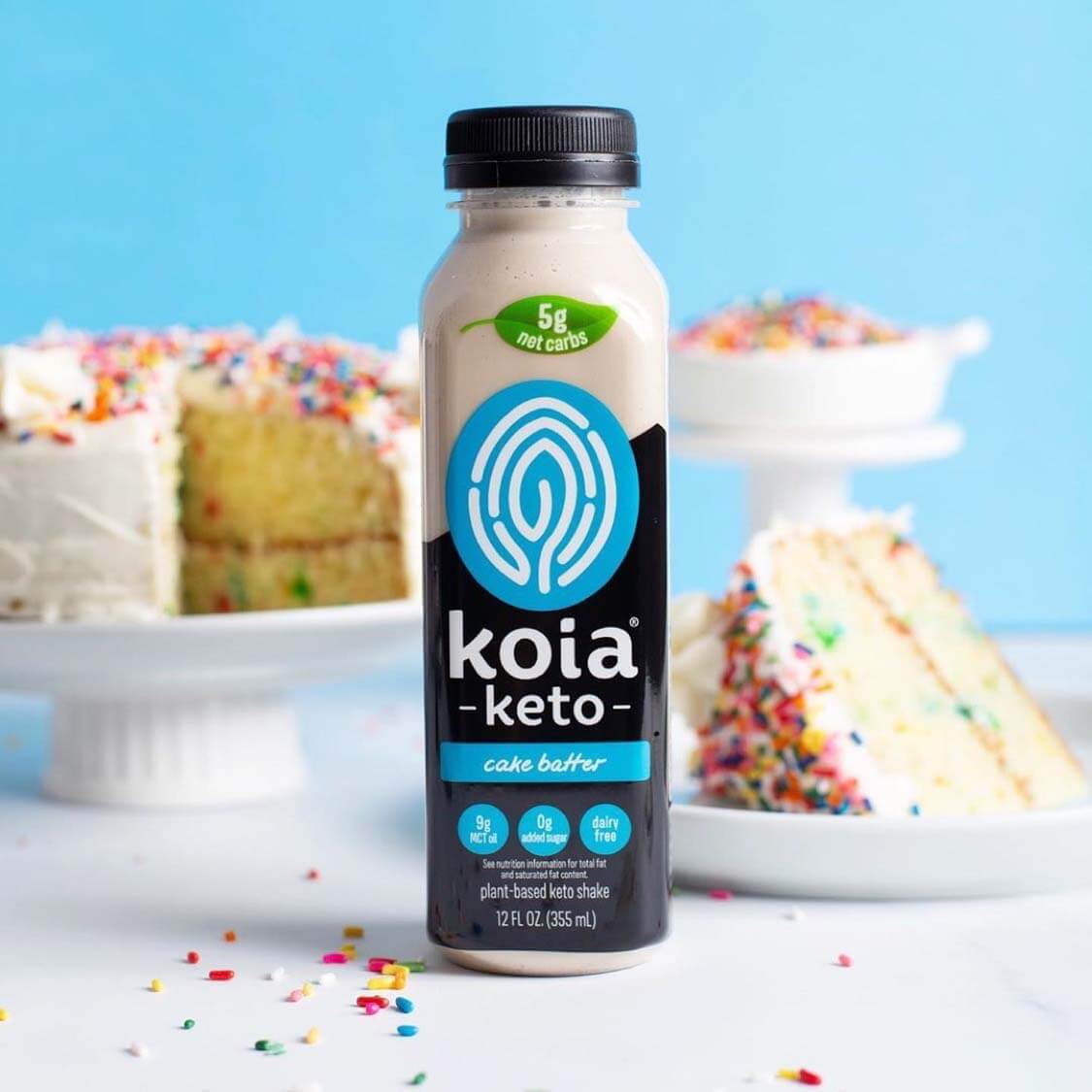 No Cow
Wish there was a way you could eat cake every day without feeling guilty? There is! This Birthday Cake Protein Bar from No Cow is the perfect solution to satisfy your sweet tooth and meet your nutritional needs. The scrumptious snack contains 190 calories, 20 grams of protein, 16 grams of fiber, and just ONE gram of sugar per serving. It's a dream come true!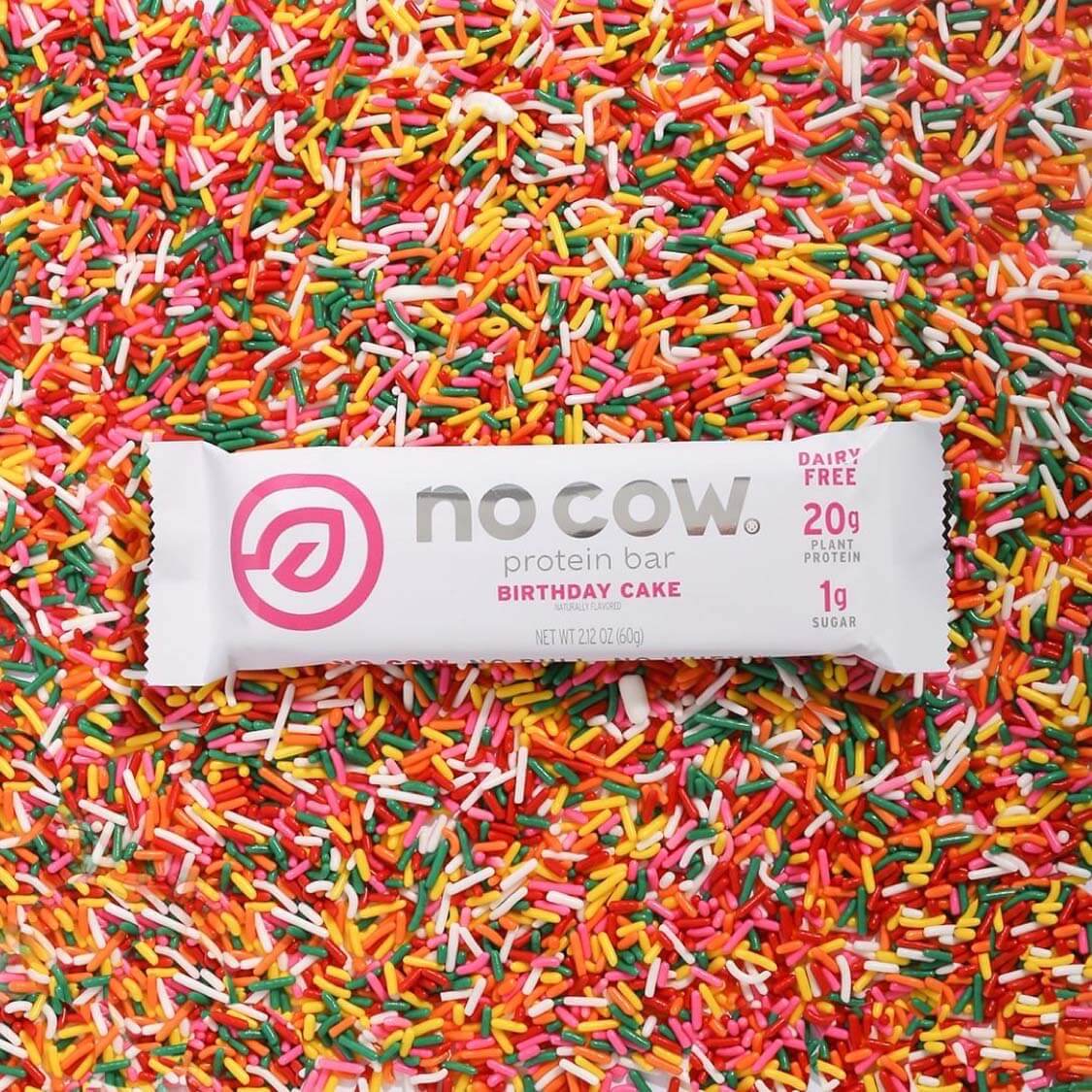 Sweet Loren's
Two words: Cookie dough––a.k.a. our greatest weakness! Aside from the traditional cookie flavors of chocolate chunk and oatmeal cranberry, Sweet Loren's sells jars of Edible Birthday Cake Cookie Dough. This vegan and gluten-free scoopable dessert is decorated with naturally-colored sprinkles using beets, spirulina, carrots, and other vegetables. Since it's edible, you can eat it raw (yes!), but you're more than welcome to turn this dough into fully baked cookies.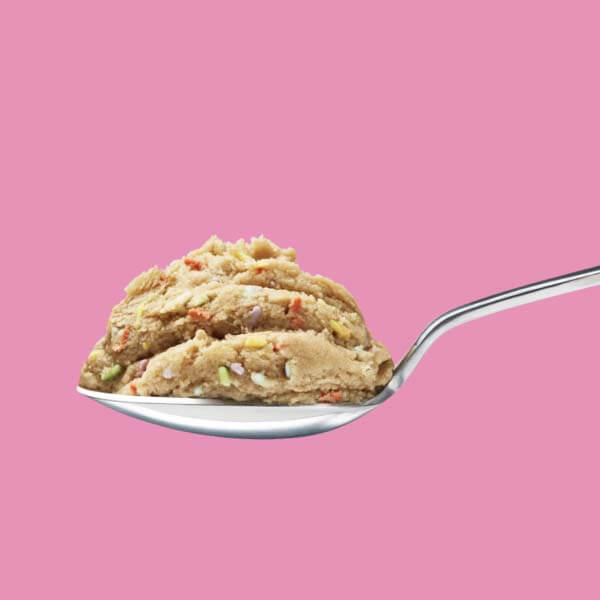 Inno Supps
What's the best thing you can consume after a workout? Birthday Cake––in protein powder form, that is! We had you there for a second, huh? Mix a scoop of Inno Supps's birthday cake-flavored Clean Vegan Protein to your liquid or smoothie of choice for a great post-workout drink. This pea-based powder is gluten-free and soy-free with no artificial sweeteners and 25 grams of protein per serving.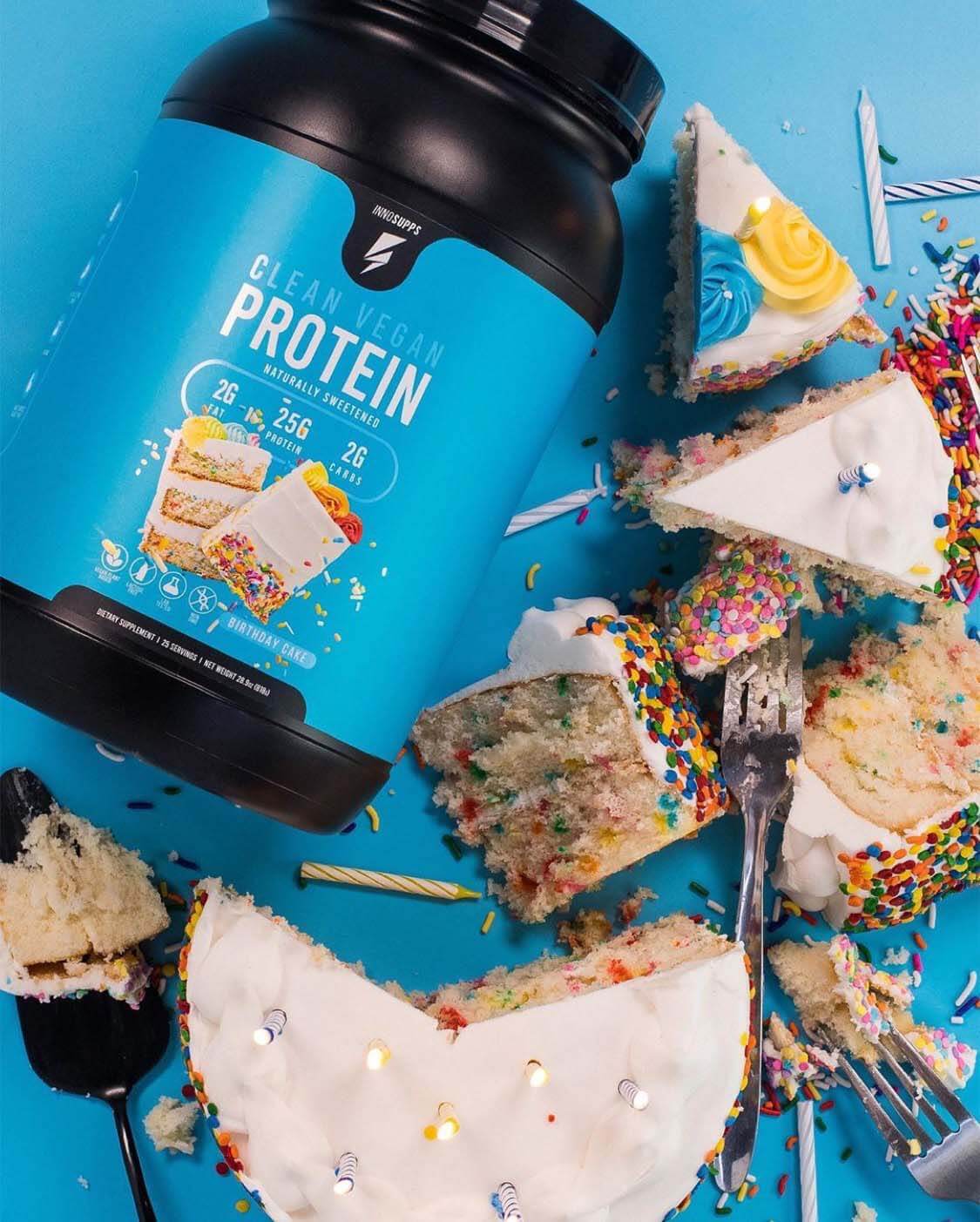 Better Bites
Better Bites' Birthday Dō Bites are what dreams are made of! These chocolate-covered delights may be free from the top 8 allergens, but they're definitely not free from flavor. Loaded with vibrant vegan sprinkles, these fun-size treats are bound to bring a smile to your face––and tummy.
Annie's Homegrown
And last but certainly not least, cake! The Organic Confetti Cake Mix from Annie's is made with all-vegan ingredients. The baking instructions on the box call for eggs and butter but if you replace them with vegan substitutes (like Melt Organic vegan butter and flax eggs), you're good to go! Don't forget to pick up vegan-friendly frosting and sprinkles to complete the confection!