Collagen supplements are trending, but are they worth the hype?
Disclosure: Material presented here is intended to serve informational purposes regarding the topics of food, nutrition, and wellness. This content is not intended to substitute for medical advice or diagnosis. If therapeutic attention is warranted, alert your care team.
Dietary supplements are not regulated by the FDA. Consumers are encouraged to choose products with rigorous third-party testing.
Collagen is trending, but what exactly is it and do you need to supplement with it? Collagen is the most abundant protein found in our bodies. It's responsible for the structural integrity of our skin and connective tissues. While our cells generate their own collagen, this production slows as we age. Collagen can be found naturally in certain animal products along with dietary supplements derived from animal tissues—read: not vegan at all. At this time, there is no known naturally occurring, vegan-friendly collagen alternative, although scientists have created vegan collagens sourced from modified yeast and bacteria. This innovation yields the question—Vegan collagen: Do you need it?
Collagen Supplements May Slow the Aging Process of Your Skin
Collagen supplements are not essential within the diet because our bodies can naturally produce this protein from the foods we eat. But what about those of us who want a supplemental beauty boost? Research has demonstrated that taking collagen supplements may slow the aging process of your skin, yielding tighter and more hydrated tissues. Due to small sample sizes and minimal human trials, stronger evidence is needed to support these claims on a larger scale. Despite celebrity endorsements and well-meaning anecdotes from friends, many researchers have noted that while the preliminary studies are intriguing, there are many limitations and further research is needed—preferably non-industry studies with larger sample sizes.
Vegan-Friendly Collagen-Boosting Supplements
Many collagen-containing products also include collagen precursors and protein building blocks such as amino acids and antioxidants like vitamin C-rich ingredients. Could these nutrients be credited for the positive effect on skin health rather than the collagen itself? Maybe! While many collagen-boosting ingredients can be regularly consumed in an intentionally balanced plant-based diet—think tofu, black beans, and pumpkin seeds along with bell peppers, citrus fruits, and kiwi—consumers may prefer to opt for a supplement instead. This notion has built the market for plant-based collagen-generating supplements. Check out our list of vegan-friendly, collagen-boosting supplements packed with vitamins, minerals, and antioxidants that may support your body's natural collagen production.
future kind believes that your own collagen is the best collagen, and we have to agree. The future kind Vegan Collagen Booster includes 16 natural protein-boosting nutrients like silica, biotin, grape seed extract, zinc, vitamins A & E, and Ayurvedic super berry amla. This supplement may support skin and joint health while coming in an eco-friendly glass package. The brand offers a full line of third-party tested supplements. Use promo code 10OFF for 10% off!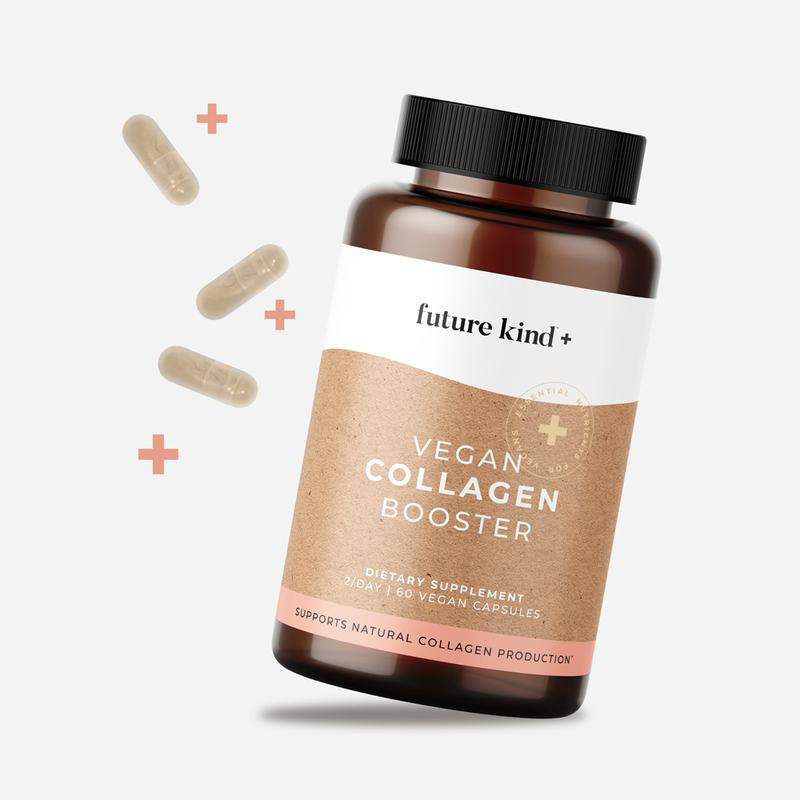 Co-created by actress and vegan activist Alicia Silverstone, the mykind Organics line includes food-based supplements for the entire family. Adults can opt for the mykind Organics Organic Plant Builder Tablets made with over 30 powdered fruits, vegetables, and botanicals. This supplement includes collagen-boosting biotin from organic sesbania, silica from organic bamboo, and antioxidant-rich compounds from pomegranate, turmeric, amla, and teas.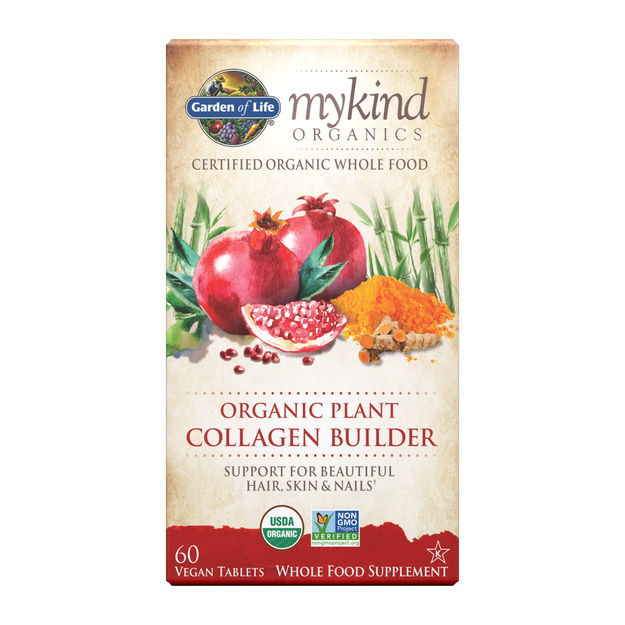 This sugar-free supplement contains a combination of Lysine, amla fruit aka Indian gooseberry, potent vitamin C-rich ingredients, and vitamin A, a fat-soluble vitamin that may protect collagen proteins within the body and help stimulate collagen accumulation. The Herbaland Vegan Collagen Booster Gummies are made in British Columbia, Canada, and pack a tasty watermelon flavor to enjoy.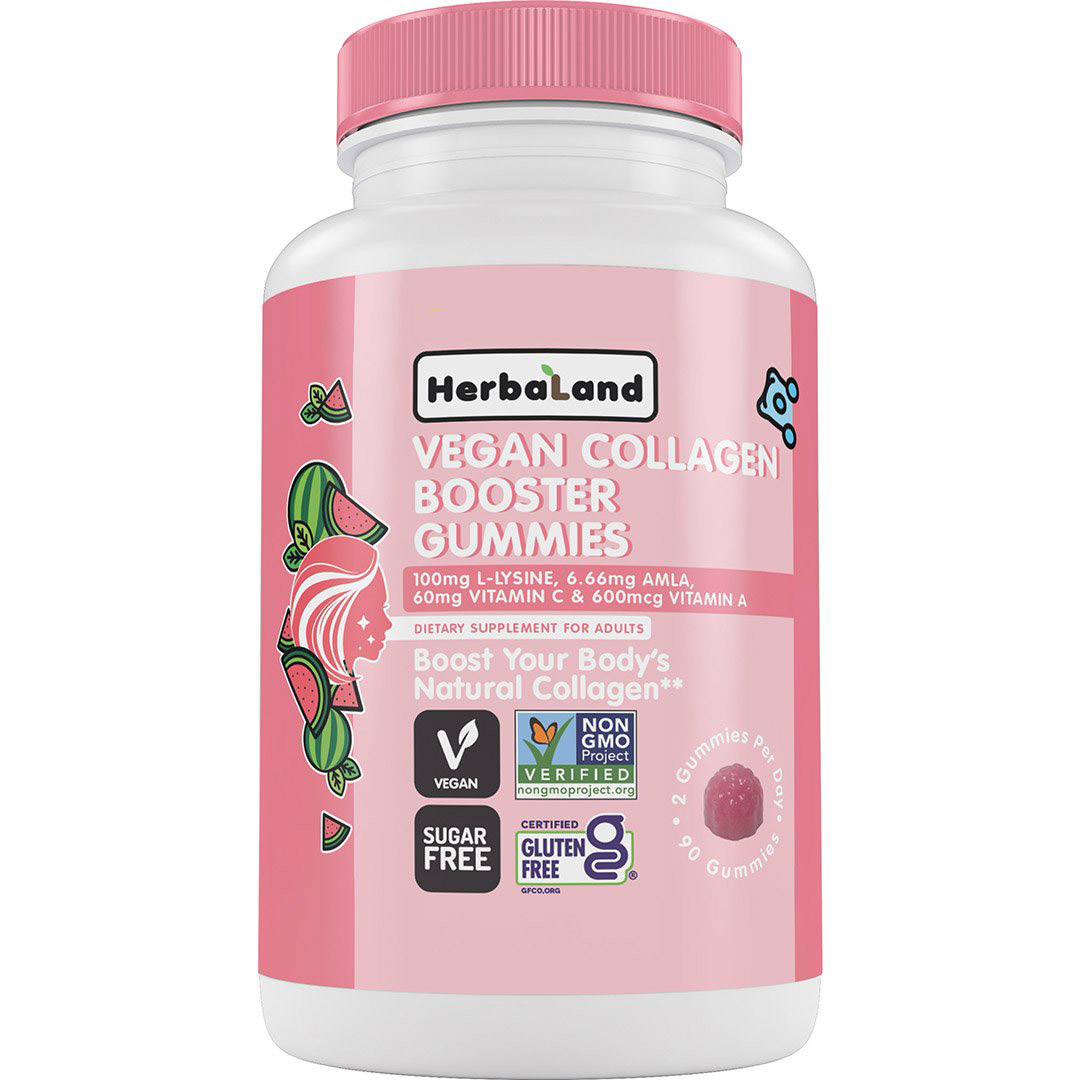 This women-led, socially conscious brand offers a variety of supplements designed to target various bodily functions. The rae Vegan Collagen Boost Capsules contain a proprietary blend of acerola fruit extract and amino acids along with bamboo, which contains vitamins A, B, and E. These plant-derived ingredients may help support the body's natural collagen production—renewing the skin from within.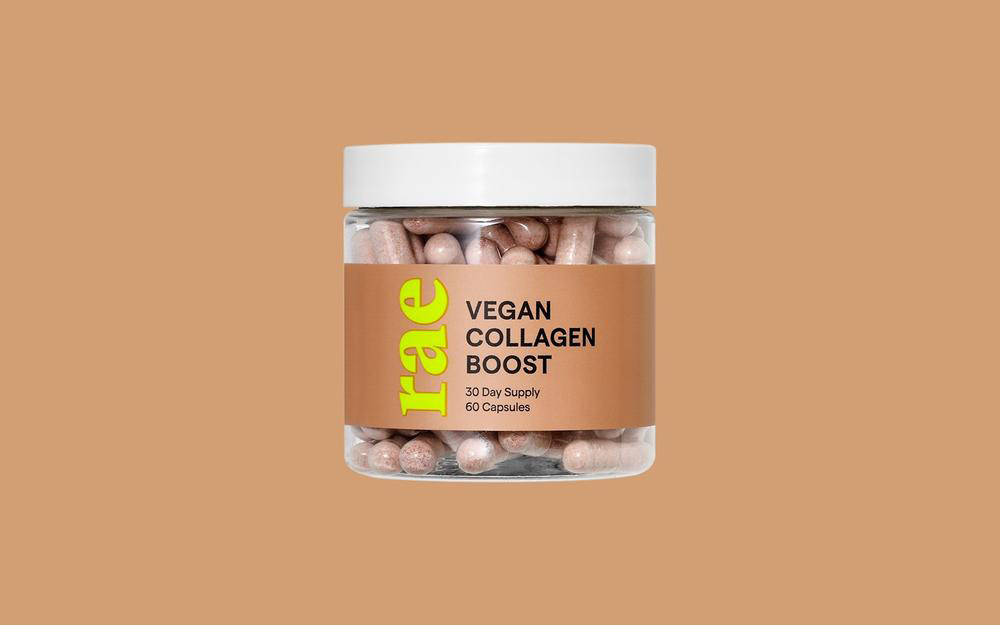 Sunwarrior, a protein and superfood supplement company, offers three different collagen-boosting supplements that may assist your body in building its own collagen. Sunwarrior Vegan Collagen products include the Collagen Building Protein Peptides drink mix, the Beauty Greens Collagen Booster antioxidant-rich greens powder, and the new Vegan Collagen Capsules. All products contain plant-based collagen precursors.
Made with natural watermelon flavor, Mary Ruth's Vegan Collagen Boosting Gummies taste like a sweet adult treat! Each gummy contains collagen-promoting ingredients such as amla fruit powder (a powerful antioxidant) and L-Lysine (an amino acid) along with vitamins A and C. All Mary Ruth's supplements are made with organic, plant-based ingredients. Use promo code MROVEGOUT at MaryRuthOrganics.com for 15% off your purchase!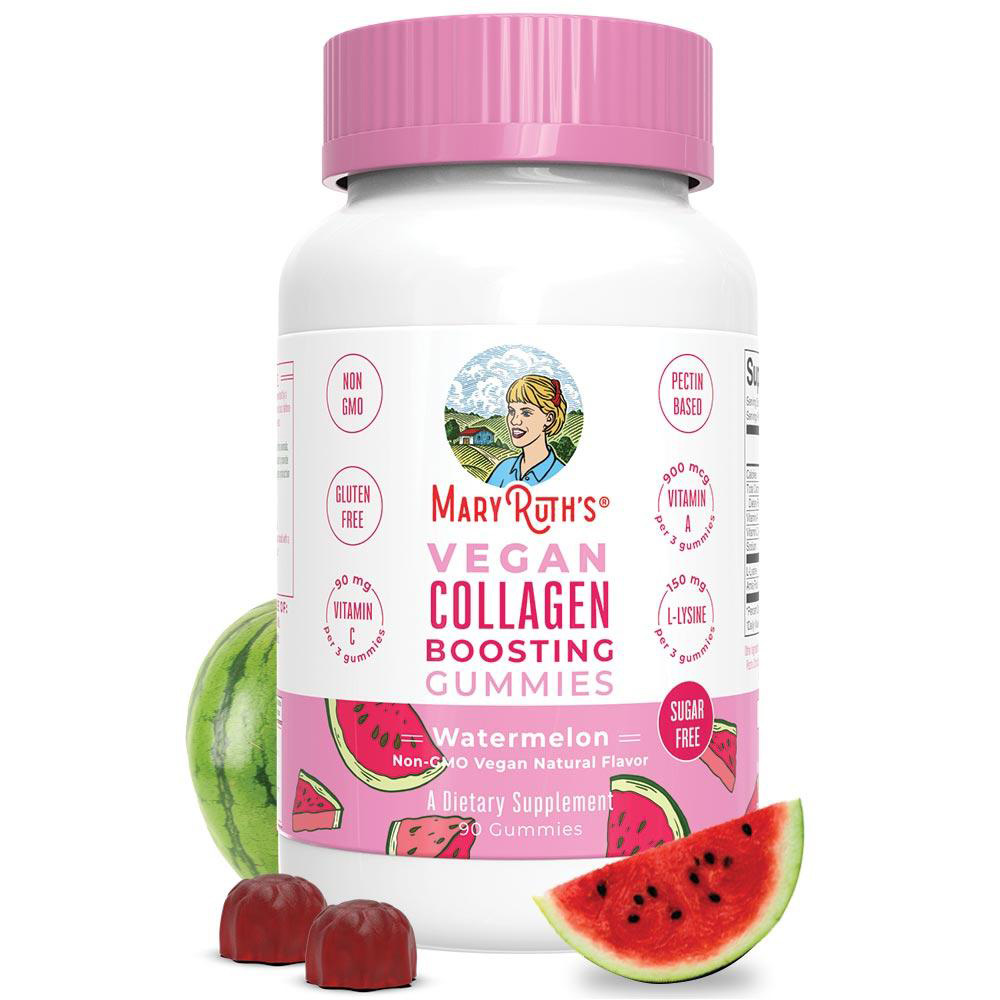 The Happy Healthy Hippie Vegan Collagen Builder contains a blend of highly bioavailable nutrients that may help increase your body's own collagen, keratin, and elastin. Think amla fruit extract, sour cherry fruit, and pumpkin seed extract along with hyaluronic acid, L-Lysine, and vitamin A. Although the FDA doesn't regulate supplements such as these, this brand utilizes Current Good Manufacturing Practice regulations enforced by this governing body.