Back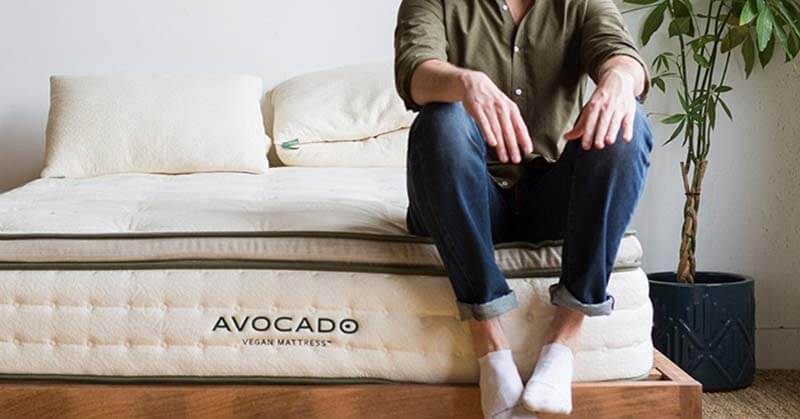 The Best Eco-Friendly Vegan Mattresses, Pillows, Comforters, and More
Here's a list of brands that offer vegan and eco-friendly mattresses and bedding. What's one thing we love just as much as tasty vegan food? Getting a good night's sleep! And a vegan lifestyle is about much more than what's on your plate. It's a way of life that can translate into the realm of clothing, shoes, accessories, beauty products, kitchen utensils—and even, bedding! After extensive research (aka a lot of lounging around), we've found some vegan products that will provide you with the most sustainable and satisfying slumber ever. Here they are!
Mattresses
Avocado Mattress is your one-stop shop for vegan-friendly mattresses, pillows, and sheets! Aside from their products being comfortable, luxurious, and timeless, they're also the definition of eco-friendly! Want to know why? Avocado is the world's first mattress brand to achieve net-zero carbon emissions across the entirety of their operations. Their vegan products are PETA approved, Vegan Action verified, and GOTS (Global Organic Textile Standard) certified––which is a fancy way of saying their items are as organic and cruelty-free as they get! The vegan options offered by Avocado include their Vegan Mattress, Green Pillows, Molded Latex Pillows, Organic Meditation Pillow, Vegan Latex Mattress Topper, and Organic Cotton Sheets. Want to elevate their non-toxic vegan bed even more? Order it with the two-inch permanent pillow-top or removable mattress topper for added plushness! Also, how cool is it to say you have a Vegan Avocado Mattress? #vegangoals! (Note that not all of their products are vegan, as some contain wool. Be sure to select from their vegan line.)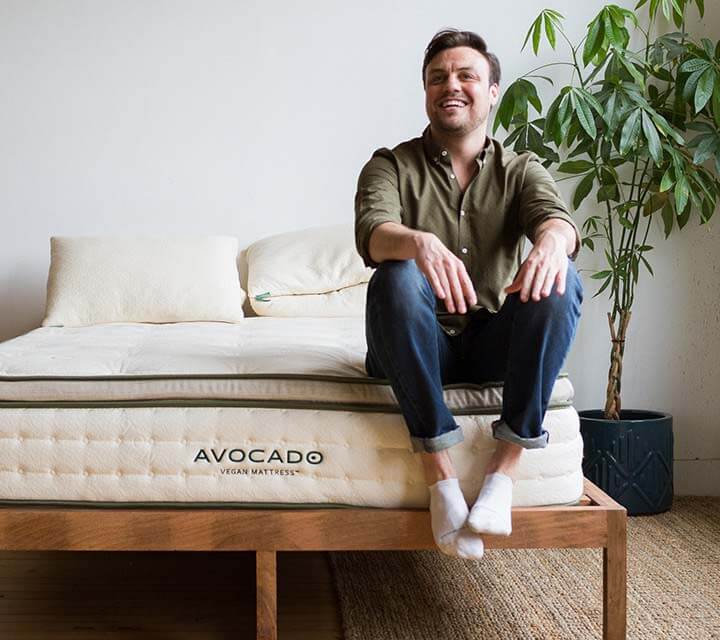 Are you tired of waking up with back pain? With the vegan-friendly Eco-Lux mattress from BedInABox, you can bid adieu to those uncomfortable nights of sleep (or lack thereof). This luxurious eco-friendly memory foam mattress is masterfully crafted in two layers for maximum comfort. The base is an 8-inch layer of BioLux Support Foam which promotes the alignment of your spine. It's topped in a plush 3-inch layer of BioLux Gel Memory Foam and surrounded in a breathable organic cotton cover. Oooh la la! Aside from being outrageously comfortable, this mattress is VERY sustainably-made. It's the first and only USDA Bio-Preferred memory foam mattress––34% of the mattress is made with renewable materials! How awesome is that?!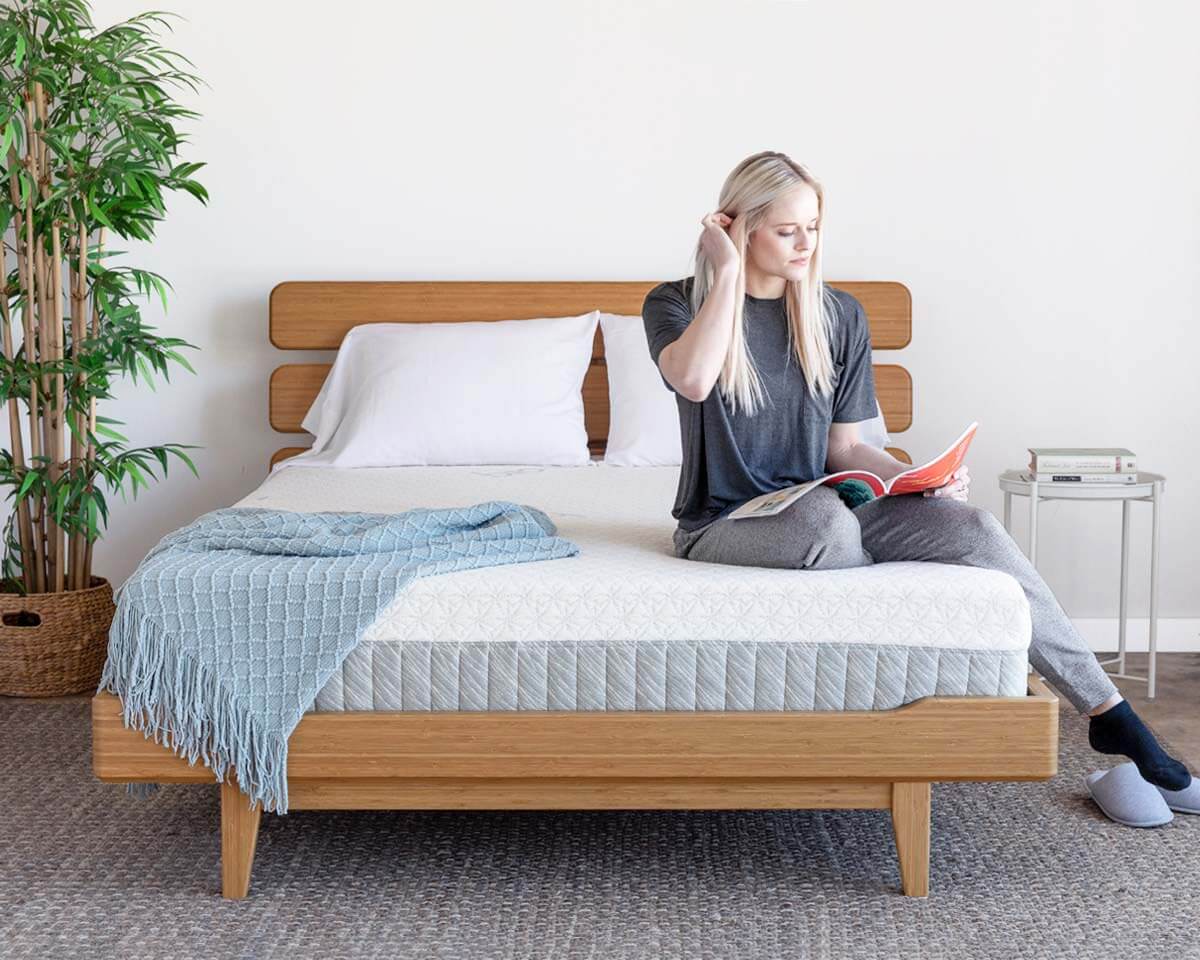 This bed-centric brand launched in 2011 as one of the first revolutionaries to start the bed-in-a-box trend, which is exactly what it sounds like––a mattress that's delivered straight to your door, in a box! Their vegan-friendly items include the Alexander Signature Hybrid Mattress and the Easy Breather Pillow! Something unique about this mattress is that it's encompassed in hydrated silica as a fire barrier. If a fire occurs, the barrier melts onto itself and suffocates the oxygen needed for fire to burn. Wow! Not only are these products fire-resistant and eco-friendly, but they're CertiPUR-US Certified, handmade in the US, and supportive AF! Don't believe us? They have a 100-night guarantee on their mattresses. Love them or get your money back!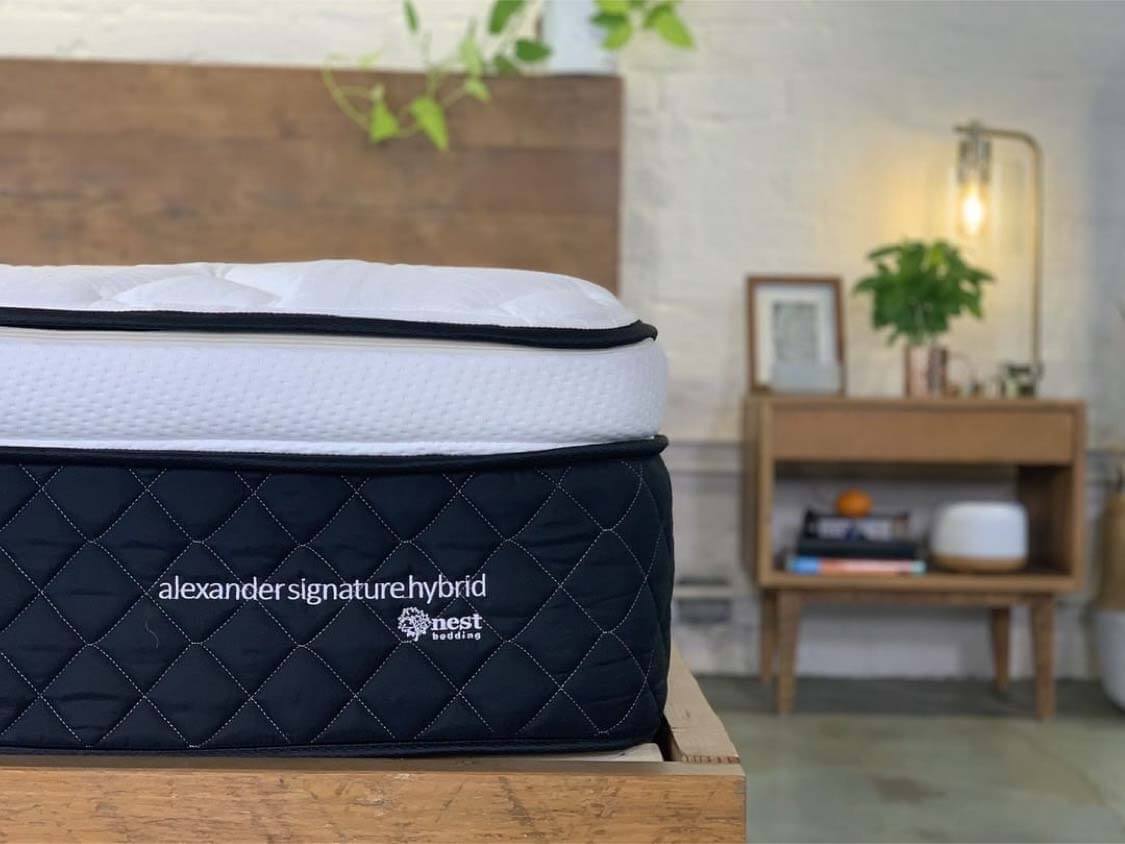 You may have heard of using activated charcoal in smoothies, ice cream, and toothpaste, but what about in mattresses? Yep, you read that right! Brentwood Home's Crystal Cove Vegan Mattress is made with activated charcoal-infused memory foam, precision-tuned coils, and 100% natural latex—consider us shook! It's handcrafted in Southern California with natural and nontoxic materials, including a natural silica quartz fire barrier! And it's double-sided so you can flip the mattress depending on how plush or firm of a bed you'd like to lounge on.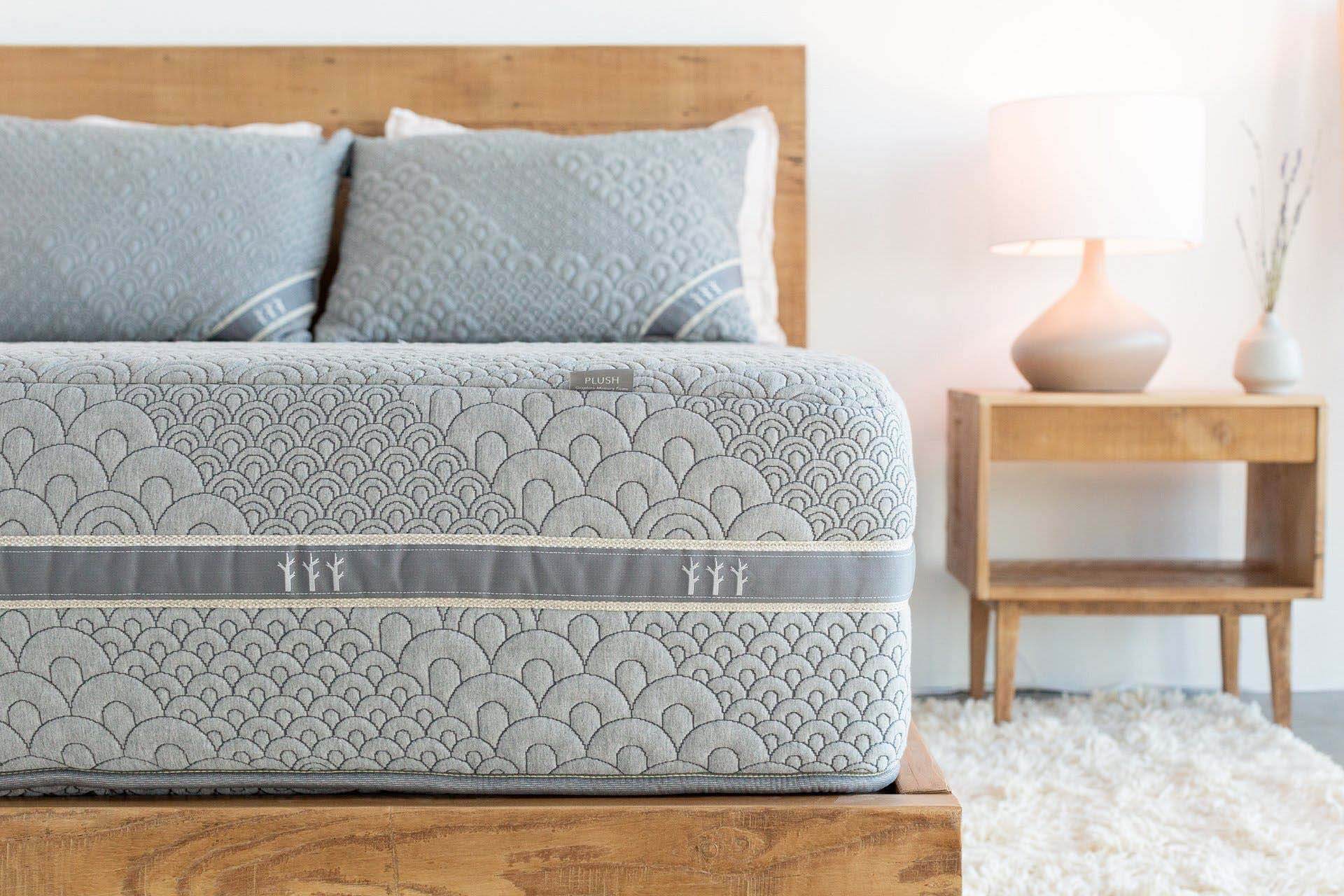 Pillows
A lot of pillows are made with down feathers, so they're not vegan. What a bummer! But what if we told you there was a cruelty-free pillow that's made with 1,500 hypoallergenic latex hexagon-shaped air channels for continuous airflow? That's not a hypothetical question, we ARE telling you that! The Purple Harmony Pillow is the world's first and only pillow made from Purple Grid Hex. This masterfully crafted headrest will offer you comfort, support, and breathability like no other! And it comes in two different heights for you to choose from depending on your size and preference of sleep side.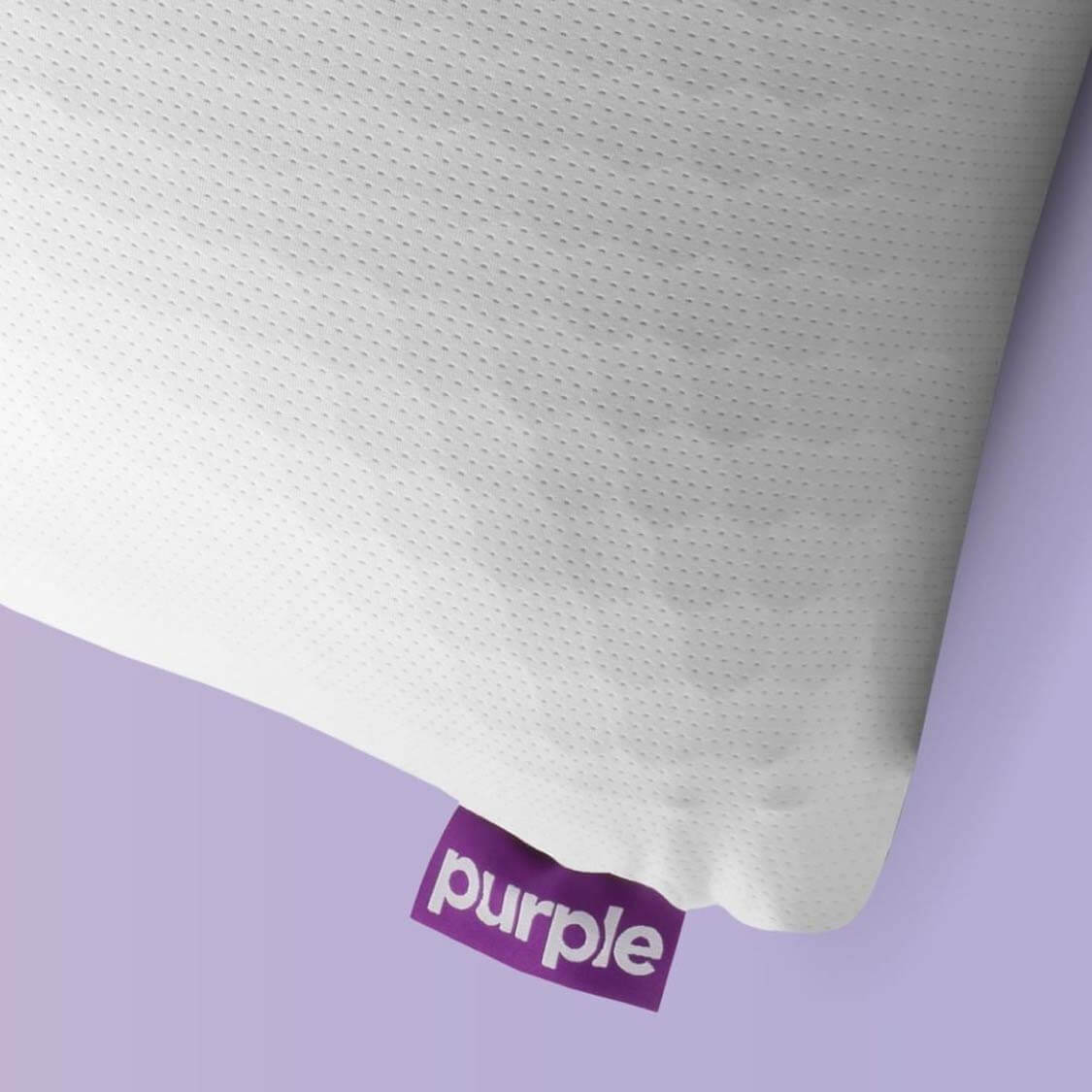 These vegan-friendly Kapok Sleep Pillows from Bean Products are made up of an organic cotton exterior and kapok fiber stuffing. Oooh! Aah! At this point, you may be asking yourself, "what the heck is kapok?" (Don't worry, we asked that question too.) That fun word is the name of a light and fluffy down-like fiber that's found in the seed pods of kapok trees native to the tropical rainforest. In Bean Products's harvesting process, kapok trees are not cut down nor do they require irrigation or added chemicals––which means kapok fibers have a very low environmental impact. This earth-friendly plushy product is available in many different shapes and sizes including standard, travel, and even neck roll pillows!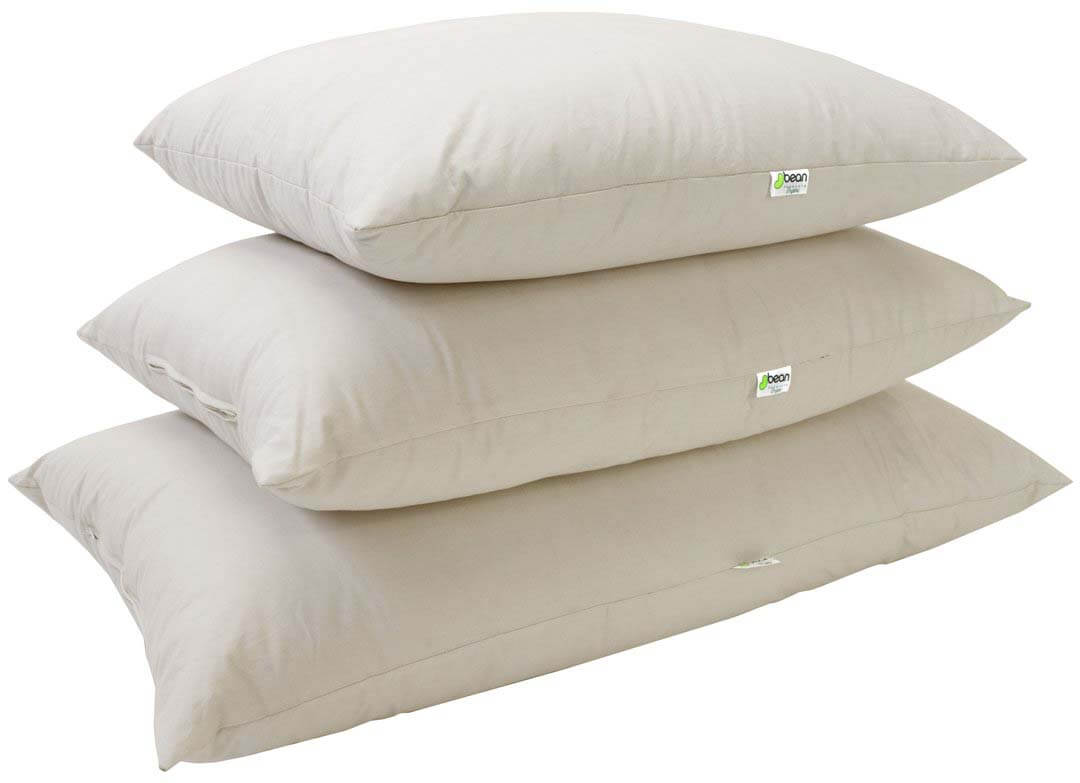 This brand's name is an acronym for Research Enhanced Sleep Technology––so basically, they're pillow-making scientists! ReST's Premium Blended Memory Foam Pillow is composed of Certi-PUR memory foam which adapts to the shape of your body for customized coziness. The pillow is encased in a thermoregulating bamboo cover that is removable and washable and is all handmade in the US using sustainable resources.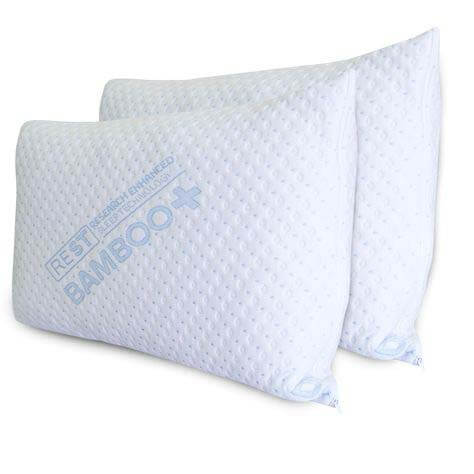 Sheets and Pillowcases
Bamboo that's as smooth as silk? We're in! This female-owned company stocks vegan sheets, duvet covers, and pillowcases that will help you get the best night's sleep––every night! Their vegan-friendly Bamboo Dreams product line is made from sustainably sourced organic bamboo without any chemicals. Additionally, YALA is dedicated to fair trade, which means their employees are provided with safe working conditions and livable wages. What a wonderful reason to revamp your bedding! And while you're at it, order a few extra sheet sets––they're great gifts for weddings, birthdays, showers, and anniversaries!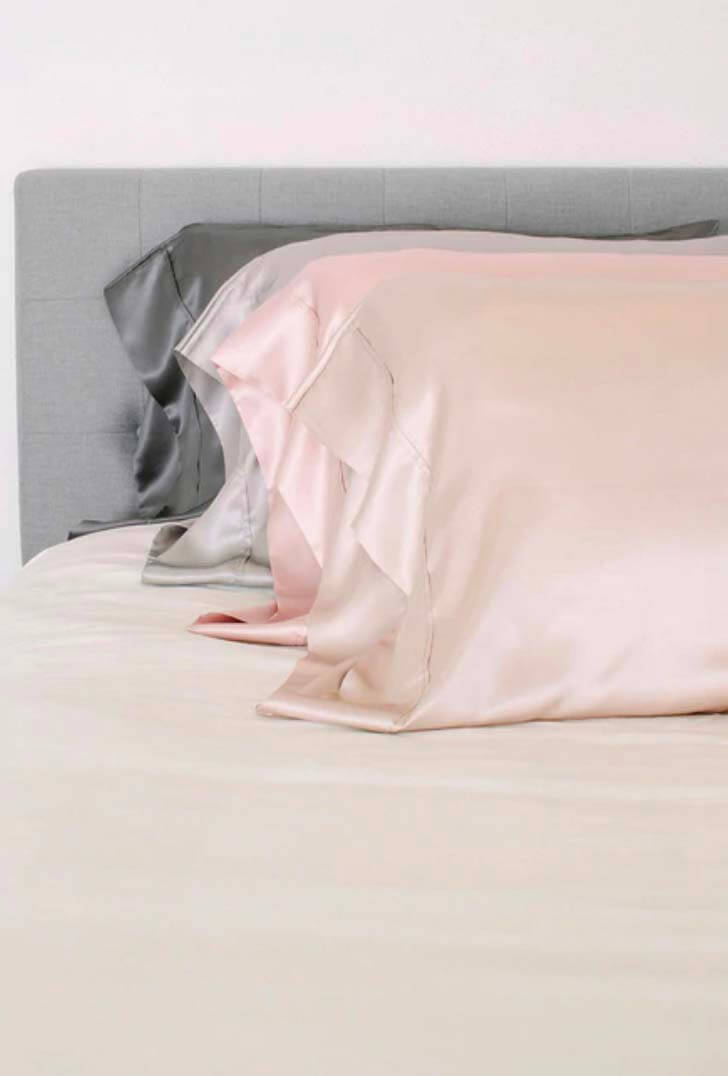 We're crazy about these Bamboo Twill Sheets from Brooklyn Bedding! For starters, they're vegan (score!), hypoallergenic, smooth, and oh-so-breathable! On top of that, the natural rayon fibers from the bamboo have thermal regulating properties that will help maintain your body temperature all night long––it's magic! Choose your favorite color between White, Silver, Khaki, or Chocolate, and get ready for bedtime bliss.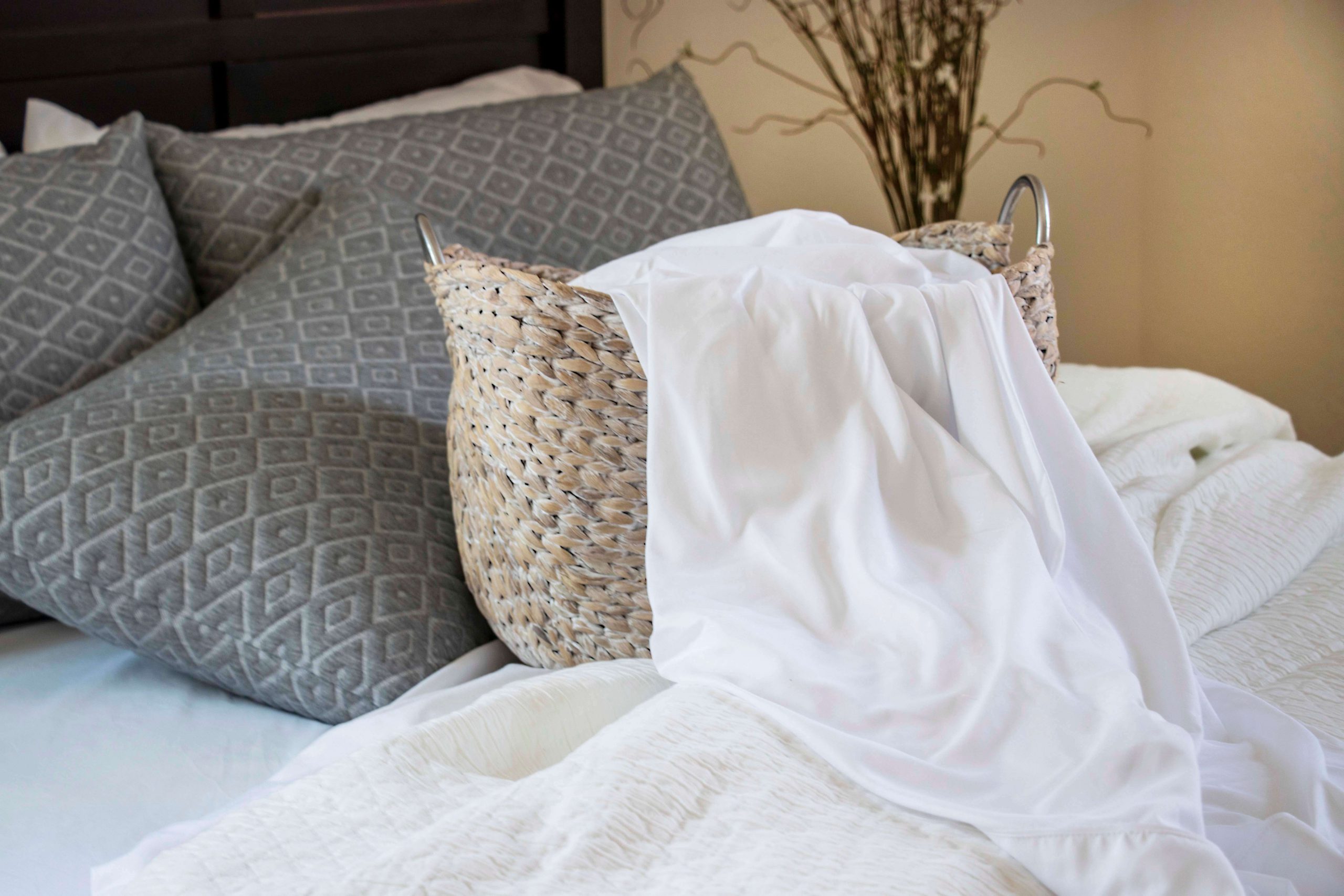 There's something so grandiose about sleeping on a luxurious hotel bed. Our friends at Pact have found a way to replicate that feeling at home with their Room Service Sheet Set made with 100% pure organic cotton sateen! The collection contains one fitted sheet, one flat sheet, two pillowcases, and a reusable laundry bag––it's the whole package! These linens are fair trade certified and save over 419.7 gallons of water in comparison to conventional cotton. Why is that? Their organic cotton is grown without any harmful inorganic pesticides, fertilizers, or water pollution.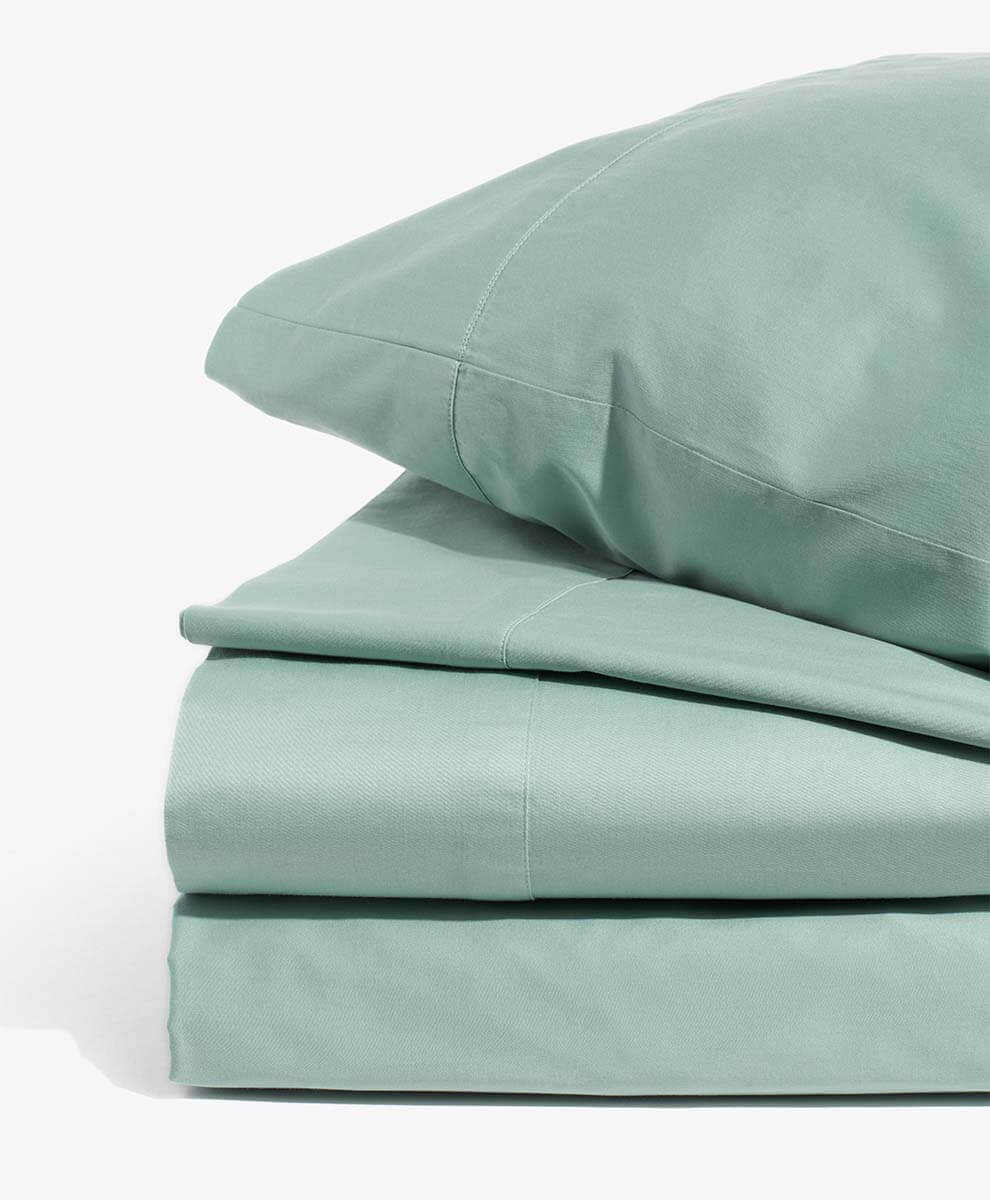 Ettitude's name derives from the term "eco-attitude" which is defined as, "living mindfully to sustain a more comfortable existence for all." Crafted from the world's first CleanBamboo fabric, ALL of Ettitude's products are vegan! Their 100% organic bamboo material is produced in a closed-loop system that recycles and reuses water up to 200 times, recycling 98% of water in the process. Ettitude turns their hypoallergenic and thermo-regulating bamboo textiles into the most sophisticated sheets, pillowcases, duvet covers, duvet inserts, and mattress protectors. Choose from the signature CleanBamboo or the CleanBamboo Charcoal Sheet Set and get ready to transform your room into a serene sanctuary! And we'll let you in on a little secret––starting August 10th, Ettitude will offer two new earthy colors, Sand and Sage to their bedding range to reflect the natural shades of native Australian flora and the California coastline. This female-owned company has also shown immense support for the Black Lives Matter movement by donating to supporting organizations like Harlem Grow, a grassroots youth program, and releasing an article to address the intersection of racism and environmentalism.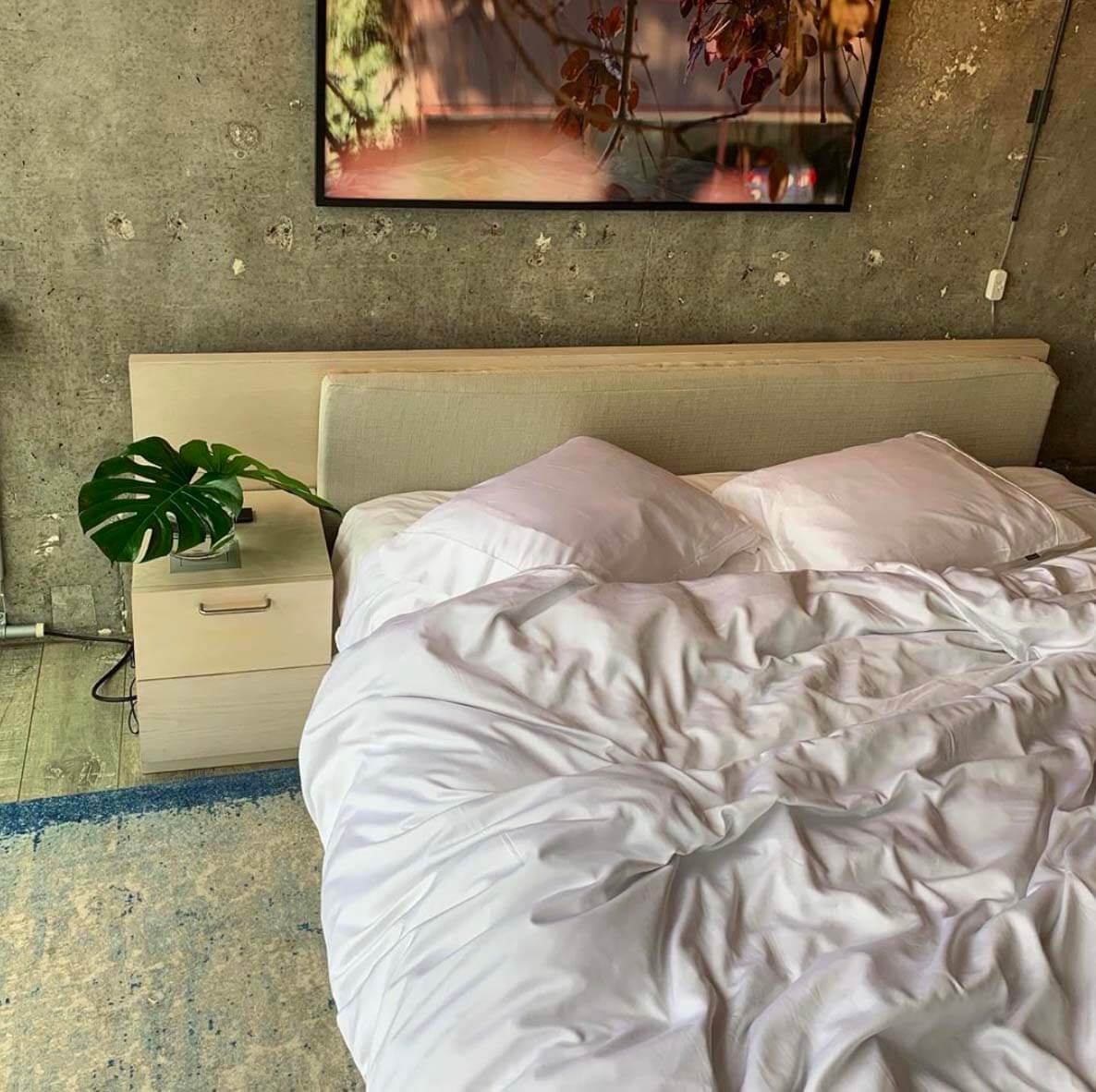 Wish there was a way to reduce bedhead, sleep wrinkles, and hair breakage? There is! With Madison & White's Bedtime Beauty Satin Pillowcases, your hair and skin will retain moisture and glide smoothly across your pillow as you move around. This is made possible with the use of Madix, a technical fabric that was designed to protect your hair, skin, and the environment! Owner Kamela Hurley shared, "Most people don't know that it takes an average of three-thousand silkworms to make roughly two silk pillowcases. As a mother, Integrative Health Coach, and Certified Yoga Teacher, I wanted to create products that helped people to sleep better on all levels." And that she did! Her pillowcases are 100% vegan, cruelty-free, sustainable, and velvety as all get out! While you're shopping, we'd recommend getting the Clean Skin Kit, a pack of four reversible pillowcases with the day of the week monogrammed on each side to keep your skin fresh!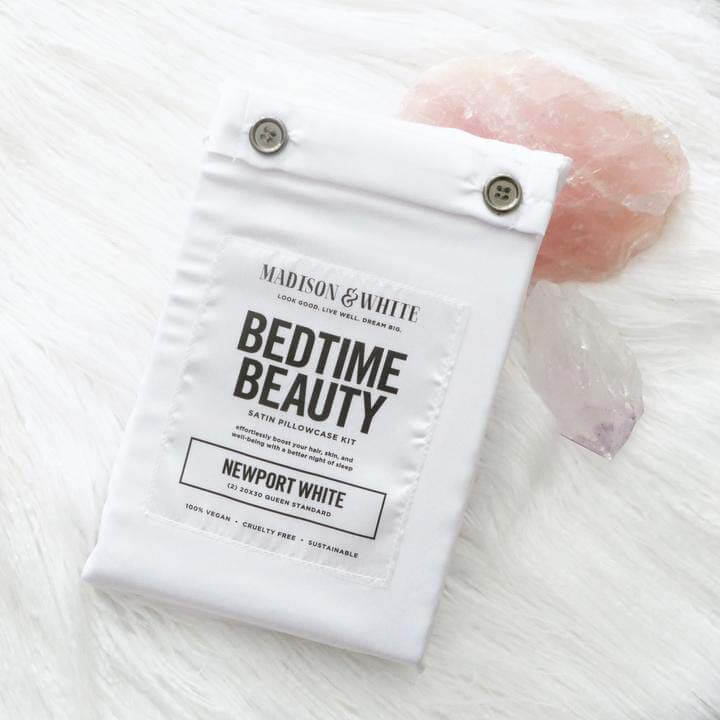 Comforters
Whether you prefer a comforter or duvet cover, the sustainably made options from Cozy Earth will keep you snug and comfortable all night long! Their temperature-regulating Bamboo Comforters and Duvet Covers are composed of 100% premium viscose from bamboo fabric. The linens are made in ethical factories without any harmful chemicals or dyes. Additionally, Cozy Earth uses recycled water during their fiber process and they work with local farmers, fiber producers, yarn makers, and weavers, ensuring safe working conditions and fair labor practices. Other vegan-friendly bedding items to check out include bamboo-based sheets, blankets, mattress pads, and pillowcases. Use promo code VEGOUT25 for 25% off your purchase!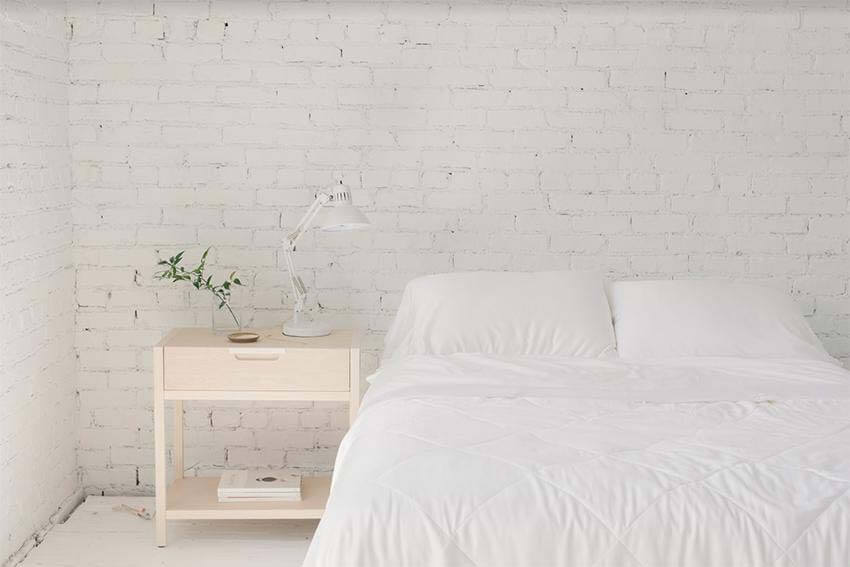 From comforters and duvet covers to sheets, pillowcases, and blankets, Coyuchi has plenty of vegan options that are stylish AND sustainable! Their GOTS certified Organic Cotton Comforter is lightweight, simplistic, and easy to launder. Are you looking for bedding that's a bit thicker? Check out their Double-Stitched Organic Cotton Comforter or pair one of their duvet covers with your favorite duvet insert! We've been eyeing Coyuchi's adorable new Ventura Striped Organic Duvet Cover! This textured beauty comes in the most gorgeous colors, fastens with hidden coconut shell buttons, and is made in a factory that recycles 98% of its wastewater. We're in love!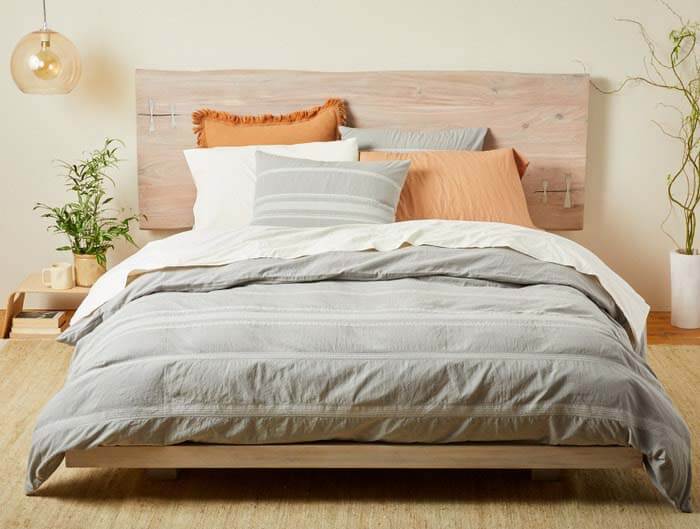 If you like your bedding fluffy, then look to Buffy––ha, that rhymes! The Buffy Cloud is one of the most popular comforters out there, and we think we know why! First of all, it's made from eucalyptus fabric that is softer than the coconut whipped cream from Trader Joe's (hint: it's soft!). Additionally, Buffy's eucalyptus fabric uses 10 times less water than cotton and their extra-fluffy recycled fill keeps 50 plastic bottles out of landfills and protects 12 geese from losing their feathers. Pro tip: snuggle this comforter inside one of their duvet covers to bring in a pop of color!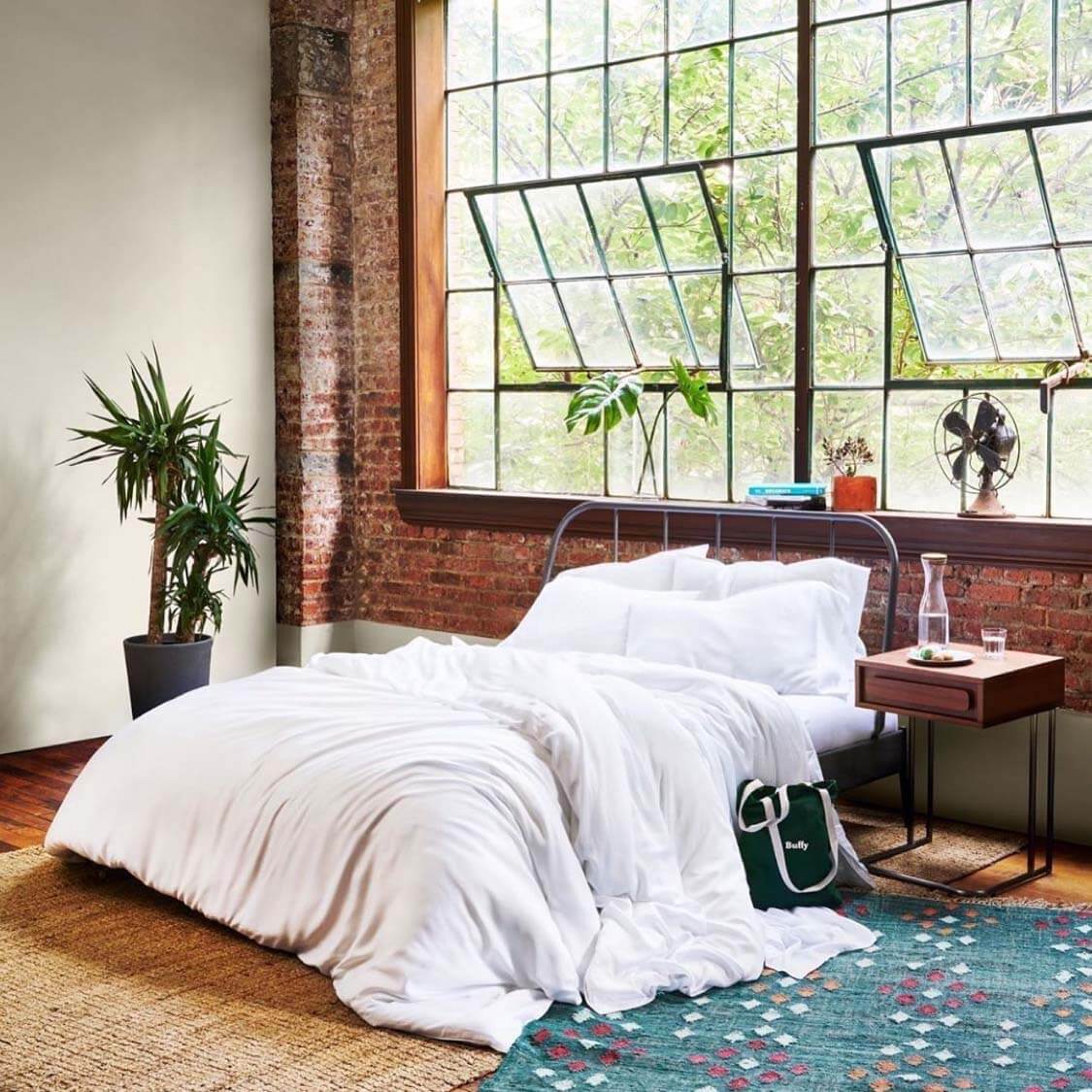 Refresh your bedroom with one of these top-notch duvet covers from Undercover Living! Their modern designs are made from 50% long-staple cotton and 50% tencel, a eucalyptus-based yarn. (Fun-fact: tencel is certified as biodegradable and compostable!) Undercover Living produces their linens in a closed-loop system which means any solvents they use get recycled. This company also sells Delicate Detergent with Orange Oil as well as Fabric Softener with Peach Oil and Aloe Vera so you can launder your new goodies with clean and organic products.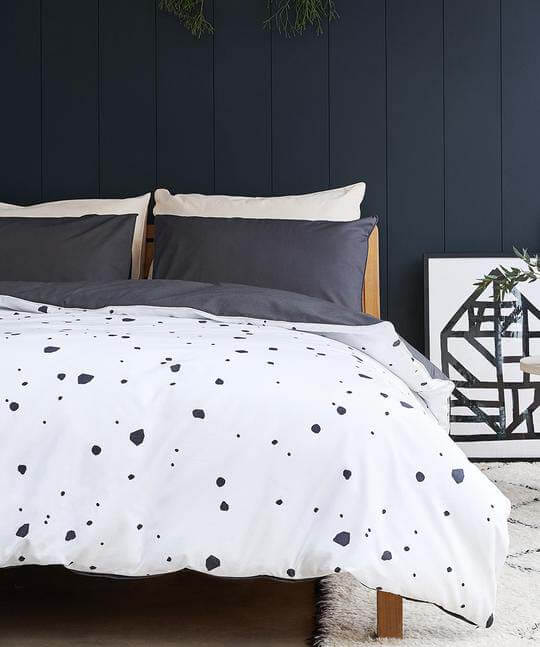 If you prefer your bedding cool and light, we'd suggest going the quilt route––and Plover Organic's offerings are unbeatable! Made from 100% GOTS certified organic cotton, these hand-quilted beauties will provide you with a light and cozy covering for the sweetest of dreams. From triangle and floral to geometric and abstract designs, there's bound to be a charming pattern that suits your fancy!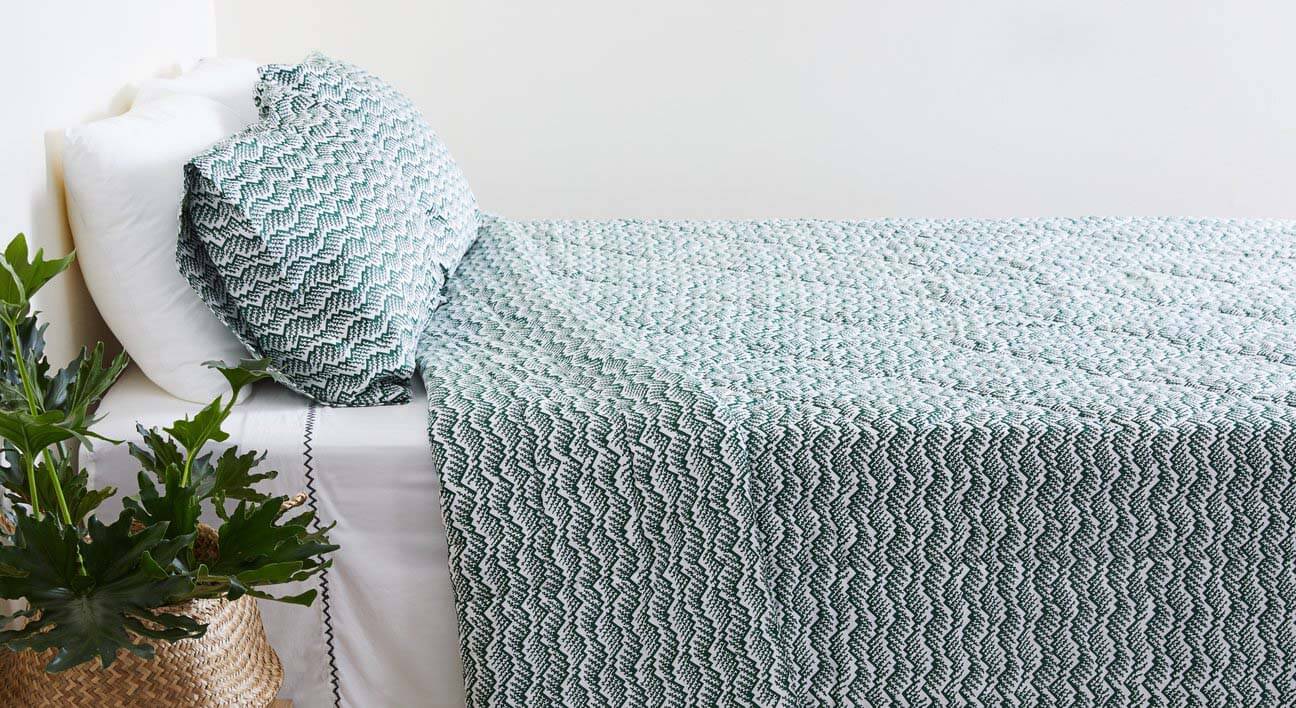 Blankets
For those of you who love to layer blankets, you'll definitely want to add this Organic Matelasse Blanket to your collection! This charming throw is made with 100% GOTS-certified organic cotton without any harmful toxins or chemicals. Choose from the colors of white, grey, blush, or stone and get ready for a soft and breathable blanket to dress your bed in. Under the Canopy also offers vegan sheets, comforters, pillows, candles, and more! In fact, all products aside from their mattress are all-vegan! Is it bedtime already?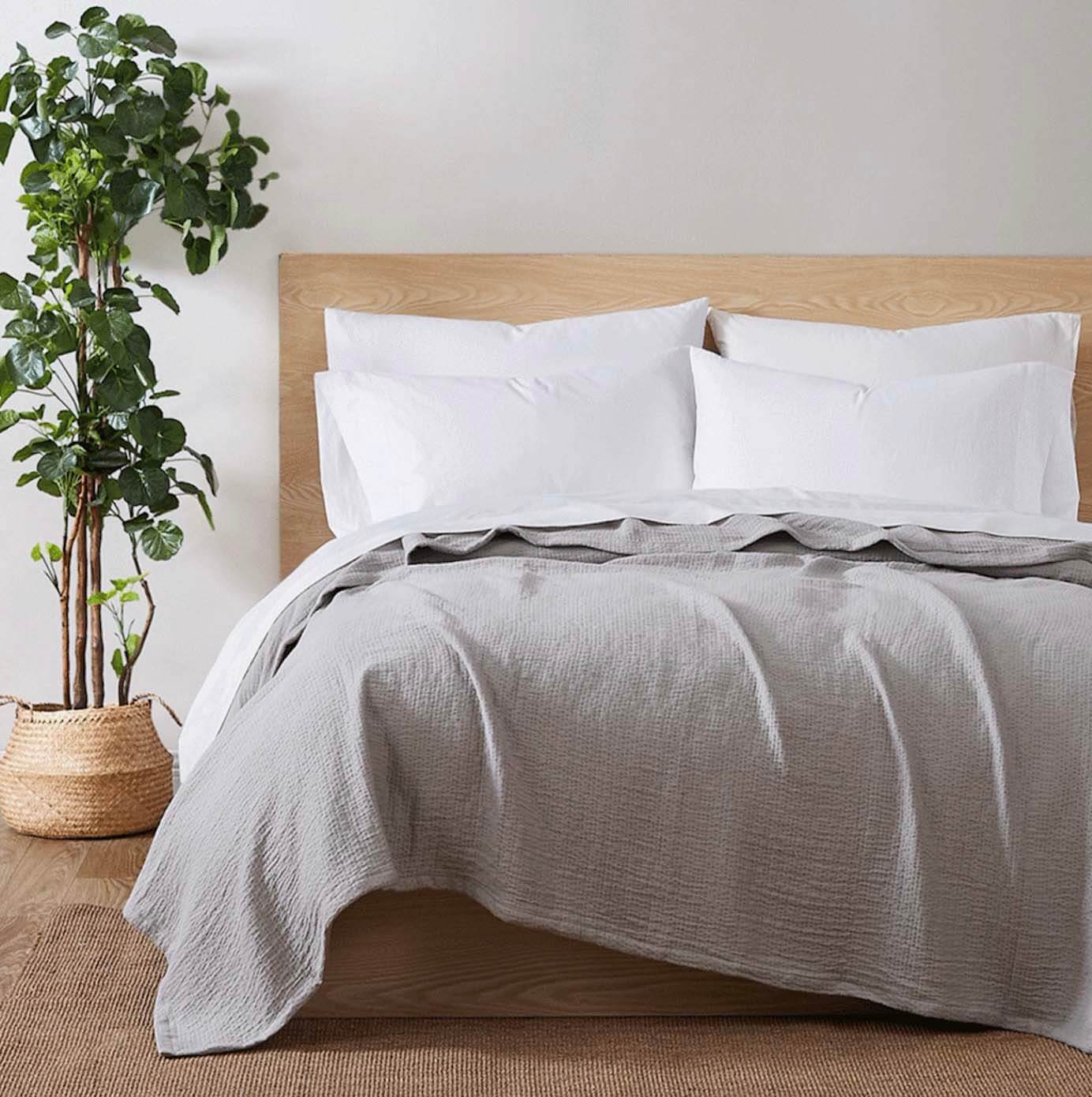 Do you have a hard time falling asleep at night? Whether you're experiencing Insomnia, restlessness, or anxiety, you should give Baloo's weighted blankets a try! Their Cool Cotton Weighted Blankets are designed to apply light pressure to your body which stimulates the effect of Deep Pressure Touch and encourages the release of melatonin in your body––basically, it feels like you're getting a big hug! Baloo crafts this product using premium, breathable cotton and lead-free glass microbeads that conform to your body while sleeping. Well, what are you waiting for? Order your blanket and get ready for sleepful nights!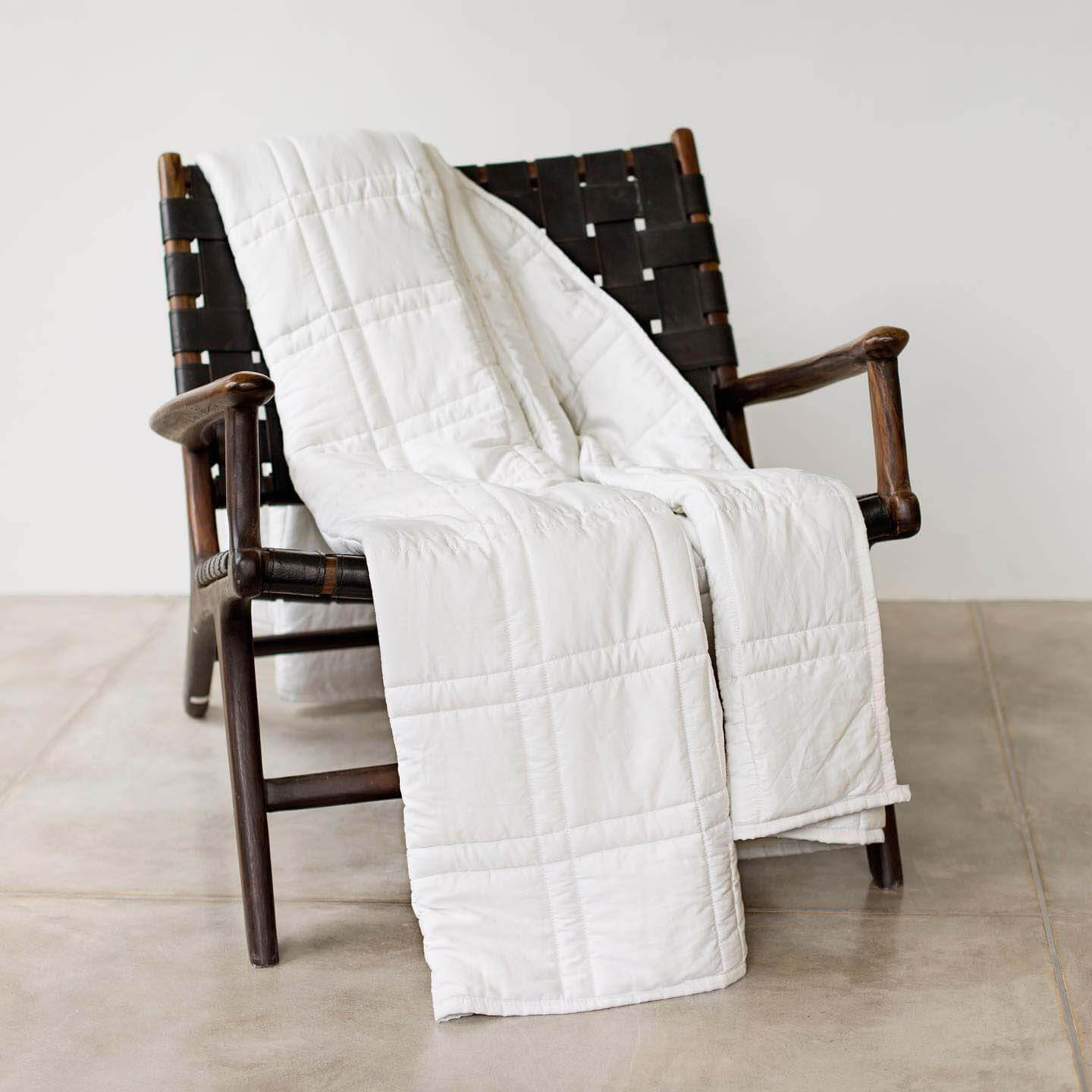 This next product doubles as a decorative throw blanket and a therapeutic sleeping aid! Bearaby's Tree Napper is a cozy chunky knit blanket that's made from organic cotton and tencel. When you order a blanket from Bearaby, you can take a quiz about your sleep patterns, size, and wellness goals to find your ideal blanket weight. This product is available in five trendy colors and is the perfect throw blanket to drape across the arm of your couch or the foot of your bed!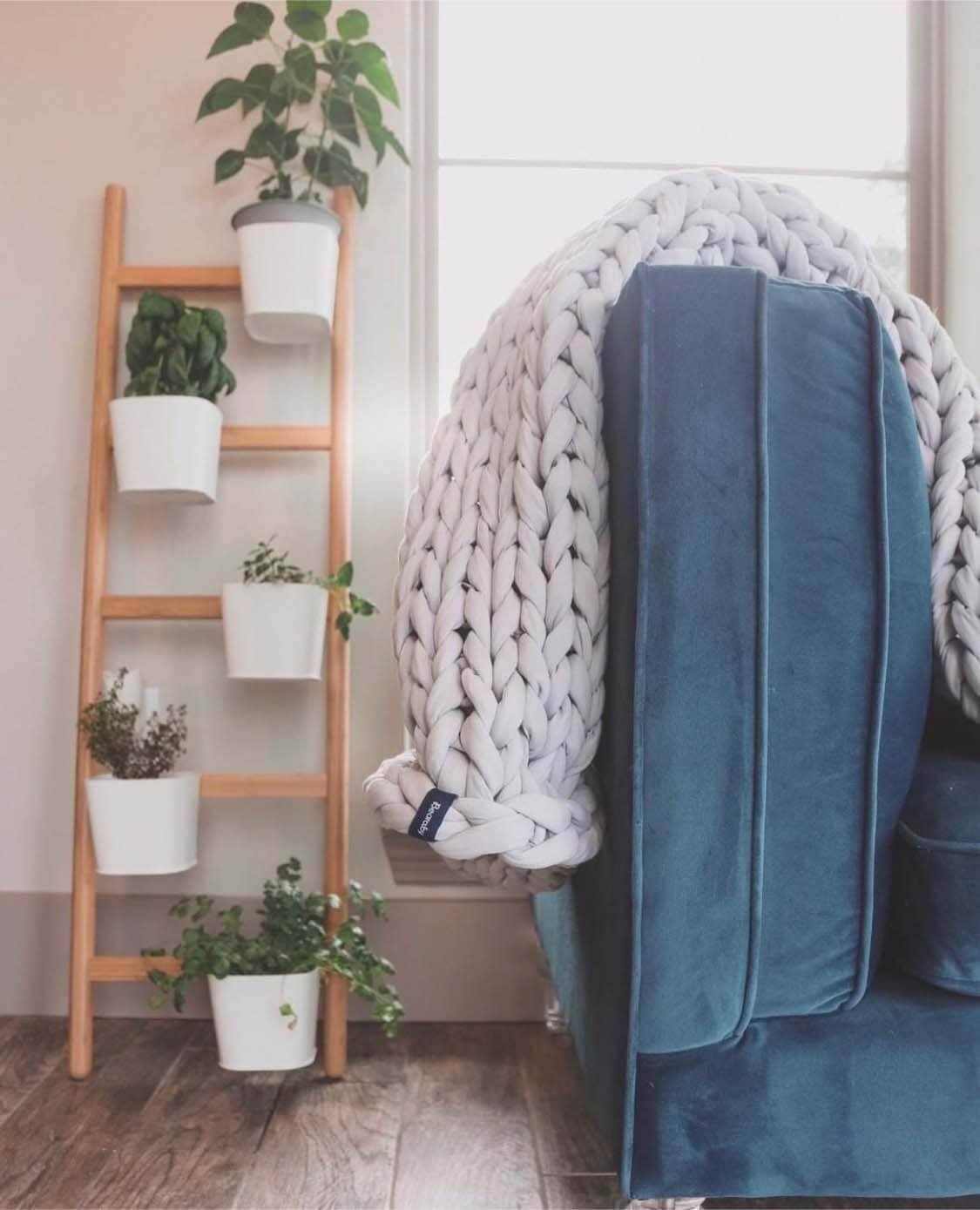 Photo credit: @tjcreativeagency on Instagram
The Bamboo Throw Blanket from this eco-conscious brand is serving us comfort, sustainability, and texture for days! The blanket is composed of 100% viscose derived from organically-grown bamboo and is available in a variety of colors, including a stunning green sage. Simply Organic Bamboo also offers plenty of other cruelty-free and earth-forward bedding options to dress your whole mattress including sheet sets, pillowcases, duvets, and comforters. Ready to snuggle up with these bamboo fabrics? Visit SimplyOrganicBamboo.com and use promo code VEGOUT for 25% off your order!
Allie Mitchell
@alliemitch
Allie is a writer, musical theatre performer, yoga instructor, and walking vegan restaurant directory. On any given day, you can catch her making tofu scramble, scouring Trader Joe's for new plant-based products, or watching The Lizzie McGuire Movie! Visit her website at alexandrammitchell.com.
Articles by Allie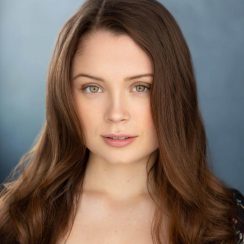 More from VegOut
Subscribe Now
Get the premier vegan food and lifestyle magazine delivered to your door (or inbox!)
Order the magazine!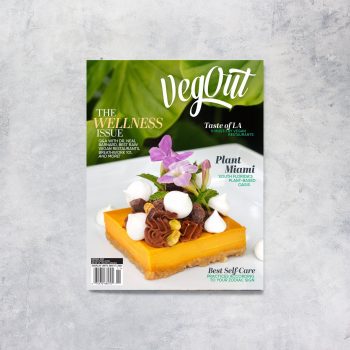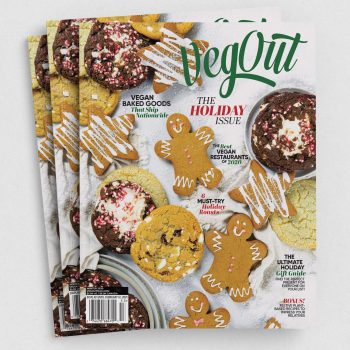 Navigation