It's every vegan's favorite month of the year!
The artisan ice cream shop Salt & Straw always keeps two or three vegan flavors in rotation year-round. But in honor of Veganuary, the scoop shop rolls out a Vegandulgence series every January that features five limited-edition vegan ice cream flavors. If you've checked your calendar, you know it's that time of year again! Salt & Straw's Vegandulgence menu launches tomorrow and all of the flavors are inspired by cupcakes. How epic is that?
Cupcakes by Vegandulgence at Salt & Straw
This year's series, titled Cupcakes by Vegandulgence, showcases five cupcake flavors in vegan ice cream form. Here they are!
Carrot Cake with Cream Cheese Frosting: Pieces of moist vegan spice cake with walnuts, finely shredded carrots, and cream cheese frosting are mixed into a bright orange carrot juice ice cream to make this classic flavor.
Petunia's Rainbow Sprinkled Babycakes: This flavor was inspired by the "babycakes" or mini birthday cupcakes from the all-vegan Petunia's Bakery in Portland (where Salt & Straw was founded). It features a classic vanilla oat-based ice cream, Petunia's Bakery's babycakes, colorful vegan sprinkles, and strawberry jam.
Coconut Cream Pie Cupcake with Lemon Curd: Composed of coconut ice cream, lemon curd, and vegan toasted coconut cupcakes, this drool-worthy frozen treat is not to be missed.
Chocolate Hazelnut Cupcake: Did you know Oregon produces about 99% of the nation's hazelnuts? To pay homage to their home state, Salt & Straw created this flavor with hazelnuts from the local family-owned farm, Freddy Guys. The hazelnuts are roasted and stuffed in a decadent chocolate ice cream with pieces of vegan vanilla cupcakes and chocolate ganache frosting.
Renewal Mill's Chocolate Salted Caramel Cupcake: Renewal Mill is a vegan food brand that upcycles superfood flours and baking mixes to help fight food waste. The Salt & Straw team takes Renewal Mill's Dark Chocolate Brownie Mix and turns it into fudgy vegan cupcakes that they top in a salted caramel frosting and mix into a fleur de sel-spiked oat ice cream base.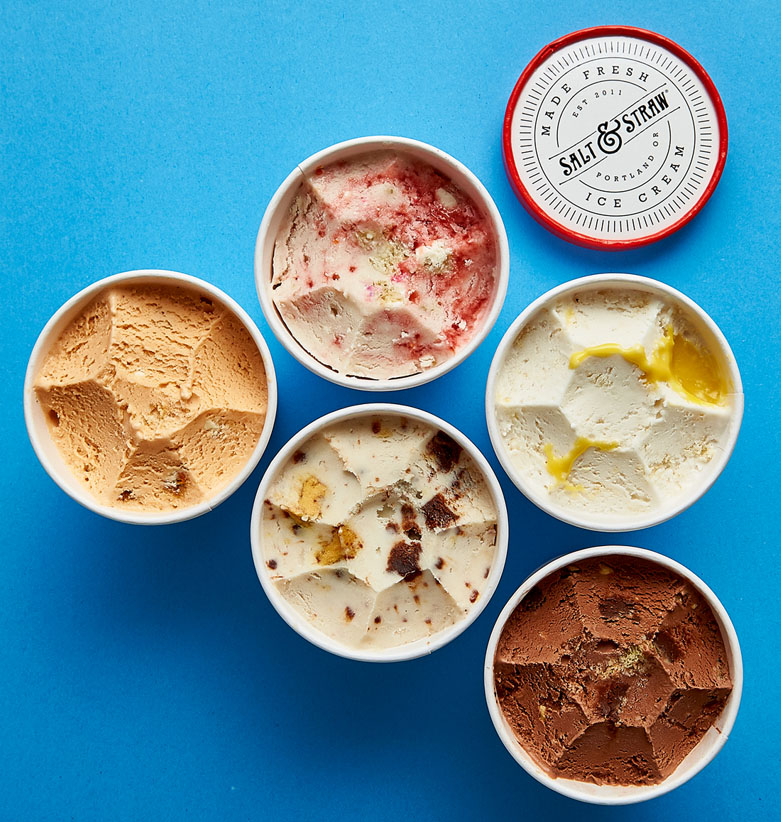 Vegan Flavors at Salt & Straw
Salt & Straw co-founder Tyler Malek said the flavors in this new series "are not delicious for being vegan, but because they are vegan," with the plant-based ingredients offering a new canvas to lean into. These five vegan flavors at Salt & Straw will be available online and at all scoop shops for the month of January. Be sure to stop by before the month is over and stock up on a few pints to enjoy throughout the rest of the year!
For more information visit saltandstraw.com.