The vegan ground meat substitute is made with just a few simple ingredients!
The award-winning tofu and plant-based meat brand Hodo launches minimally processed vegan Adobo Mexican Crumbles at Whole Foods retailers nationwide this fall. The perfectly seasoned ground beef alternative will be one of the cleanest vegan meat substitutes to hit the shelves of retail stores.
Vegan Meat Alternatives From Organic, Whole Ingredients
Have you ever eaten the Sofritas from Chipotle? Or dug into a Sweetgreen salad topped in tofu? Then you're already familiar with Hodo's delicious plant-based protein! The plant-powered brand prides itself on producing vegan meat alternatives from organic, whole ingredients—and these new Adobo Mexican Crumbles align with the rest of Hodo's product portfolio.
Hodo's New Adobo Mexican Crumbles
While it's nice that all of these innovative plant-based meat options are popping up left and right, sometimes the ingredient list can cause hesitation. When those ingredients are hard to pronounce, most people assume the foods are overly processed—and more often than not, that assumption is correct. That's why we're excited about Hodo's new Adobo Mexican Crumbles!
The ground meat doppelganger is composed of a few clean ingredients, leading with Hodo's world-famous organic tofu in the number one slot. Each serving boasts 13g of protein and 182g of calcium, making this product one of the simplest yet most nutrient-dense vegan meats on the market. And it actually tastes meaty!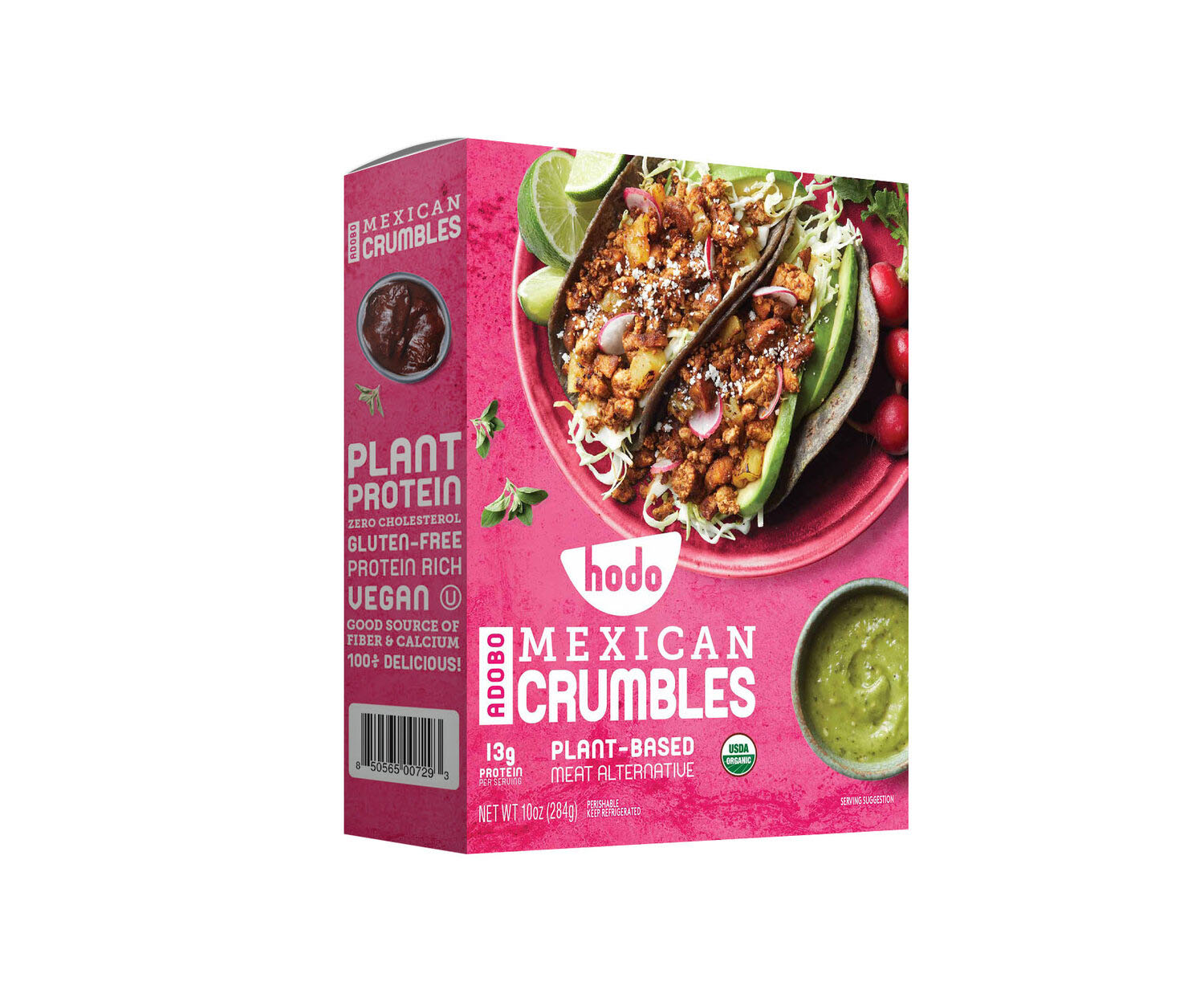 Quick and Easy Vegan Substitute for Ground Meat
The Adobo Mexican Crumbles can be used as a quick and easy vegan substitute for ground meat in any recipe. From tacos, nachos, and sopes to chili and pizza, you can get creative with these flavorful morsels of goodness. Seasoned with cumin, oregano, garlic, onion, tomato, lime juice, and dried ancho and chipotle chili, Hodo's crumbles are sure to turn any good dish into a great dish.
"As demand for plant-based options explodes, post-pandemic consumers expect more. They are looking for healthier, absolutely delicious plant-based foods made with simple ingredients that boost the immune system. Hodo products continue to deliver what consumers value. Adobo Mexican Crumbles are protein and nutrient-rich, convenient and true to Hodo's organic, clean, and delicious ethos," stated Minh Tsai, founder and CEO of Hodo.
Hodo's new Adobo Mexican Crumbles are set to launch this fall at Whole Foods retailers across the country. For more information, visit HodoFoods.com.
Photo credit: Hodo Foods