The for-good, for-profit restaurant serves affordable vegan options and donates a portion of its proceeds to refugees.
Falafel Inc. is a Washington, D.C.-based restaurant that has quickly gained popularity for serving fresh Mediterranean food at affordable prices for a good cause! This month, the falafel chain opened a location in Westwood with $3 pita sandwiches, $3 fries, and $4 bowls. No, this isn't a drill or clickbait—those really are the prices!
Ahmad Ashkar of Falafel Inc.
The fast-casual restaurant was founded in 2017 by entrepreneur Ahmad Ashkar. Ashkar chose to highlight his Palestinian mother's recipes, centering the menu around falafel—the primary dish consumed by Middle Eastern refugees, whom he wanted to support financially. Ashkar also saw a need for affordable plant-based meals—especially for college students.
Ashkar purchased a restaurant in Washington, D.C. and set out to make the cheapest falafel sandwich possible. He was hoping to serve $2 sandwiches but determined $3 was the lowest sustainable price. Then, through the World Food Programme, he found it possible to donate one day's worth of food to a refugee for every $10 spent.
$3 Pita Sandwiches in Los Angeles
After a successful opening in D.C. and other locations, the Falafel Inc. team launched their $3 pita sandwich business in Los Angeles. They chose a strategic spot near a college campus (UCLA in Westwood) to provide college students with access to affordable, nutritious food.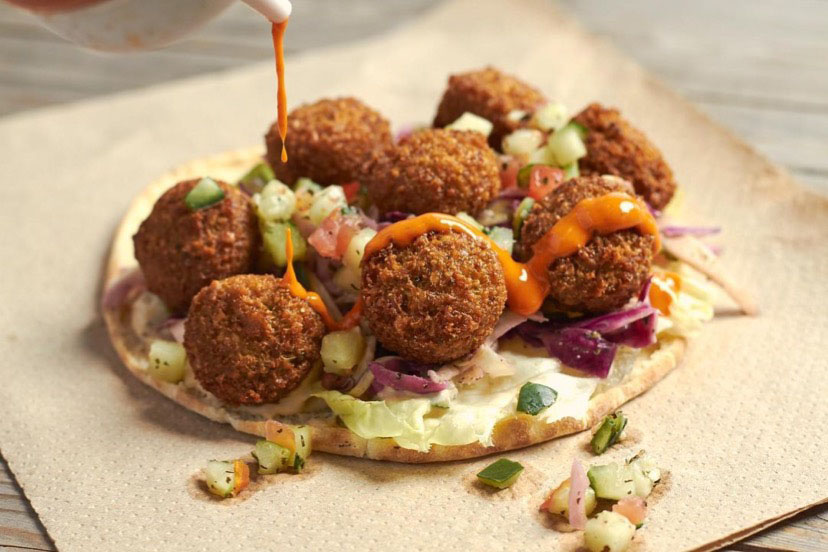 The Falafel Inc. Menu
The Falafel Inc. menu features three main dishes—a pita sandwich, a falafel bowl, and za'atar fries. Everything on the menu is all-natural, fresh, and sourced locally. The entire menu is vegan except for the white sauce, habibi sauce, and Invisible sauce, which contain animal ingredients.
The pita sandwich comes loaded with crispy falafel, lettuce, a red cabbage pali salad, tabouli, tahini, and red sauce. The falafel bowl features falafel, greens, red cabbage, tabouli, tomato, cucumber, pickles, za'atar chips, and special sauce. The za'atar fries are packed with a salty and savory umami flavor.
If you're ready to get your grub on, head over to Falafel Inc.'s first Los Angeles location at 933 Broxton Ave, Los Angeles, CA 90024. For more information, visit the Falafel Inc. website or follow them on Instagram.