After popping up for several months, Secret Vegan Pizza has found a permanent spot to serve plant-based slices to the masses!
Can you keep a secret? A scratch-made vegan pizza spot just opened in Santa Ana! Okay, the "secret" part was a bit of an exaggeration, because we wouldn't be publishing an article if something was truly confidential—but, Secret Vegan Pizza is still in its soft opening phase. Be sure to stop by if you want to be one of the first to preview what's to come!
Vegan Pizzas Made Entirely In-House
Secret Vegan Pizza was founded by the creators of Munchies Vegan Diner and Naughty Panda, led by food entrepreneur Skyler Tanksley. Since launching as a pop-up in August, Secret Vegan Pizza has made waves in the foodie scene with delicious vegan pizzas made entirely in-house. "We serve 100% scratch-made pizza … and when we mean scratch-made we mean the dough, cheese, sauce, and all proteins," shared Tanksley.
Orange County's First All-Vegan Slice Shop
After perfecting their recipes and popping up around Los Angeles and Orange County, Secret Vegan Pizza has gained quite the fandom. With these hot slices in high demand, the pizza-making team sought out a way to expand their service—with a storefront! This week, Secret Vegan Pizza opened at 4th Street Market in Santa Ana, marking Orange County's first all-vegan slice shop. The storefront will be familiar to most vegans as it replaced Tanksley's collaborative vegan sushi concept, Naughty Panda (which now operates in Pasadena and at Munchies Vegan Diner in Santa Ana).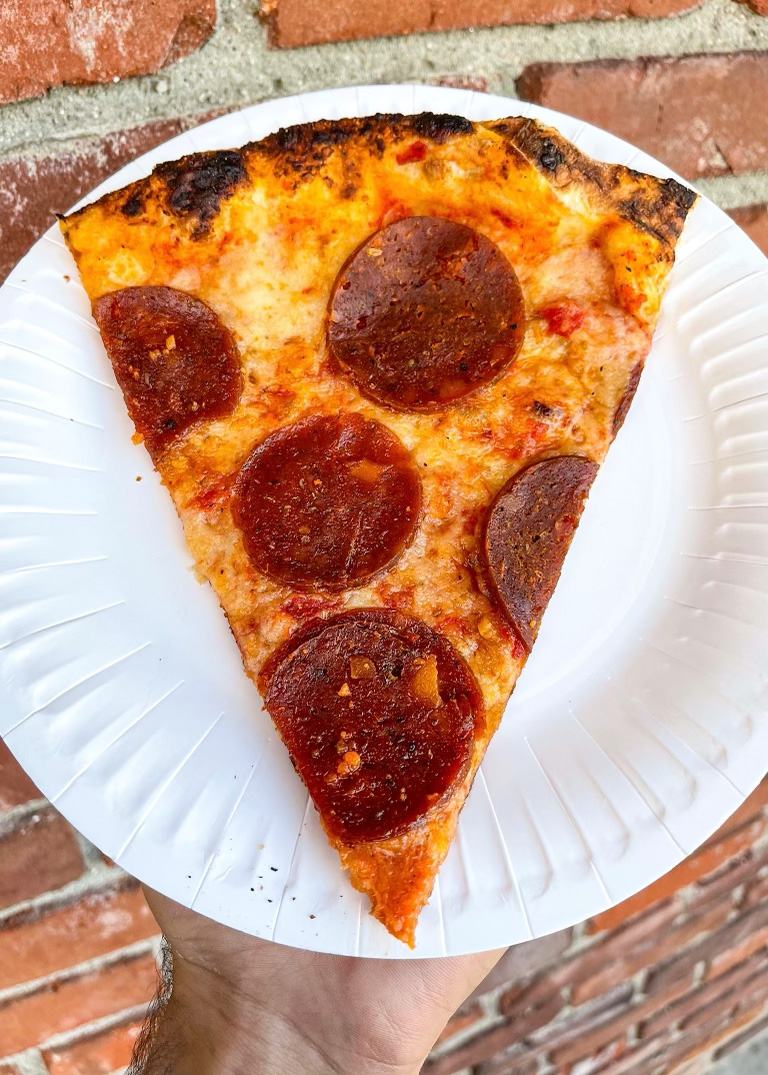 The Menu at Secret Vegan Pizza
The menu at Secret Vegan Pizza features a wide range of flavors like cheese, pepperoni, pineapple bacon, and white garlic shiitake. The best part is, you can order by the slice or get a full 18" pie. Whichever option you choose, we can guarantee you'll fall in love with the ooey, gooey cashew mozzarella featured on each pizza variety.
Secret Vegan Pizza is currently in its soft opening phase. Customers can stop by from 12-9pm Wednesday through Sunday for dine-in or pickup. The grand opening is set for January 1, 2022, which is when Secret Vegan Pizza hopes to operate 7 days a week.
For more information, follow @secretveganpizza on Instagram.