First launched in 2009, International Sushi Day was created for the sole purpose of encouraging everyone worldwide to eat and appreciate sushi more. In Los Angeles, there are plenty of places to celebrate this national day the vegan way—from all-vegan Japanese restaurants to sushi spots with separate vegan menus. Here are 10 of our favorite spots.
RELATED: Black-Owned Vegan Restaurants to Support in Los Angeles
---
Join VegUP and Using My Privilege to take a stand against racism. Click here to learn more and donate now.
Blue Bird Sushi
Long Beach
Blue Bird is probably the most vegan-friendly non-vegan restaurant when it comes to vegan sushi in LA. They have a full vegan menu, which offers over 10 different sushi rolls, including their Strawberry Frenzy (veggie tempura, topped with inari, strawberry, and light spicy sauce), Red Dragon (assorted vegetables topped with vegan tuna, marinated kelp, and light spicy sauce), and Tofu Lover rolls (assorted vegetables wrapped with avocado and topped with fried tofu and vegan creamy sauce).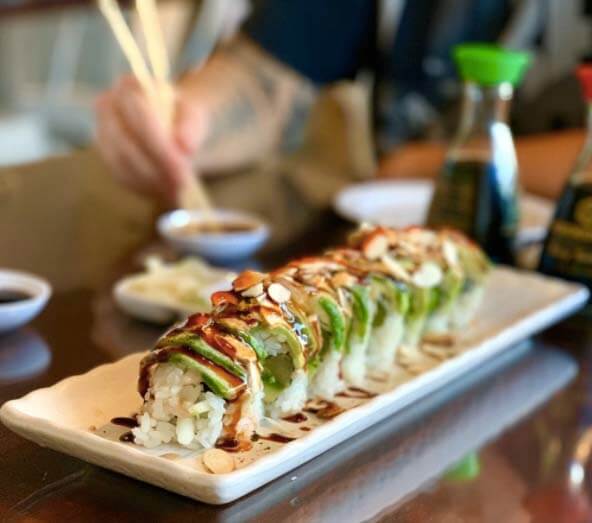 Katsuya
Multiple Locations
This Japanese restaurant serves a few different veggie rolls on the menu that are vegan-friendly. These include their Cucumber Roll, Avocado Roll, and Vegetable Roll–each of which are available in a hand roll or cut roll. Occasionally, they feature specials with a couple clearly-labeled vegan options. In the past, this has included a vegan rainbow roll.
Kenshō Vegan Sushi
Westminster
As an all-vegan sushi restaurant, Kensho supplies a ton of options. Their selection includes basic go-to vegan rolls, like an avocado roll and a cucumber roll, along with several other unique rolls, such as their Shrimp-less Hand Roll, Crunchy Cali Roll, Jalapeño Popper Roll, Sweet P Roll, and Caterpillar Roll—plus plenty more.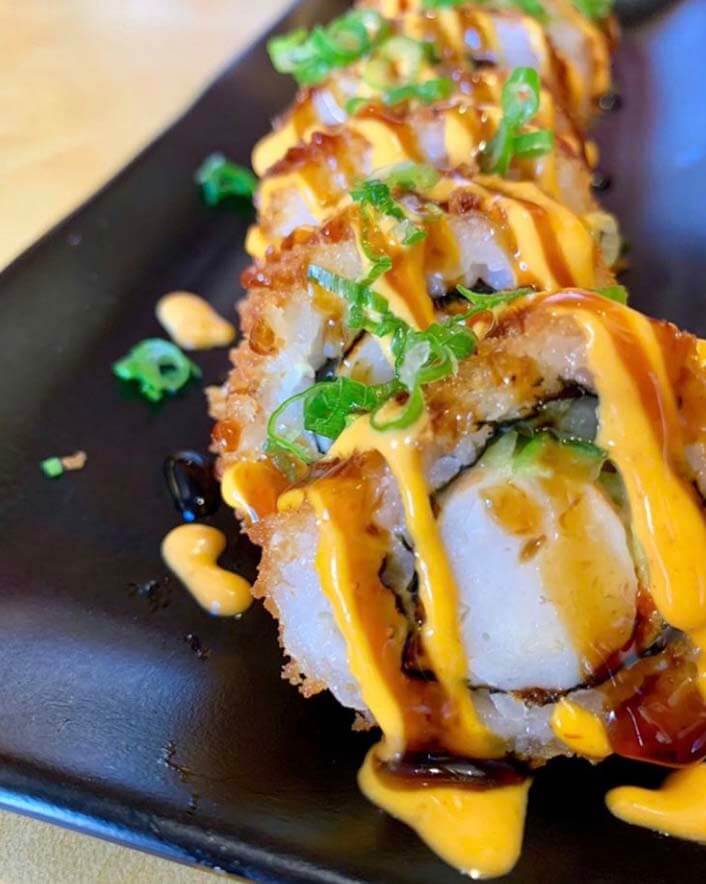 Kombu Sushi
Silver Lake
This sushi restaurant's menu brings traditional Japanese flavors with a modern twist. They boast a large vegetarian roll section of their menu, which is actually vegan. This selection contains nine rolls, including a Hippy Roll (shiitake mushrooms, inari, cucumber, gobo, and scallions), Veggie Crunch Roll (assorted vegetable tempura roll), and Vruit Roll (avocado, asparagus, cucumber, cilantro, gobo, mango, and serrano pepper).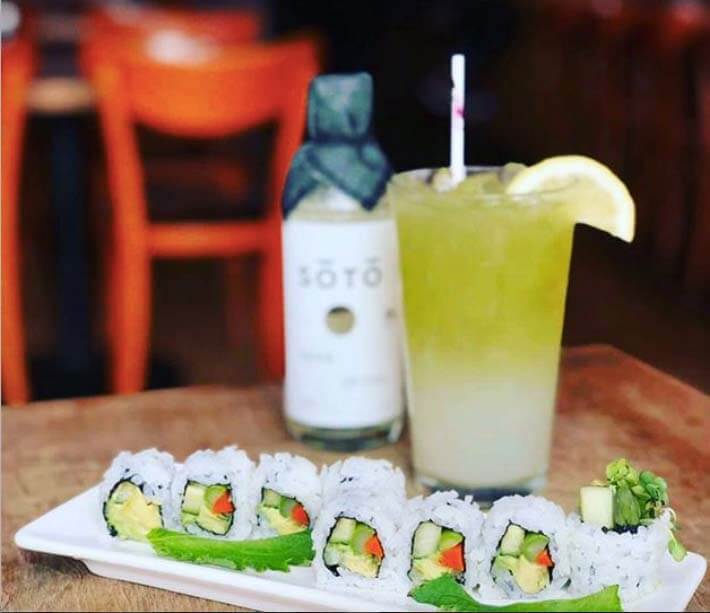 Krispy Rice
Delivery
As the brainchild of Katsuya, delivery-only Krispy Rice brings the restaurant dining experience to the convenience and comfort of your own home, packed in Instagrammable bento containers. The brand's vegan sushi options are under their vegetarian section, and include a Truffle Avocado Roll, Avocado Roll, Cucumber Roll, Truffle Avocado Handroll, and Truffle Avocado Krispy Rice.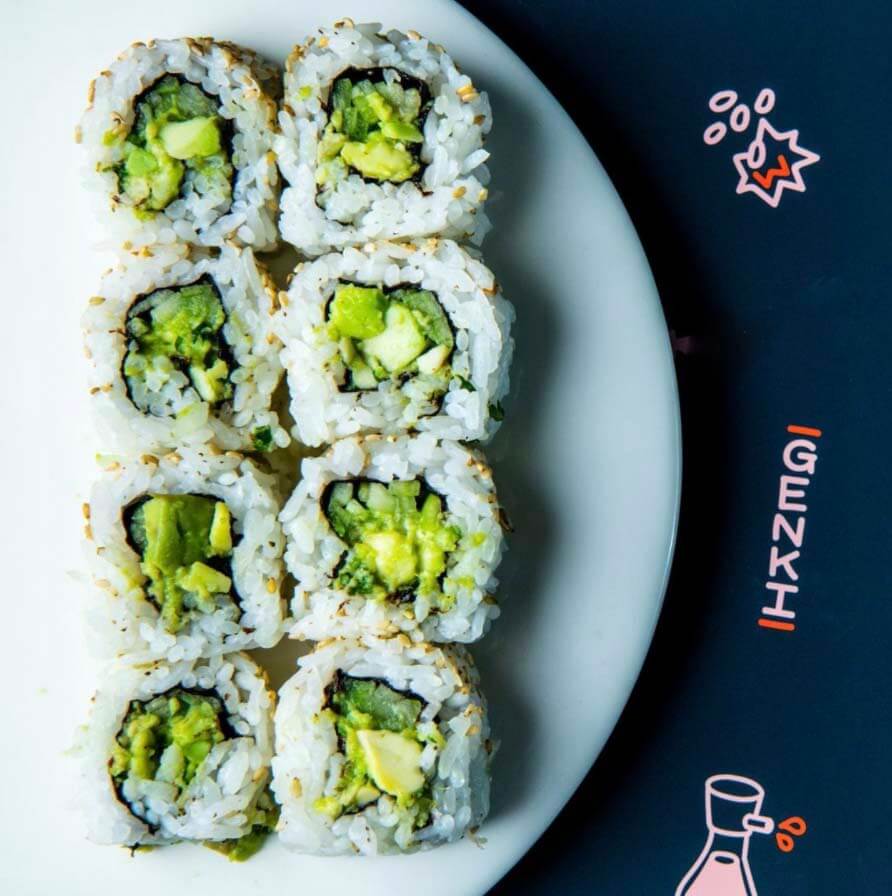 L.O.V.E.
West Hollywood
The sister restaurant of vegan Thai spot H.O.P.E. in Studio City, vegan L.O.V.E. also specializes in vegan Thai food, plus Japanese. Their menu features seven sushi rolls, including their Crispy Rice Roll, Love – Pillar Roll (marinated shitake mushrooms, cucumber, avocado roll topped with shiitake teriyaki sauce), Tempura Roll, and Mango Avocado Roll.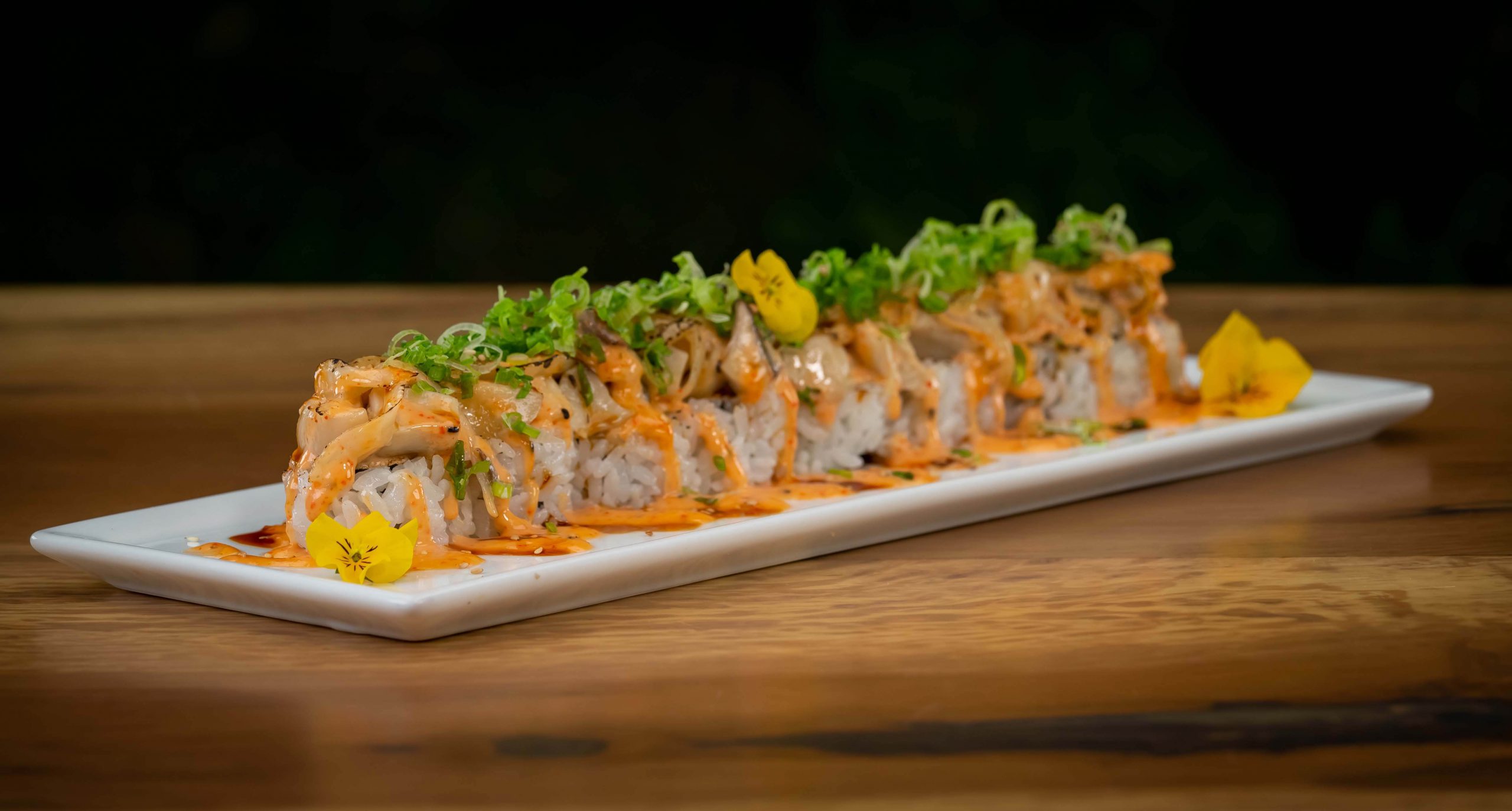 My Vegan Panda x Naughty Boy Sushi
Santa Ana
Naughty Panda started off as a special spin-off from vegan diner Munchies. Soon enough, the Asian-fusion pop-up became a brick-and-mortar vegan eatery, and it took on the name Naughty Panda—with My Vegan Panda referring to items like their bowls, sandwiches, appetizers, etc., and Naughty Boy Sushi referring to their fresh-crafted sushi, rolled in-house. On their menu, there are about 10 different, extravagant sushi rolls. This includes their Naruto Roll, Fried Wizard King, Basic Cali Roll, Charmander Roll, and more.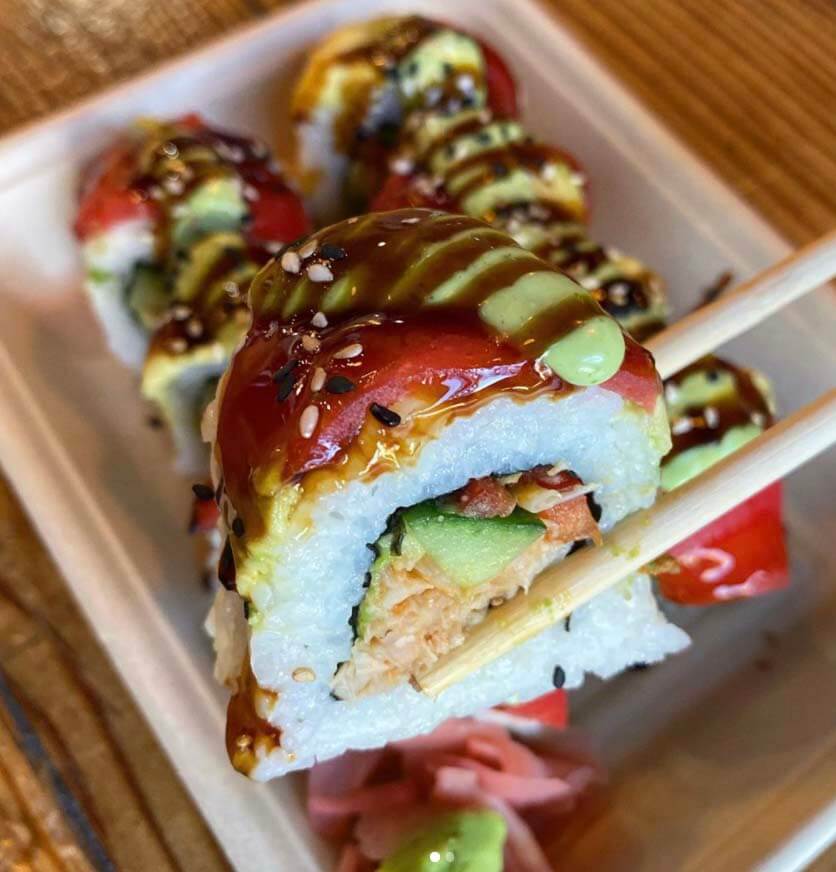 Shojin
Culver City and DTLA
This all-vegan and 100% gluten-free sushi restaurant—which also caters to most other food allergies—goes all out with their options. Just a few of their sushi varieties include their Crunchy Tiger Roll, Shojin-In-N-Out Hand Roll, and Spicy Baked Scallop Roll. Looking for variety? They make their "Sushi Lover" sets, which each come with about four or five different sushi rolls, along with homemade pickled ginger. Additionally, they offer their Shojin Medley sets, which come with two appetizers, one hand roll, and one sushi roll. At lunchtime, they serve bento boxes, which are similar to the Shojin Medley sets.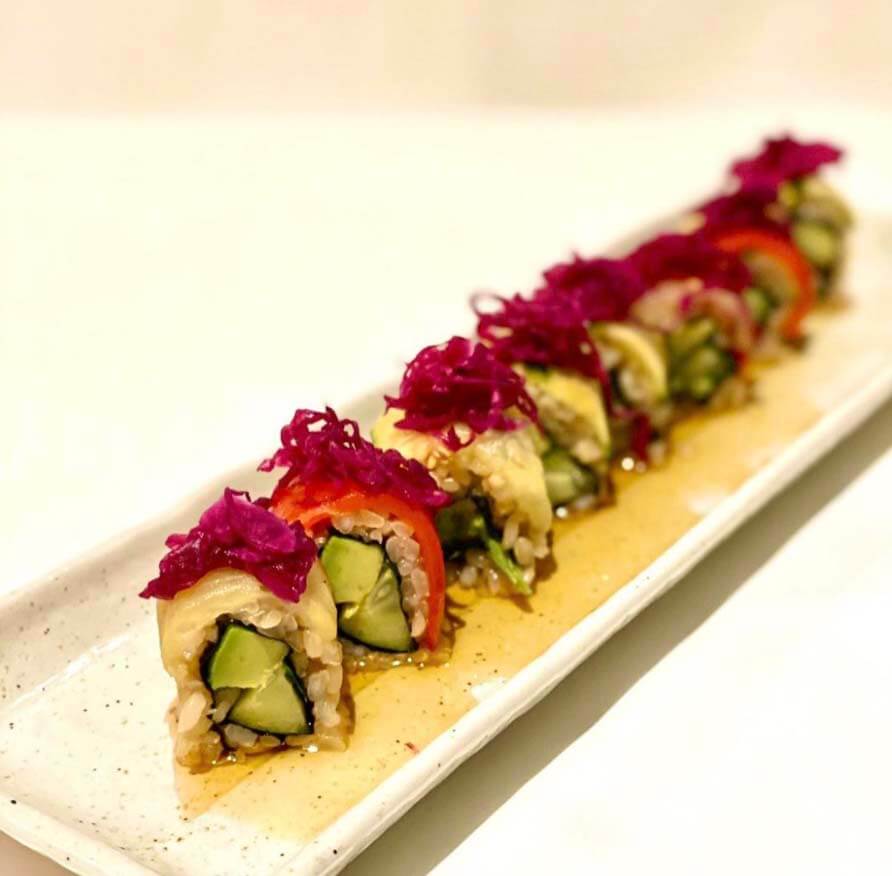 Sushi Enya
DTLA, Pasadena, and Marina del Rey
This Japanese sushi restaurant has a few vegan options on their menu. Along with a basic avocado roll and basic cucumber, they make two rolls that are clearly-labeled as vegan—their Green Man roll and Bell Man roll. Sushi Enya's Green Man roll consists of shiso leaf, gobo, cucumber, avocado, edamame, and vegan mayo. Their Bell Man roll includes the ingredients asparagus, bell pepper, cucumber, avocado, and olive oil.
Wild Living Foods
DTLA
As a raw plant-based eatery, all of the rolls at Wild Living are a bit different than you'd expect. For instance, their Avo Roll and Mango Roll are made with cauliflower rice instead of the usual white rice. They also make unique creations, such as their Dynamite Roll, which features cashew cheese, red cabbage, tomato, ginger, red onion, coconut jerky, ranch, hemp oil, and flax oil.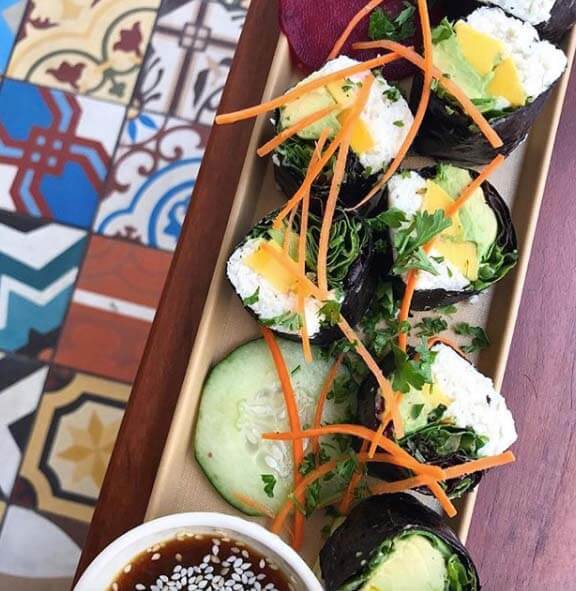 Feature image: My Vegan Panda x Naughty Boy Sushi "‹"‹"‹"‹"‹"‹"‹