Enjoy an intimate evening in NYC filled with romance, love, and delicious vegan eats!
Whether your date is obsessed with crêpes or can't get enough of plant-based pizza, you're sure to find the perfect spot for Valentine's Day dinner at one of these vegan restaurants. Dine in at any of the restaurants for a romantic candlelit experience, or take your Valentine's Day dinner to go and enjoy a delicious meal at home with your loved one. Read on to find out where you can get vegan Valentine's Day dinner in NYC!
Manhattan
Enjoy a pleasant conversation with your valentine over a cheesy vegan pie from Double Zero, a plant-based pizza restaurant brought to you by esteemed chef Matthew Kenney. The eatery offers classics such as the margherita (cashew mozzarella, tomato, and basil) and the artichoke (cashew cream, diced tomatoes, spinach, and caramelized onion), as well as unique pizza creations like the squash blossom (rice mozzarella, blistered cherry tomatoes, and aged balsamic). End your Valentine's Day meal with a slice of creamy vegan cheesecake or rich chocolate cake—swoon!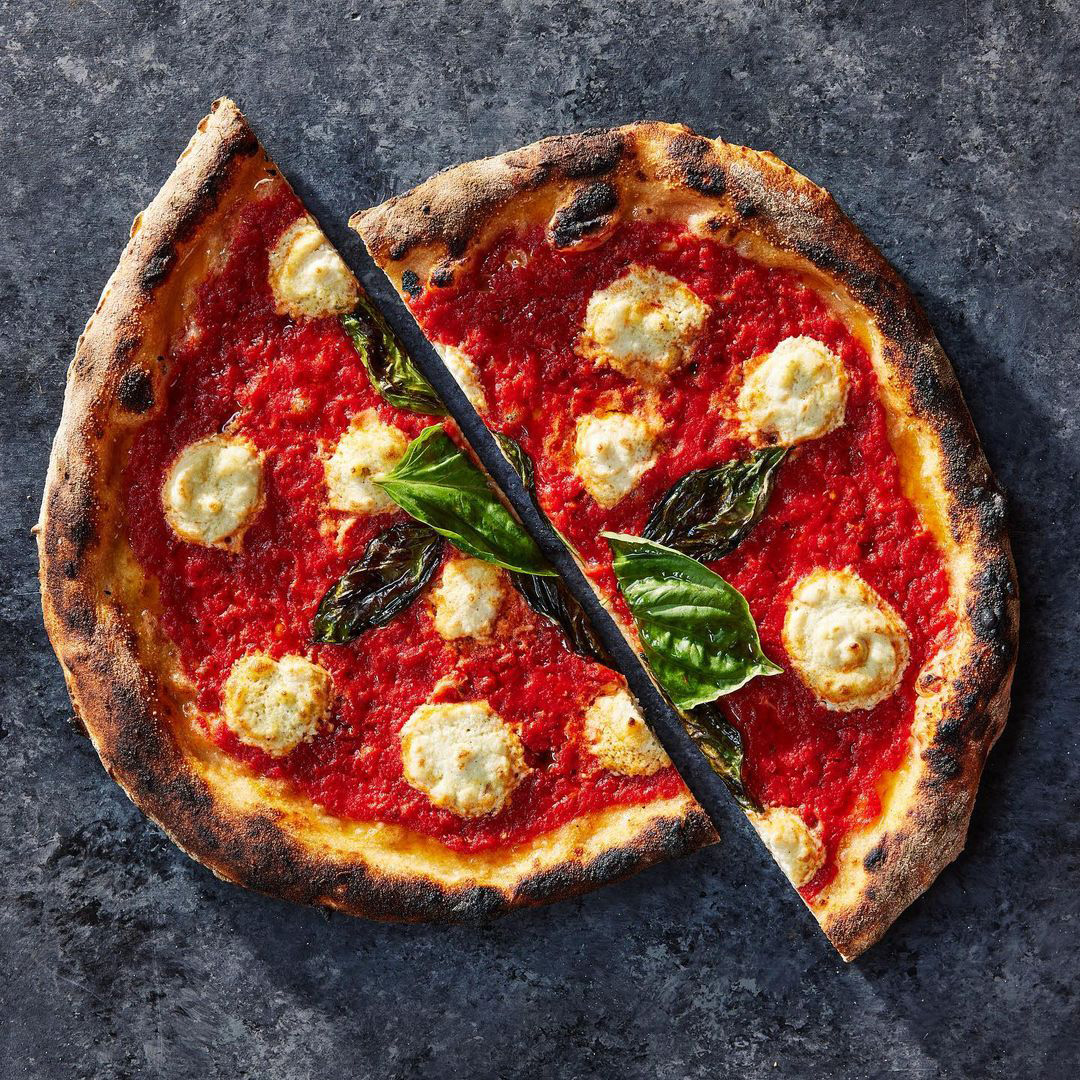 Manhattan
This East Village tapas and wine bar offers a variety of vegan small plates served in a cheerful atmosphere ideal for Valentine's Day date night. Enjoy dishes such as Buffalo maitake buns, truffle mac 'n' cheese, chardonnay & artichoke fondue, and more. Speaking of fondue, the chocolate fondue is an excellent choice for dessert and comes with an assortment of fruit, graham crackers, marshmallows, and chocolate for dipping purposes. We also recommend trying the pink sangria, which combines rosé wine, Cocchi Rosa Americana (aperitif), lychee, raspberry, and rosewater.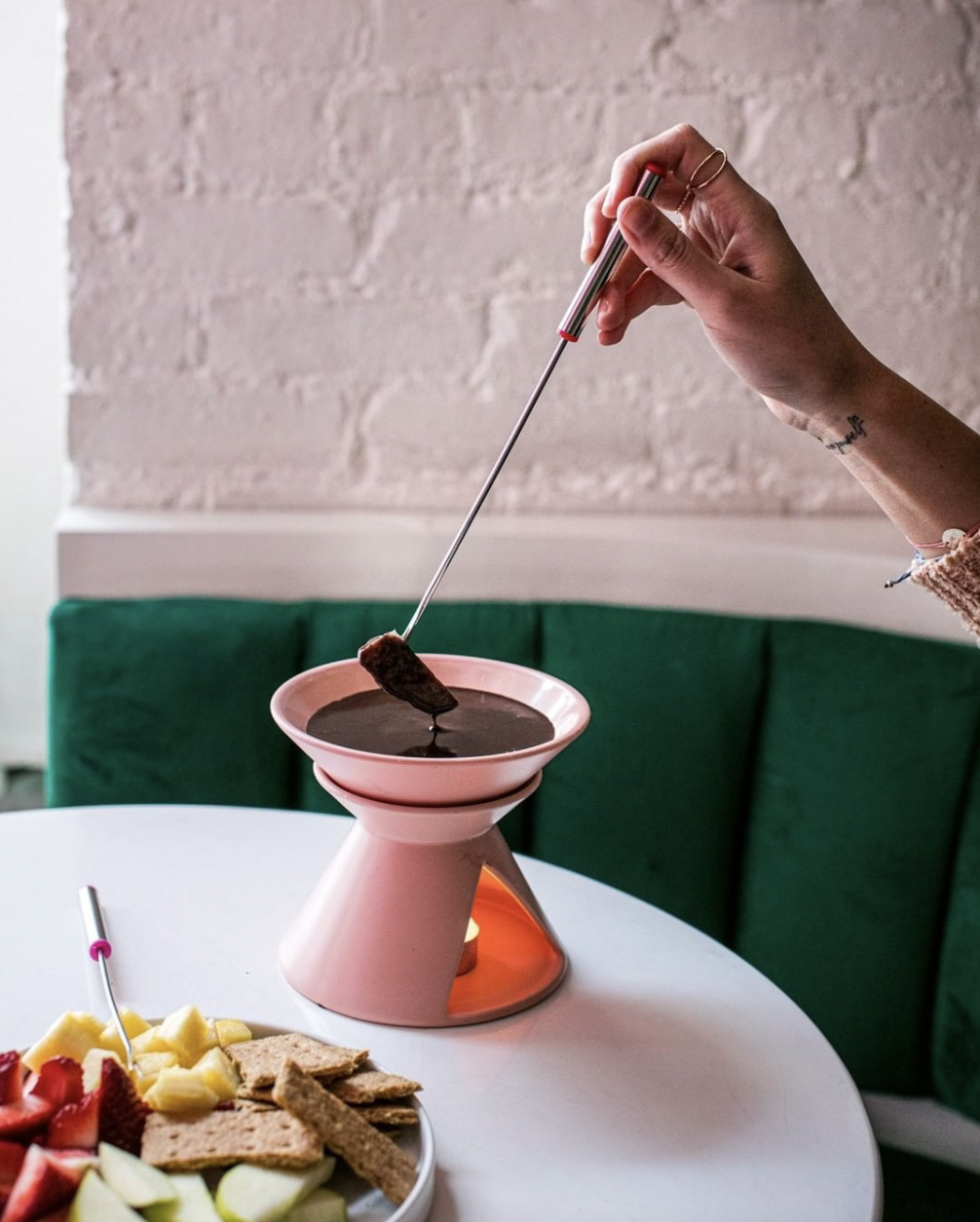 Photo credit: @ericmedsker on Instagram
Brooklyn
Love is in the air at this Brooklyn staple, which is known for its romantic ambience and beautifully plated vegan eats. Modern Love will offer a special Valentine's Day menu from February 13-14 that will satisfy you and your sweetie. The Valentine's offerings are $60 per person and include aranicini with cashew mozzarella, pesto, and greens, porcini bisque with crispy mushrooms, truffle cream, and fresh herbs, chick'n cacciatore with cauliflower cream mashed potatoes, grilled broccolini, basil, and yuba, and raspberry white chocolate cheesecake for dessert. A glass of wine or a mocktail is included with each meal.
Multiple Locations
Make your sweetheart feel like they're vacationing in Cabo at Jajaja's Plantas Mexicana. The all-vegan eatery offers heated outdoor seating, colorful vegan dishes, and creative cocktails. Share a plate of beet and pumpkin empanadas while you sip a sangria spritz, or feast on enchiladas mole (shredded palm carnitas, coconut queso, guajillo, and sour cream served with Spanish rice) while you toast with a glass of coquito (spiced rum, coconut cream, and cinnamon). Finish your Valentine's Day dinner with a slice of raspberry cheesecake, or go for a plate of churritos dipped in coconut dulce de leche.
Photo credit: @eatenbysteph on Instagram
Manhattan
Whether your person is vegan or is new to the veggie scene, this Lower East Side staple will not disappoint. Dirt Candy offers a five-course tasting menu for $90 per person. Their new winter menu features caviar and potato pie, hand-pulled kale noodles, buche de mushroom mousse, delicata five spice riblets, and black garlic sticky toffee pudding with fennel sour cream sherbet. A wine pairing is also available for an extra $50 per person.
Manhattan
Enjoy an evening filled with pasta and romance at Sestina, brought to you by vegan chef Matthew Kenney. The restaurant's Valentine's Day menu includes forno roasted asparagus with saffron aioli, Calabrian chili pasta, micro basil, and pine nuts to start, as well as agnolotti pasta with winter truffles, asparagus, ricotta, truffle oil, and walnut pomegranate pesto as the main course. Sestina is also offering a strawberry cheesecake complete with chocolate ganache and spiced pistachio for dessert.
Manhattan
Impress your lover with a taste of France in the heart of the West Village at Délice & Sarrasin. The family-owned and operated restaurant specializes in authentic French cuisine, including crêpes and galettes. And the best part is, it's all vegan! Start off with the Plateau De Fromage (vegan cheese plate that combines cashew-based artisan cultured cheeses and comes served with bread), followed by the Tournedos Rossini (Impossible filet steak cooked in Frontignan sauce atop a light butter crouton, topped with foie gras and fresh black truffle). Be sure to peek at the dessert menu, which offers lavender-infused rice pudding, orange creme brulee, almond milk chocolate cake, and more.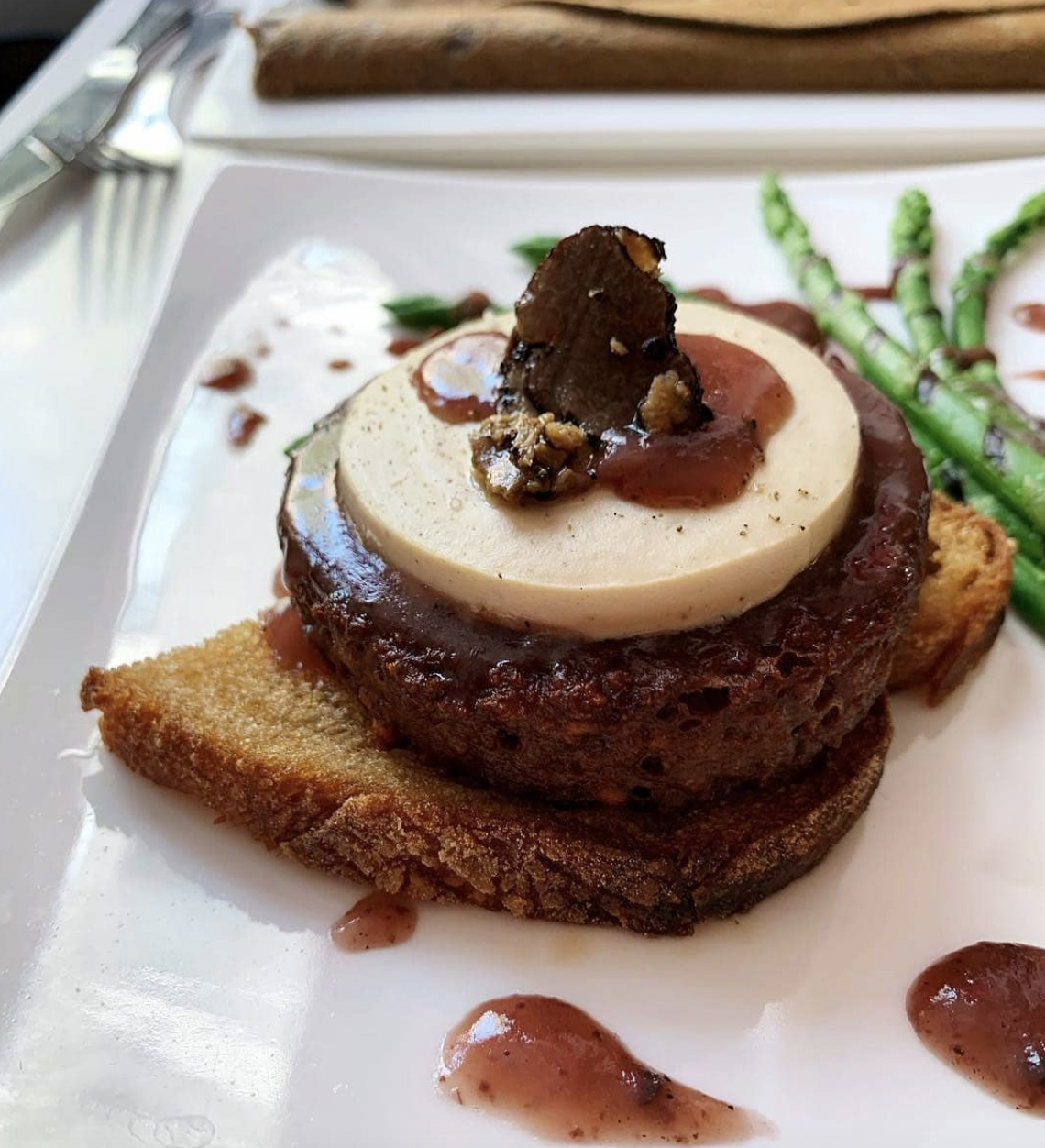 Photo credit: @jetsetfork on Instagram
Greenwich Village & Upper West Side, Manhattan
Treat your special someone to the unique, tasty bites served at Blossom. The restaurant is offering a prix fixe menu for Valentine's Day, which will feature starters like Caesar salad, trumpet mushroom scallops, pesto flatbread, wild mushroom ravioli, and sweet potato gnocchi. For the main course, guests will have the option to choose from pine nut crusted eggplant, seitan au poivre, cauliflower risotto, and pistachio-dusted tofu. Lastly, desserts will include a choice of apple strudel, tiramisu, or chocolate ganache, any of which pair perfectly with a glass of bubbly. Blossom is also offering a Valentine's Day prix fixe pickup option for those who prefer to spend the night at home.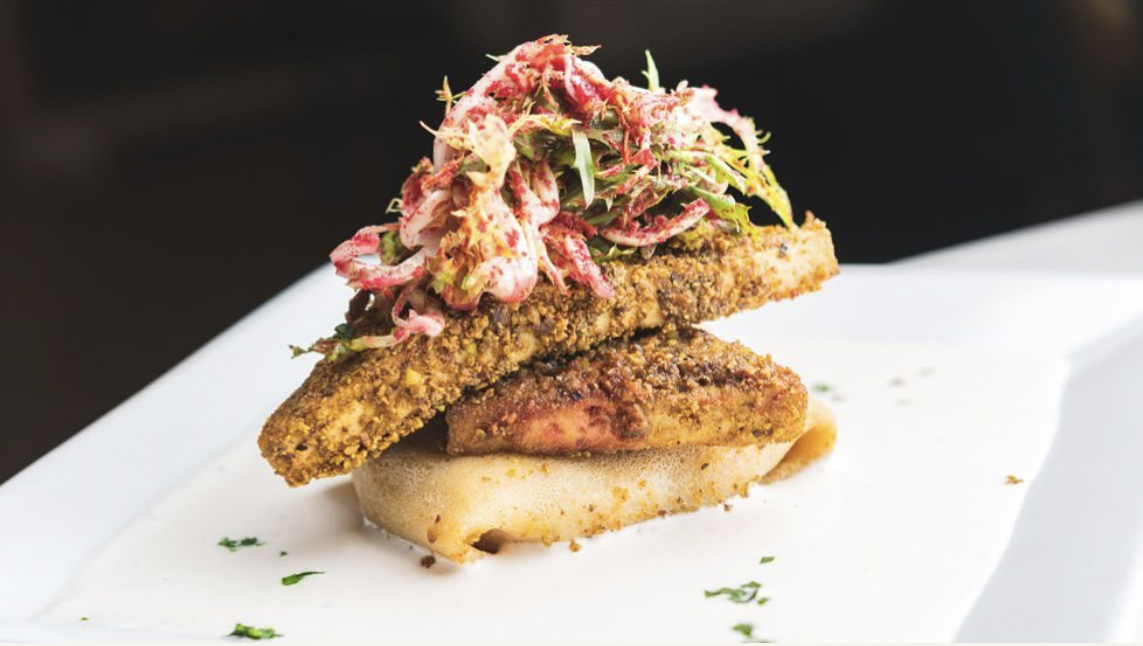 Photo courtesy of Blossom
Brooklyn
Known for their savory and sweet vegan crêpes, Little Choc Apothecary is the perfect spot for a romantic dinner with your sweetheart. Sip cocktails such as a ginger lemon spritz as you share a Newtella crêpe, or opt for a savory pizza crêpe filled with homemade marinara sauce, cashew cheese, fresh basil, hot pepper flakes, and your choice of any two additional toppings like mushrooms or roasted red peppers. Little Choc also offers two afternoon tea options—we recommend The Savory, which is perfect for sharing and comes with a pot of tea, a scone with homemade vegan clotted cream and jam, your choice of a sweet or savory crêpe, and two cookies.
Photo courtesy of Little Choc Apothecary
Manhattan
Celebrate all things love at Hangawi, a fine dining Korean restaurant that offers traditional dishes with a plant-based twist. The Valentine's prix fixe menu will begin with a choice of steam boat soup (variety of vegetables and mushrooms cooked in a special "boat" casserole) or Valentine's salad (organic quinoa, mixed greens, and paprika & todok fritters served with wasabi lemon dressing), followed by small plates like the appetizer platter (stuffed persimmon, watercress dumplings, vegan skewers, and maitake mushroom fritters). For the entrée, guests have the choice of stuffed tofu in miso ginger sauce or sautéed cauliflower & mixed vegetables with stone bowl rice and crispy lotus. Hangwai is also offering a special platter for dessert. The prix fixe dinner will be served on February 13-14 and is priced at $89 per person. A cocktail can also be added for an extra $16 per person.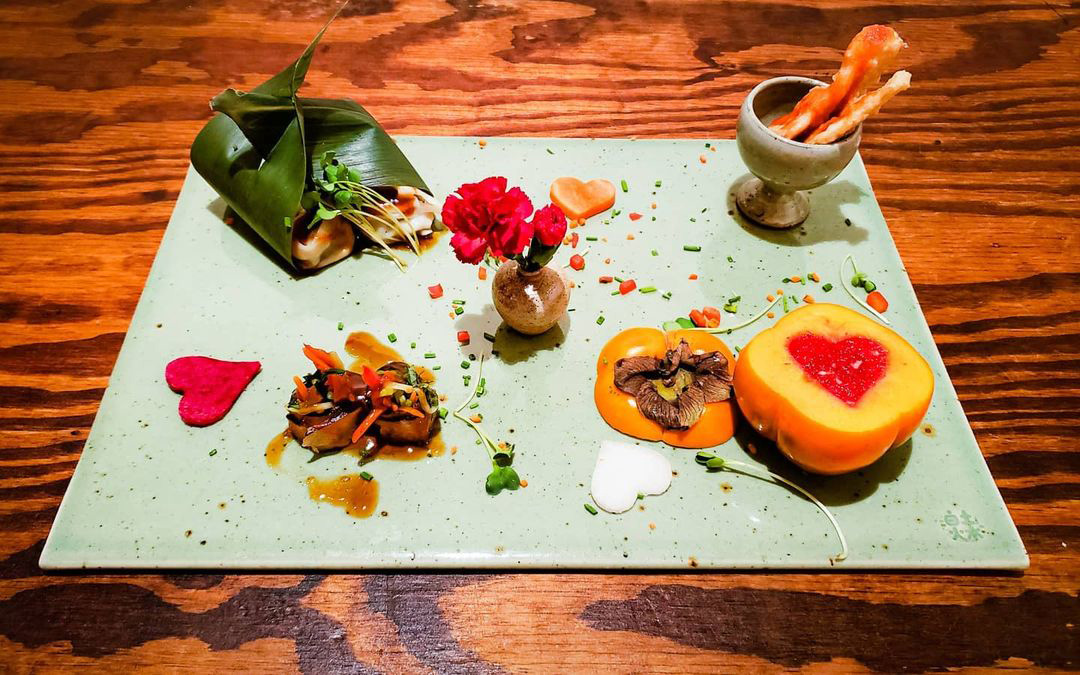 Photo courtesy of Hangawi
Manhattan
Vegan-Friendly
If your love language is a big bowl of pasta and a bottle of vegan-friendly wine, John's of 12th Street has you covered! While the restaurant is not fully vegan, they offer an extensive plant-based menu with dishes like stuffed mushrooms, garlic bread, seitan parmigiana with vegan cheese, ravioli, pasta with Alfredo sauce, and more. Add in a bottle of Cesari Pinot Noir, and vegan tiramisu for good measure.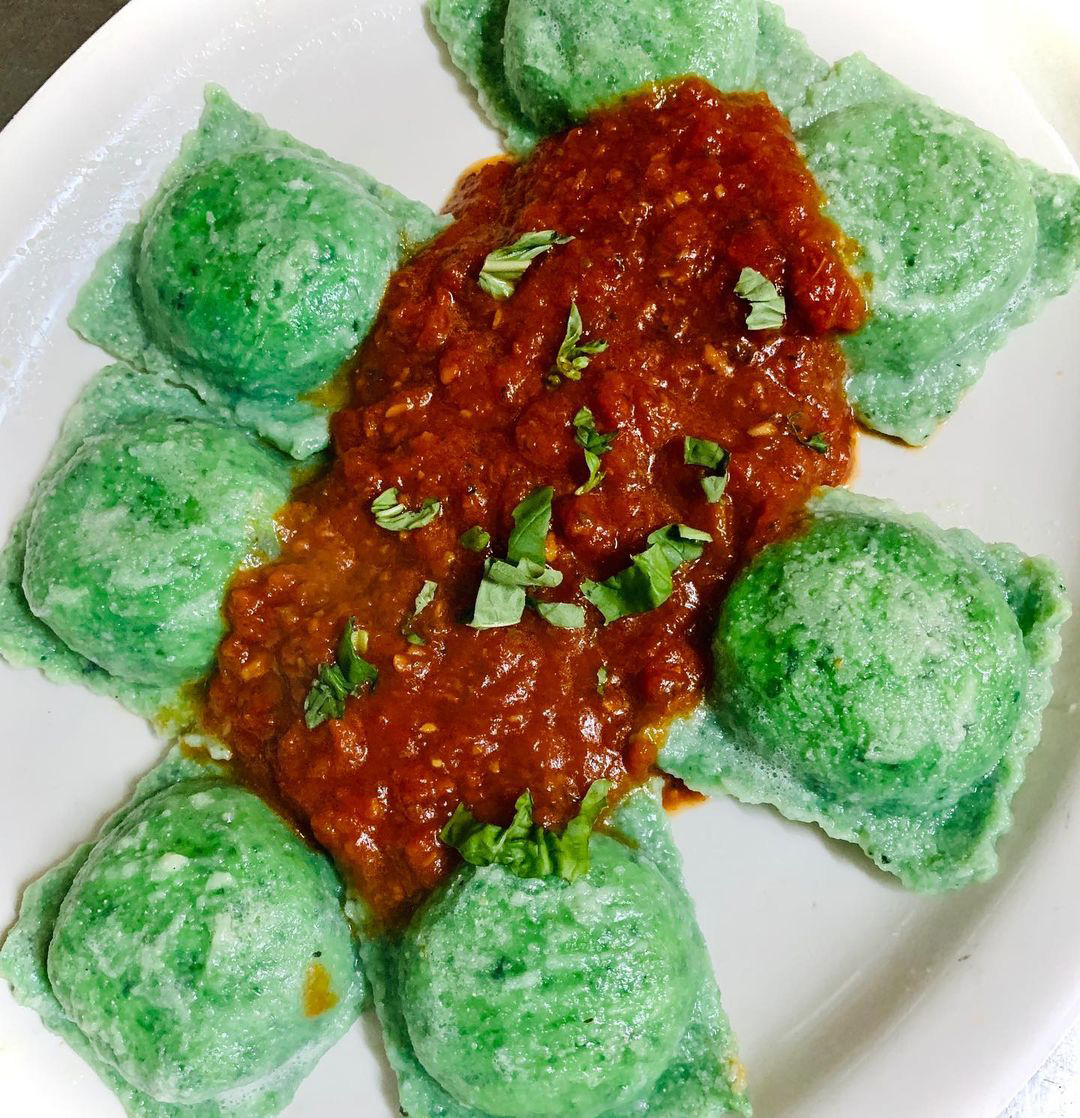 Photo courtesy of John's of 12th Street
Roosevelt Island, Manhattan
Vegan-Friendly
Anything At All is a new American concept inside the Graduate hotel located on Manhattan's picturesque Roosevelt Island, which is surrounded by stunning views of NYC's boroughs and ideal for a memorable date night. This Valentine's Day, Anything At All is featuring a special vegan menu that will include starters like beet salad, roasted mushrooms, and katsu, followed by entrées such as parsnip gnudi (pipian mole, parsnip chip, and crushed marcona almond) and feijoada (cranberry beans, moro blood orange, and garbanzo roti). For dessert, the restaurant is offering a choice of pomegranate poached pear and triple chocolate cake. There will also be a special Valentine's cocktail list (available February 10-14) that will include drinks mixed with lemongrass-infused vodka, blanco tequila & blood orange, and more.