Check out these Florida spots for vegan 'za!
Orlando, Florida is quickly becoming a hub for vegans, vegetarians, and plant-curious folx from all backgrounds. Central Florida's vegan scene is influenced by traditional Southern cuisine, Northern transplant cooking, and Hispanic comfort favorites spearheaded by a young and diverse generation set on radical social transformation. The best vehicle to display this mixed influence is pretty clear: 'Zzzza! That said, here's where to get vegan pizza in Orlando!
Sanford
Brunch pizza with vegan white gravy? Plant-based sausage, house-made cashew mozzarella, and tofu ricotta? These are just a few of Oak Flame Pizza's signature vegan pizza offerings from their location in Sanford food hall, Henry's Depot. Nothing matches the delectable thin crust and envelope-pushing flavor profiles of Oak Flame's fresh, delightfully decadent masterpieces. If you stop on a Monday, you can get a vegan Margherita for $8. Also, make sure to leave room for their vegan Caesar salad and selection of sweets by Juniper Patisserie.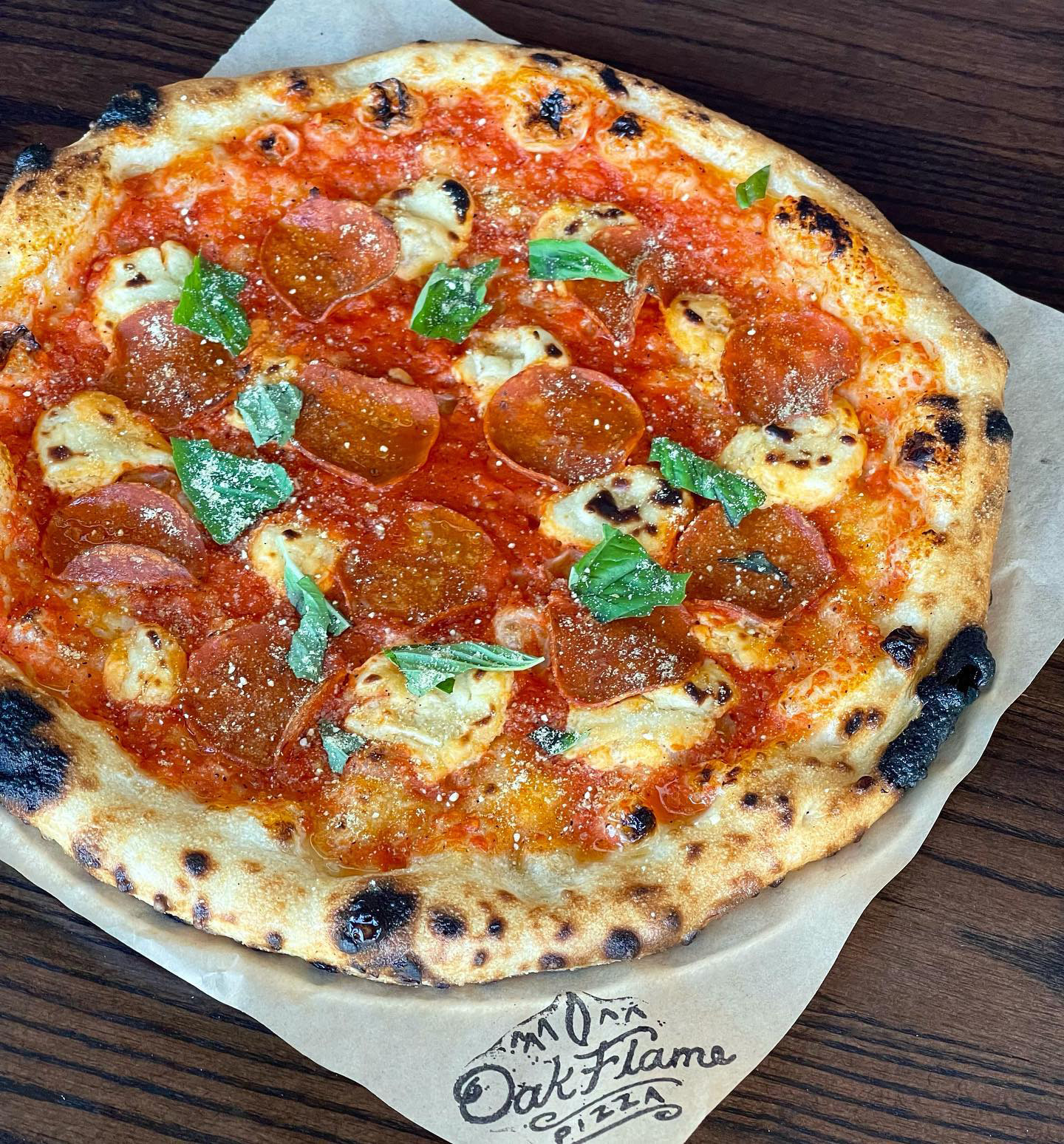 University & Mills/50
Ah yes, Lazy Moon. This college town favorite has become an Orlando institution, catering to several dietary restrictions, including vegan. Their two Orlando locations are well known for their face-sized slices that will leave you somehow satisfied and wanting more at the same time. They offer Daiya vegan cheese options as well as tempeh for pizza toppings, as well as a regular vegan chili. Lazy Moon is perfect if you're in the area touring the University of Central Florida or heading back to a hotel after a long day at Disney.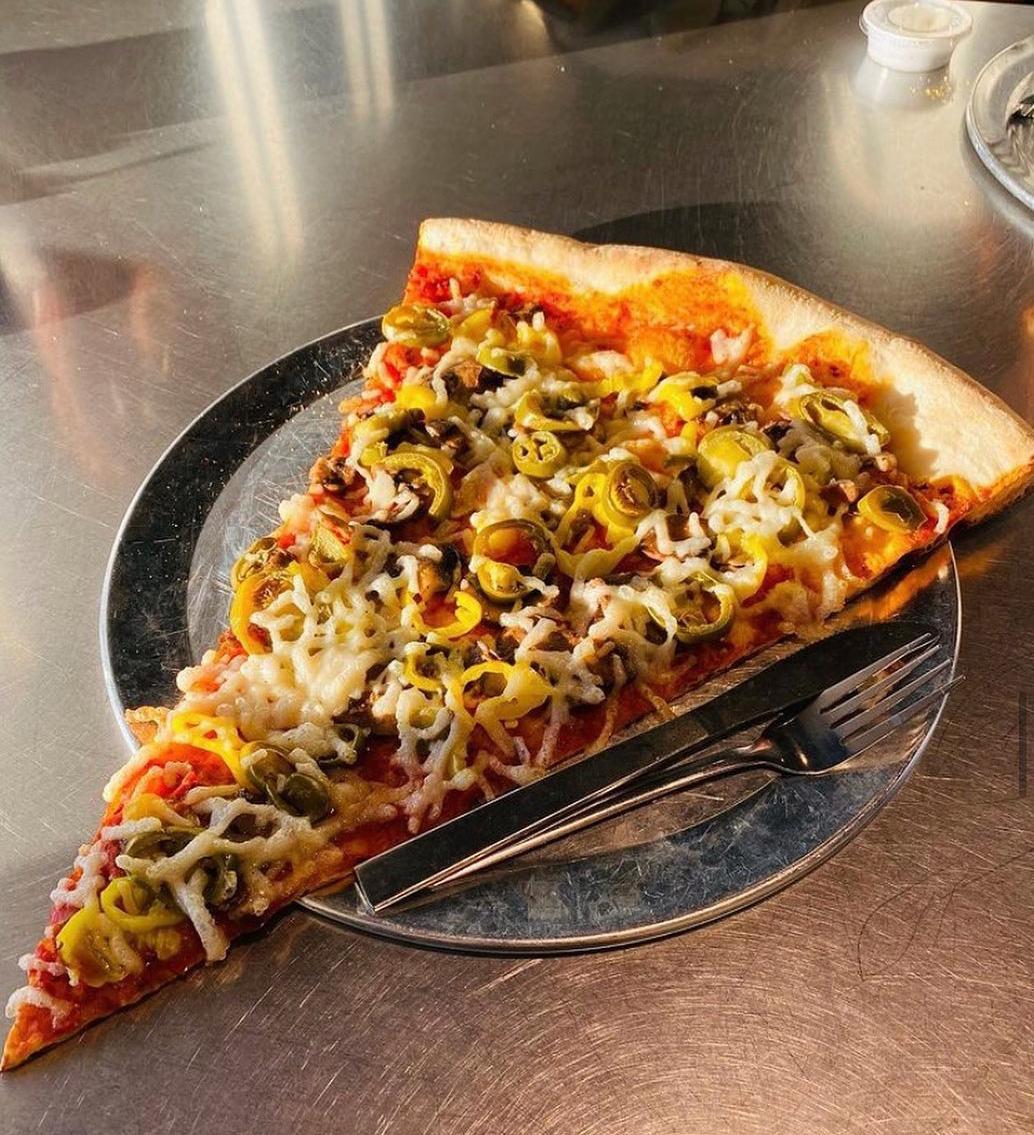 Downtown South, Winter Park, & Longwood
F&D is a legend in Orlando, with each location zeroing in on a different cuisine—Southern, Mexican, or of course, Italian. F&D Woodfired Kitchen has three locations in Orlando, all dishing up an impressive selection of vegan-exclusive pies, such as their Beyond Rustica (featuring Beyond sausage), their Vegan Mushroom Spinach (finished with a rich, vegan cream), and a cult-favorite Winter Park exclusive: Buffalo Cauliflower.
Ventura
Are you ready? Okay, strap in. Three words: Garlic. Knot. Crust. That's right—at Orlando's Mario's Pizza you can get yourself one of twenty-eight entirely vegan pizzas, several of which have garlic knot crusts. Two of our favorites are the Vegan Buffalo Chickon Crown Jewel (which has vegan ranch as the base), and the Vegan Deluxe Crown Jewel with vegan pepperoni. Don't forget dessert! They make DELISH vegan s'mores logs!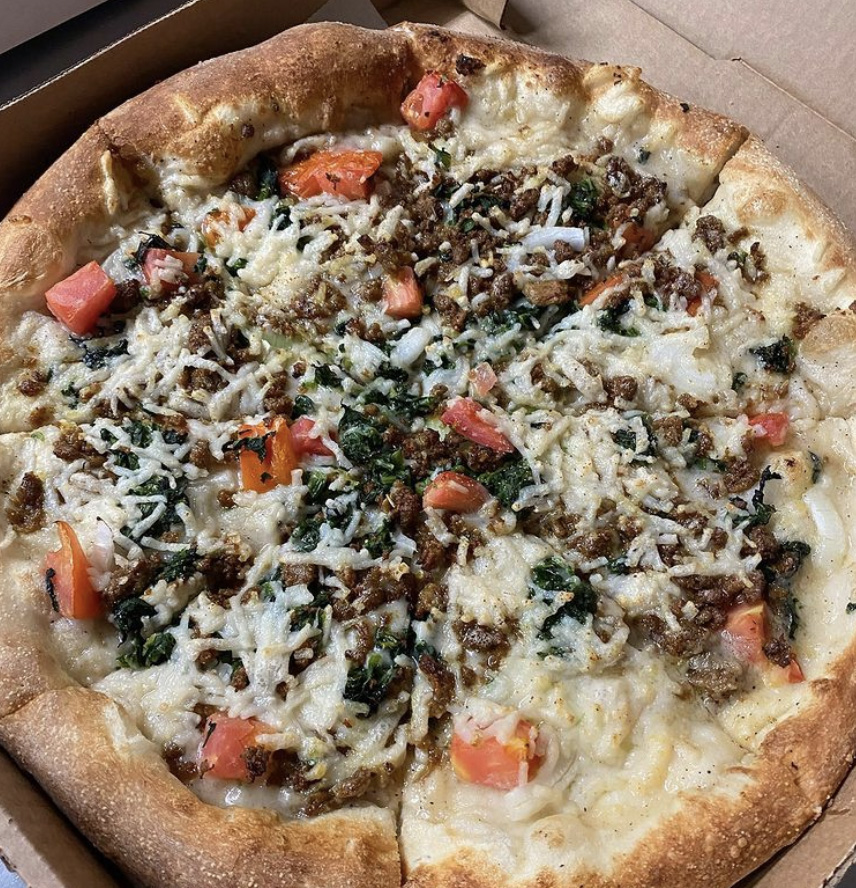 Multiple Locations
Okay, this one isn't Orlando-exclusive but hear me out. Local Orlando vegan folk sleep on Mellow Mushroom far too often. They have an entire vegan sub-section of their menu, with customizable pizza options, including top-of-the-line Follow Your Heart vegan cheese. You can find them at several locations in Orlando, including Sanford, Winter Park, and East Orlando (Colonial). A killer combination includes BBQ tofu, jalapeños, grilled onions, pineapple, and Daiya vegan cheese.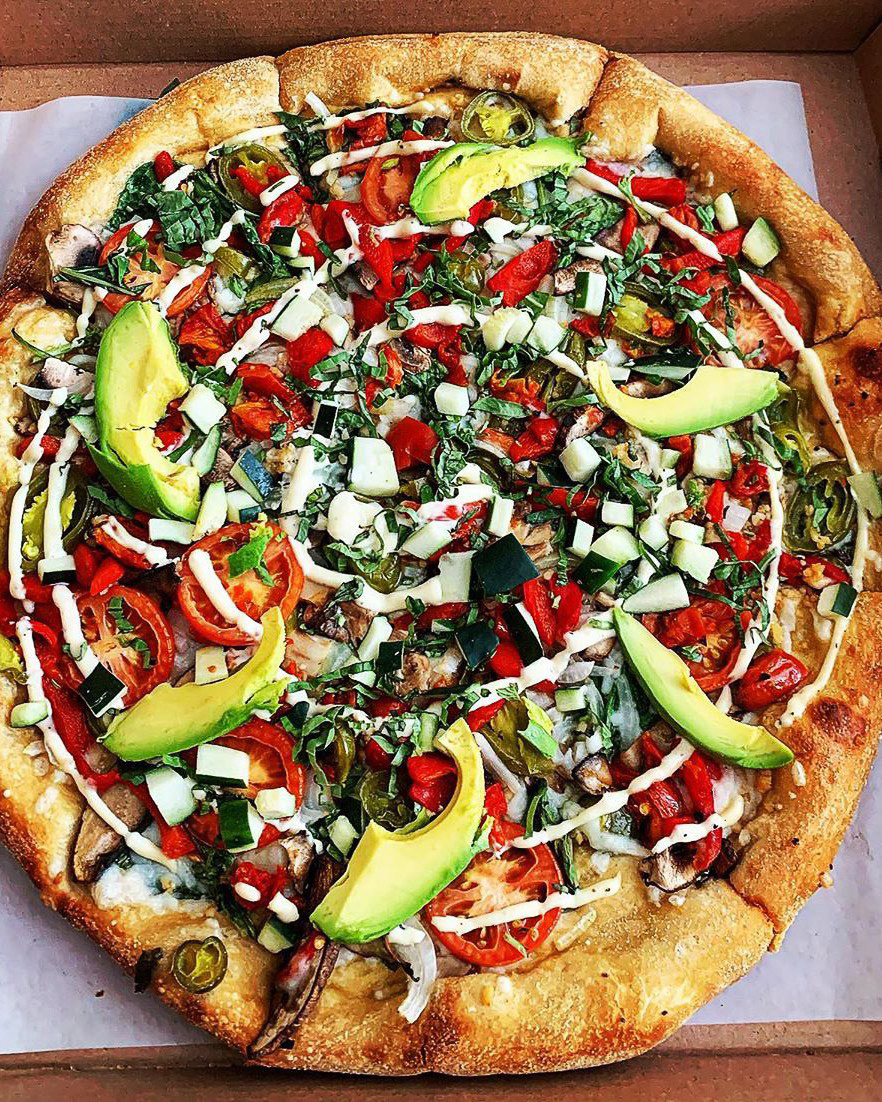 Photo credit: @lukasdrew on Instagram
Winter Park
Do calzones count as pizza? A review of Orlando plant-based pizza would not be complete without at least mentioning long-time establishment Ethos's folded, gooey, customizable calzones. Ethos Vegan Kitchen was founded in 2007—long before Target sold meat substitutes or Trader Joe's offered vegan Mac N' Cheese. When you order a calzone from Ethos, you can select up to three toppings, including chickun, seitan, vegan sausage, and classic veggie favorites brushed with herbed garlic butter, all with a side of marinara for dipping. If you've been to Rollins College in Winter Park, Florida you are sure to have driven by Ethos. When you visit next, order a serving (or four) of garlic knots. Trust us.
Downtown South
Since its inception in 2016, Pizza Bruno has been a local favorite sporting delicious vegan 'zas such as a classic marinara with garlic, capers, oregano, and EVOO as well as their famous Viva Verde topped with kale, mushrooms, artichokes, garlic, capers, chili flakes, and white balsamic glaze.
Winter Park
Strategically located off of Park Avenue in beautiful Winter Park, Rome's Flavors is a special treat after long days of work (or class, if you go to Rollins College just a half-mile down the road). Utilizing their Italian imported organic flour and toppings of your choice, you can customize any of their pizzas with warm vegan cheese goodness. A local favorite is their Trinita' Dei Monti, which features plump plum tomato, vegan mozz, red peppers, eggplant, and zucchini.
Lake Mary
Don't let the fact that Filomena's Pizzeria is a multi-generational Italian-run restaurant fool you–they also have a surprisingly extensive vegan menu including many of your favorite dishes, from lasagna to, of course, pizza. If you're wanting to stuff your face with 'za (and who wouldn't?) let your server know you are vegan and are curious about the vegan sausage pizza–secret menu style.
Multiple Locations
For many plant-curious pizza eaters in Orlando, Blaze Pizza at Disney was their introduction to delectable vegan eats. Blaze makes it easy by giving you the option to completely customize your pizza or select a vegan pre-made option. Their default vegan option is dressed with red sauce, vegan cheese, spicy vegan chorizo, mushrooms, red onions, green bell peppers, basil, and a finishing olive oil drizzle. But if you want to get creative, indulge yourself with vegan high-rise dough, vegan mozz, roasted garlic, onions, jalapenos, mushrooms, and a BBQ sauce drizzle to top it off. You can also order starters such as their Pesto Garlic Cheesy Bread with vegan cheese.