Whether you're craving a classic dog or something a bit more innovative, these vegan handhelds are worth relishing.
With baseball season in full swing, it's only natural to crave one of those hot dogs from the concession stand. Thanks to brands like Field Roast and Beyond Meat, it's possible to enjoy plant-based renditions of the ballpark classic (as well as more unique flavor combos). Here's where to get vegan hot dogs in Los Angeles!
Downtown LA
There are a lot of things that Beelman's does well, and their hot dogs are one of them! When you stop by this all-vegan pub, the menu welcomes you with two stellar hot dog options. The first is the Classic Vance, a pretzel bun that's topped in a Field Roast frankfurter, mustard, sauerkraut, and house-pickled jalapeños. Your second option is the Banh Dog, a pretzel bun filled with a Field Roast frankfurter, pickled veggies, cilantro, and sriracha mayo. Option 3? BOTH!
Long Beach
The plant-based hot dogs from this vegan joint will rock your world! The VDog and VDog Caliente both come with mustard, onions, and relish. So what's the difference? One contains the original Beyond Meat sausage and the other holds the spicy one—we'll let you guess which is which! You can also "work your dog" to add cheese, chili, guacamole, mac 'n' cheese, or vegan scrambled eggs.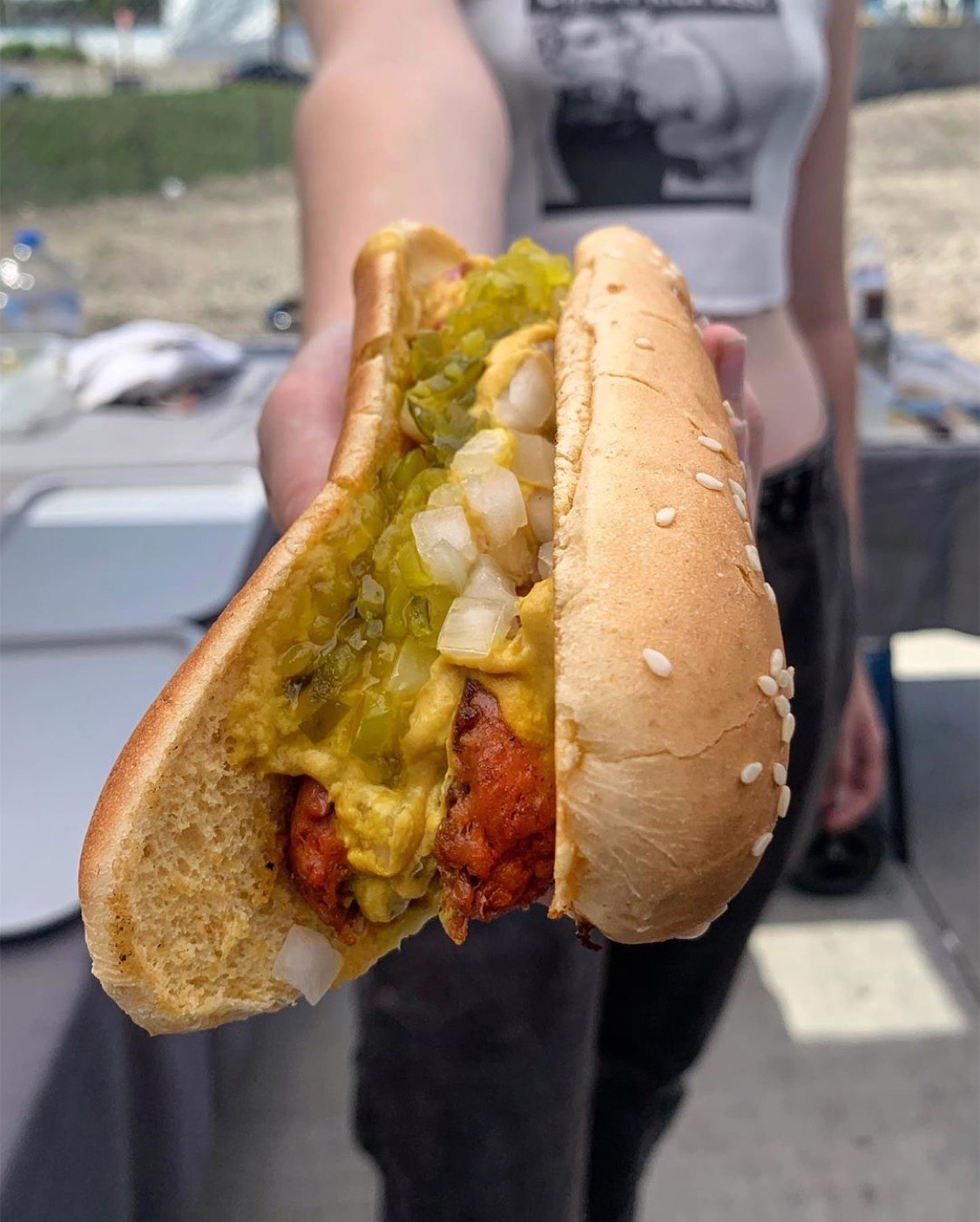 Fountain Valley
The Dirty Dog from this comfort food hot spot comes with a Beyond Meat sausage link, fried egg, cheese, bacon, grilled onions, sriracha, and house-made garlic aioli. And yes, it's ALL vegan! Craving something more on the classic side? The Old Fashioned dresses a Beyond Meat sausage link in ketchup, mustard, relish, and diced onions.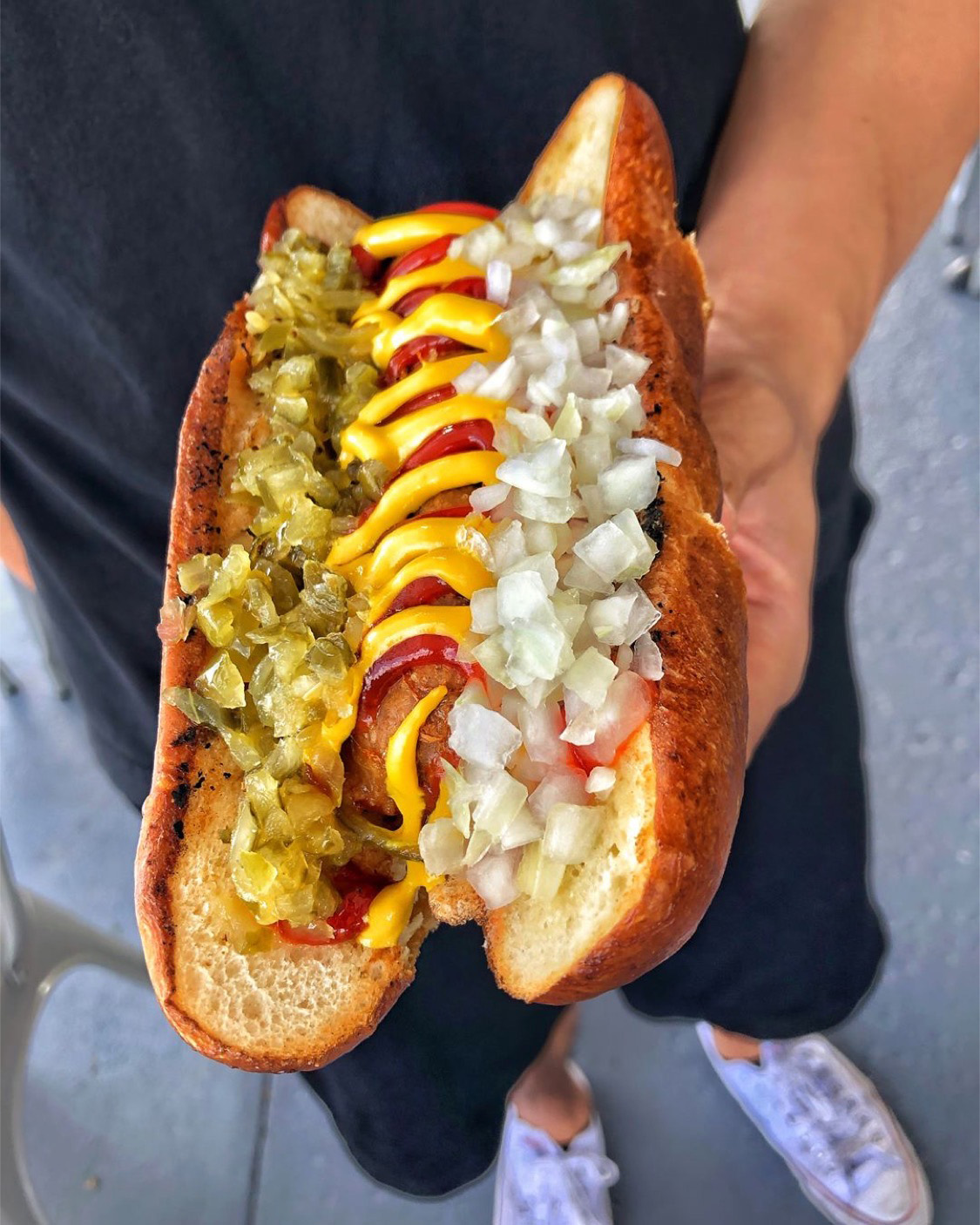 Pop-Up
Take a break from your traditional hot dog bun to enjoy Veggietize Me's Deluxe V-Link in a pretzel bun. On top of the soft and salty carby carrier, you'll find a Beyond Meat sausage link, cheese, vegan bacon, smoky tempeh, chopped onions, ketchup, mustard, and mayo. How epic does that sound?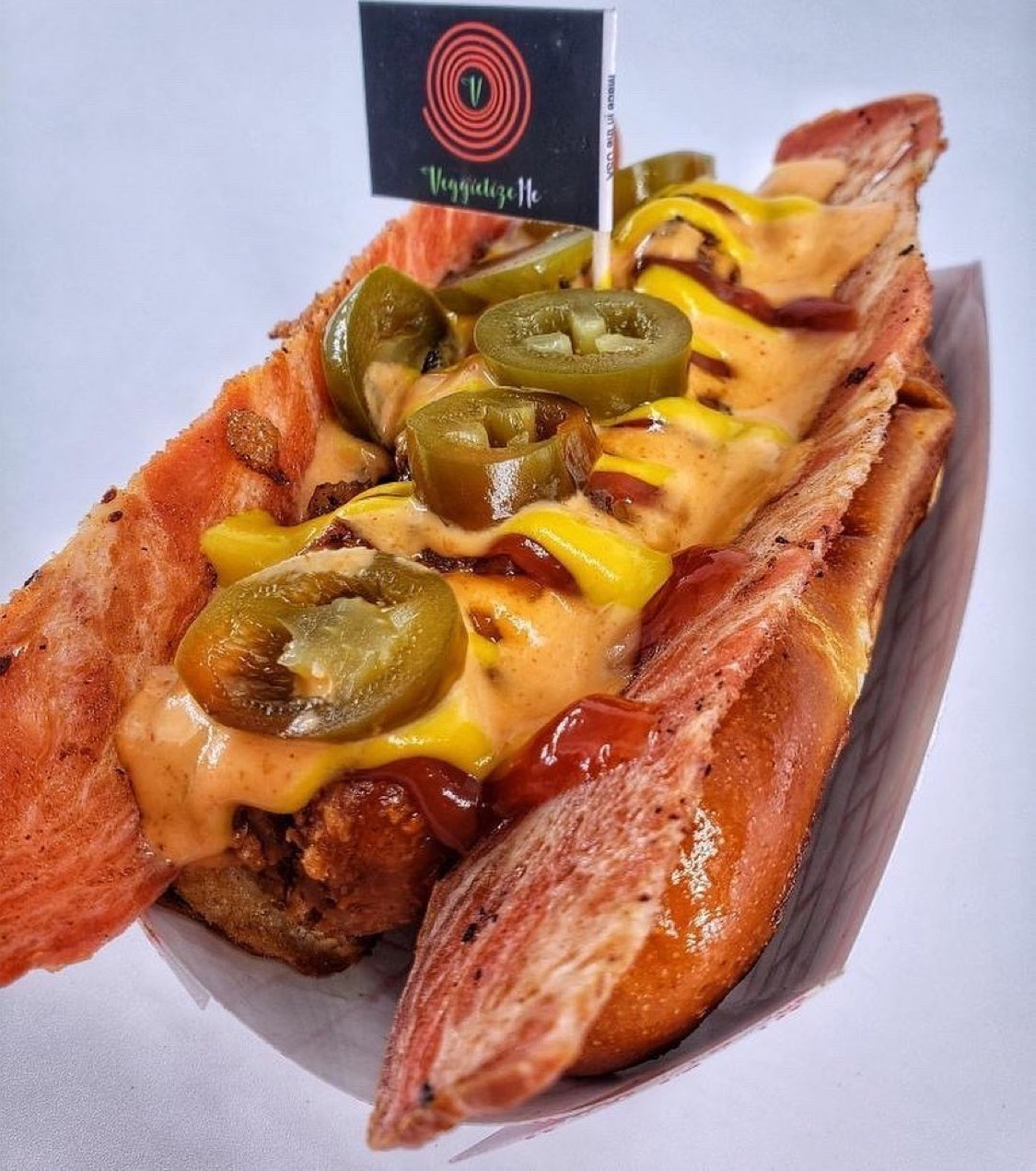 Photo credit: @veganfoodie818
Highland Park
What's a sports bar without a hot dog on the menu? Put Me In Coach has three different dogs—two are the classic bun-bound Chicago and chili cheese varieties, the third is a corn dog. While you're there, we'd recommend ordering the Tacos Dorados and Buffalo Boneless Wings, too!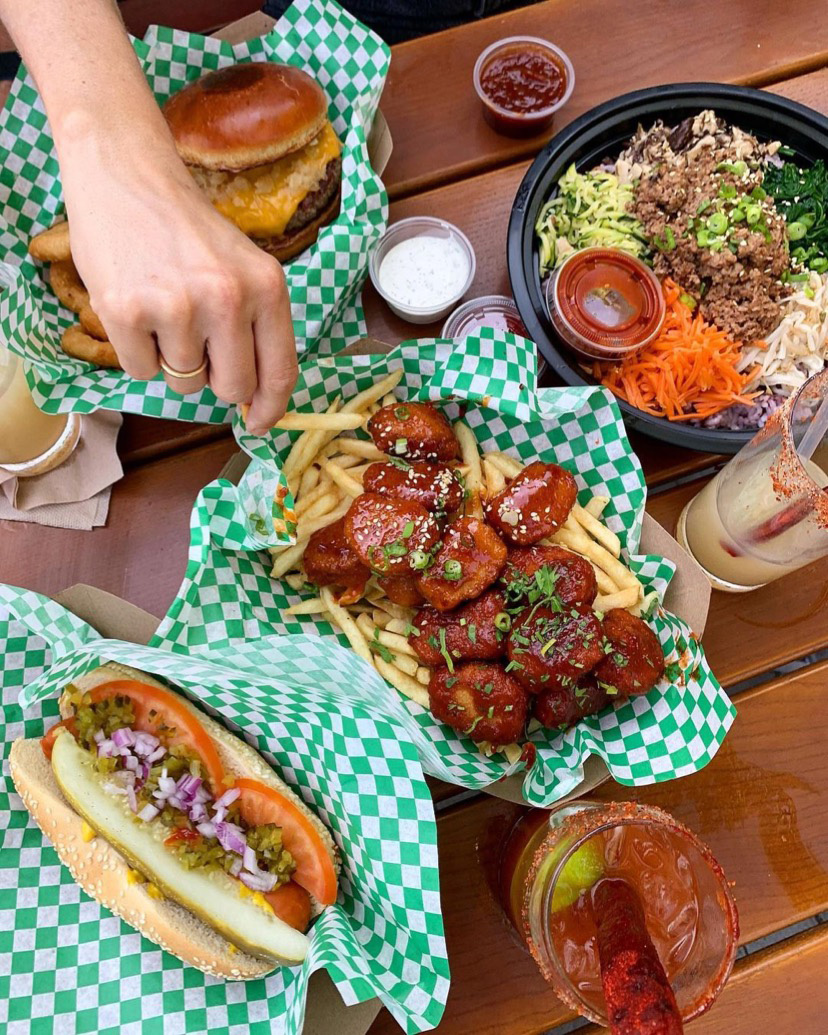 Photo credit: @beetxbeet on Instagram
Anaheim
Healthy Junk hits it out of the park with their Bunny Brats. The plant-based hot dogs can be enjoyed with "chili & pickles," "sauerkraut, onions, & kale," or "peppers & onions" on top. Whichever ingredient combo you choose, be sure to save room for a side of french fries or coleslaw!
Photo credit: @foodie.alive on Instagram
Leimert Park
Vegan-Friendly
Did you know that this Black-owned restaurant has a separate vegan menu? On it, you'll find their Vegan Hot Dog which comes with a Field Roast sausage link and your choice of toppings. Ketchup, mustard, pickles, sauerkraut, onions, chili, vegan cheese—you name it, they've got it! While you're there, pick up a slice of vegan chocolate cake, peach cobbler, or chocolate chip cookie dough cheesecake.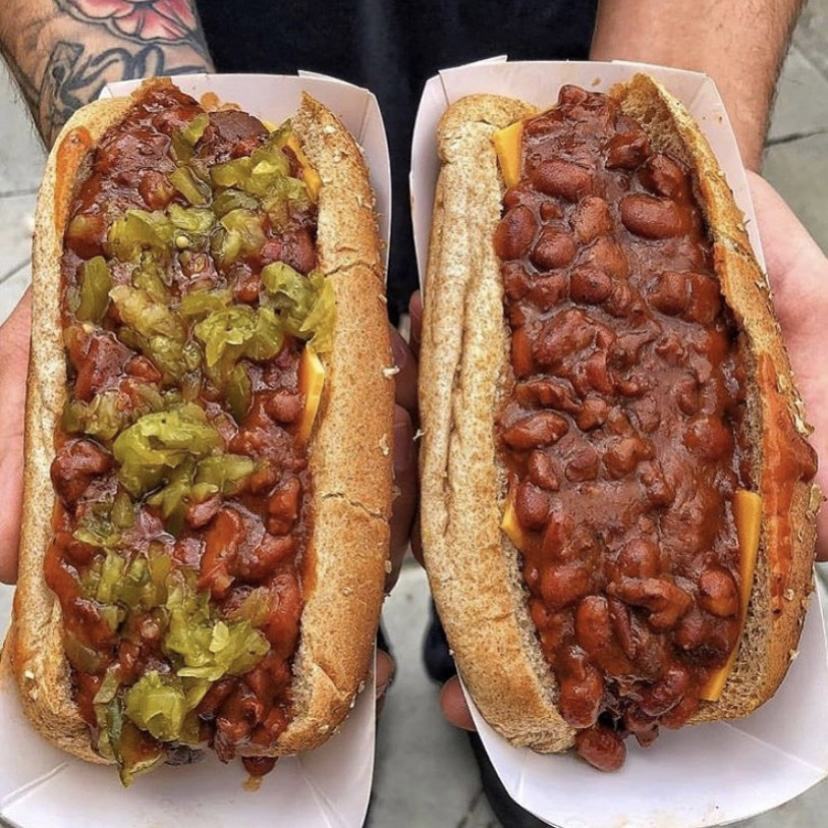 Photo credit: @forkmeetsfood on Instagram
Multiple Locations
Vegan-Friendly
The mainstream hot dog chain recently launched two vegan-friendly options. The Beyond Brat features a Beyond Meat bratwurst, sauerkraut, caramelized onions, and spicy brown mustard. For something more veggielicious, ask for the Sooo Veggie. It's made with a Hot Italian Beyond Meat link, wild arugula, avocado, tomatoes, crispy onions, and spicy basil aioli. To make these menu items vegan, request for them to be served on a French roll or as a lettuce wrap.
Downtown LA & Venice
Vegan-Friendly
The Veggiewurst at this German-inspired bratwurst restaurant is vegan! You get to build your dream dog with the toppings of caramelized onions, sauerkraut, sweet peppers, spicy peppers, and a plethora of mustards. Don't leave without trying the thick Belgian fries—they're a MUST!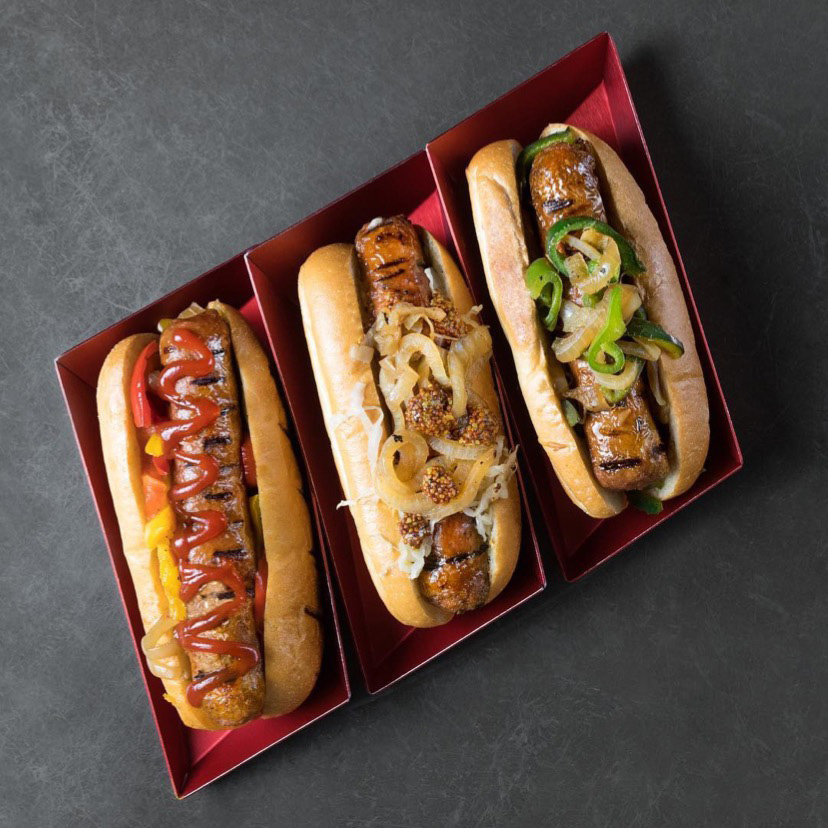 Food Truck
Vegan-Friendly
For the most iconic hot dog cart vibes, check out Let's Be Frank in Culver City or Silver Lake. For just $5.01, you can enjoy a vegan-friendly "Not" Dog that features a non-GMO soy veggie link.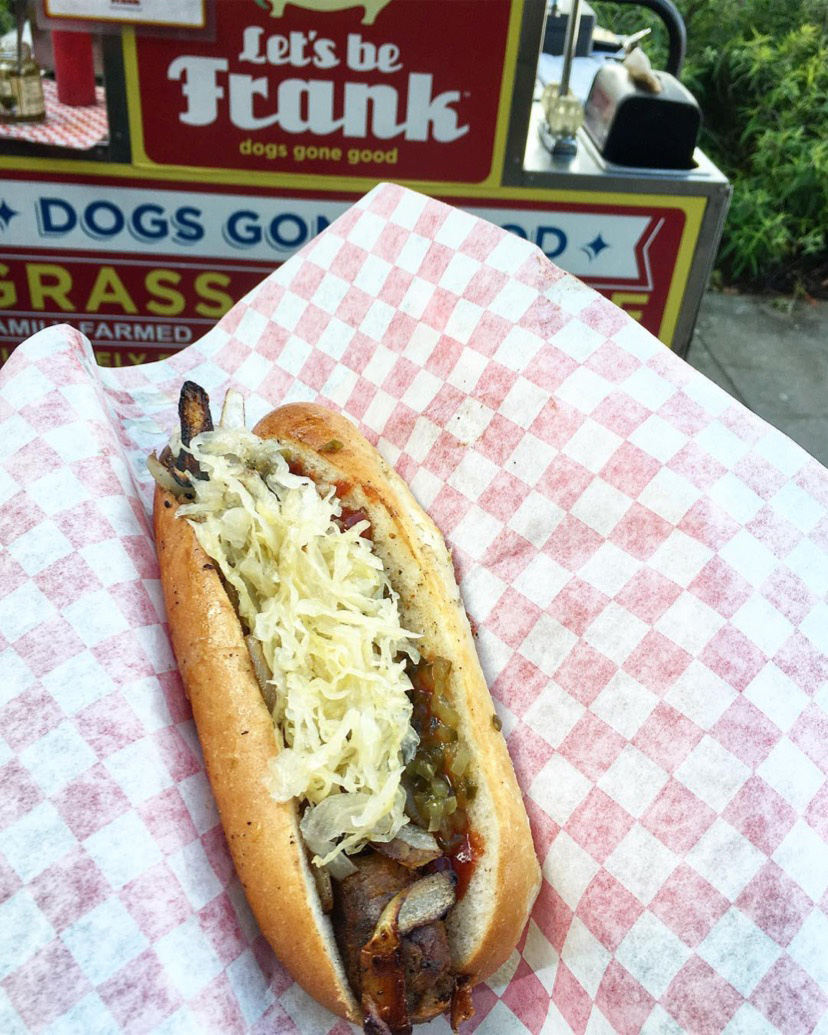 Photo credit: @deeyummyeats on Instagram
Elysian Park
Vegan-Friendly
We couldn't write this whole article without including a real baseball stadium! In case you missed it, Dodger Stadium now serves Plant-Based Dodger Dogs with Field Roast frankfurters. You can find them at concession stands across the stadium and dress them up in whatever toppings your taste buds are calling for.