Here's where you can get the ultimate comfort food in Los Angeles.
What's the first thing that comes to mind when you think of comfort food? If it's warm, gooey, cheesy goodness, then we've got what you're looking for. Whether loaded with BBQ jackfruit, packed with creamy cashew-based cheese, or topped with crushed Ritz crackers, the mac and cheese at these spots are just what you're craving. Here's where to find vegan mac and cheese in Los Angeles!
Pop-Up
Vegan
Avocadamama is your first stop for the ultimate in vegan comfort food! Using their house-made cheese as a base, they offer everything from the OG Mac (with rigatoni and breadcrumbs) to the Buffalo Cauliflower Mac, Crispy Chick'n Pesto Mac, Shredded BBQ Jackfruit Mac, and more. You can find them every Sunday from 10am-4pm at Smorgasburg.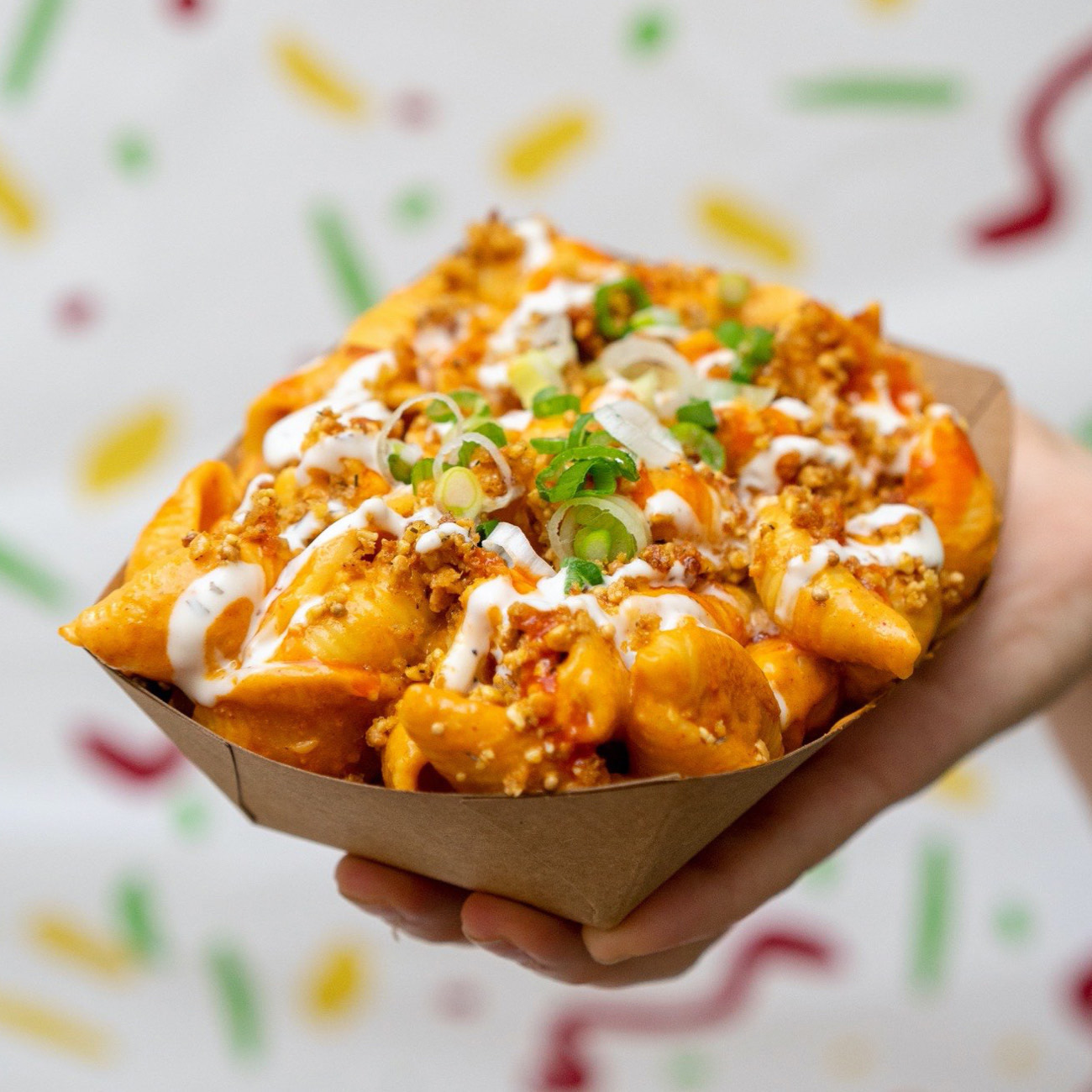 Food Truck
Vegan
We love that Lemel Durrah is bringing affordable, allergy-friendly plant-based dishes to LA. Durrah serves up his cashew cheese-based mac three ways. Choose from Buffalo Chik'n Mac, BBQ Chik'n & Mac, and Jack & Mac (topped with chopped Jackfruit Ribz).
Hollywood
Vegan
This all-vegan spot knows a thing about comfort food! Doomie's Home Cookin' offers not just po'boys and pulled pork, but they serve a Mac 'N Cheese Bowl made with house cheese and crushed Ritz crackers. Or go for the Mac Melt (a patty melt stuffed with, yep, their creamy mac!).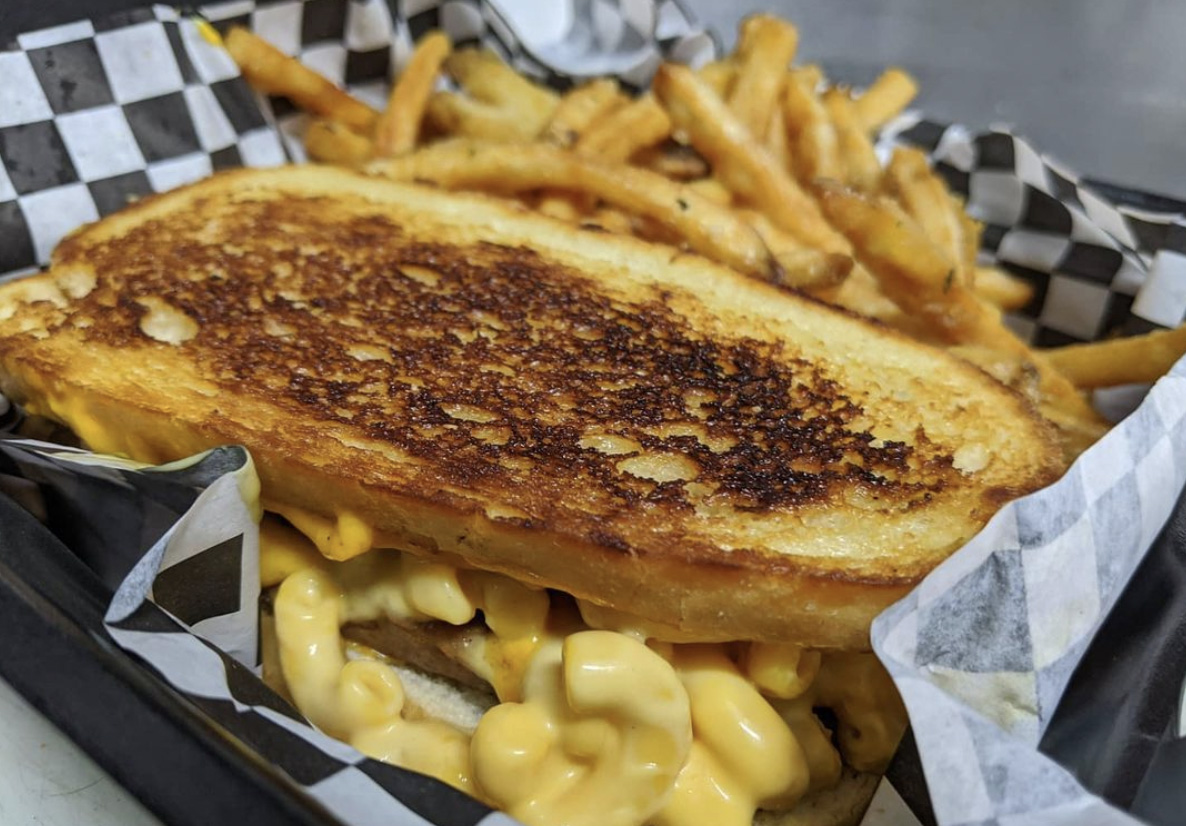 Multiple Locations
Vegan
First, we need to talk about Sage Plant Based Bistro's Mac 'N "Cheese" Pizza! Prefer your mac in a dish and not on a crust? They've got that, too. It comes made with gluten-free pasta, breadcrumbs, and FYH mozzarella. Feeling spicy? Ask for it Buffalo Avocado Style!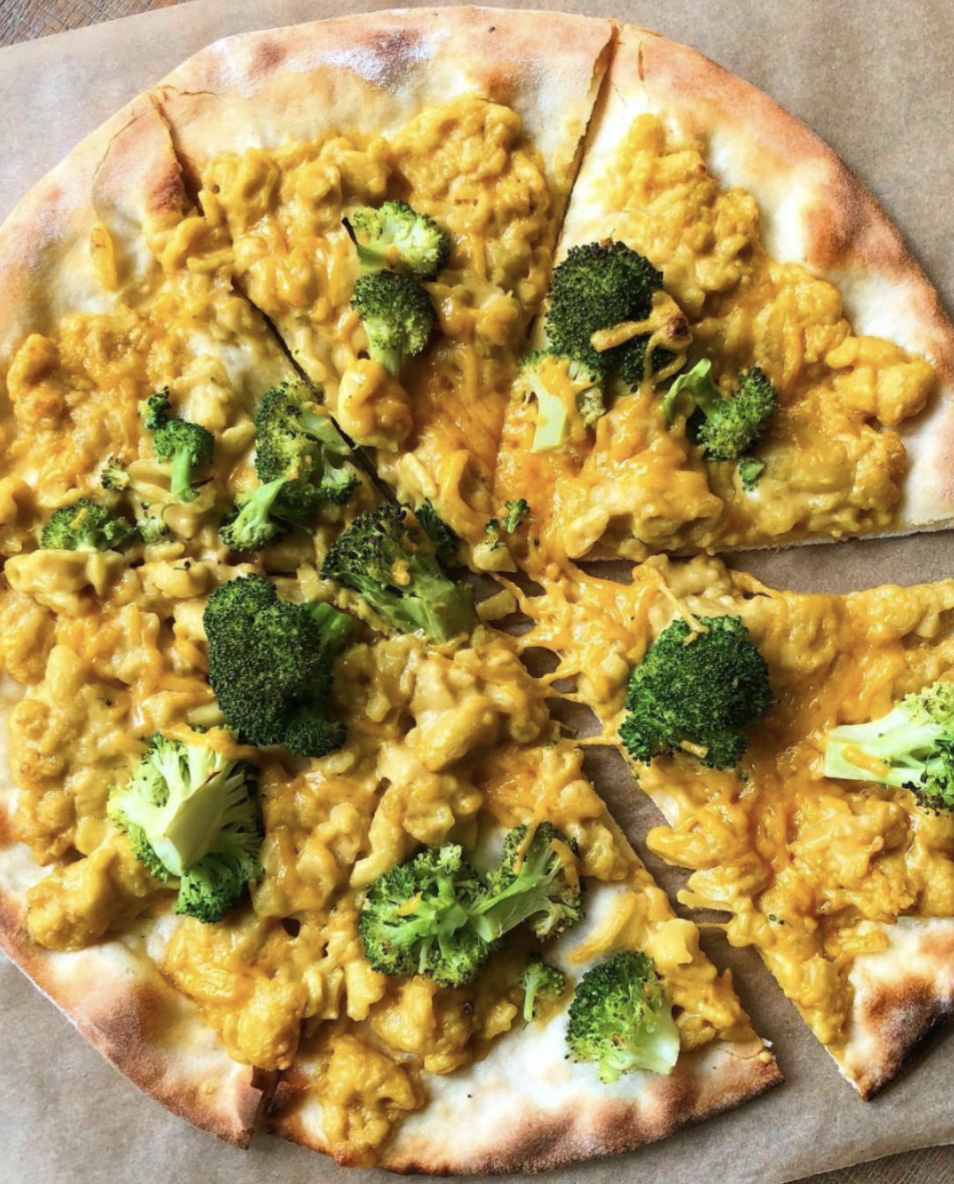 Larchmont
Vegan
Souley Vegan is the spot for 100% vegan authentic Louisiana Creole cuisine! Their Sizzlin' Skillet Mac & Cheeze combines the creamy taste of a rigatoni pesto mac with the spice of jalapenos and serves it all up in a … you guessed it … sizzlin' cast-iron skillet.
Studio City
Vegan
Looking for a gluten-free mac and cheese? Try SunCafe. Their creamy mac is made with quinoa pasta, tomatoes, and a cashew cheese base—offered up in an iron skillet. Order their regular size or go with the Mini Mac for the same deliciousness at half the size.
Silver Lake
Vegan
​​This Eastside staple not only serves a delicious brunch, but they also have a dinner menu that includes a truffle mac and cheese! Enjoy this fall item on Little Pine's patio with your favorite people—the perfect way to enjoy an evening.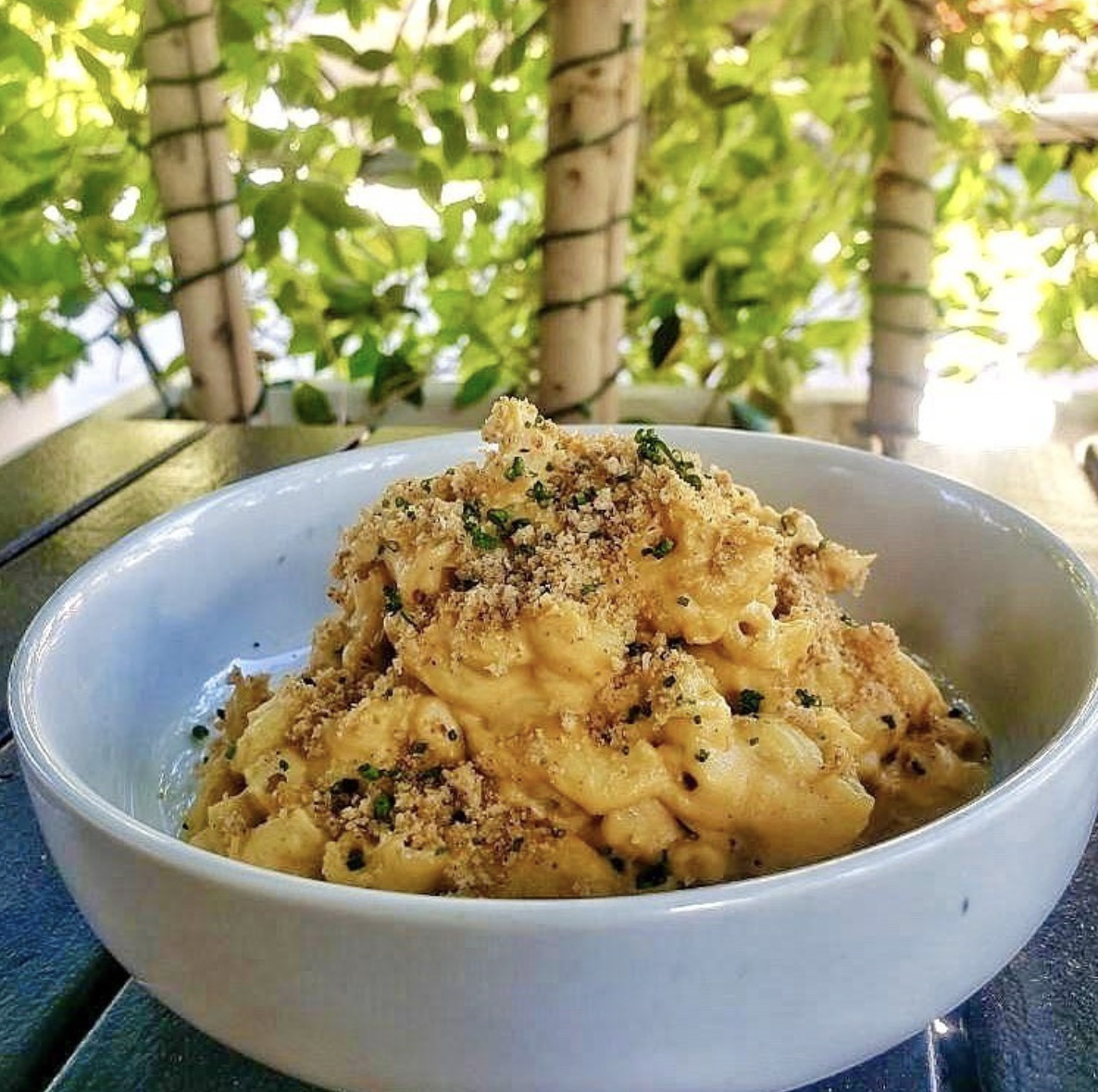 Inglewood
Vegan
Quick! Name the perfect side to any entrée. If you said "mac and cheese," correct! Try your creamy macaroni goodness on the side at Stuff I Eat. They do it up right with vegan cheddar and smoked paprika. They even have a spiral-noodle version for the kids!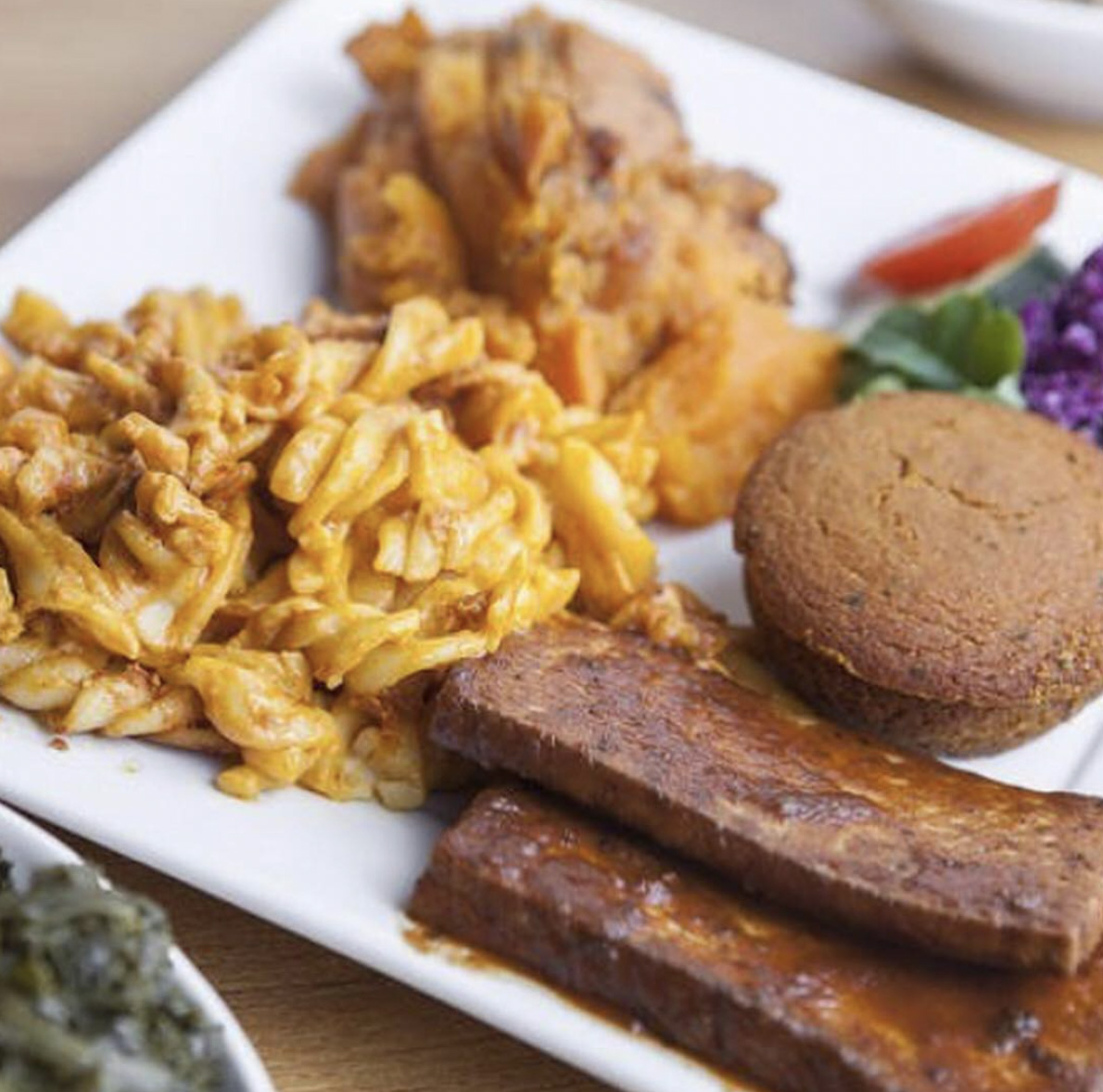 Photo credit: @curlybrownvegans on Instagram
South LA
Vegan
This plant-based, soul food-inspired restaurant has options! Try Jackfruit Café's Macaroni and Cheese Bowl (with a selection of toppings, including avocado, a Beyond patty, and more). Or order the Jackfruit Soul Bowl (served with black beans and rice, cabbage, and cornbread).
Highland Park
Vegan-Friendly
Kitchen Mouse has a gluten-free mac and cheese that keeps it simple. This bowl of brown rice elbow pasta contains a creamy cashew cheese sauce and comes available as an entree or side.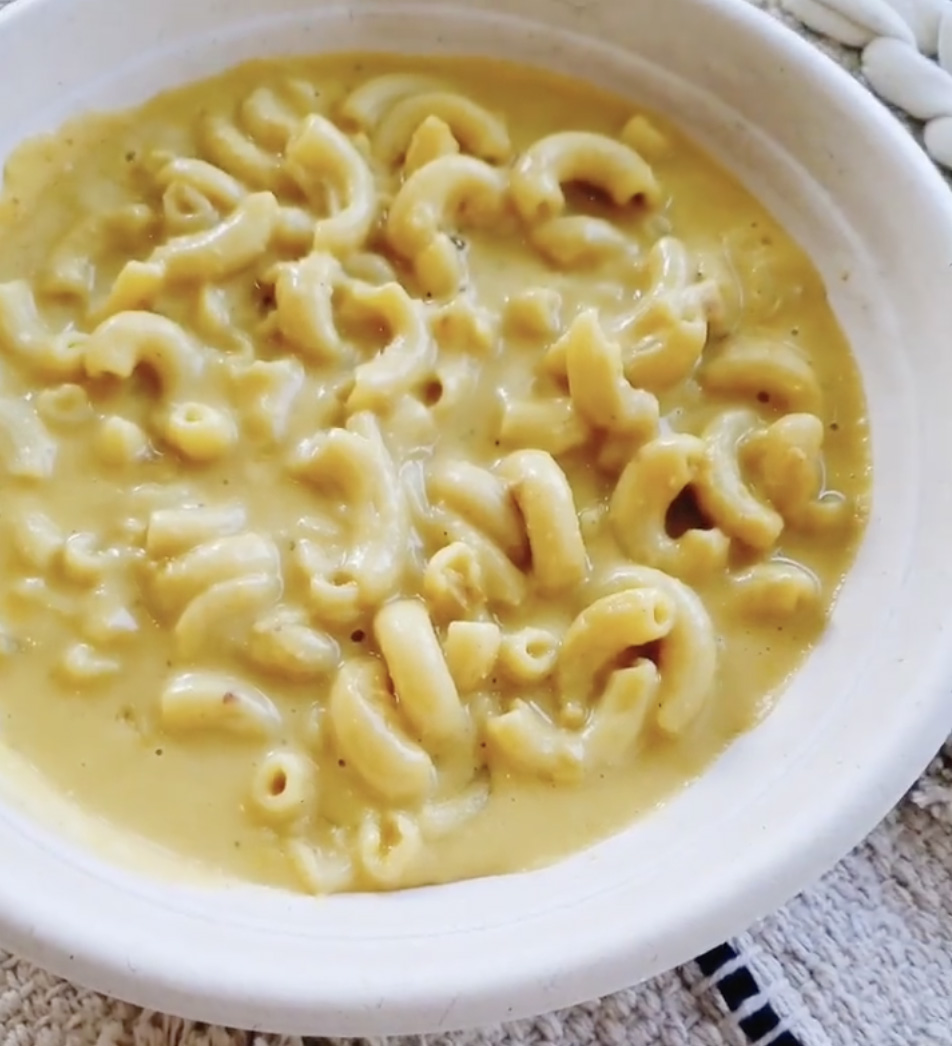 Food Truck
Vegan-Friendly
At Mac N' Cheese Rebel, you'll find a creamy, cashew-based vegan mac option available with toppings such as vegan steak, vegan duck, and more. Want to make your own at home? Pick up a pack of their gluten-free Rebel Mac Savory Cashew Sauce.