There's nothing more comforting than a warm bowl of mac and cheese. Whether loaded with toppings or presented plain and simple, these vegan macs are doing plant-based right!
Missing the creamy goodness of traditional mac and cheese? No worries! We've done the hard work of rounding up restaurants that offer this cheesy dish, and they're incorporating local ingredients, signature flavors, homemade cheeses, and an array of toppings. So get ready for all of your macaroni dreams to come true—here's our list of where to find vegan mac and cheese in Chicago!
Lakeview
Vegan
Kitchen 17 is one of the best places in Chicago to stop at if you're looking for fresh, ethical vegan comfort food. Aside from serving up slices of their famous Chicago deep-dish pizza, this woman-owned business also has an insanely delicious mac and cheese—baked with a creamy house-made cheddar. You can top your cheesy dish off with a scoop of chili for an extra dollar! Can't choose between pizza and a warm bowl of macaroni? Kitchen 17 has got you covered with their mac and cheese deep-dish pizza.
Pop-Up
Vegan
Ste Martaen's vegan eats are unparalleled. Their award-winning vegan mac is among the best of the best—baked fresh to order. Not only do they have a gluten-free option available but they also carry specialty macaroni as well! Looking for a fresh take on this delicious dish? Try Ste Martaen's Smoked Gouda, Bacon Chipotle, BBQ Chik'n, or Lobster macs. Catch their food truck, touring all across Chicago or order their catering services for your next event!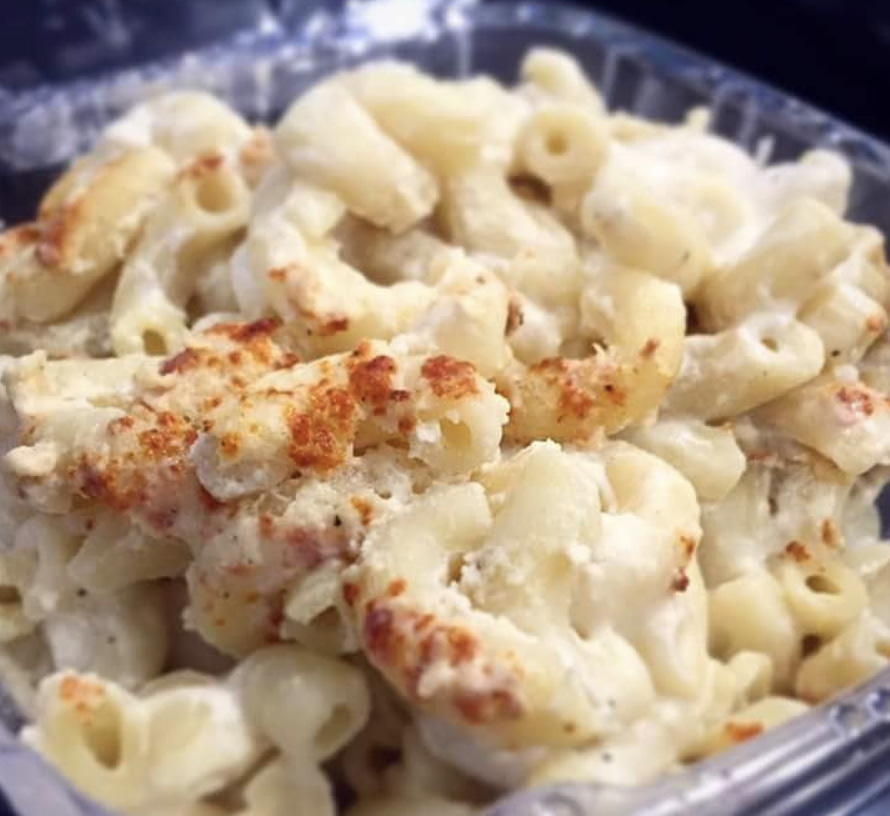 West Town
Vegan
You might be familiar with Upton's Naturals delightfully seasoned plant-based meats available at grocery stores, but their restaurant in Chicago is an absolute must-try. This all-vegan hot spot offers a heartier mac and cheese, certain to please vegans and non-vegans alike. Their signature house-made Fried Bacon Mac is a fan-favorite, with a creamy base and bits of bacon seitan. Fried on the grill fresh to order, this cheesy dish comes packed with flavor! Not in the Chicago area? Pick up their boxed mac at a grocery store near you.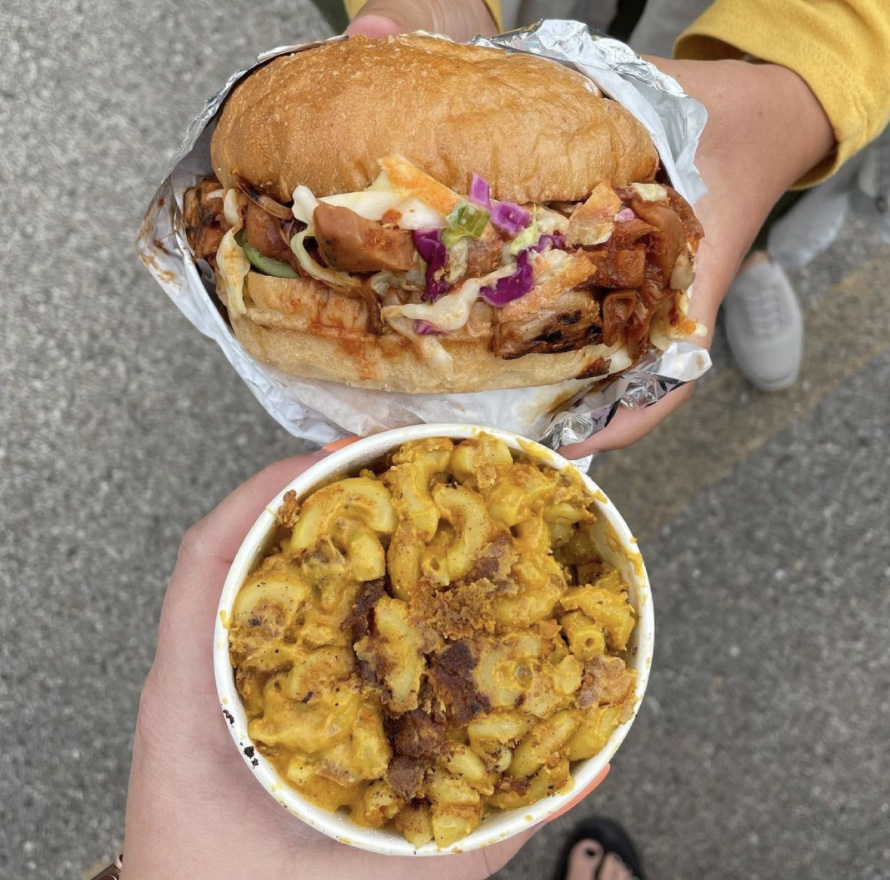 Photo credit: @plants_for_sarah on Instagram
South Shore
Vegan
If you're looking for a delicious dose of vegan soul food in Chicago, there's no better spot than Majani! Incorporating fresh local ingredients and savory spice combinations into their recipes, Majani has some great Southern-inspired options—including their mac and cheese. Their fluffy variation of the dish crafted with house-made soy cheese is great on its own or can be added to a Soul Bowl alongside a serving of smoky jerk tofu, collard greens, and cane sugar sweet potatoes.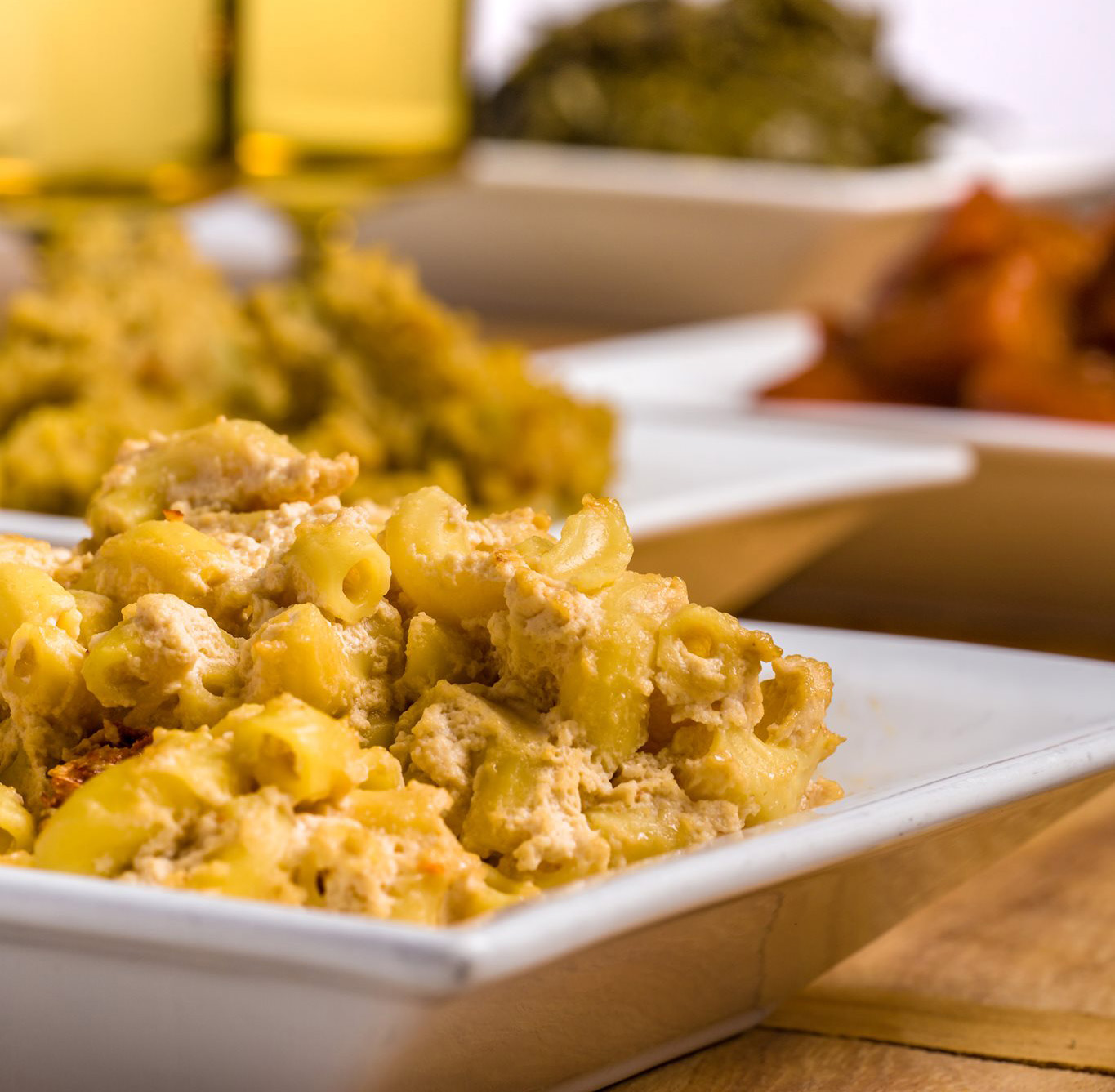 Edgewater
Vegan
Committed to producing flavorful, healthy vegan dishes, Edgewater's Alice and Friends' Vegan Kitchen shows how easy and satisfying a plant-based lifestyle can be. Serving everything from Roasted Sesame Miso Ramen to their signature Noble Burger, this Edgewater vegan gem carries a wide selection of vegan options, but their mac and cheese takes the cake! Alice and Friends' vegan mac is made with brown rice pasta and comes served with a house-made cheese sauce and broccoli florets. Want to make it a loaded mac? Add in some soy-free house-made bacon to pull this cheesy dish together!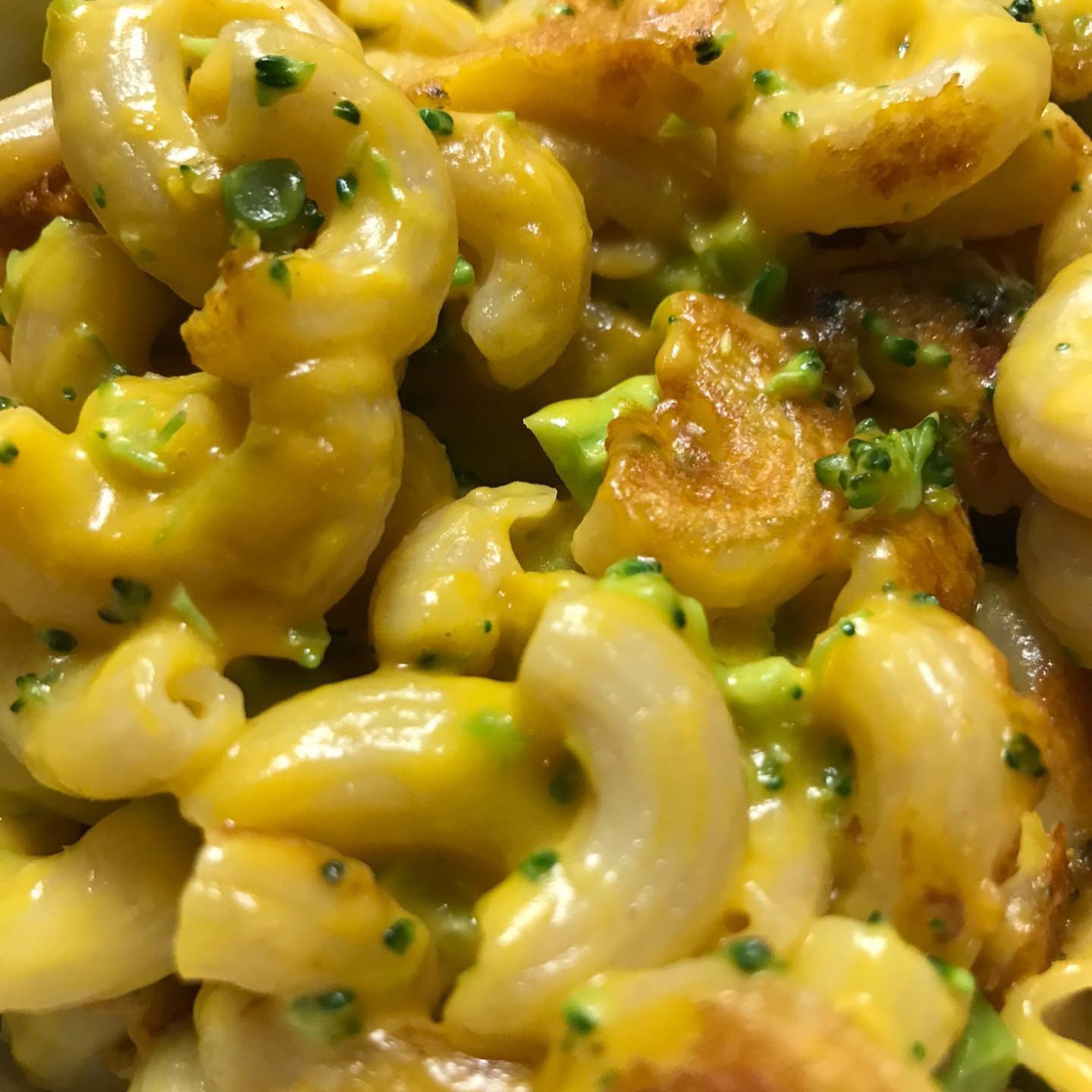 South Shore
Vegan
Devoted fans dub Good Foods Vegan Deli as one of Chicago's hidden gems, praising their tasty soul food-inspired plant-based eats! But while this South Shore staple might be slightly off the beaten path, their dishes speak for themselves. Good Foods's vegan mac is light and creamy and can be paired with any selection of their amazing sides and hot bar offerings. Be sure to check out their storefront to see what they're serving.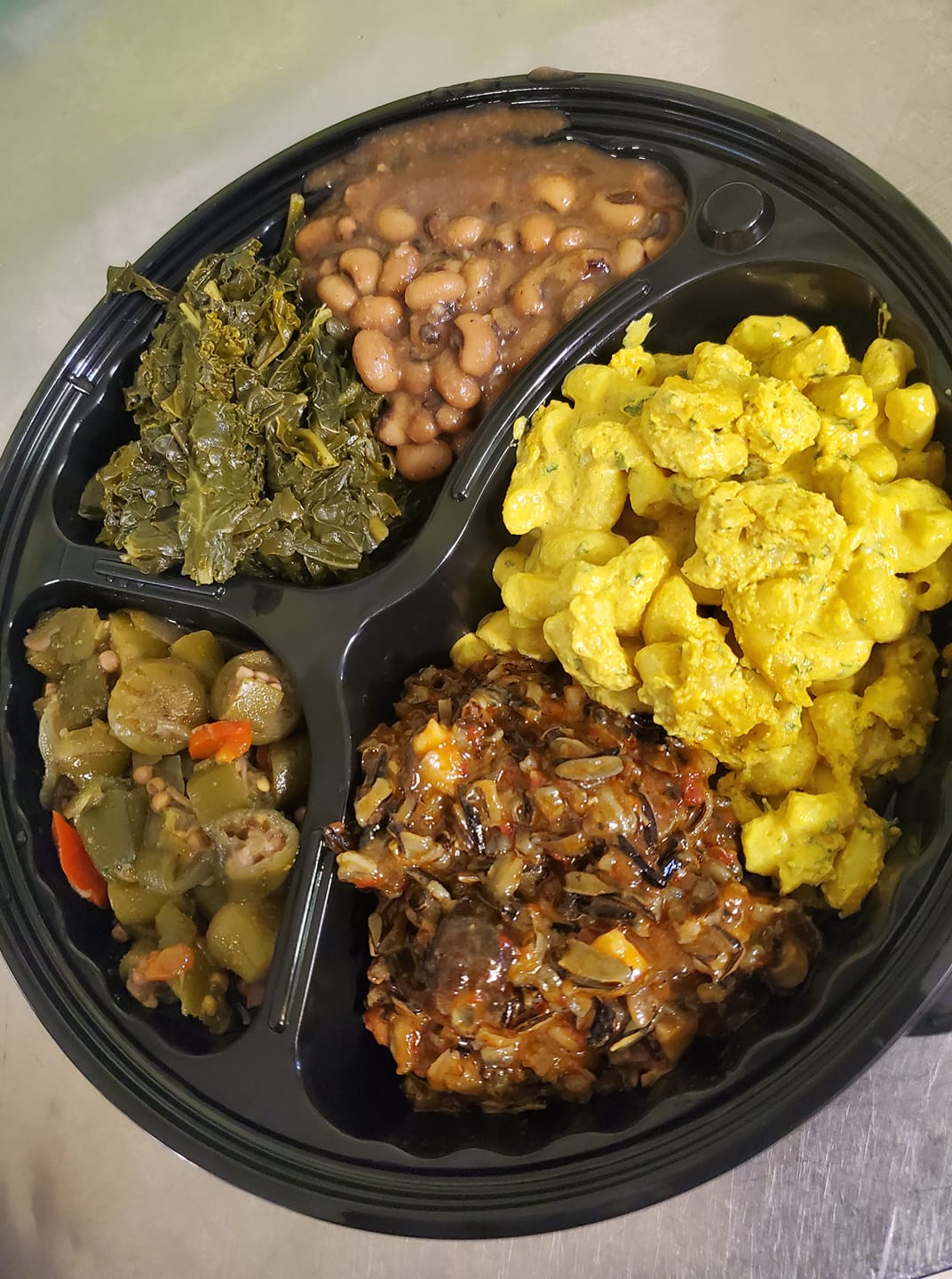 Lakeview & Logan Square
Vegan-Friendly
Meat-free since 1983, this Chicago hot spot serves up classic diner fare and mouthwatering desserts. Their light and savory "Mac and Teese" is no joke—served best as a main or enjoyed as a side dish combined with one of their savory sandwich offerings. Not convinced yet? Using local seasonal produce and converting their waste oil to biodiesel, The Chicago Diner is environmentally conscious as well, so you can eat your tasty mac knowing you're doing good for the planet.
Wicker Park
Vegan-Friendly
Located in Wicker Park, Handlebar is a go-to spot for made-from-scratch vegan and vegetarian comfort food—available for breakfast, lunch, and dinner! Handlebar's Vegan Dream Mac is served with a cashew-based cheese sauce and topped with crispy fried onion strings. But if you're looking for a little something extra, their Vegan Chili Mac Attack is the way to go. With a Vegan Dream Mac base, the "Mac Attack" comes topped with a scoop of veggie chili, cashew queso, pickled jalapenos, pico, and tortilla crisps. Still looking for more? Add on a serving of buffalo fried "chicken" seitan to round out your meal!
Photo credit: @vegan.and.hungry on Instagram
Old Town
Vegan-Friendly
Looking for an experience that merges dining and nightlife? This bar just might be the place for you! Old Town's 80 Proof Chi specializes in late-night bar bites, with a gracious selection of flavorful vegan options! At the top of the list is their vegan mac and cheese—a house specialty. Made with a spiraled cavatappi pasta, 80 Proof's variation on the dish is coated in a cashew cheddar sauce and topped with seasoned bread crumbs—perfect to enjoy with one of their specialty drinks.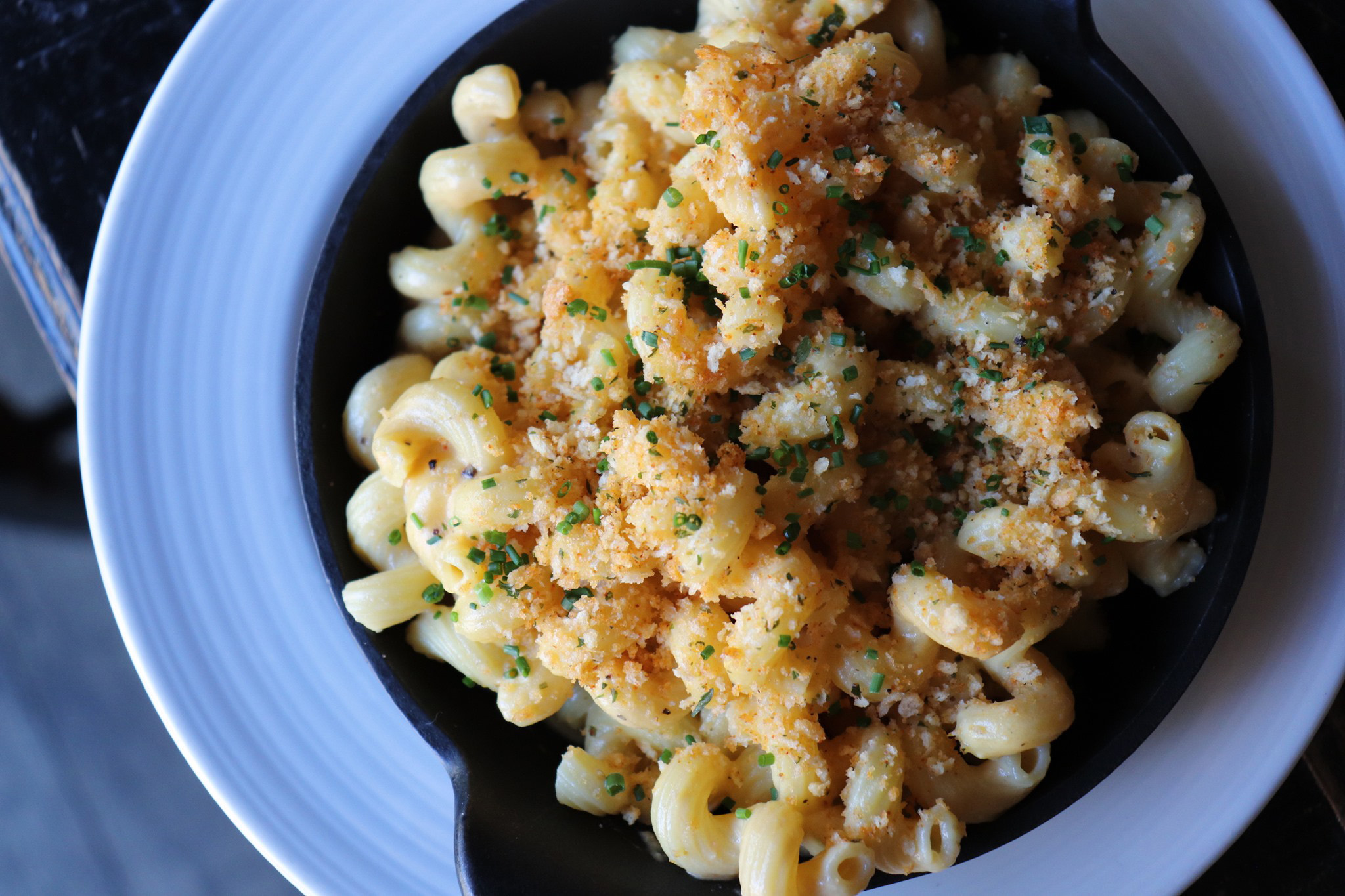 Avondale
Vegan-Friendly
Located in Avondale, Moonlight Vulture is a quaint sandwich shop serving up tasty soups, sandwiches, salads, burgers, and sweets. The best part? They specialize in veggie-forward and vegan cuisine! Moonlight Vulture's signature mac might just be the creamiest on this list, seasoned to perfection! They do offer two different mac and cheese variations, so be sure to ask for the non-baked vegan version, available as a plate or a side dish.
Photo credit: @sarah_blazer_ on Instagram