These Windy City spots are sure to satisfy your sweet tooth!
Chicago has some amazing vegan eats, but the city's dessert options take the cake! If you're wondering where to get your next sweet treat, look no further—we have the inside scoop on the best vegan shakes, cakes, and baked goods the city has to offer. Check out our picks below for where to find vegan desserts in Chicago!
West Town
Vegan
This woman-owned West Town vegan bakery stocks an amazing selection of sweet treats! Pie, Pie My Darling currently offers a Saturday treat pre-order—browse their weekly options, place your order, and then pick up your goodies on Saturday! Try one of their signature single-serving cup-cakes in flavors like Chocolate Cherry, Lemon Blueberry, Cookie Monster, Banana Biscoff, and Virgin Strawberry Margarita. They also serve up slices of their signature layer cakes. Looking for something bigger? Order one of Pie, Pie My Darling's custom cakes, such as the Chocolate Peanut Butter Pretzel cake or the Cookies & Cream cake.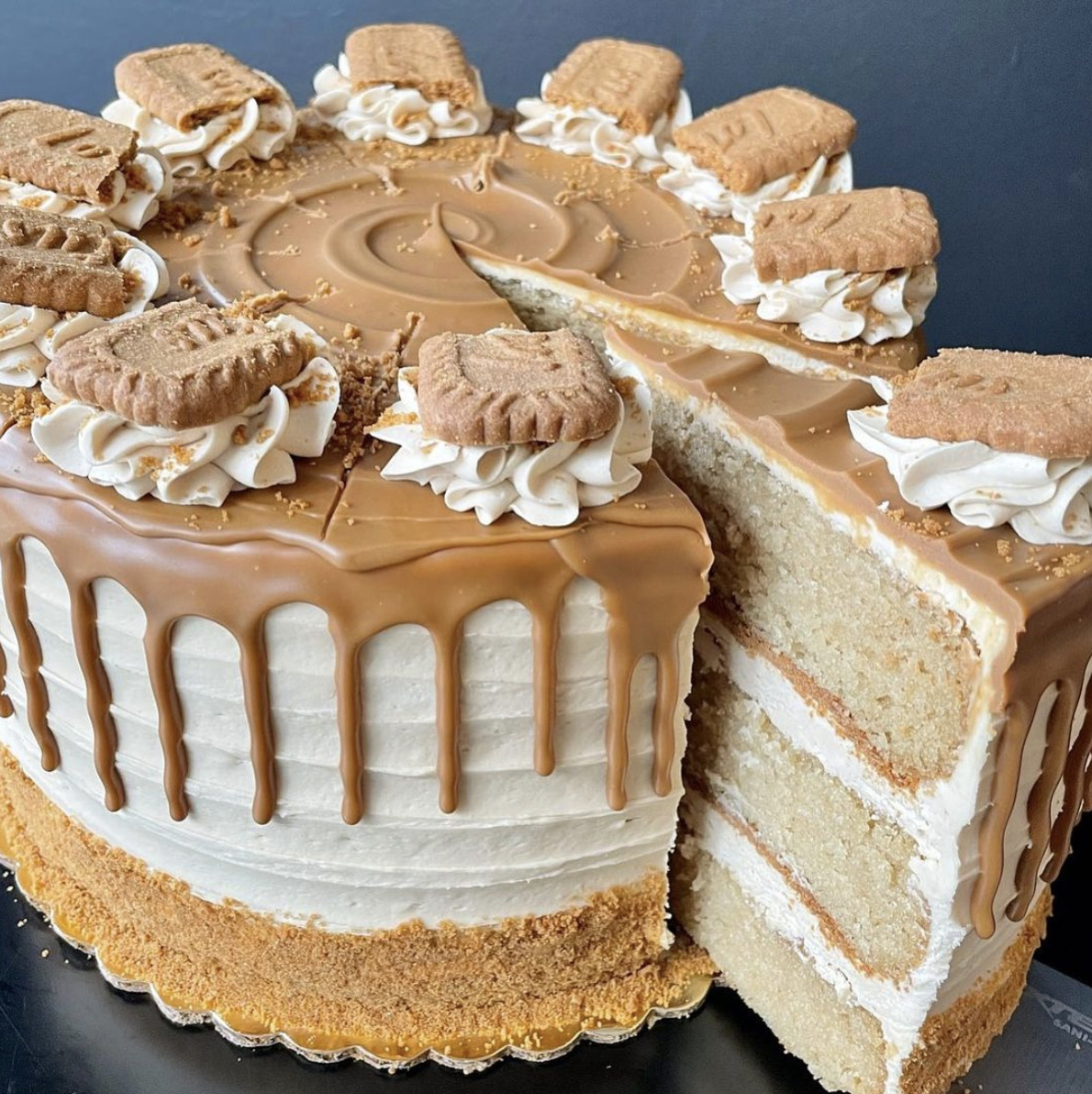 West Town
Vegan
Crafting artisanal creamy vegan soft serve, waffle cones, sauces, and toppings in-house, Vaca's Creamery needs to make your bucket list of Chicago sweet spots to try! Aside from carrying basic vanilla and chocolate oat milk-based ice cream, Vaca's Creamery also offers signature selections—including their root beer floats and milkshakes in flavors like caramel, coffee, strawberry, and more. The sweetest part? Vaca's Creamery is committed to using only the highest quality of ingredients—sourcing ethical chocolate and palm-oil free ingredients—and pays their employees above a living wage!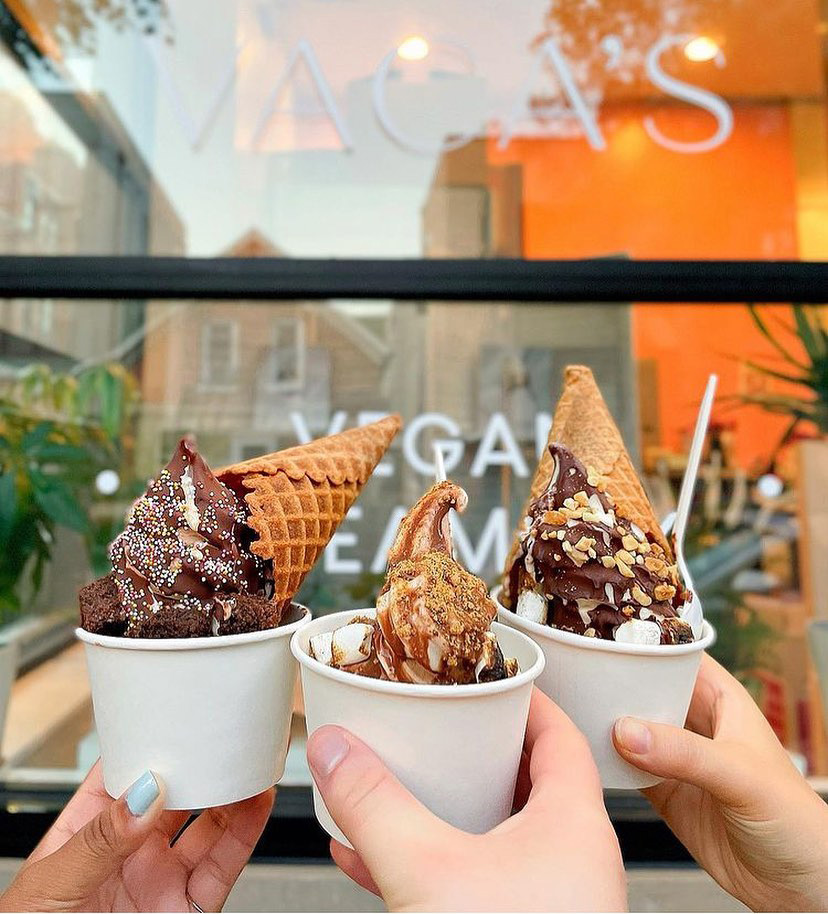 Photo credit: @maunaeatschicago on Instagram
Lincoln Park
Vegan
Handmade in small batches every morning, the donuts at Beacon Doughnuts are next-level. With a rotating menu of offerings, this artisanal donut shop is sure to have a flavor to please everyone! Are you a fan of the classics? Try their Boston Cream, Apple Fritter, Cinnamon Bun, or Raised Glazed donuts. Looking for a crazy new flavor combination? Beacon Doughnuts has those, too! Check out their Choco Caramel Shortbread, Blackberry Bismark, and Lavender Vanilla flavors. These tasty treats sell out fast, so be sure to arrive early or order your donuts ahead of time.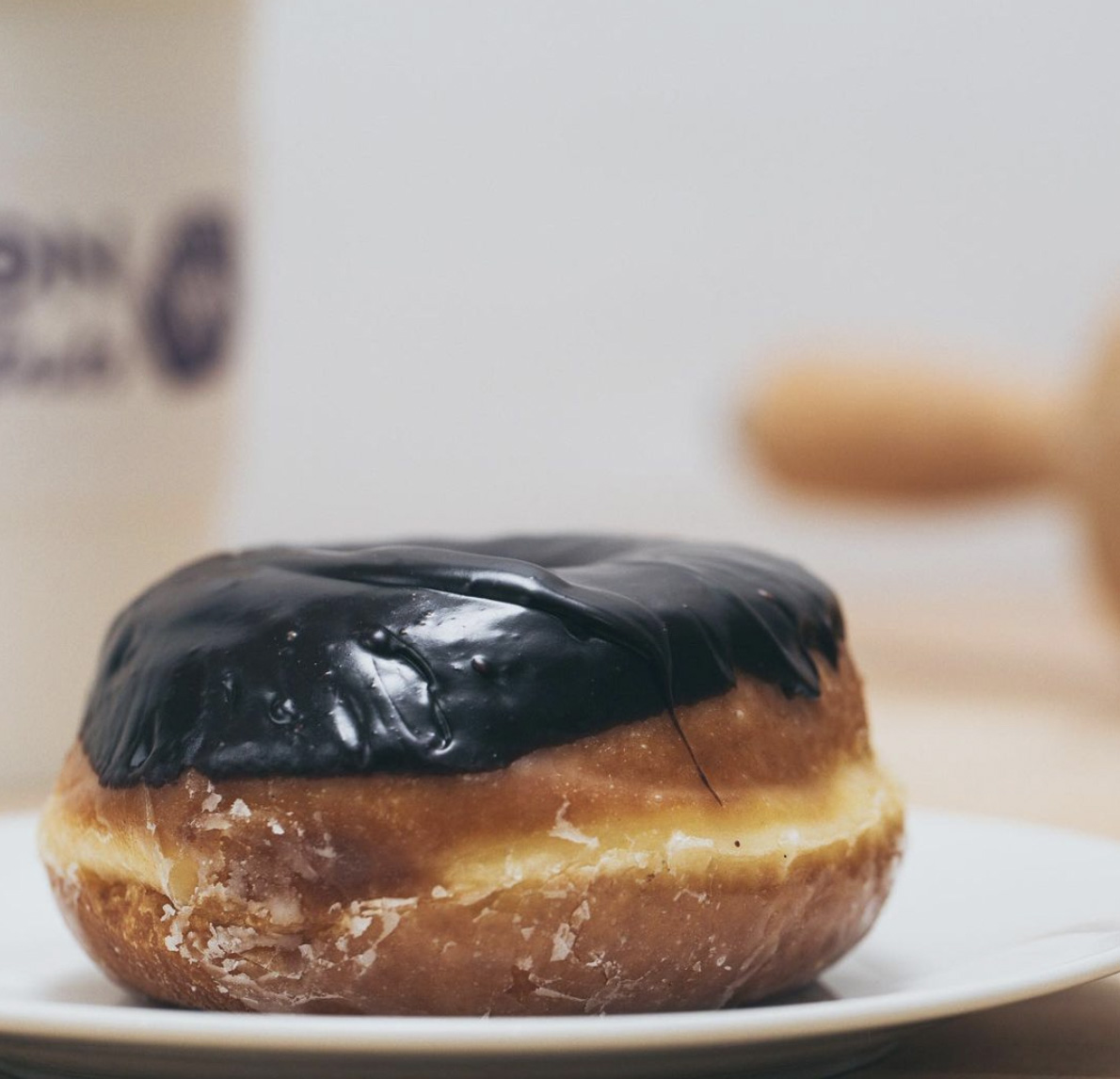 Lakeview, Hyde Park, Wicker Park, & The Loop
Vegan
This plant-based eatery offers more than just desserts, but they've definitely perfected their sweet treats! With locations spread across Chicago, they've got the desserts you're looking for. Want something small to hit the spot? Grab one of their single-serve parfaits, a Key Lime Cheesecake Parfait (layered with cream cheese filling, oatmeal cookie crumbles, and Key lime crème, and topped with a fresh lime) or their Peanut Butter Parfait (filled with whipped peanut butter crème, banana bread crumbles, and topped with chocolate chips). Before you leave, you have to try the signature Oatmeal Cream Pie—featuring a whipped vanilla crème sandwiched between two soft-baked oatmeal cookies.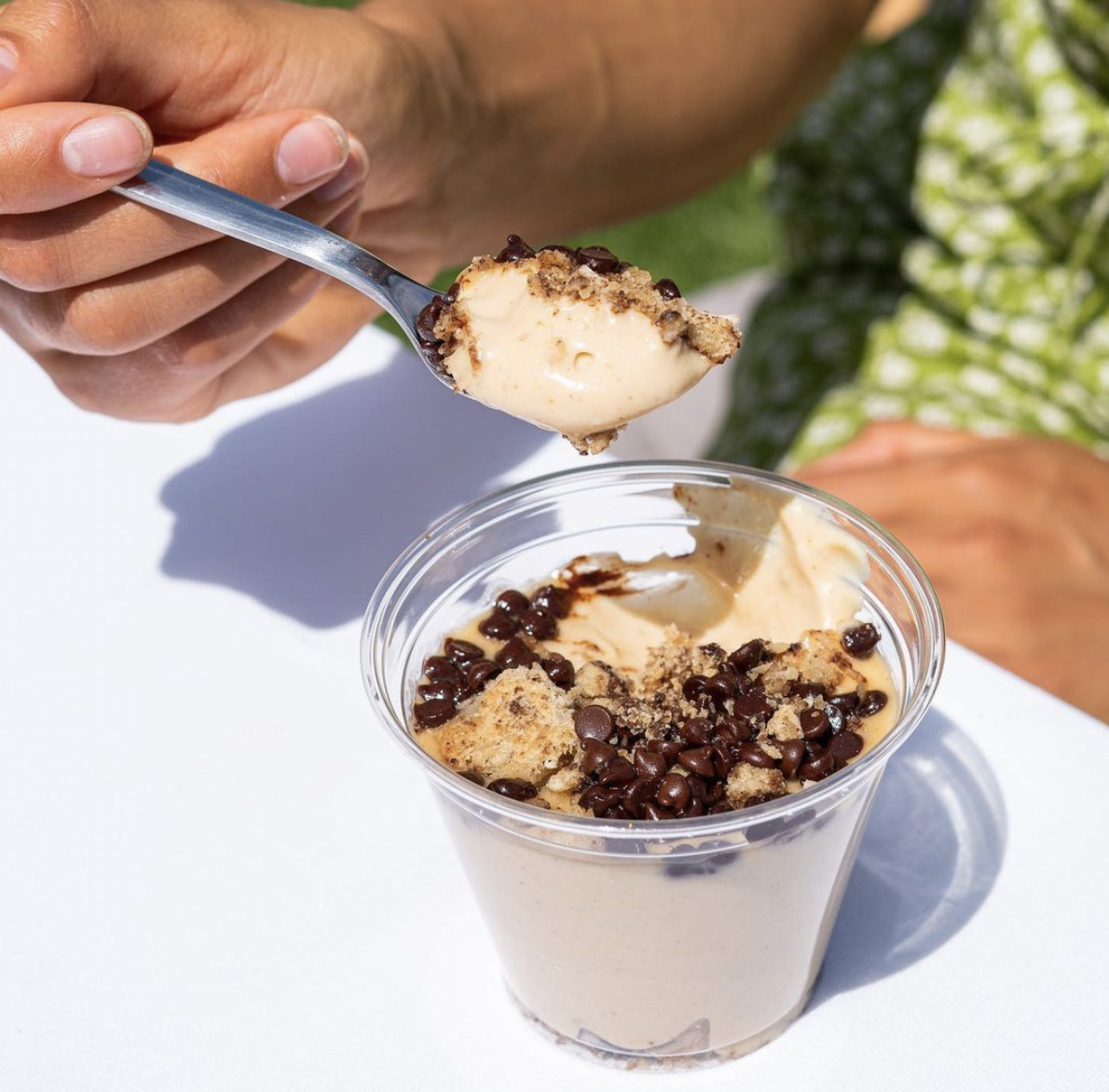 West Town
Vegan
Liberation Donuts is one of Chicago's top-rated sweet spots, featuring a rotating selection of fried cake donuts. With names like Greta, Flapjack, and Kindness, Liberation's inventive donut offerings are certain to put a smile on your face! The best part? This month, Liberation has partnered with Pet Mutual Aid, donating 50% of proceeds from their Liberation Lemon Poppy Seed Donut to their One Tail at a Time Initiative! Be sure to check out Liberation Donuts's Instagram to get a sneak peek of all the fun flavors they're serving up!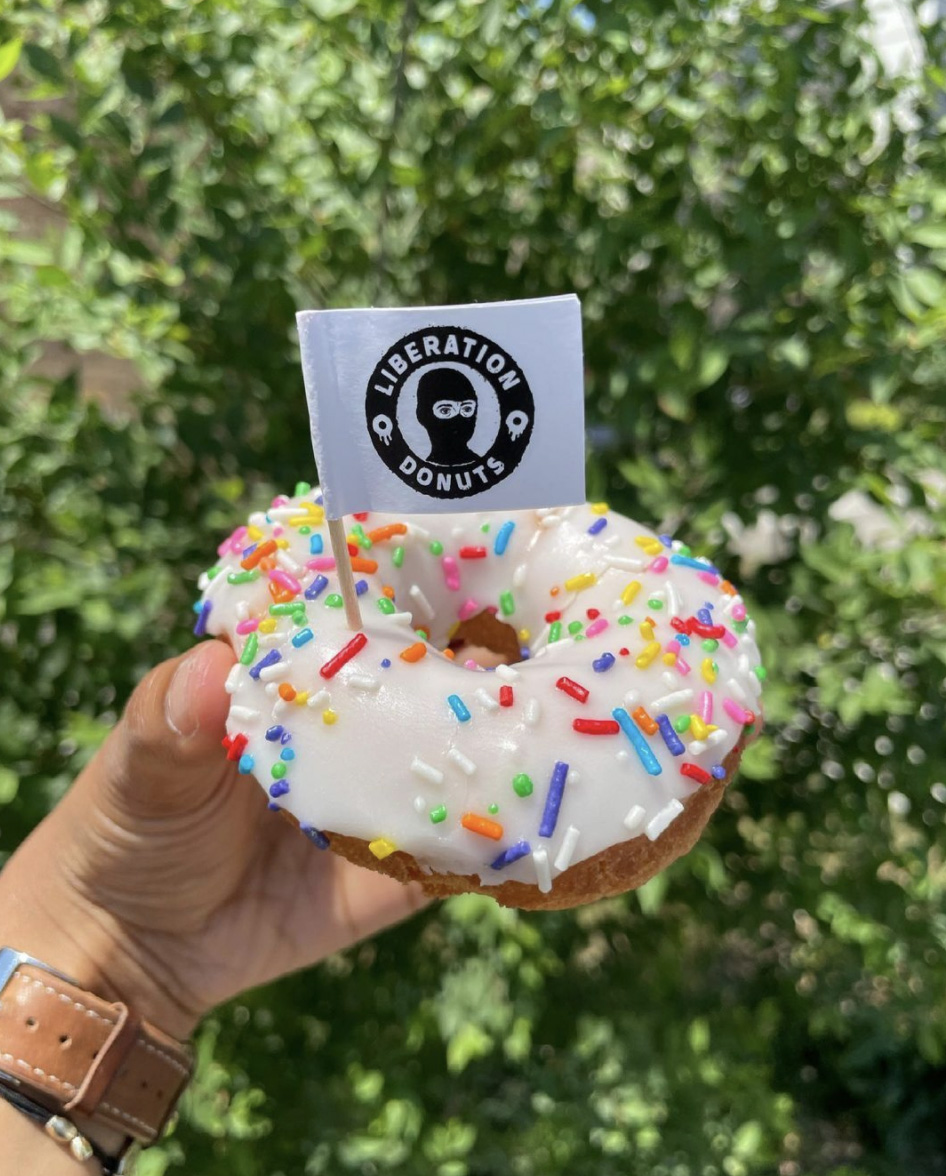 Photo credit: @chicagotreets on Instagram
Lakeview & Logan Square
Vegan-Friendly
There's no Chicago dessert more iconic than a Chicago Diner vegan shake. Since 1983, this local hot spot has committed to catering to a vegetarian lifestyle. Be sure to try one of their award-winning shakes in flavors like chocolate peanut butter, banana, mint chocolate chip, cookie dough, strawberry, and more! Still hungry? Grab a slice of their seasonal cheesecake or a signature S'mores Brownie Sundae.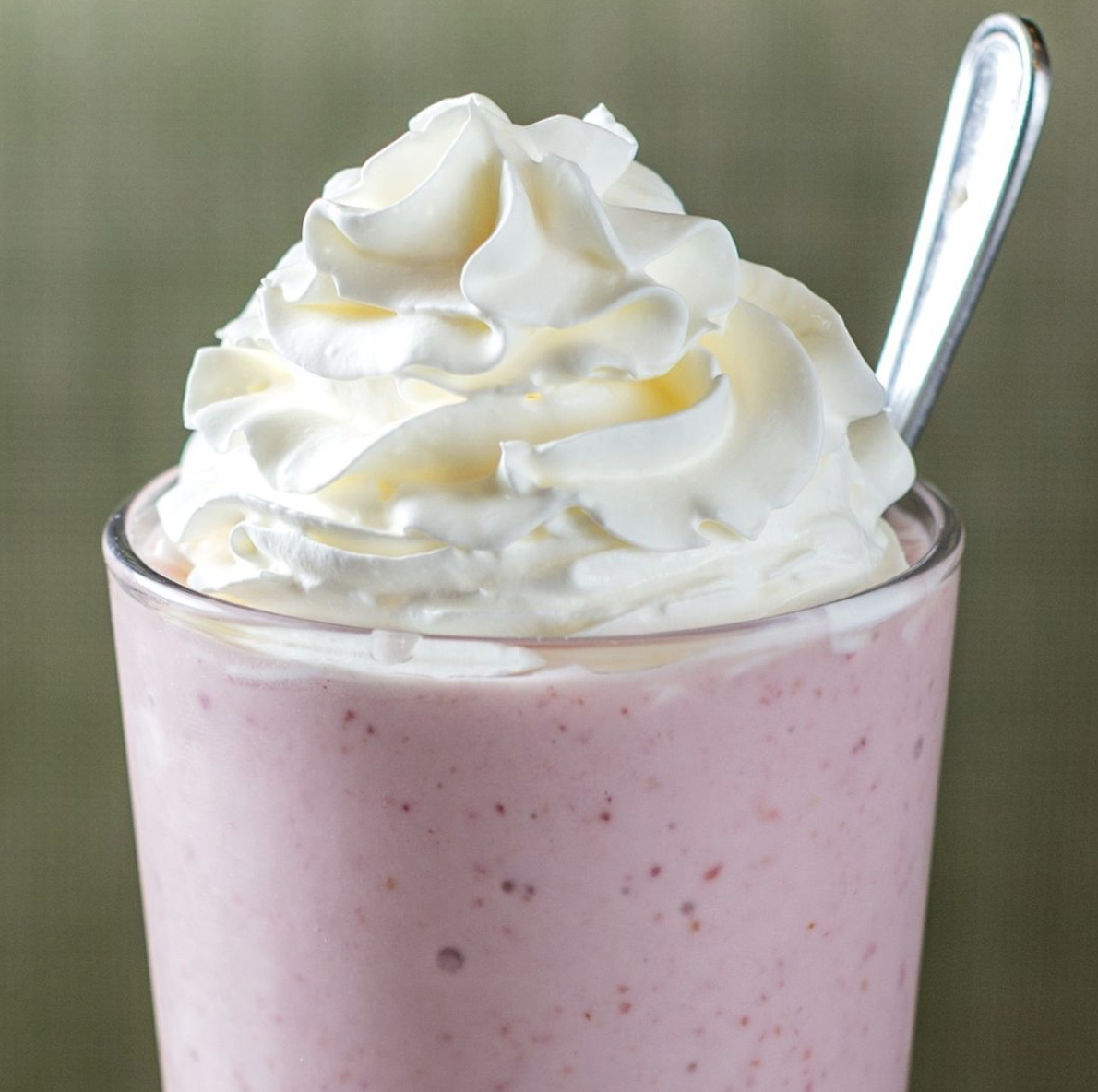 Pilsen
Vegan-Friendly
Since 1973, Panaderia Nuevo Leon has been Chicago's staple traditional self-serve Mexican bakery. Grab a set of tongs and pick from an assortment of vegan sweet treats like their Mini Conchas and Pan Dulce—made daily from scratch and baked throughout the day. Don't forget to load up on their fresh chocolate cupcakes, muffins, and cookies as well. Stop by and check out the growing list of sweet vegan treats Panaderia Nuevo Leon is offering this week.
Edgewater
Vegan-Friendly
With a wide selection of baked goods, this gluten-free bakery is the perfect spot to grab a quick, simple dessert! Offering everything from cupcakes and bars to scones and pies, Defloured also has a great vegan menu, including such classics as chocolate cupcakes and chocolate chip cookies. Looking for something different? Try one of their sandwich cookies—choose from a Vegan Chocolate Chip Cookie with Peanut Butter Buttercream, their Vegan Oatmeal Cream Pie sandwich cookie, or the amazing Vegan Chocolate Whoopie Pie.