While you might want to gamble with the slots, there's no need to risk your luck finding vegan options. Use our list below for all the Vegas vegan eats!
Southwest
Tarantino's is the first 100% vegan Italian restaurant in Las Vegas! They are family-owned and pride themselves on using fresh ingredients and making most of their items in-house. There are many delicious options to choose from, including flatbreads, Italian sandwiches, fresh pastas, eggplant parmesan, and quite possibly the most delicious tiramisu outside of Italy! Be sure to check out Tarantino's if you're looking for some delicious Italian comfort food.
Downtown
Located just a few blocks from the world-famous Fremont Street in Downtown Las Vegas, VegeNation is a great option. They source their alcohol, coffee, tea, artisan cheeses, and herbs from local businesses and pride themselves on cooking with vegetables produced in school gardens, community gardens, and freight farms (a newer concept where a vertical hydroponic farm is designed and built entirely inside a shipping container, making locally grown fruits and vegetables more accessible). Some of their popular items include their Mac Daddy Burger, Buffalo Cauliflower Wings, and Chicky Chicky Bang Bang Sandwich.
University, Eastside
The Modern Vegan is all about comfort food! Enjoy huge portions any time of day from their menu of over 100 options. Chicken & waffles for breakfast? Absolutely! Craving something healthy? Try one of their protein buddha bowls. Feeling super hungry? Go for the BBQ Brisket Mac'N'Cheese or Pad Thai. Did somebody say dessert? They aren't lacking in that department either, with options like hot fudge brownie sundaes and a deep-fried chimichanga with fruit.
Photo credit: @vegasbythebite
Chinatown
Chef Kenny Chye just opened his new Vegan Dim Sum restaurant this summer. This spot is a must-visit! With endless options, it's the perfect go-to for groups and sharing. Do not leave without trying their cream cheese wontons and crispy, spicy beef dish. If you have more time in Vegas or are local, be sure to check out his original restaurant—Chef Kenny's Asian Vegan Restaurant—as well!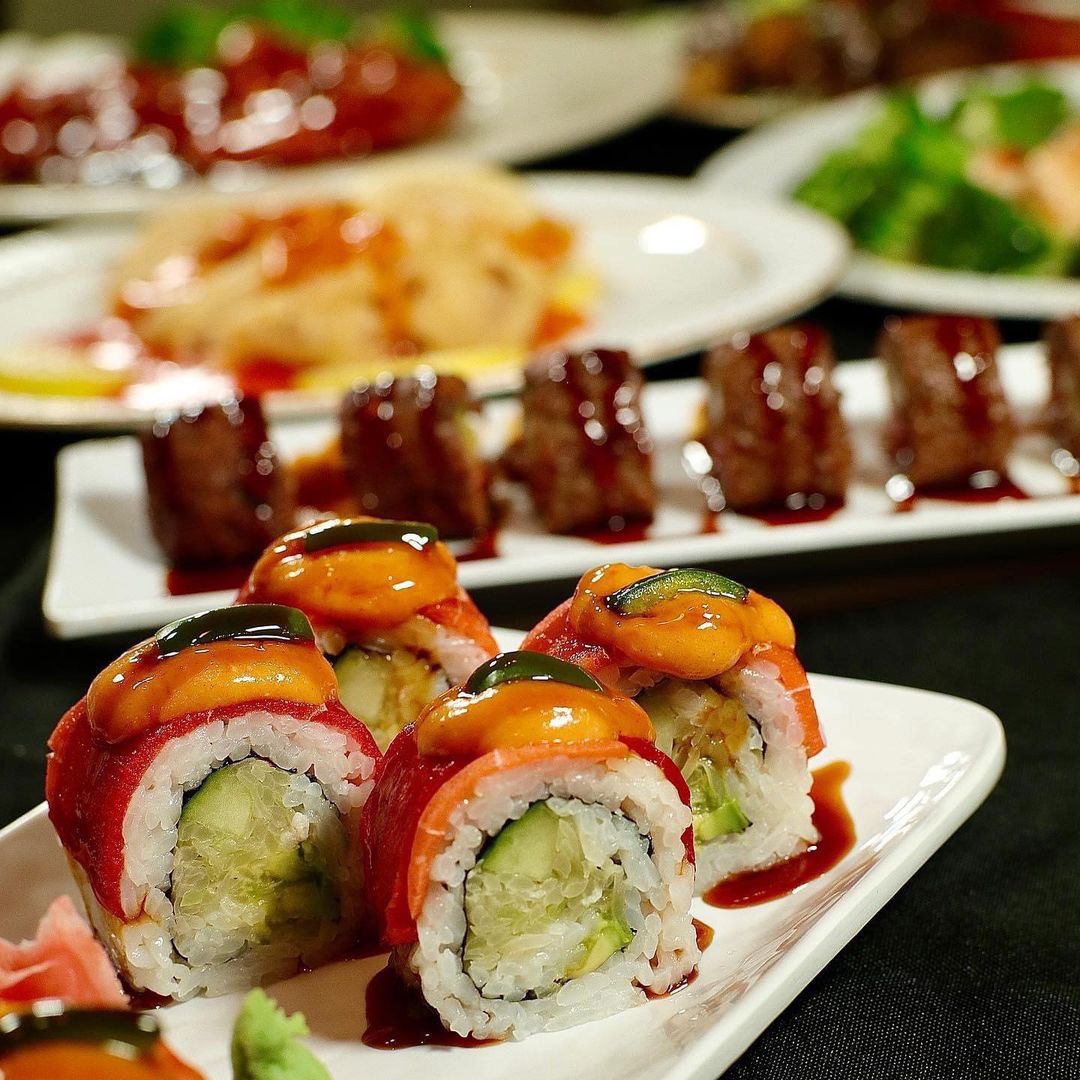 The Strip
Truth & Tonic, the first fully vegan restaurant on the Strip, is located in the Canyon Ranch Spa on the 4th floor of the Venetian Hotel. You may have a hard time finding this gem, so be sure to check the hotel maps and ask around. It's the perfect spot to get a clean, healthy breakfast—the Just Egg frittatas are not to be missed! If frittatas aren't your thing, they also have salads, ciabatta toast, tacos, and a homemade vegan burger.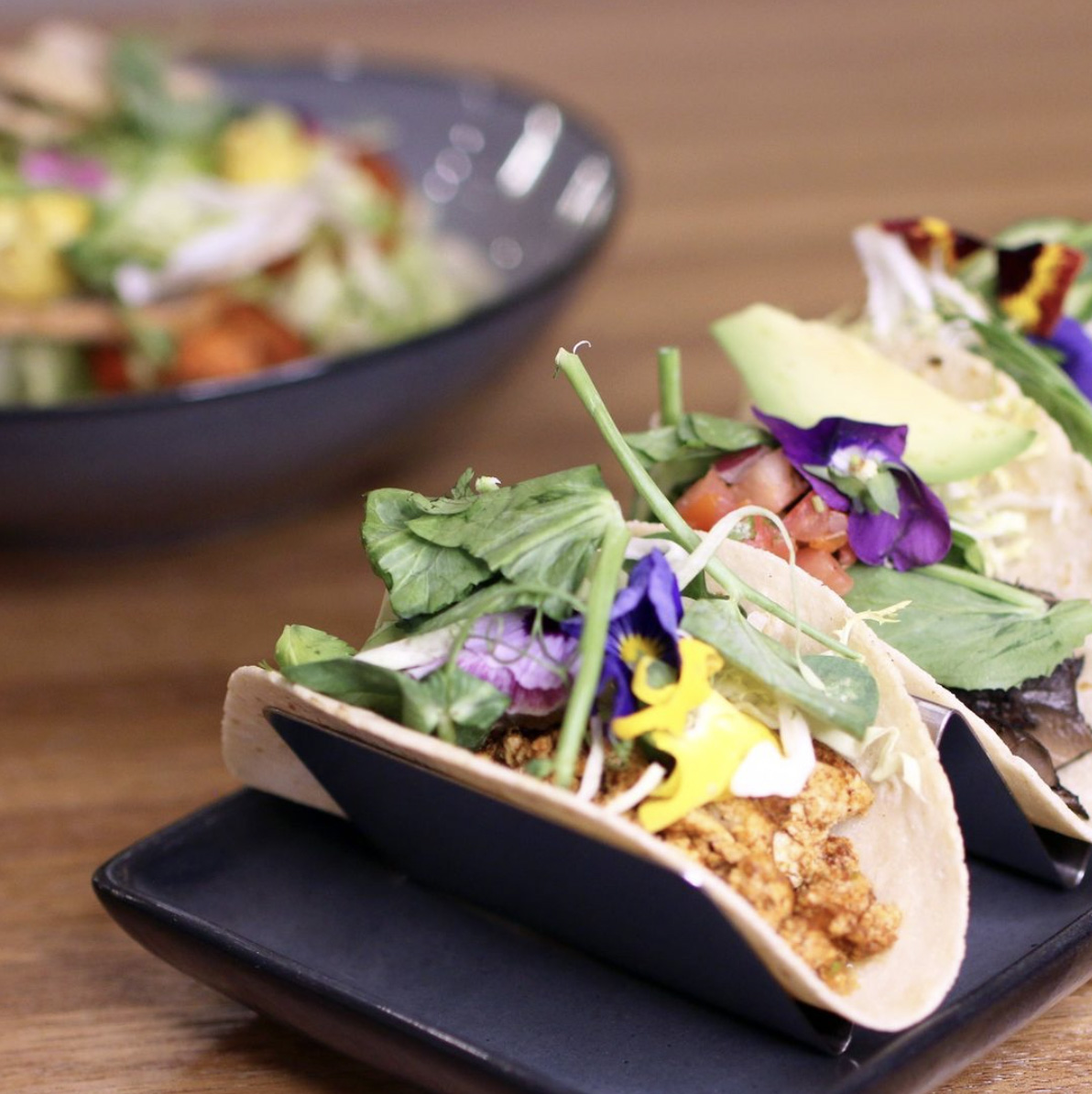 Summerlin
Garden Grill started as a vegan pop-up in 2014 and opened their brick-and-mortar in 2019. They are known for comfort food, such as crispy chick'n sandwiches, beer-battered avocado tacos, and soft-serve Dole Whip. You can find their most adventurous menu item—the Thrillist Burger—every Thursday. The Thrillist is a crispy chicken burger with lettuce, tomato, bakon, and cheeze between a couple of sugary rounds from Ronald's Donuts.
Summerlin
Craving Vegan Sushi? Look no further! Daikon opened up in 2020 when Chef Mindy Lim wanted to bring her personal approach to vegan sushi to Sin City. With over twenty different rolls, Daikon offers something for everyone. Some of their popular items include the tempura-fried California Roll, king oyster Spider Roll, and crispy spring rolls. Feeling adventurous? Try their Kale Tostada (tempura-fried kale topped with chickpea salad, inari, fresh avocado, sesame seeds, sweet soy, and diced vegetables).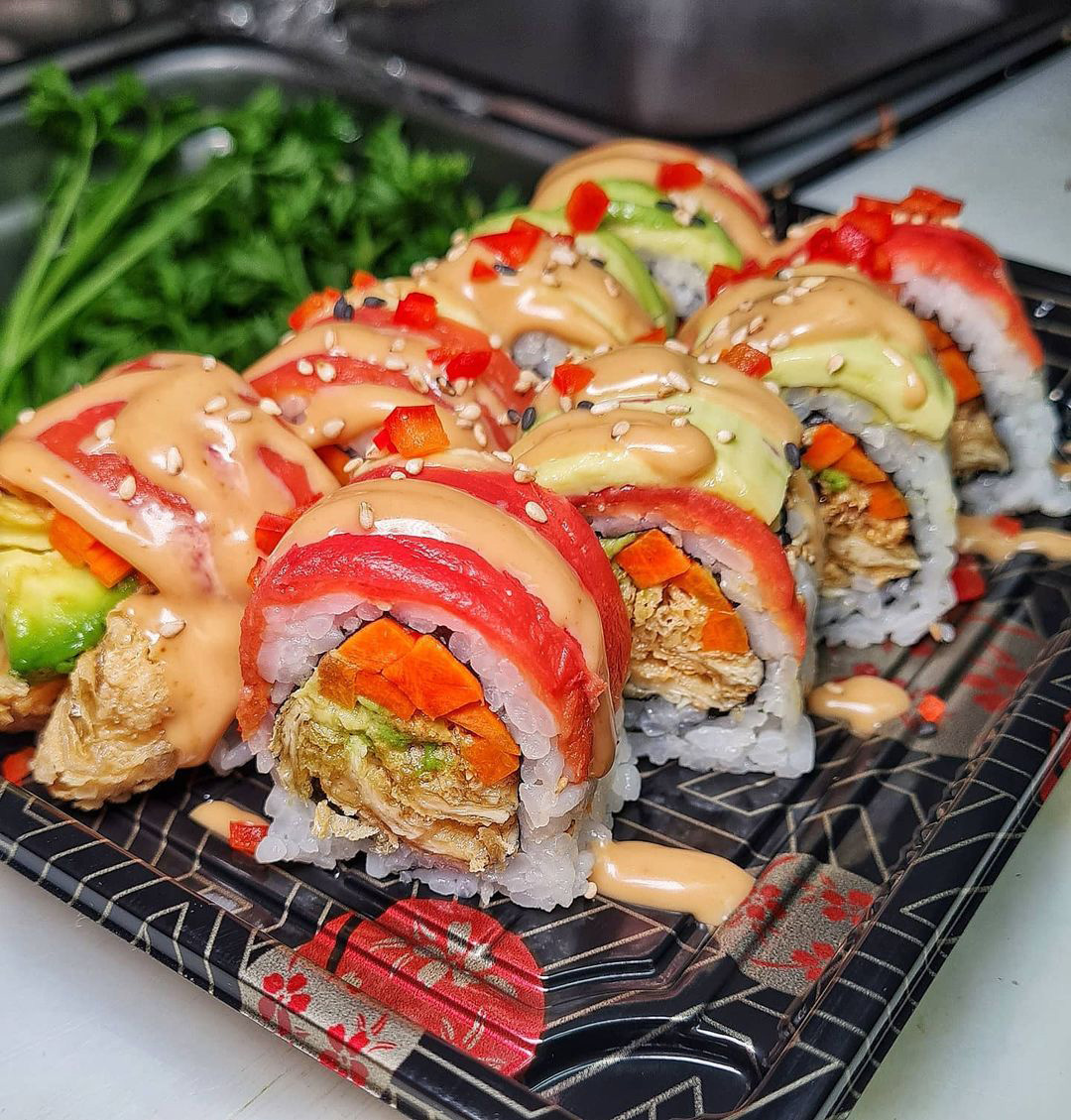 Multiple Locations
Panchos Vegan Tacos is so much more than their name may suggest. While they do have a wide variety of delicious vegan tacos, they also boast an extensive selection of authentic Mexican menu offerings. Alongside their tacos, they offer breakfast items, burritos, burgers and hot dogs, enchiladas, tostadas, and traditional sopes. Great news for the Southern California crowd—Panchos recently opened a Long Beach location, so you can try them closer to home!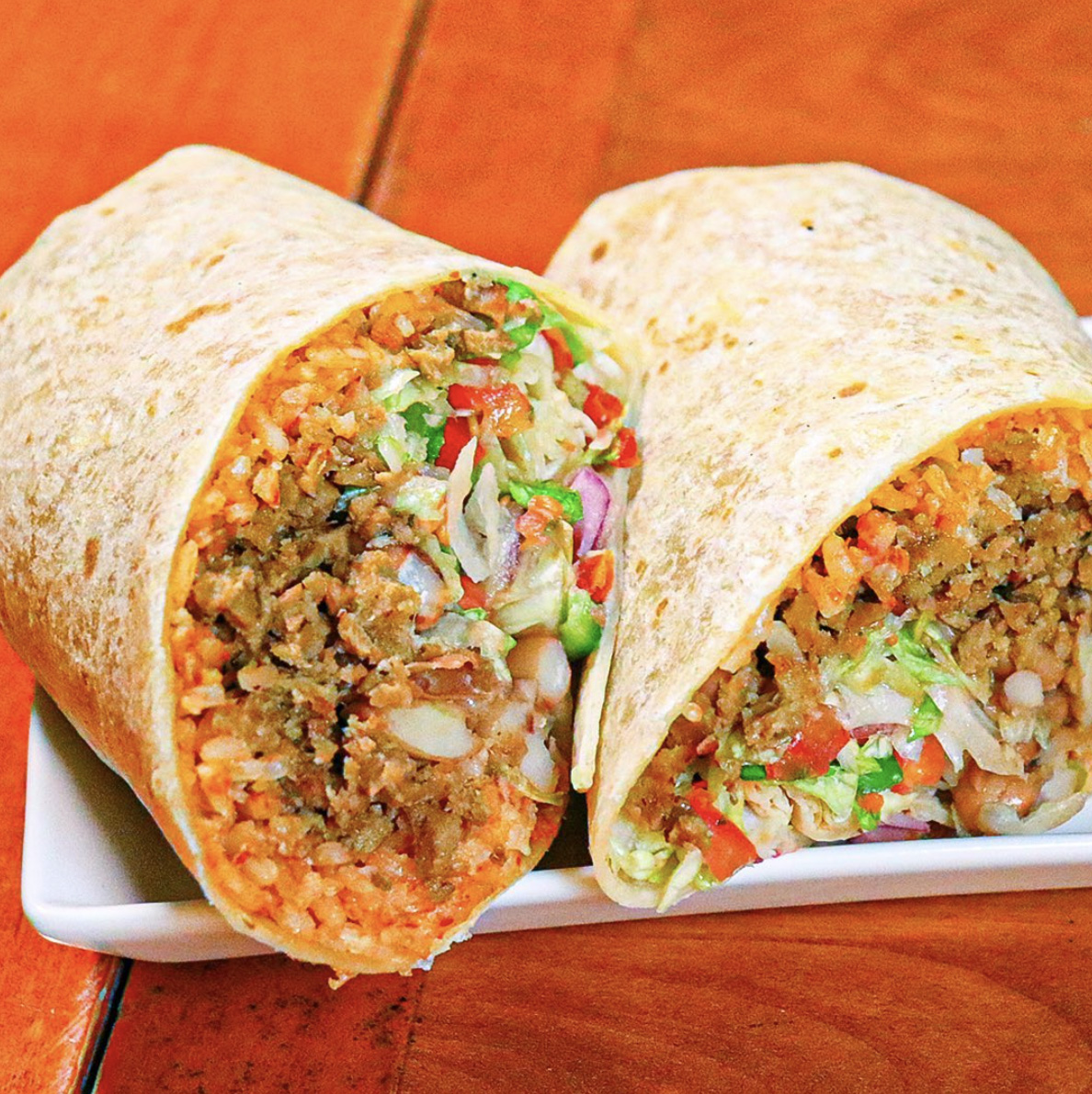 Multiple Locations
Tacotarian is a plant-based Mexican eatery that opened in 2018 with three locations. They are known for having 16 types of vegan tacos to choose from, including barbacoa, chorizo, and Jamaica (hibiscus flower). Besides tacos, they offer asada fries, Takis corn on the cob, nachos, and tortas. Fun fact: Vice President Kamala Harris stopped at Tacotarian for lunch in March 2021 and ordered two mushroom asada tacos, two carne asada tacos, and two super tacos.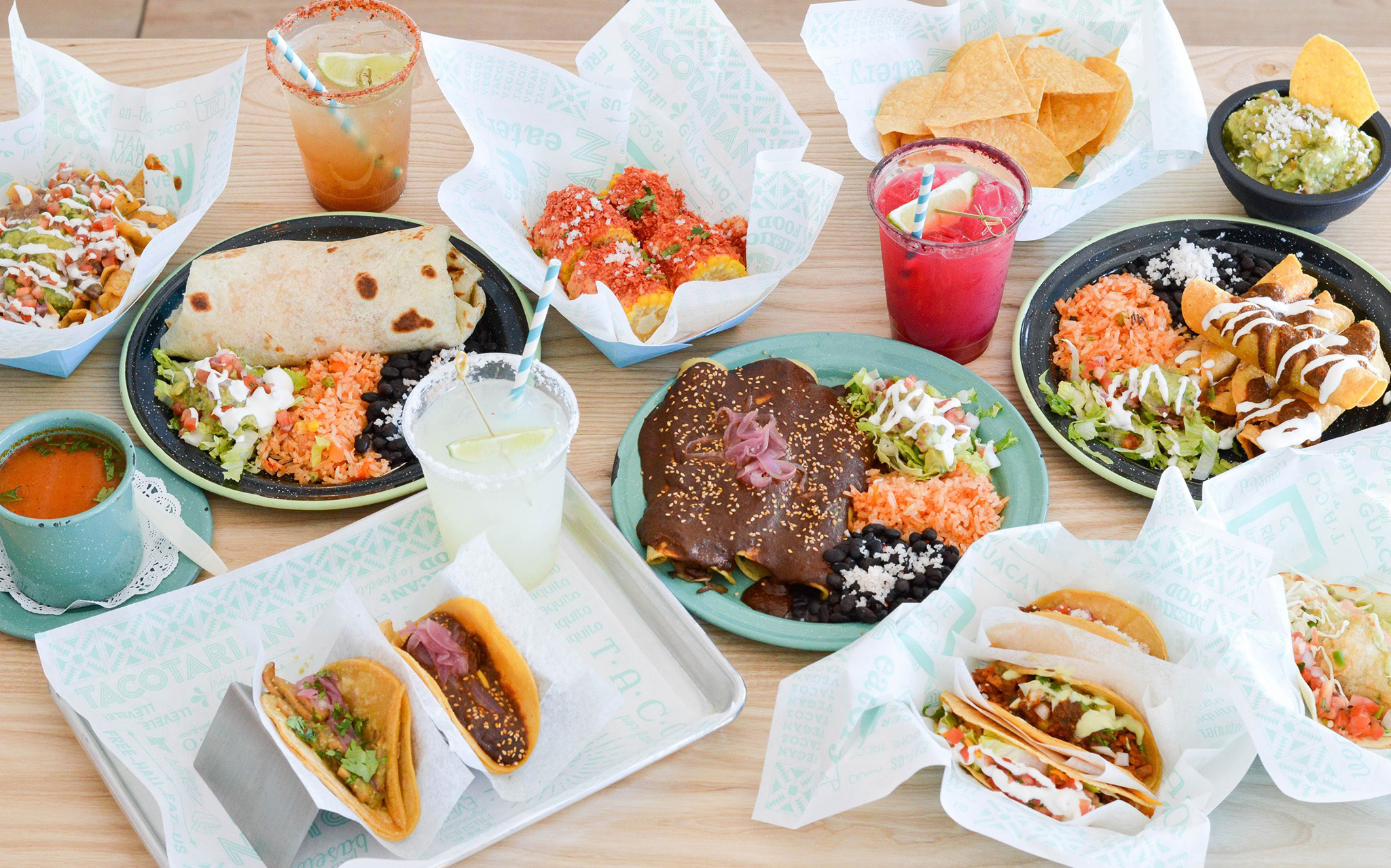 Chinatown
Vegan-Friendly
Calling all donut lovers! Ronald's Donuts was named the best donut shop in Nevada by Food & Wine. Although not fully vegan, Ronald's Donuts was one of the first donut shops in Vegas to offer vegan donuts! They carry a huge selection of these sweet treats, as well as vegan bagel sandwiches and Thai iced tea and coffee with plant milks. Make sure to stop by to pick up some delicious donuts, and try the cinnamon twists while you're there!