Add these plant-based pasta sauces to your weeknight dinner rotation.
Whether you're whipping up a quick pasta lunch or constructing a homestyle masterpiece like lasagna or stuffed shells, you'll want to have a good jarred pasta sauce on deck. From plant-based cream sauces like Daiya Alfredo Sauce to protein-packed white bean marinara from Victoria Vegan, the options are endless. For more choices, check out our list of 13 vegan jarred pasta sauce brands.
We love tomatoes in our jarred pasta sauce, but why stop there? Otamot understood the assignment—this saucy brand adds a variety of veggies into its products. The Organic Carrot Bolognese Sauce features none other than our favorite orange root veg while the Otamot Essential Sauce includes bell pepper, butternut squash, beet, and more!
Don't mind us, we're just loading up our pantry with Victoria Vegan pasta sauces. From Vegan White Bean Marinara Sauce and Vegan Alfredo to Vegan Arugula Pesto Alfredo and Vegan Alfredo Red Pepper Sauce, Victoria Vegan has the hookup on plant-based pasta sauces. We're on a mission to taste them all!
From traditional Marinara to Tomato Basil to Italian Herb, Organicville has all the vegan jarred pasta sauce options. Each sauce is made with wholesome ingredients like tomatoes, herbs, and organic extra virgin olive oil—no added sugar here! We love using these sauces in dishes like simple spaghetti and plant-based chicken parm.
Do Anything Foods offers a full-on sauce gallery, and we're ready to try them all. Choose from Kale Pesto, Beet Lemon Pesto, Cauliflower Alfredo, Butternut Squash, and Tomato Veggie. We're loving the Cauliflower Alfredo which features our favorite cruciferous vegetable along with roasted garlic, extra virgin olive oil, and lemon juice.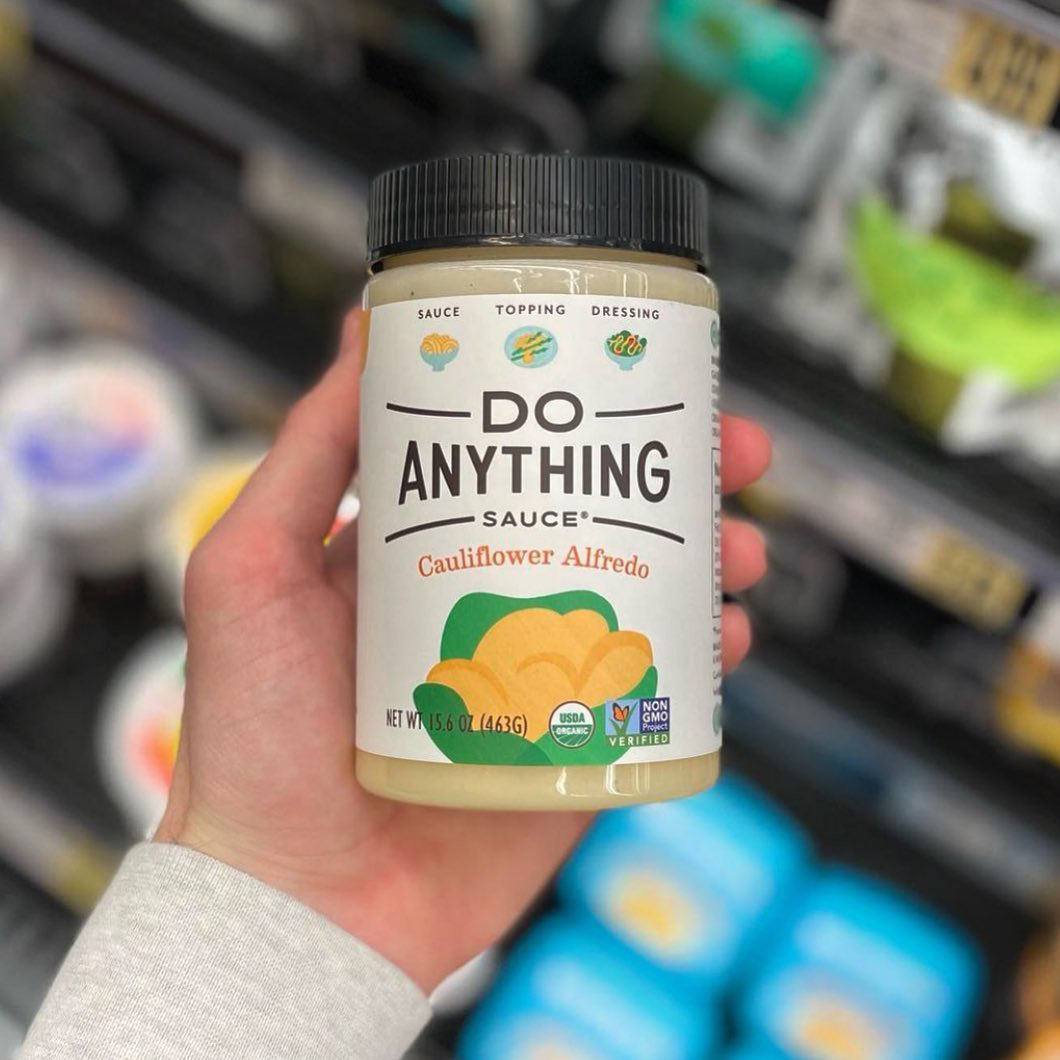 Prego, the jarred pasta sauce we grew up with, is moving with the times. This Campbell's brand now offers three Prego+ varieties featuring plant-based protein made from peas. Choose from Prego+ Plant Protein Traditional Italian Sauce, Meatless Meat, or Italian Tomato Sauce with Roasted Garlic and Herb for a quick pasta night dinner.
These vegan pasta sauces are seriously packed with veggies—just the way we like it. The ZENB brand uses the confit technique for its "Roasted Tomato with Garlic and Basil" and "Sweet Carrot and Tomato Marinara" sauces. This technique unlocks the deep flavor and umami of each vegetable and makes for a creamy, plant-powered pasta sauce.
Let your creativity run wild with Daiya Plant-Based Alfredo Style Deluxe Cheese Sauce. The shelf-stable sauce is rich, creamy, and ready to serve. Add Daiya Alfredo Sauce to pasta and plant-based chicken for a low-key lunch, or create a white pizza from kitchen staples for a dinner with friends. Daiya Alfredo Sauce FTW!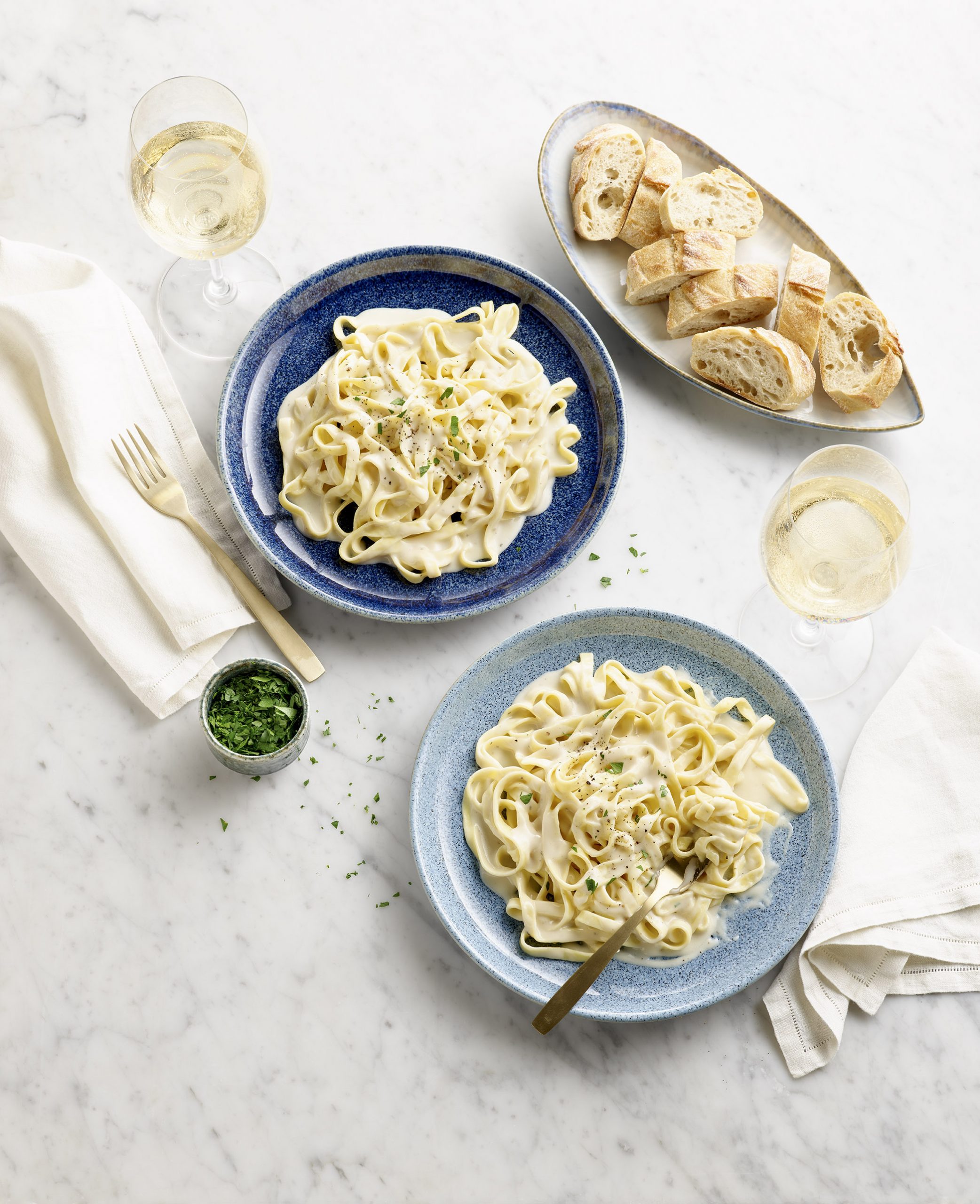 Gone are the days of boring pasta dishes. Say hello to a big bowl of flavorful comfort with these two Trader Joe's pasta sauces. We love adding the Vegan Kale, Cashew, and Basil Pesto to wagon wheel noodles or pairing the Vegan Bolognese Style Pasta Sauce with spaghetti pasta and sautéed vegetables.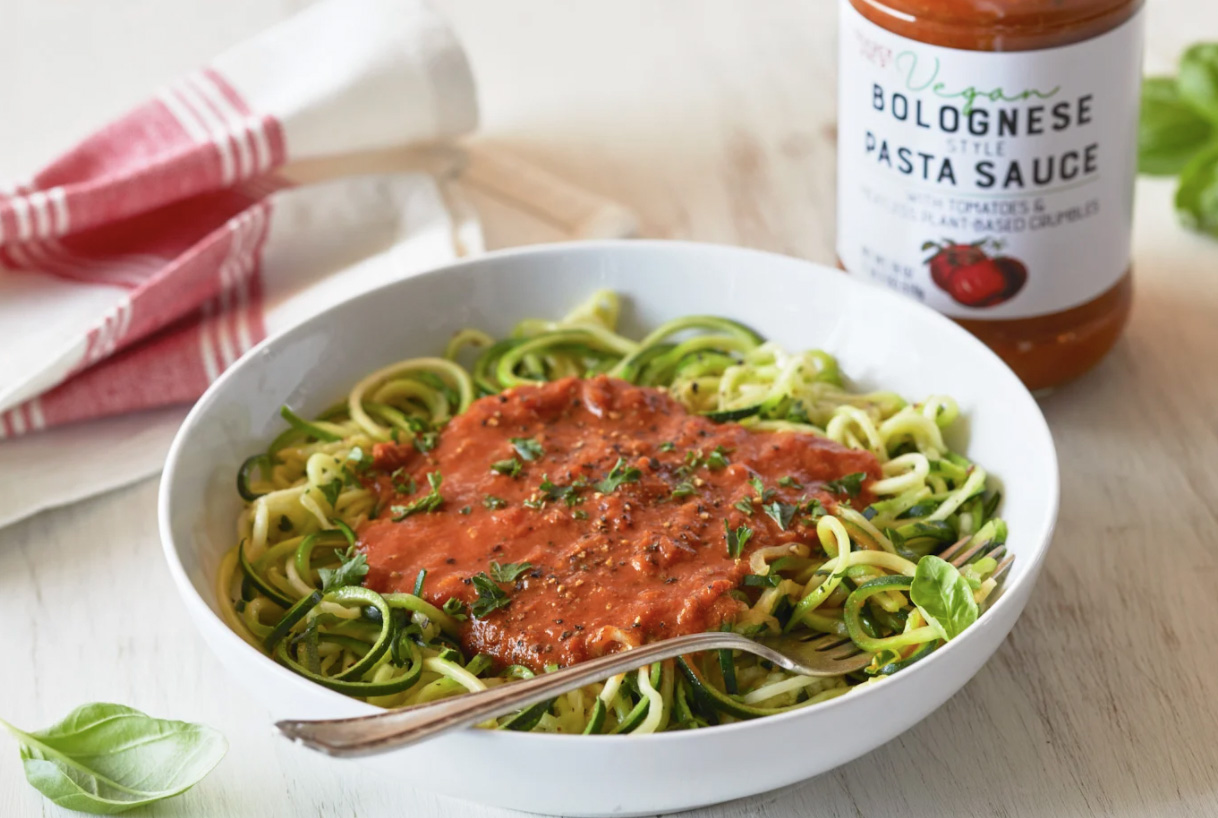 This vegan-friendly store brand is not skimping on the inclusive jarred pasta sauce options. Find Simple Truth Organic Plant-Based Alfredo Sauce at Kroger along with a variety of accidentally vegan jarred marinaras. The vegan Alfredo features organic soy milk, cauliflower, and spices. Pair with Simple Truth Organic Fettuccine pasta for a tasty entree.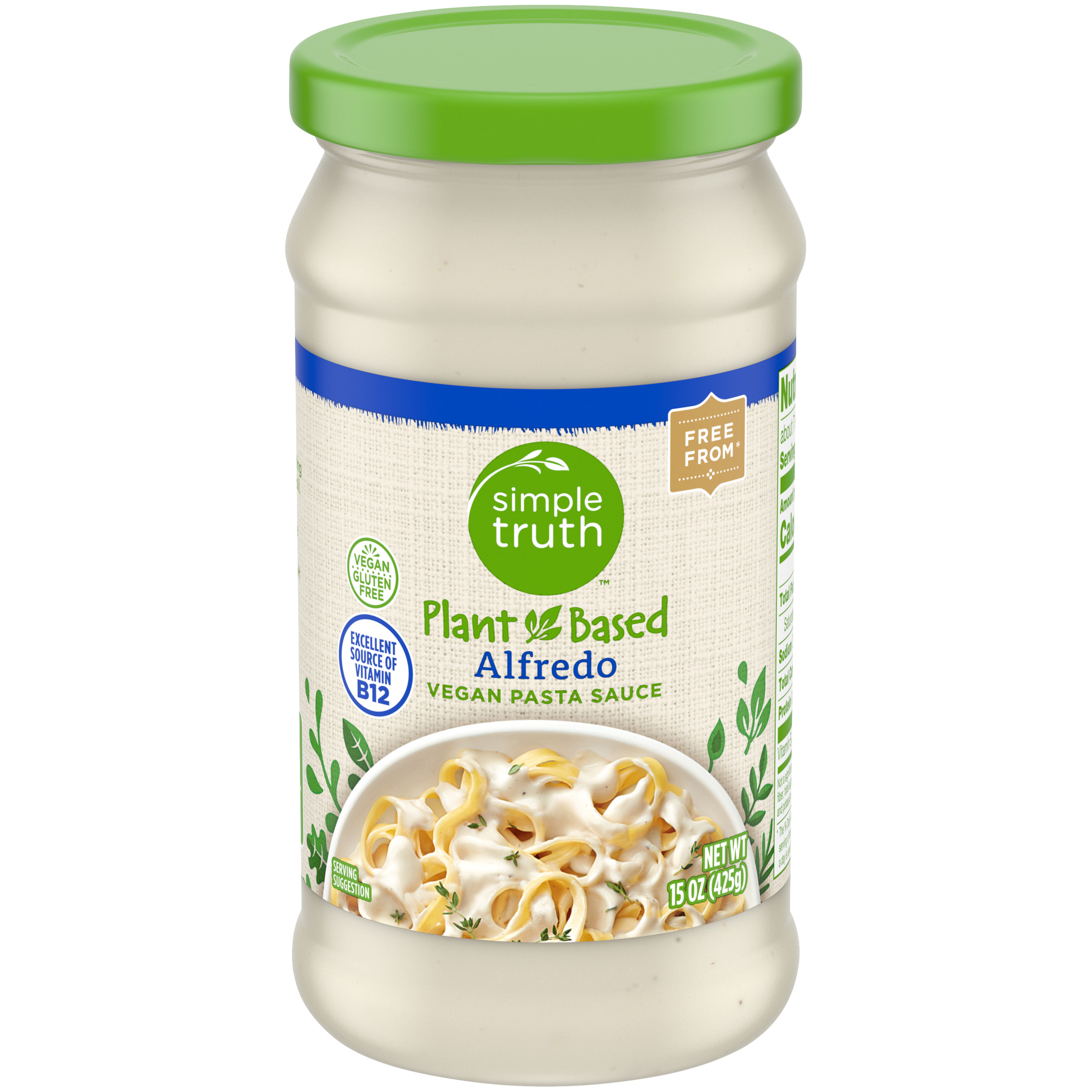 Imagine slow-cooked Italian plum tomatoes with onion, garlic, basil, and oregano—we can smell it now. Rao's Homemade Marinara Sauce is our go-to red sauce for quick meals that taste like they took hours. Pair this vegan-friendly jarred pasta sauce with traditional spaghetti and plant-based meatballs for a comforting taste of home.
You'll never run out of creative dinners with these jarred pasta sauces. The vegan-friendly brand Primal Kitchen offers No-Dairy Alfredo, Garlic Alfredo, Vodka, and Pink Primavera sauces—the latter is packed with bright pink beets! Primal Kitchen also has the hookup on various marinara sauces made with roasted garlic, basil, and crushed red chiles.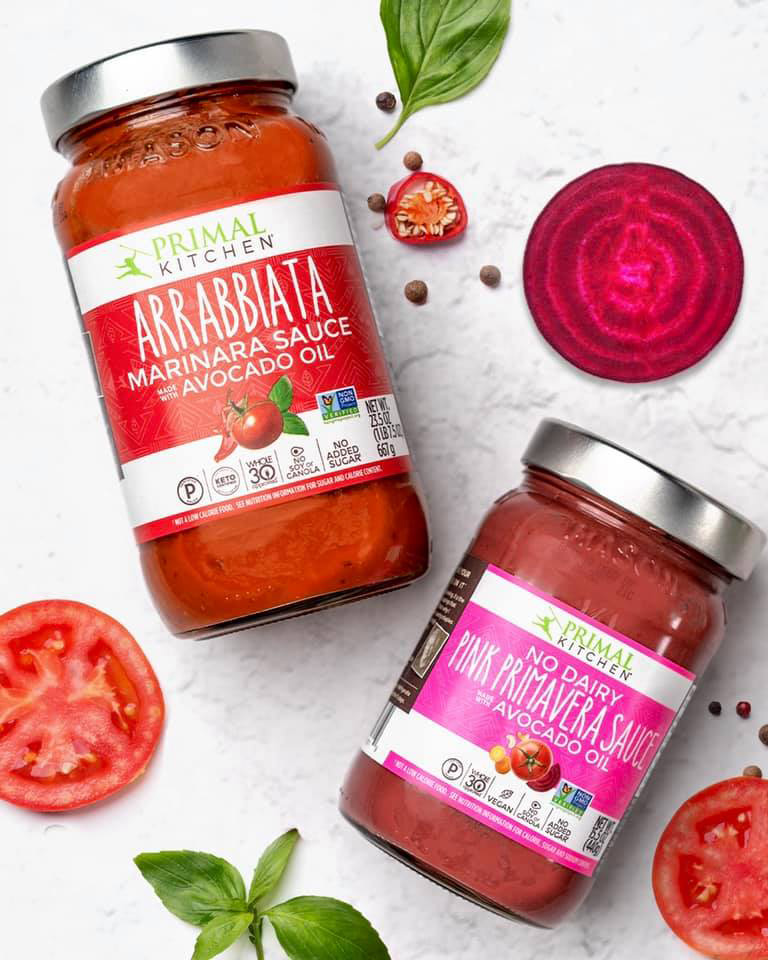 The Vegan Vodka Tomato Sauce from Jar Goods is where it's at! Made with vine-ripe tomatoes, fresh garlic, onion, basil, olive oil, coconut milk, and warming curry seasonings, every bite is packed with flavor. Snag a box of pasta, your favorite plant-based meatballs, Jar Goods jarred pasta sauce, and get cooking!
For an herbaceous and fresh pasta night, give Gotham Greens Vegan Pesto a try. This vegan-friendly brand skips the cheese and adds Genovese basil, extra virgin olive oil, lemon juice, and sea salt—we're all for keeping it simple! Top your dish with toasted pine nuts and shreds of vegan parmesan for a restaurant-level garnish.