For an out-of-this world dining experience, stop by one of these Chicago hot spots where both the food and vibes are delightful!
Chicago's vegan options are endless—but if you're looking for a new, all-encompassing dining experience, these restaurants might just be right for you! Searching for a more upscale spot to sit down or grab a drink with friends? Here's our list of the best vegan fine-dining restaurants in Chicago.
Near North Side
Fans of renowned chef Matthew Kenney's inventive vegan cuisine will be pleased to hear that he has new digs on Chicago's North Side. If you're looking for a relaxing sit-down dining experience, Althea is the place for you! Whether you're catching up with friends or want to enjoy a fun night out with family, Althea's globally inspired cuisine is sure to be a crowd-pleaser. Start off your evening choosing from a wide selection of Althea's appetizers, including an artisanal cheese plate, roasted vegetables, or crab cakes. With a diverse menu of main courses, opt for a Kelp Noodle Cacio e Pepe or Mightyvine Tomato & Zucchini Lasagna to satisfy your savory cravings. Finish with a dessert or two—perhaps Kenney's signature Coconut Cream Pie with a macadamia crust and banana filling or the Chocolate Truffle Slice, made with hazelnut, dried cherries, and Bourbon.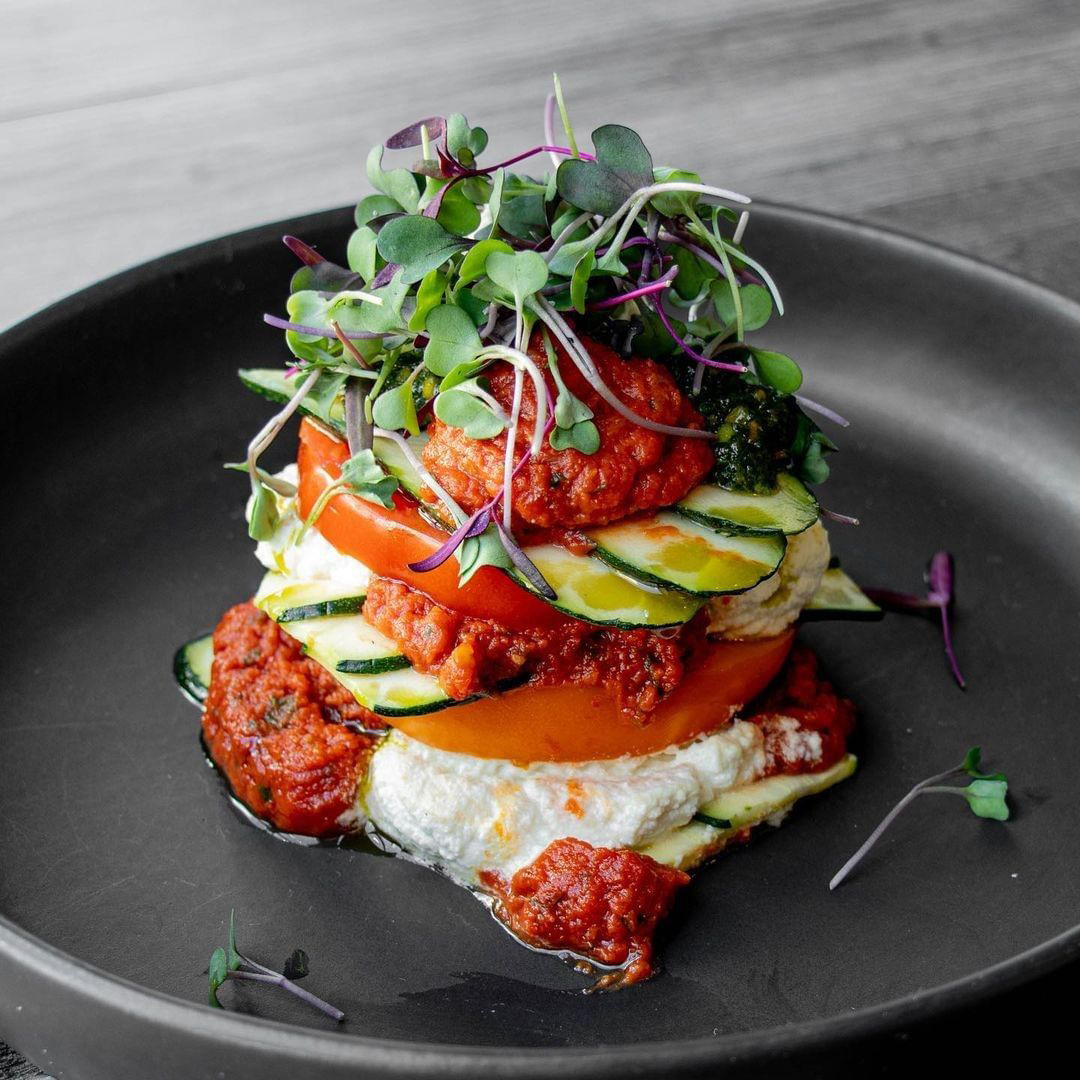 Wicker Park
Whether you're looking for a quick bite to share or some bigger plates, Bloom Plant Based Kitchen has food fit for every occasion. Not feeling too hungry? Order some Buffalo Cauliflower or Potato Tostones, made with Yukon gold potatoes, hearts of palm creme fraiche, scallions, smoked pumpkin seed clusters, and kelp caviar. These drool-worthy appetizers are sure to please! Want something more nourishing? Try some Truffle Maitake Risotto or warm Dahl Curry to fill you up. End your meal with their signature Camote Cheesecake—a sweet potato cheesecake with an almond tahini crust and coconut cardamom cream. Bloom Plant Based Kitchen takes vegan dining to the next level!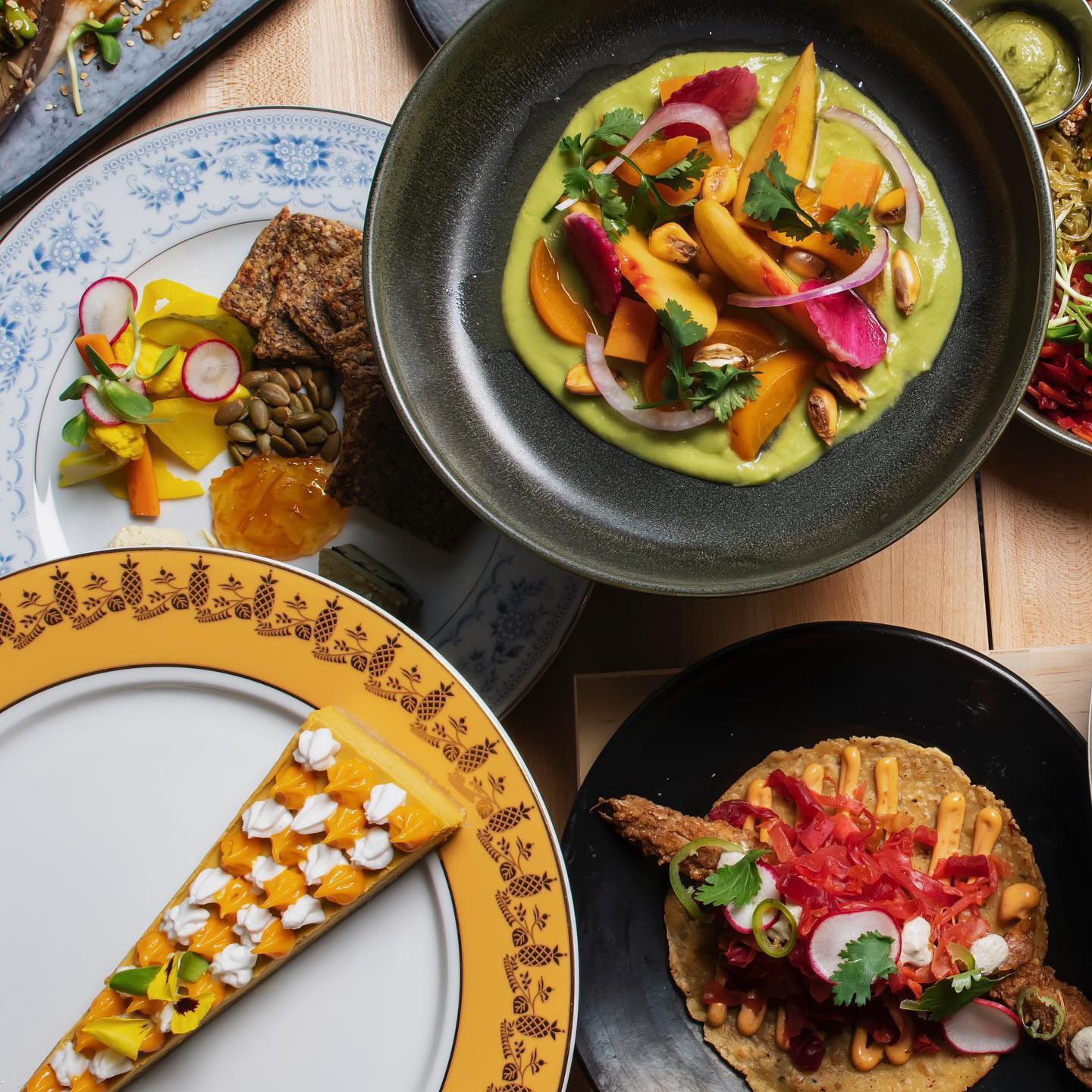 Winnetka
Specialty cocktails and seasonal offerings make Spirit Elephant a must-try for those in the Chicago area. With a full bar menu, the restaurant offers a list of festive drinks, alongside a variety of local wines, beers, and more. Looking for shareable plates? Spirit Elephant's Calamari Fritti, made with oyster mushrooms and charred lemon, is served with a spicy marinara sauce and makes a perfect dish for the whole table to enjoy! For mains, choose from a variety of tasty globally inspired bowls such as Spirit Elephant's Pad Thai bowl, Ele-Penne bowl, and Arroz Chaufa bowl. With every dish they make, you can be confident that Spirit Elephant uses 100% vegan ingredients.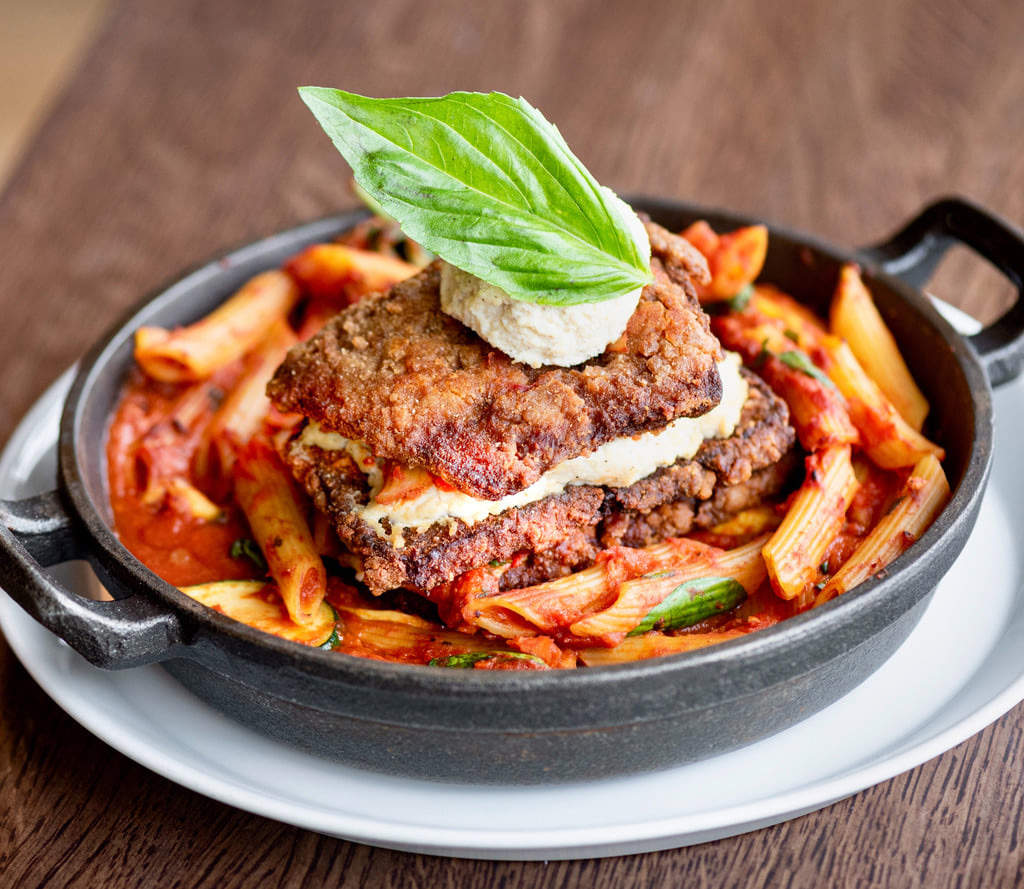 Lincoln Park
Lincoln Park's hidden vegan gem, Fancy Plants Kitchen, has all you need for an elevated night out! Their fully plant-based menu boasts a diversity of small plates, perfect for sharing—with everything from inventive appetizers to wok-fried mains. Don't know where to start? Order a round of Eggplant Bacon Wrapped Dates for the table—filled with a creamy cashew ricotta and topped with pomegranate seeds. Regardless of what you're craving, their must-try, fan-favorite dishes are the Trumpet Mushroom Scallops and Arancini di Riso. While the Trumpet Mushroom Scallops are grilled to perfection and served with a lemongrass cream on the side, Fancy Plants Kitchen's Arancini di Riso dish is filled with cashew mozzarella and topped with a flavorful marinara and almond parmesan.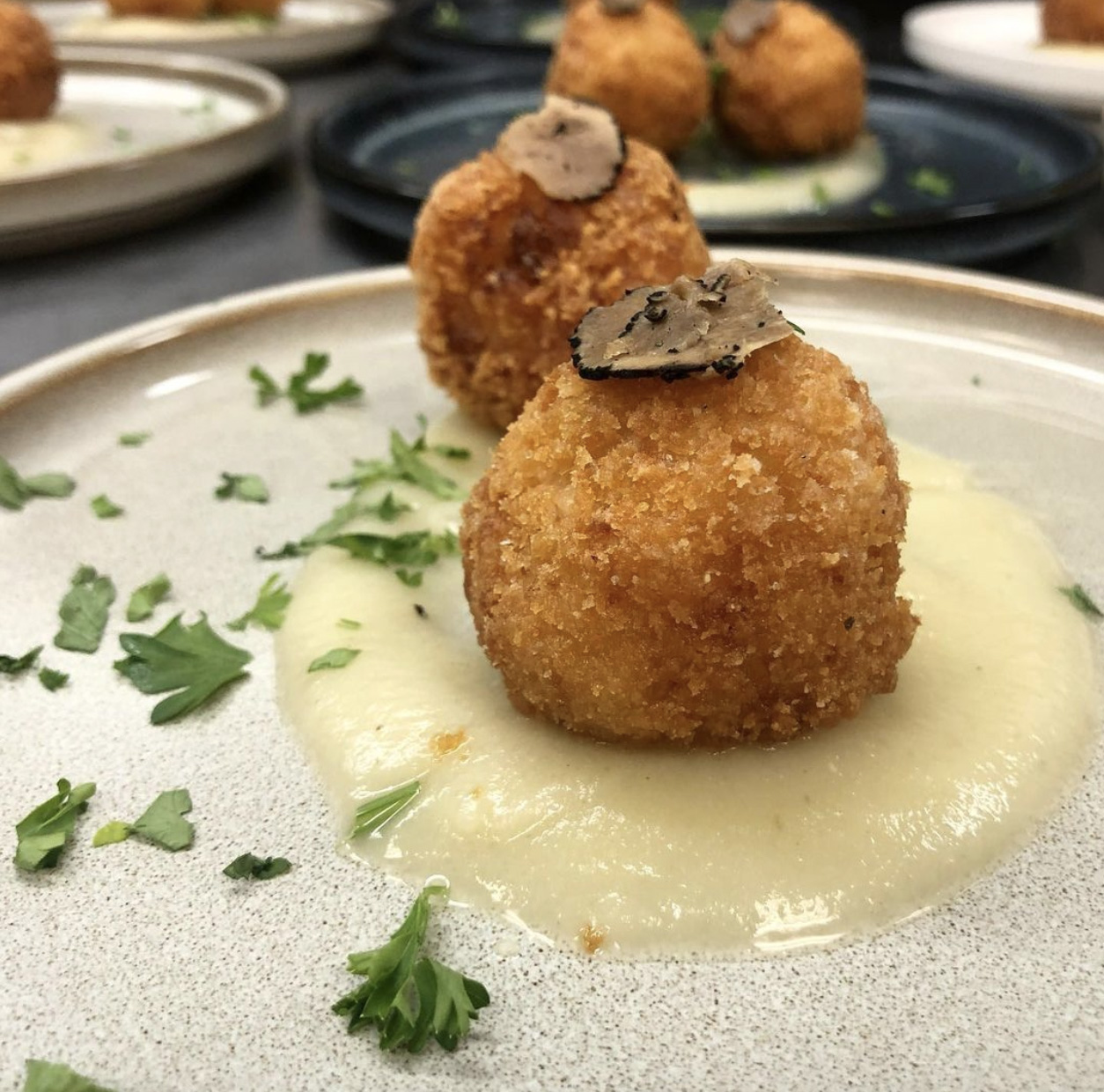 Uptown
Vegan-Friendly
It doesn't get any fancier than Uptown's Brass Heart! With both vegan and non-vegan eats, Brass Heart is the perfect Chicago spot to celebrate a milestone or to treat your loved ones to a night out. Their plant-based offerings are no joke. With eight different courses of your favorite veggie eats, Brass Heart's vegan tasting menu is unparalleled. Starting with a signature cocktail, veg diners will enjoy courses like Aguachile, Ravioli, Trumpet Mushroom, Pickled Enoki, Confit Eggplant, Oyster Mushroom, and Cauliflower—closing off with Brass Heart's rendition of the beloved Dippin Dots, Bunuelo, and some Tascalate to wash it all down! Looking to book now? Be sure to reserve your table 48 hours in advance to give the restaurant enough time to prep your yummy vegan plates!
Chinatown
Vegan-Friendly
Veggie House is guaranteed to please everyone! With a wide selection of Asian and American dishes, it's a prime dinner place for vegans and vegetarians alike. For appetizers, you can choose from a variety of yummy plates, like Veggie House's Vegetable Tempura, Vegetable Spring Roll, or Spicy Buffalo Cauliflower. Fans of family-style dining will love the diversity of their options, which are best shared among everyone at the table! Looking for some fresh entrees? Braised Eggplant (with eggplant, carrots, green beans, corn touban sauce, and vegan oyster sauce) and Veggie House Soy Beef (with deep-fried plant-based beef, bell pepper, onion, and spicy garlic sauce) are some of their highlights!
River North
Vegan-Friendly
Sunda, located in River North, will be your new Chicago fave! Its elevated Asian fusion eats are unrivaled by any other restaurant in the city. The best part? Sunda is incredibly accommodating for gluten-free, vegetarian, and vegan eaters—creating separate menus for each—so you can dine with confidence. Their vegetarian specialties menu, which can be made vegan upon request, is especially impressive. With Pad Thai Tofu, Veggie Fried Rice, Poke Bowl Sweet Potato, Miso Cauliflower, Crispy Brussels Sprouts, and more, you'll be sure to find a dish or two that suits your cravings (just let your server know you would like these made vegan).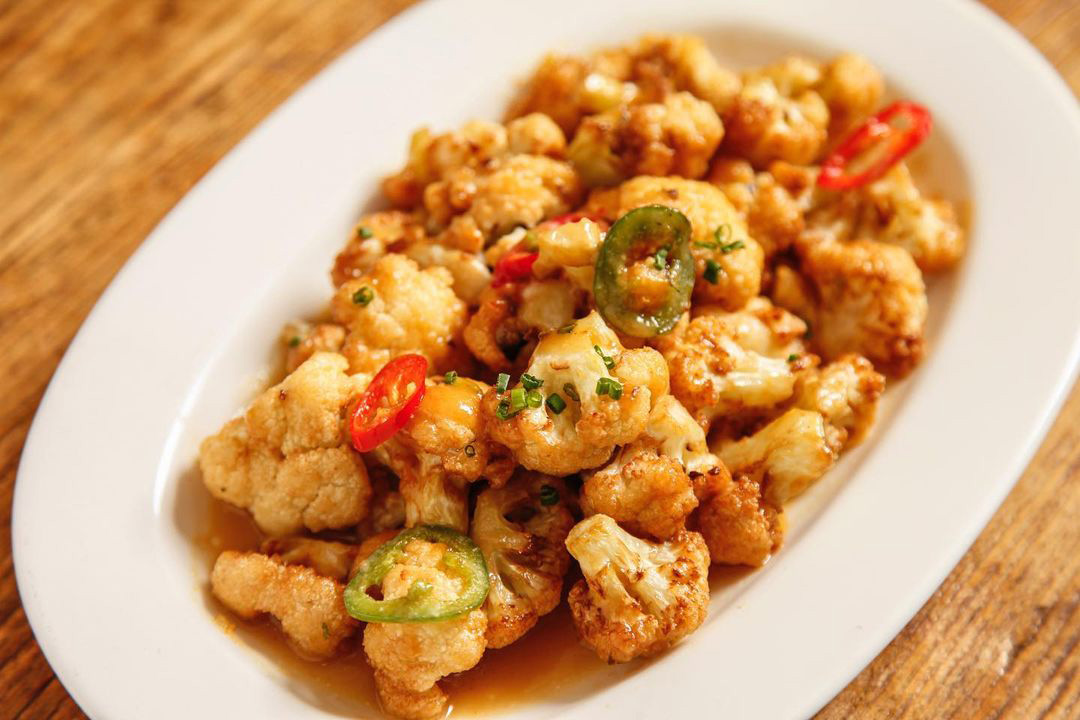 Uptown
Vegan-Friendly
For some of the best Ethiopian food in the city, look no further than Demera's delicious plates! With an abundance of vegan dishes, there's sure to be something that suits your mood. Looking for something spicy? Try Demera's Misir Wot (split red lentils stirred in a rich berbere sauce). Want to get your greens in? Try their Gomen (slow-cooked collard greens with onions, garlic, and ginger). Our advice? Order their "Bayaynetu for 1," which will give you a sampling of all of their vegan offerings for only $22! Still feeling hungry? Finish your meal off with a scrumptious slice of Chocolate Coconut Pie, made with vegan chocolate, tofu, almond butter, and coconut.