From raw cheesecakes and pumpkin pies to conchas and donuts by the dozen, this list has it all!
Sometimes you have all the intention in the world to make a beautiful, handmade vegan dessert to impress your loved ones for Christmas … but life gets in the way. We get it. Luckily, there are countless spots in LA that have you covered. Whether you're looking for a custom holiday pie or an informal tray of cinnamon rolls, here are 16 places to get vegan Christmas desserts in LA.
Long Beach
Wow your friends and family with a raw vegan cheesecake from Under The Sun that will absolutely blow their minds. Choose from flavors like Chocolate Mousse, Blueberry & Candied Walnut, Orange Dream, or Punkin—their take on a pumpkin pie made with brazil nuts, carrot juice, and spices. Not a fan of cheesecake? Try their famed Carrot Cake or a box of Sticky Buns instead. Orders can be placed here until December 19 for December 23 pickup.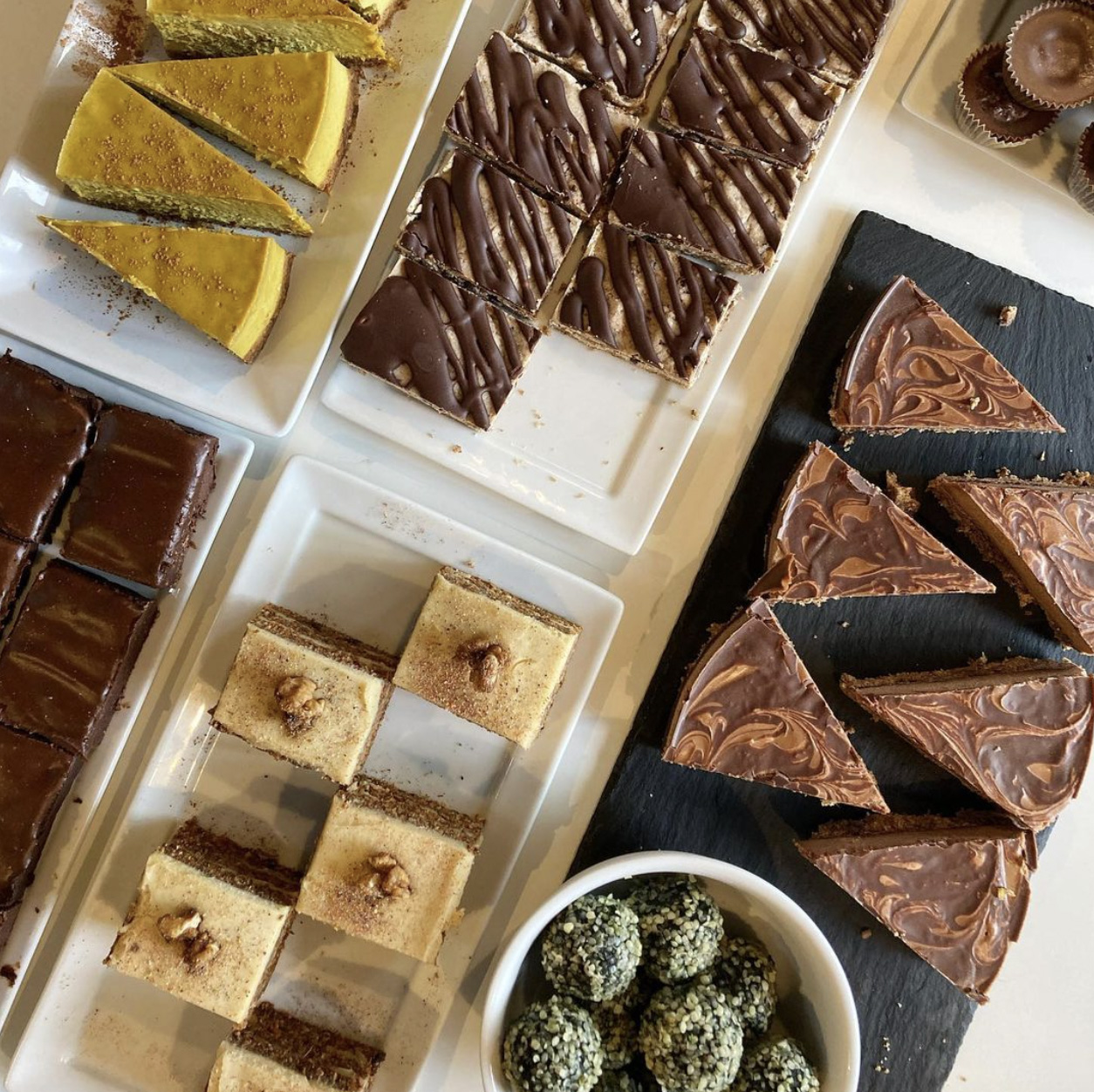 Pickup in Manhattan Beach & Culver City
Maison Macha is a vegan French patisserie operating out of a commercial kitchen in Culver City. On their holiday menu, you'll find a gluten-free Buche de Noel (Yule Log) in two flavors. Choose from a chocolate sponge cake layered with chocolate mousse and hazelnut crémeux or a pistachio sponge cake with white chocolate mousse and raspberry puree. Also on the menu is a Mini Gingerbread Loaf garnished with candied ginger and dried apricot. Orders can be placed until December 17 for pickup on December 21 in Manhattan Beach or December 23 in Culver City.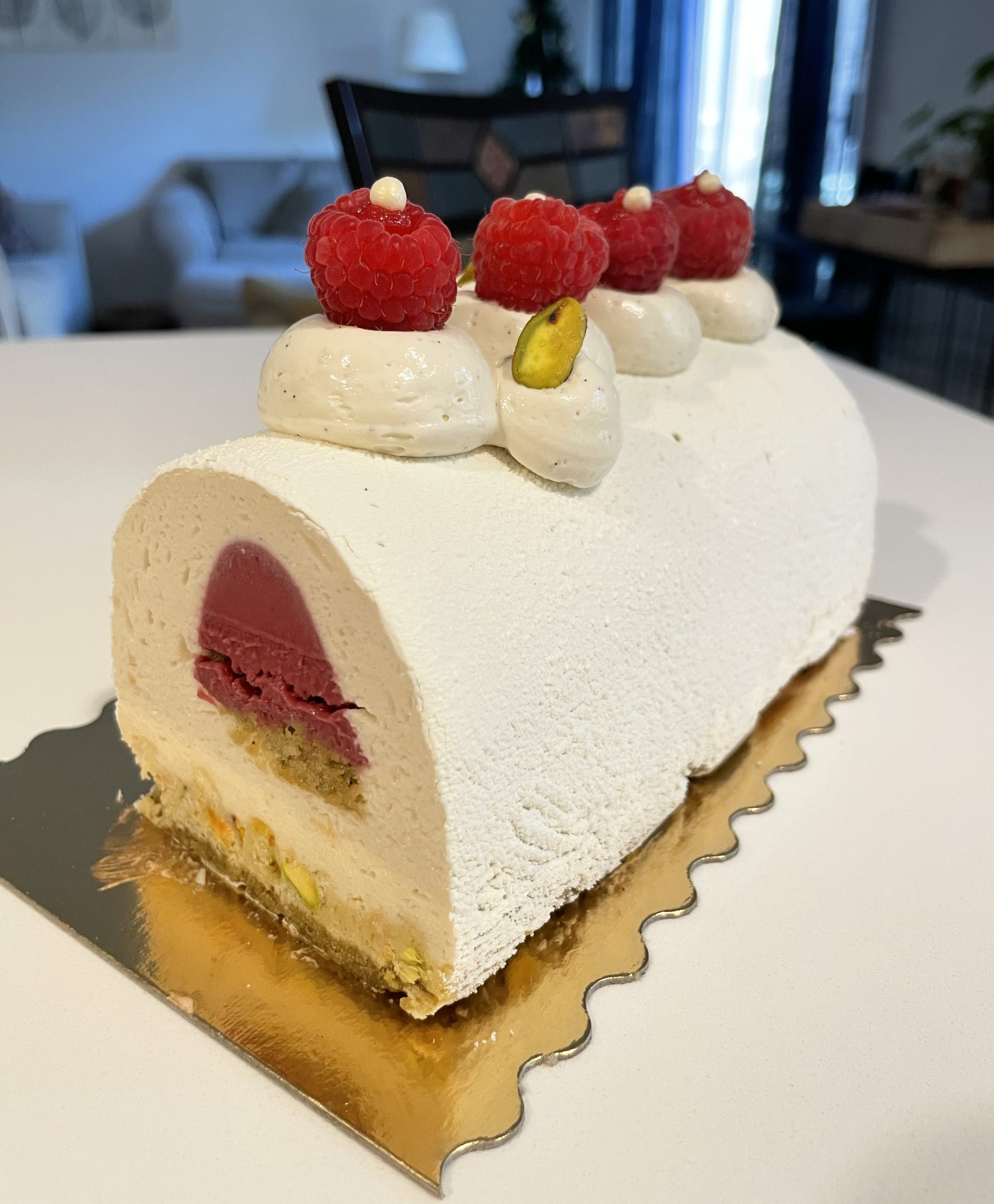 Santa Ana
The brother-sister team that makes up Soy Concha Bakery has been providing Orange County with veganized versions of traditional Mexican baked goods for the last number of years. For the holidays, they are offering a dozen of their holiday conchas decorated with Santa Claus, snowmen, Christmas lights, and snowflakes. Orders can be placed online or in person now until Christmas Eve. Place your order online before December 15 and get $5 off with code PICKUP.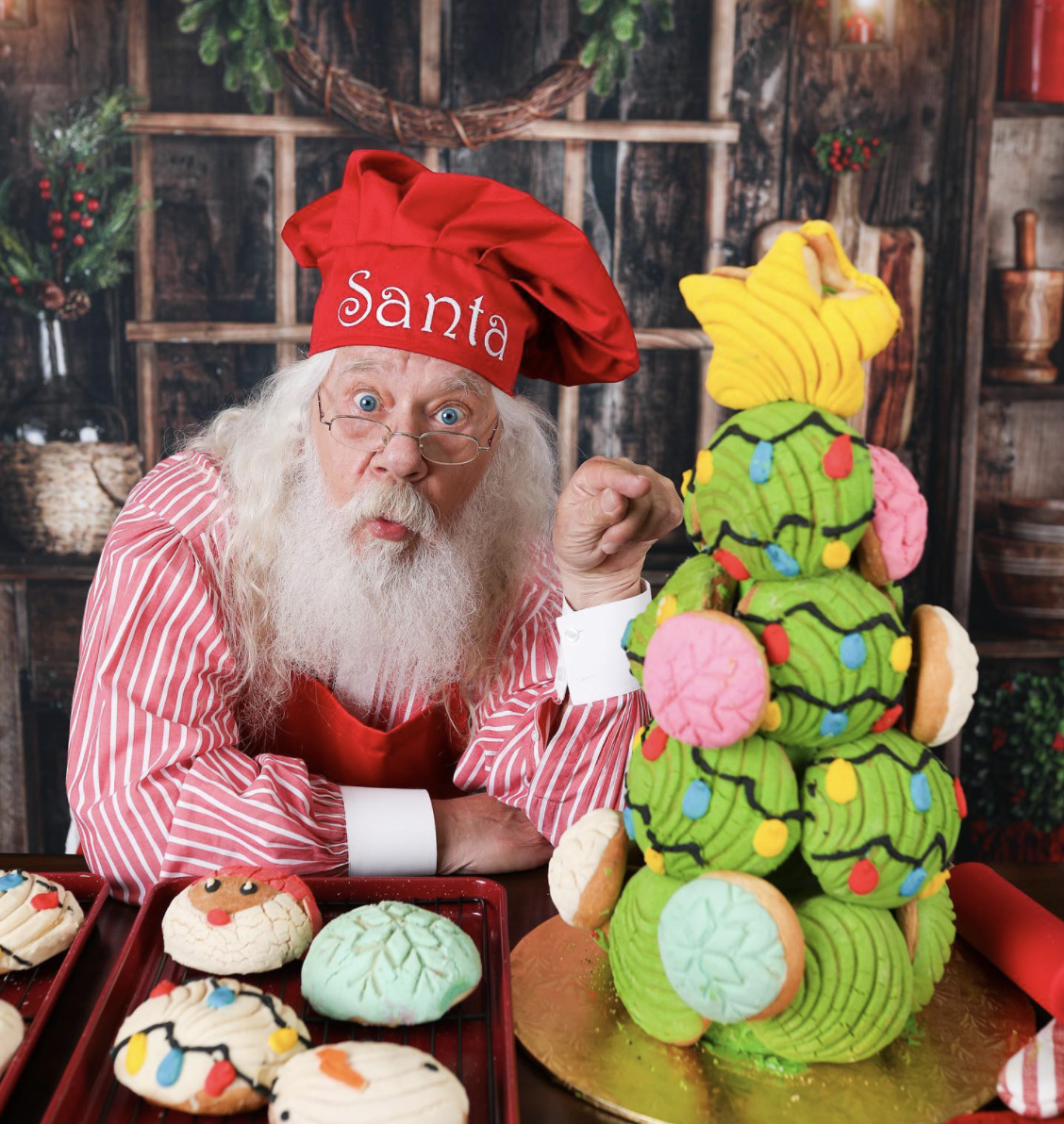 Photo credit: @xv_photography
Pasadena & Nationwide Shipping
Head to Pasadena to pick up a holiday cake order or order online to have it shipped to your door! Holiday offerings at Yvonne's Vegan Kitchen include a DIY Christmas Cookie Decorating Kit, Chocolate Mocha Peppermint Cake or Cupcakes, Banana Cream Pie, and Pumpkin Pie. All orders can be made here and must be placed by December 20.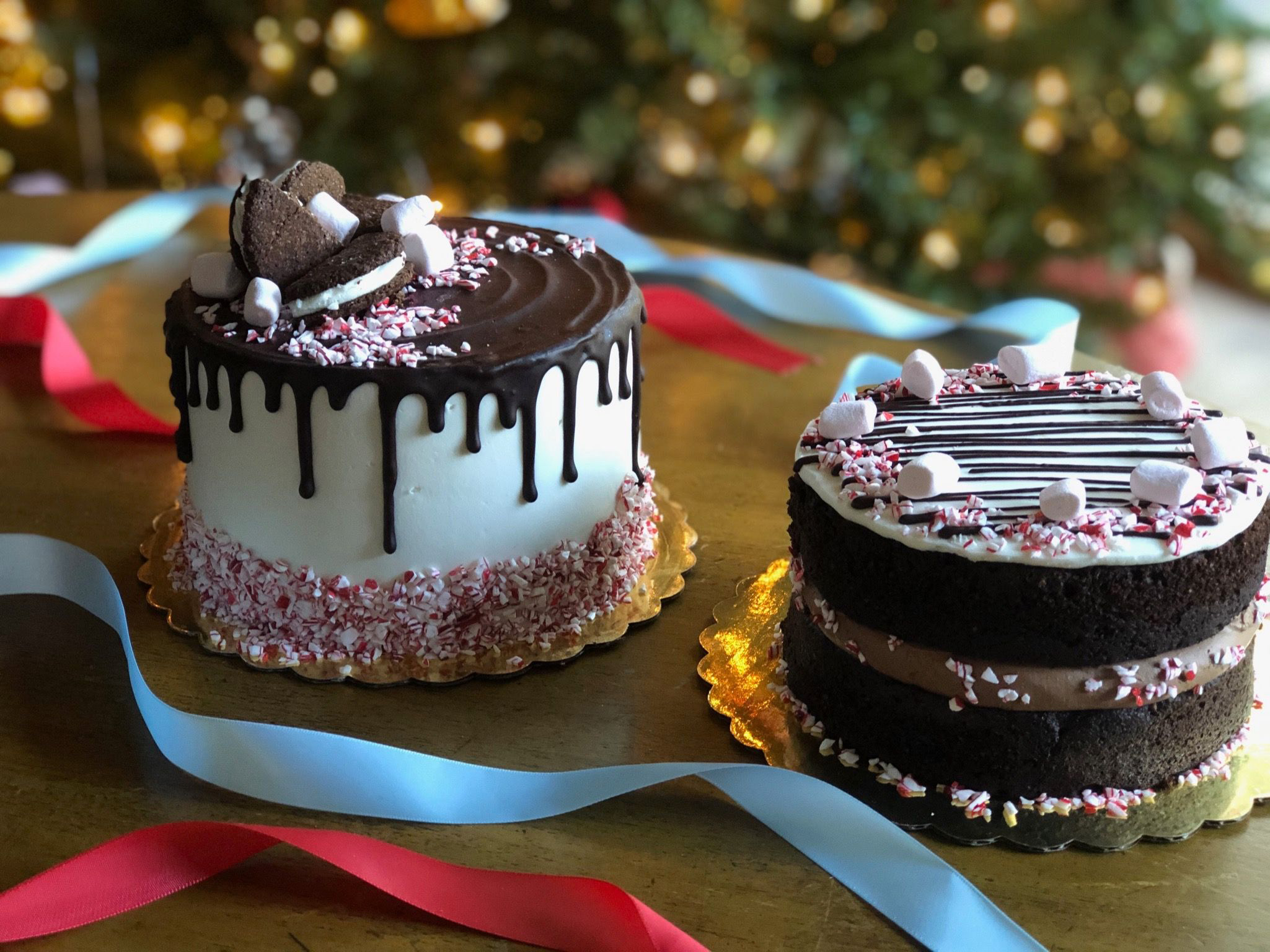 Elysian Valley
Just What I Kneaded has a holiday menu of baked goods available for pre-order, as well as a variety of holiday-themed treats in the shop. The holiday menu includes an Apple Lattice Pie, Blueberry Snowflake Pie, Chocolate Peppermint Pie, Cinnamon Rolls (available in a half or full dozen), and The Works Cookie Box—which comes with 24 cookies in a variety of holiday flavors. All items except for the cinnamon rolls can be made gluten-free! Orders can be placed here until December 22 for pickup between December 22-24.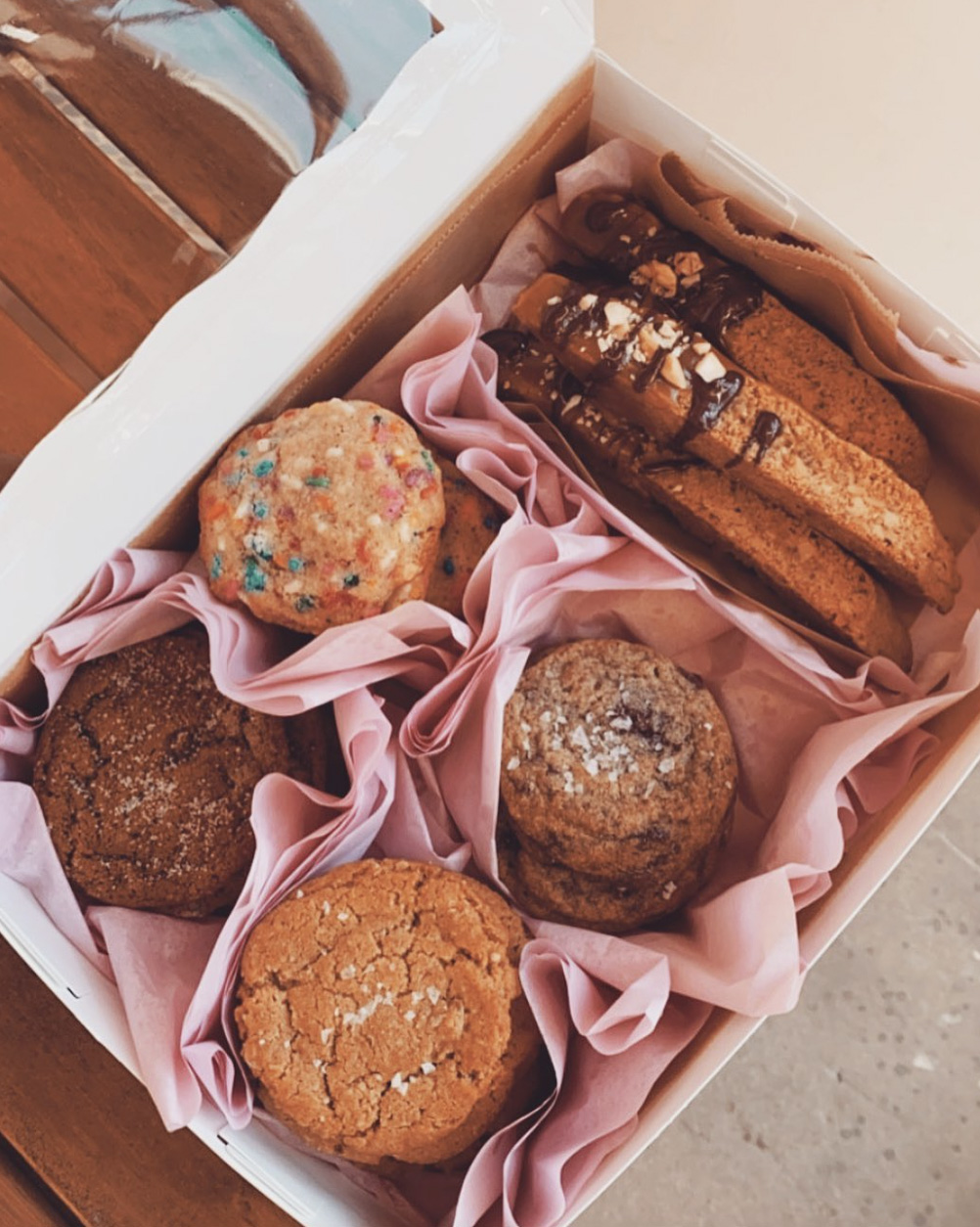 West Hollywood & Redondo Beach
Pura Vita is providing an entire Italian holiday menu for you to order from. Vegan Christmas desserts include an assorted cookie box, a Cannoli kit, Panettone (traditional Italian sweet bread), and Chocolate Peppermint Pie. Orders can be placed by calling either store directly. Ordering is open until December 18, and all pickups can be made on December 23.
Hollywood
Dear Bella Creamery is a vegan ice cream shop that also offers custom ice cream cakes. For the holiday season, the shop is offering a plant-based Buche De Noel—a traditional Christmas dessert that is shaped like a yule log. This gorgeous vegan version is made with gluten-free brownie sponge cake and a thick layer of vanilla ice cream, then is rolled up and topped with chocolate ganache, coconut powder, maraschino cherries and rosemary. Place your order here at least three days in advance, and pick up from now until December 23.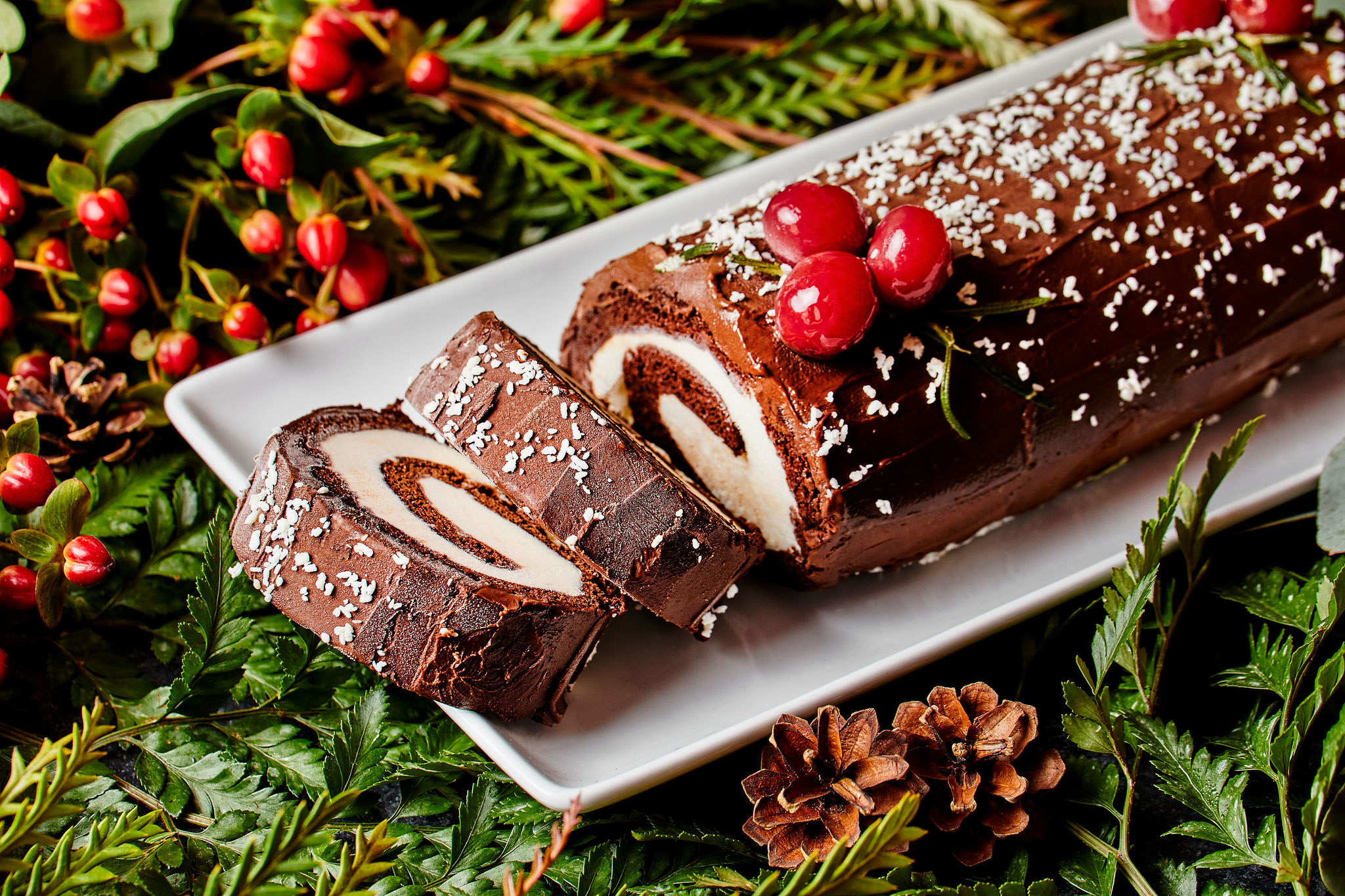 Multiple Locations
If you're looking for vegan cinnamon rolls, look no further than Cinnaholic. Snag a few of their most popular signature rolls, or place an order for their completely customizable Wreath Cake—cinnamon rolls folded into a wreath shape with your choice of frosting and up to three toppings! A DIY version is also available, in which the frosting and toppings come on the side for you to add at home. Wreaths require a five-hour notice, and orders can be placed by choosing your preferred store location here.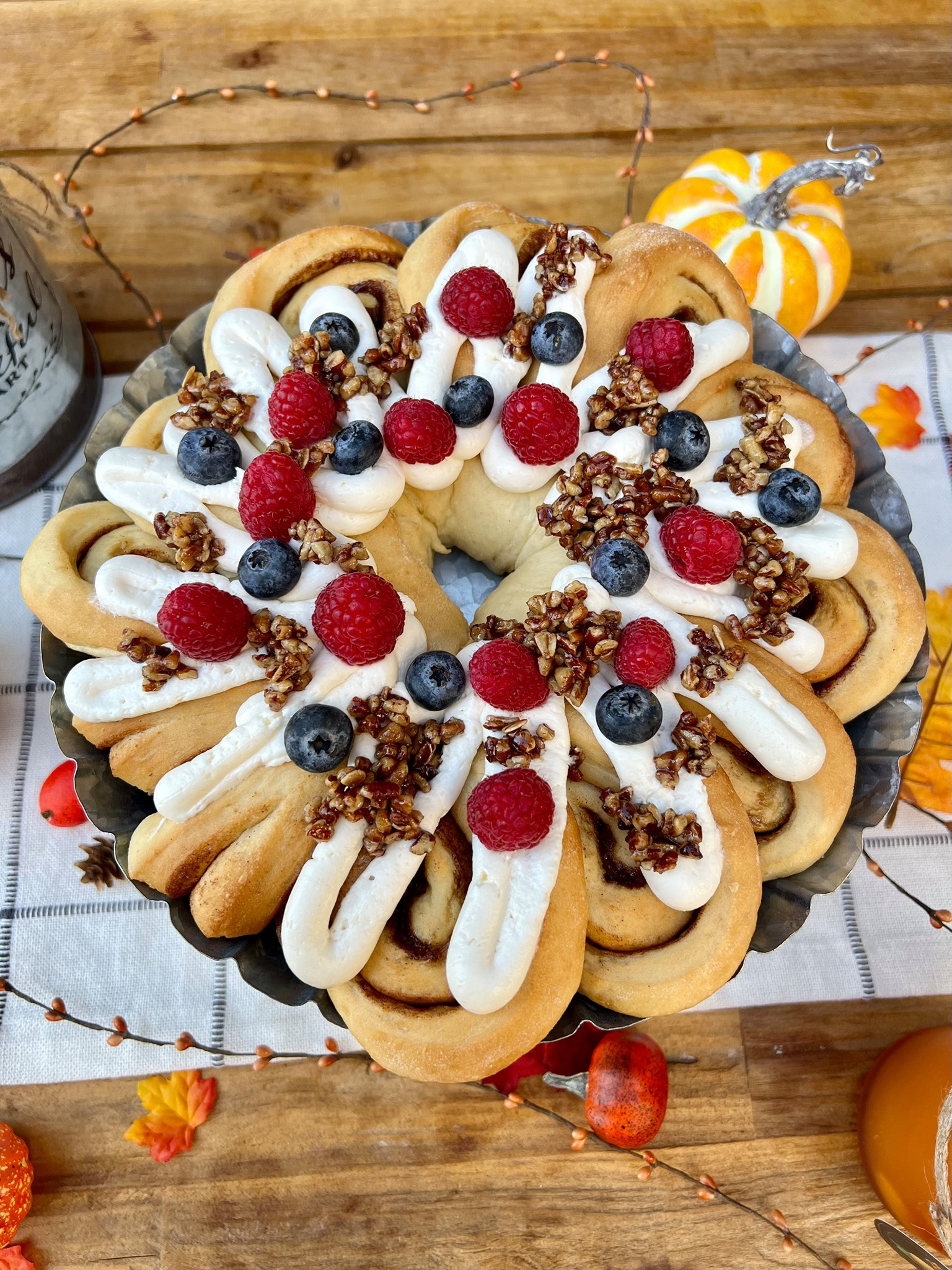 Boyle Heights
Cake Girl is hooking you up with a loaded holiday menu that includes a DIY Winter Cookie Kit, Assorted Holiday Cookie Box, The Hostess Box, and a Gingerbread Crumb Loaf. The last day to pre-order is Wednesday, December 15, and all orders can be picked up on December 23 or 24. Place your orders here.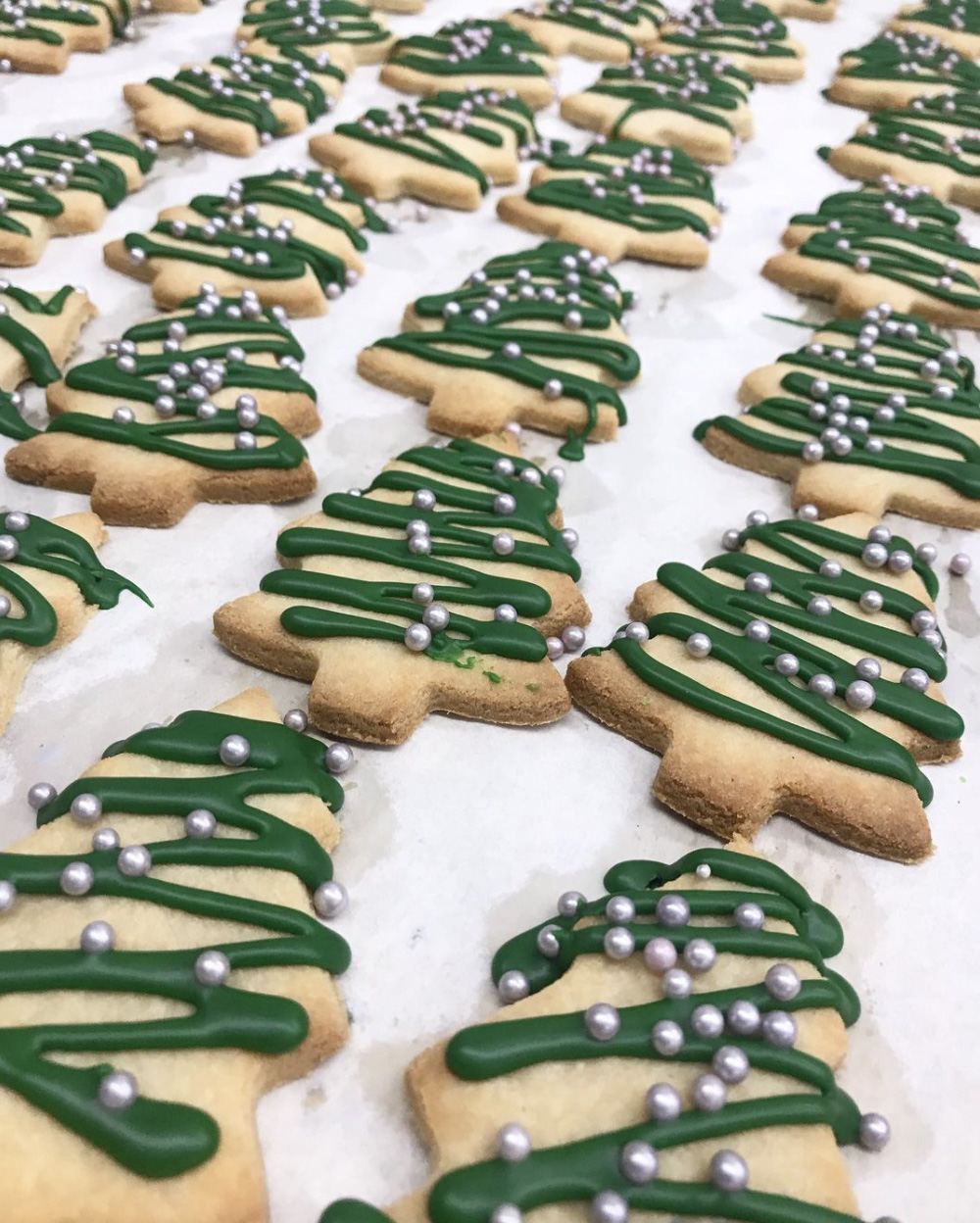 Long Beach
Whether you're looking for pumpkin pie, a customized vegan cheesecake, or homemade Butterfinger bars, Ahimsa Vegan Cafe has you covered. Give the catering department a call at 949-436-0588 to place your custom order (and definitely give those Butterfinger bars a try!).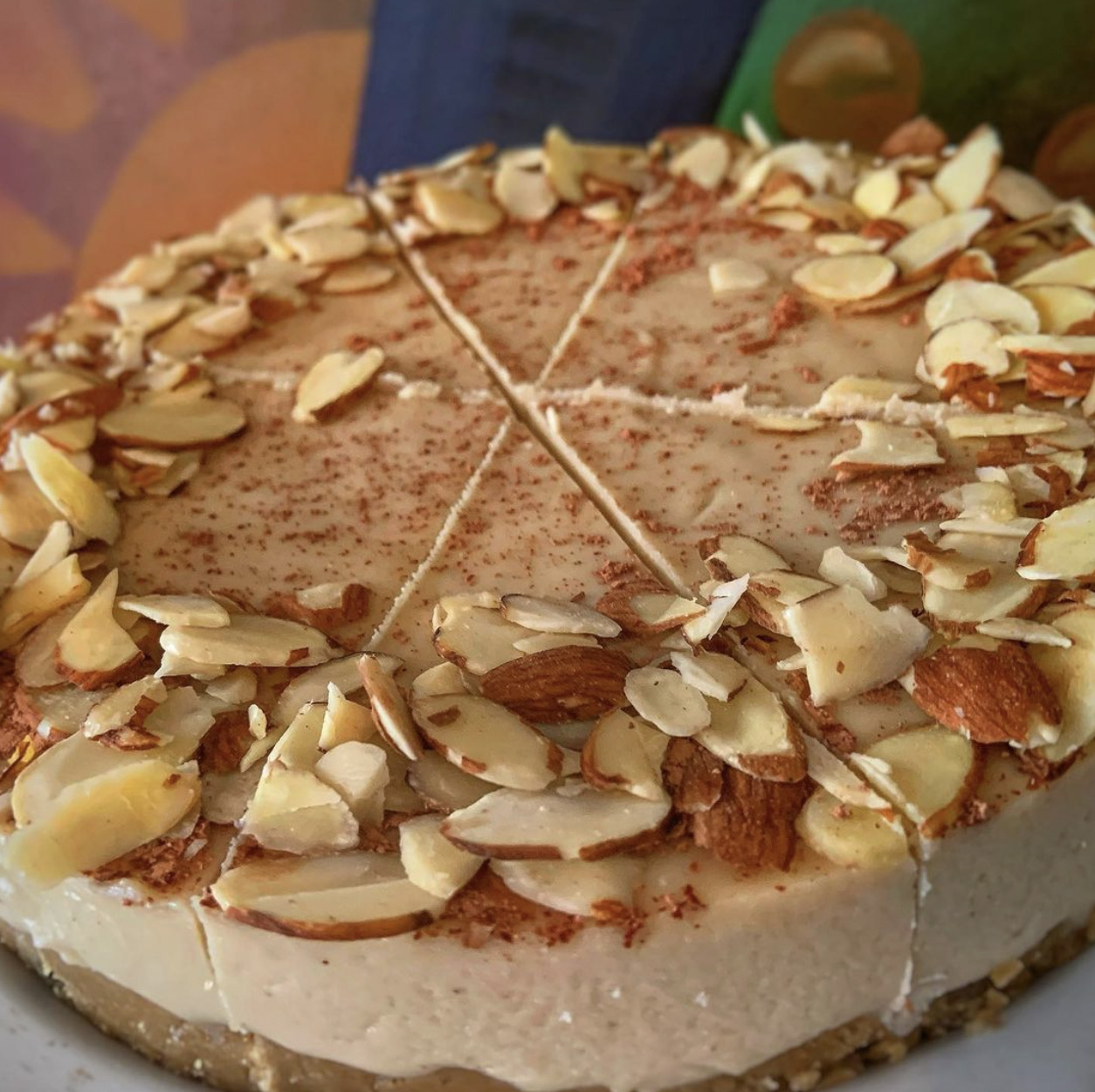 Fullerton & Brea
Two Birds Baking Company is a vegan bakery specializing in cupcakes, custom cakes, and pies. Their creations are available daily at Hapa Cupcakes, which has locations in Fullerton and Brea. The holiday cupcake offerings from Two Birds include Gingerbread Churro, Peppermint Red Velvet Oreo, and Buddy Cakes—an ode to everyone's favorite Elf, made with maple buttercream "spaghetti," sprinkles, marshmallows, and chocolate syrup ganache.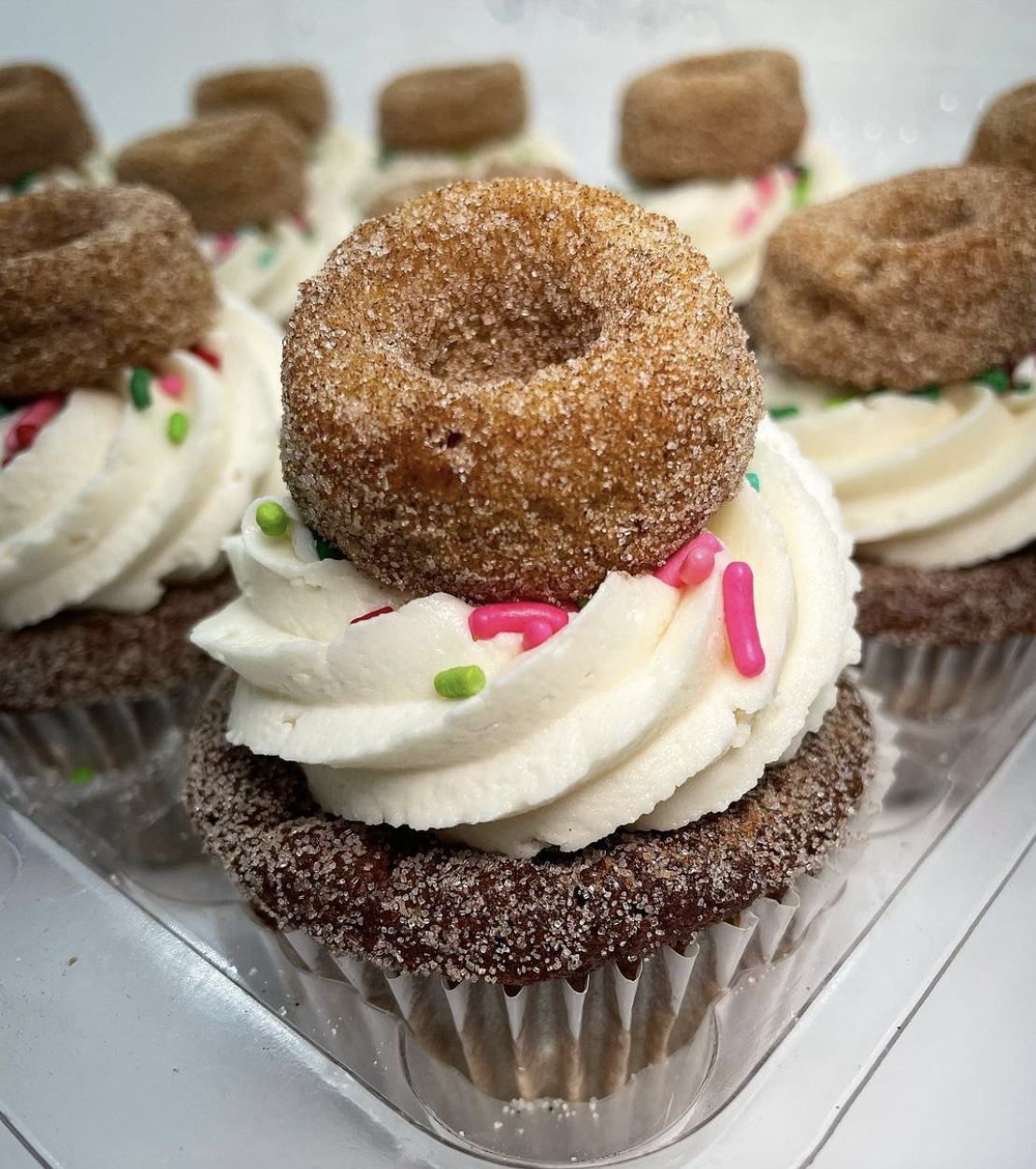 Larchmont, Santa Monica, & Nationwide Shipping
This gluten-free, vegan bakery has been serving up plant-based versions of your favorite cookies, cupcakes, and pies since before vegan was cool. For the holiday season, Erin McKenna's Bakery is offering a DIY Gingerbread House Kit, a Gingerbread People Cookie Kit, Thin Mint Cookies, Dutch Apple Pie, as well as a variety of holiday breads and cupcakes in the store. Place your orders and browse the menu here.
Long Beach
Baked Vegan Sweets has a stacked menu of vegan Christmas desserts for you to choose from, from loaves of Banana Bread for Christmas morning to gluten-free Chocolate Silk Pie, Eggnog Cheesecake, and Ugly Sweater Cookie Kits. Orders can be placed until December 18 by emailing info@bakedvegansweets.com. All orders can be picked up on December 24.
Pasadena
Leberry Bakery is a plant-based bakery known for its donuts, pastries, and cupcakes. For the holidays, they are offering custom cakes and gluten-free pies. Cakes are available in sheet pans or in 6", 8", or 10" round in flavors such as Spice, Chocolate, or Lemon. Pie flavors include Berry, Pecan, Pumpkin, and Sweet Potato. Orders can be placed here. Please note that 48-hour notice is required for cake orders.
Highland Park & DTLA
Who doesn't love vegan donuts? Grab a dozen of Donut Friend's Signature flavors, and receive 10% off your order. Popular flavors include Pumpkin Piebald and Angry Samoa. If you're looking for something to bring to a holiday party, you can place a special order of a miniature donut tray, donut letters to spell out something festive, or customizable giant donuts.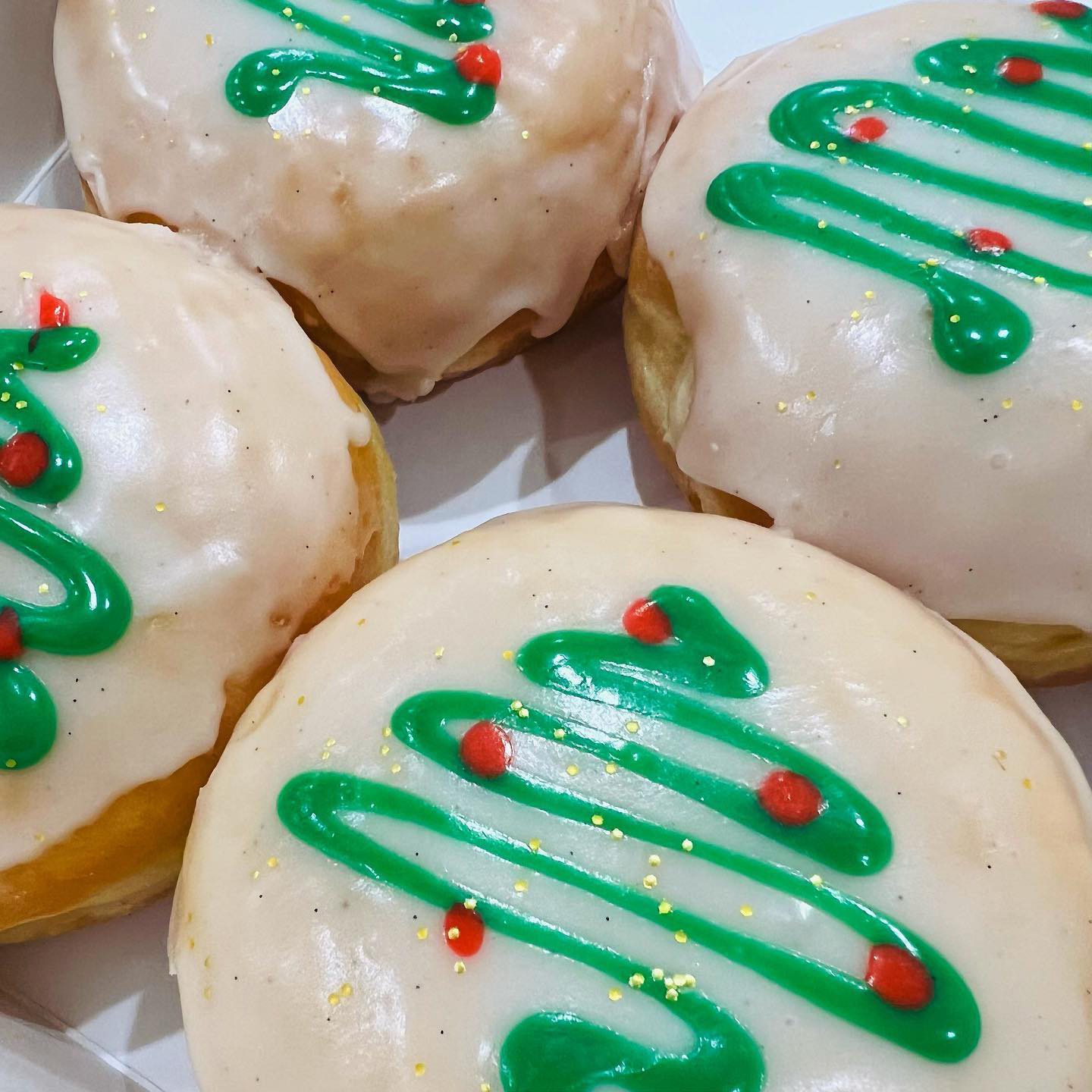 Silver Lake, Highland Park, & Tarzana
Not just a soft-serve ice cream spot, Magpies Soft Serve also makes soft-serve pies in a variety of flavors. While the whole shop isn't vegan, all of their soft-serve pies are, so choose freely! Popular flavors include Strawberry Shortcake, Peppermint Fudge, and Pumpkin. Place your order on their website, or give the specific location a call.