While vegan-friendly options might have been limited to peanuts and Cracker Jack in years past, America's baseball stadiums are upping their plant-based game—and we're here for it! From Beyond Meat burgers to sriracha brats, you can be sure to stay fueled while you root for your favorite team. Here are the 11 most vegan-friendly baseball stadiums across the US!
Globe Life Field
Arlington, TX
Home of the Texas Rangers, this baseball stadium was ranked 2019's most vegan-friendly ballpark. Vegan options are located at Visiting Vegan in section 101 of the stadium and include ballpark nachos with creamy vegan queso, Beyond burgers, Field Roast vegan hot dogs, Mission spinach wraps, and MorningStar vegan corn dogs to name a few. Guests with a sweet tooth can also order Oatly vegan oat milk soft serve, which is now available on the lower concourse level of the stadium in section 4 at Going Going Green, and on the upper concourse level in section 204 at Karbach Skyporch.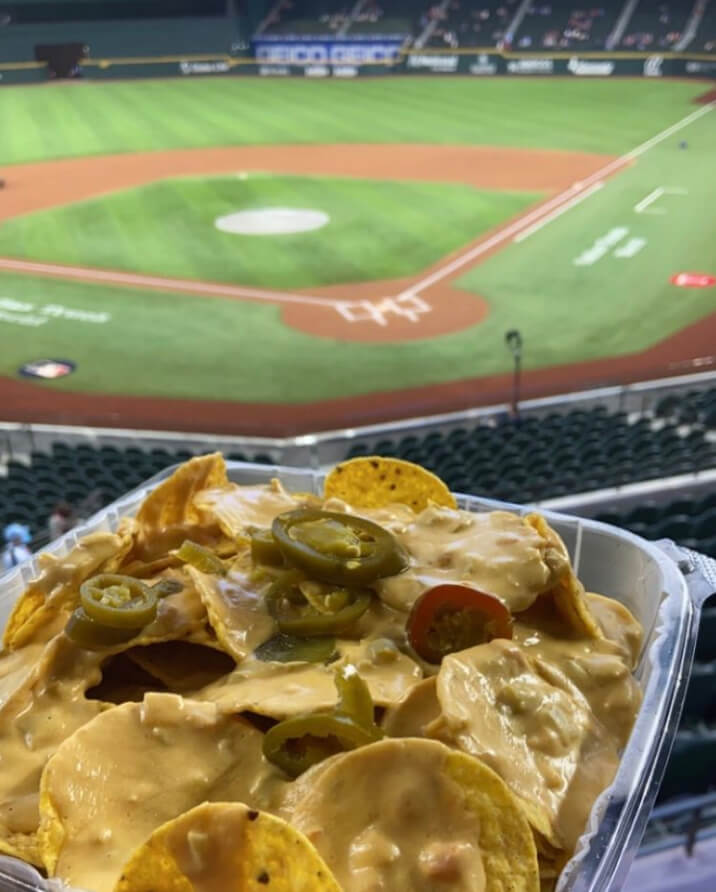 Photo credit: @veganrangerfans_ on Instagram
Citi Field
Queens, NY
Catch a New York Mets game as you chow down on tasty vegan eats from Marty's V Burger, which can be found on the field level behind section 104. The 100% vegan concession stand offers Beyond Burgers with melted vegan cheddar cheese and special sauce, Shroom Steakhouse burgers with melted vegan mozzarella and sautéed mushrooms, Beyond Meat bratwursts, and more. Fans can also enjoy Dole Whip sundaes and floats, which can be found in section 121.
Target Field
Minneapolis, MN
When it comes to vegan-friendly eats, the Minnesota Twins home stadium hits a home run as they offer a variety of options from vegan fan-favorite The Herbivorous Butcher. Choose from options like The Herbivorous Butcher Italian Sausages and Sriracha Brats, as well as Field Roast vegan burgers and dogs, vegan cheese pizza, and vegan ice cream cookie sandwiches—we know we won't be leaving the game hungry!
Oracle Park
San Francisco, CA
Cheer on the San Francisco Giants as you feast on the tasty vegan bites being served at Oracle Park. The stadium features a wide variety of plant-based fare, including Field Roast franks and burgers, Super Duper vegan burgers, falafel pitas, dolmas, vegan tacos, burritos, and much more!
Progressive Field
Cleveland, OH
The Cleveland Indians home stadium is living up to its name as the vegan food options are quite progressive. Whether you're in the mood for a good ol' fashioned vegan hot dog or a melty grilled cheese, you can get it here at Progressive Field. In addition, the stadium also serves vegan tacos, burritos, and Sweet Moses ice cream—perfect on a hot day at the ballpark!
Yankee Stadium
Bronx, NY
Fuel up on the vegan-friendly eats being served at the Yankee Stadium Bareburger stand while you root for the New York Yankees. Plant-based options include Field Roast franks and burgers, Guadalupe black bean burgers, Beyond sausages, deep-fried avocado bites, vegan sushi, and edamame. The Bareburger stand can be found in section 132 of the stadium.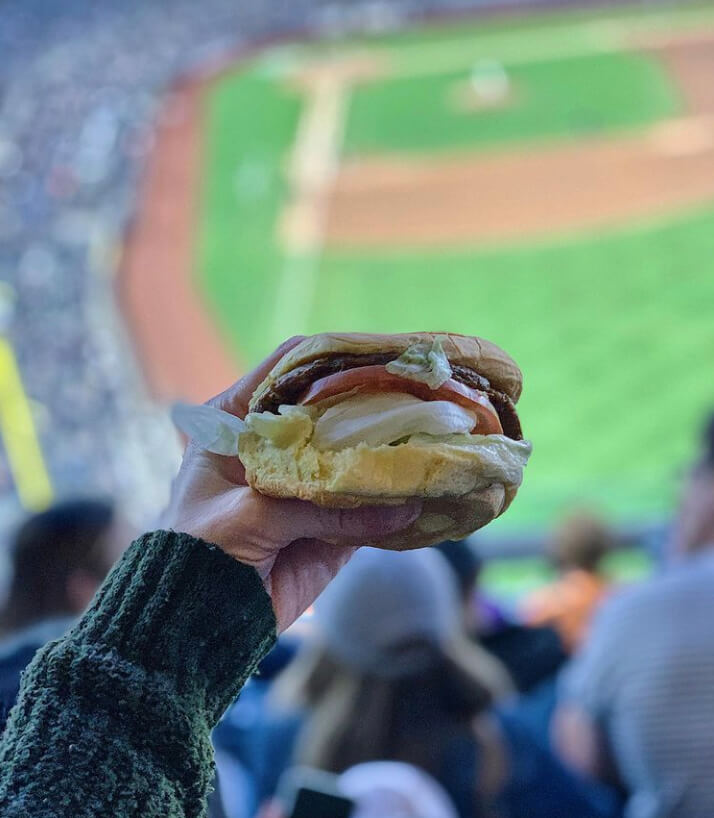 Photo credit: @thegreenspectrum on Instagram
Dodger Stadium
Los Angeles, CA
Los Angeles is known for being one of the most vegan-friendly cities in America, and Dodger Stadium lives up to this reputation. Those who attend Los Angeles Dodgers games can choose from plant-based eats like Beyond burgers, tempeh tacos, tempeh nachos with vegan cheese, Beyond sausages, burrito bowls, and esquites. If you opt for the esquites, be sure to order without mayo, cheese, and aioli to make the dish vegan.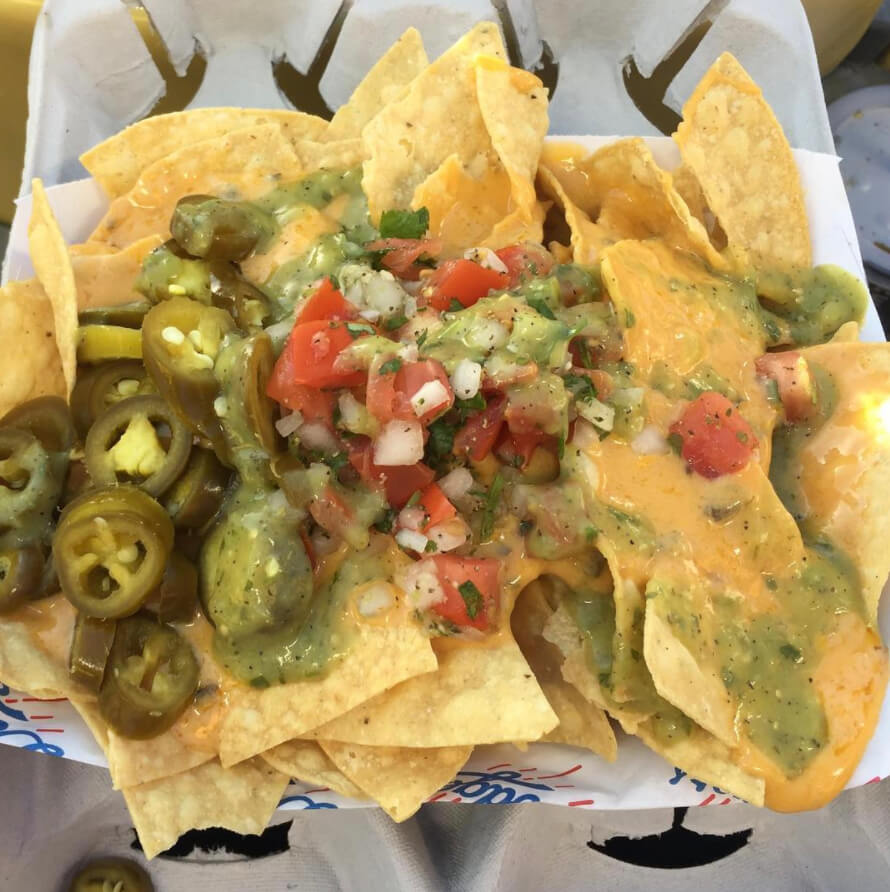 Photo credit: @themscwanderlust on Instagram
T-Mobile Park
Seattle, WA
Toast to the Seattle Mariners as you enjoy a vegan-friendly beer, as well as Beyond Meat Italian sausages, Field Roast franks and burgers, avocado toast, and steamed traditional bao buns. Choose from one or all of these tasty options!
Kauffman Stadium
Kansas City, MO
The Kansas City Royals home stadium serves up everything from meat-free Philly cheesesteaks to roasted vegetable wraps, so there is something for every fan to enjoy. In addition, Kauffman Stadium offers Beyond Meat brats with sauerkraut, Beyond burgers, vegan-friendly tacos (order without meat and cheese), vegan coleslaw, and vegan baked beans. If you do opt for the Philly cheesesteak or wrap, make sure to specify that you want yours made vegan.
Wrigley Field
Chicago, IL
Chicago-style hot dogs are a must when watching a Cubs game at Wrigley Field, and lucky for us vegans, the stadium offers Chicago Dogs with a plant-based twist. In addition to vegan-friendly hot dogs, fans can also choose from options like roasted cauliflower sandwiches, a veggie chopped salad, fruit cups, and Oatly vegan oat milk soft serve. Vegan options can be found in sections 115, 117, and 119.
Chase Field
Phoenix, AZ
Rounding out the vegan-friendly baseball stadiums is the Arizona Diamondbacks home stadium, Chase Field, where you can chow down on Field Roast vegan dogs, Mediterranean vegan chicken wraps, and Camelback burgers (grilled vegan burger patty topped with brown sugar-truffle ketchup, jalapeño relish, avocado, lettuce, herb mustard, cucumber, and crispy onion flakes on a vegan bun). The Camelback burgers are located at Paradise Valley Burger Co. in section 121.