From salmon and fried chicken to omelets and salami sticks, there are many innovative vegan products debuting this year!
Plant Based World is an annual expo in North America and Europe where food brands showcase their current and upcoming vegan products to retail buyers, investors, and members of the press. Attendees get to sample vegan food and drink items, chat with entrepreneurs, and listen to seminars on various topics in the food and business world. While Plant Based World is closed to the public, we attended the North American expo this month and are here to bring you the great news of what's to come. Here's a list of new and upcoming vegan products we discovered at the Plant Based World Expo!
Golden and Classic Fish Fillets
If you're obsessed with OmniFoods' pork products, just wait until you try their new line of vegan fish, including Golden and Classic Fillets! The faux fish can be used in a variety of dishes like tacos, burgers, and pasta—or enjoyed straight-up!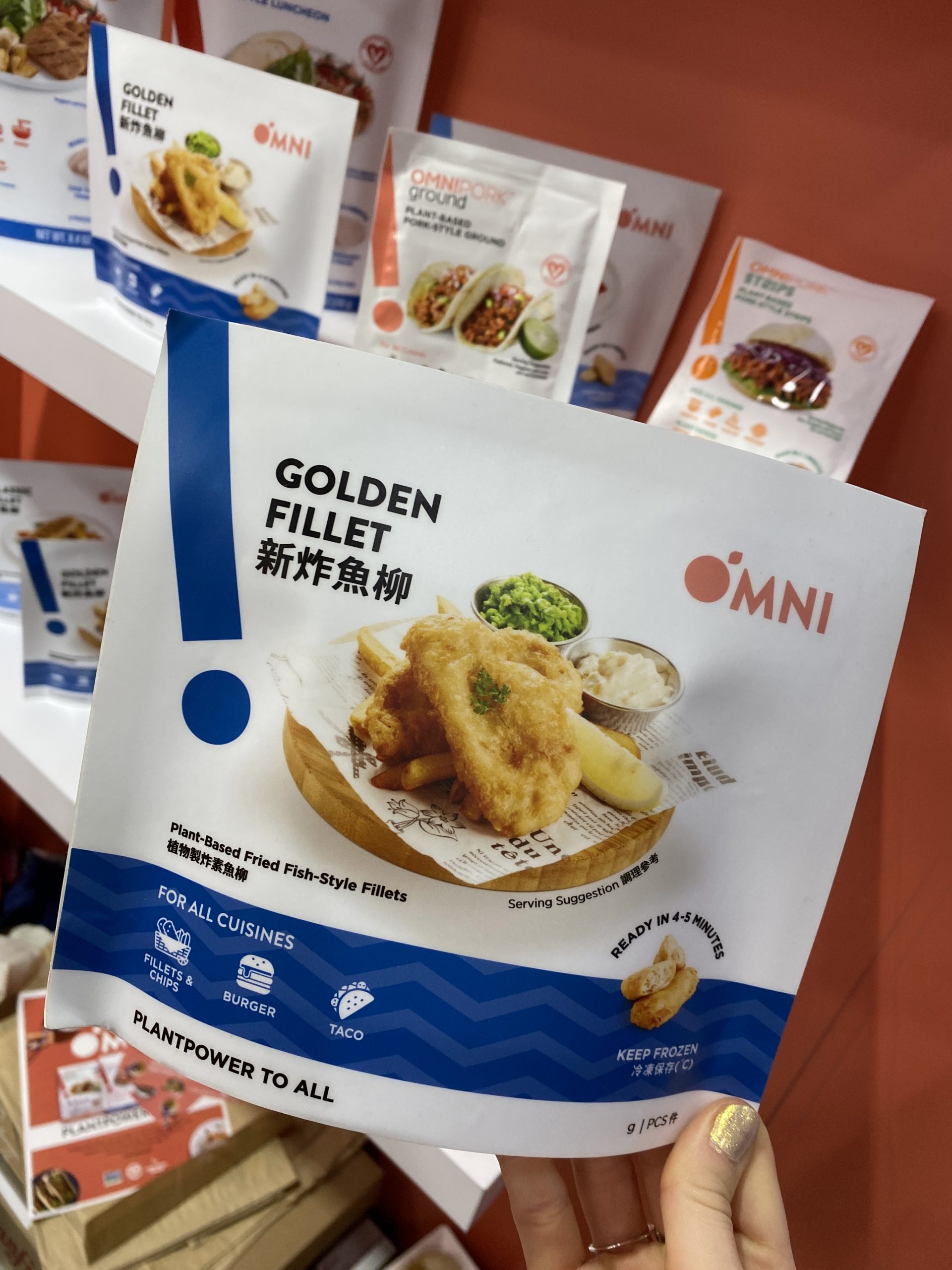 Fried Chicken
When we caught a glimpse of the beautiful, flaky vegan fried chicken samples at Better Chew's booth, we knew we had to try a piece! In an instant, this vegan chicken made it to the top of our favorites list with its insanely realistic texture, rich flavor, and perfectly crispy exterior. Another product that caught our eye was Better Chew's new Beefy Ribs. How's that for a unique plant-based meat alternative?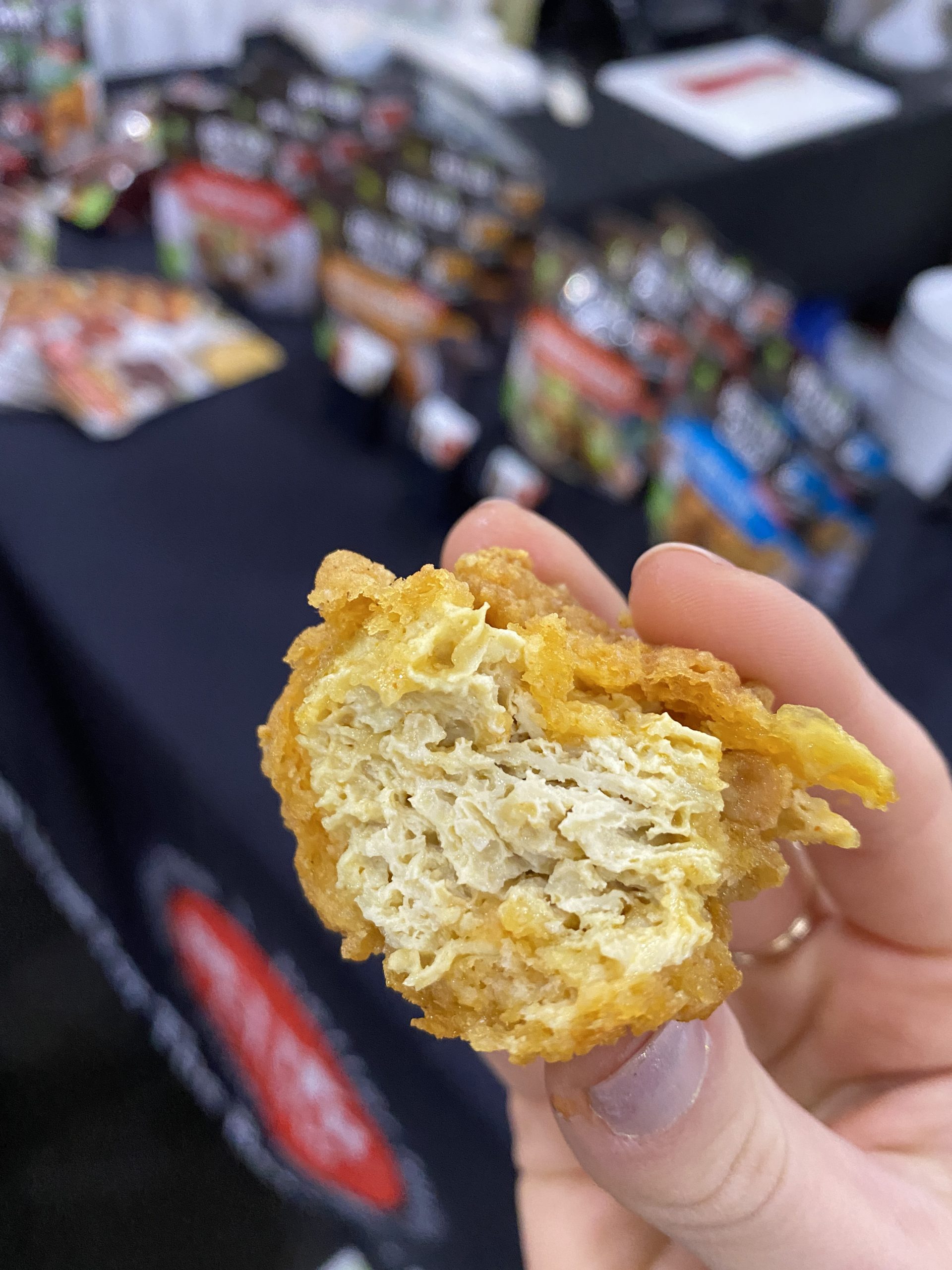 Vege Story Snack
Did anyone else eat Slim Jims back in the day? Now, there's a vegan version! The plant-based salami sticks from Snack It come in classic and spicy flavors that will take you back to road trips in one bite. Vege Story Snack has yet to launch in the US, so keep your eyes peeled.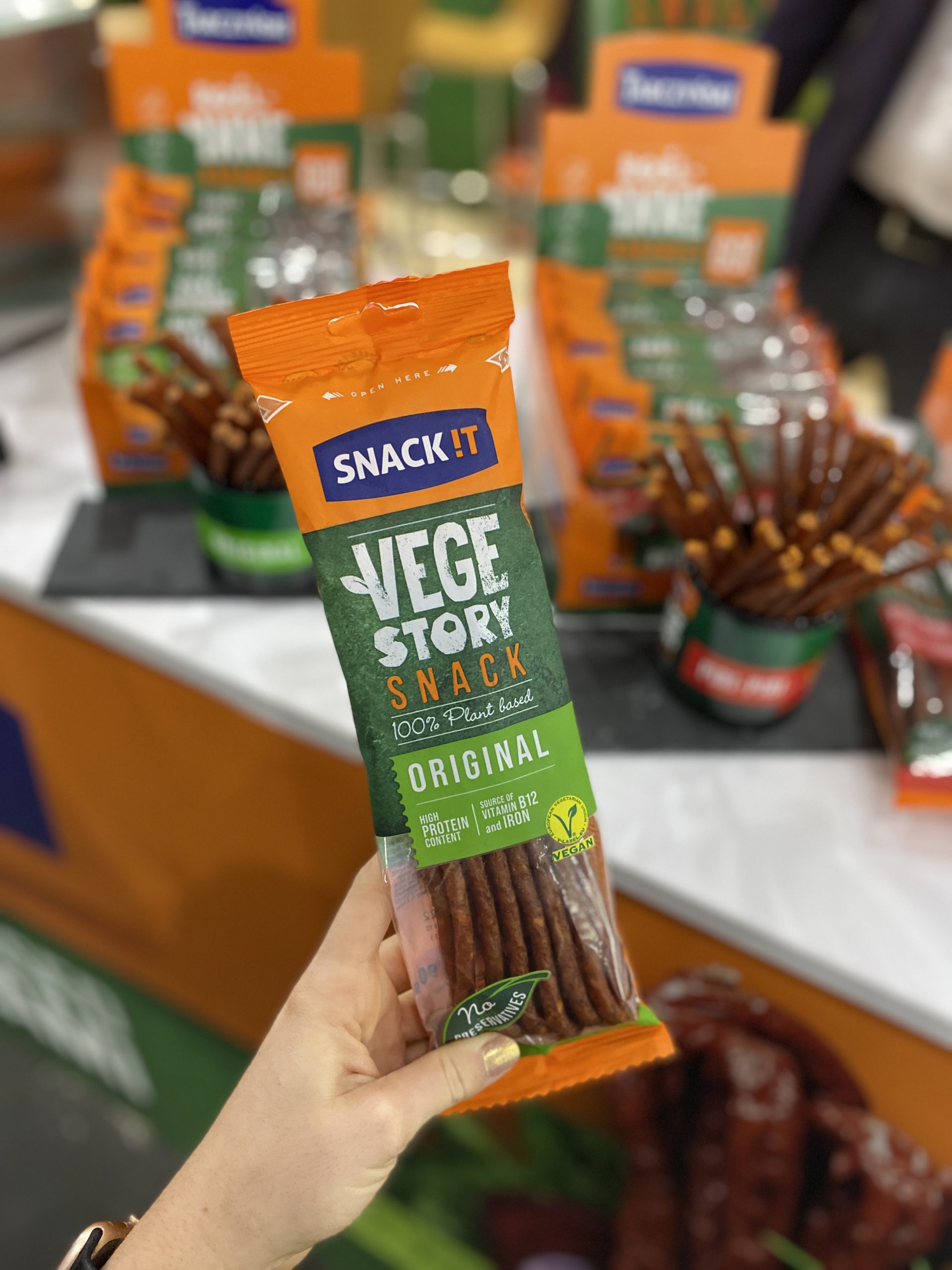 Actual Morning Burger
You may know Actual Veggies from their savory veggie-based burger patties, but did you know they now make a sweet breakfast patty? The Actual Morning Burger is like a hybrid between a pancake, sausage patty, and acai bowl. Made from blueberry, banana, acai, cauliflower, pumpkin seed, date, and blue spirulina, the innovative patties can be cooked on a skillet or blended into a smoothie to give your morning an extra boost of nutrients and energy.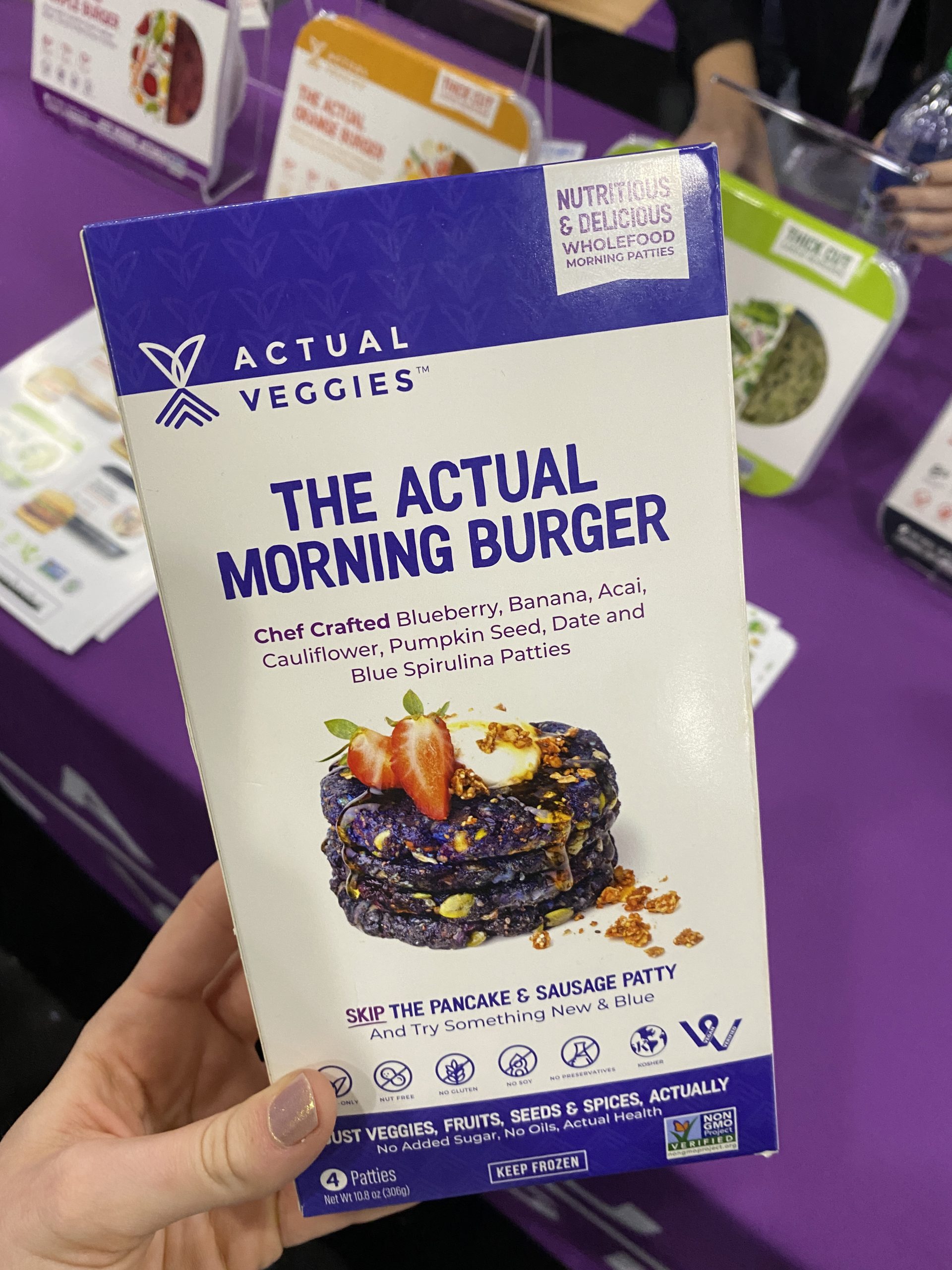 Liquid Vegan Pizza Mozzarella
Miyoko's Creamery continues its vegan dairy revolution with the launch of a Liquid Vegan Pizza Mozzarella. The cheese is intended to be used on pizza in place of shredded cheese. During the baking process, it bubbles and browns to a texture and consistency perfect for a pizza, lasagna dish, or casserole.
Plant-Based Squid
The two biggest trends we noticed at Plant Based World Expo this year were products in the vegan seafood and chicken categories. While we've seen quite a few fish and crab alternatives, we were surprised to find vegan squid! Jinka's Plant-Based Squid is the brand's vegan take on classic tempura-battered calamari. It makes for a great appetizer for when you're feeling fancy.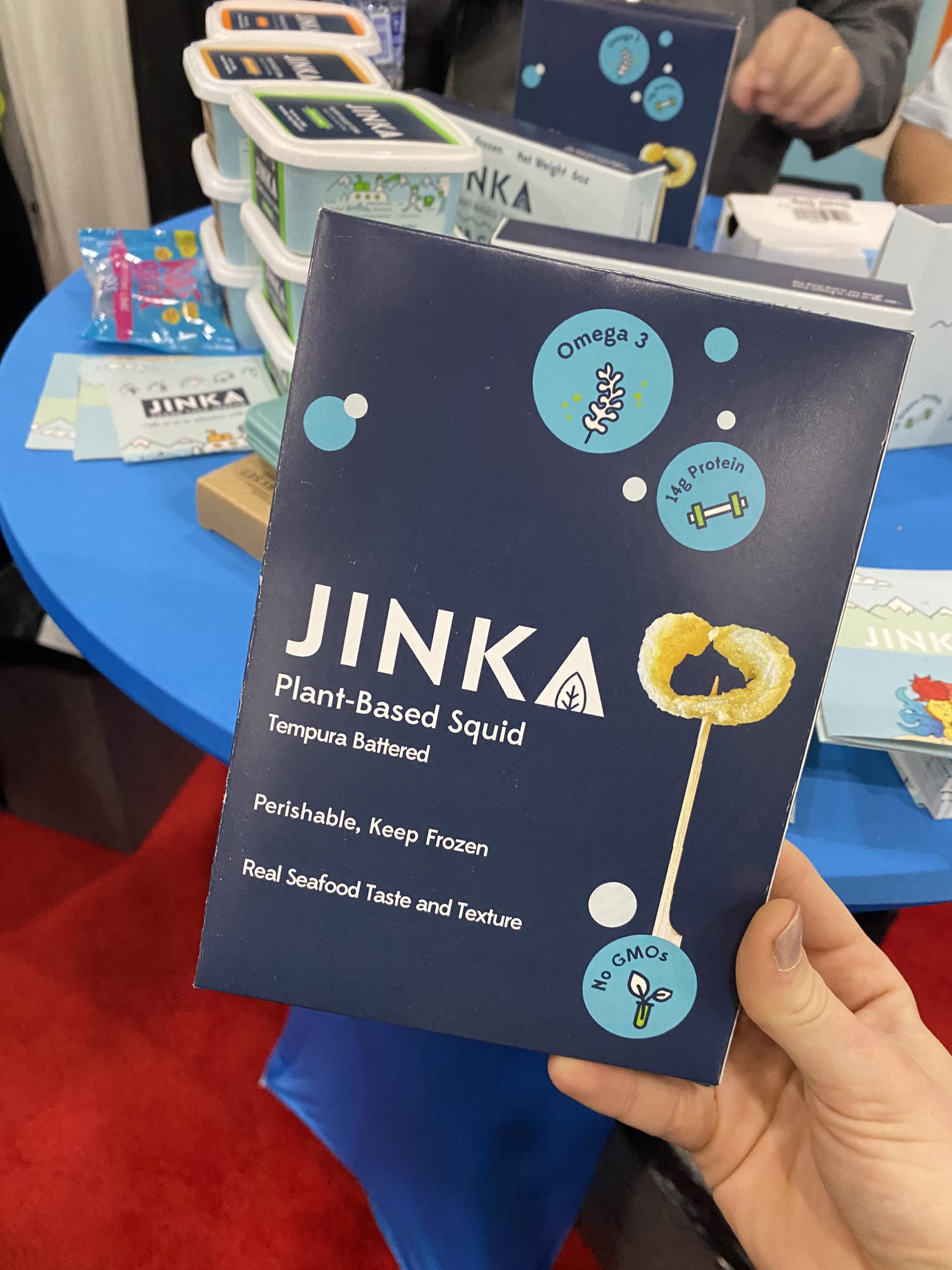 Creamy Black Bean Dip
Veggicopia is absolutely blowing our minds with their line of shelf-stable dips. From the Creamy Black Bean Dip to the Original and Red Pepper Hummus, these flavor-packed dips are perfect for camping or school lunches!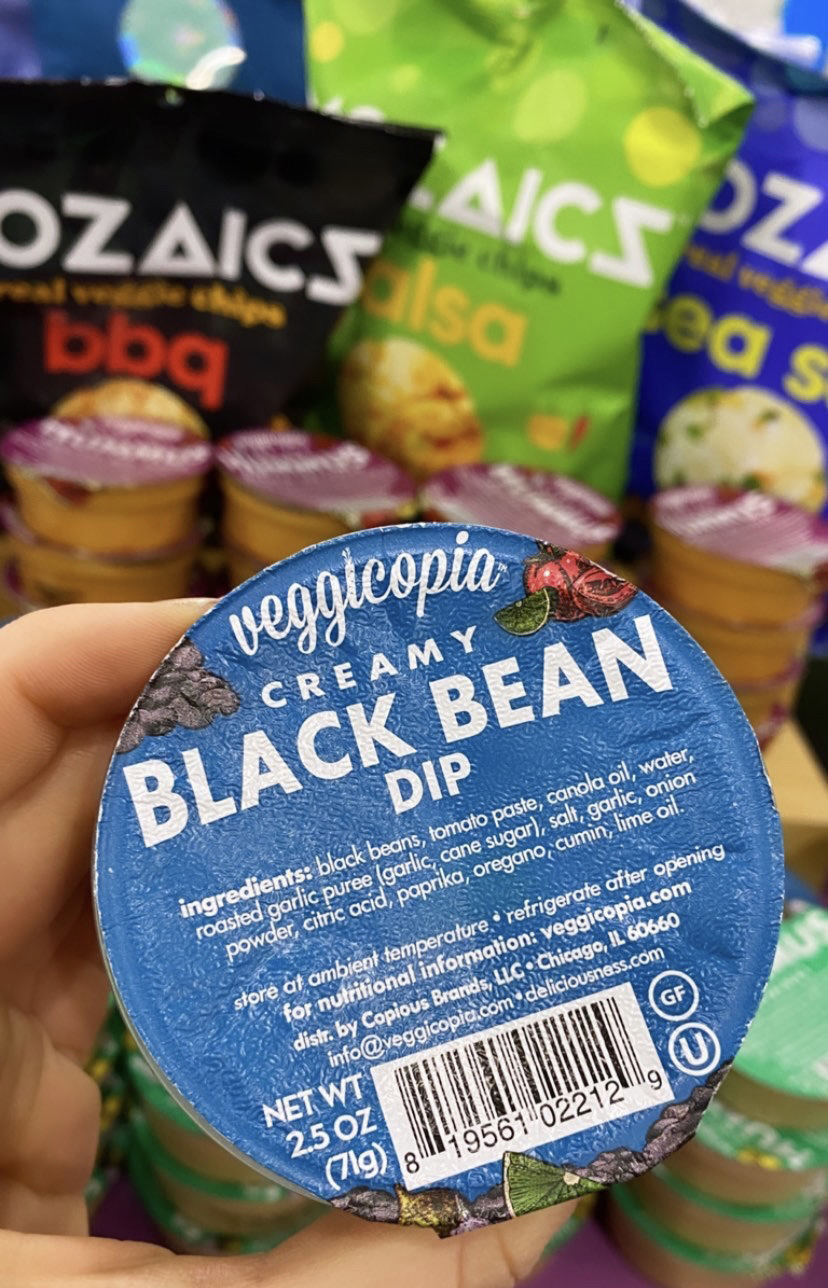 Cultured Oat Milk
The big dairy company Lifeway is rolling out more and more vegan offerings these days. Their newest product to hit the market is Strawberry Vanilla Cultured Oat Milk. In a quick swig of fruity goodness, you'll ingest live and active probiotics that help improve gut health.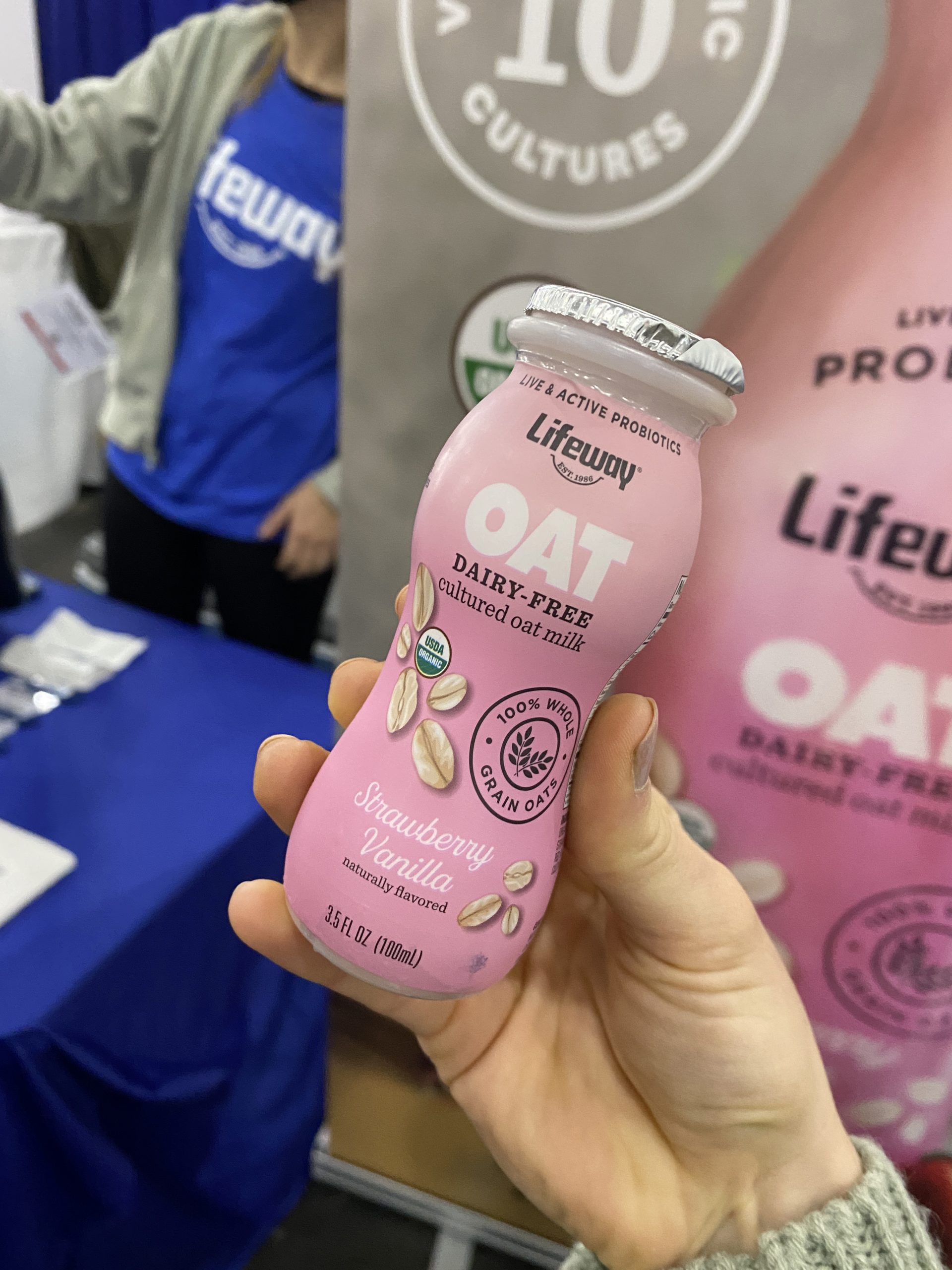 Future Beef
This emerging brand is coming through with all sorts of vegan meat alternatives. From ground beef and meatballs to chicken and tuna, Future Farm makes products that are great to use in a variety of recipes and cuisines. At the expo, we tried vegan chicken & waffles made with Future Chick'n and it was AMAZING!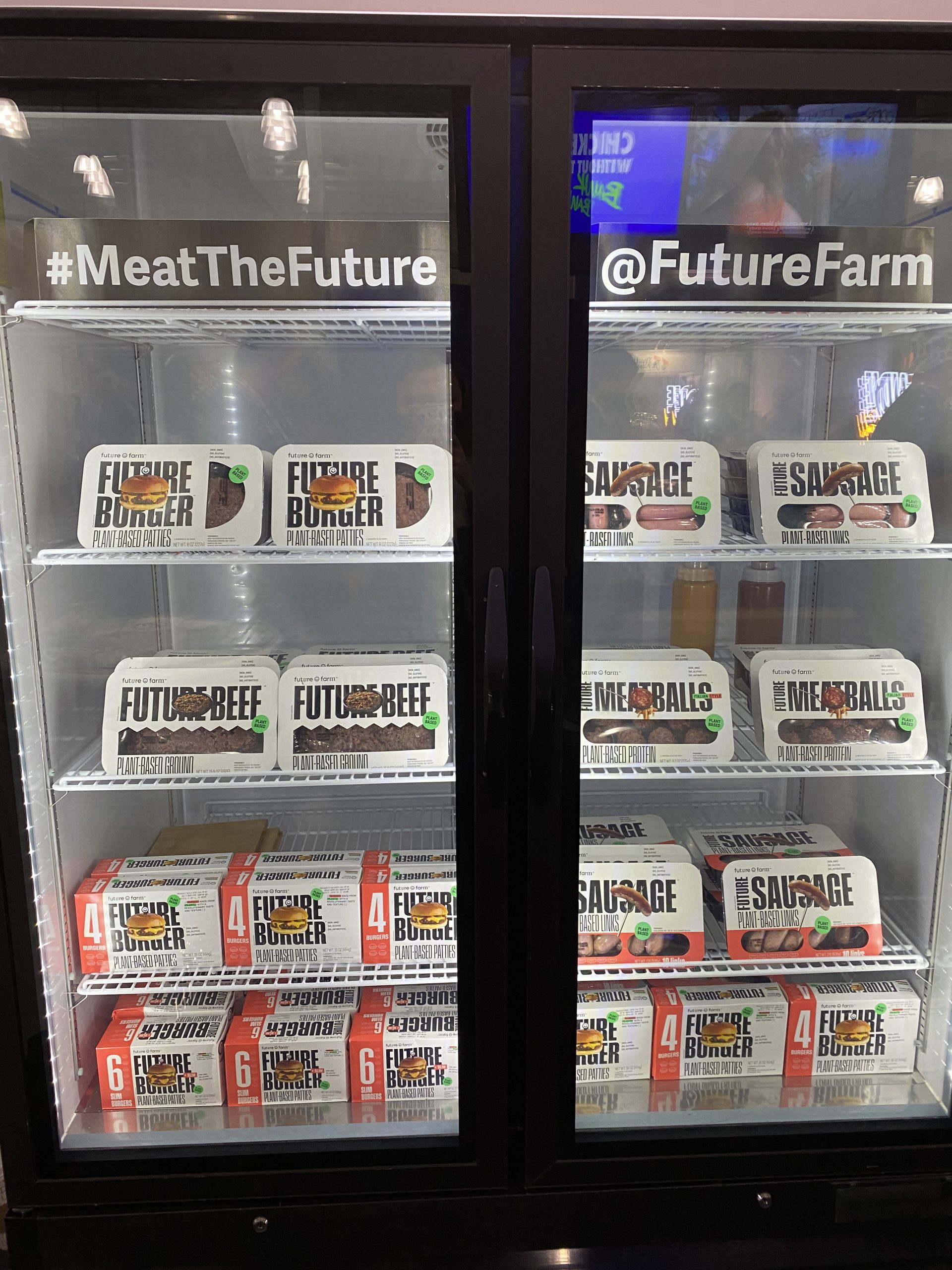 Chocolate Plantmilk
Good Karma has expanded its portfolio to include individual cartons of Chocolate Plantmilk! The adorable boxes of shelf-stable vegan chocolate milk are great to pack in kids' lunches, take on camping trips, or sip on the road.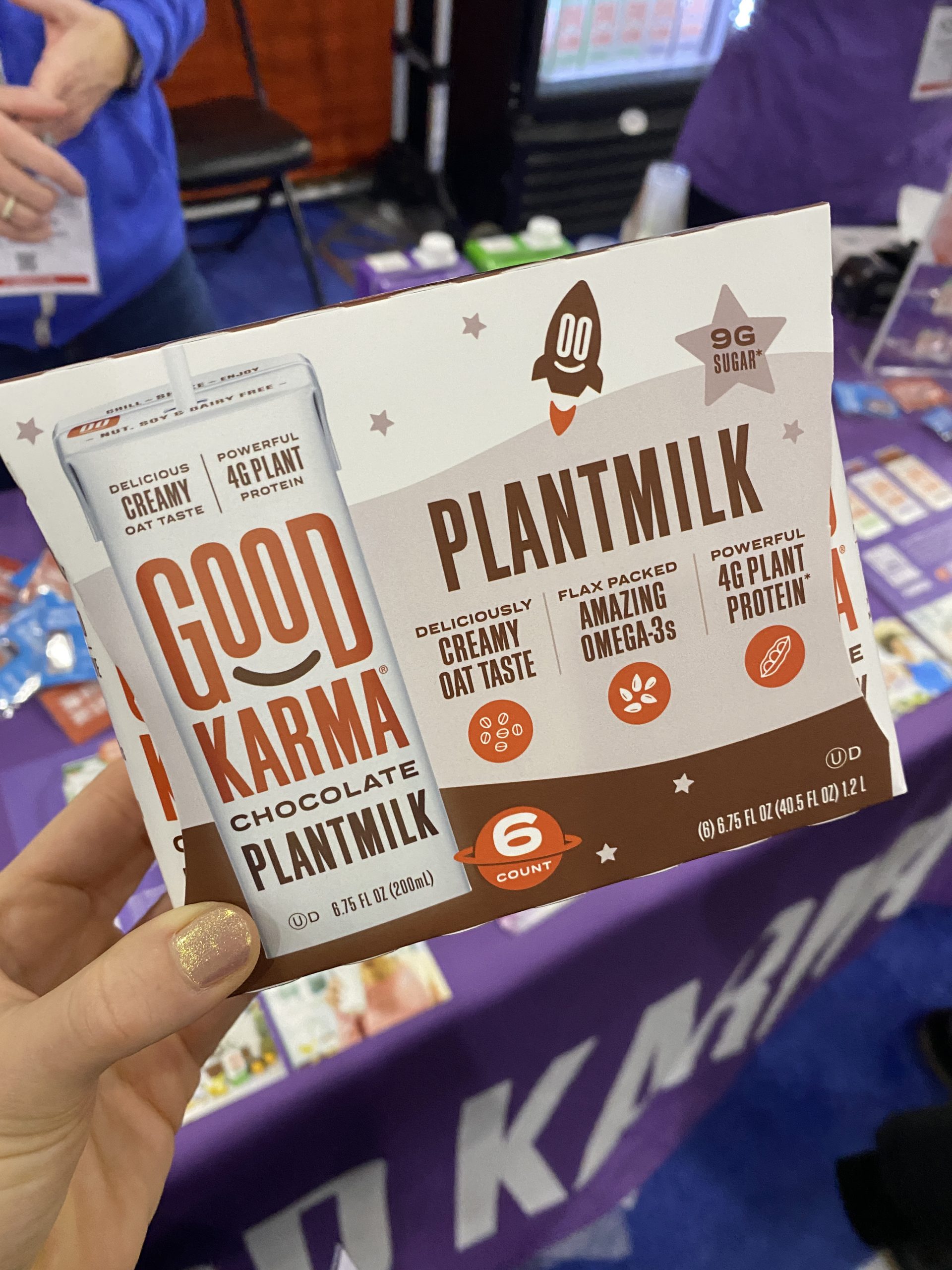 Vegan Mac & Cheese
Where are all our vegan mac 'n' cheese connoisseurs at? Better Forking Foods is an emerging brand with a stellar vegan boxed mac 'n' cheese. It's easy to make and even easier to eat!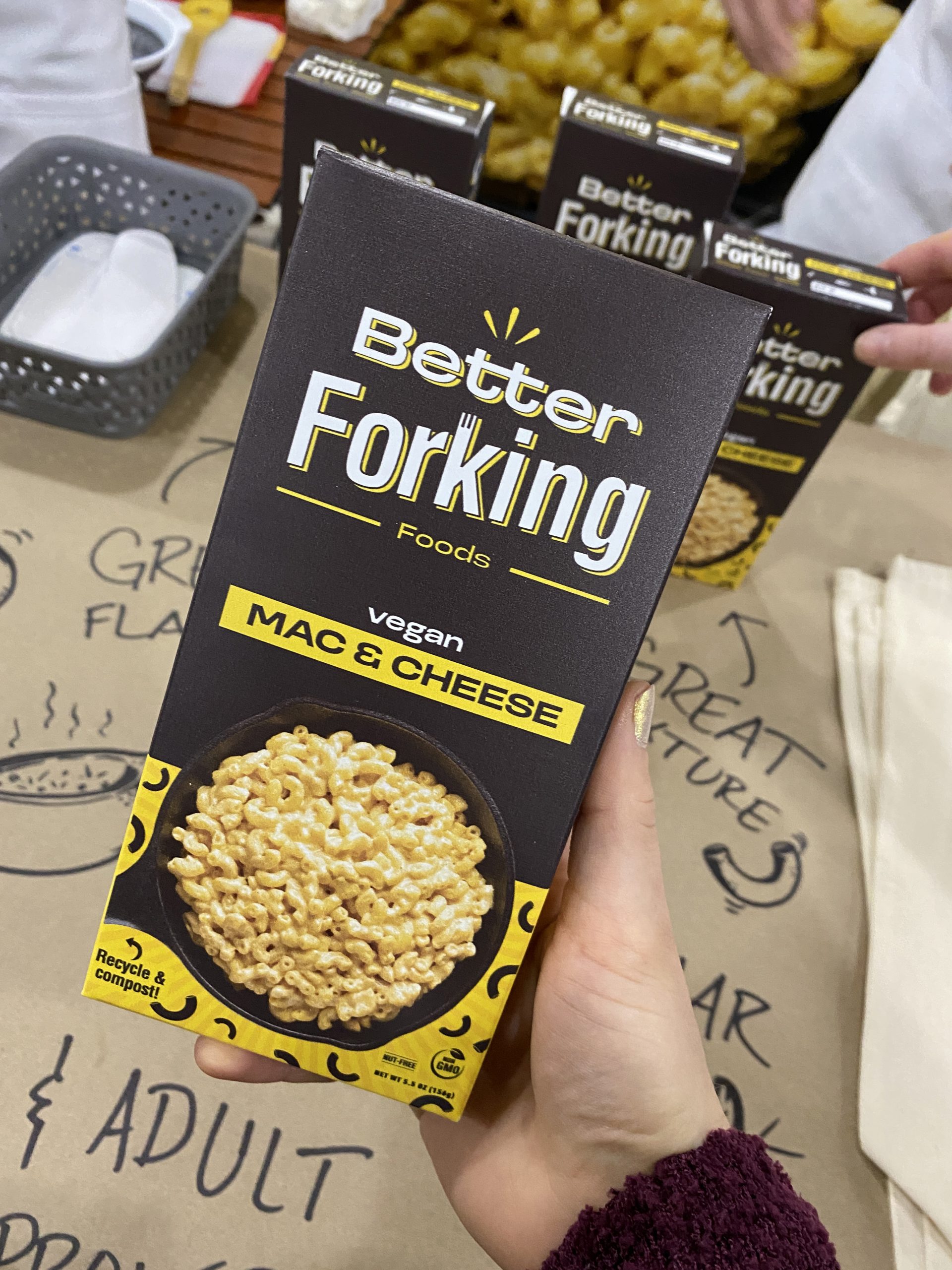 No Chicken Nuggets
This small, family-owned company is giving large, alternative meat brands a run for their money. Their plant-based meat line includes vegan chicken patties, burger patties, chicken nuggets, and ground beef made from non-GMO soy. Something unique to VeganUs' flavorful products is that they're made without garlic and onion, making the products more allergy-friendly.
Plant-Based Gelato
This trendy plant-based gelato brand combines two of the most popular items on the market—oat milk ice cream and hemp-infused foods. With flavors like Chocolate Raspberry Swirl and Chocolate Mint Chip, it's no secret Doozy Pots took home the award for "Best Plant-Based Dessert" at the expo. Oh, and word has it that the brand is launching a low-sugar Vanilla Chai flavor.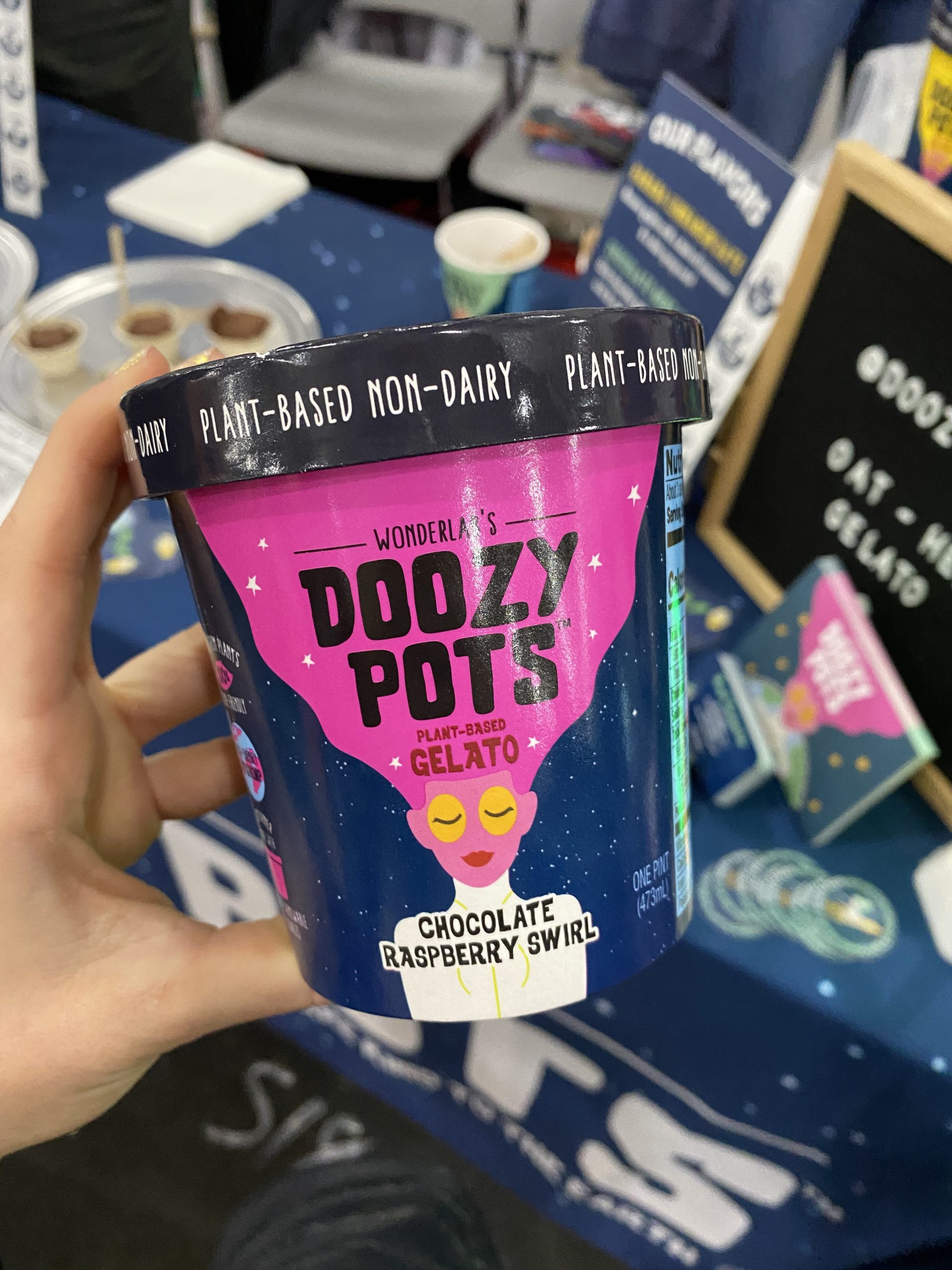 Chipotle Lime Dip
No appetizer tray is complete without a few delicious dips! Wild Creamery recently launched several dips ranging from Chipotle Lime and French Onion to Spinach and Ranch flavors. The brand also makes several vegan butters, including oat-based, European-style, and garlic varieties. Our favorite product to sample was the Chipotle Lime Dip, but you really can't go wrong with whatever you choose from Wild Creamery!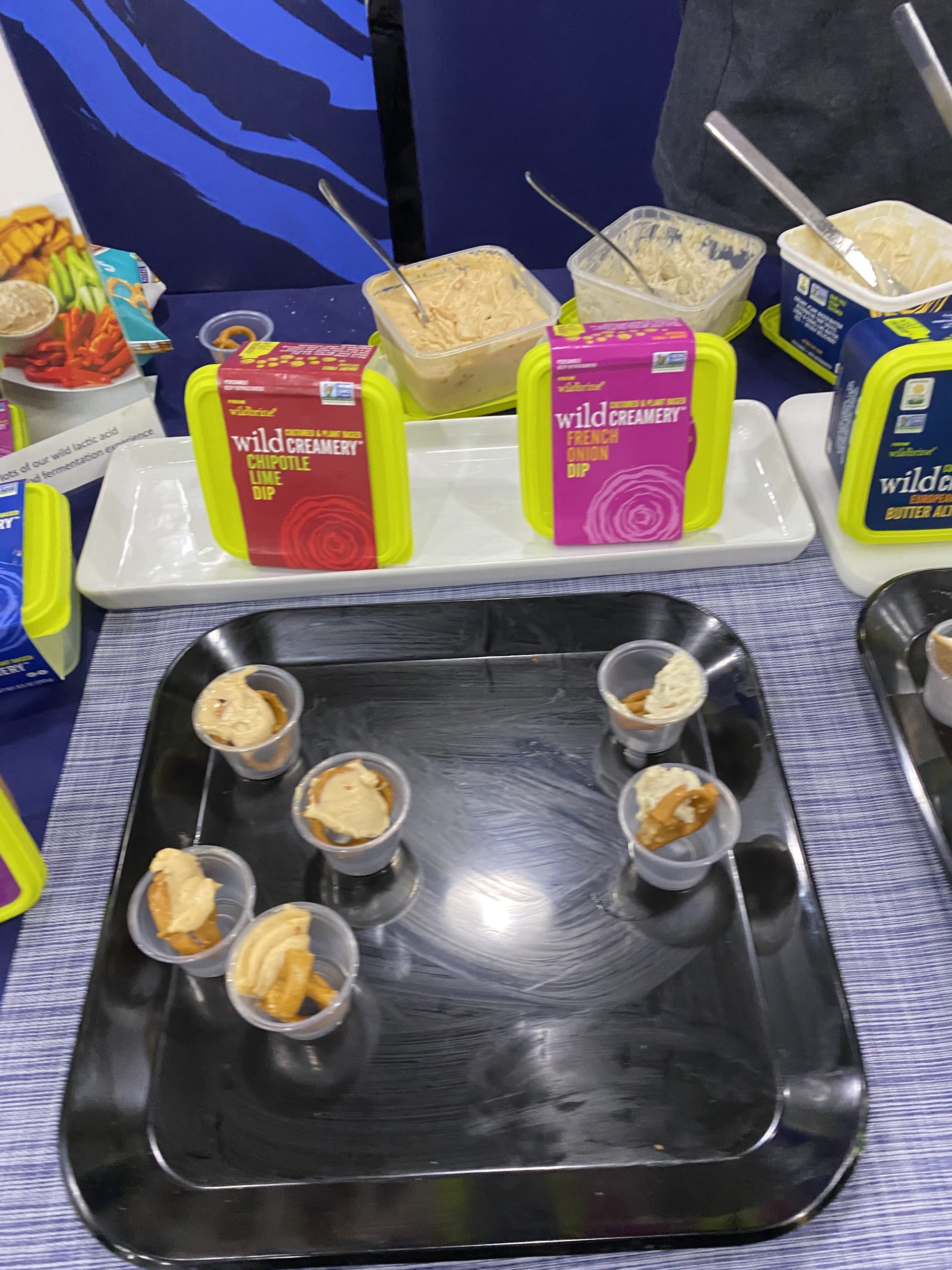 Gingerbread Frosted Layer Cake
While Abe's Muffins first gained popularity for their namesake products, the brand has built out a vast portfolio of other baked goods, including brownies, loaves, and cakes! Their seasonal Gingerbread Frosted Layer Cake is lifting our spirits with all the best holiday vibes and flavors!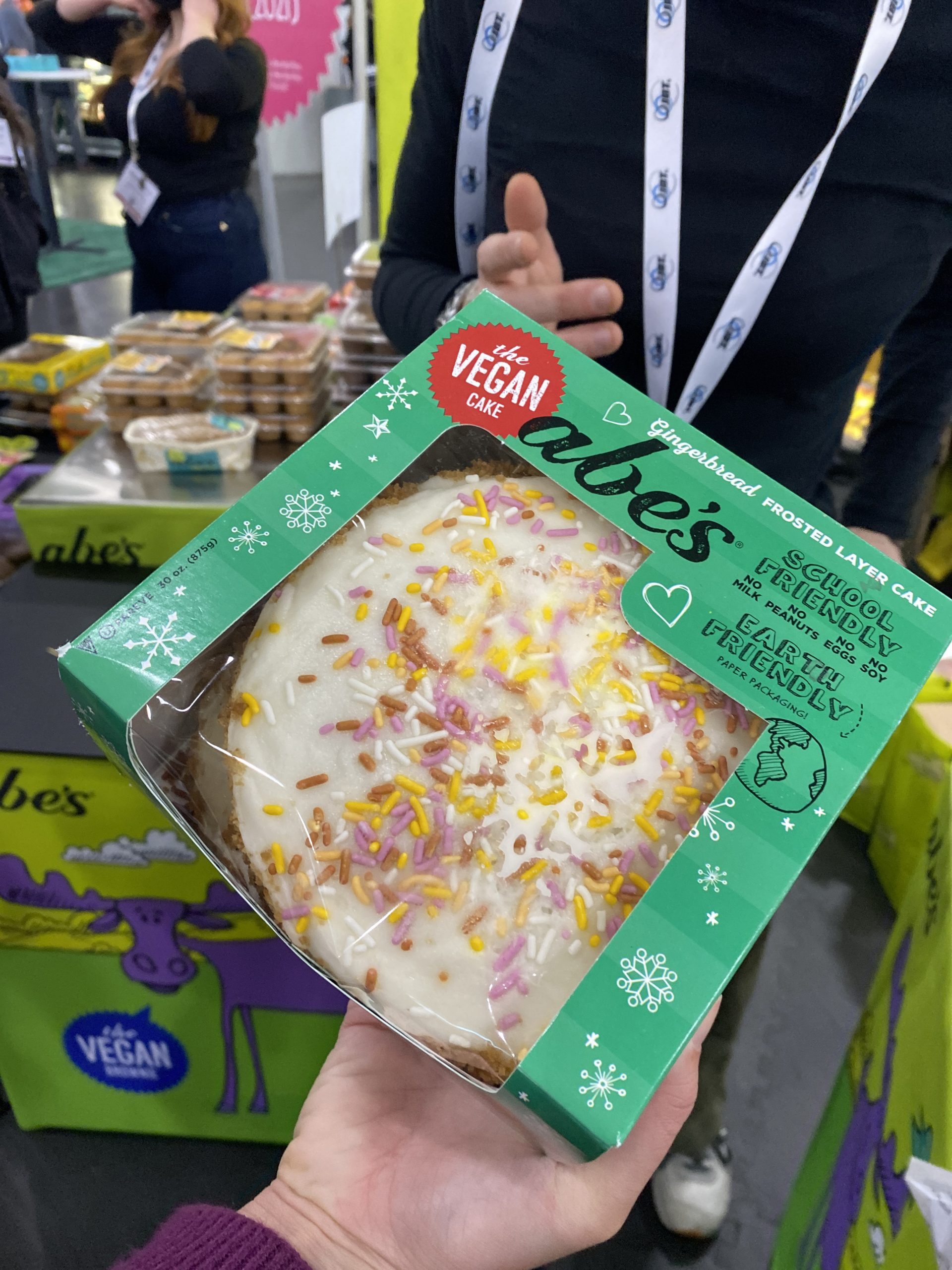 Vegan Fried Popcorn Chick*n
While vegan chicken nuggets and patties are abundant these days, one thing that's missing on the market is vegan popcorn chicken! That's right, if you used to go to Sonic Drive-In in your pre-vegan life, you know what we're talking about. VFC's Vegan Fried Popcorn Chick*n is nostalgic, delicious, and oh-so-crispy. The brand has yet to launch their vegan chicken products in the US but plans to very soon.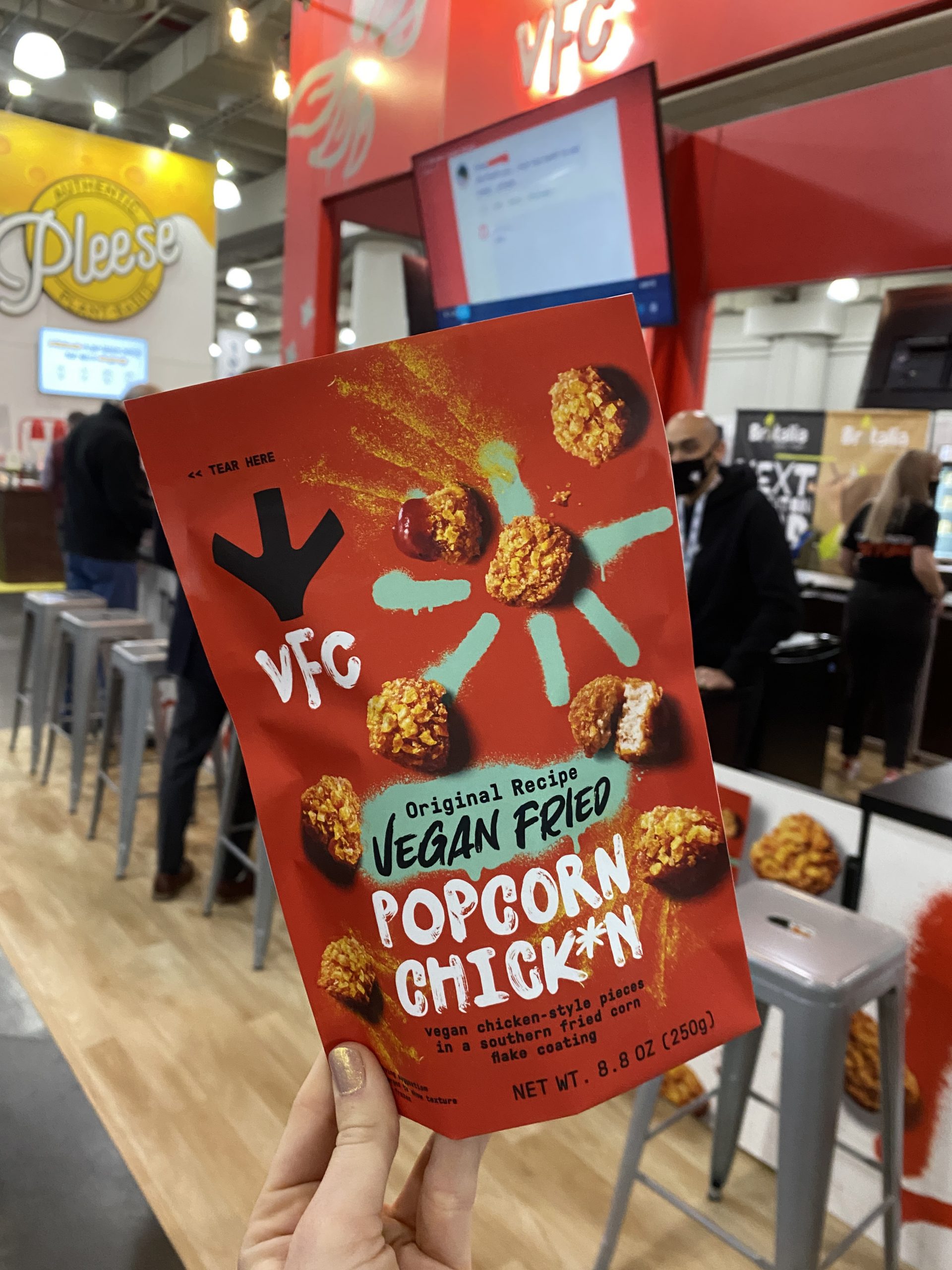 Mighty Mushroom Bites
If you're not big into meat-like vegan products, these Mighty Mushroom Bites are just what you need to try! The mouthwatering morsels are made from a flavorful amalgamation of vegetables that will take your wrap, salad, or bowl to the next level!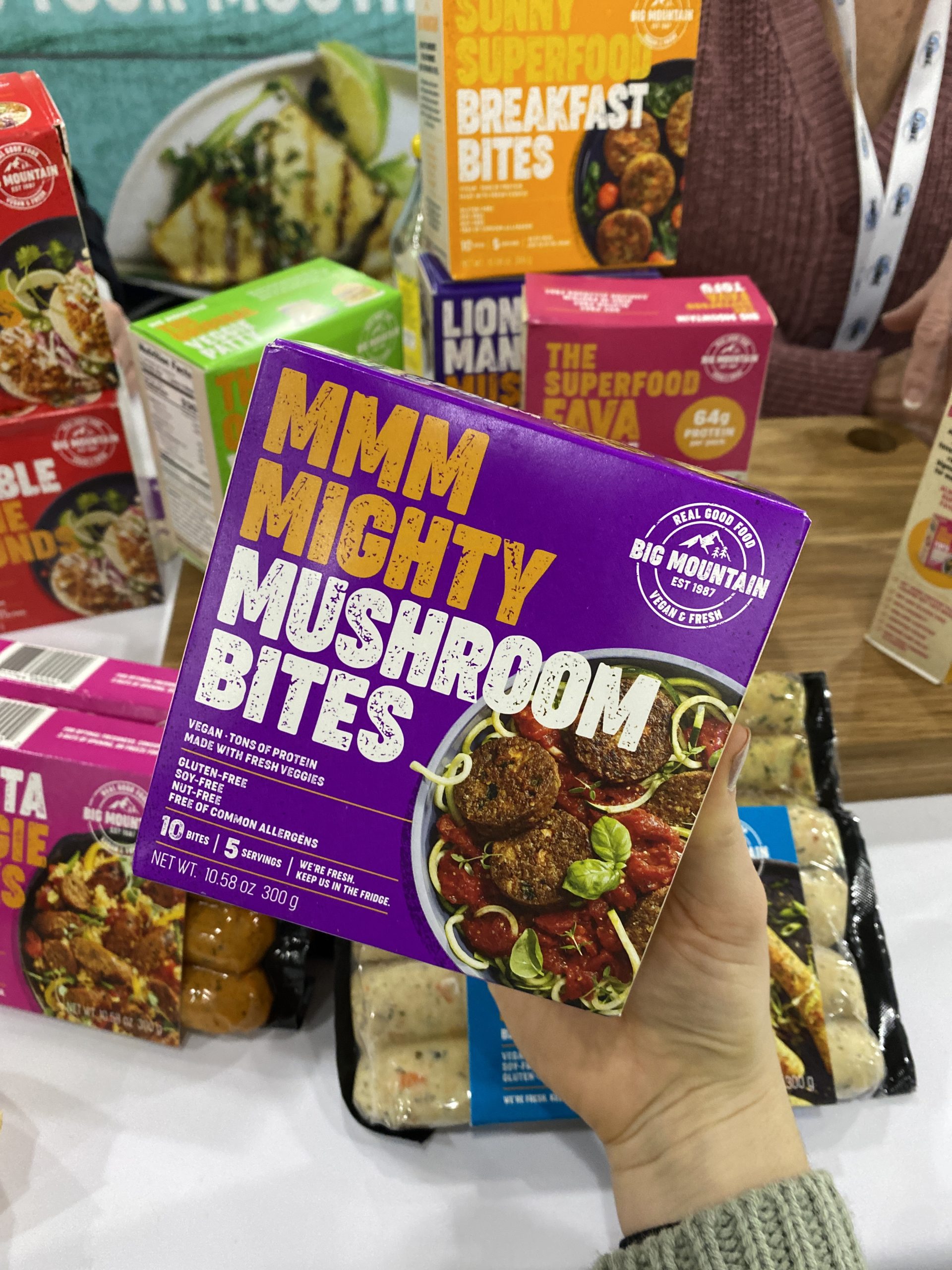 Epic Cauliflower Cheese Sauce
You might know Henry Firth and Ian Theasby from their vegan YouTube cooking channel, BOSH!, but did you know that they also have food products and cookbooks? From baking mixes and breadcrumbs to flavored nutritional yeast and dips, the BOSH! product line is so freaking epic. Out of everything, the product that caught our attention the most was the Epic Cauliflower Cheese Sauce—because, duh! BOSH!'s products aren't available in the US quite yet, but they plan to launch here very soon.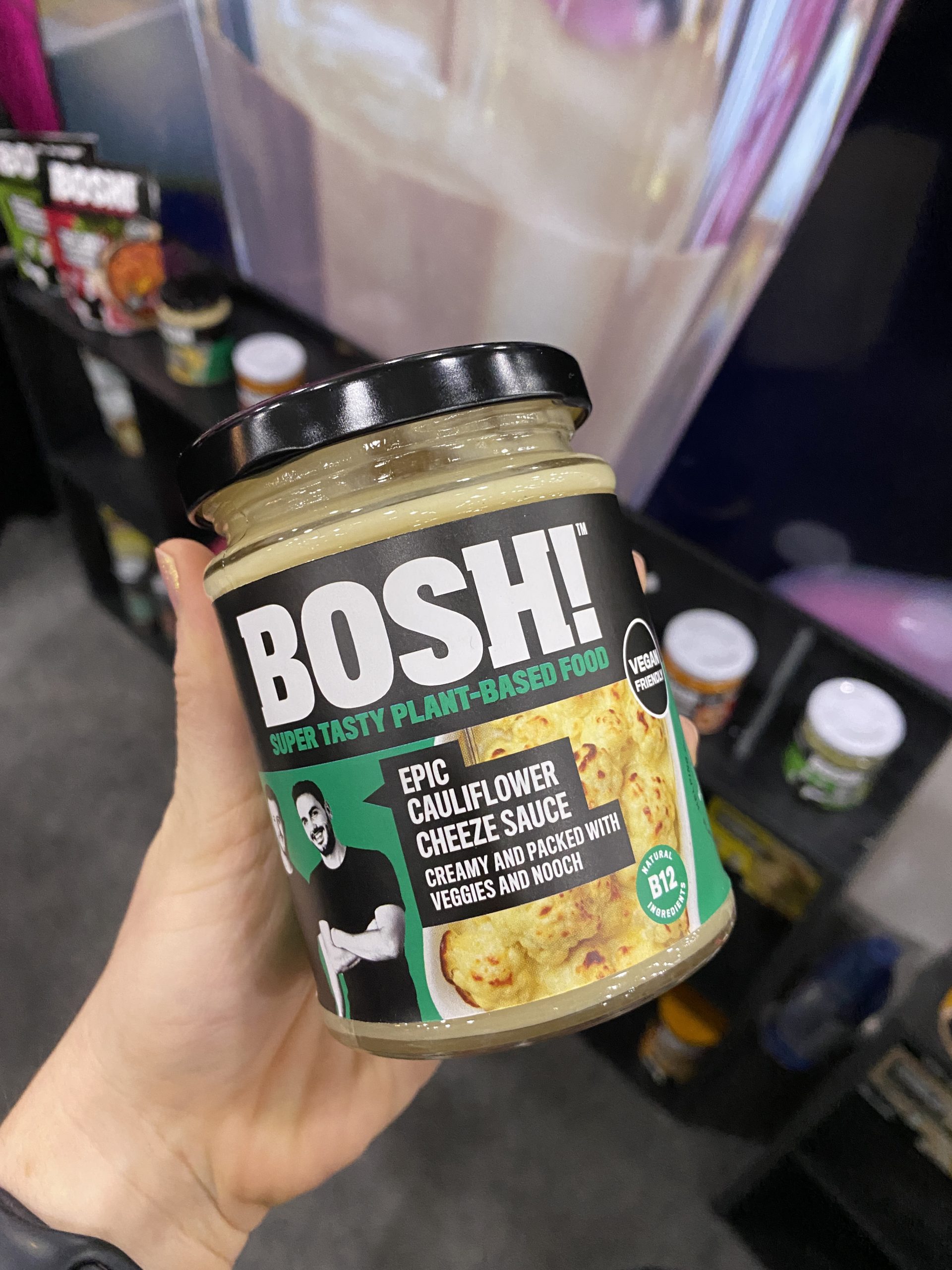 Rosemary Garlic Focaccia Mix
This women-owned food brand makes all sorts of vegan, gluten-free baking mixes. The one we found most unique was the no-knead Rosemary Garlic Focaccia Mix! Other products include brownie, waffle, cookie, bread, and falafel mixes.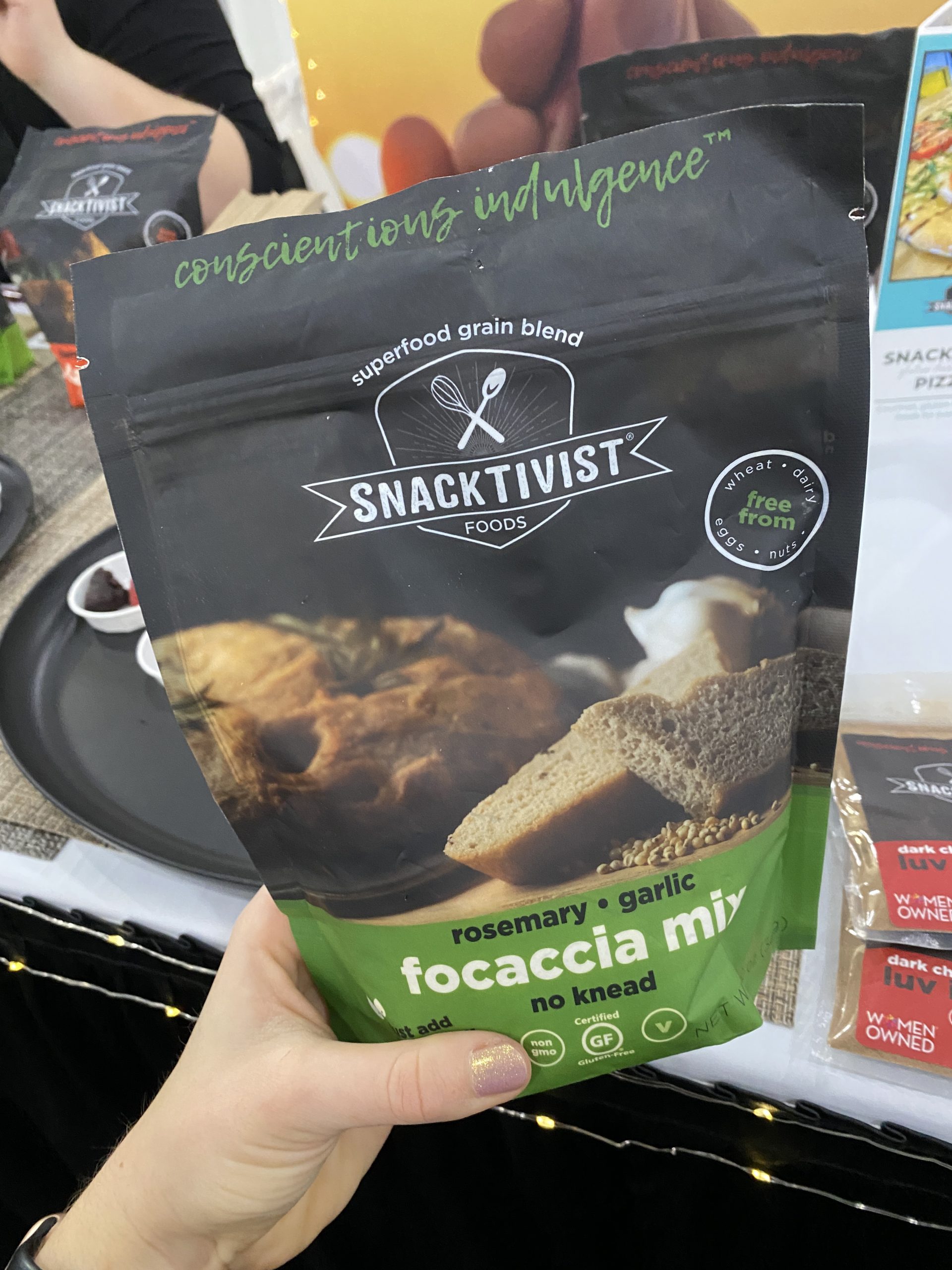 Plant-Based Smoked Salmon
Sophie's Kitchen is adding to their wonderful portfolio of plant-based seafood with a few new vegan salmon products. The Plant-Based Smoked Salmon would taste delicious on a lox bagel! It's vegan, soy-free, gluten-free, and non-GMO.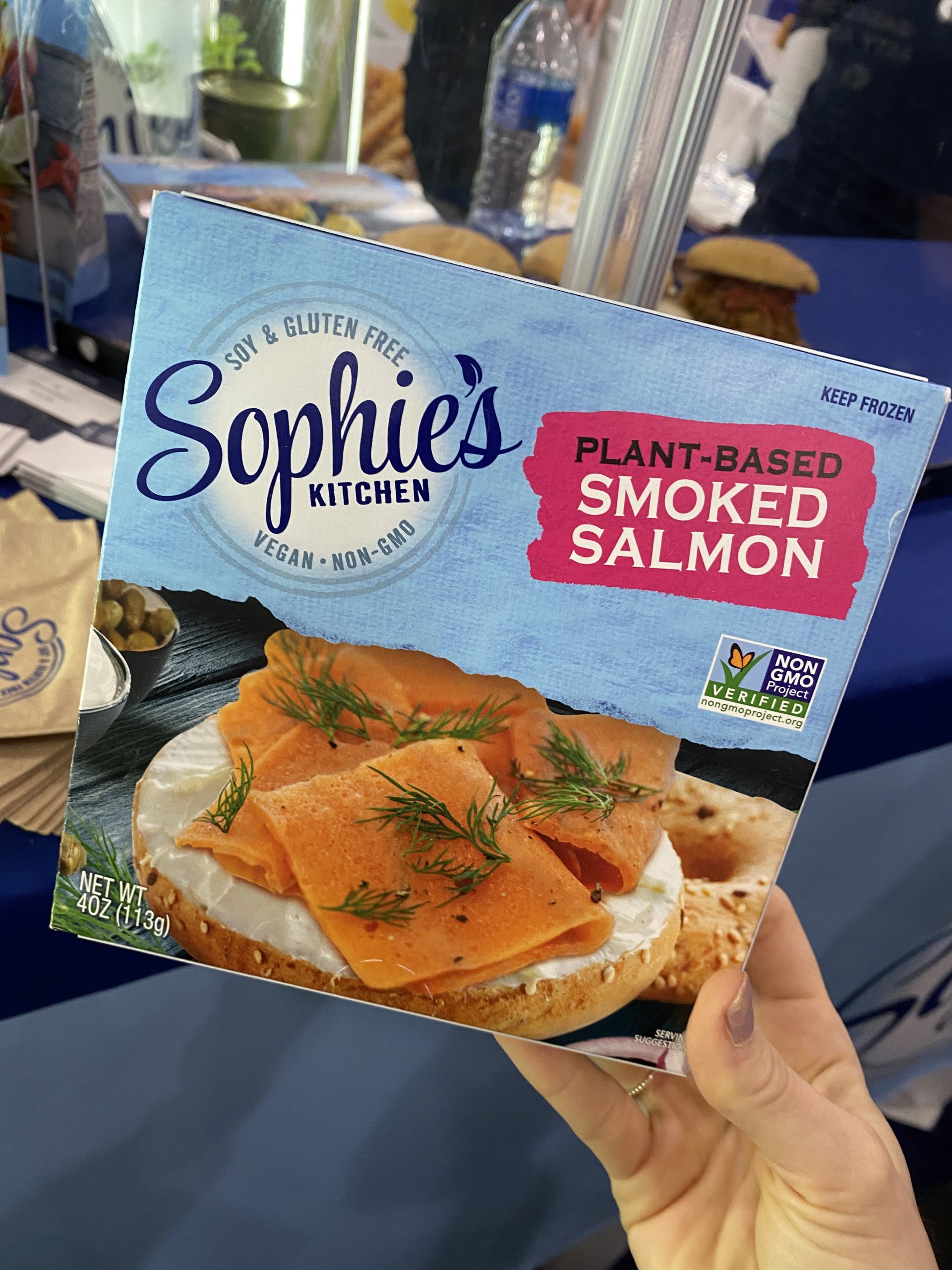 Dairy-Free Whole Mylk
Are you a milk and cookies person? The emerging brand, Myracle Kitchen, offers an epic lineup of plant-based milks and coconut cookie bites that taste great together. The Dairy-Free Whole Mylk offers a rich, creamy flavor that's great for dipping cookies into!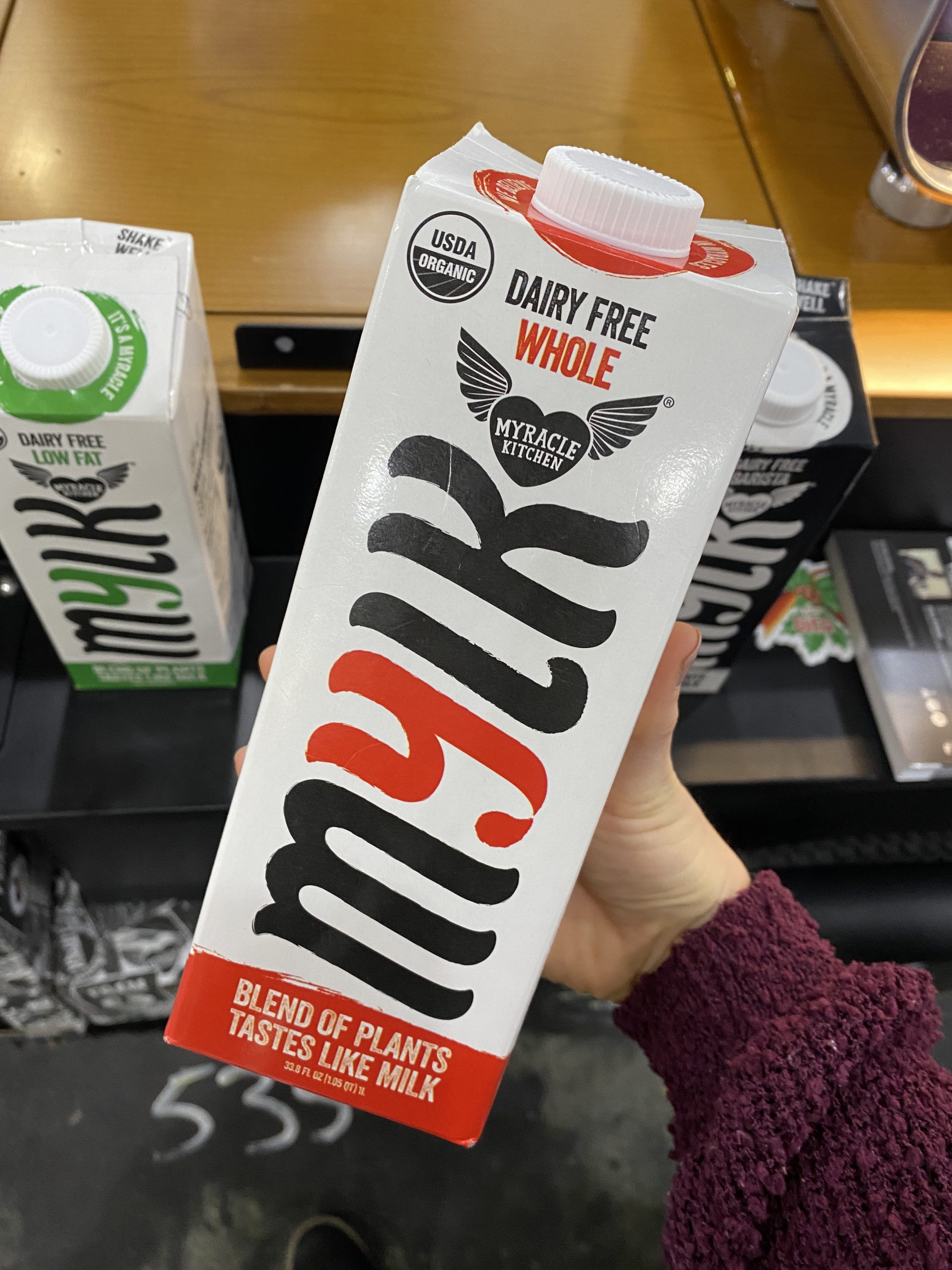 Perfect Pizza Shreds
We can't get enough of this melty vegan cheese! It's currently available to order on pizzas at Tavola, Tavolino's, Rocco's Pizza, Cuts and Slices, and Vito's Slices and Ices in New York, as well as Checkers Pizza in Connecticut.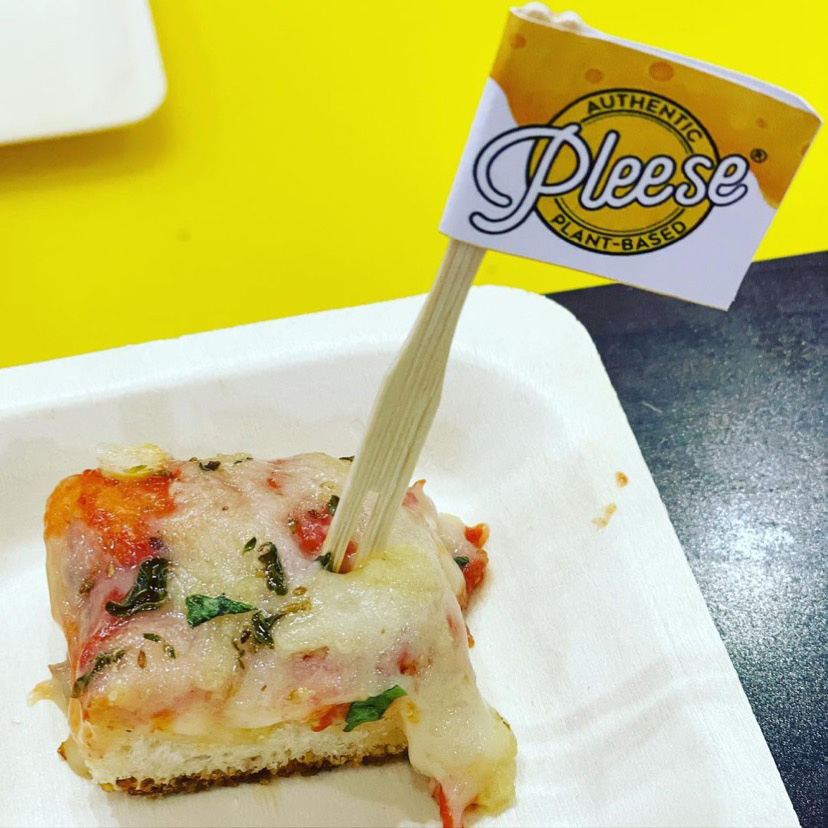 Egg-Free Veggie Omelet
While several vegan egg products can be cooked into omelets, wouldn't it be much easier to heat up a pre-made egg-free veggie omelet? YES! Ireland-based Plant-It Foods has quite an astounding lineup that will hopefully launch in the US in 2022.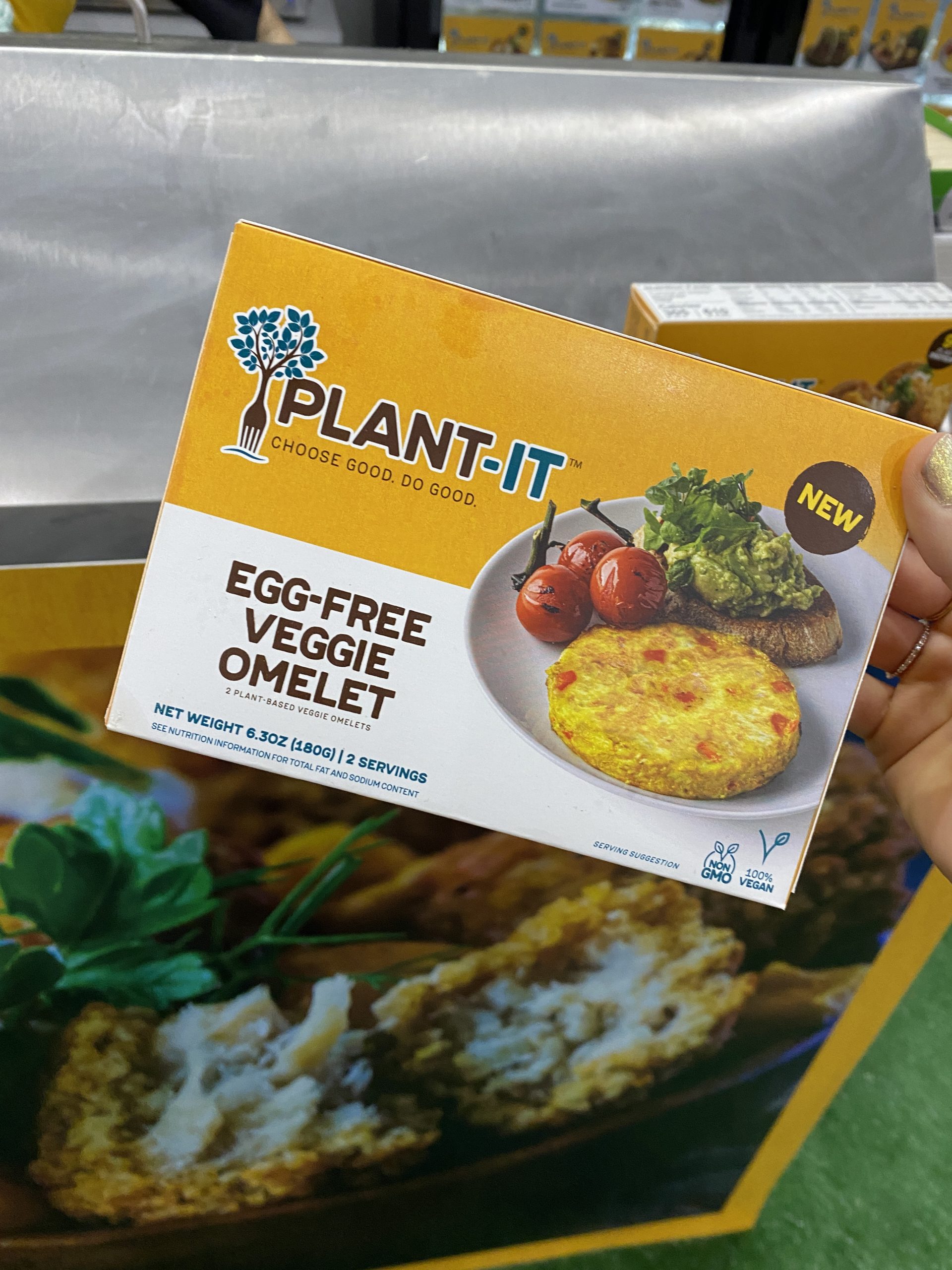 Vegan M_lk
This Denmark-based vegan brand had a booth at the expo to show off their new vegan butter and milk products. We tried both straight-up and were shocked at how much they tasted like animal-based butter and milk.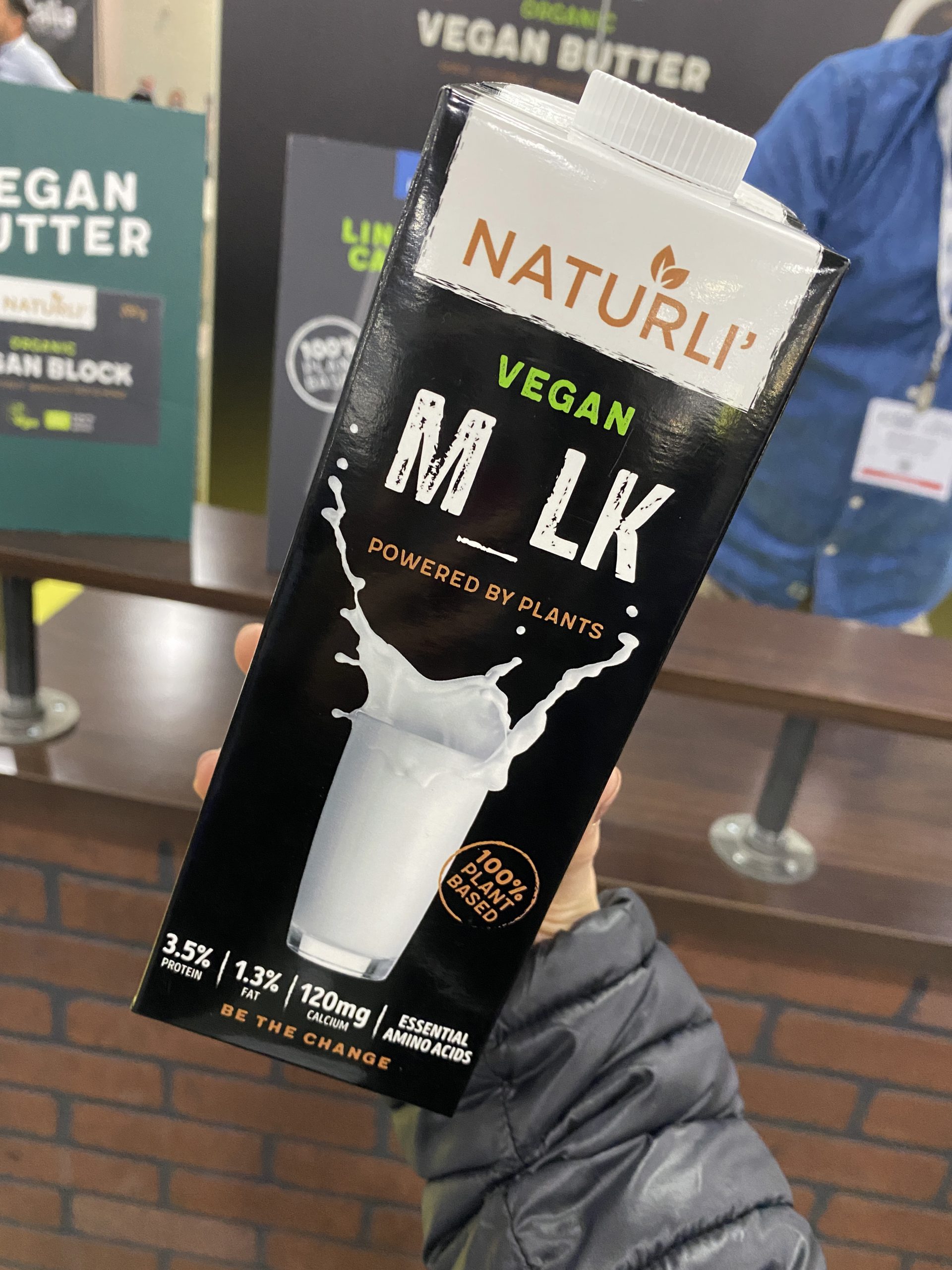 Chive & Onion Dairy-Free Cream Cheese
Joining Nuttin Ordinary's vegan cream cheese lineup in 2022 are Chive & Onion and Garden Veggie flavors! Made from six simple ingredients, these new flavors are a refreshing vegan take on the classic spread.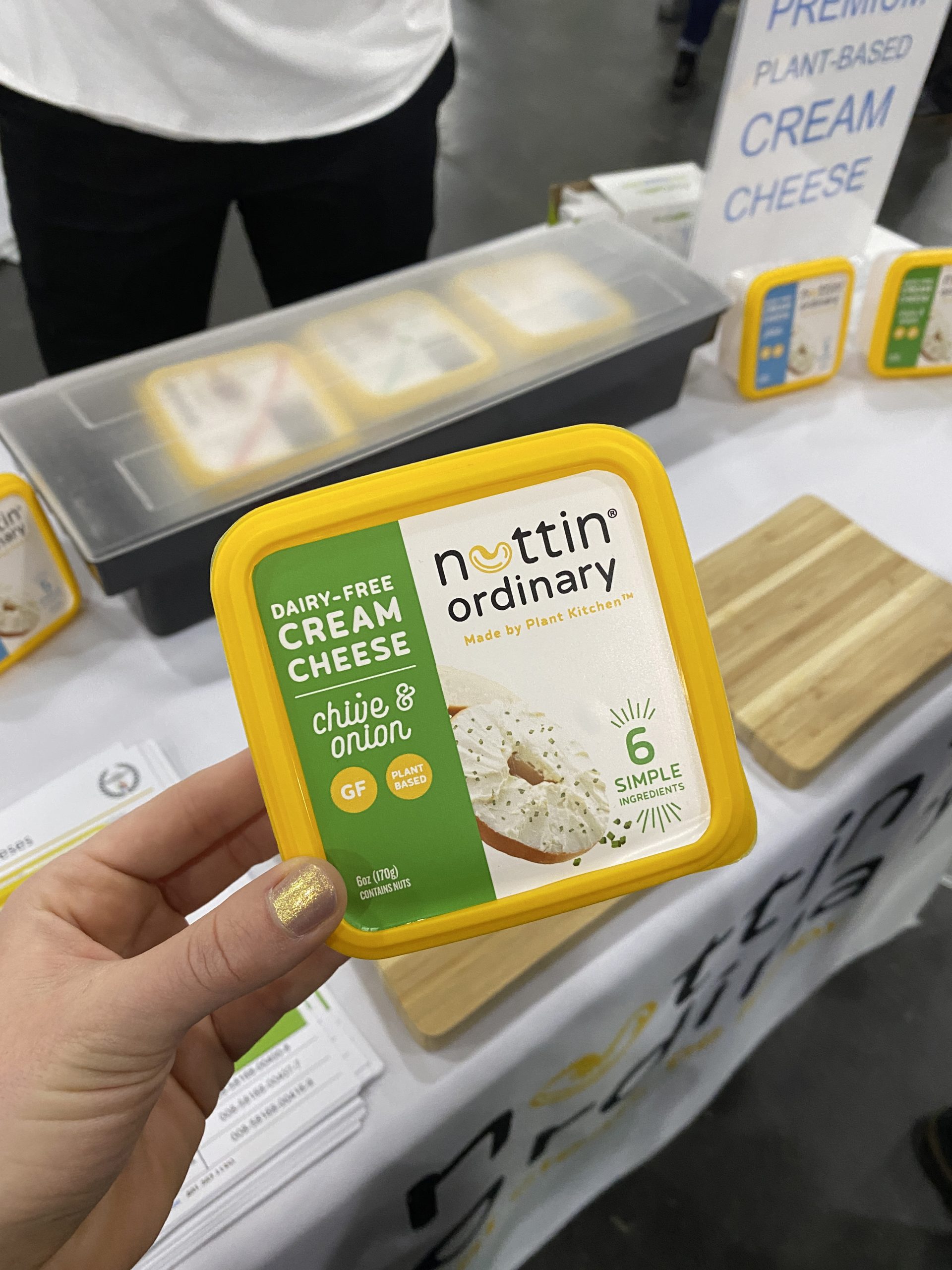 Vanilla Organic Oat Creamer
If you're fans of Rice Dream and Westsoy, they have a new sister brand that just launched featuring organic oat milk creamers. SOWN's current lineup includes three flavors—Unsweetened, Sweet & Creamy, and Vanilla. We tried a sample of the vanilla oat milk creamer with coffee and are already hooked!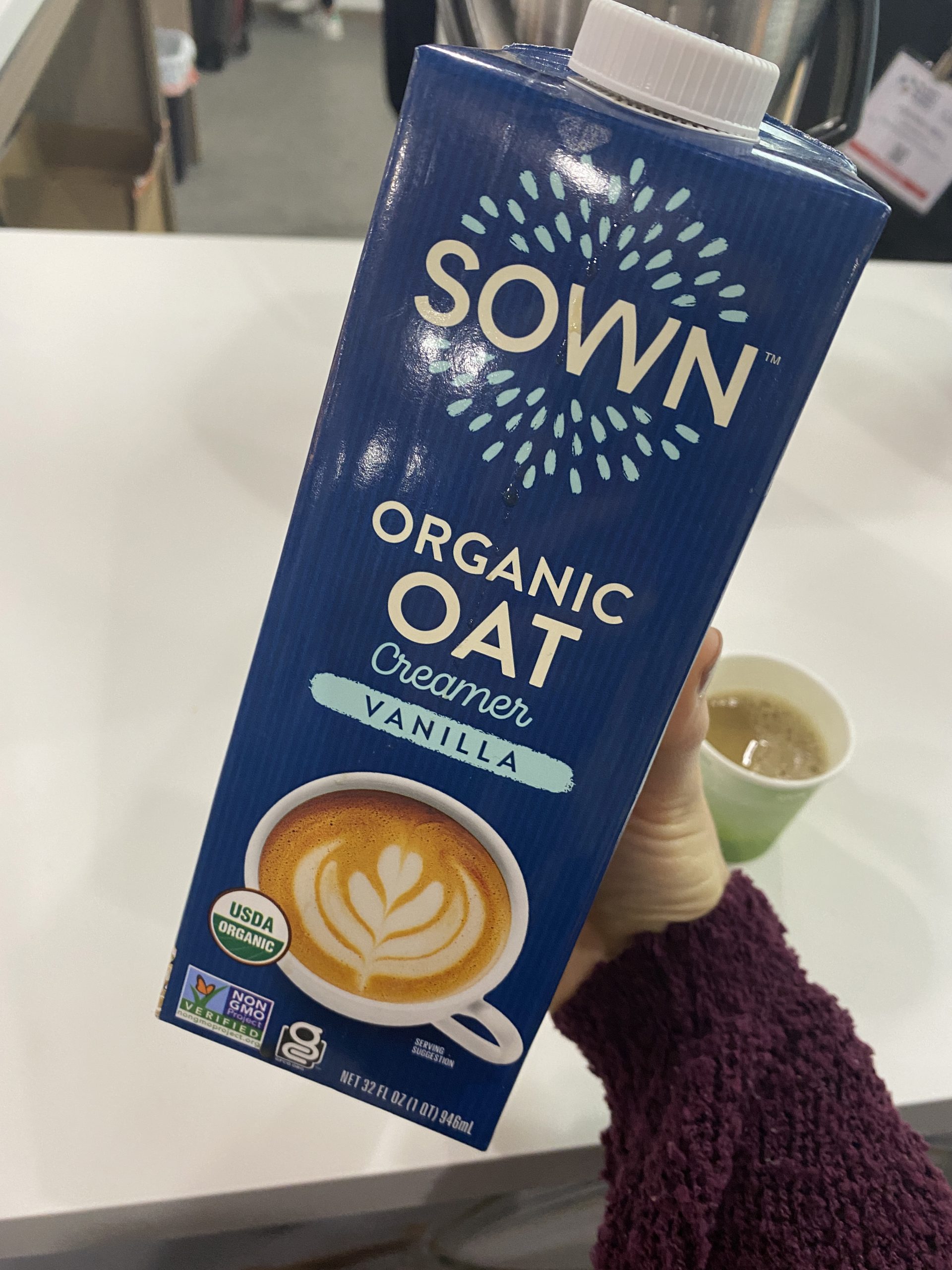 Vegan Beyond Bacon Crunchy Mung Beans
If you're looking for a new savory snack that's great to take with you on the go, Crunchsters has you covered with their line of crunchy mung beans. We still can't get over how good the Beyond Bacon flavor was!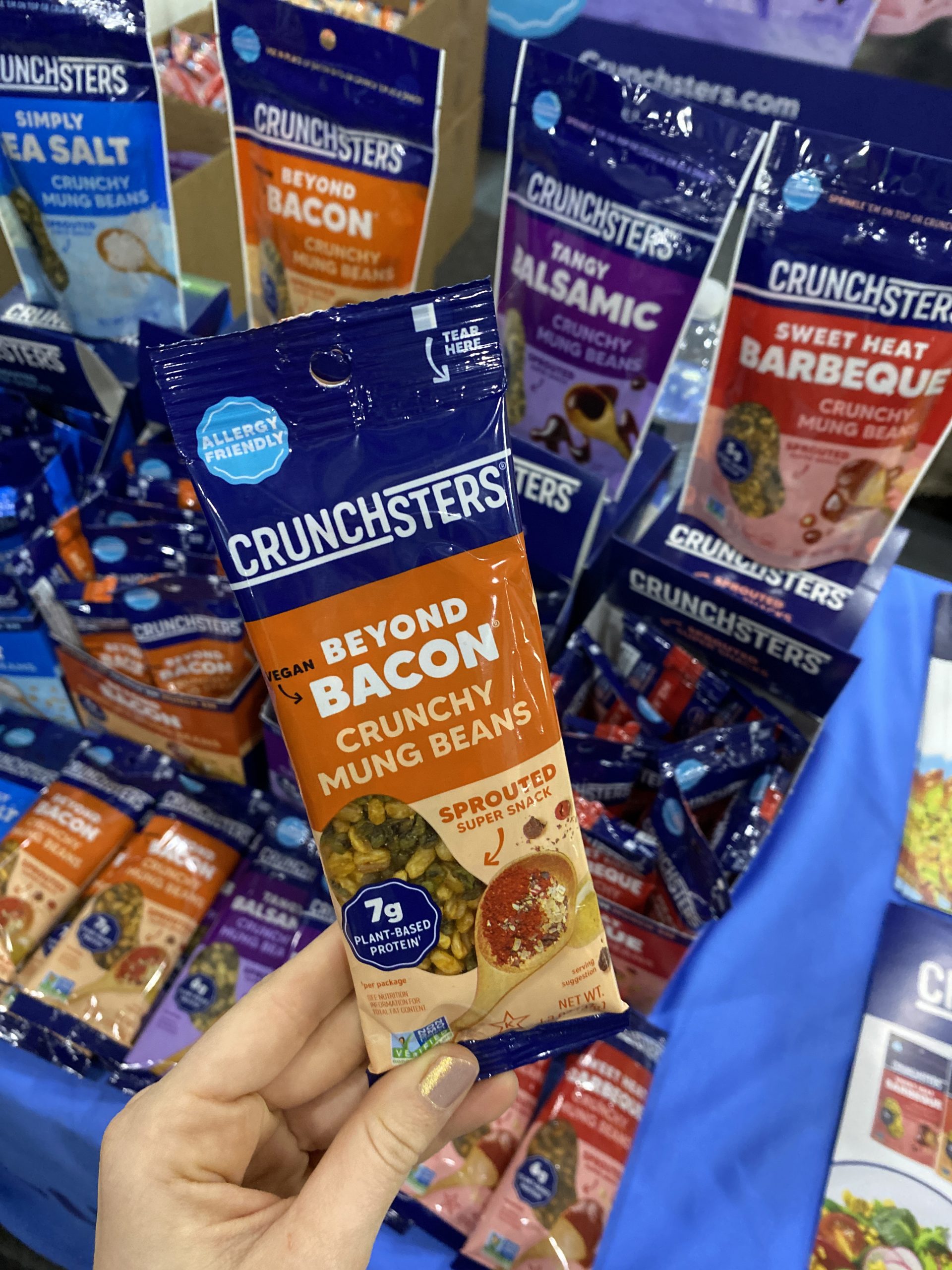 Meatless Sausage Breakfast Sandwich
This product came out over the summer, but we can't reiterate enough how good it is! Not only is Alpha Foods' Meatless Sausage Breakfast Sandwich convenient AF, but it tastes amazing, too. It's currently available at Costco retailers nationwide, but we hope to see it roll out at other grocery chains next year.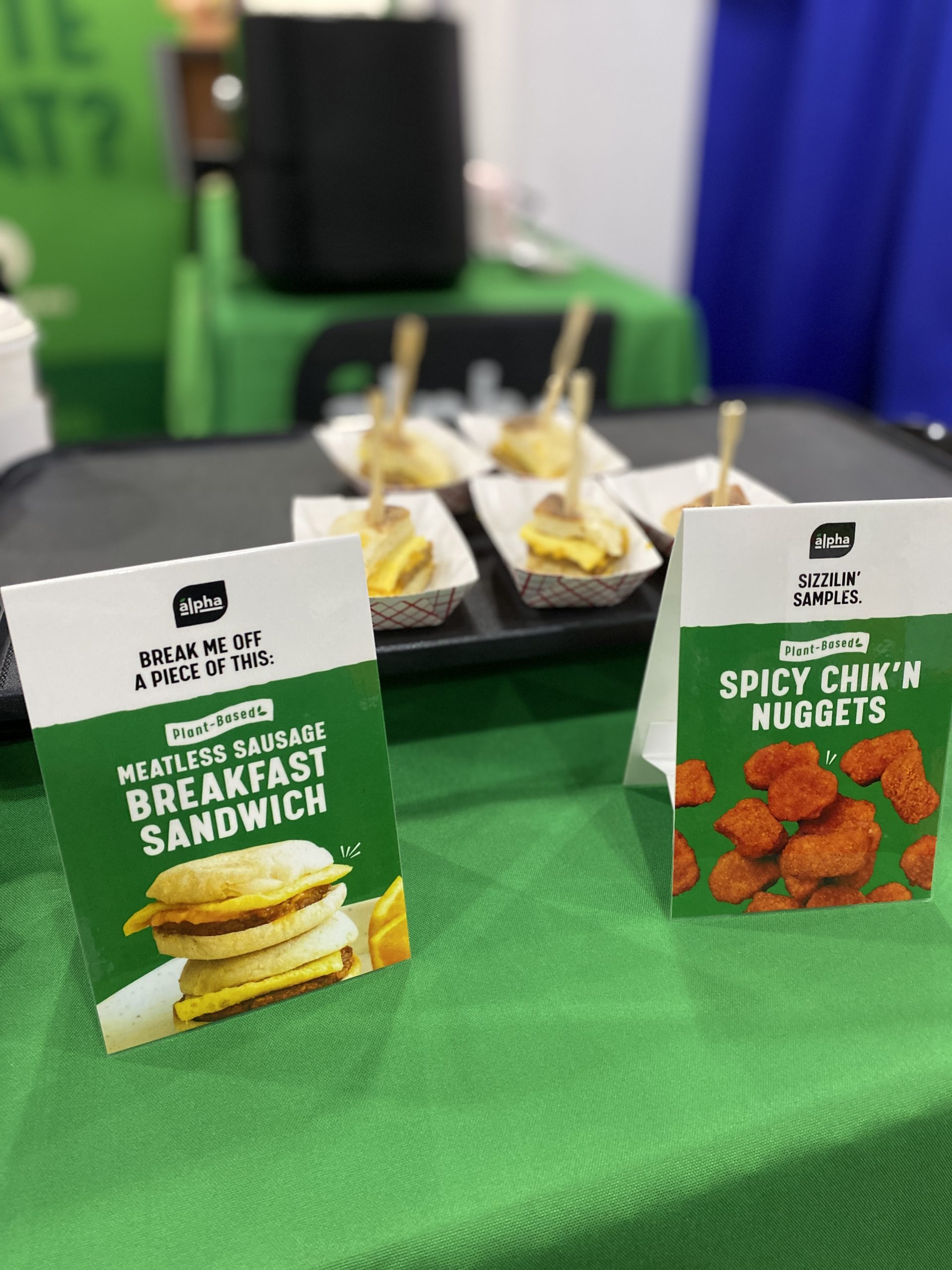 Epic Cheddar Flavor Mini
Violife makes some of the best cheese on the market! It tastes great plain and melts like a charm, but it's not the most ideal to take a whole container of shreds or slices on the go. That's why we're happy Violife now has single-serving blocks of vegan cheddar cheese. We're loving these epic cheddar flavor minis!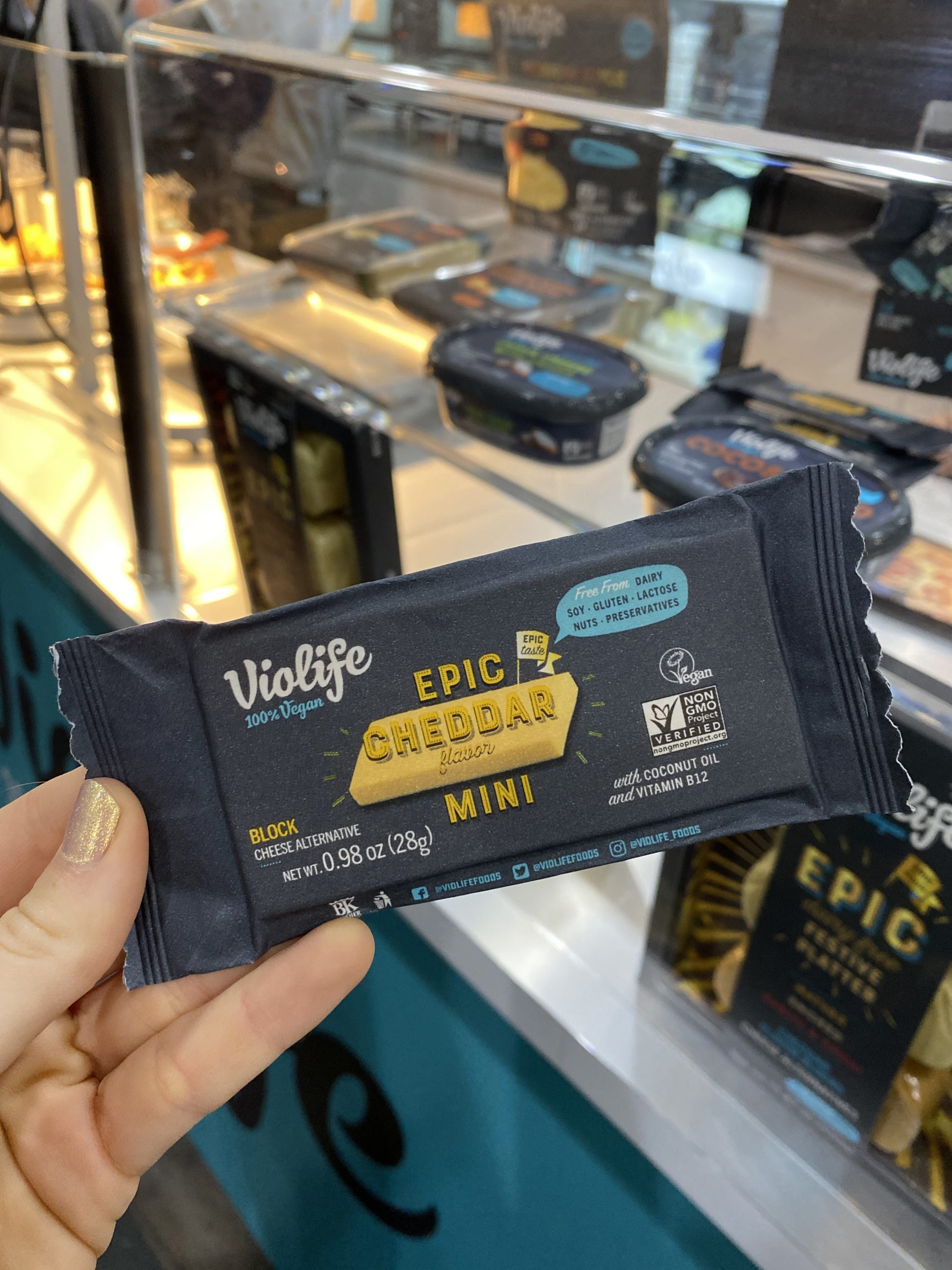 Unfished PlanTuna
Unfished brand's collection ranges from classic vegan tuna in water to Lemon & Pepper, Mediterranean Herbs, and Mayo varieties. The products aren't available in the US just yet, but we hope to see them in the states next year.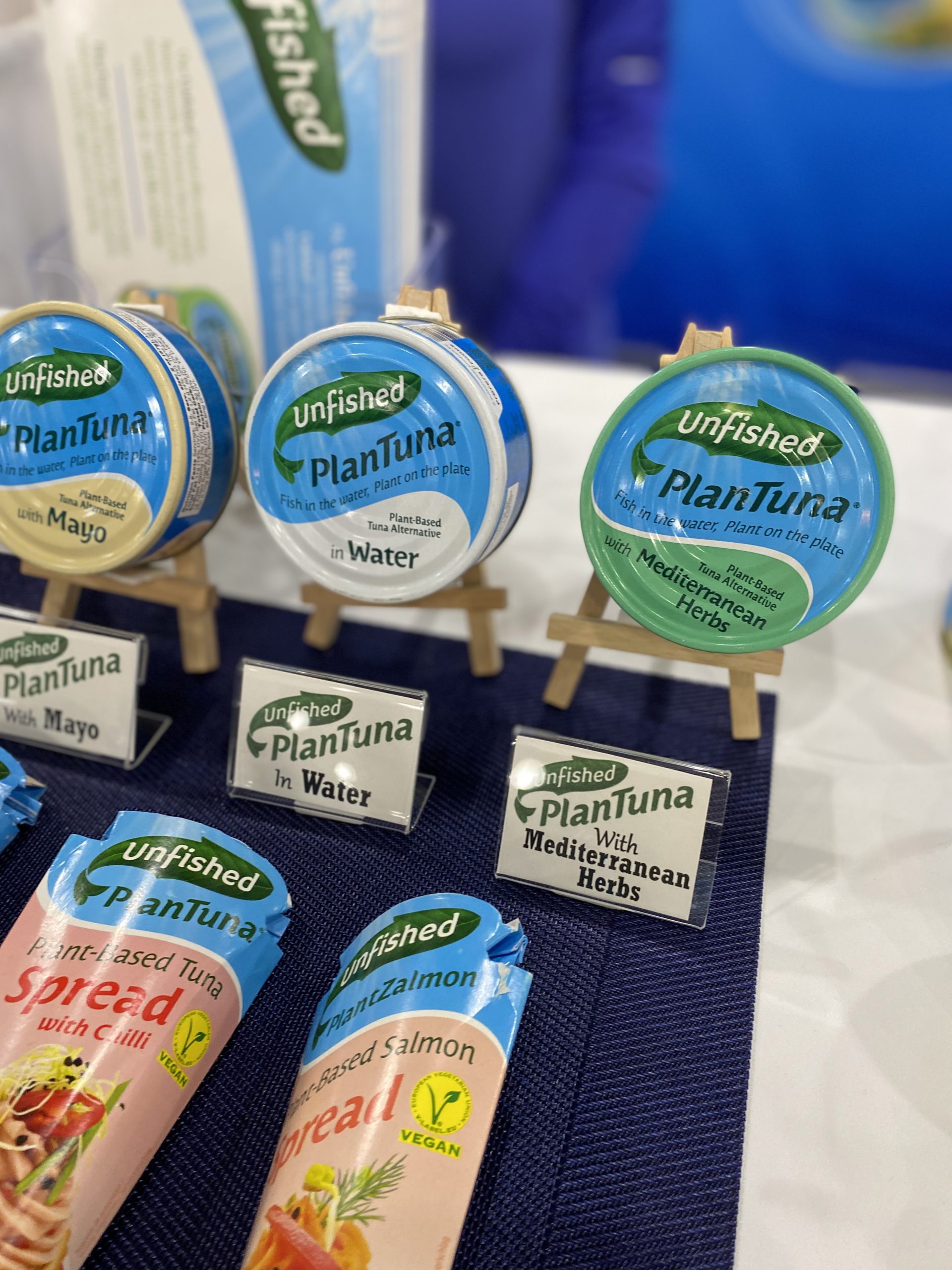 Mortadella
Gourmet Evolution stocks plant-based deli meats in the varieties of Mortadella, Roasted Turkey, and Black Forest Ham. They'd be wonderful to use on deli sandwiches, charcuterie boards, and pizzas. Heck, we sampled a slice plain and thought it tasted great solo!