From gin and whiskey to adaptogenic elixirs, this list has you covered!
If you've been sober for a while, you know that, for decades, non-alcoholic holiday drinks have largely consisted of soda water with a splash of cranberry and a lime. If you're newly sober or are just trying to cut back over the holidays, you're in luck! There are now dozens of companies offering non-alcoholic spirits crafted by mixologists to create delicious craft cocktails (non-alcoholic old fashioned, anyone?). Here are nine non-alcoholic spirits to enjoy over the holidays.
Each of the spirits in this list can be used in an even swap for alcohol in your favorite recipes.
AMASS makes small-batch, botanical-infused spirits, candles, soaps, seltzers, and a non-alcoholic spirit called Riverine. Riverine is similar to gin but is not a gin replacement, per se. It is made with 14 botanicals, including juniper, sorrel, angelica root, orris root, and thyme. Tasting notes include mint and coriander that fade into a juniper and rosemary finish. Riverine is best enjoyed in a classic gin cocktail like a Tom Collins or with a simple splash of soda or tonic and a lime.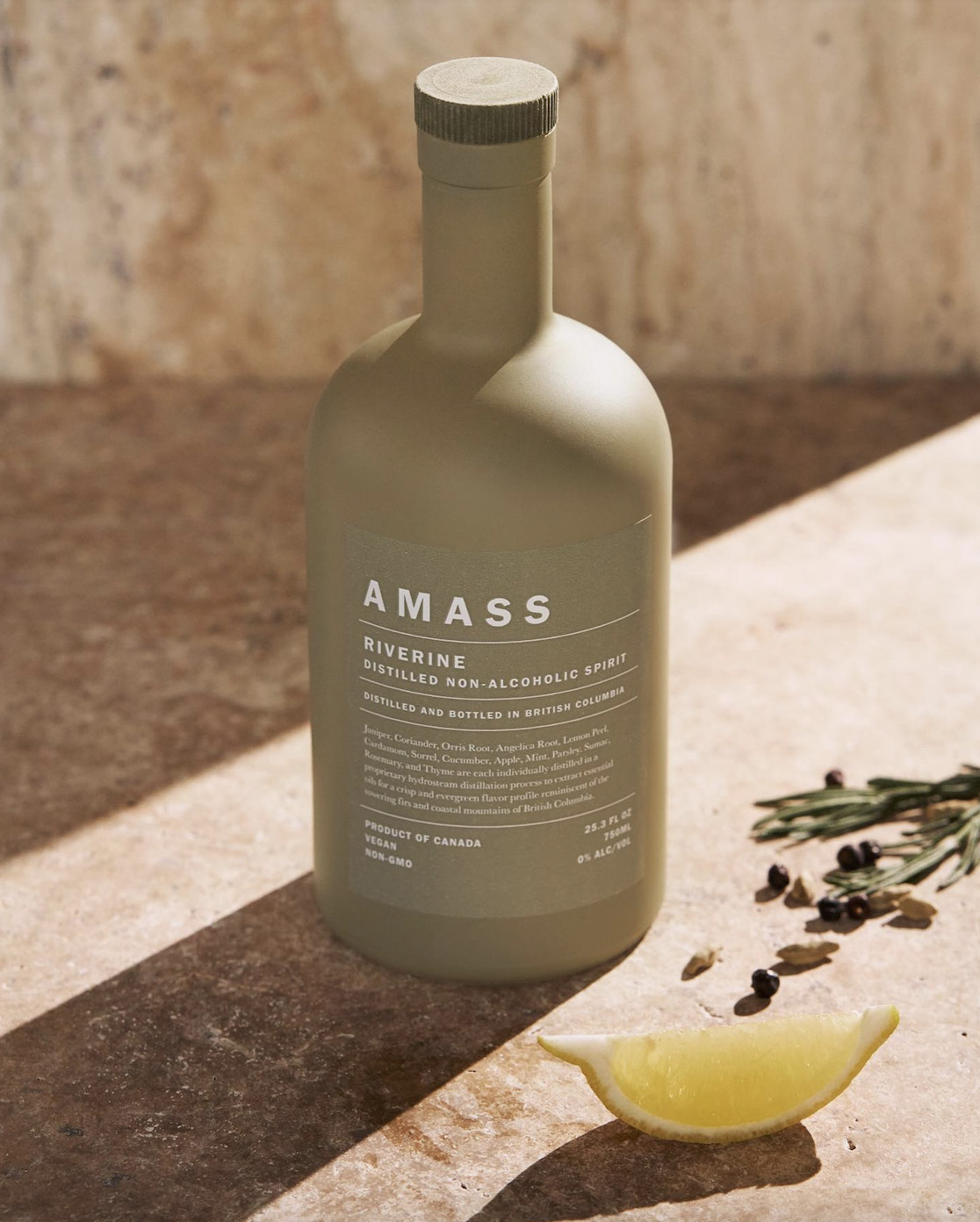 Seedlip is one of the OG companies making non-alcoholic spirits. Founded in London in 2015, Seedlip is now available in bars, retailers, and hotels across the globe. The brand offers three varieties of spirits: Grove 42, Spice 94, and Garden 108. Grove 42 is made with citrus and lemongrass and works great as a vodka replacement in a Cosmopolitan. Spice 94 is made with allspice, oak, and cardamom and is a great substitute for whiskey lovers. Garden 108 is made with hops, hay, and rosemary and is a refreshing replacement for gin.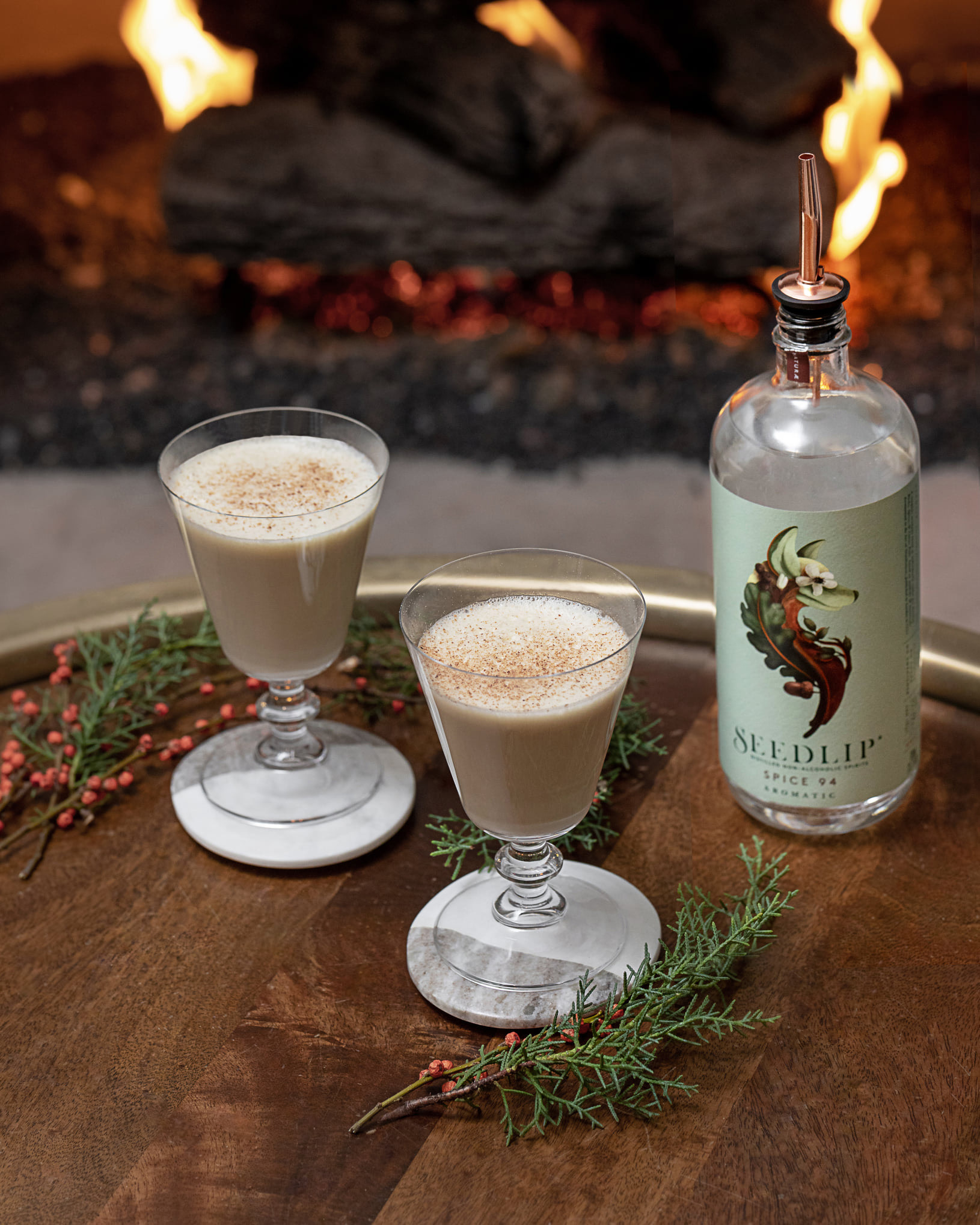 Kin Euphorics combines functional herbs and medicinal plants into non-alcoholic seltzers and spirits. The two non-alcoholic spirits they make are called High Rhode and Dream Light. High Rhode is made with active ingredients like Rhodiola Rosea, 5-HTP, and GABA, which help balance cortisol, elevate serotonin, and calm the nervous system. The result is a natural high and familiar comfortability in social situations that you'd expect from a typical cocktail. Dream Light is made with Reishi mushrooms, melatonin, and L-tryptophan, which help quiet your mind and signal your brain to rest, making it the perfect spirit to enjoy right before bed.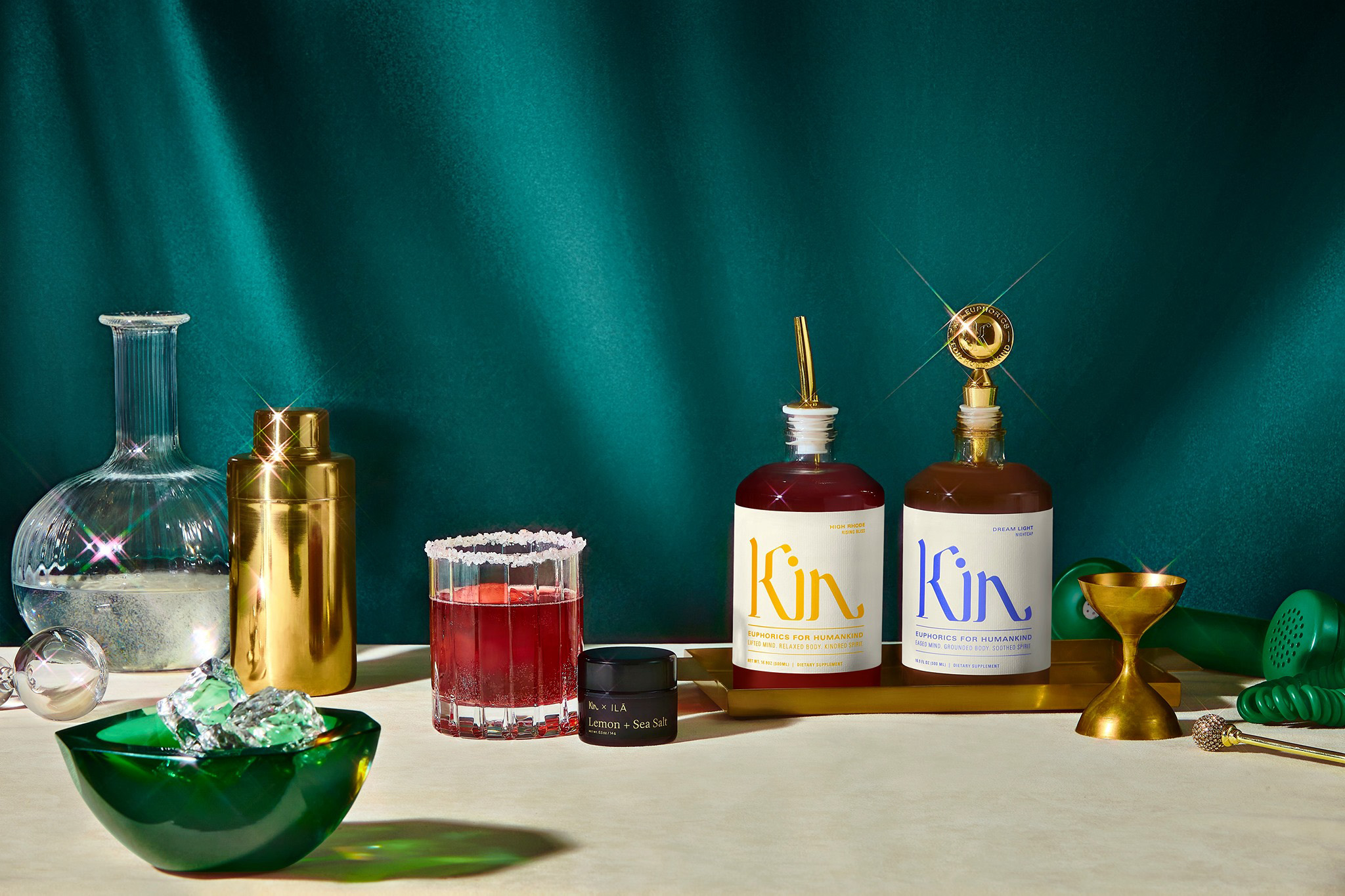 Lyre's is one of the most popular companies offering non-alcoholic spirits, and for good reason. Their award-winning products range from non-alcoholic absinthe to non-alcoholic coffee liqueur and everything in between. Some of their bestsellers include the Dark Cane Spirit (their take on a dark rum with flavors of caramel, fudge, and molasses) and the Amaretti (a non-alcoholic Amaretto complete with the almond and candied vanilla flavors you know and love). And if there's a specific cocktail you're missing this year, check out their gift sets, which come with all the bottles you'll need to make your favorite cocktails, sans alcohol.
Another company that's adding functional herbs to their non-alcoholic spirits, Three Spirit is all about celebrating what they put in their products, not the alcohol that's missing. Crafted by plant scientists, herbalists, and mixologists, their products include the Livener, the Social Elixir, and the Nightcap. The Livener is made with watermelon, guava, and ginger and is packed with guayusa and green tea for a natural energy boost. The Social Elixir is made with cacao, tulsi, and damiana, all of which help promote feelings of calm and connection. The Nightcap is the perfect way to unwind at the end of the day, as it's made with herbs that help promote relaxation, like lemon balm, valerian, and ashwagandha.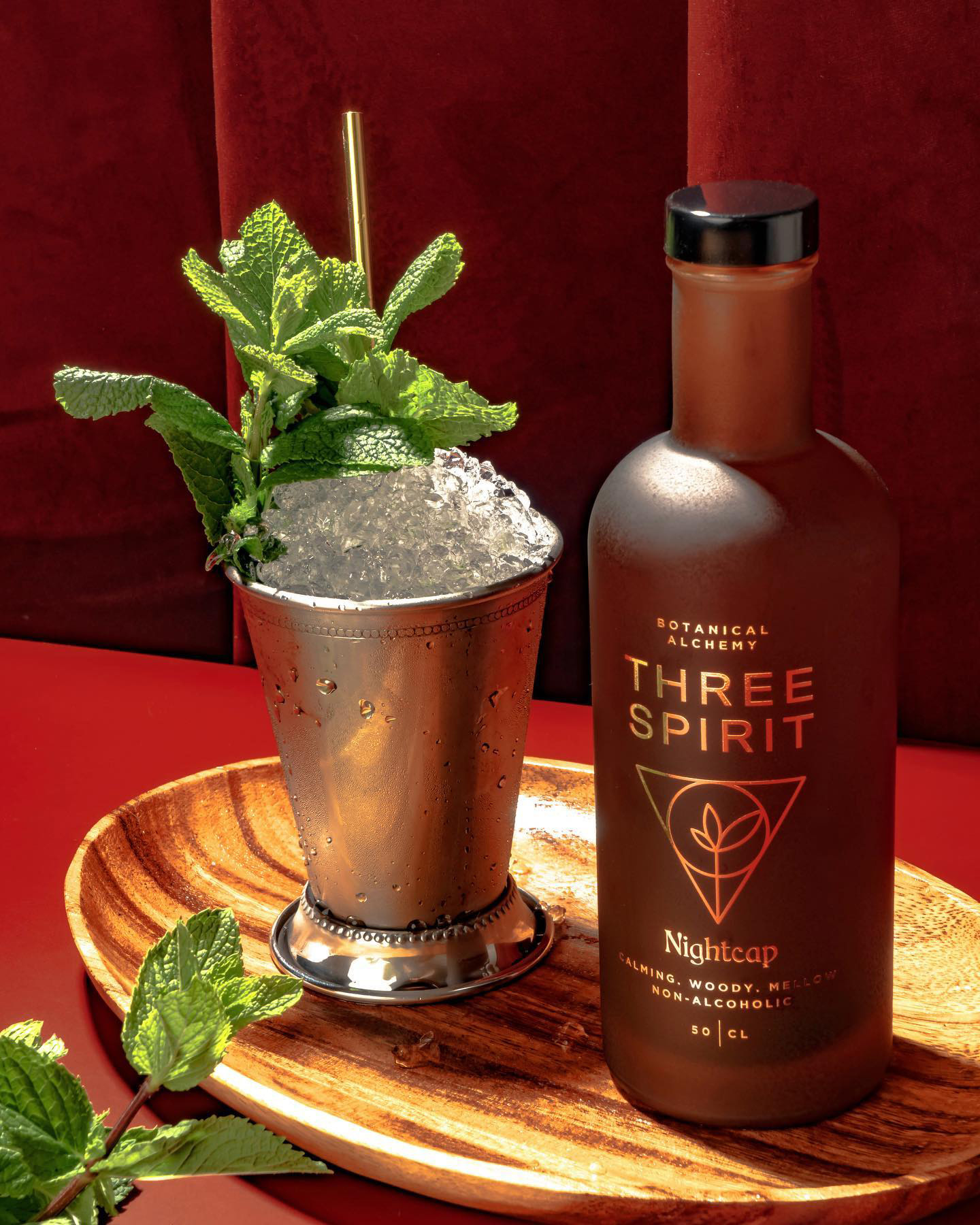 Monday makes small-batch non-alcoholic gin and whiskey in a California distillery. The brand aims to make sure you can enjoy a great craft cocktail and still feel good on Monday morning. Monday's non-alcoholic gin feels like a classic London Dry gin, with flavors of juniper, citrus, and spices. The non-alcoholic whiskey has flavors of butterscotch, coffee, molasses, and spices that work well in a classic cocktail or just on a big rock with a twist of orange.
Ghia makes a non-alcoholic apéritif, which is traditionally an alcoholic drink served before a meal to induce appetite. Inspired by Mediterranean aperitivo culture, Ghia crafted this non-alcoholic version for everyone to enjoy. Made with extracts of herbs and botanicals, like yuzu, lemon balm, orange peel, and elderflower, this drink is best served over ice or with a carbonated mixer and a squeeze of lemon.
Ceder's distills four different styles of non-alcoholic gin out of the Cederberg region of South Africa, which is home to many botanicals often found in gin. Ceder's offers four varieties of their non-alcoholic gin, including Classic, Crisp, Wild, and Pink Rose. The Classic is reminiscent of a typical mid-shelf gin, with notes of juniper, coriander, and rooibos. The Crisp is light, with refreshing notes of cucumber and chamomile. The Wild is a bit spicy and has aromatic notes of clove. The Pink Rose is one of their top sellers and is made with rose and hibiscus.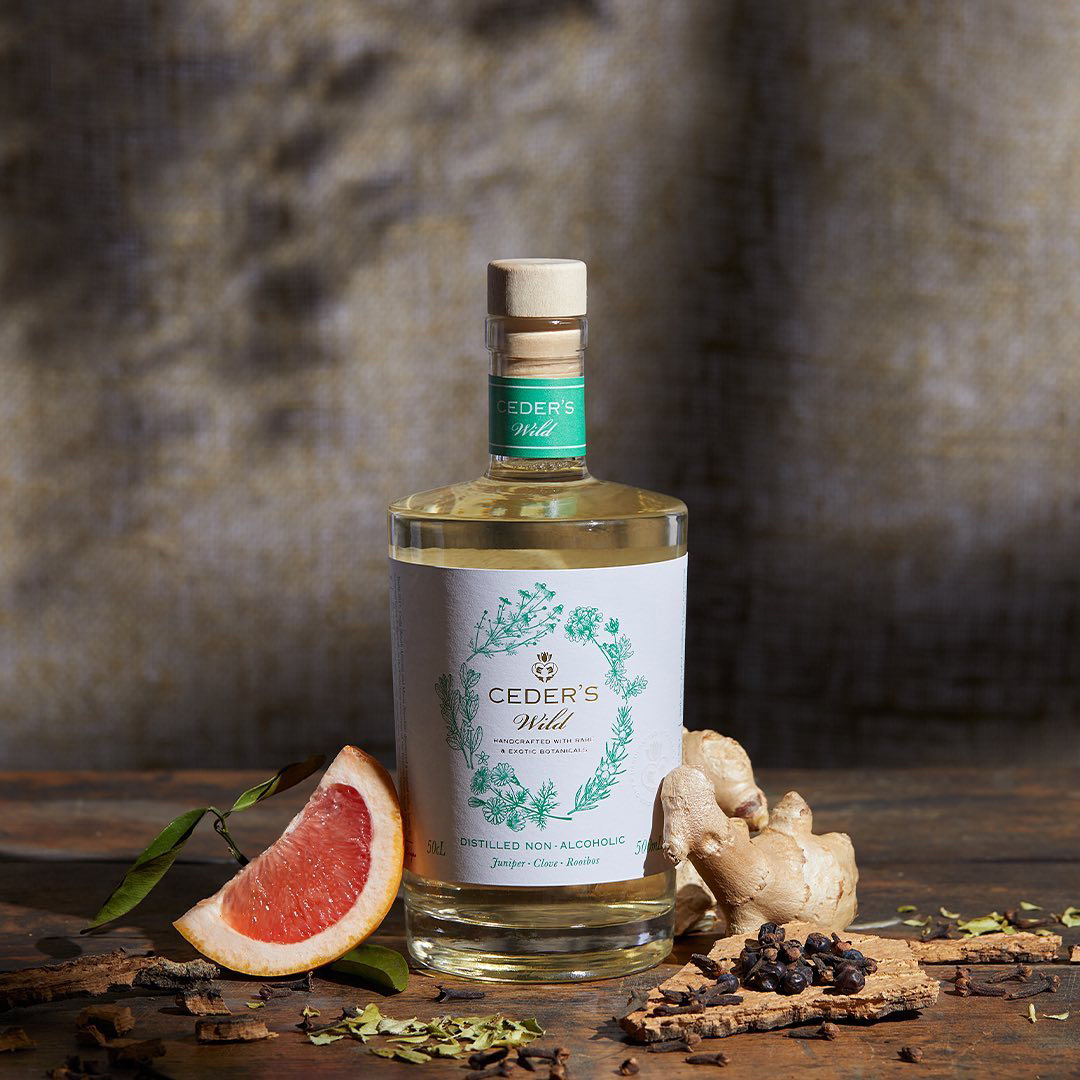 A fairly new company—and new to the non-alcoholic spirits scene—Spiritless currently has just one offering: Kentucky 74. But while it may be their only option, it's already won the top prize for a non-alcoholic spirit at the LA Spirit Awards. With familiar notes of caramel, vanilla, and oak, it's a perfect swap for whiskey or bourbon in a whiskey smash or veganized whiskey sour with aquafaba.