The owners of this Black-owned vegan restaurant are offering community support alongside some of the best vegan soul food in the country.
From food trucks and pop-ups to full-service restaurants, there's no shortage of places to get vegan soul food these days, and we're here for it. If you're in the Baltimore area, there's no better option than The Land of Kush—a Black-owned soul food restaurant that is heavily involved in their local community.
Award-Winning Vegan Restaurant in Baltimore
The Land of Kush was founded in Baltimore in 2011 by the wife-and-husband team of Naijha Wright-Brown and Gregory Brown. The restaurant has always been a welcoming place, where guests can try incredible plant-based food without feeling pressure to go vegan overnight.
The restaurant was popular from the get-go and has continued to impress vegans and non-vegans alike with its vegan take on soul food. In the 11 years the restaurant has been open, The Land of Kush has won a plethora of awards, including the #3 spot in Trip Advisor's Best of the Best 2021 Awards for vegan restaurants and a spot on Yelp's 2015 Top 100 Businesses in North America.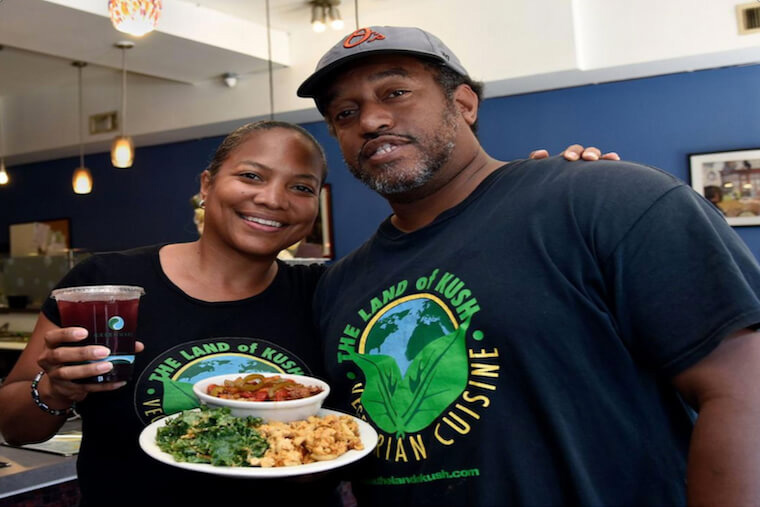 Community Outreach with a Side of Vegan Food
Something that has always been important to the Browns is community outreach and involvement. From the beginning, The Land of Kush has been heavily involved in the local community, offering cooking tutorials, free vegan resources on their social media pages, and vegan outreach programs.
Naijha Wright-Brown, in particular, has made it her mission to support the community and bridge the gap between vegan, vegan-friendly, and non-vegan restaurants via several projects that she heads up while maintaining her role as Marketing Director for The Land of Kush.
Some of her projects include Vegan Soulfest—which Naijha says "was created to fill an important need of making a cultural Veg Fest in the inner city of Baltimore"—and Maryland Vegan Restaurant Week, a campaign encouraging omnivorous restaurants to offer plant-based dishes to be voted on by customers.
Wright-Brown is also the Executive Director of the Black Veg Society (BVS), an online resource center dedicated to sharing with BIPOC communities the benefits of a plant-based diet while building a supportive community centered around accessible and sustainable food choices. The BVS provides 24/7 online support for those looking to learn more about the vegan lifestyle, as well as cooking demos, wellness classes, and special events.
Best Vegan Seafood in the Country
The Land of Kush received its claim to fame via its award-winning vegan crab cakes. As the Maryland food scene is known for its crabs, the Browns knew they needed to come up with a vegan version that people loved. The dish was such a hit that it was named one of the best vegan seafood dishes in the nation by PETA in 2018.
While everything else on the menu is delicious, a crowd favorite is the Special Platter, which allows you to try a few of their most popular dishes. Our tip? Try it with the vegan crab cakes, mac 'n' cheese, and Chef Naijha's personal favorite, the Live Kale Salad.
If you're in the Baltimore area, make sure to visit The Land of Kush for Maryland Vegan Restaurant Week from March 4-27, when the restaurant will be bringing back its Eggplant Parmesan—a long-time customer favorite.
Visit LandOfKush.com for more information about the restaurant, to browse the full menu, or place your local pickup or delivery orders. The Land of Kush can be found on Instagram at @thelandofkush.
Photos courtesy of The Land of Kush