Keep your fam fueled by ordering take-home meals from these vegan and vegan-friendly restaurants in LA! Whether you need a ready-made dinner or you're looking to freeze and store some food for later on, there's a plethora of restaurants and pop-ups that have take-home options in large portions. Live alone? You can still order these meal kits and refrigerate or freeze for later.
Mama's Tamales
Westlake
The amazing team at Mama's Tamales is offering a variety of meal kits you can enjoy with your loved ones at home. This family-owned business radiates positivity that can be tasted in their cultural cuisine! Select from a mixture of pupusas, tamales, beans, rice, plantains, bolillos, and tofu scramble to bring you a little extra flavor and happiness. Some items (like the pupusas) can be frozen and stored for later. Break them out of the freezer, heat them up, enjoy, repeat! Mama's Tamales has also opened up their space to one pop-up vendor for every day pick-up orders are available in an effort to give local pop-ups a place to sell their goods. We weren't kidding when we said Mama's Tamales is amazing! Order online or over the phone.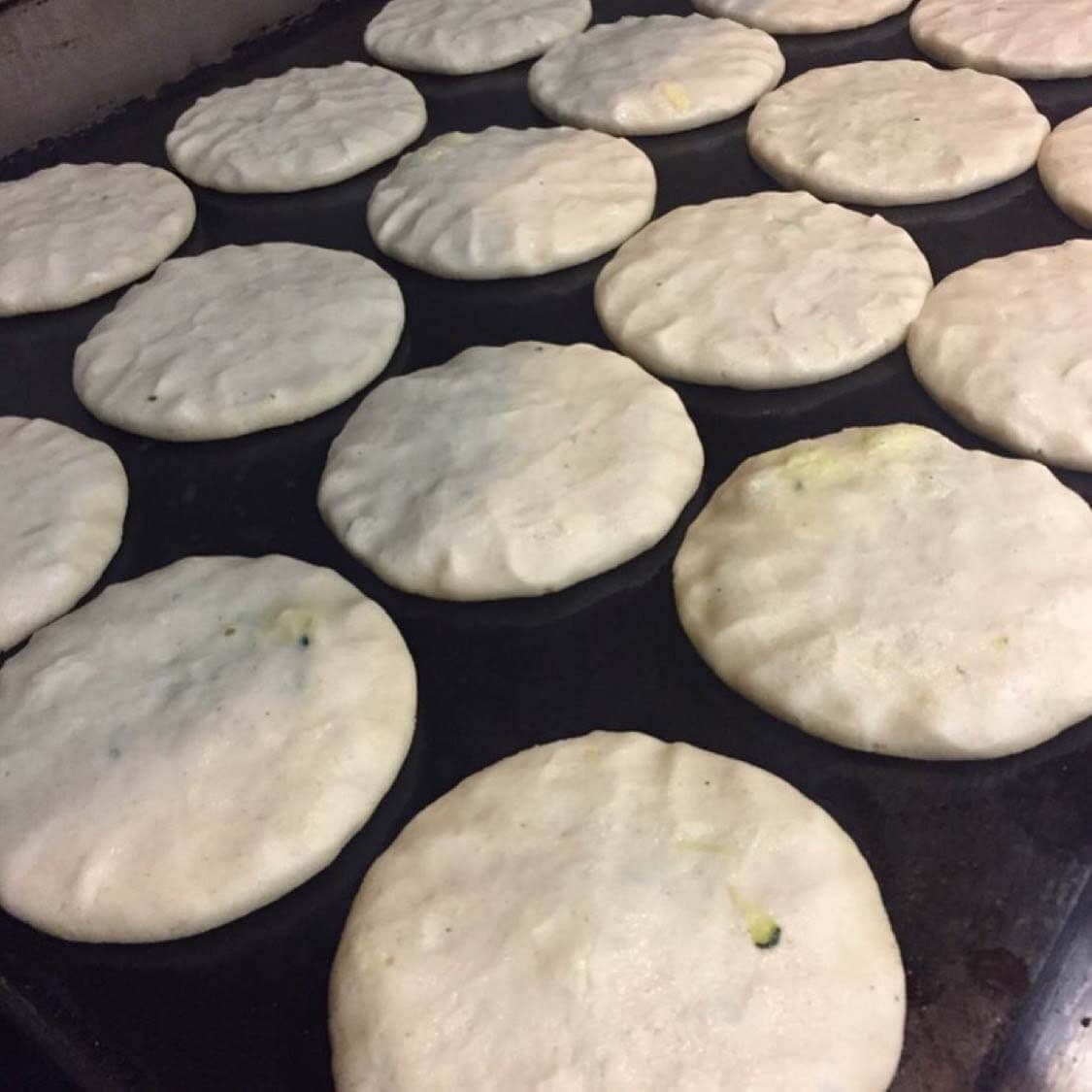 Pura Vita
West Hollywood
Along with their full regular menu, Pura Vita has crafted a special family-style menu to help your household stay well fed during these trying times. Their dishes come in half-sized trays that feed 4-6 people. Baked Pasta Alfredo, Lasagna Pura, Pasta Fagioli, Broccoli Rabe, and Cashew Ricotta are a few fan-favorite dishes you can get! Please note: baked pastas and lasagna require a 24 hour notice. Place your order on Postmates (use promo code GETFOOD for $100 in free delivery fee credit), GrubHub, or over the phone for pickup or delivery.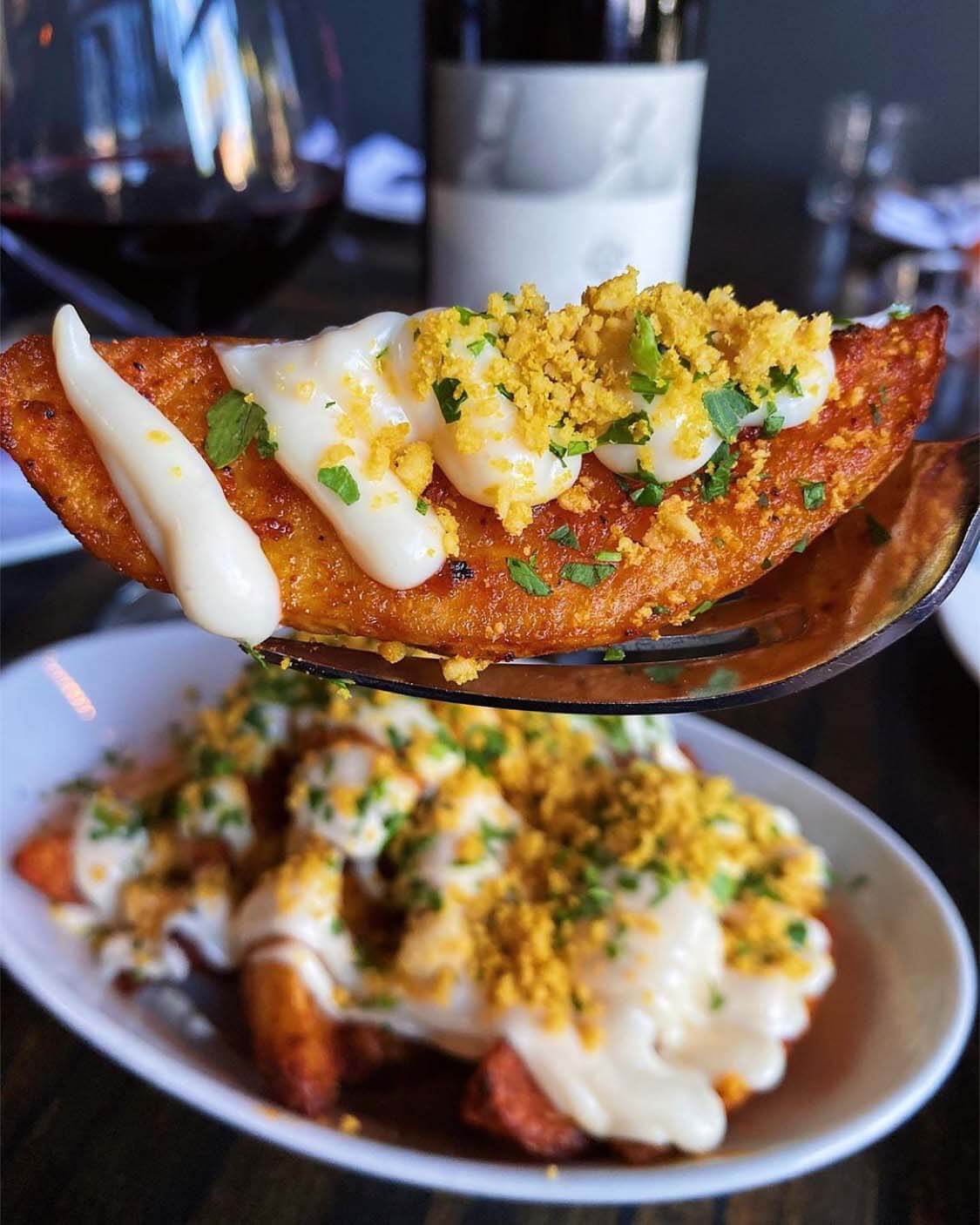 Mohawk Bend
Echo Park
Update (3/20/2020): Mohawk Bend has decided to close temporarily.
Is anyone else losing track of what day it is? Let's just say every day is Taco Tuesday! Celebrate with your family by ordering the Vegan Taco Kit from Mohawk Bend! This package will give four hungry bellies the chance to experience their Vegan Cauliflower Tacos! You can also grab pints and quarts of vegan soups and sides to be stored in the freezer. All you have to do is heat it and eat it! Order on Postmates, DoorDash, or over the phone for pickup or delivery.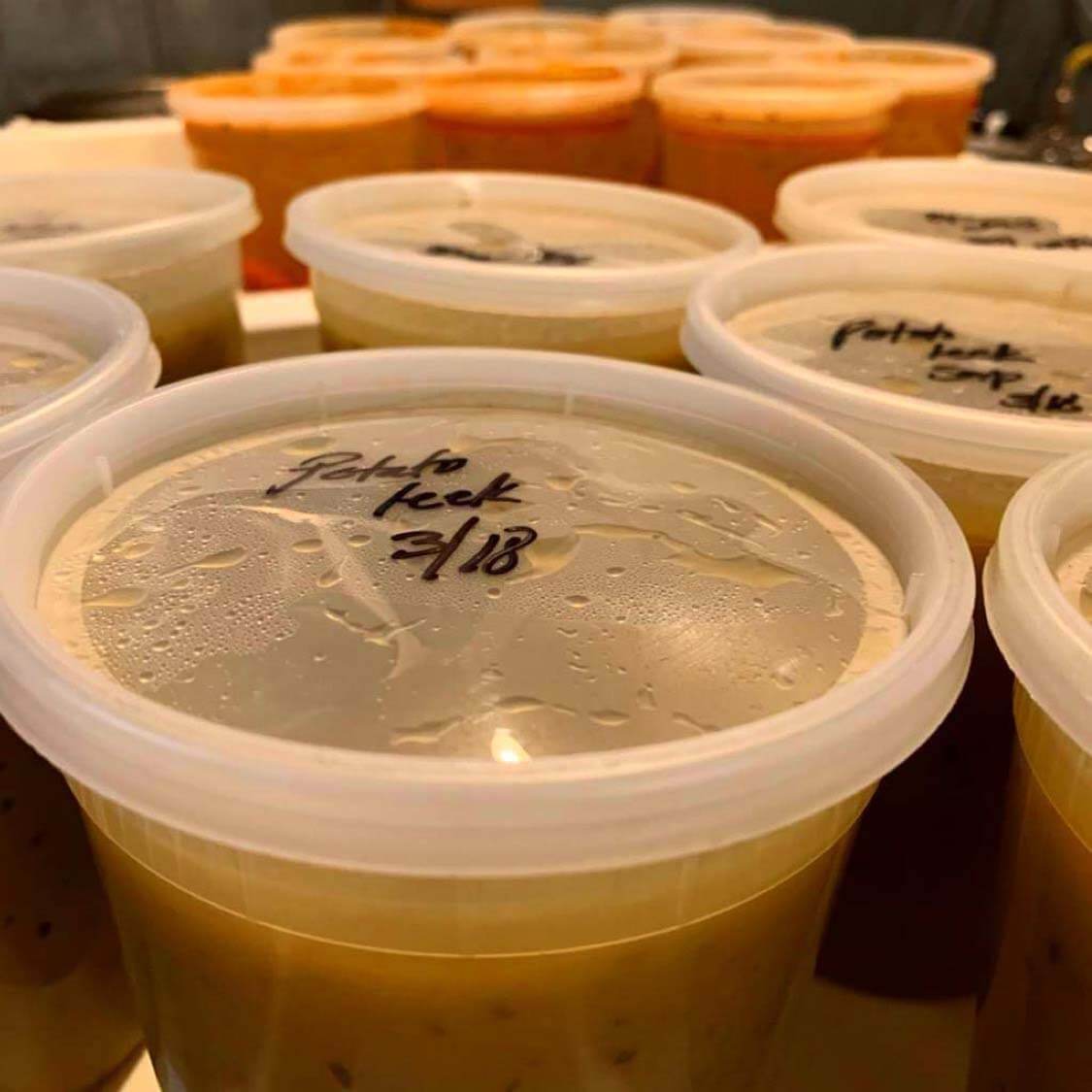 Cafe Gratitude
Arts District
Update (3/20/2020): Cafe Gratitude has decided to close all of their locations temporarily.
Eat for a full day when you pick up Cafe Gratitude's COVID Care Kit. Your day of food includes the Crunchy Superfood Parfait, Healthy Green Juice, Fulfilled Market Salad, Brave Immune Boosting Shot, Accepting Japanese Bowl, and the Immortal Ayurvedic Milk—and all for only $30. You can also enjoy their Grateful Bowls for just $5. Order on ChowNow, DoorDash, Postmates, or over the phone.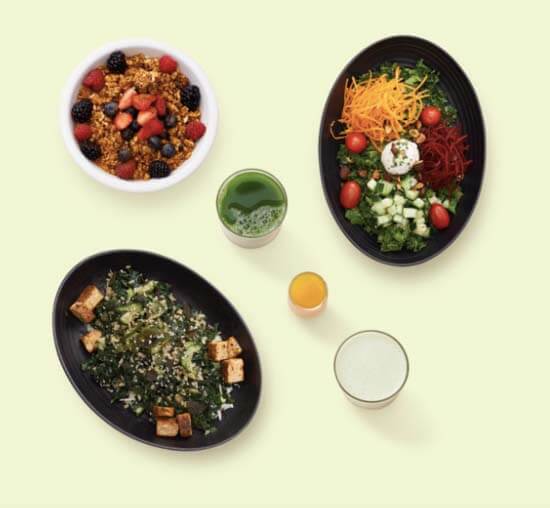 Srey Vegan
Pickup and Delivery
Are you dreaming of the days when you could get Srey Vegan's Garlic Breaded Shrimp? You still can! This vegan pop-up is making larger batches of their top-selling menu items for you and yours to savor at home. Carne Asada and Beef Loklak by the pound as well as Egg Rolls, Garlic Breaded Shrimp, or NumPang (or Banh Mi) Sandwiches. Egg Rolls and Garlic Shrimp can be ordered uncooked and frozen to save for later. Check their Instagram for food availability as well as order and pick-up details.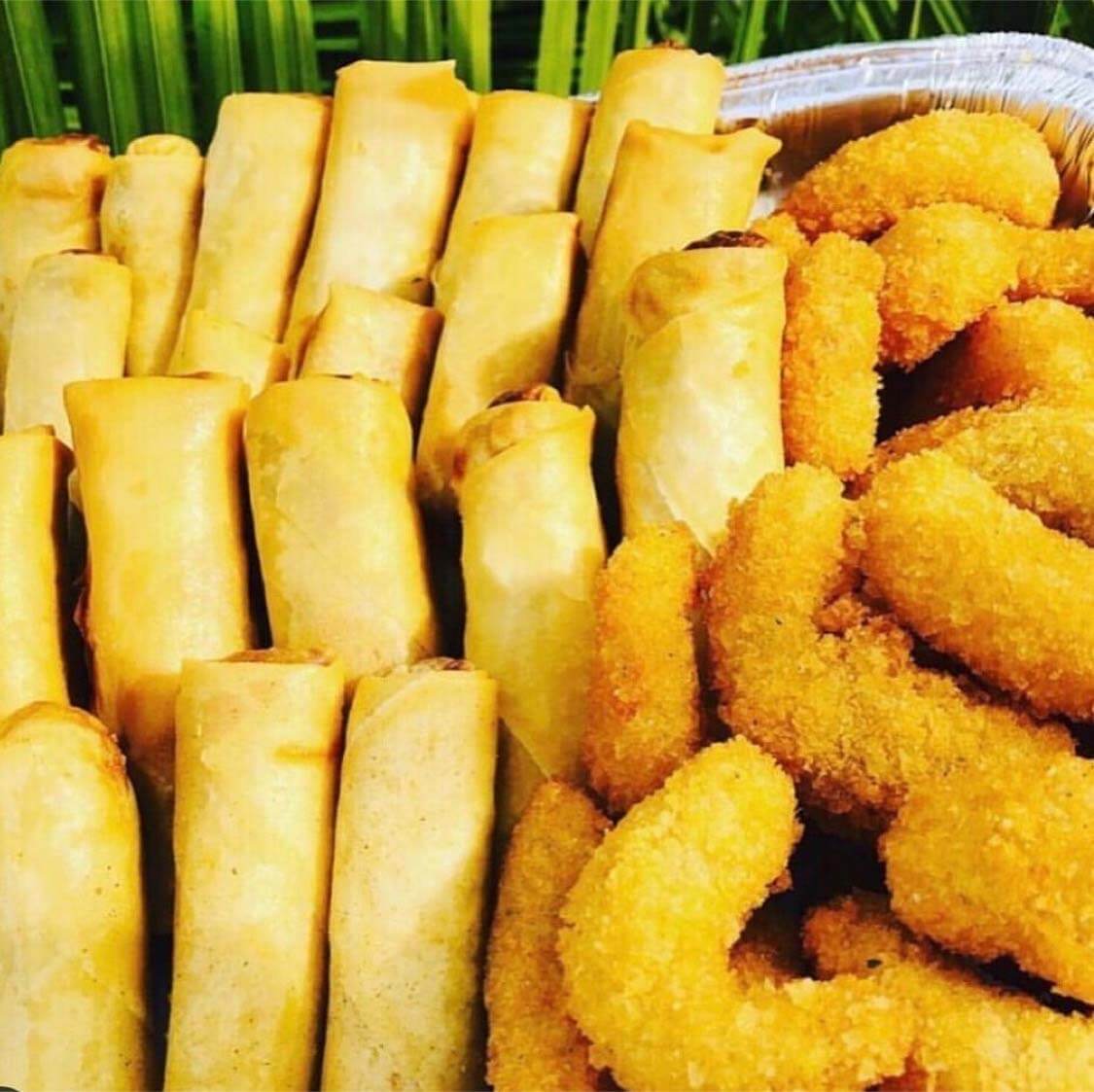 The Black Bean
Fountain Valley
The Black Bean's Family Pack fills your table with four entrees, one share, two sides, and four drinks! Who wouldn't want to bite into their Pulled Porque Sandwich, Adult Grilled Cheese, Popchicks, Nachos, and Sweet Potato Fries? For a smaller household, get the Dinner for Two that contains two entrees, sides, and drinks. Order online or over the phone.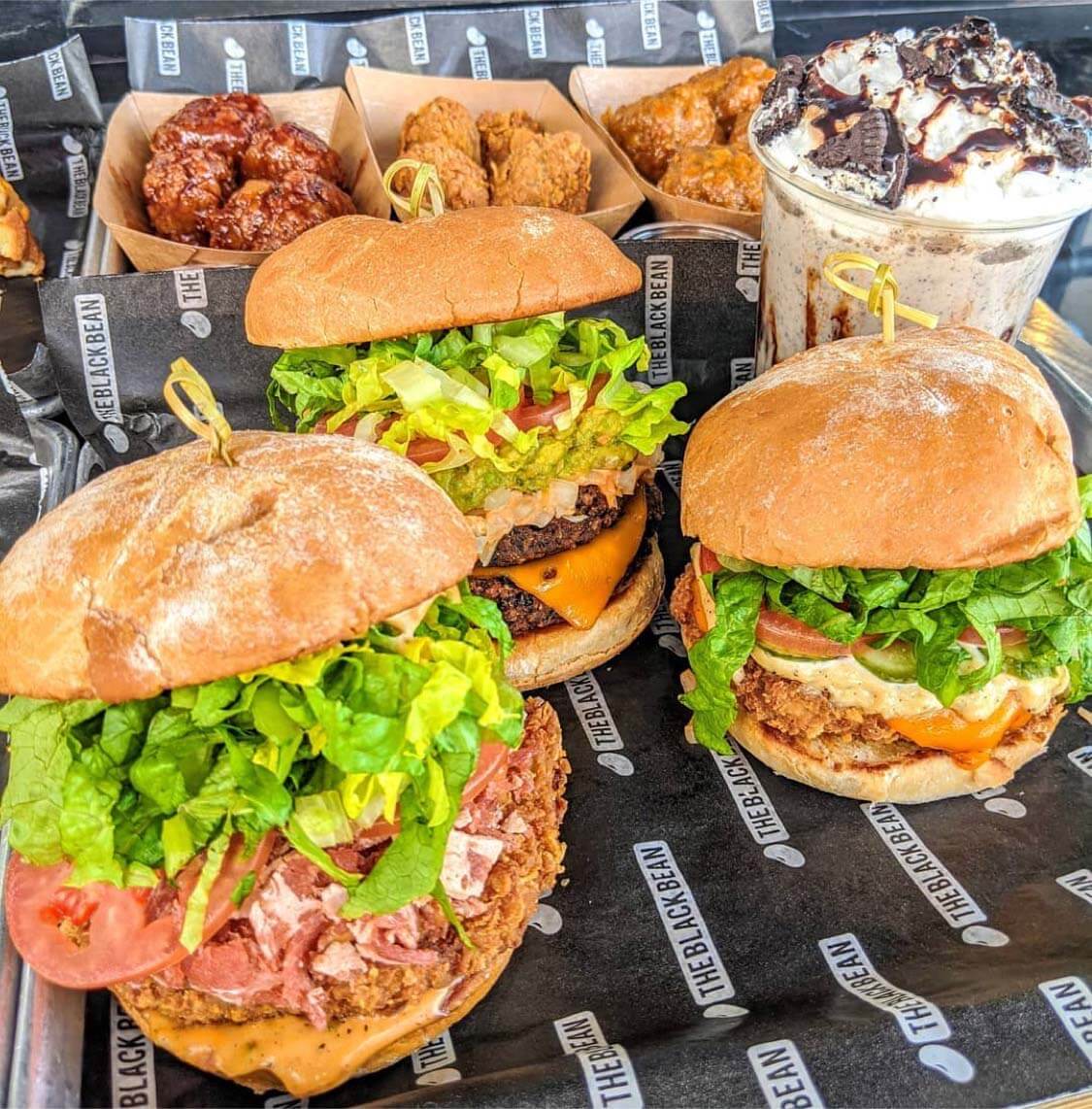 Kitchen Mouse
Highland Park
Don't worry about hustling to find groceries and leave the cooking to Kitchen Mouse! Their vegan and gluten-free dishes are available in large trays. The oh-so comforting items for pick-up are Sunchoke & Potato Mash, House Lasagna, Chickpea Frittata, Red Pepper Bisque, along with other entrées, soups, and sides! And don't forget dessert! Pick up a pan of Walnut Flour Brownies, Orange Pistachio Cake, or cookies. Stop by or call to secure these trays! Stock up before they temporarily close on the evening of Friday, March 20th.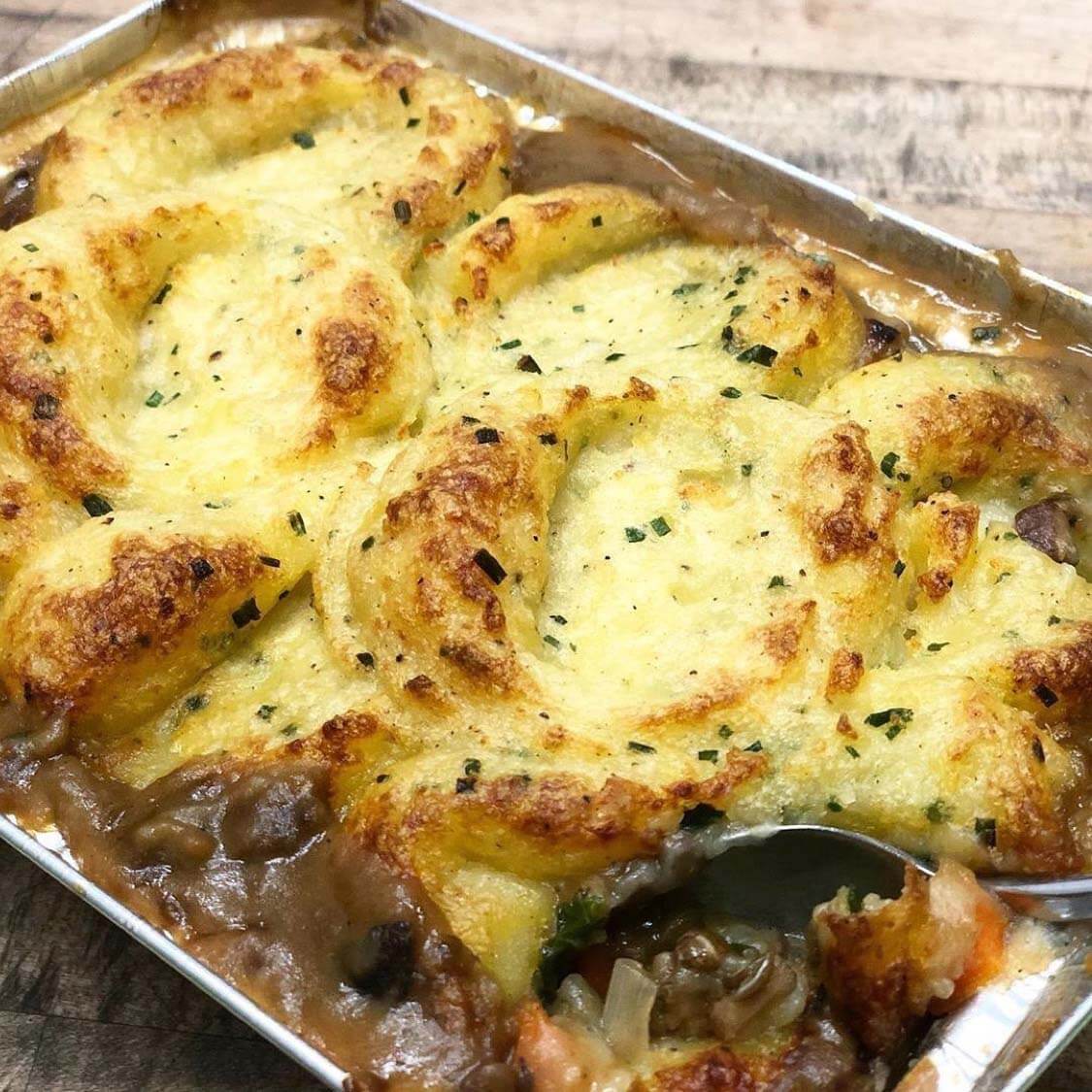 Jewel
Silver Lake
In need of some greens? The Emerald Kale Salad is an amazing amalgamation of massaged kale, pickled radish, avocado, coconut bacon, and creamy cilantro-lime dressing! Order that alongside the Forbidden Fried Rice and Jewel Box on their 'For the Family' menu. Aside from their jumbo meals, there are individual grab-and-go meals-for-one, breads, sauces, desserts, and more. Call to order from the 'For the Family' menu, check out Postmates and Caviar for grab-and-go meals and smaller dishes.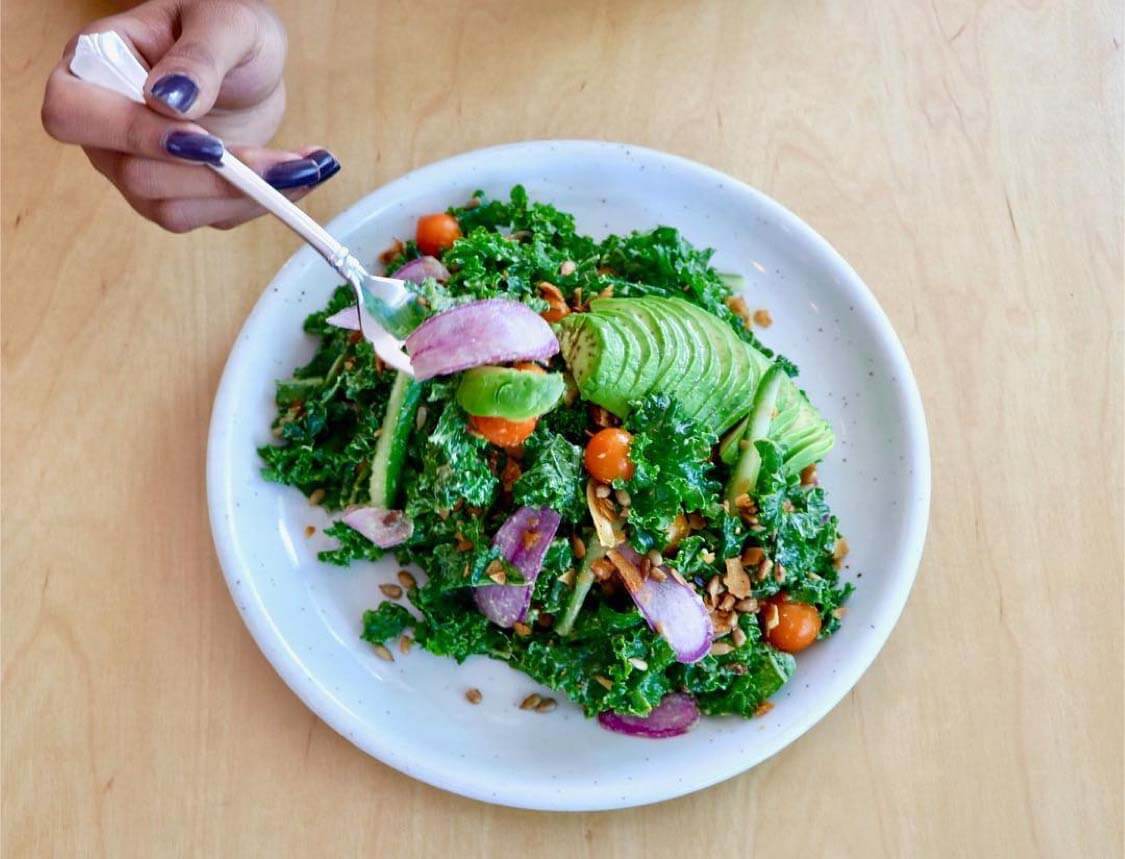 The Stalking Horse
West LA
Update (3/20/2020): The Stalking Horse has decided to close temporarily.
What's for dinner? Family-size Savory Pies! Choose between the Cottage Pie or the Tikka Masala Pie (request to be made vegan) for delivery or pickup from this vegan-friendly restaurant. While you're at it, secure a few pints and quarts of stellar dishes and sides––like the Kale and Potato Soup! Order for delivery on Postmates or call for pick-up. And hey, if you're calling in a pickup order, you can also grab some beer (that one's for parents only, of course!).
Sage Plant Based Bistro
Echo Park, Culver City, and Pasadena
Depending on how large (and how hungry) your household is, select from a bundle of five or ten ready-to-bake meal boxes from Sage! Mac 'n Cheese, Enchilada Pie, Black Bean Chili, and Tortilla Soup are a few of their hearty dishes made with farm-fresh ingredients! For those unable to find any produce in grocery stores, purchase Sage's Produce Box from the Sow a Heart Farm. Put in your order on ChowNow or over the phone.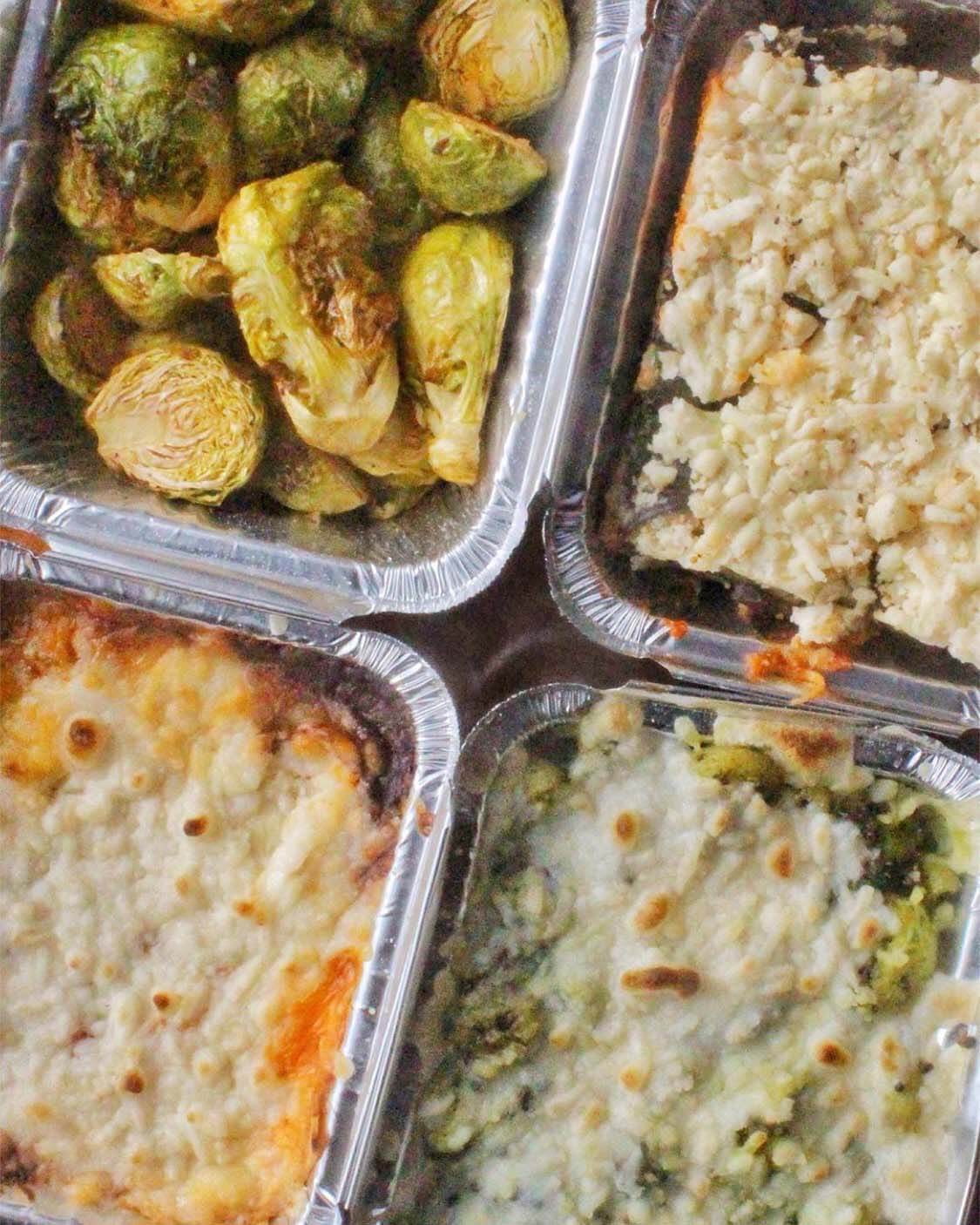 Joi Cafe
Westlake Village
Can't find a can of soup in your local grocery store? From 7am-8pm at Joi Cafe, you're able to score freezable soup and chili to comfort you and your crew through quarantine. Additionally, there are warm soups, cornbread, fresh salads, bottled salad dressings, desserts, and coffee. Stop by, visit their website, or go on DoorDash to request your meals.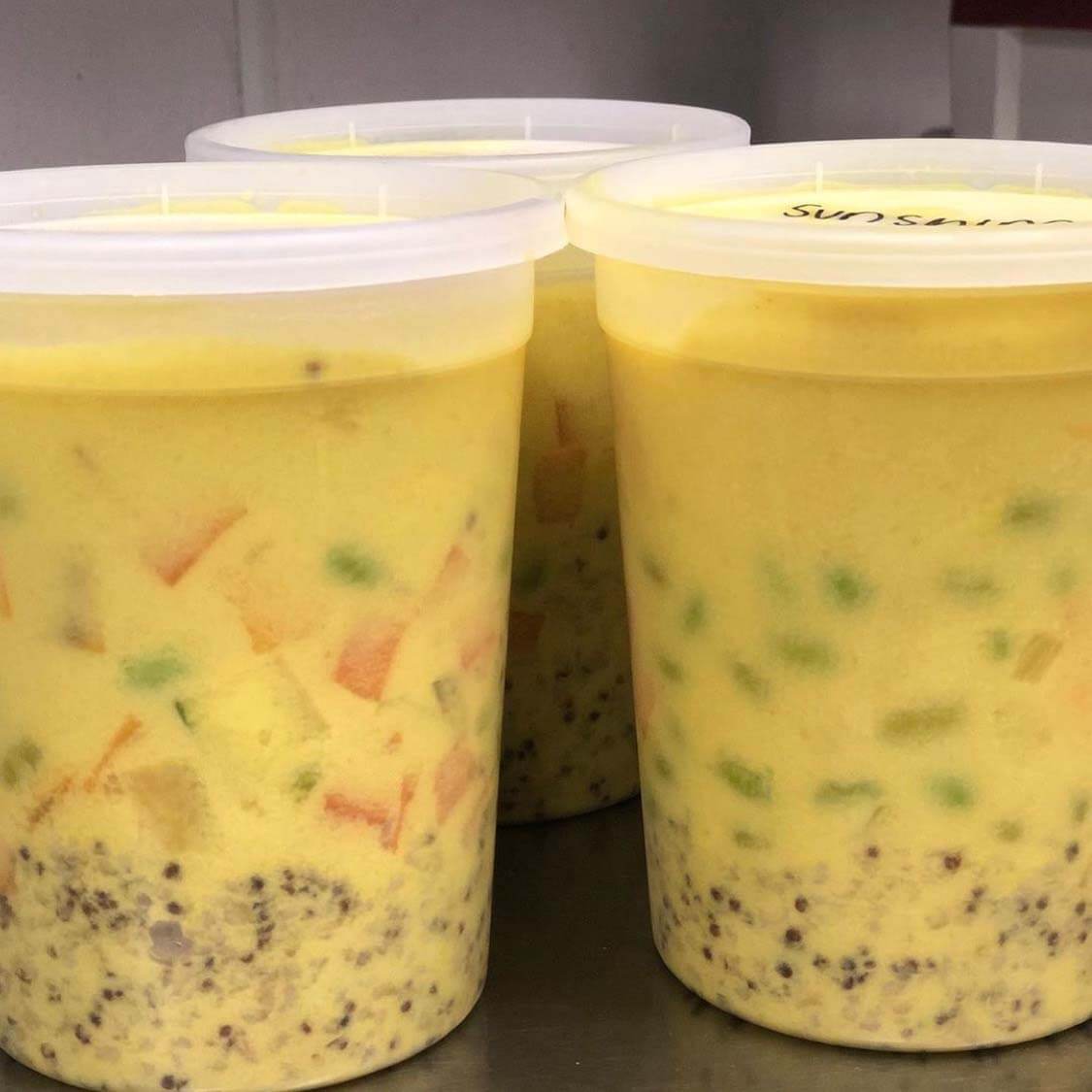 NUDA Juice Shop
San Pedro
Stay fueled for the whole week with just one order! Raw vegan meals, cold-pressed juices, smoothies, snacks, and other immune-boosting foods are available for delivery or curbside pickup! Everything is plant-based, organic, gluten-free, and packed with nutrients! Order via email, or check out their website for more information.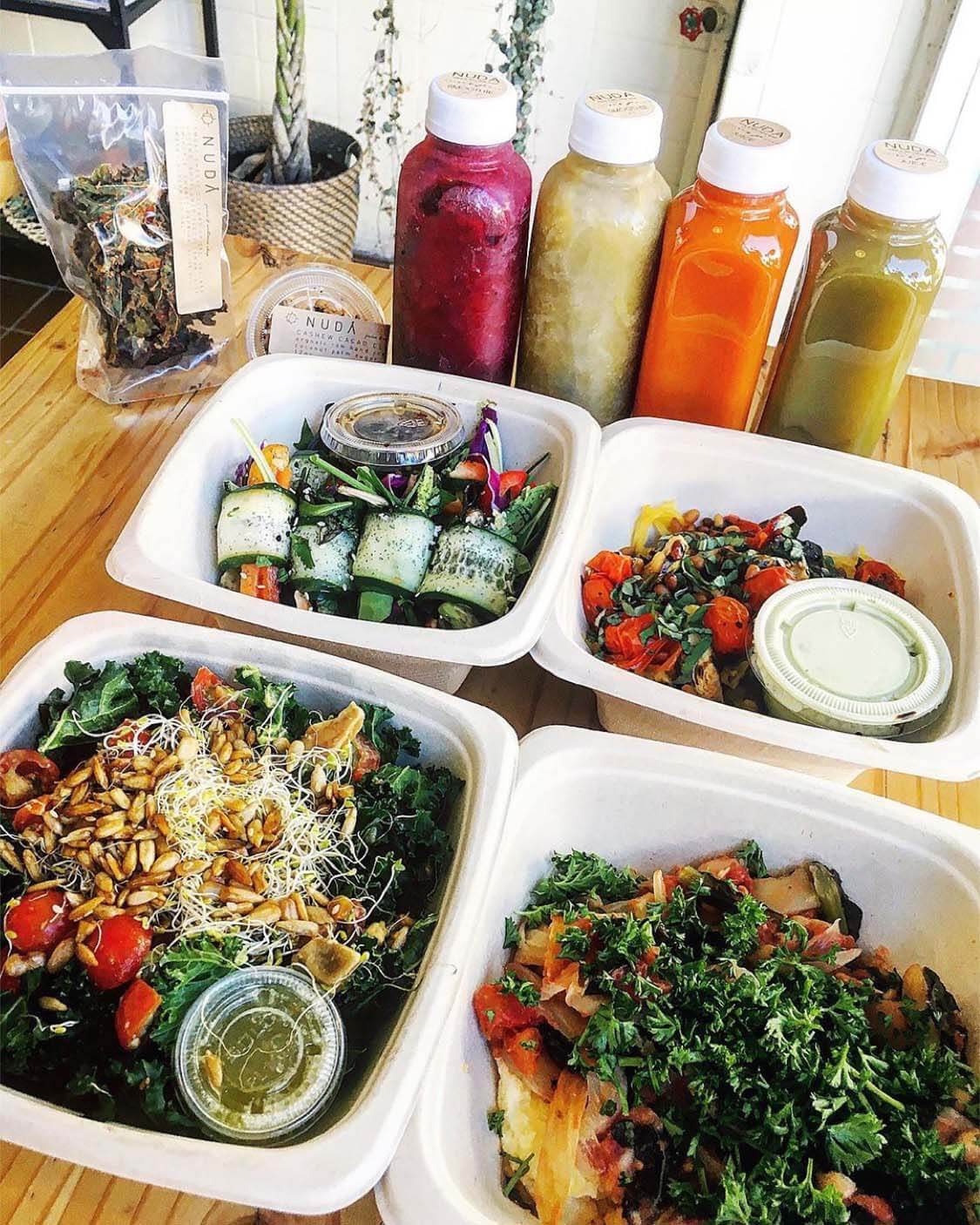 Garden Era Meals
Meal-prep service
Are you one of those "whole foods plant-based" vegans? Normally, we like a little junk food here and there but after seeing the amazing healthy options from this vegan meal-prep service, we're sold! Pick and choose which dishes you'd like from their rotating weekly menu and get it delivered in 100% compostable packaging. Past noms range from Artisan Lettuce Wraps and Mushroom Pasta to American Pulled Jackfruit BBQ, Filipino Pancit, and a Hawaiian Tofu Poke Bowl. Garden Era Meals is also supporting members of the medical community during this COVID-19 pandemic by providing them with already-made meals. Way to go! Order via email; check out their Instagram for more information.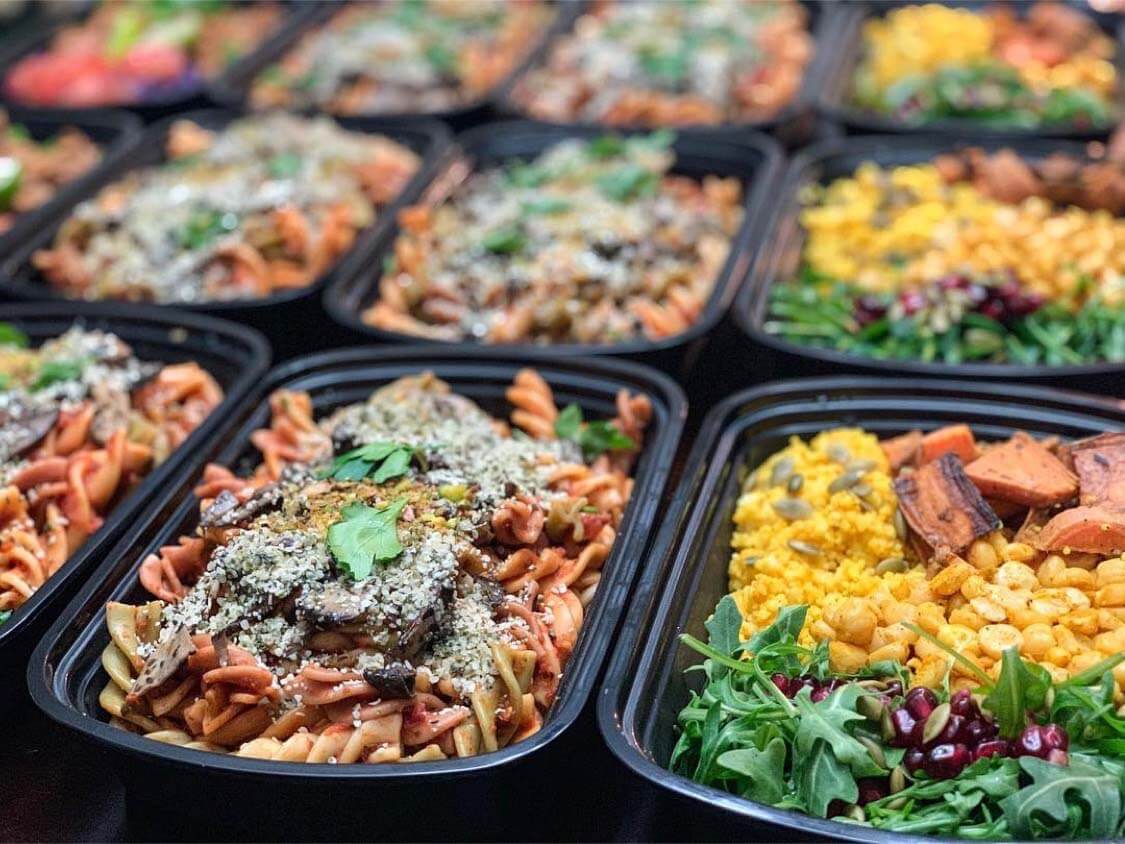 Masa Taco
Whittier
A couple of the first things cleared out of stores (besides toilet paper) were rice and beans. While we're happy that people may be eating more plant-based after stocking up on kitchen staples, some of us vegans are lacking our favorite form of fuel! Masa Taco has loads of black beans, kidney beans, French lentils, and rice that you can grab to feed yo' fam! Call to order. Medical professionals get first priority in placing orders.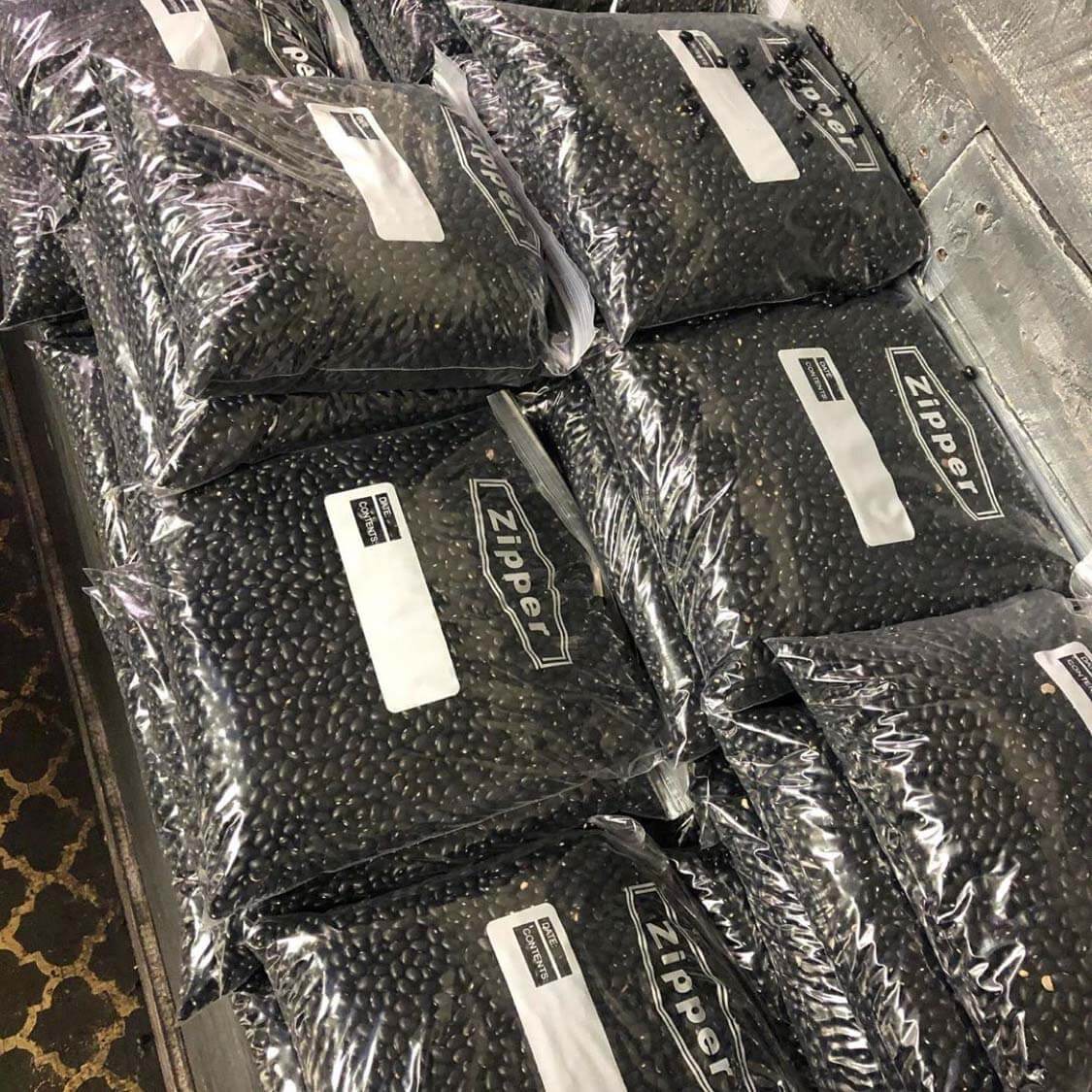 RELATED: 6 Vegan-Friendly Meal Delivery Services for When You're Stuck at Home
---
Want even more LA vegan food, news, and lifestyle content? Subscribe to VegOut LA Magazine!