The newly launched vegan pork line, OmniPork, is now being served at restaurants and pop-ups across Los Angeles in a wide range of delicious dishes. Here's where you can find it!
If you've kept your finger on the pulse of the vegan food scene, you'd know that there's a new plant-based pork product on the market! OmniPork is an all-vegan meat alternative that is made from non-GMO soy, peas, shiitake mushrooms, and rice. It's available in three varieties—ground, strips, and luncheon—and restaurants are getting super creative in ways to serve the pork-like protein. After initially launching at 10 restaurants in Los Angeles, San Francisco, and Honolulu, OmniPork just expanded yet again! Here's where you can order OmniPork dishes in Los Angeles!
Chino & Stanton
This trendy fast-casual vegan spot just added an OmniPork Bánh Mì to their menu for a limited time! Their take on the classic Vietnamese sandwich features slabs of OmniPork luncheon inside a baguette along with fresh carrots, cucumbers, cilantro, and the most drool-worthy glaze.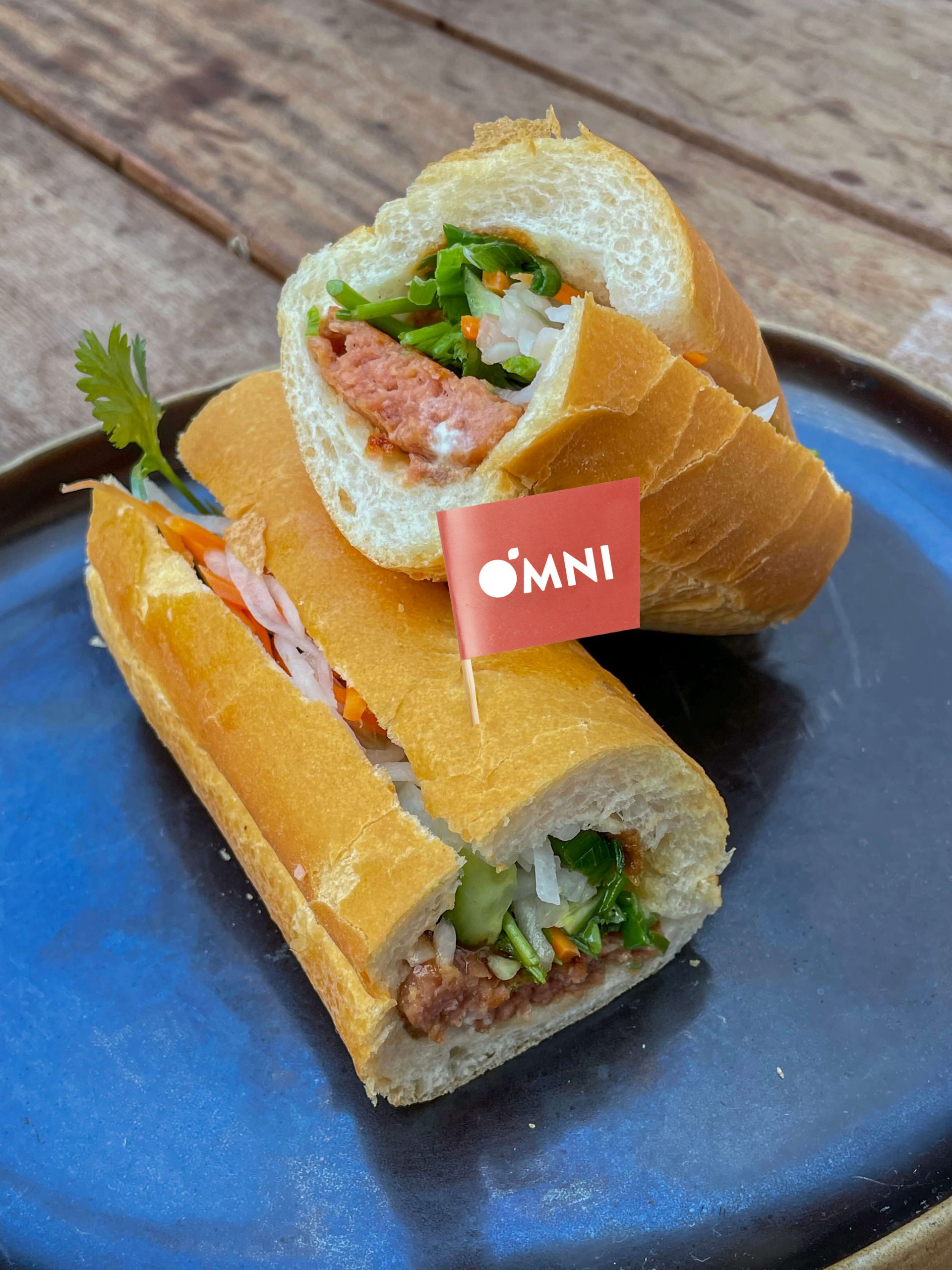 Pop-Up & Delivery
While Brothecary is most known for serving bone broth and Chinese-style dumplings, they're dipping their toes in the plant-based world with special edition OmniPork Wontons. The handmade wontons offer the same taste and feel as the traditional animal-based recipe but this time, they're all vegan! They come in a frozen package with a side of spicy sesame sauce. When you're ready to enjoy, just steam or boil the dumplings for 7-10 minutes and dig in. Even if you're not wanting to purchase from a not exclusively vegan company, go give Brothecary some love and encourage them to continue exploring plant-based cuisine!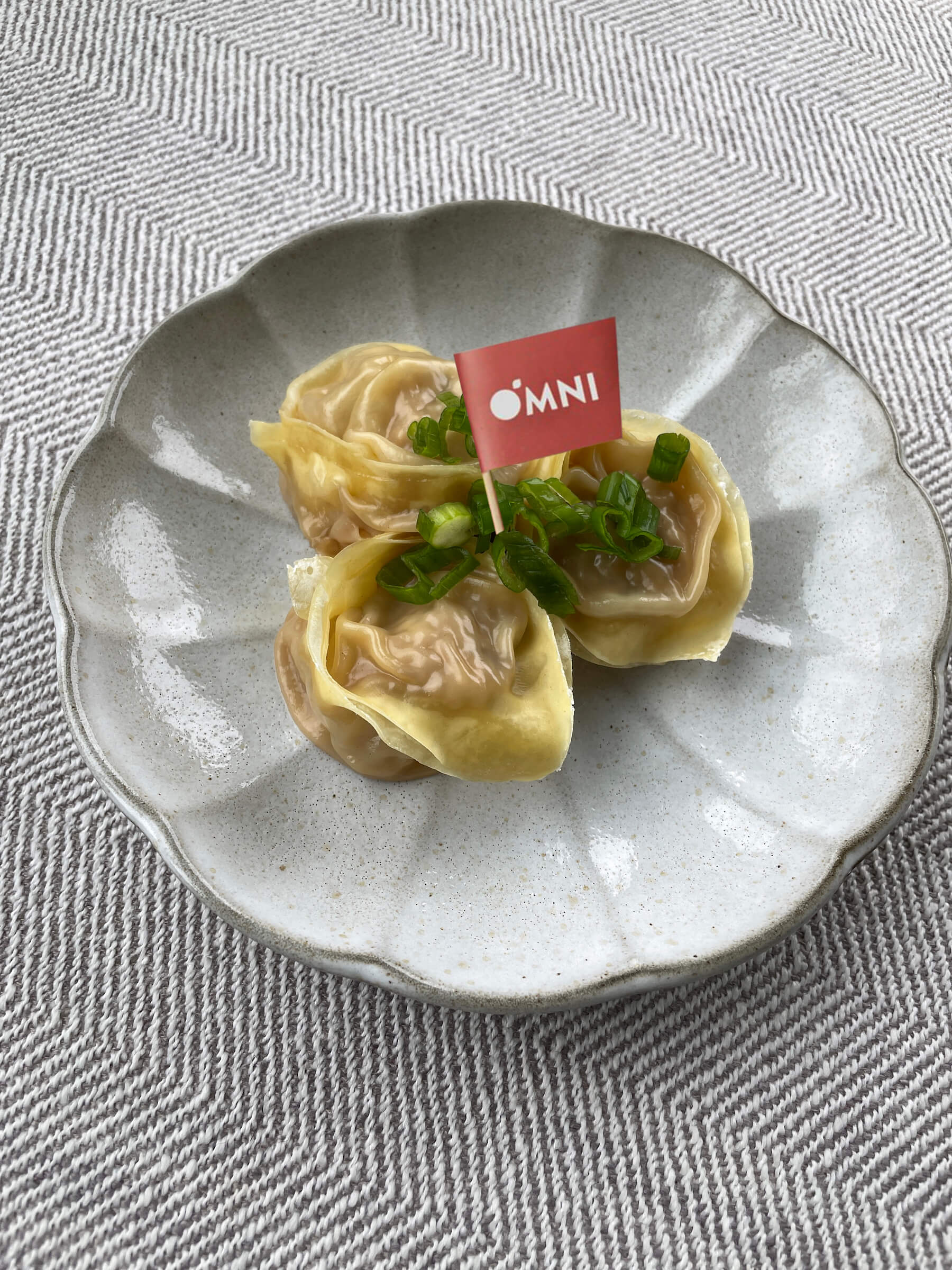 Eagle Rock
Chifa is a family-owned restaurant that focuses its menu around Cantonese, Taiwanese, and Peruvian cuisines. In partnership with OmniPork, the restaurant has released two new plant-based menu items. First up is Mapo Tofu, a dish that contains wok-cooked tofu mixed with OmniPork ground, a fermented bean sauce, Szechuan peppercorns, garlic, and scallions. On Sundays only, Chifa makes Shi Zi Tou Lion's Head, meatballs made from OmniPork Ground with silken tofu, water chestnuts, and braised Napa cabbage in a savory broth.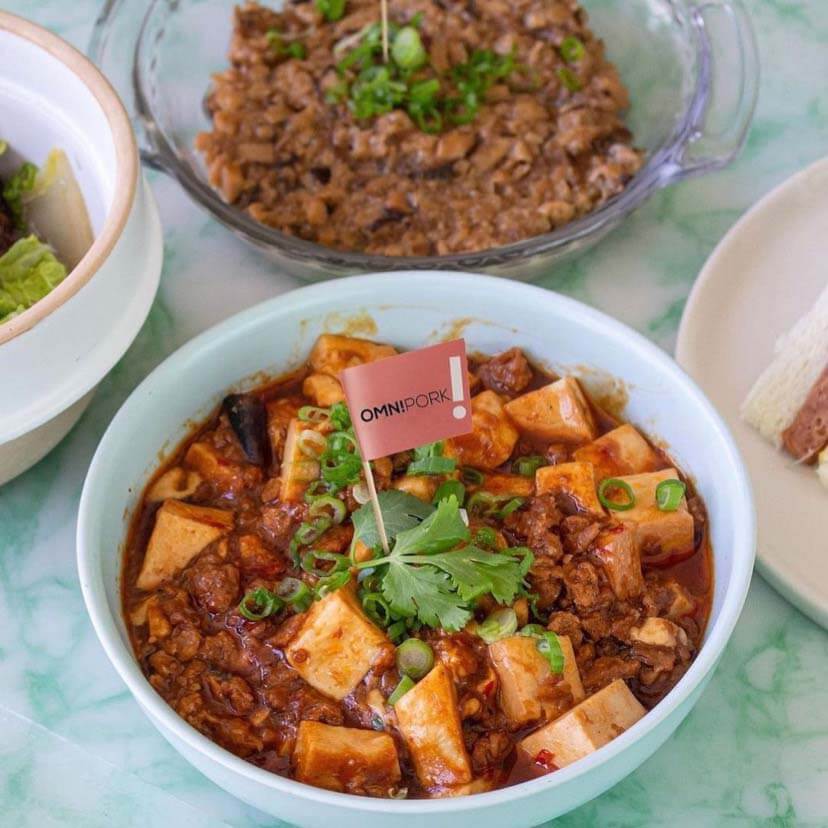 Fairfax
This iconic New York-style Chinese restaurant has been serving up good food and vibes for over 35 years. As the plant-based food industry continues to grow and shift, so does the Genghis Cohen menu! By that, we mean the restaurant just joined the list of OmniPork-serving spots in LA. Their five vegan OmniPork offerings include OmniPork Dumplings and Potstickers, Sweet & Sour OmniPork, OmniPork Mapo Tofu, and OmniPork Cohen Mushu. These dishes will be available until the end of July, although we hope Genghis Cohen keeps them on the menu forever—they're THAT delicious!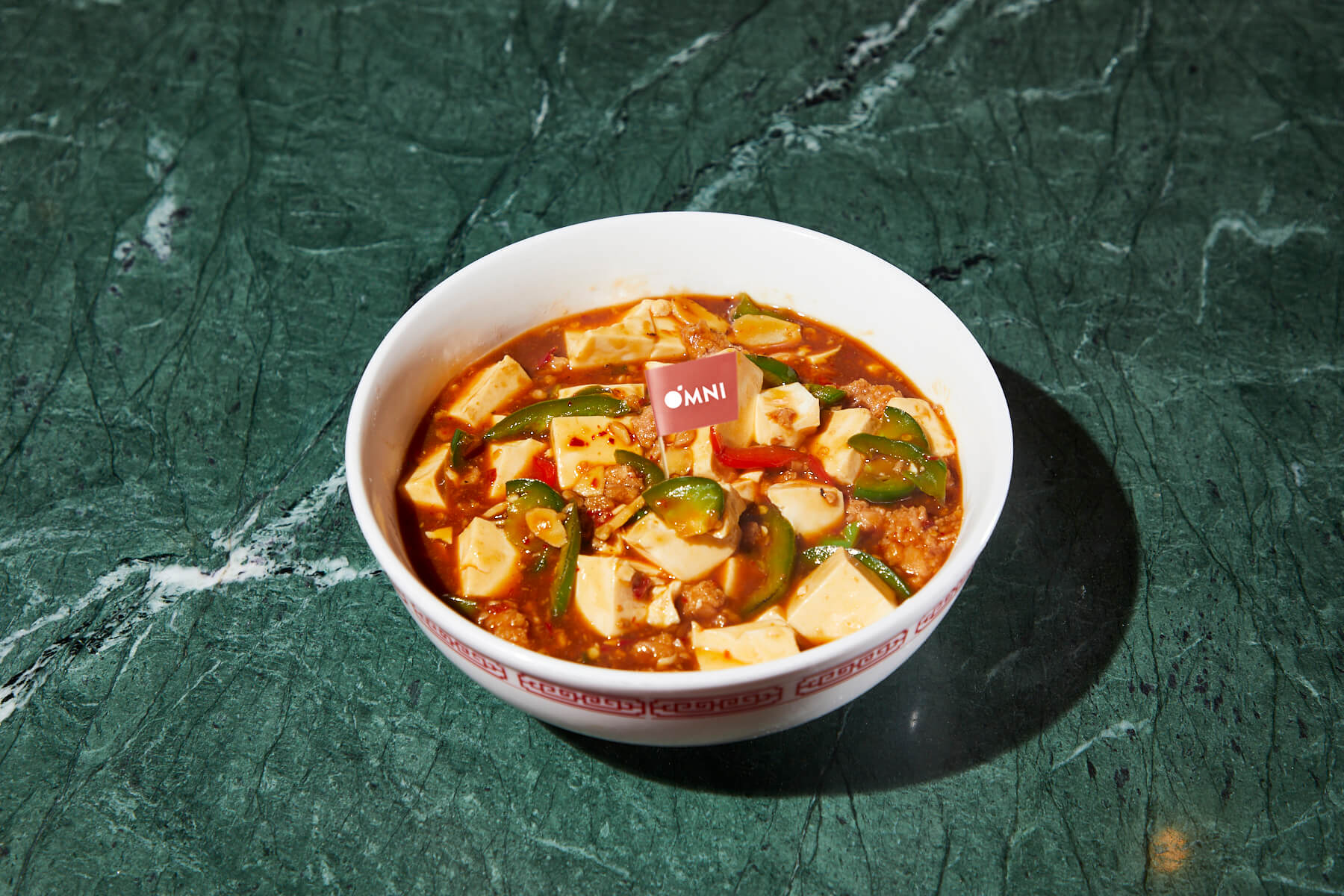 Yorba Linda
This all-vegan sushi spot is known for its unique and delicious noms, which is why we're so excited to order the new OmniPork offerings on the menu! At the Yorba Linda location only, you can try an OmniPork-infused rendition of the classic Chinese noodle dish, Tantanmen, and the satisfying sushi-like bites, Teriyaki Spam Nigiri.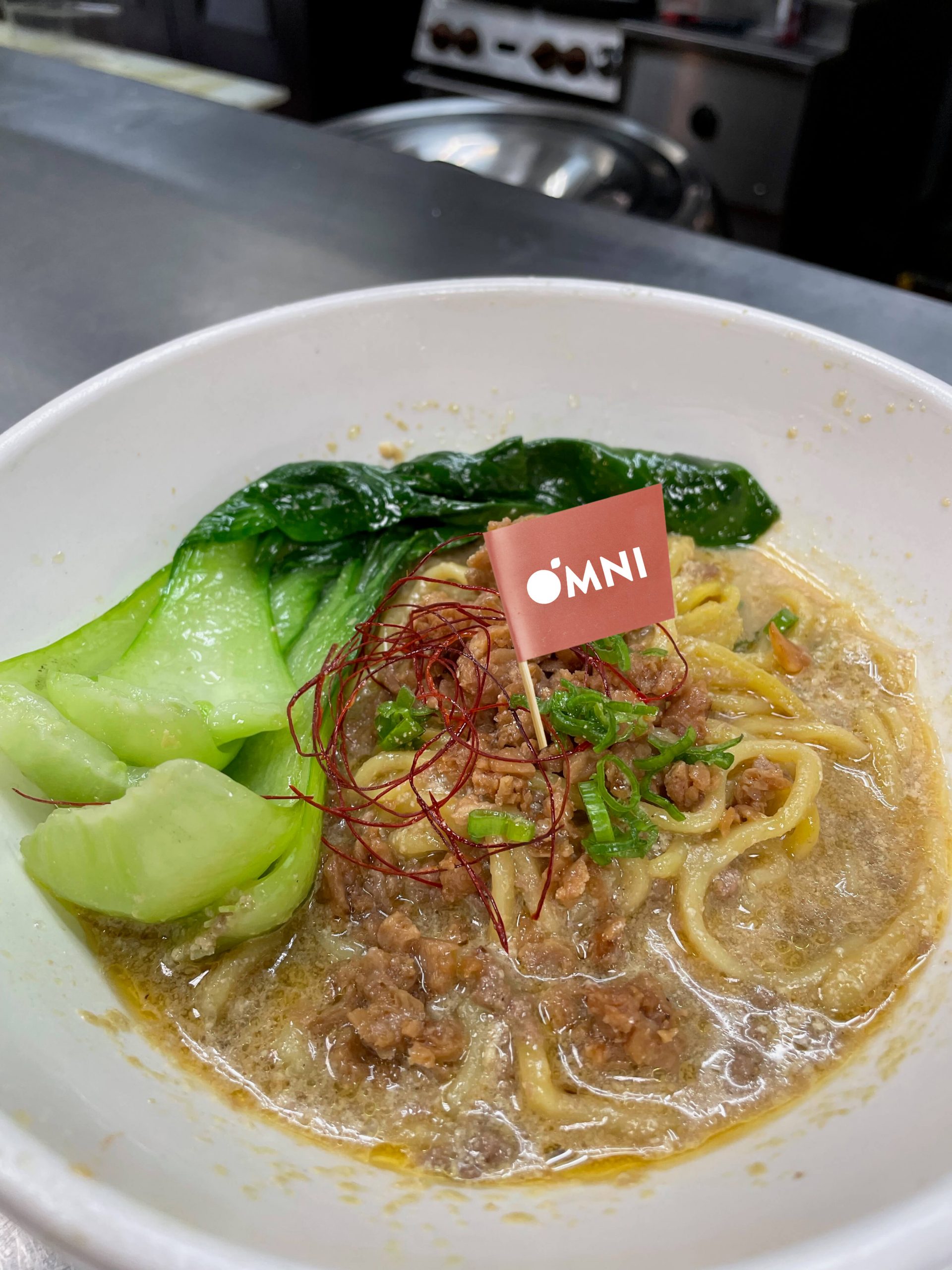 Mar Vista
Little Fatty is a Taiwanese spot that came through with two vegan OmniPork options this season—Lettuce Cups and Green Beans. The first of the two features the brand's ground pork-like protein, mushrooms, and pickled vegetables. The second is mixed with fermented shallots, mushrooms, chilis, and sesame seeds. Sadly, their two OmniPork noodle dishes contain egg.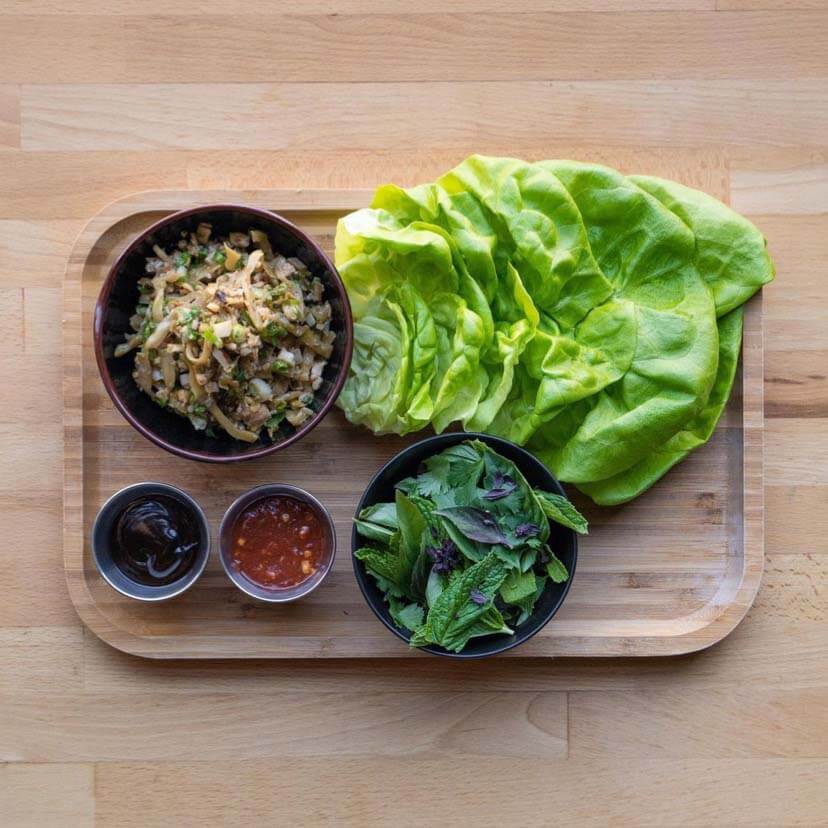 Food Truck
Have you died and gone to heaven? Nope, you must've just bitten into MANEATINGPLANT's Spam Musubi! This all-vegan food truck never misses the mark with their food—OmniPork dishes included. Their rotating pork-infused offerings include the Spam Musubi, Sichuan Wontons, Bao, Garlic Noods, Mapo Tofu, and XO Dumplings.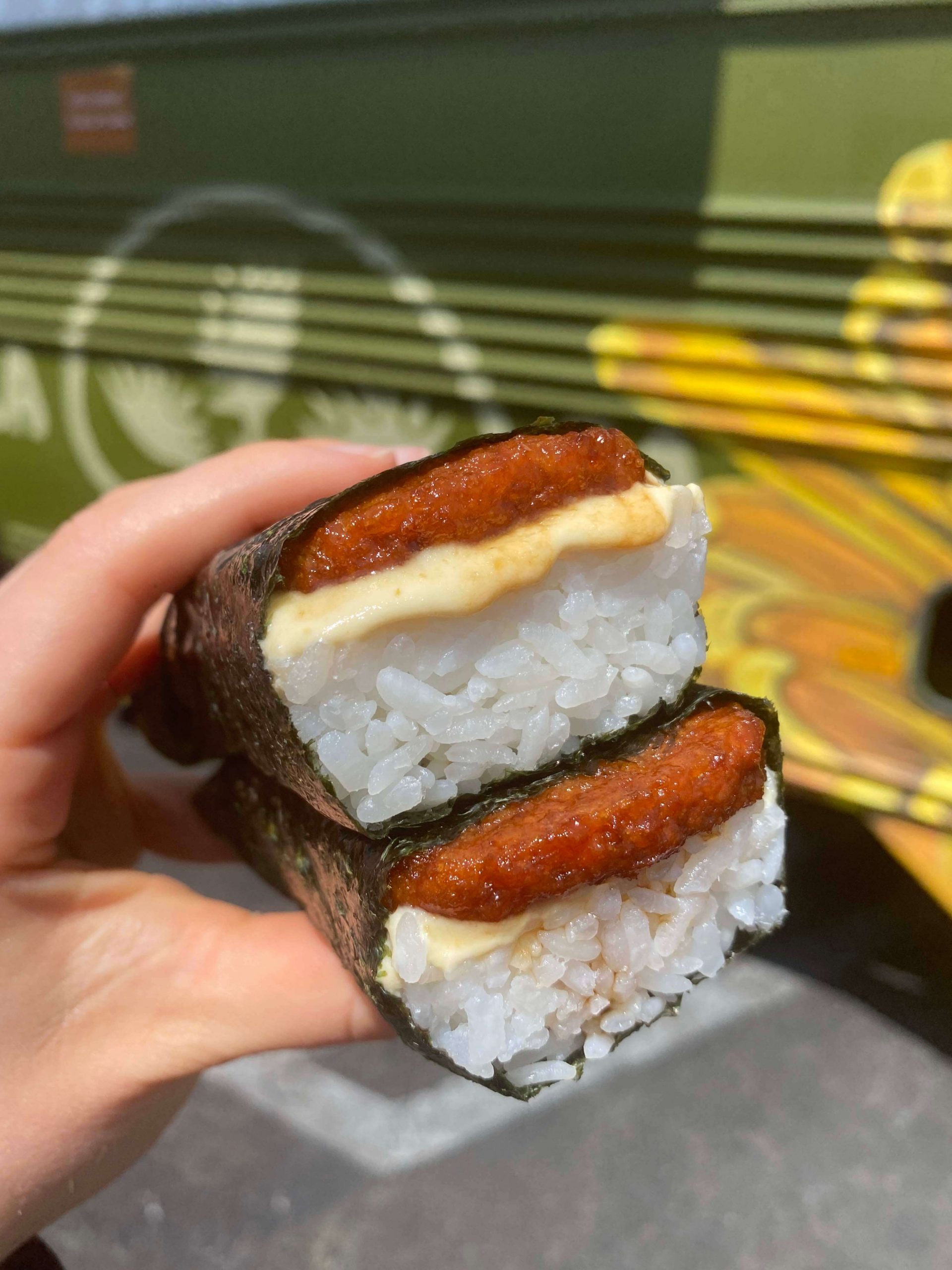 Beverly Hills
If you like Mexican food with a California twist, then you'll have to pay a visit to MÍRAME! This vegan-friendly eatery recently launched an appetizer of Squash Blossoms with OmniPork. Other vegan dishes to try at this spot include the Fermented Green Tea Salad, Artichoke and Truffle Tostada, Smashed Avocado and Salsa Trio, Strawberry Jicama Aguachile, and Cashew Carlota.
Long Beach
This vegan dim sum joint has three amazing OmniPork options to choose from. First is a Savory Daikon Cake which features OmniPork vegan shrimp, shiitake mushrooms, scallions, and hoisin sauce. Next is a Sticky Rice Lotus Leaf Wrap with OmniPork strips, shiitake mushrooms, and scallions. Lastly, you have the option to add OmniPork luncheon to their Vegetable Fried Rice—you can add vegan scrambled egg, too!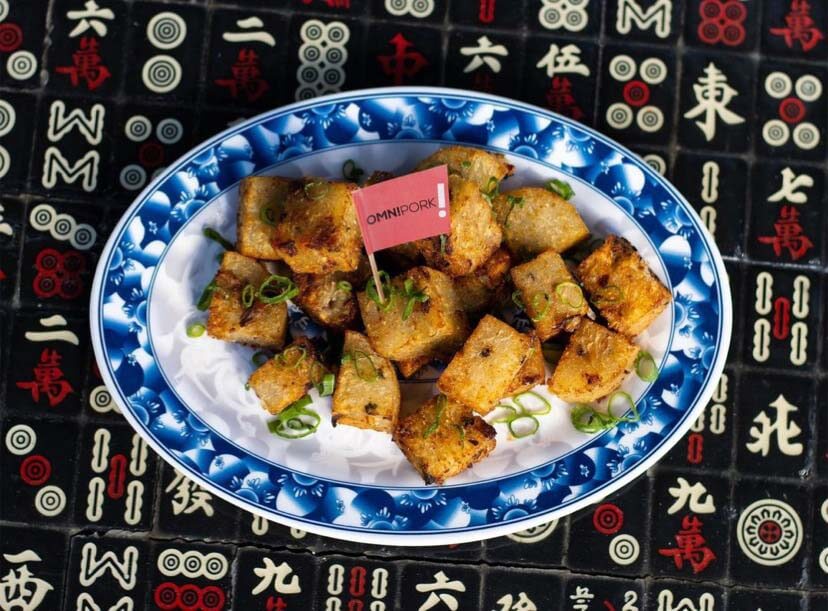 Costa Mesa & Santa Ana
There is nothing but good reviews about this fast-food joint so it's safe to assume their new Spammy Breakfast Bagel is rave-worthy. The handheld showcases a slab of OmniPork luncheon layered with a vegan egg and a slice of cheese on a grilled bagel. Order a side of tater tots if you dare!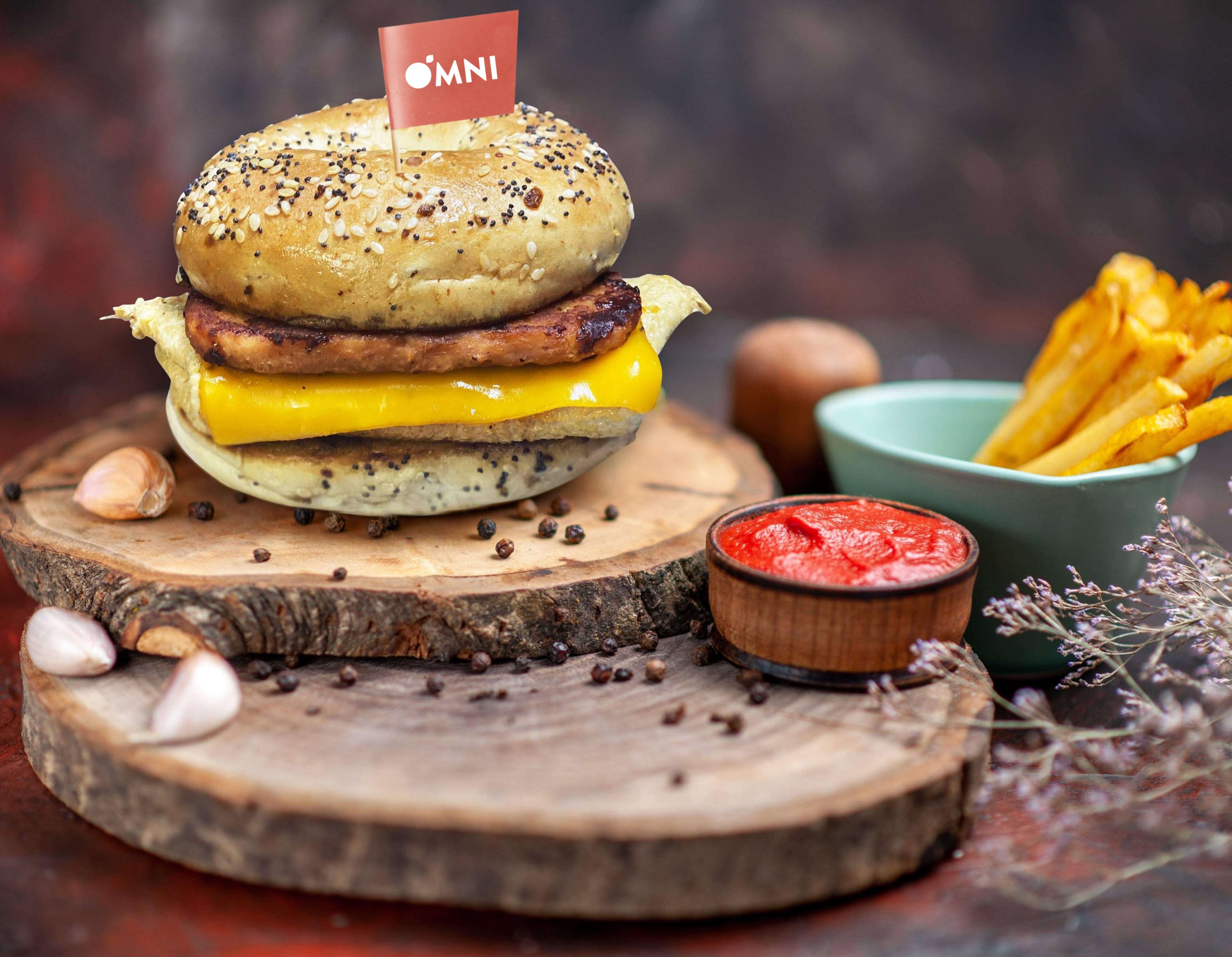 Downtown LA
The ramen from this spot is already dank AF but with fried OmniPork luncheon on top, it's even better! Another great OmniPork-infused dish to try is the Cucumber & Avocado Salad. Bonus: Ramen Hood is located in Grand Central Market among many vegan and vegan-friendly vendors. Make your rounds to see if there's anything else you'd like to pick up for the road (we'd recommend a sandwich from PBJ.LA)!
Pop-Up
Vegan Cambodian-inspired food? Sign us up! Srey Vegan has added OmniPork's flavorful protein in three dishes. The Banh Chao is similar to a Vietnamese Bahn Xeo, which is a crispy, stuffed rice pancake that has ground OmniPork on the inside. The Egg Roll Noodle Bowl has caramelized OmniPork strips, noodles, fresh lettuce, cucumbers, bean sprouts, and mint with a few Cambodian egg rolls on top. And the Fried Rice is infused with OmniPork luncheon that's marinated in a special concoction of Cambodian spices.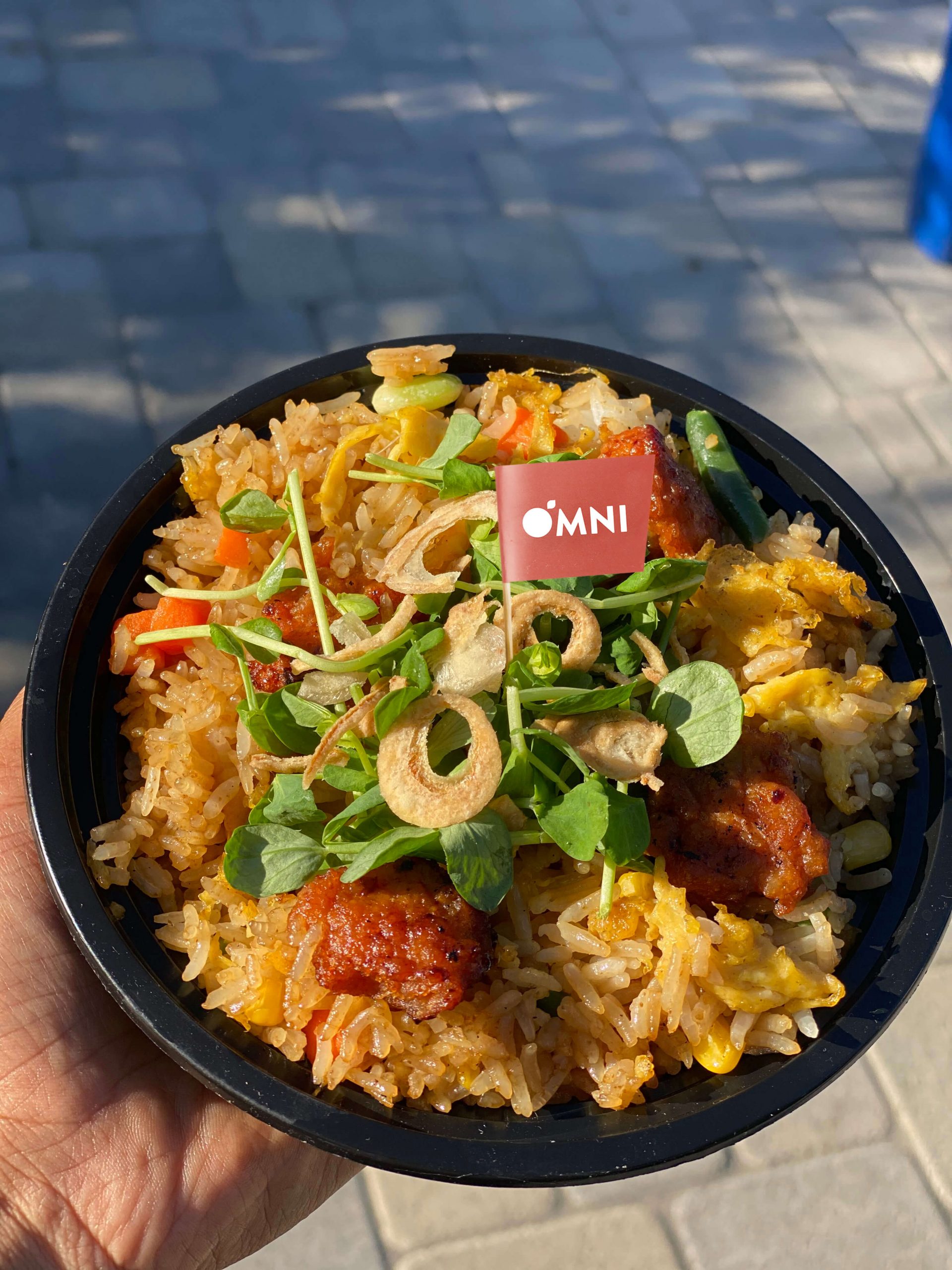 Chapman & Santa Ana
Sub sandwiches are always the move, especially when it's at an all-vegan joint that serves a plethora of plant-based meat and cheese options! The Self Realization sando comes with three patties of OmniPork luncheon on top of slices of provolone cheese, tomatoes, and a garlic herb aioli spread on eight glorious inches of dutch crunch bread.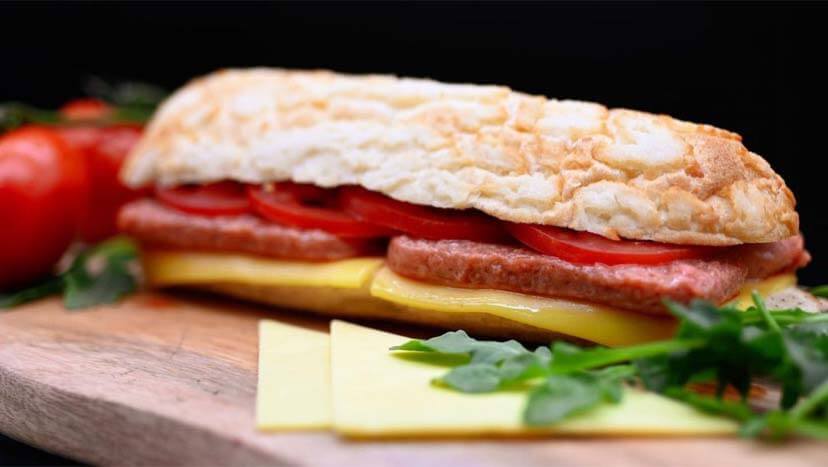 Pop-Up
Vegan pork is already mind-blowing enough but when layered with a plant-based fried egg? Even more delicious! VeggieFam has two handhelds that feature OmniPork and vegan fried eggs—The Manila Sunrise Breakfast Sandwich and Island Sliders. The breakfast sando has Filipino marinated tocino OmniPork, a fried egg, pickles, garlic aioli, and hollandaise on a toasted and buttered brioche bun. The sliders, which are served on sweet Hawaiin rolls, have OmniPork luncheon, a fried egg, and garlic aioli on the inside. *chef's kiss*