Your one-stop guide for the best vegan options at non-vegan restaurants in Pasadena.
While Pasadena has plenty of incredible vegan restaurants, sometimes you're with a group of people that aren't vegan and want to grab a meal together. Luckily, Pasadena is a very vegan-friendly town and there are plenty of spots to find a plant-based meal. Here are 12 of the best restaurants with vegan options in Pasadena.
A family-owned restaurant, All Indian Cafe is a local favorite and is very vegan-friendly. Vegan options are marked clearly on the menu, and many appetizers and dishes can be made vegan upon request. Some favorite vegan dishes include the Onion Pakora (onion fritters served with house-made tomato chutney) and the Gobi Aloo (a traditional dish made with cauliflower and potatoes sauteed with spices, tomatoes, and green chili).
Millie's Cafe, a popular breakfast spot is one of the most vegan-friendly restaurants in town. The vegan breakfast menu includes a breakfast burrito, huevos rancheros, and the popular Cali Benedict—which comes with mixed greens, tempeh bacon, avocado, grilled tofu, and vegan hollandaise over an English muffin. The Blueberry Pancakes, Banana Walnut Pancakes, and Original Pancakes can also be requested to be made vegan, and the spot even has an entire selection of vegan milkshakes.
Photo credit: @russelleats on Instagram
This Chinese noodle house uses the traditional art of hand-pulling its noodles and has several vegan options marked clearly on the menu. The knife-cut noodles at Noodle St are vegan, so just be sure to choose that option when you're ordering the Seasonal Veggie Noodles or Rice Noodle Soup. Other vegan options include Cucumber Salad and Qinghai Clear Cold Noodle.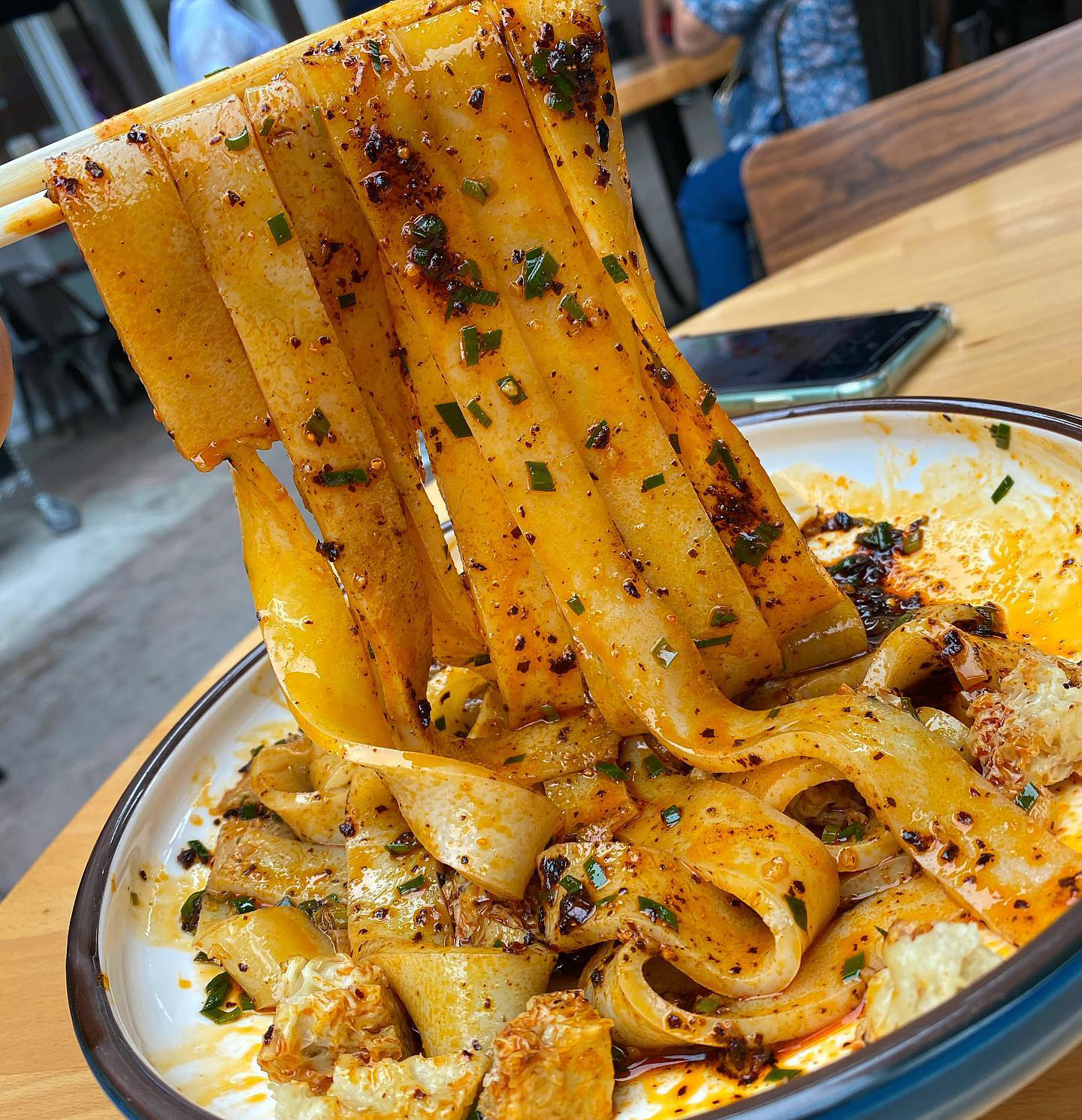 This contemporary Mexican restaurant offers vegan tacos and several vegan side dishes. The coliflor al pastor tacos come with cauliflower al pastor, cilantro-lime aioli, pico de gallo, avocado salsa, and Mexican rice. The tacos can be found on the dinner and brunch menus. Vegan side options at Mercado Pasadena include escabeche and chiles toreados.
Granville, a modern, upscale restaurant, offers several vegan options in the form of appetizers, lunch specials, side dishes, and dinner plates. The highlight is the Poblano Quinoa, which comes with corn, pepitas, tempeh, squash, red bell peppers, and chimichurri. You'll have the option to add plant-based chicken for $4. Other vegan options include Brussels sprouts and butter lettuce cups filled with mango, tomato slaw, and lemongrass vinaigrette.
Urban Plates is a quick-service cafe boasting rotating, seasonal flavors made in their scratch kitchen. A crowd favorite on the $10 Everyday Menu is the Curry Tofu and Vegetable Braise, which comes with organic veggies and tofu in green curry, served over rice. Other vegan options include the Beets & Avocado Bowl and a house-made Meatless Loaf.
This famed ramen house makes its own noodles, ramen stock, and sauces. There's a dedicated vegan ramen on the menu at HiroNori, which comes with a sesame miso broth, noodles, broccolini, tofu, corn, bean sprouts, soy meat, baby kale, and chili oil.
This upscale restaurant with an emphasis on sustainability and healthy, seasonal ingredients has a ton of vegan options. The menu at True Food Kitchen is rotating, so while some dishes may change, there will always be at least a handful of vegan options. A crowd favorite is the Butternut Squash Pizza, which comes with a house-made vegan almond ricotta, caramelized onion, roasted garlic, organic kale, dried cranberry, and sage. Other options include the Vegan Double Cheeseburger and Roasted Brussels Sprouts.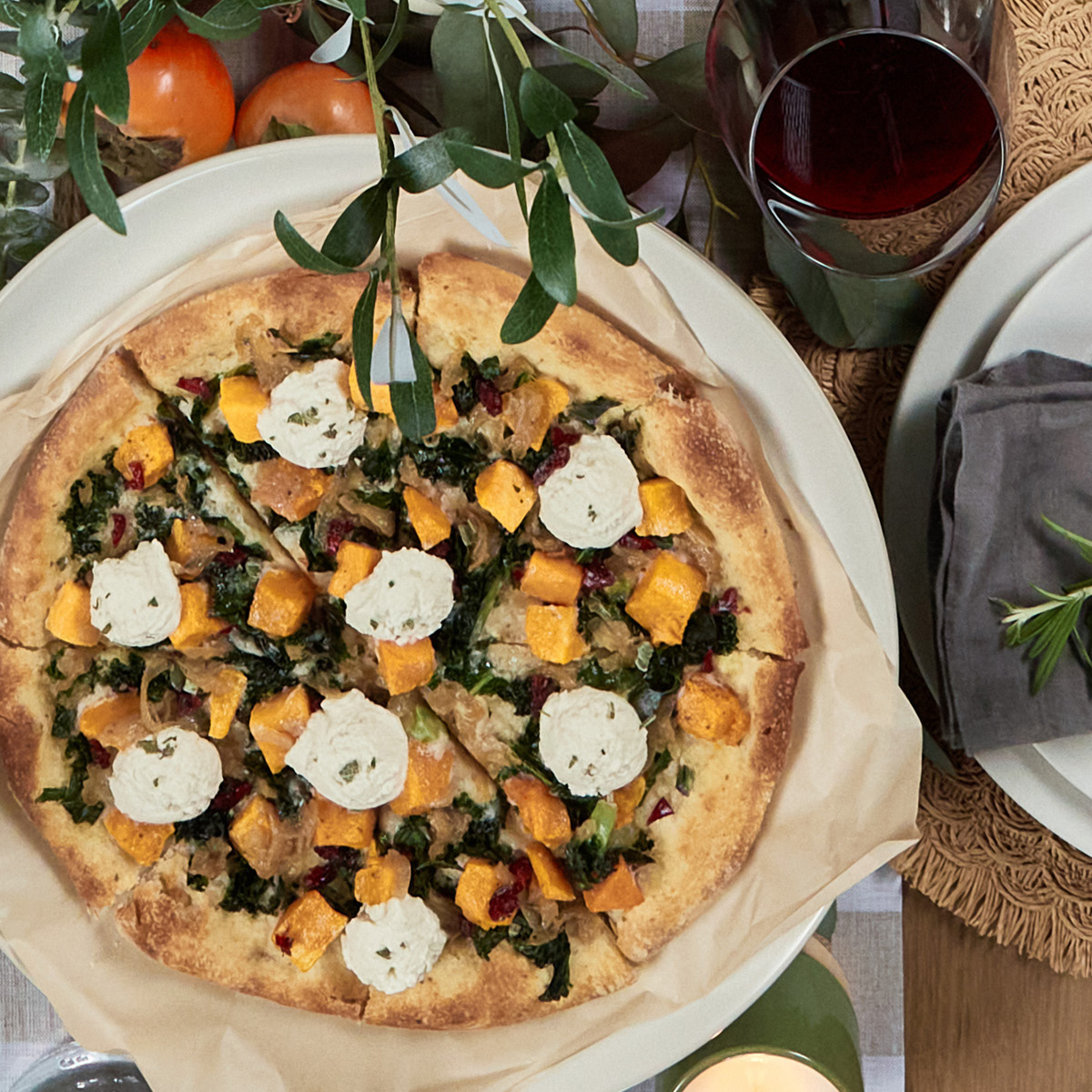 Mendocino Farms, a California-based chain, is focused on using local ingredients and is a popular spot for a quick lunch break. A favorite vegan option is the Impossible Taco Salad—made with Impossible chorizo, greens, roasted corn, black beans, jicama, grape tomatoes, avocado, and house-made vegan chipotle ranch. Another popular option is the Vegan Banh Mi—marinated and baked tofu with vegan aioli, sweet chili sauce, and house-made pickled veggies on ciabatta. Order it as a part of the 1/2 Sandwich Combo and get a side of their vegan spicy curried couscous for a quick and satisfying lunch.
What started as a weekly pop-up at Smorgasburg LA has now become one of Old Town Pasadena's most cherished restaurants. Daddy's Chicken Shack has one dedicated vegan sandwich on the menu: the Vegan Daddy. The sandwich comes with coconut curry-brined cauliflower, chili mayo, coleslaw, cilantro, and mint on a sesame seed bun. The vegan chicken is also available to order as chicken nuggets.
Whether you're looking for a smoothie or fresh juice, something sweet, or a fully plant-based meal, MILO Cafe and Organic Juicery has plenty of vegan options. The gluten-free Good Karma Vegan Fries are one of the cafe's most popular vegan dishes and come with onions, chili, soyrizo, and vegan cheese sauce drizzled over fries. If you're just looking for something to drink, the cafe offers an entirely vegan menu of smoothies and juices, and there are always a few vegan treats to choose from, such as scones or their popular carrot cake.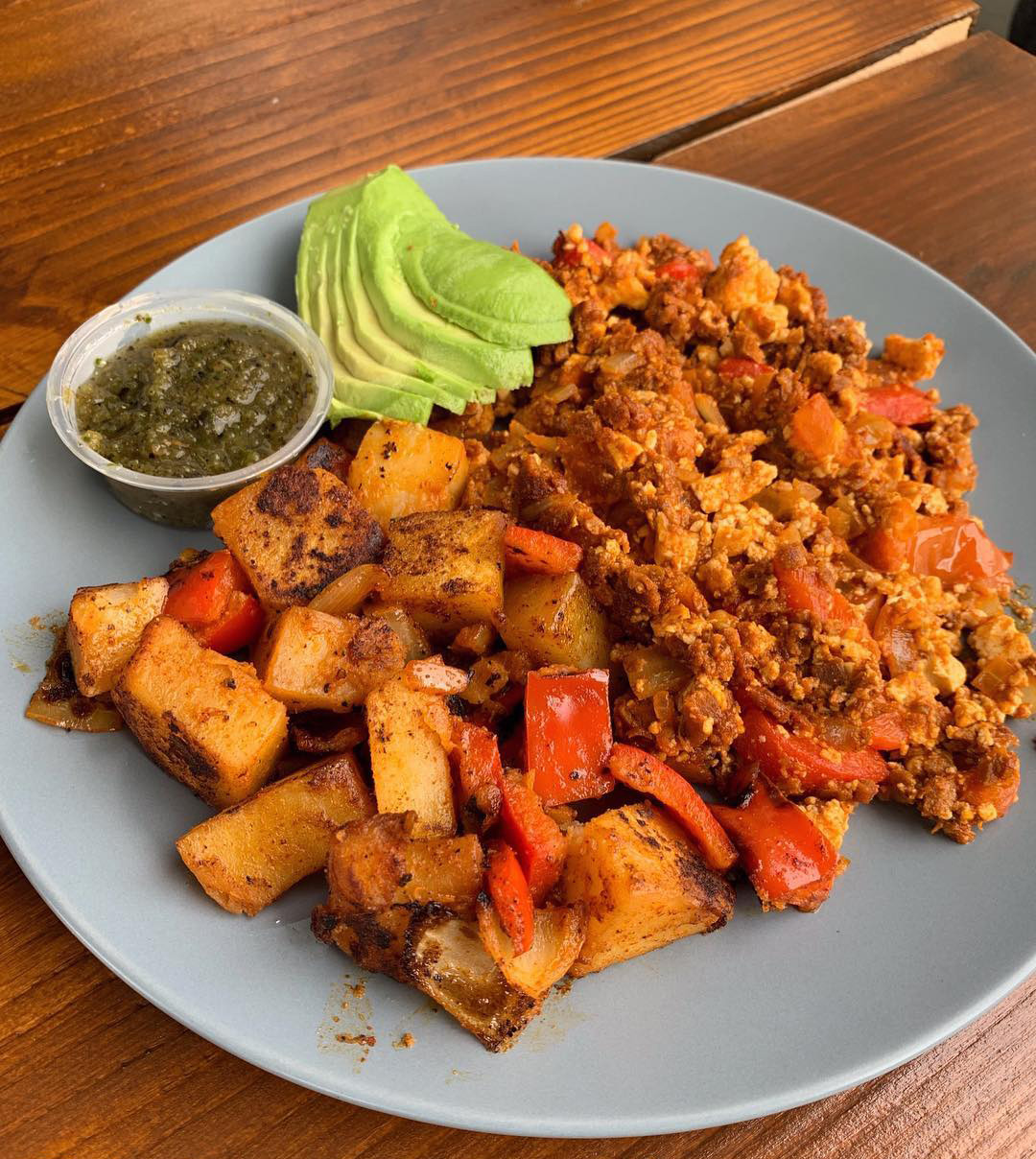 Photo credit: @yolandi_eats_la on Instagram
The world-renowned Chinese restaurant, Din Tai Fung, boasts a Michelin star at its Hong Kong branch and was named one of the top 10 gourmet restaurants in the world by the New York Times. This year, Din Tai Fung has revamped its menu to include a variety of vegan options, such as wontons, dumplings, soups, and noodles. A highlight is the vegan buns, which are filled with bean curd, baby bok choy, shiitake mushrooms, wood ear mushrooms, glass noodles, and jicama.