Whether you're looking for a quick veggie burger on a lunch break or an elegant dish for a fancy dinner date, this list has it all!
Dine LA Restaurant Week runs from October 1-15 and is an opportunity for residents to try the best that the LA food scene has to offer. No tickets are required—just head on over to your favorite participating spot and ask for the Dine LA menu. All restaurants will offer pre-set menus—usually drinks, starters, and entrees—with several combinations available. This year, a number of vegan and vegan-friendly restaurants are participating, offering both fully vegan lunch and dinner options. Here's our list of Dine LA's vegan options!
Beverly Grove
Vegan
Nic's is offering both lunch and dinner options for dine-in only. Lunch is $35 per person and is offered Wednesday-Friday from 12-3pm, and Saturday and Sunday from 10am-3pm. Dinner is $45 per person and is offered from 5-9pm on Wednesday and Sunday, and 5-10pm on Thursday, Friday, and Saturday.
For both lunch and dinner menus, guests will have the option of choosing an appetizer, an entree, and a dessert. Lunch will come with Avocado Crispy Rice, your choice of a Farro Bowl or their signature wood-fired original pizza, and either iced cream or butterscotch pudding. Dinner service will give you a choice between three appetizers (we recommend their popular gratin fries with house-made harissa secret sauce), an entree selection of pesto pasta, falafel burger, or wood-fired pepperoni pizza, and a dessert of dark chocolate mousse or butterscotch pudding.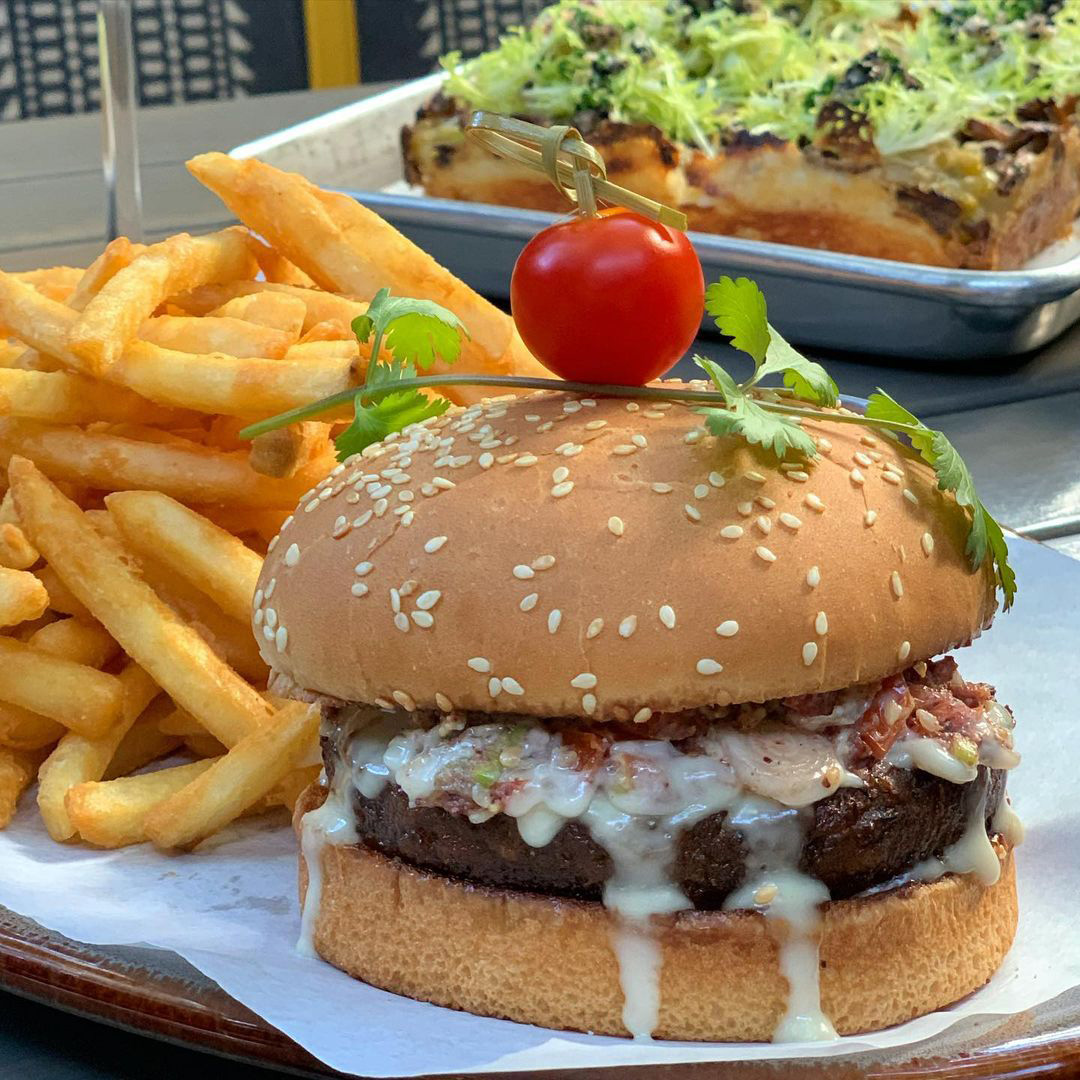 Photo credit: @jen_acevedo on Instagram
Santa Monica
Vegan
Margo's is offering dinner for $45 per person from 4-10pm every day for dine-in only. The menu comes with your choice of appetizer, entree, and dessert.
For appetizers, you'll have the choice of two salads, grilled broccolini, sauteed corn, or a loaded pea toast with ricotta, caramelized onions, and a jalapeno pea mash. Entree options include nachos, pesto pasta, cheeseburger, or three of their most popular pizzas: sausage, mushroom, or spinach arugula. For dessert, you'll have the choice between an apple crumble with vanilla ice cream or a coconut custard with frosted pistachios.
Photo credit: @skyyphoto on Instagram
Venice
Vegan
Plant Food + Wine is participating for dine-in dinner service from 4-9pm Monday-Thursday, and 4-10pm Friday and Saturday. Meals are $45 per person, and the entire menu is gluten-free!
You'll have the option of choosing a first course from the house cacio e pepe, kimchi dumplings, or beet tartare. The second course can be selected from an heirloom tomato & zucchini lasagne, coffee-seasoned fried oyster mushrooms with a basil-zucchini sauce, or trumpet mushrooms in harissa and coconut yogurt. Dessert is a choice between their signature coconut + banana pie, a cinnamon cake with roasted peaches and earl grey ice cream, or chocolate cake with praline filling and strawberry ice cream.
West Hollywood
Vegan
Gracias Madre is participating for lunch and dinner dine-in service. The lunch menu is available daily from 11am-3pm for $25 per person, and the dinner menu is available from 3-11pm for $45 per person.
The lunch menu comes with a house-made iced tea or agua fresca, your choice of salad, grilled cauliflower, or a house-made gordita, and a main dish selection of a veggie bowl, potato flautas, or a wet burrito. The dinner menu includes similar offerings, with the addition of chips and guacamole as well as a chocolate brownie for dessert.
Photo credit: @feedrubyfood on Instagram
Arts District, Larchmont, & Venice
Vegan-Friendly
All three Los Angeles Cafe Gratitude locations are participating in Dine LA for dinner only. The special is available from 4-9pm every day for takeout and delivery only at a cost of $35 per person. Customers get one beverage (chardonnay, red blend, or a cold-pressed juice), one starter, one main course, and one dessert. There are three Dine LA exclusives on the menu (a greens & grain bowl, coconut BTLA, and basil pesto kelp noodles), so even if you're a frequent customer of Cafe Gratitude, this will be a great opportunity to try something new!
Studio City & West Hollywood
Vegan-Friendly
Hugo's isn't a fully vegan restaurant, but they offer some killer plant-based options. For Dine LA, their lunch menu is available daily from 9am-4pm for $15 per person, and the dinner menu runs from 4-9pm for $35 per person. The lunch special gets you one entree and one beer or pressed juice. Vegan options include a crispy chicken sandwich and a club sandwich made with tofu. The dinner special comes with fried pickles or nachos, a green casserole or Asian stir-fry, and a glass of wine from Hugo's current wine list. Vegan options are clearly marked on the menu, but just let your server know if you have any questions.