Hummus lovers rejoice! We've gathered a list of vegan-friendly eateries serving up your favorite Mediterranean dishes in the Big Apple.
Wondering where to dine on creamy hummus and pita or crispy falafel in NYC? We've got your answers! From vegan kebabs to plant-based shawarma, these Mediterranean eateries have something for everyone to enjoy. Here are the 10 best vegan-friendly Mediterranean restaurants in NYC.
Manhattan
Vegan
Tamam (Hebrew for "thumbs up") is a fast-casual, all-vegan eatery that specializes in organic pita sandwiches, falafel platters, and hummus bowls. Make lunchtime delicious with the Hummus Falafel Bowl, which features creamy house-made hummus, warm chickpeas, zhug, tahini, olive oil, crunchy falafel, and pita bread. You can also order an extra side of falafel, hummus, Israeli salad (tomatoes, cucumber, red onion, lemon vinaigrette), cauliflower, or pita bread—because can you ever have too much hummus? We think not!
Multiple Locations
Vegan-Friendly
Chef Einat brings the flavors of Israel to NYC through Taïm, a vegan-friendly eatery that serves falafel, cauliflower shawarma, beet and carrot pitas, and more! The Impossible Kebab Bowl is a vegan take on a classic Mediterranean kebab and includes Impossible meat mixed with fresh herbs, onions, and spices and can be served over a base of creamy hummus, warm toasted cumin rice, turmeric pearl couscous, or romaine lettuce—you choose! The bowl also comes topped with Israeli salad, pickled cabbage, and tahini sauce, with the option to customize toppings.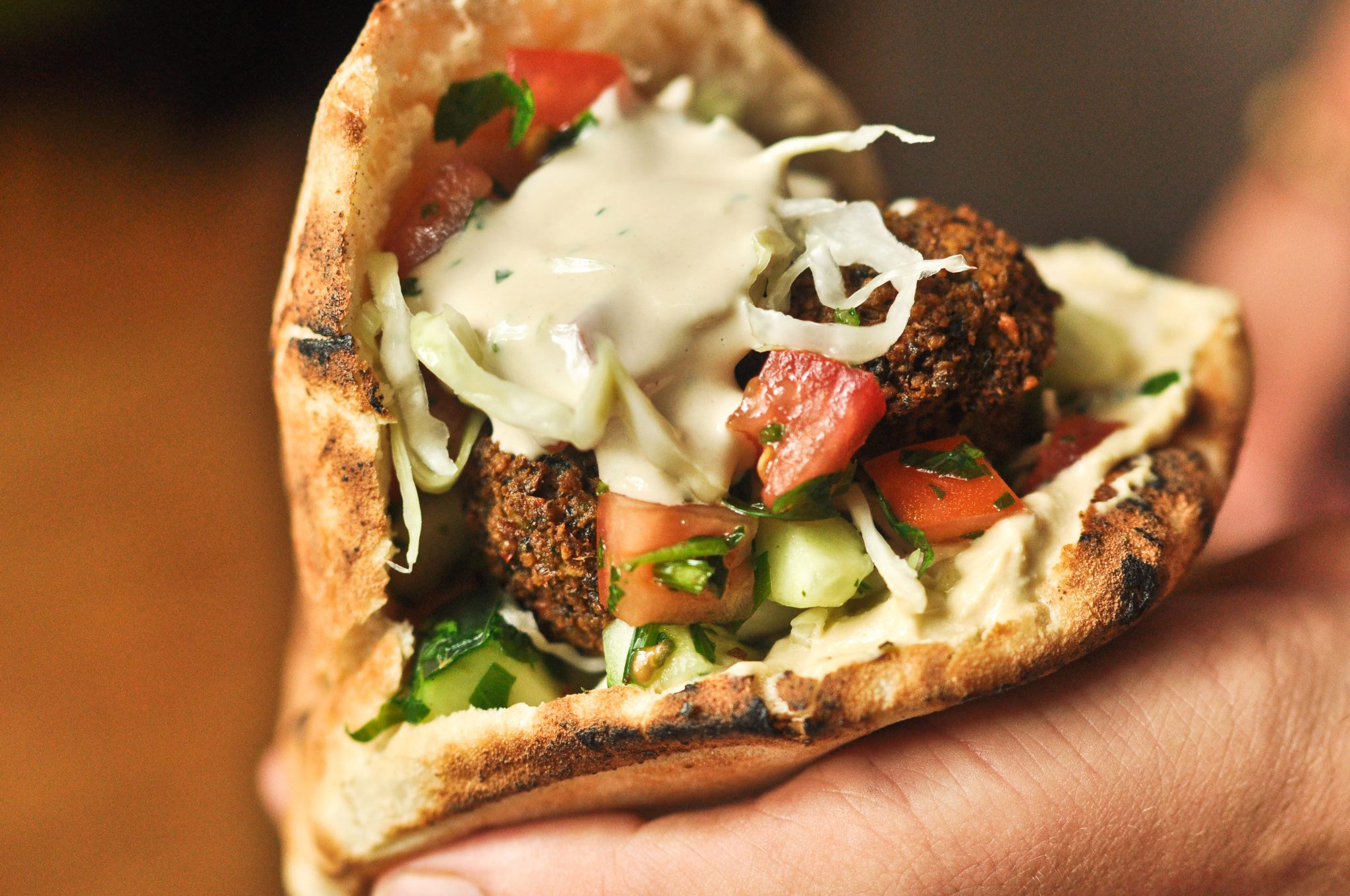 Manhattan
Vegan-Friendly
Taboonette fuses flavors from the Middle East and the Mediterranean to create tasty dishes such as kruveet (taboon-roasted cauliflower, eggplant, spaghetti squash, arugula-herb salad, hummus, tahini, and a side of pita bread). In addition, vegan-friendly options include hummus bowls with your choice of kruveet & squash, falafel, roasted beets, sweet potato falafel, or sautéed mushroom & avocado, as well as salads, hummus and house-made pita chips, and french fries.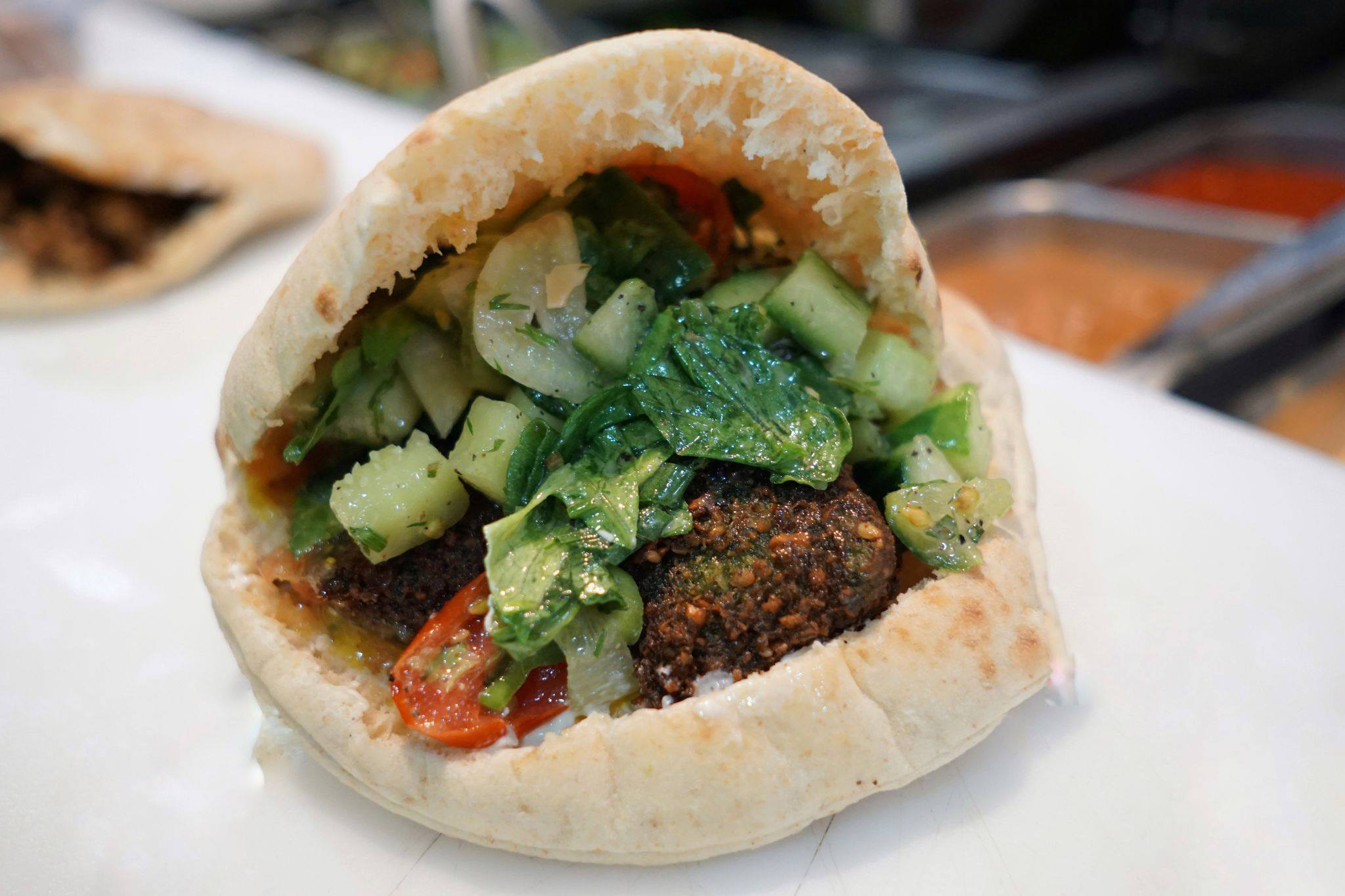 Manhattan
Vegan-Friendly
Gather your friends for Sunday brunch and head over to Hummus Kitchen, where you can indulge in a variety of vegan-friendly Mediterranean dishes as well as bottomless mimosas. Choose from cauliflower tahini with nigella seeds or fava mazze (fava beans and pico de gallo) as an appetizer and quinoa-kale salad (quinoa, lentils, baby kale, apple, radish, cranberry, almonds, and balsamic vinaigrette) for your entrée. In addition to brunch, guests dining for lunch or dinner can select from items like mushroom hummus with pita bread or veggies for dipping, falafel, charred eggplant, and more!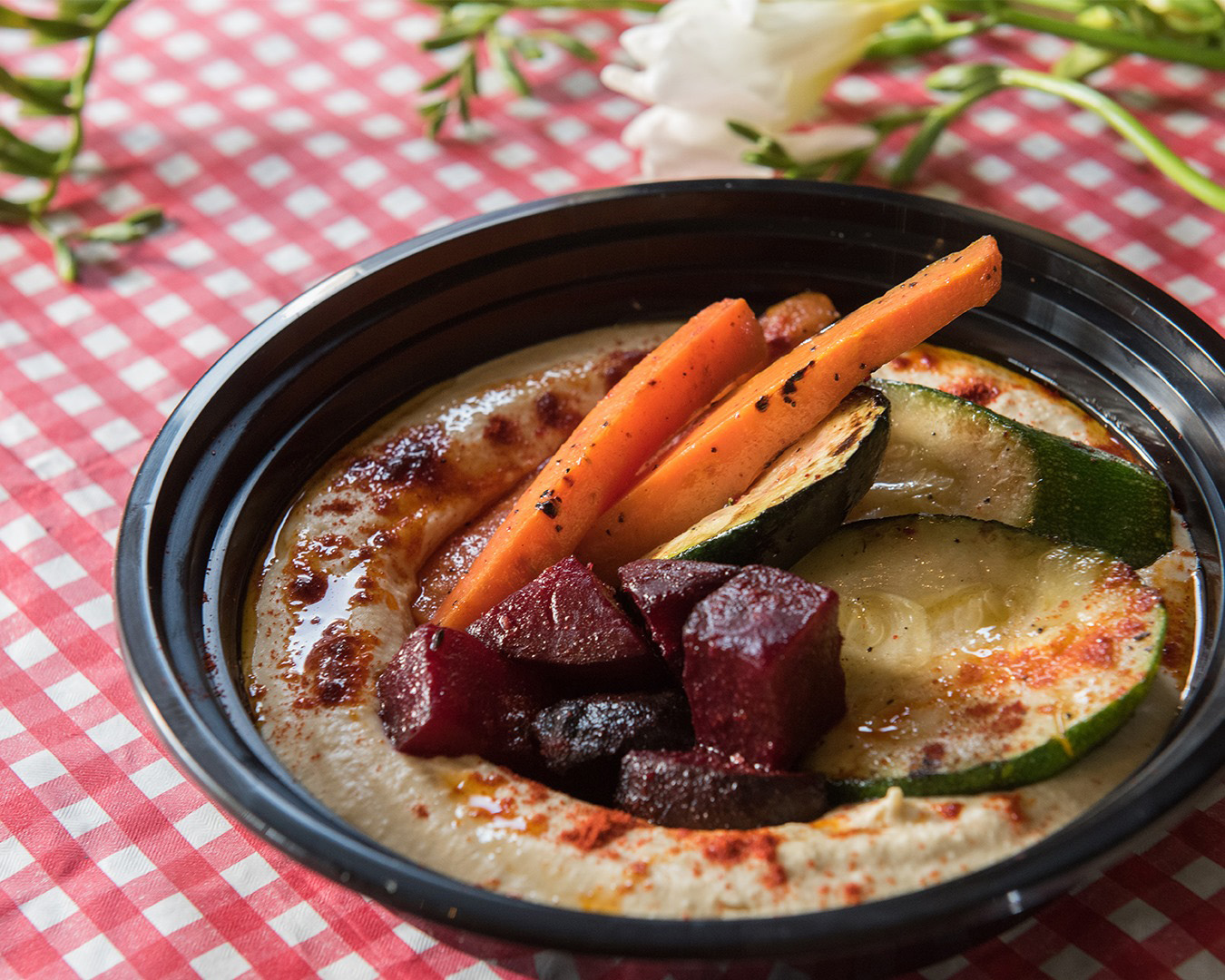 Manhattan
Vegan-Friendly
Named after the ancient god of food and fertility, Ba'al Cafe & Falafel is abundant with vegan-friendly sandwiches, salads, platters, and soups. Order the combo platter (four sides) and fill it up with falafel, roasted carrots & beets, roasted cauliflower, hummus, and tabbouleh (herb and bulgur salad). You can also top your platter with add-ons such as pickles, hot sauce, and pita bread.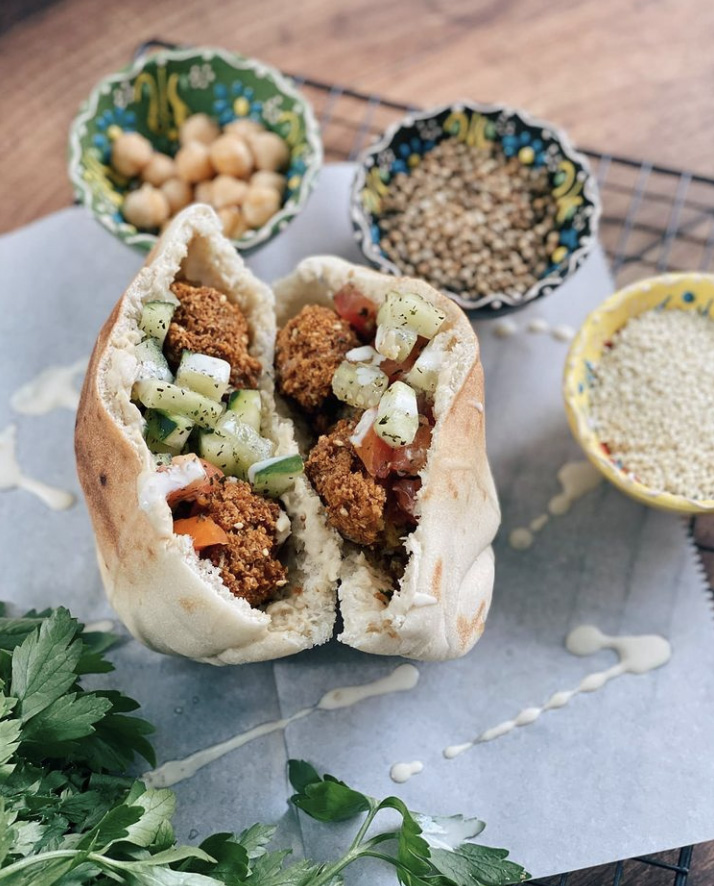 Manhattan
Vegan-Friendly
Mamoun's Falafel has been serving up Mediterranean eats in Manhattan's Greenwich Village since 1971. Select from a variety of vegan-friendly pita sandwiches, like the Manhattan (falafel, hummus, baba ganoush, tabbouleh, pickles, pickled turnips, olives, olive oil, and lemon juice), or go the traditional route with the Classic (falafel and hummus). Those who prefer their falafel unwrapped can opt for the falafel plate, which comes served with your choice of a salad or rice base, tahini sauce, and a pita on the side.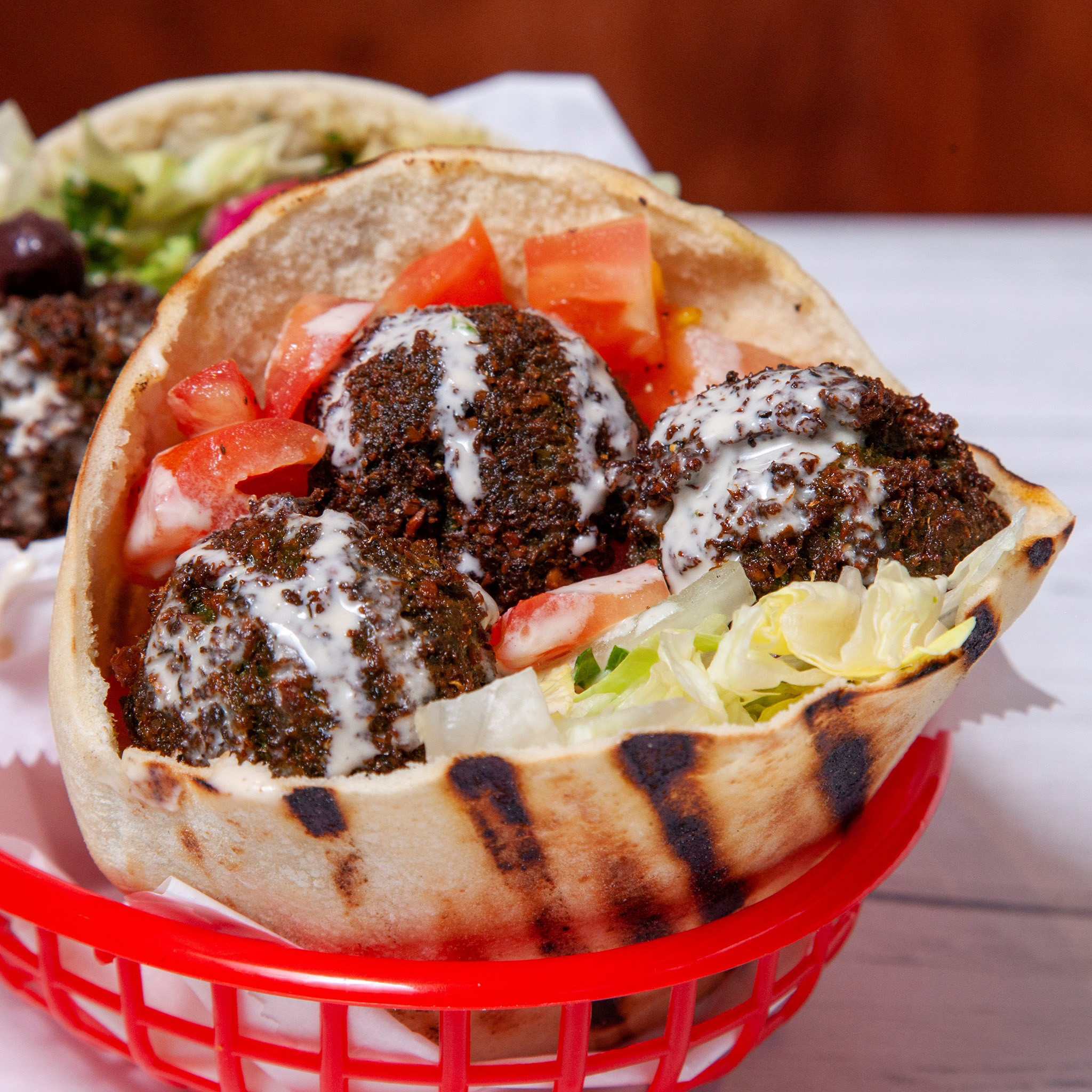 Multiple Locations
Vegan-Friendly
This fast-casual restaurant concept crafts health-conscious Mediterranean cuisine inspired by regions like Greece, Israel, Morocco, and the Middle East. Everything served at the eatery is house-made and includes plant-based options like vegan shawarma, vegan meatballs in spicy Moroccan sauce, fresh pita, hummus, Spanish eggplant, and Persian potatoes, to name a few. Thirsty? Get yourself a Chickpea Chiller, the restaurant's signature drink made from chickpeas, tahini, bananas, and almond milk. Choose from flavors like strawberry, chocolate, butter pecan, pistachio, toasted almond, cold brew coffee, or original, all of which are vegan!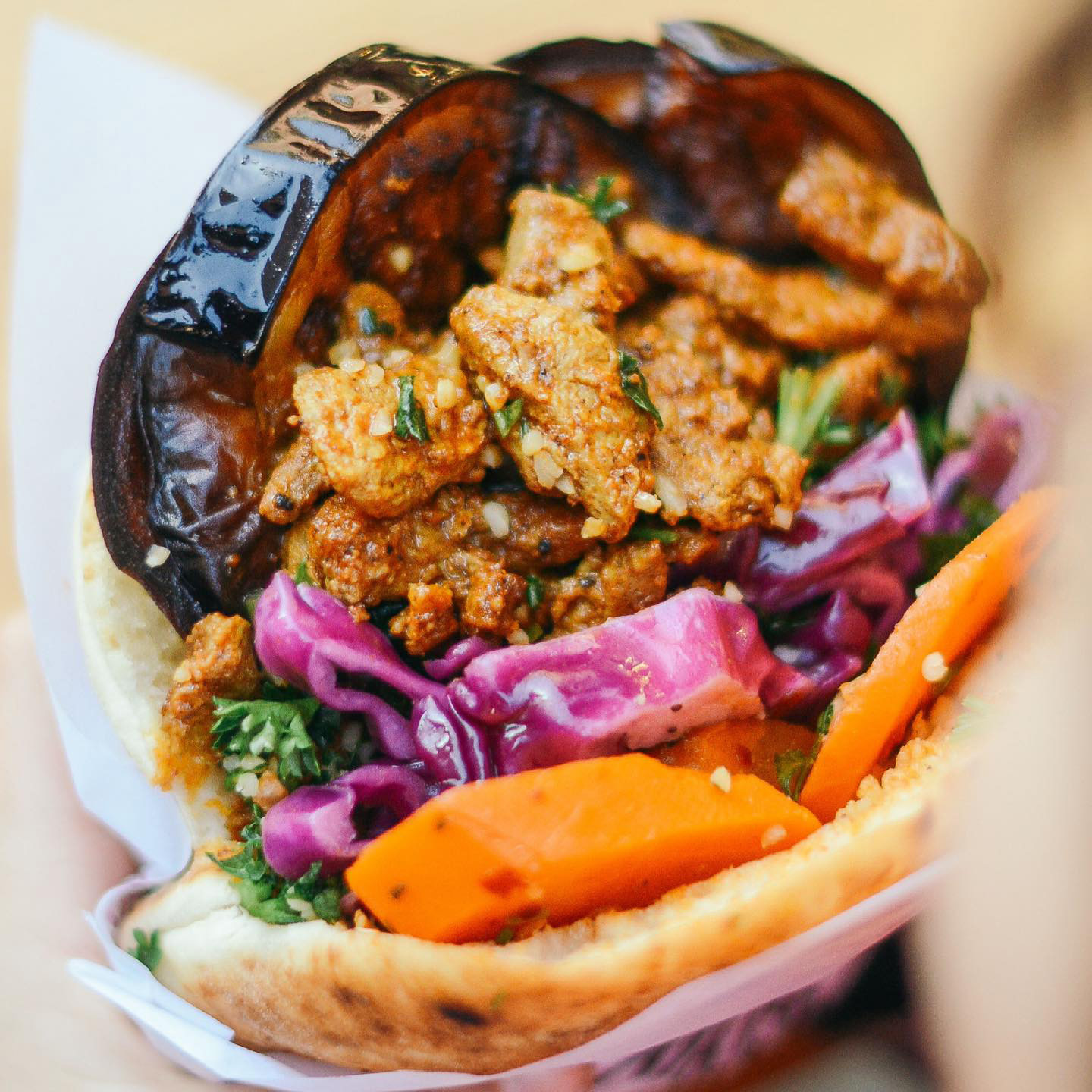 Multiple Locations
Vegan-Friendly
CAVA is a quick-service eatery that offers customizable bowls with your choice of a base, protein, dips, spreads, and toppings. Guests can choose from plant-based add-ins such as greens, grains, pita, red pepper hummus, falafel, roasted vegetables, pickled onions, Persian cucumber, and lentil tabbouleh. Not in the NYC area? The eatery also sells its hummus and dips in grocery stores (such as Whole Foods) nationwide, as well as in online shops like Central Market.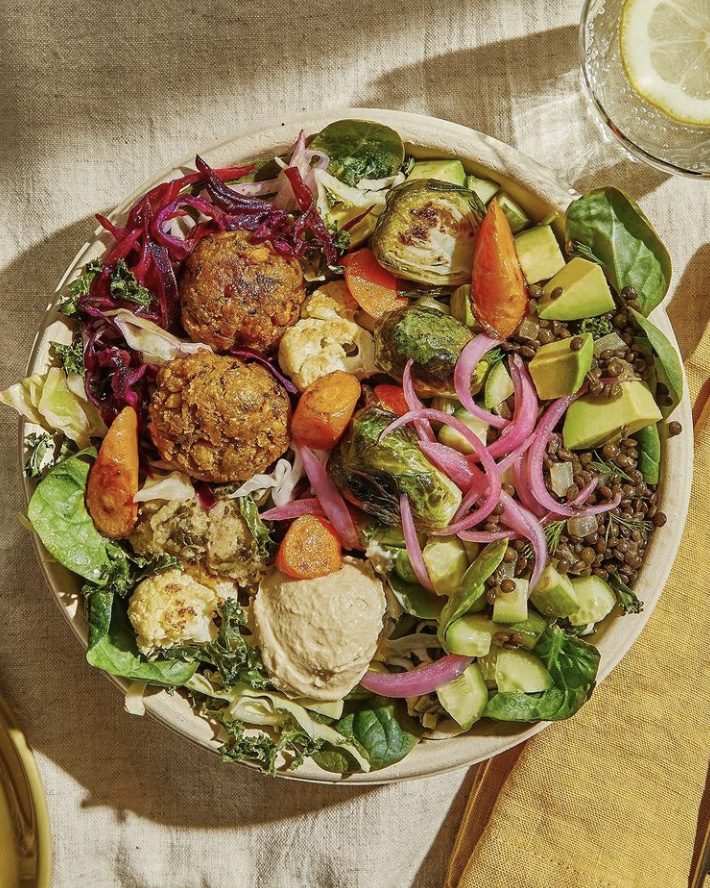 Manhattan
Vegan-Friendly
A taste of Lebanon in the Big Apple, this Midtown eatery offers a variety of plant-based salads, soups, appetizers, and sandwiches. Start your meal off with an order of Yara (tomatoes, cucumber, red onion, parsley, mint, pomegranate molasses, lemon juice, and olive oil), and Vegan Warak Einab (grape leaves stuffed with tomato, parsley, onion, dried mint, rice, lemon juice, and olive oil). For an entrée, we recommend the vegan okra (sautéed okra, sautéed onions, cilantro, garlic, tomato paste, and spices) paired with a glass of red wine—cheers!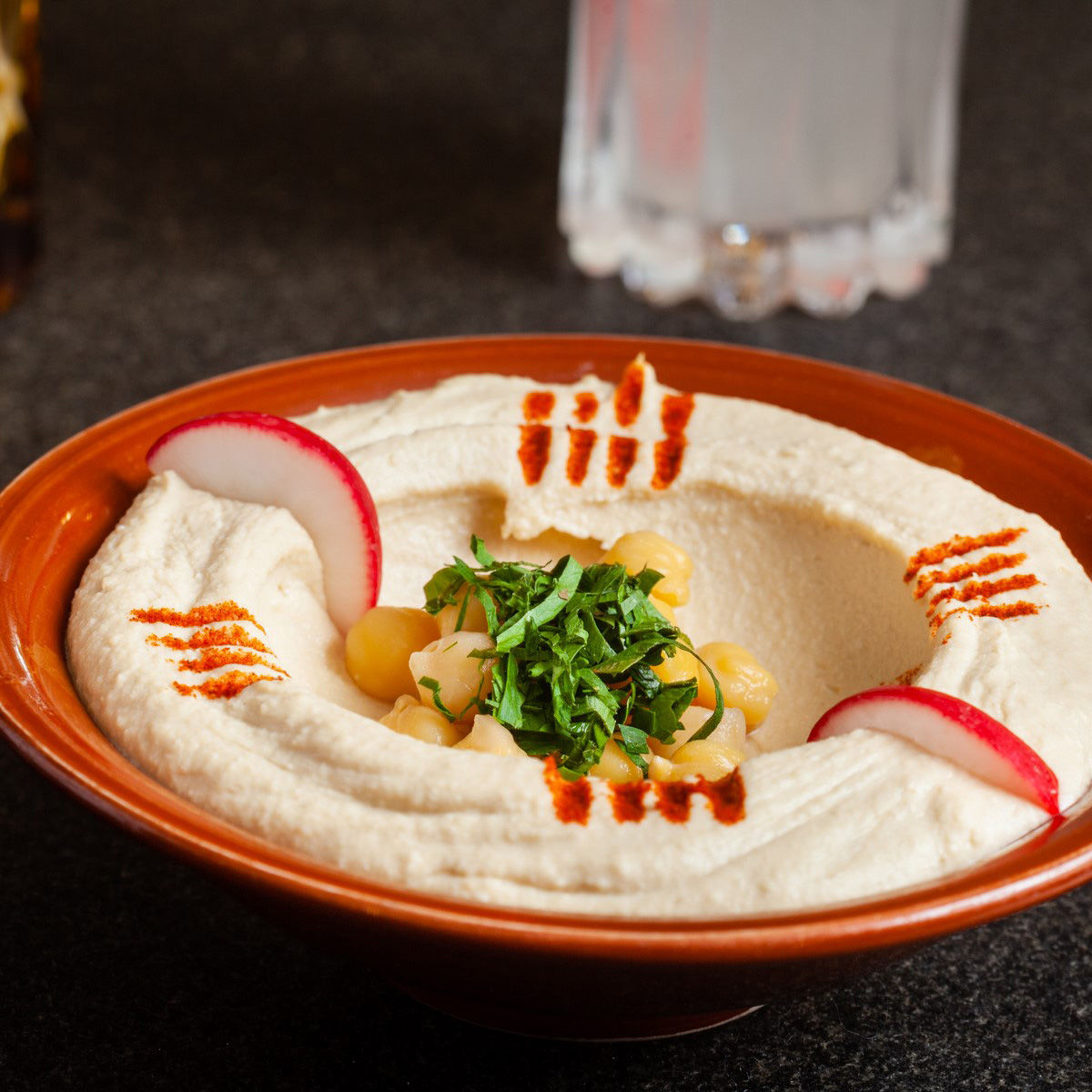 Manhattan
Vegan-Friendly
Nish Nush is a vegetarian restaurant that serves Israeli-inspired plates in the Tribeca and FiDi neighborhoods of Manhattan. Nosh on vegan eats like the Popeye sandwich (spinach and mushroom falafel, hummus, fresh spinach, red cabbage, and tahini), vegan shawarma, chili kale salad, and Falfilu (hummus plate topped with classic falafel, olive oil, and tahini). Wash it all down with a ginger and turmeric lemonade, or a Lemonana (homemade frozen lemonade blended with fresh mint).