Bring on the heat, because these innovative chili dishes are sure to spice up your life!
Nothing combats the harsh winds of the winter season quite like a bowl of warm chili. If you're looking for a new take on this comfort food classic, check out nine of the best vegan chili dishes nationwide!
New York, NY
Calling all environmentalists! Are you curious to see how your bowl of veggie chili stacks up against its meat-based counterparts? New York's Le Botaniste is here to show you the stats—and serve you a mouthwatering cup of this hearty stew, while they're at it! Their Spicy Chili Sin Carne features a flavorful batch of their fresh chili served on a bed of grains, with a dollop of sour cream and turmeric onion to top it off. Plus, they're proud to note that this plant-based plate emits 88% less CO2 than similar chili dishes that aren't vegan—so you can grub with confidence!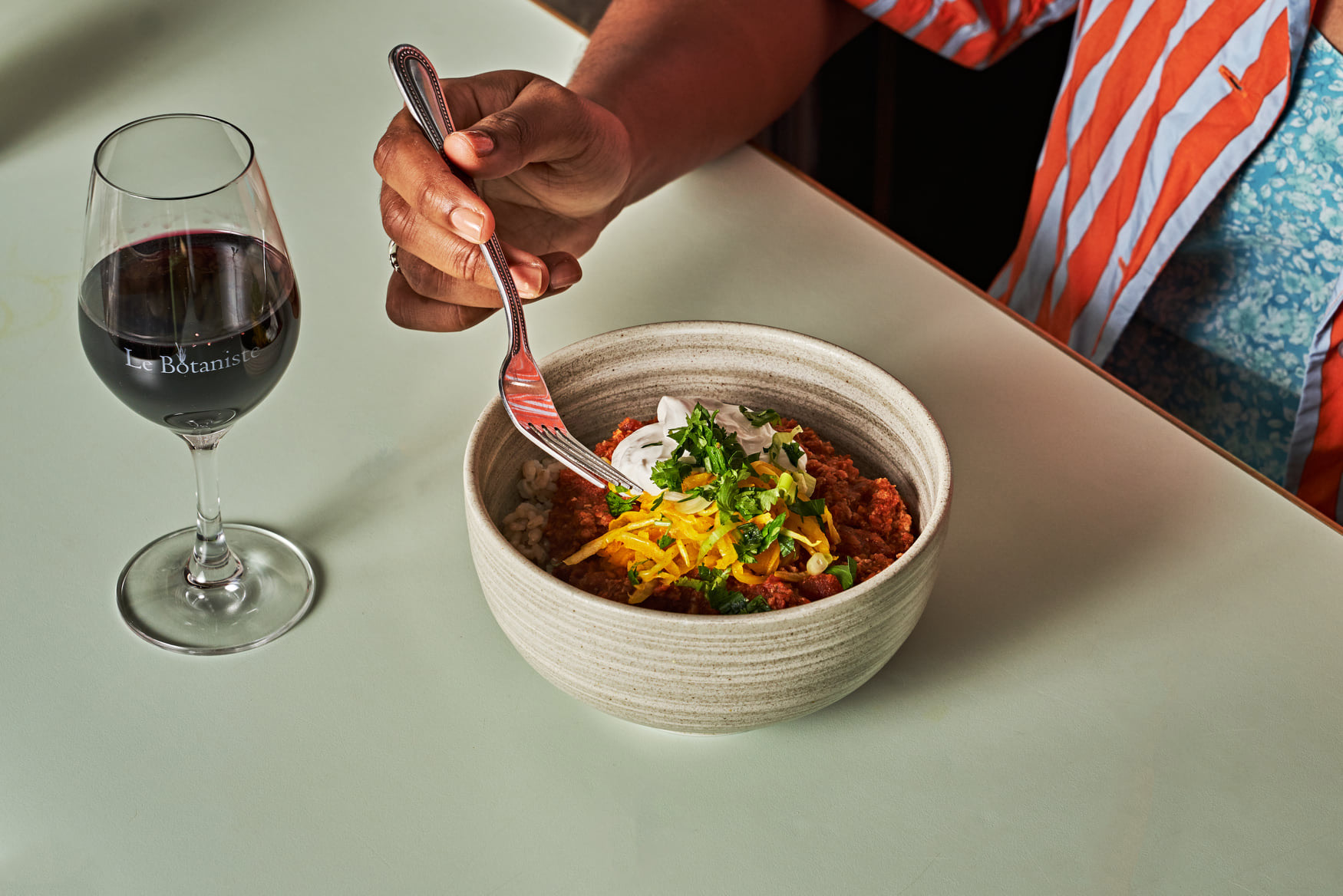 Keene, NH
As New Hampshire's best-kept vegan secret, The Farm Cafe—located in Keene—is a spot worth seeking out. Serving up 100% plant-based eats, The Farm Cafe certainly doesn't skimp on flavor! Chili lovers should check out their Chili Willie Bowl, made with their homemade vegan chili and topped with chopped onions, jalapeños, and freshly made guac. Served on a bed of rice, it doesn't get any better than this spicy dish!
Multiple Locations
This vegan oasis has everything a plant-based person—especially a vegan chili lover—could dream of. Fans of the hearty dish can add some onto a bunch of Loving Hut's signature selections or can order a cup on its own! Our advice? Try out their Chili Dawg (featuring their house chili, onions, tomatoes, and cilantro) or Chili Cheese Fries (loaded with vegan cheese, bell peppers, and onions) for an unforgettable dining experience. Don't forget to wash it all down with a Thai iced tea or other thirst-quenching beverage from Loving Hut's extensive drink menu! Menu items vary by location, so be sure to check with your local restaurant for specific offerings.
Columbus, OH
Tucked away in Columbus, Ohio, Woodhouse Vegan Cafe + Space is a one-stop spot for all your vegan needs. Their scrumptious Tri-Bean Chili + Cornbread is among the best of their plant-forward offerings! Loaded with kidney beans, black beans, pinto beans, fire-roasted tomato, sweet onion, and peppers, topped with cashew sour cream, scallions, and fresh jalapeño, and served with a side of jalapeño cornbread, this chili is no joke. You can even add it onto spaghetti to create their Skyline 5-Way dish! Trying to get the exclusive scoop? Check out the restaurant on Wednesdays to taste-test their Chili Cheese Dog, which comes packed with Woodhouse's famous tri-bean chili, nacho cheese, sweet onion, and fresh jalapeño stuffed inside a soft, buttery bun.
Telford, PA
Whether you want it plain or on a bed of creamy mac, Clean Roots Vegan has the perfect chili dish for you! Their standard house-made bowl is crafted with a flavorful combo of beef crumbles, veggies, chickpeas, pinto beans, and black beans to create a drool-worthy final plate! Looking for something a little more innovative? Grab a bite of Clean Roots Vegan's Comfort Mac—a fresh take on the childhood classic. Topped with their fresh chili, Beyond sausage pieces, and diced red onion, this is a fantastic meal to warm you up this winter!
Los Angeles, CA
Vegan-Friendly
Looking for some new ways to enjoy your favorite winter plate? Earle's on Crenshaw has some seriously tasty vegan offerings to keep you warm this season! Stick with the classic and order a bowl of hot chili, or if you're feeling adventurous, opt for their fan-fave Vegan Chili Cheese Fries, instead. Either way, we suggest you pack on their exhaustive list of veg-friendly toppings like ketchup, mustard, relish, vegan mayo, vegan chipotle mayo, BBQ sauce, ranch, tartar sauce, NY cooked onions, raw onions, hot mustard, jalapenos, sauerkraut, and more for maximum enjoyment!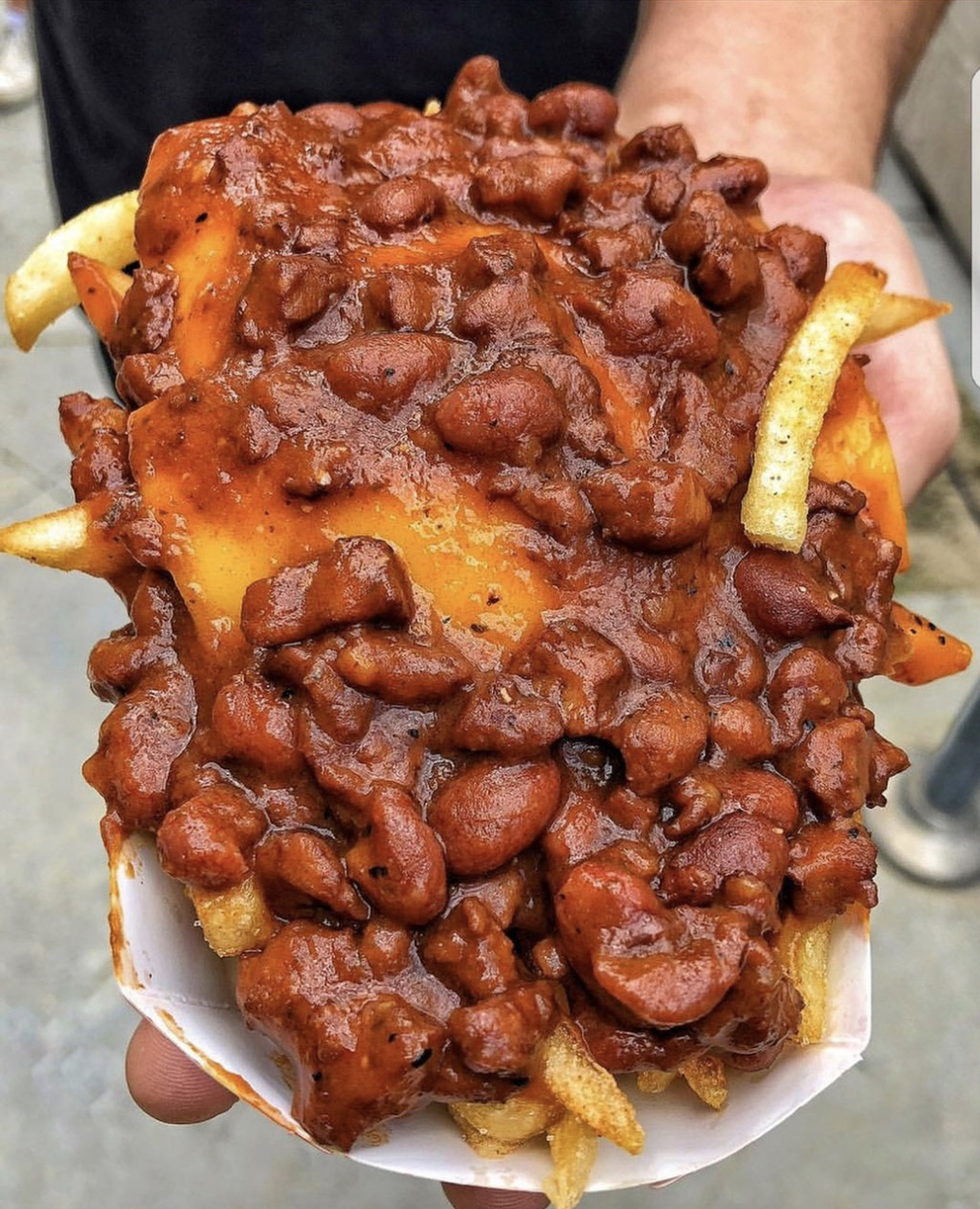 Photo credit: @forkmeetsfood on Instagram
Portland, OR
Vegan-Friendly
With beans, corn, and the rest of the works, Portland Kettle's Vegetarian Chili is one to add to your list of the best vegan chili hot spots to try. Skip the beef chili base and load up on Portland Kettle's veggie-filled dish! Still hungry? Why not give one of their other classic soups a try? Choose from options such as their vegetable soup, which comes filled with beans, carrots, potatoes, peas, and more, for some added veggie deliciousness!
Chicago, IL
Vegan-Friendly
Your favorite vegan-friendly restaurant in the Windy City is serving up some mean, chili-inspired dishes! Putting an innovative twist on classic comfort foods, Handlebar is a go-to for tasty meals that satisfy all your flavor cravings. While you can play it safe with a cup of their hot, freshly made vegan chili, we suggest you try a bite of their homemade specialty—the Vegan Chili Mac Attack. A delightful combo of their vegan mac 'n' cheese and their chili, Handlebar's signature dish also packs in some cashew queso, pickled jalapenos, pico, and tortilla crisps!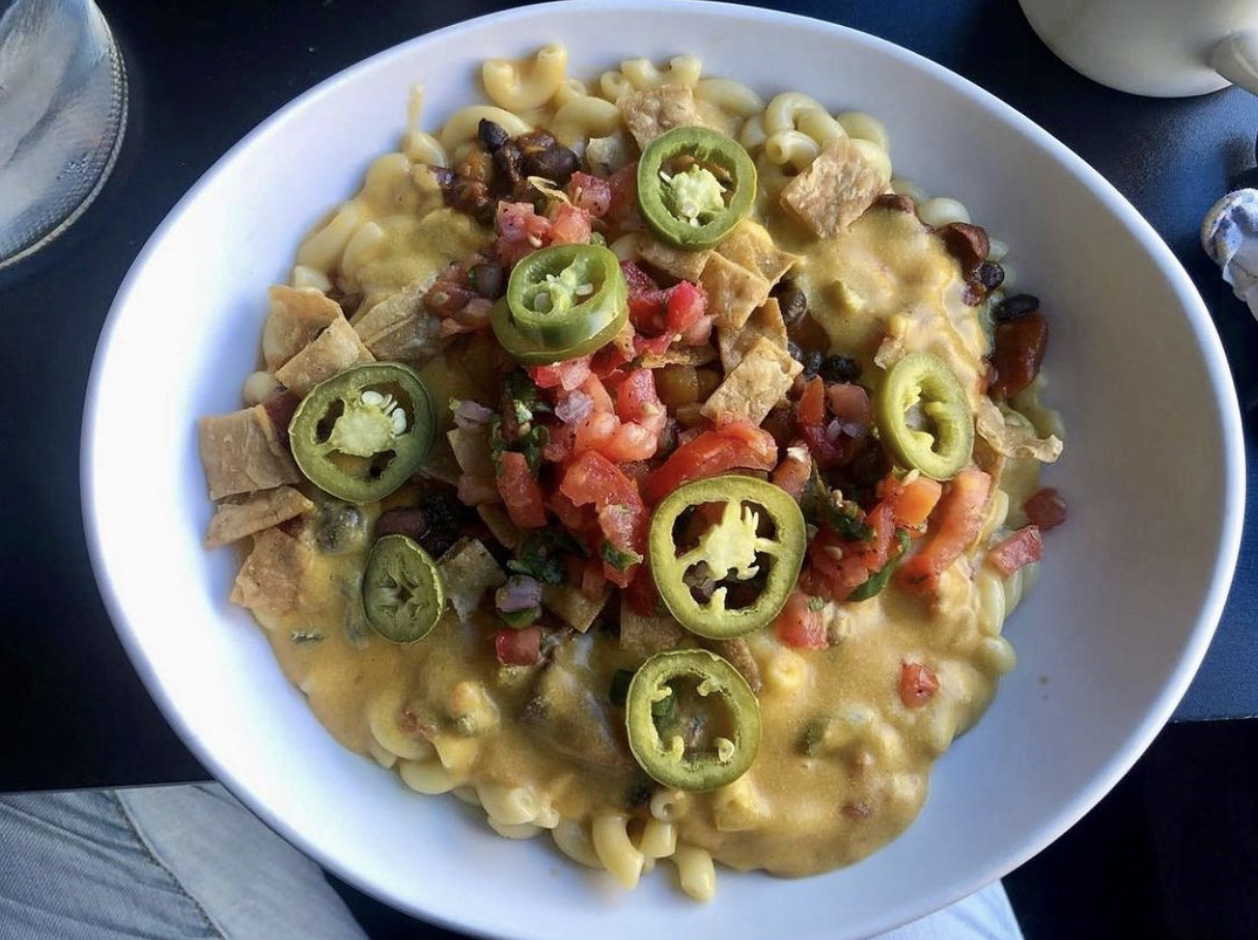 Photo credit: @chillveganla on Instagram
Cincinnati, OH
Vegan-Friendly
Serving authentic Cincinnati-style chili, OTR Chili is the best of the Midwest! Craving a hot cup of tomato-ey goodness? Go for a bowl of OTR Chili's Vegetarian Chili, featuring a bold blend of beans and veggie soup base. Want to elevate your experience? Pair this savory dish with a selection from their drink menu, like one of their signature cocktails or wines on draft. There's no better pick-me-up than this unstoppable combo!