Pumpkin spice season has officially started!
Can't get enough pumpkin spice this fall? Neither can we! Offering everything from pumpkin spice kombucha to pumpkin-shaped pasta, Sprouts has some exceptionally festive options to bring fall flavors right to your table. Check out our list below of vegan pumpkin products at Sprouts!
Pumpkin Spice Instant Oatmeal
A warm bowl of oatmeal is the best breakfast to enjoy on a cool fall morning. But the Pumpkin Spice Instant Oatmeal at Sprouts takes this humble dish to the next level. This pumpkin-flavored breakfast couldn't be easier to make either—just combine with hot water, wait two minutes, and you're all set! Each box comes with eight separate oatmeal packets that you can enjoy cooked on their own, or topped with a little cinnamon and sugar for added fall flair.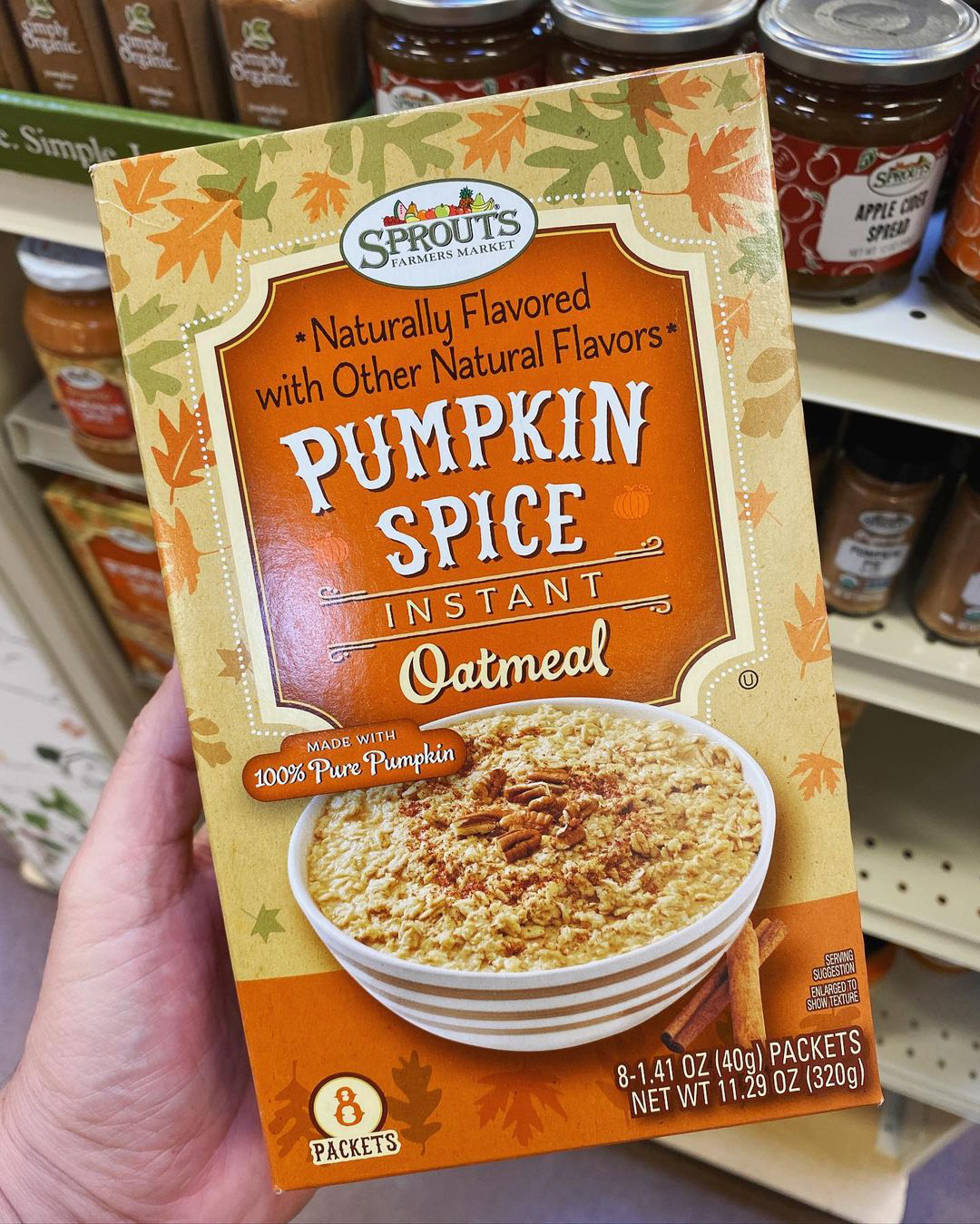 Photo credit: @bigboxvegan on Instagram
Organic Pumpkin Spice Kombucha
Die-hard kombucha fans are in luck—Sprouts' Organic Pumpkin Spice Kombucha is the perfect way to celebrate the changing seasons. Flavored with ginger, cloves, nutmeg, cinnamon, allspice, agave, and pumpkin, this black tea-based kombucha allows you to quite literally spice up your normal kombucha routine with these classic autumn flavors!
Photo credit: @selfcareforkristal on Instagram
Pumpkin Spice Spread
Seasoned with the classic trio of cinnamon, ginger, and nutmeg, this Pumpkin Spice Spread has no limits in terms of how it can be used in your kitchen. There are many ways you can incorporate this festive spread into your diet, beyond spreading it onto a piece of toast. Use it to top off pancakes, swirl it into cookie batter, or add it to a savory dish as a glaze—we promise you won't be disappointed!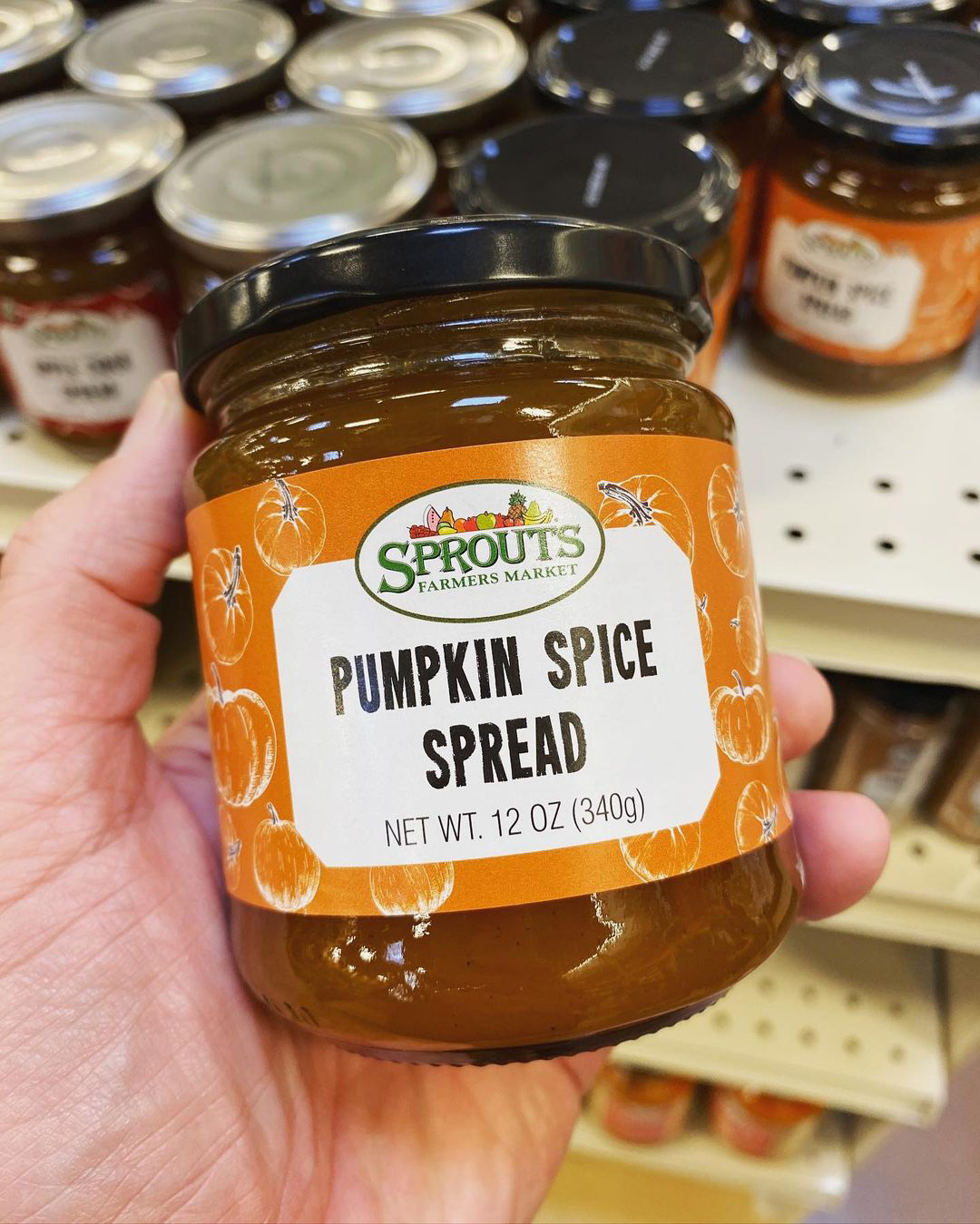 Photo credit: @bigboxvegan on Instagram
Pumpkin Spice Almond Butter
Sprouts' Pumpkin Spice Spread isn't the only tasty fall-inspired topping you can enjoy this autumn season—their Pumpkin Spice Almond Butter is deliciously festive, too! As a twist on their classic creamy almond butter, this limited-edition pumpkin version is made up of three simple ingredients—roasted almonds, sugar, and natural pumpkin spice. Pair with toast or mix into smoothies.
Photo credit: @bigboxvegan on Instagram
Organic Pumpkin Spice Applesauce
Pumpkins and apples are both quintessential fall flavors, so what could be better than a tasty snack that combines the two? Sprouts' Organic Pumpkin Spice Applesauce is organic, non-GMO, and equipped with a festive ingredient mix of apples, pumpkin puree, carrot juice, and spices. Aside from being enjoyed on its own, this sweet and spicy sauce is perfect for incorporating into baked goods, adding additional moisture into your tasty fall treats!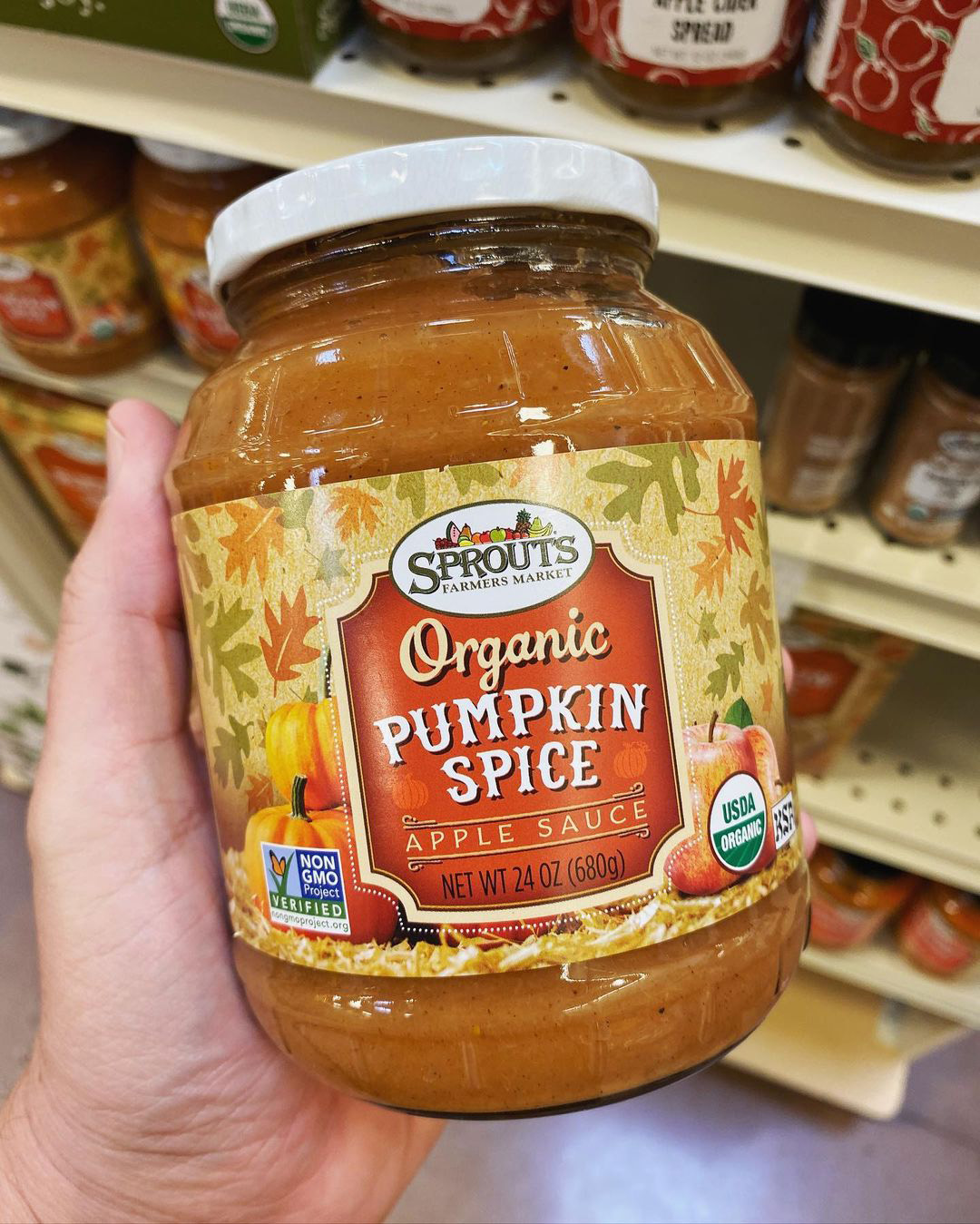 Photo credit: @bigboxvegan on Instagram
Organic Pumpkin Shaped Zucchette
The Organic Pumpkin Shaped Zucchette at Sprouts is not only adorable, but is a tasty way to get in the holiday spirit! Made with a combo of semolina, vegetables, and spices, these pumpkin-shaped noodles are both delicious and nutritious, guaranteed to please kids and adults alike. Want to make this yummy pasta extra-festive? Pair it with a creamy pumpkin sauce and some fall vegetables.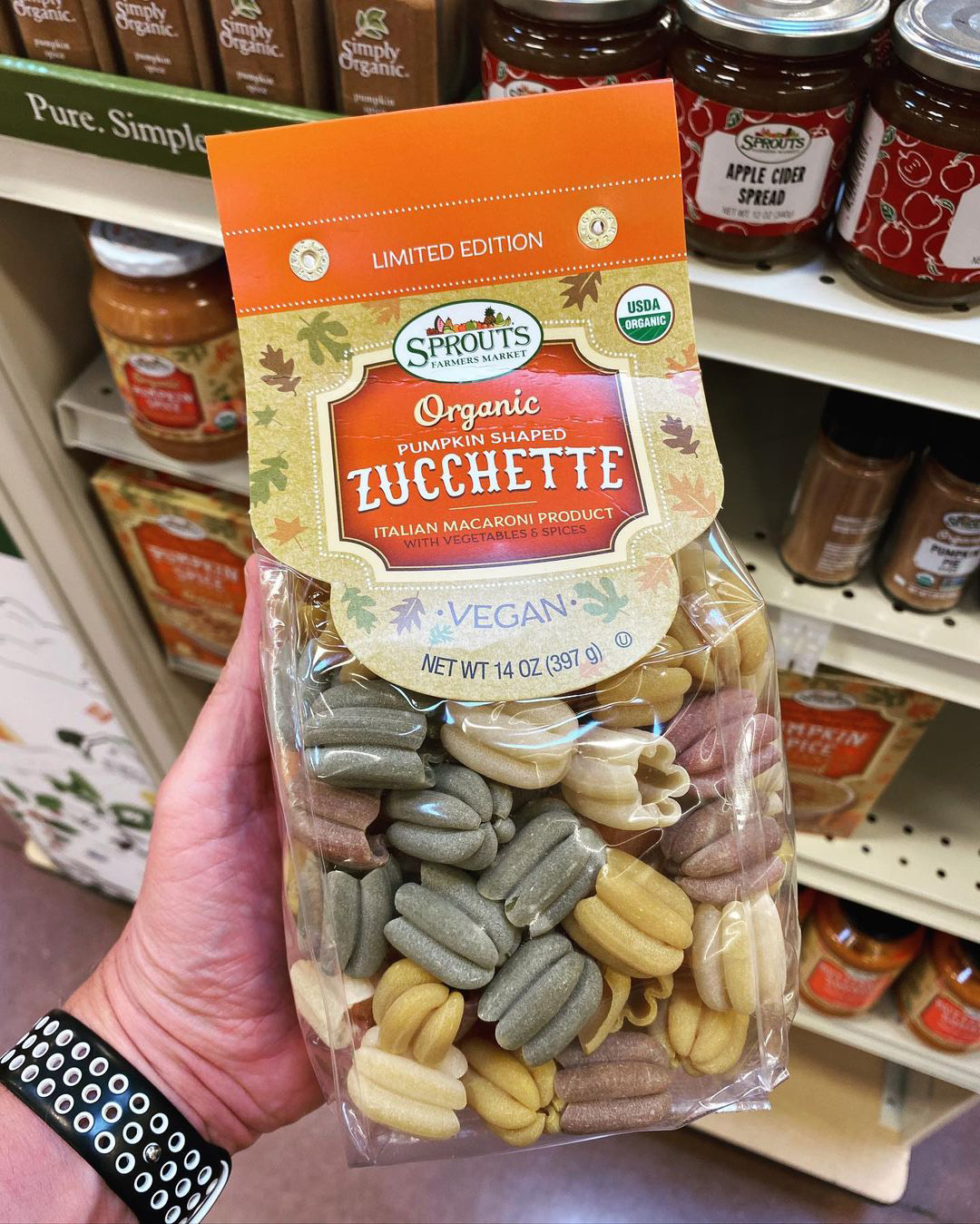 Photo credit: @bigboxvegan on Instagram
Organic Pumpkin Spiced Apple Cider
With Sprouts' Organic Pumpkin Spiced Apple Cider, you can enjoy your favorite fall beverage, with an added twist. Flavored with organic apple juice and pumpkin puree, this cider is certain to put you in the fall spirit. While you can thoroughly enjoy a glass of this tasty juice cold, warm it up before serving to give it that extra fall kick—best enjoyed on a crisp autumn day.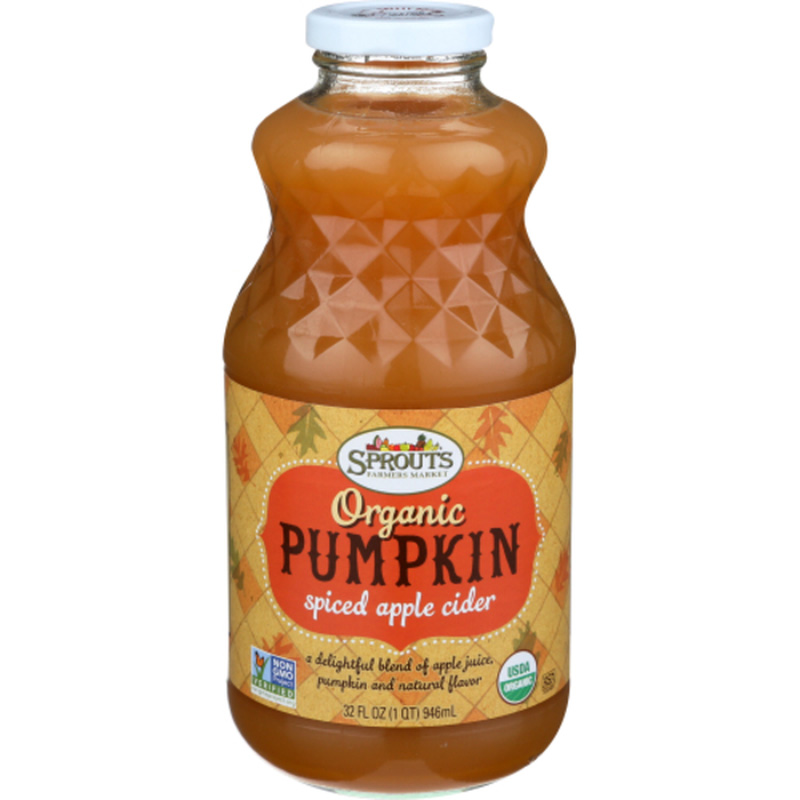 Pumpkin Spice Ground Coffee
If you need a little more caffeine in your morning beverage of choice, then Sprouts' Pumpkin Spice Ground Coffee is the option for you! This 100% arabica coffee is spiked with natural flavors, making it the perfect way to start off a cool fall day. Sprouts also offers their pumpkin spice ground coffee in eco-friendly pods, as well.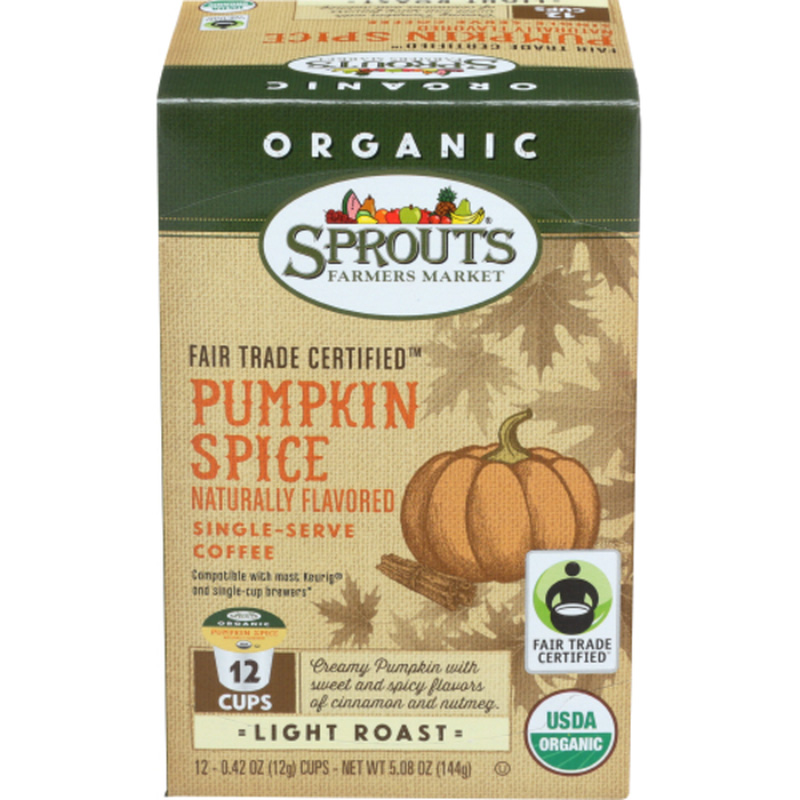 Old-Fashioned Pumpkin Snaps
Looking for a sweet vegan pumpkin spice treat? You're in luck, because Old Fashioned Pumpkin Snaps are here, and they're a must-buy! Filled with pumpkin puree and an assortment of seasonal spices, they are guaranteed to become a staple on your fall grocery shopping list. Craving more pumpkin? Pair these crunchy cookies with a cup of Sprouts' Pumpkin Spice Ground Coffee to get the full autumn experience!