July 6th is National Fried Chicken Day, and what better way to celebrate than with some of the best vegan fried chicken that LA has to offer? From crunchy chicken sandwiches dripping with coleslaw and tangy hot sauce to baskets full of crispy seitan chicken, here are some of our favorite spots to get your fried chicken fix this weekend.
RELATED: 5 Los Angeles Restaurants Offering DIY Vegan Taco Kits
---
Want even more LA vegan news, food, and lifestyle content? Subscribe to VegOut LA Magazine!
Lettuce Feast
Food Truck
You may recognize Lettuce Feast as "that food truck with the giant line" at Vegan Exchange way back when. Ask any one of those people in that line, and they'll tell you the same thing: "It's worth it!" The food truck is still popping up daily, but to minimize contact, they are only accepting orders via their website. Try their Psychedelic Sando: deep-fried and breaded oyster mushrooms, tangy slaw, and a special marinade.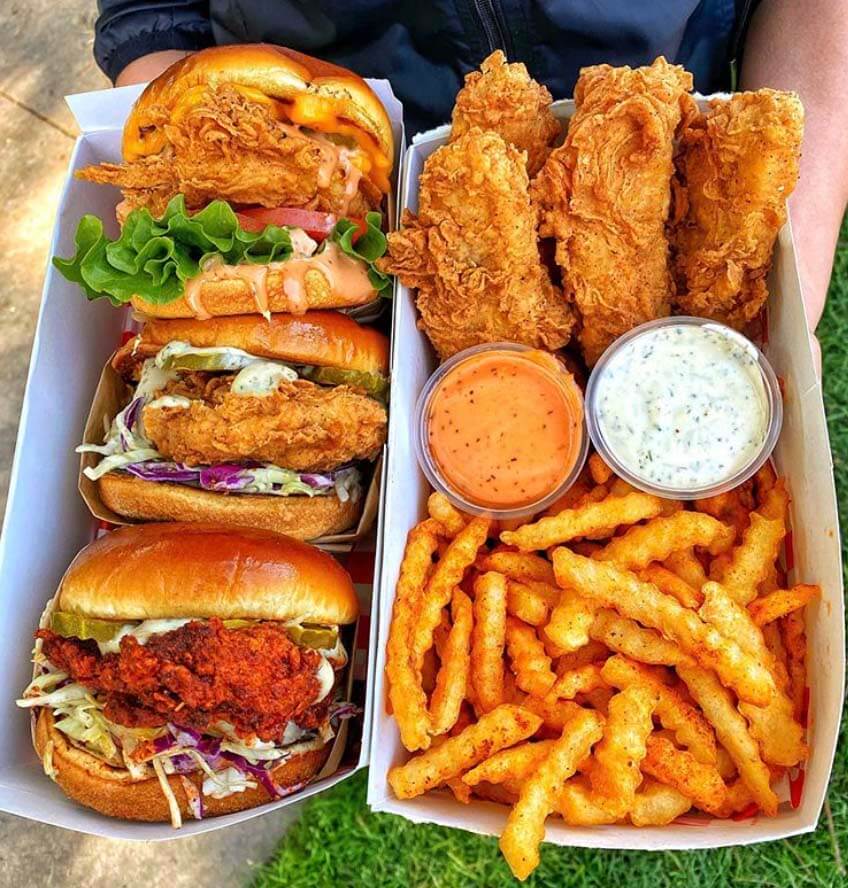 Compton Vegan
West LA and Delivery
Compton Vegan is making life easy for you. Text them your order (menus posted on Instagram) and where you'd like to pick up (either in Compton or from The Colony in Santa Monica). That's it! The selection rotates daily, but don't sleep on their Fried Chik'n Plate when they have it! You'll enjoy breaded and fried chick'n, cashew mac 'n' cheese, collard greens, baked beans, and cornbread.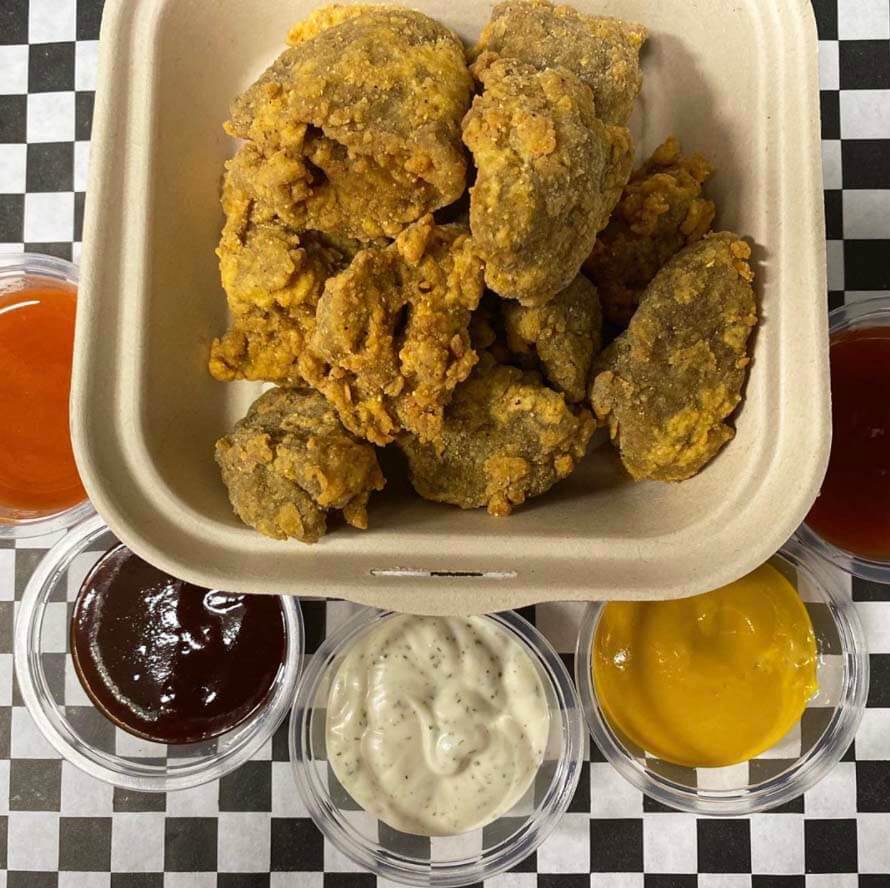 Rockin Hot Chickun
Food Truck
This popular food truck has resumed its post at Block Party in Highland Park, where you can either order at the window or by text before you arrive. If you're in the mood for something new, try their Korean Fried Chick-un Sammie. House-made kimchi pickles and kimchi vinaigrette slaw atop battered patties smothered in chili garlic aioli and a gochujang glaze make for a sandwich you won't soon forget.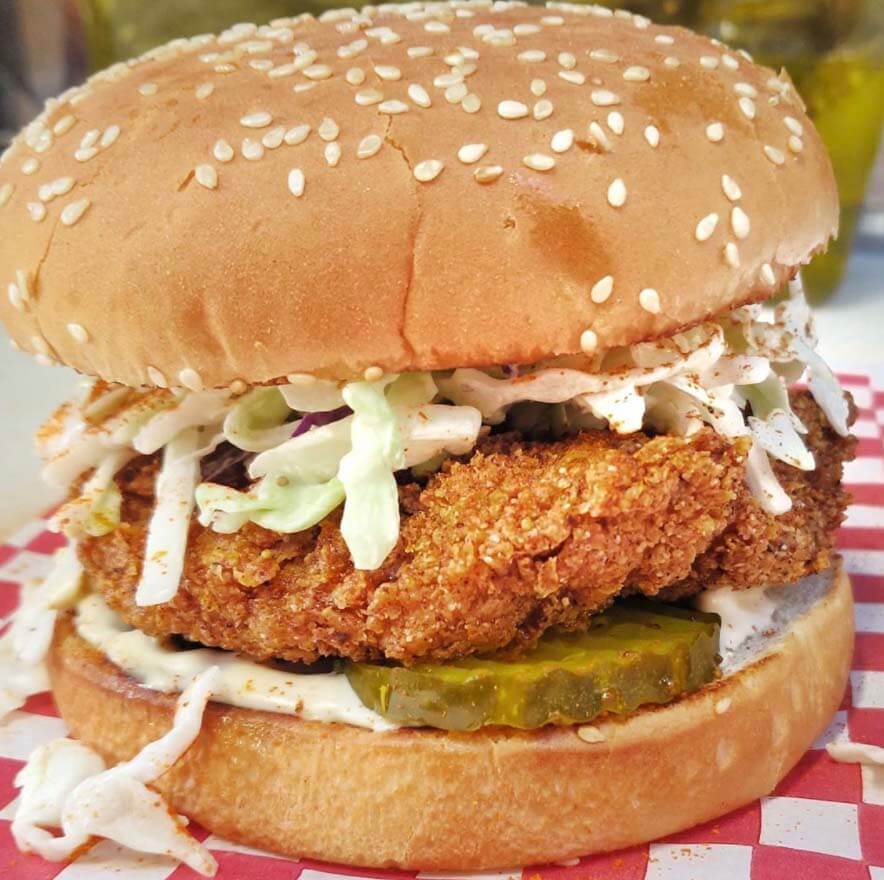 Doomie's
Hollywood
Calling all night owls! Doomie's is open 24/7 on the weekends starting at 9am on Fridays. So when you're feeling those late night munchies, just head over to their website to easily order pickup or delivery. Doomie's is known for their vegan fried chicken, and there are plenty of ways to enjoy it. But the best way to celebrate National Fried Chicken Day is with their bestseller: The Fried Chicken Basket. One "leg," one "breast," a side of fries and a cup of their creamy mac 'n' cheese will have you on your way to a glorious food coma.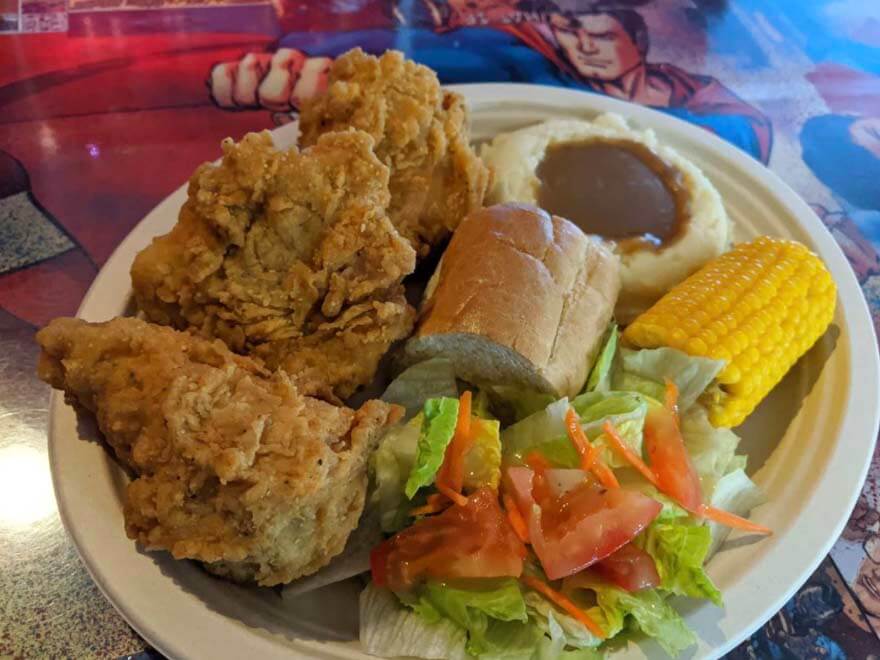 The VTree
Hollywood
This new plant-based soul food experience inside the Yamashiro is quickly taking the LA food scene by vegan storm. A partnership between Nick Cannon and celebrity chef, Chef Velvet, The VTree has every type of fried chicken you could hope for. Craving something sweet and savory? Their Chic'n & Waffles is the perfect combination. Looking for a Fried Chicken Plate? Theirs comes complete with mac 'n' cheese, veggies, cornbread, and vegan shrimp. And if you're looking for the most flavorful vegan drumsticks in the game, The VTree's take includes 32 spices and a perfect, flaky batter.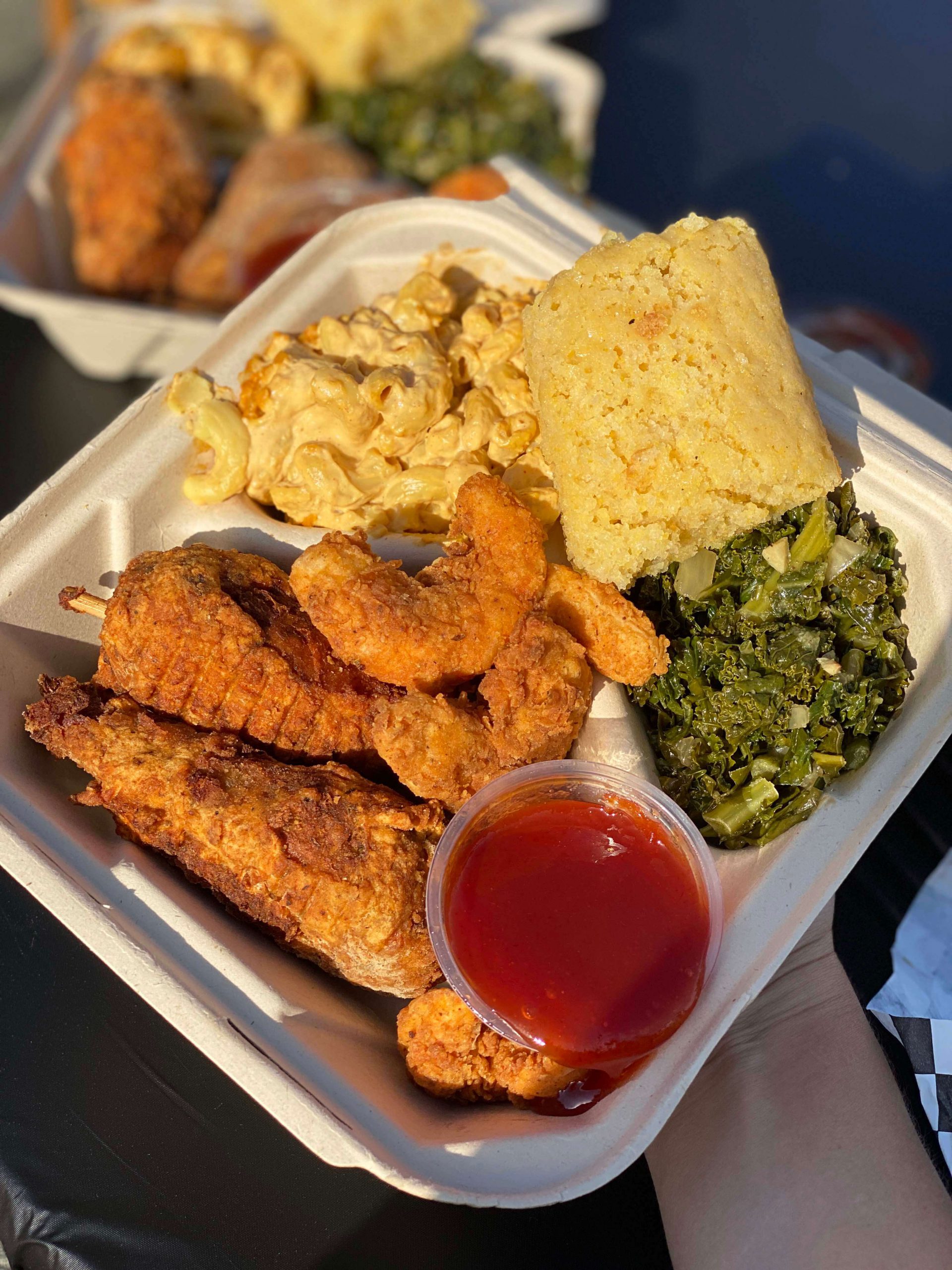 Modern Shaman
Whittier
Modern Shaman is a haven when you find yourself on the outskirts of LA with a craving for some good vegan comfort food. They're not open for dine-in, but you can order takeout or delivery every Wednesday through Sunday. While they have a few fried chicken sandwiches on the menu, don't miss out on the No-Clucks-Given sandwich, which comes topped with mushroom country gravy and turmeric-infused mashed potatoes.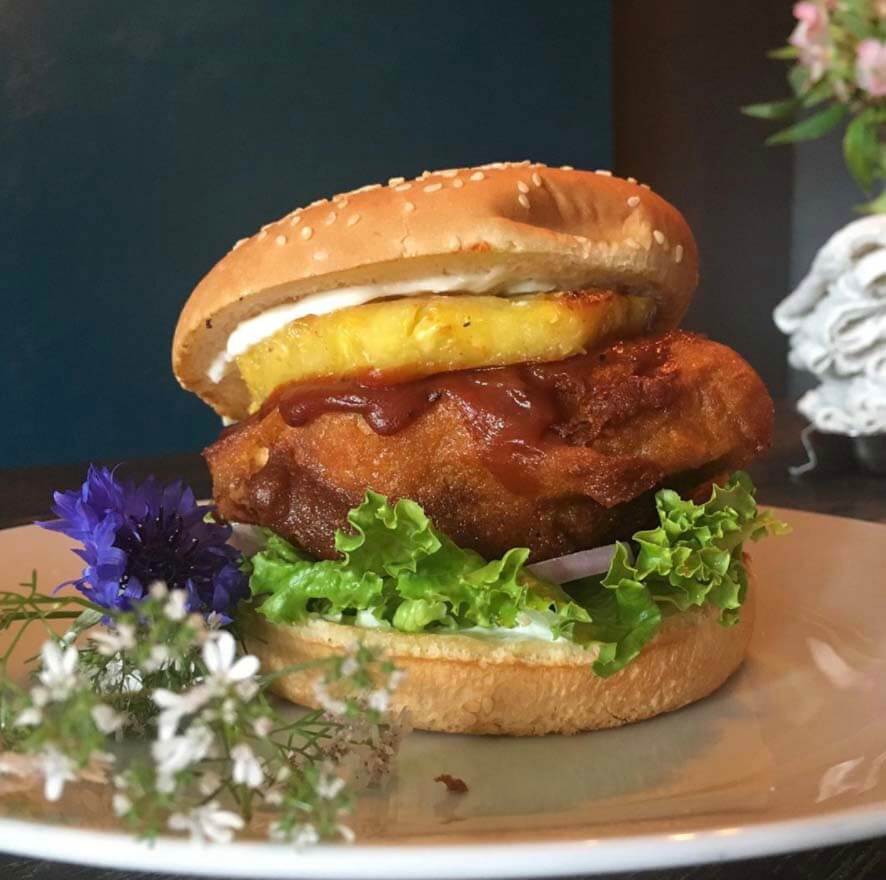 Veggie Fam
Pop-up
Veggie Fam is currently working out of The Good Vegan Market in Fountain Valley, where they are filling pre-orders and shipping nationwide! If you're in the mood for one of the best vegan chicken sandwiches around, hop on over to their website, where you can avoid a line and choose a time slot to pick up your order. If you're a fan of spicy, we recommend their OG Hot Fried Chick'N Sandwich. Dripping with creamy slaw and housemade "zangy" sauce, this sandwich will have you saying "it tastes just like chicken!"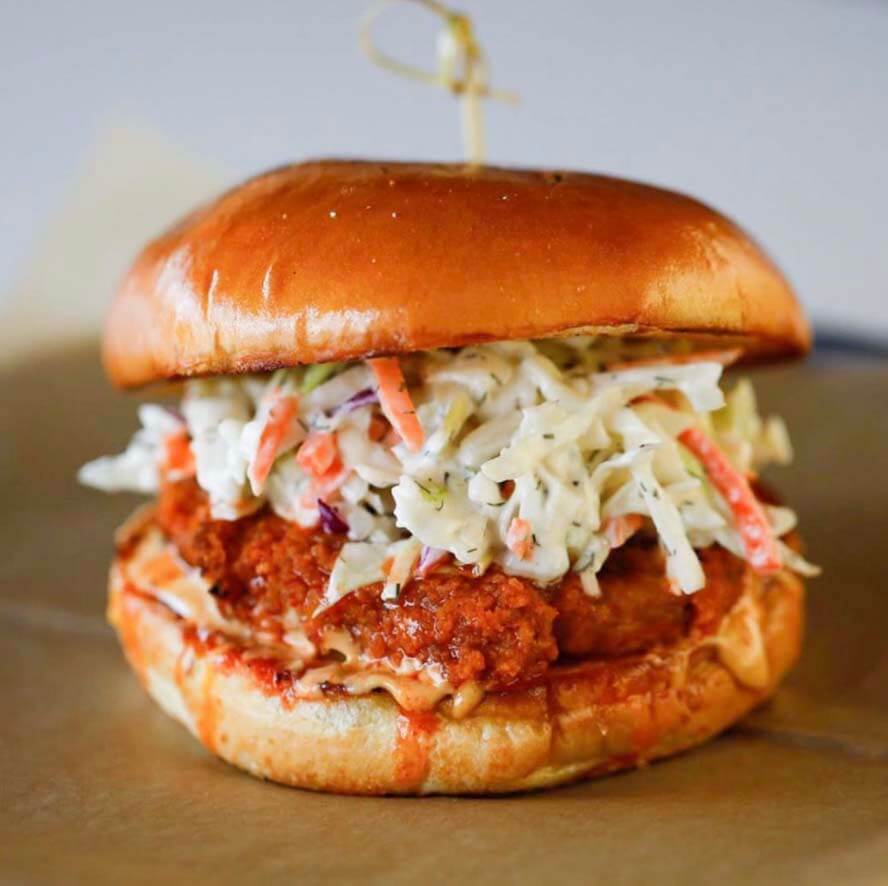 Wherever you choose to celebrate, make sure to tag @vegoutlosangeles on all your drool-worthy pictures!
Feature image: Veggie Fam