It's no secret that Southeast Asian dining is very community oriented—from the way the food is prepared to how it is eaten. With a great love for stir-frying and savory vegetables, we've compiled a list of restaurants that you need to try out if you're looking for a transformative dining experience. While these spots differ in offering a la carte style and authentic family-style dining experiences, the bold flavors and nostalgia of Southeast Asian-style cooking are sure to delight everyone in your party when you go to these vegan and vegan-friendly restaurants!
Los Angeles, CA
As a completely plant-based Vietnamese restaurant, Au Lac's cuisine is very accommodating of a vegan diet—offering gluten-free and nut-free options as well! With two locations, one in Los Angeles and one in Fountain Valley (Orange County), their different menus offer a variety of options with more traditional dishes like Pho and Mai Banh Mi, along with some innovative creations. With signature dishes like the Spicy Calamari (made with perfectly seasoned and battered eryngii mushrooms) and the Ravioli Rosa (smothered in a sun-dried tomato and macadamia cream sauce)—Au Lac reinvents European classics with a Southeast-Asian flare. Fan favorites like the Garlic Basil Noodles and Curried Rice are a must-try!
New York City, NY
Located in the heart of Chelsea, Glur Thai boasts vegan-friendly Thai comfort food accommodating several dietary restrictions. Aside from offering delicious vegan appetizers like Vegetable Spring Rolls and Park Mor (Homemade Thai Crepes), Glur Thai whips up several vegan specials with both plant-based chicken and Impossible Meat. Turning classic Thai staples like Khao Mun Gai Tod and Larb into vegan delicacies, you can be confident in Glur Thai's plant-based offerings. Finish up your meal with a plant-based dessert—either Kao Tom Mud, a banana and sticky-rice dessert wrapped in banana leaves, or Khanom Tuay, a heavenly coconut milk pudding.
Los Angeles, CA
With two Los Angeles area locations, Vinh Loi Tofu is a fully vegan Southeast Asian-inspired restaurant boasting authenticity and fresh ingredients. Popular dishes include the Fried Egg Rolls, Udon Stir Fry, and the Kevin #1 Soup (Bun bo Hue), featuring rice noodles, vegan chicken, vegan ham, shiitake mushrooms, and broccoli in a spicy lemongrass broth. Additionally, with most dishes, you can choose a protein option to add to your meal—either duck, chicken, beef, ham, or fried tofu.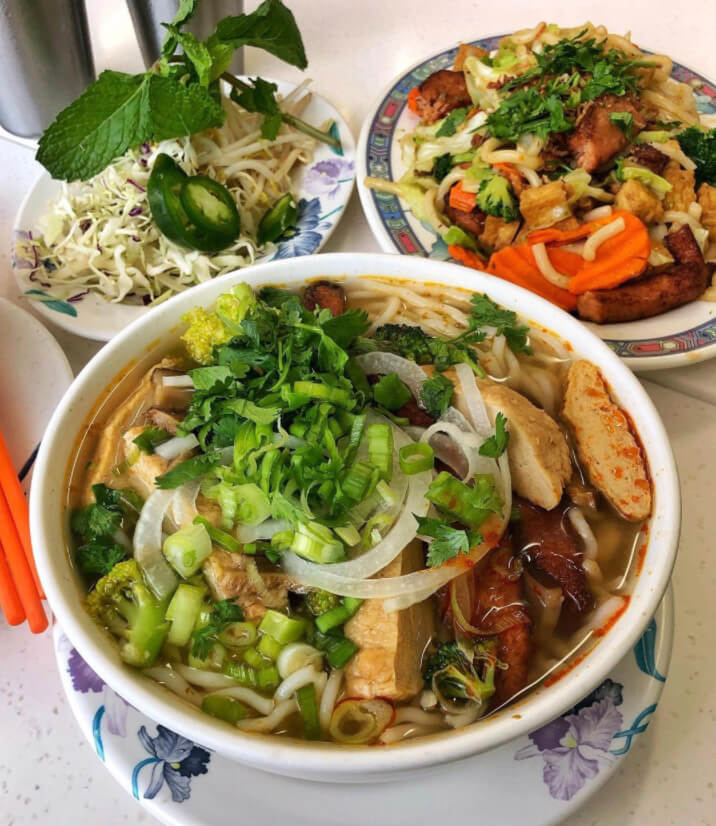 Photo credit: @goveganfoodie on Instagram
Seattle, WA
Serving delicious 100% vegan Vietnamese food, ChuMinh Tofu and Vegan Deli is a popular Seattle takeout restaurant for both vegans and non-vegans alike. Fan favorites include the Vegan Egg Roll and Spicy Tofu Banh Mi, served with a homemade vegan mayo and sweet & sour daikon carrot, making for a delicious vegan sandwich option. If you're looking for a light bite as well, ChuMinh offers Vietnamese coffee and Real Fruit Bubble Tea, with flavors including avocado, mango, blueberry, and taro.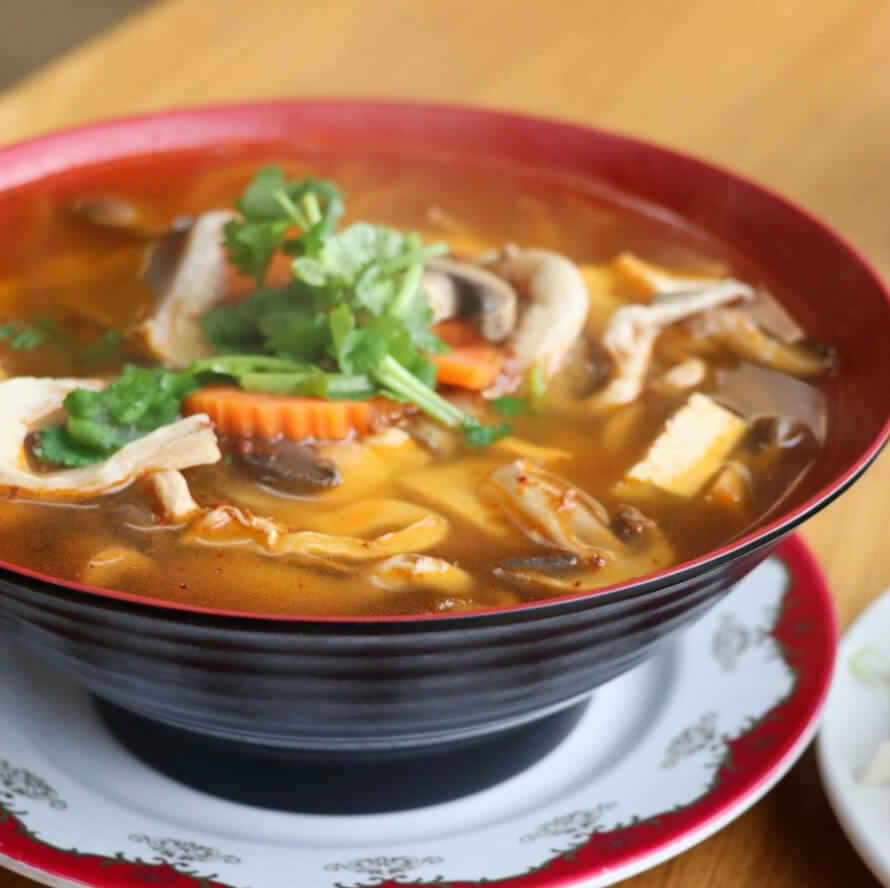 New York City, NY
Aptly dubbed "New York's First Vegan Filipino Restaurant," Saramsam is a plant-based homestyle Filipino restaurant that specializes in family-style dinners. Their Kamayan Feast option comes with Kinirog (garlic fried rice), Lumpia (crunchy spring rolls), Tokwat (silken crispy tofu), Pancit Canton (noodles with Impossible ragu), Binagoongan (root vegetables and black beans), and more. Opt to dine in and have your meal served on banana leaves for the entire table, or get your feast delivered to your home and assemble it yourself.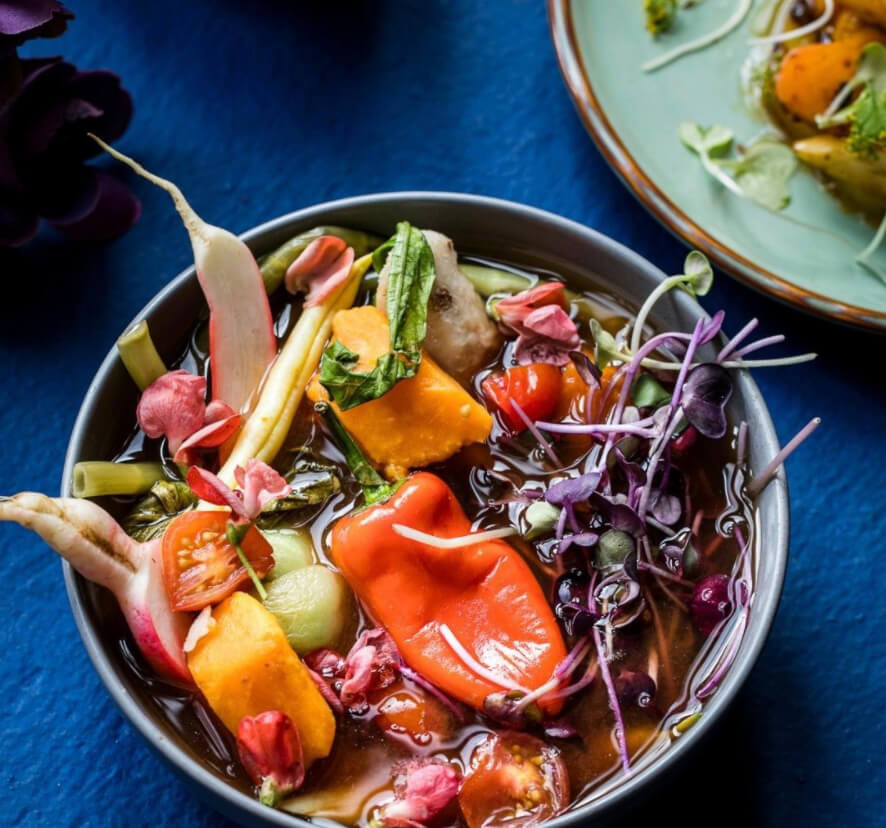 Los Angeles, CA
Nestled in the heart of Venice, Wallflower serves up Indonesian-inspired street snacks and family-style dinners. Not only are they vegan-friendly, but they have a plethora of vegetarian and gluten-free options, as well. You can start off your meal with street snacks like Tahu Gejrot (a delicious tofu fried and seasoned with tamarind, chili, shallots, garlic, and scallions) or Som Dtam Salad (a spicy salad made with green papaya, jicama, and Thai chili). For more substantial dishes, try their Japanese Curry with eggplants, potatoes, and bamboo shoots, or their Kwee Tiauw Goreng, with Chinese wide rice noodles, sambal, bean sprouts, bok choy, and wok-tossed tofu. Wallflower also boasts a wide variety of signature cocktails, like the Empress of Bali, that you can pair with one of these amazing dishes!