From classic and Nashville hot to mango habañero and Korean-style, LA has quite the selection of vegan fried chicken sandwiches! They're savory, crispy, flaky, and downright drool-worthy. Ready to dig in? Keep reading to find out where you can order these handhelds.
Food Truck
Do the sandwiches from this all-vegan food truck look familiar? That's because they were featured on the cover of our Black Lives Matter magazine issue! Lettuce Feast's hot handhelds are made with super realistic-tasting fried chicken patties that can be ordered in a wide array of spice levels. Laid between the most beautifully buttered buns you ever did see with vegan cheddar cheese, ranch, and secret sauce, each bite is bursting with flavor.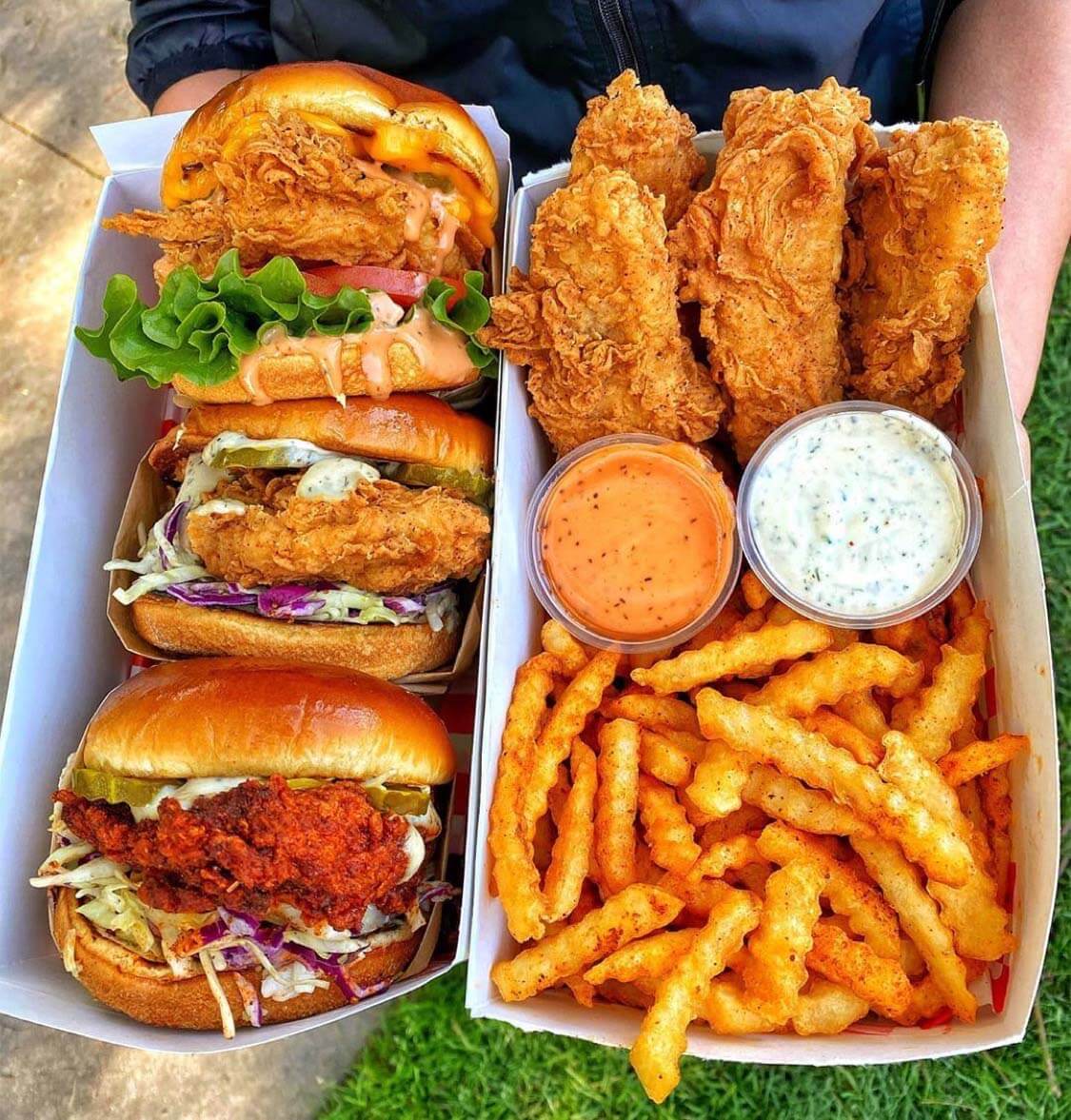 Koreatown and Food Truck
What started as a food truck that served Chick'n Buckets has turned into a brick-and-mortar restaurant and a food truck with the same great Chick'n—now in many varieties. Original Herbivore's Buffalo Chick'n Sandwich showcases their famous house-made vegan fried chicken that's doused in buffalo sauce and layered with pickles, cheese sauce, slaw, and garlic aioli. Alongside some fries and drool-worthy dipping sauces, we can't think of a better meal!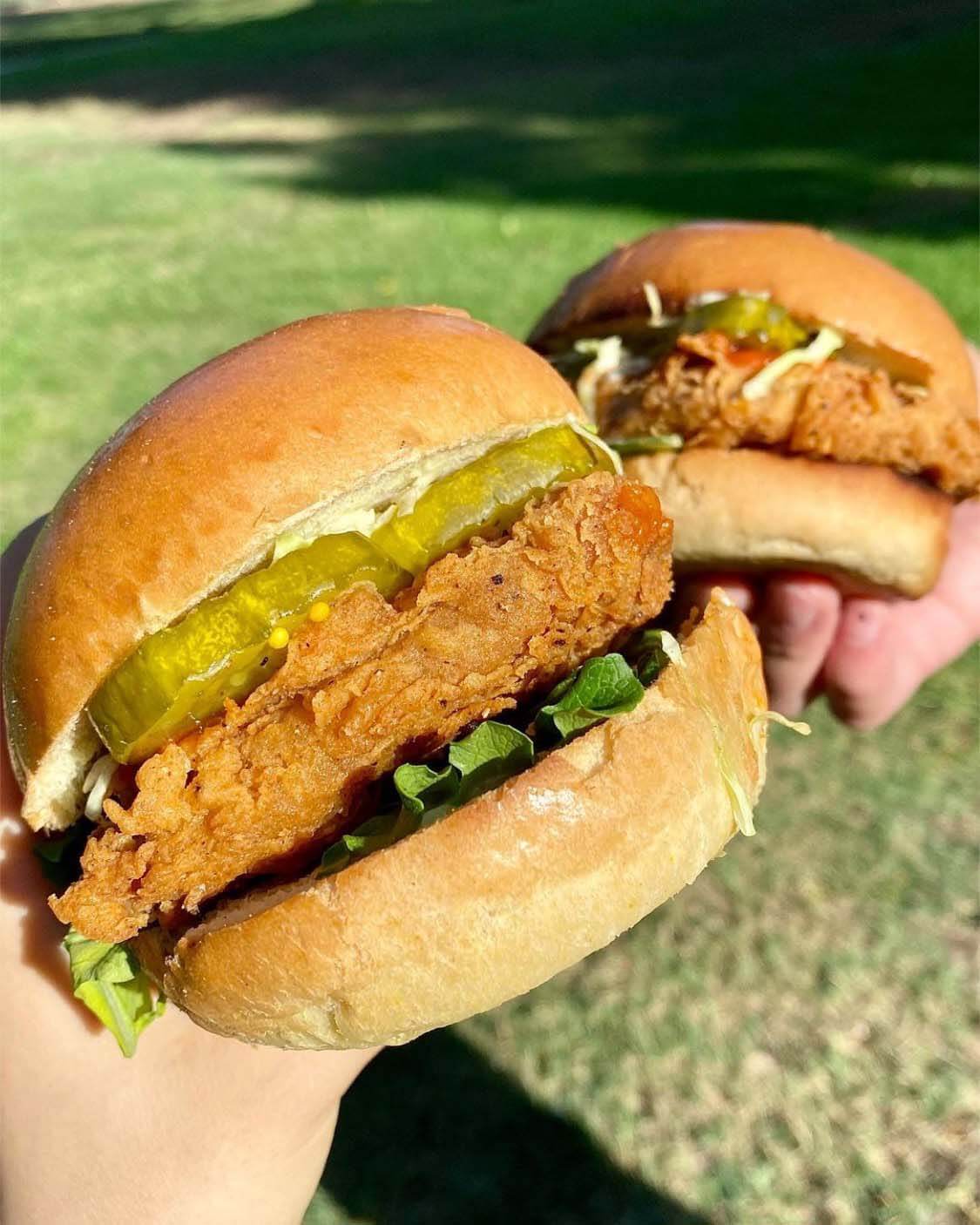 Photo credit: @jodiesveganeats on Instagram
Beverly Grove
Nic's may be known for their fancy salads, Detroit-style pizzas, and craveable desserts, but did you know they also serve a bangin' Nashville Hot Chicken Sandwich? With fried onions, ranch, and pickles, you can't go wrong by ordering this beaut.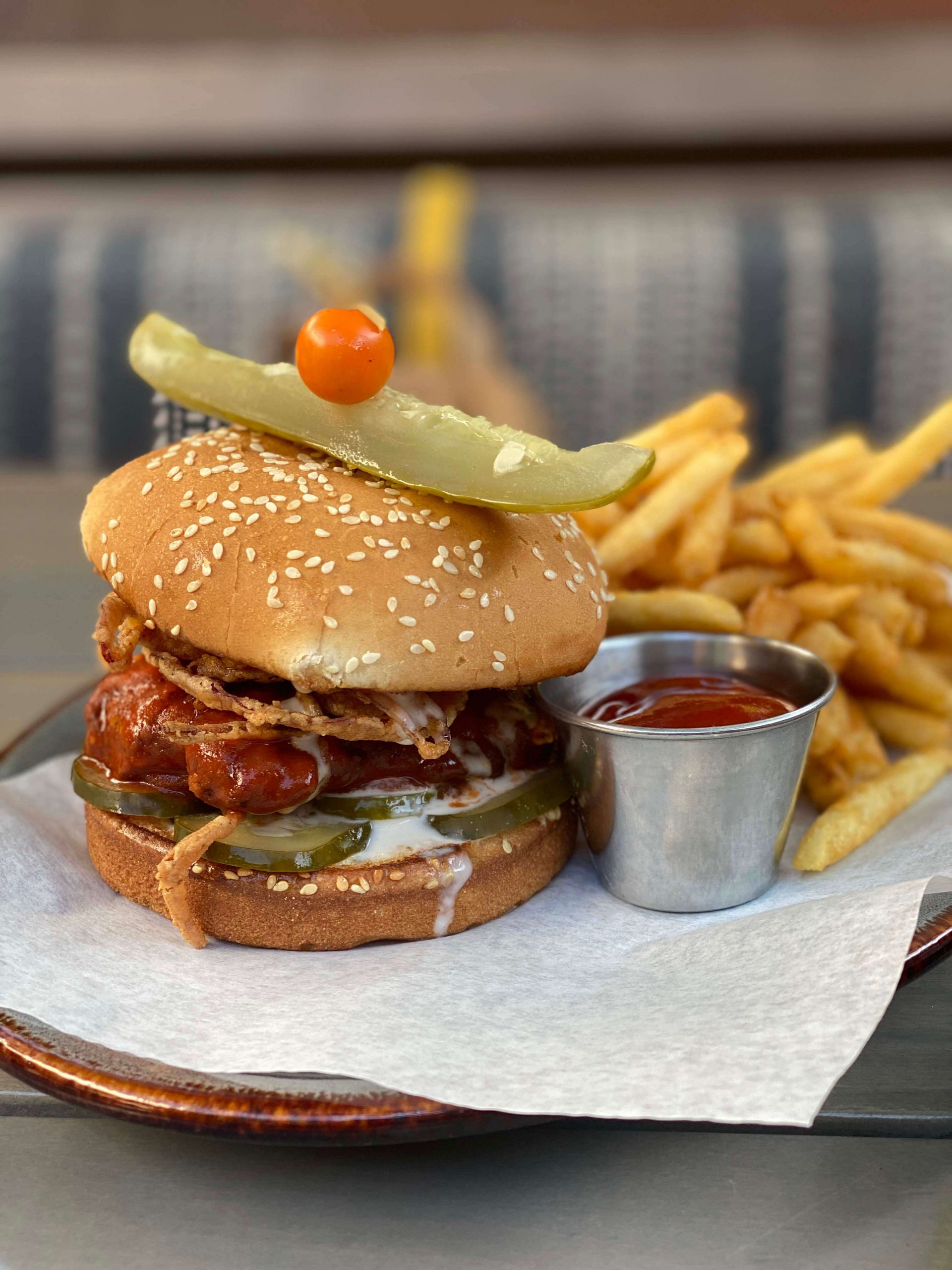 Silver Lake
Looking for something a bit lighter? My Vegan Gold's Hot Portobello Sandwich is just what you need. Instead of a mock meat patty, this Silver Lake gem seasons and fries the head of a portobello mushroom to give you the feeling of the classic sandwich, without that heavy feeling! If you'd like to go the classic route, order their Slider Chicken Burger with a soy-based chicken patty. Or try them side-by-side to compare.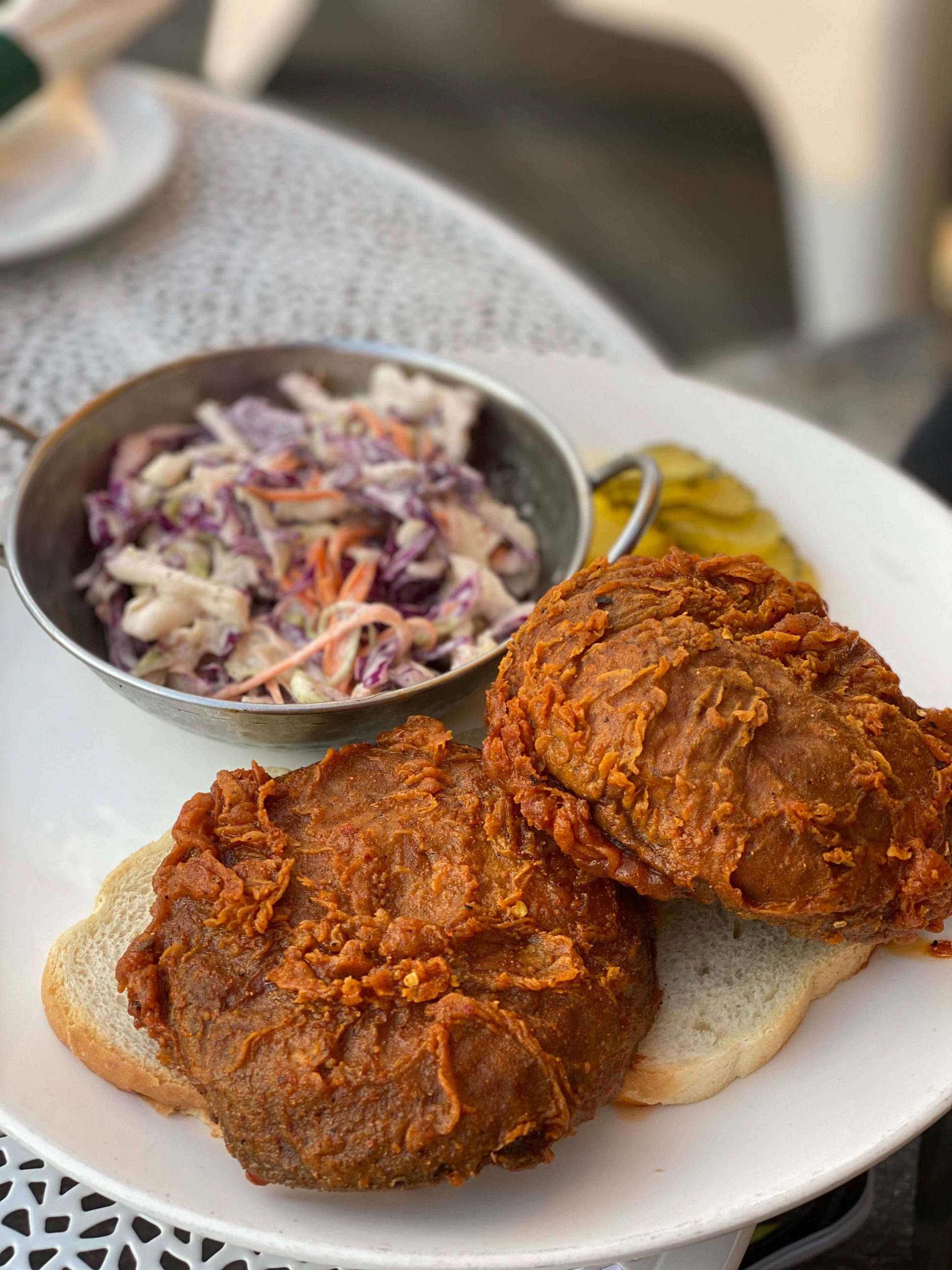 Larchmont
This vegan-friendly burger joint serves two plant-based handhelds that feature Atlas Monroe's famous vegan fried chicken. First up is The Amazing Vegan Fried Chicken Sandwich! This classic sando contains vegan American cheese, Uncool sauce, and pickles. The "Oh Dear" Vegan Spicy Chicken Sandwich is the hotter option with tomato, pickled jalapeños, vinegar slaw, caramelized onion, vegan smoked gouda, and spicy mayo. Pro tip: Order a Vegan Cookies & Cream Milkshake for dessert.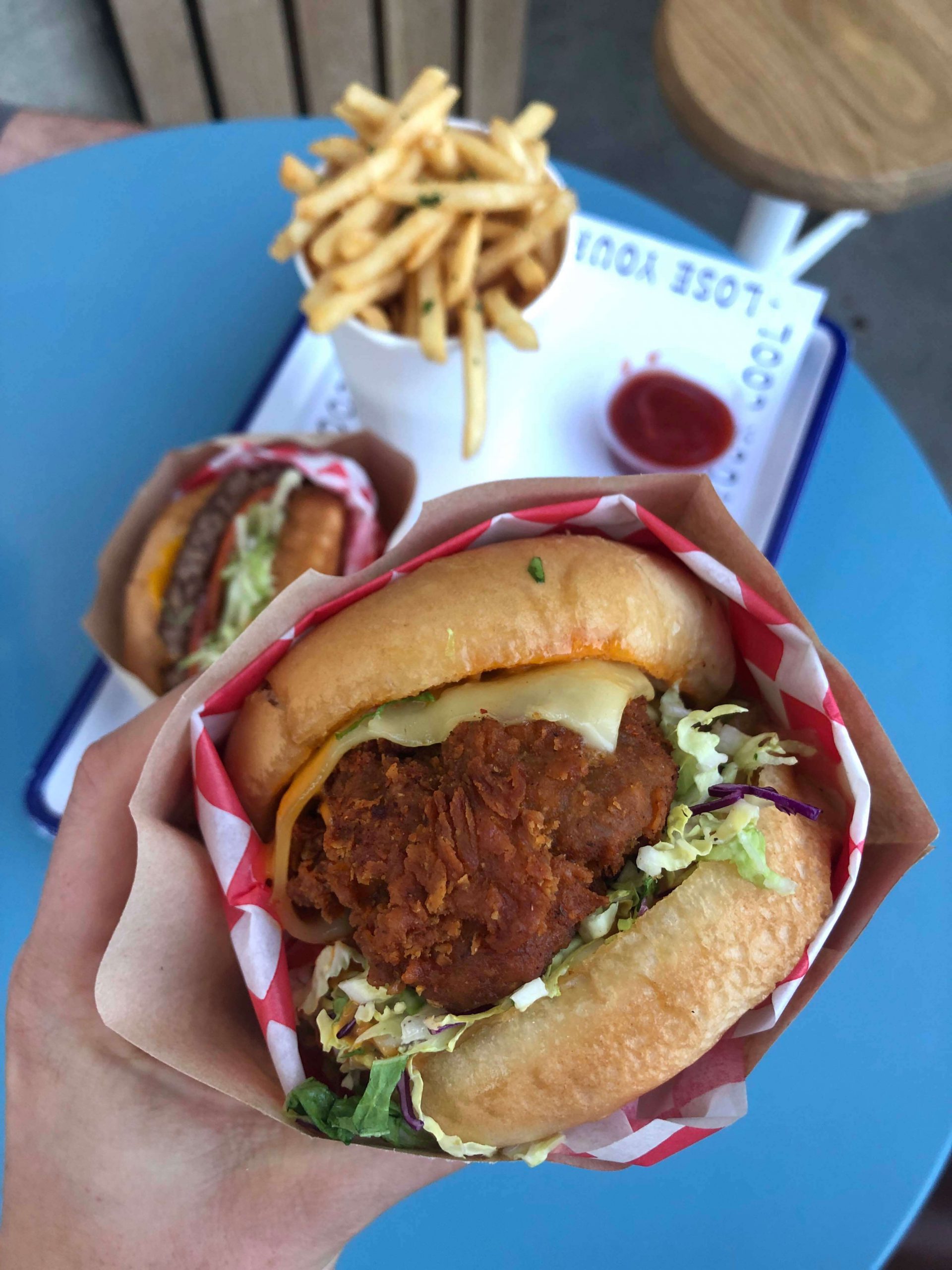 Downtown LA & Eagle Rock
You've probably had your share of classic, spicy, and Nashville hot sandos, but what about a Mango Habañero Chick-un Burger? OMG! This vegan comfort food hot spot serves up that masterpiece of a menu item with Veggie Fam's Fried Chik'N Patty in the middle. They've also got a Mango Habañero Chick-un Melt if you prefer toast over buns. Order it with a side of fries or mac 'n' cheese to complete your meal.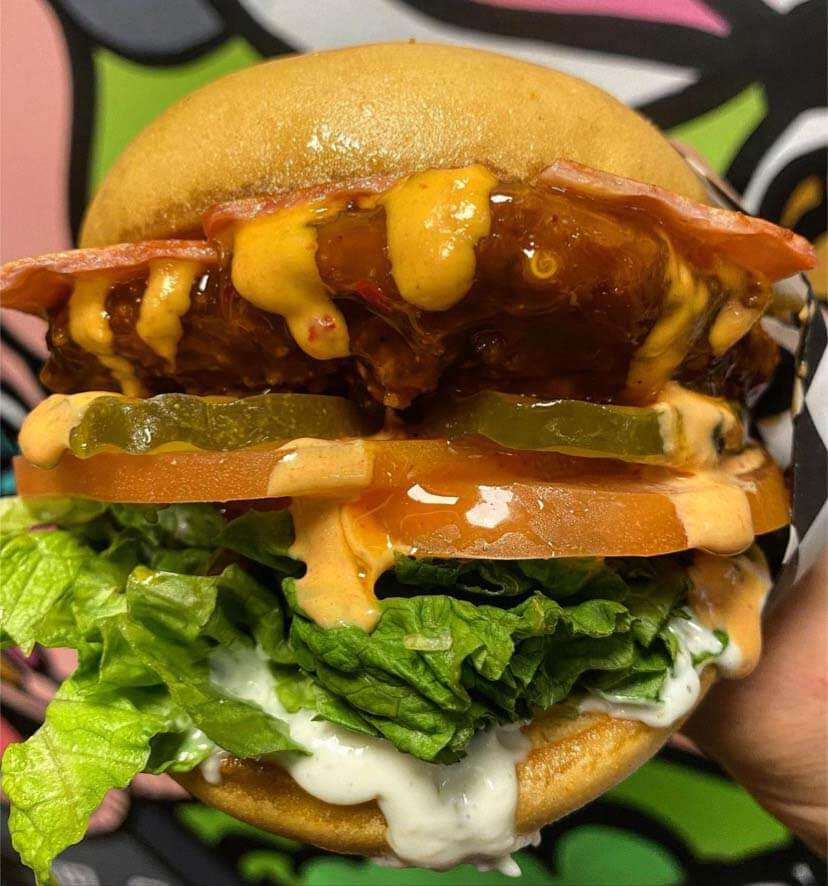 Burbank
This plant-based hotspot offers a wide variety of vegan fried chicken sandwiches using the wickedly delicious patties from Atlas Monroe. Whether you're craving a classic, Nashville, or bacon-dressed chicken sando, Blazin' Burgers has you covered! Uplevel your handheld with a drizzle of vegan honey mustard, spicy mayo, queso, chipotle aioli, ranch, BBQ, or Thousand Island sauce. Mmm!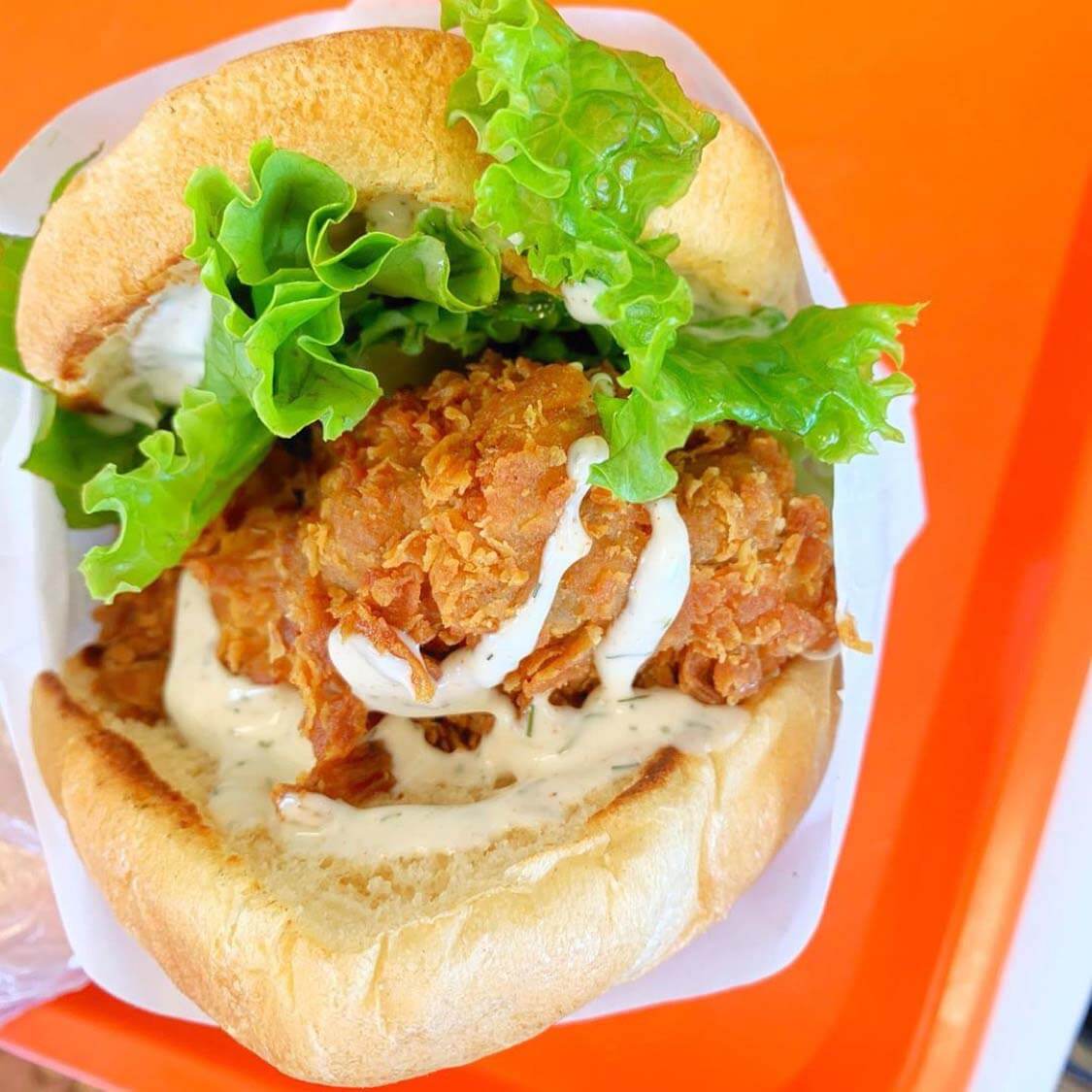 Fountain Valley
This Chicken Bacon Ranch Sandwich from The Brave Bean is what dreams are made of! The mouthwatering menu item is composed of house-made vegan fried chicken, bacon, lettuce, tomato, and ranch dressing. The Vampire Slayer, The Buff Chick, and The Staff Favorite are the other chicken-centric sandwiches at this plant-based paradise.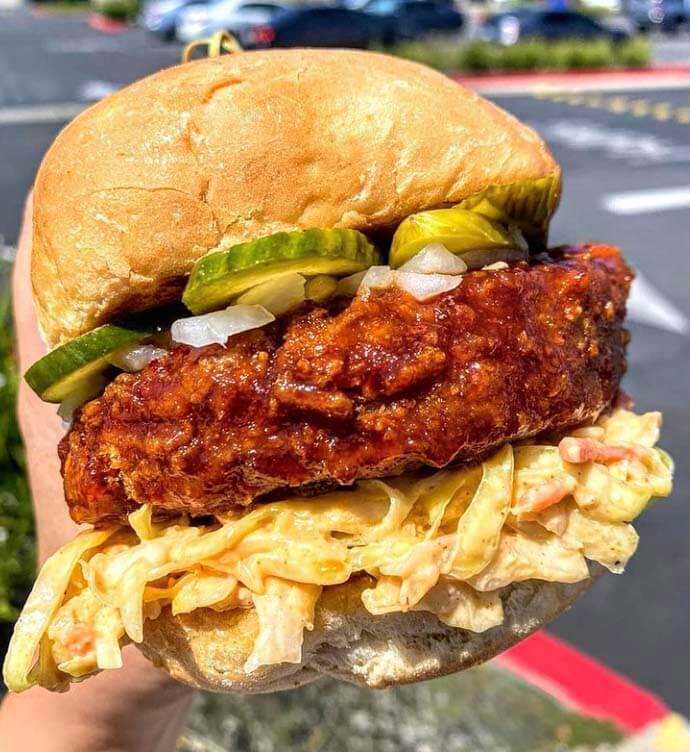 Costa Mesa
This burger joint has quite the selection of veganized fast food favorites. The Hot Chick, Spicy Chicken, and Premium Spicy Chicken are all made with their glorious vegan fried chicken patty. Other stand-out noms include their chicken nuggets, tater tots, mozzarella sticks, and soft serve.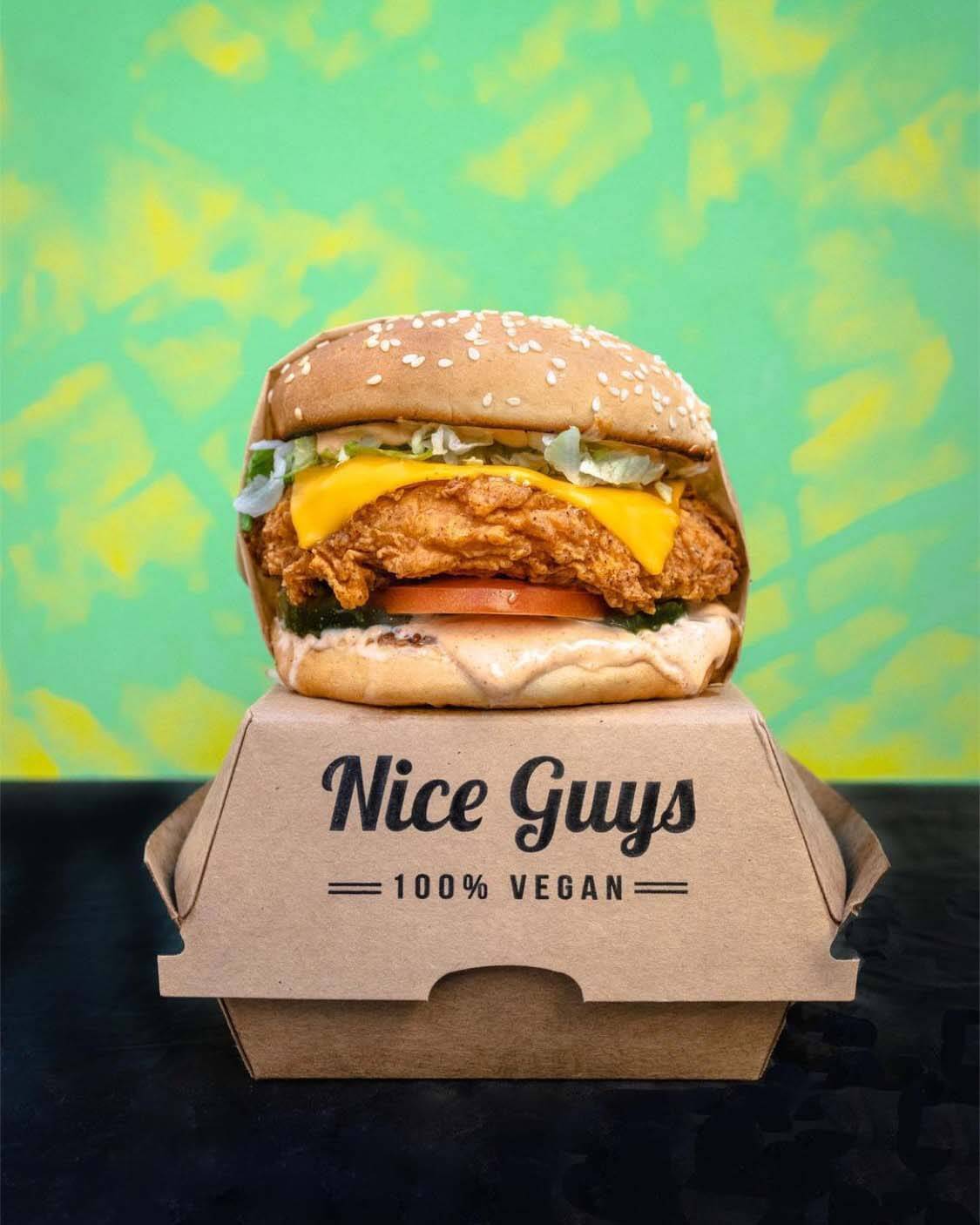 Chino and Stanton
The Beleaf Chicken Sandwich from this trendy plant-based burger joint is made with their signature fried seitan chicken breast, melted American cheese, tomato, lettuce, pickles, and house spread. Served on two toasted buttery buns, how could anyone resist?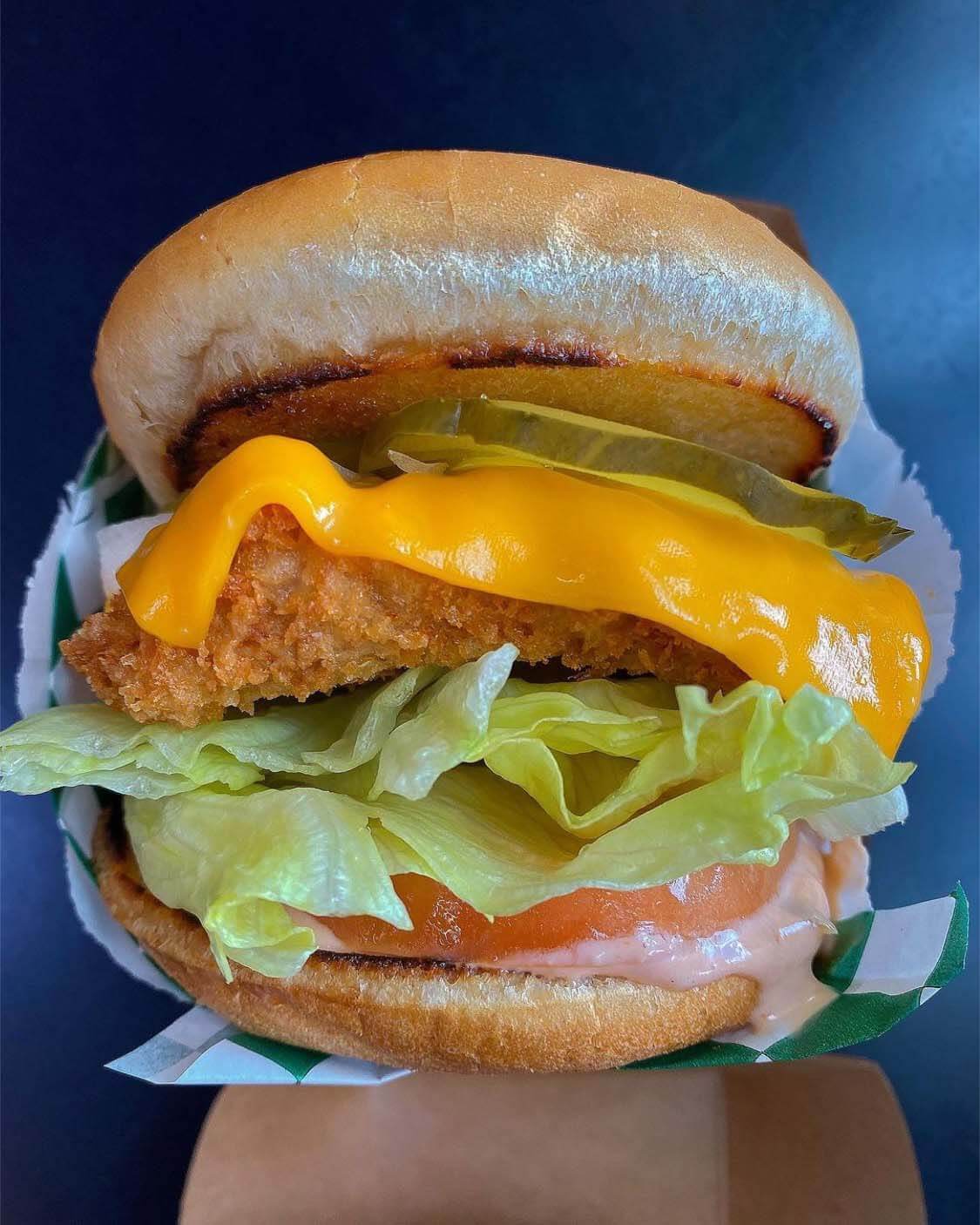 Multiple Locations
Next up, Veggie Grill. This Santa Fe Crispy Chickin' Sandwich rushes into the end zone as menu MVP. Lettuce, tomato, pickled onion, mashed avocado, and chipotle mayo tackle a crispy chicken patty for the tastiest touchdown in the handheld hall of fame!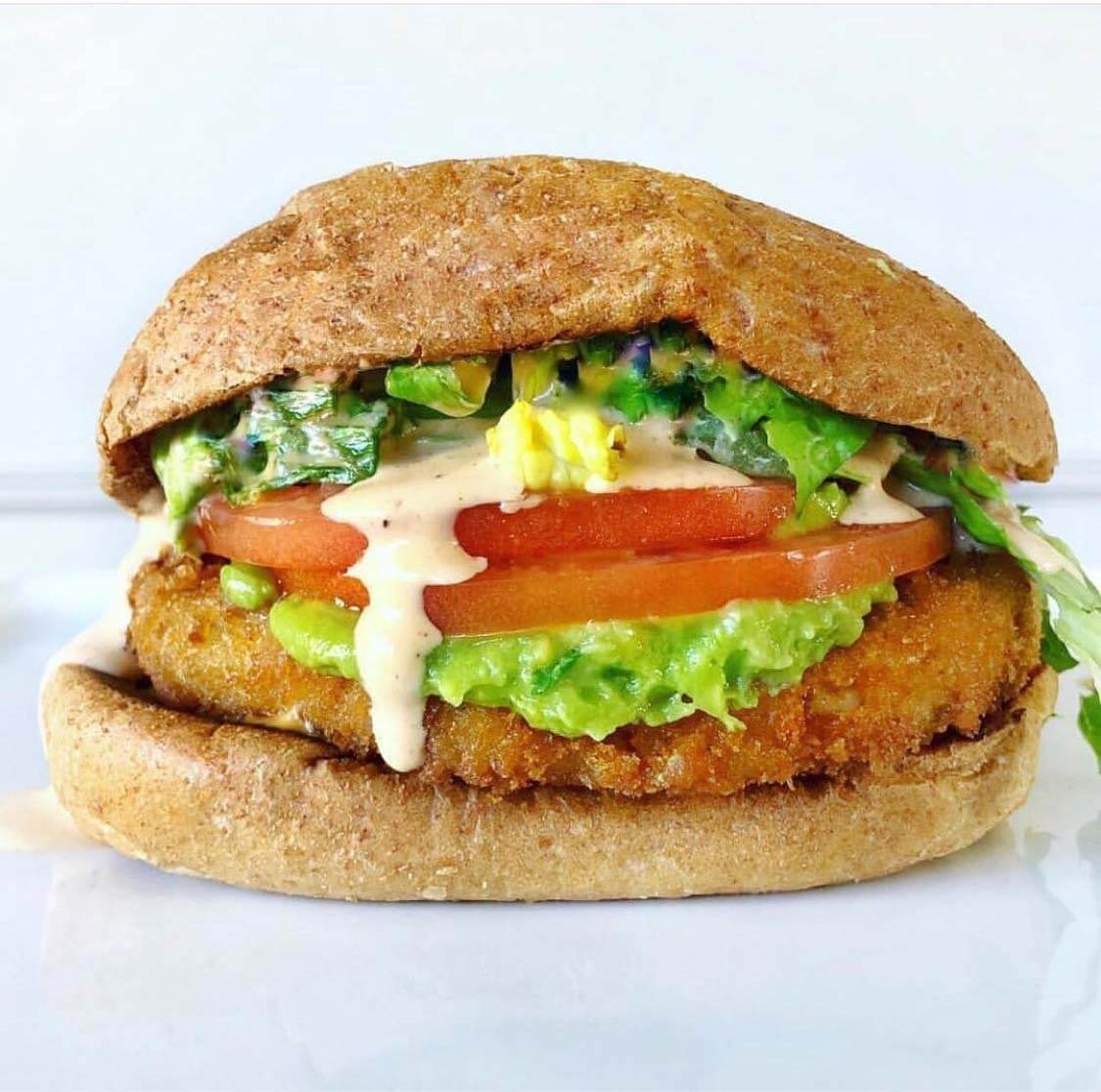 Photo credit: @joesveganfoodgram
Whittier
What's better than vegan fried chicken with a side of comforting mac 'n' cheese? How about vegan fried chicken AND mac 'n' cheese warmly united between two buns? Oh, and did we mention there's bacon on it, too? Yep, that's better! Modern Shaman warms our hearts and bellies with their unbelievably satisfying dishes like this Spirit Animal Burger! Other mains featuring their vegan fried chicken include the No-Clucks-Given Burger and Mother Clucker Burger.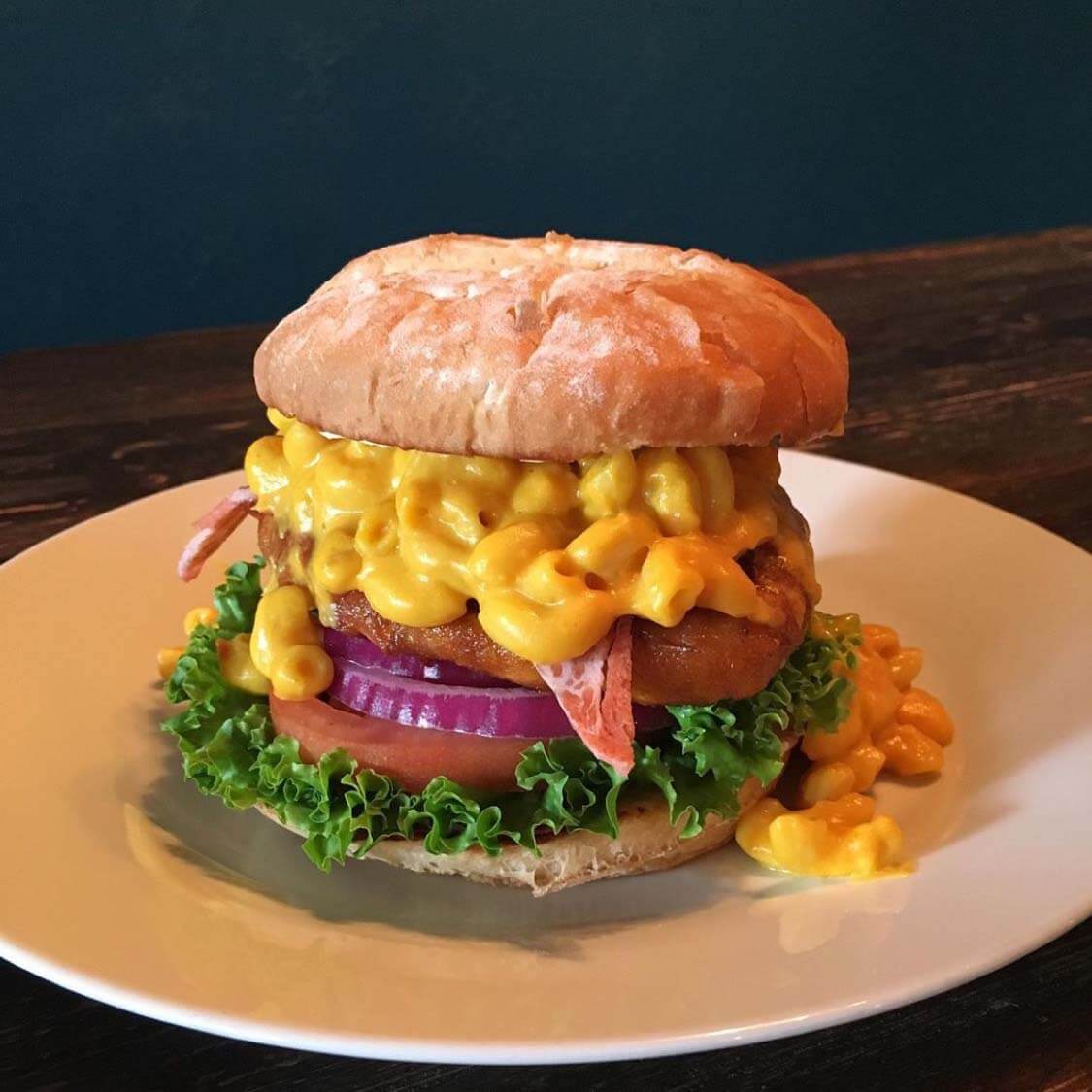 Highland Park
Wolfie's, formerly known as Rockin' Hot Chick-Un, is now located next door to Block Party Highland Park! These peeps specialize in Original, Rockin, Bourbon BBQ, or Korean Fried Chicken Sandwiches––made to order in the spice level of your choice. Their KFC (Korean Fried Chicken) Sandwich is gloriously layered in chili garlic aioli, Korean kimchi pickles, slaw, kimchi vinaigrette, and a Gochujang-glazed fried chicken patty. KFC has never sounded so good!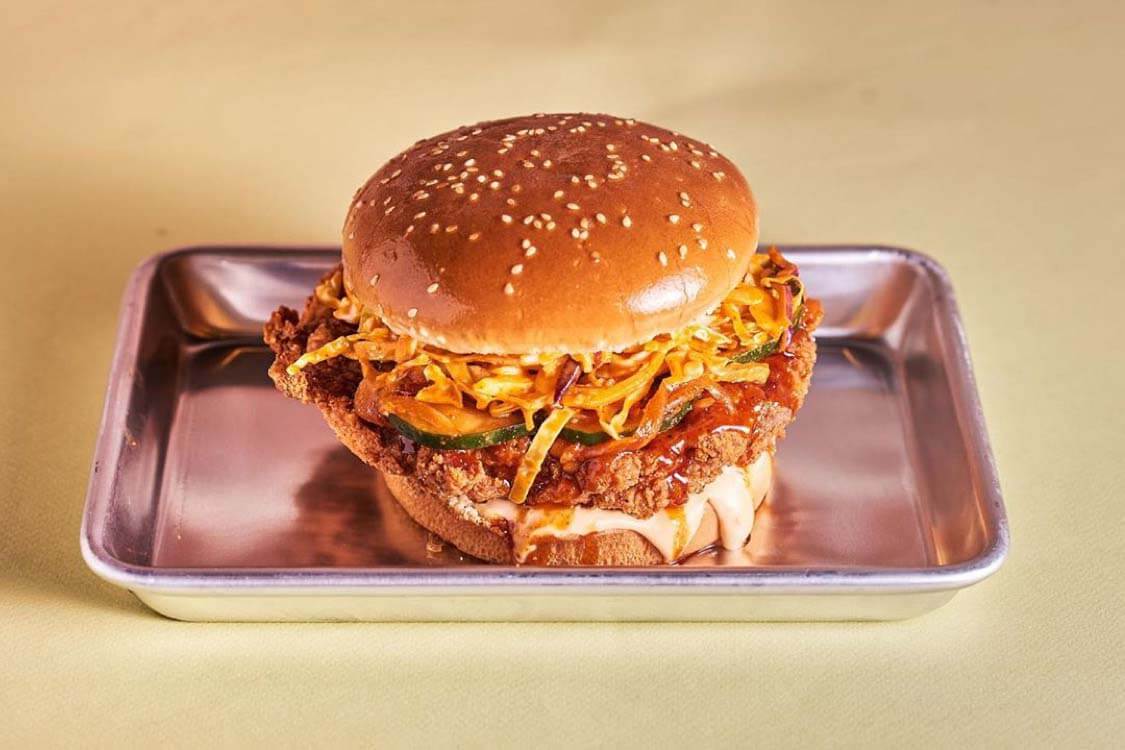 Hollywood
This vegan hub stocks all-things fried and fantastic, including bun-bound chicken! Whether you're feeling crispy, spicy, or saucy, personalize an encore-worthy dinner of your dreams. For something a bit off the beaten path, we'd recommend trying the Crispy Chicken Cordon Bleu Sandwich! Filled with crispy chicken, ham, cheese, and a honey mustard-style mayo, this all-vegan sando will blow your mind.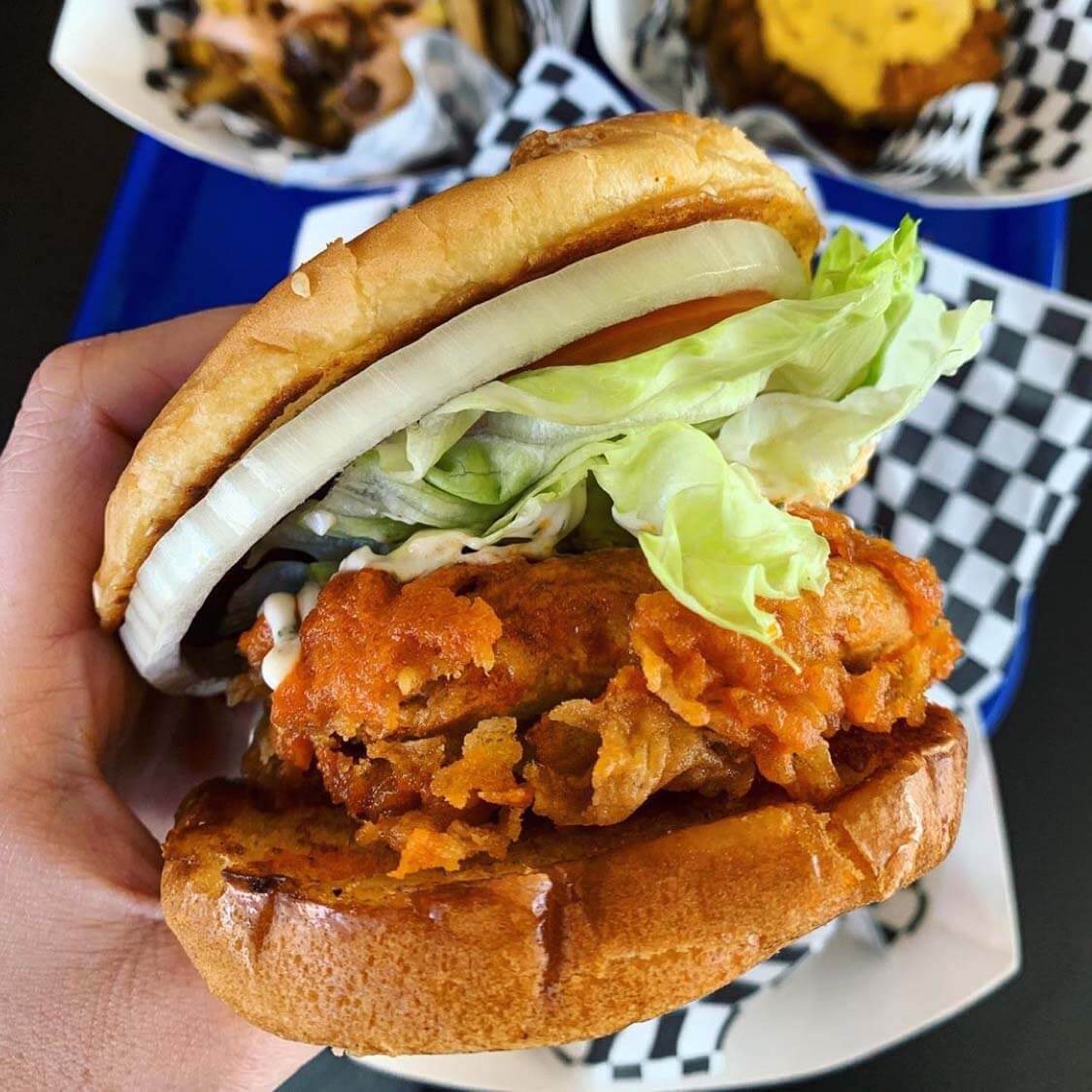 Silver Lake
Reading the word "fried" is one of the most heartbreaking moments for a gluten-free foodie. Why? Because "fried" normally translates to "full of gluten." Not this time! by CHLOE. saves the day with their Hot Chicky Sandwich. This upbeat tempeh chicken handheld is gluten-free when ordered with a GF bun. YAAAS!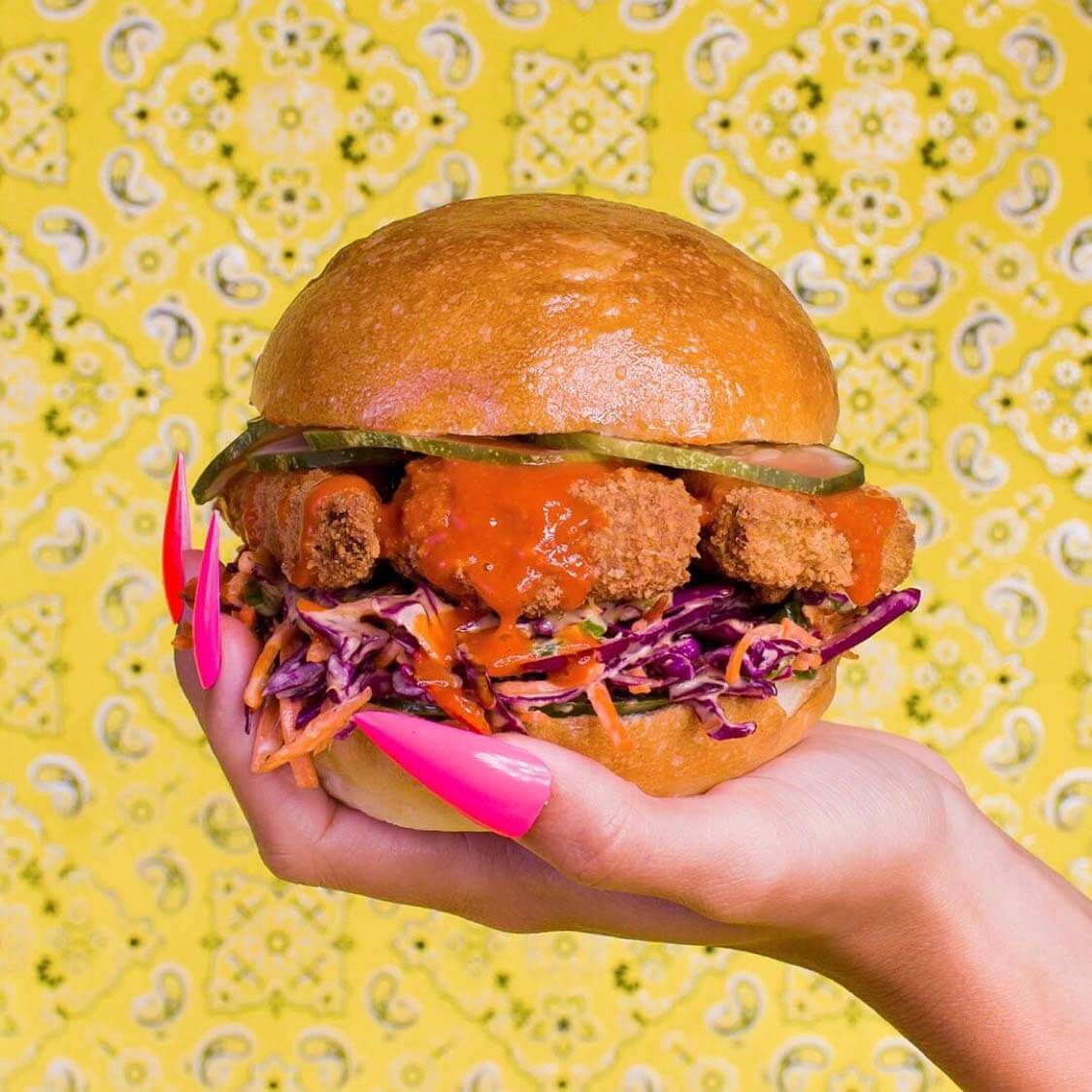 Fairfax
Right in the heart of the trendy Fairfax neighborhood lies this outstanding vegan burger joint with a stellar menu. Aside from the classic cheeseburgers, fries, and shakes, Nomoo serves up a scrumptious Hot Chick'n Sandwich. Atop a housemade gourmet brioche bun rests a Nashville hot fried chick'n patty, coleslaw, pickles, and special sauce. Add truffle cheeze sauce or avocado if you dare!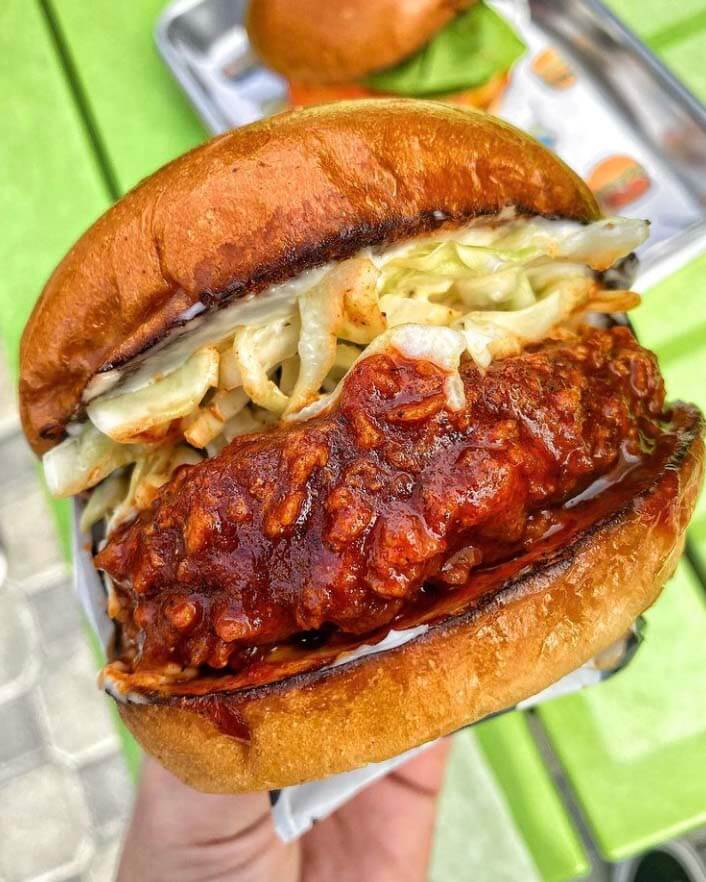 Anaheim
Healthy Junk serves up classic comfort dishes with a vegan twist. Their Crispy Chick and BBQ Chick Burgers are both great options for any plant eater wanting to bite into a chicken-like sandwich. Both options are served with a side of french fries or coleslaw.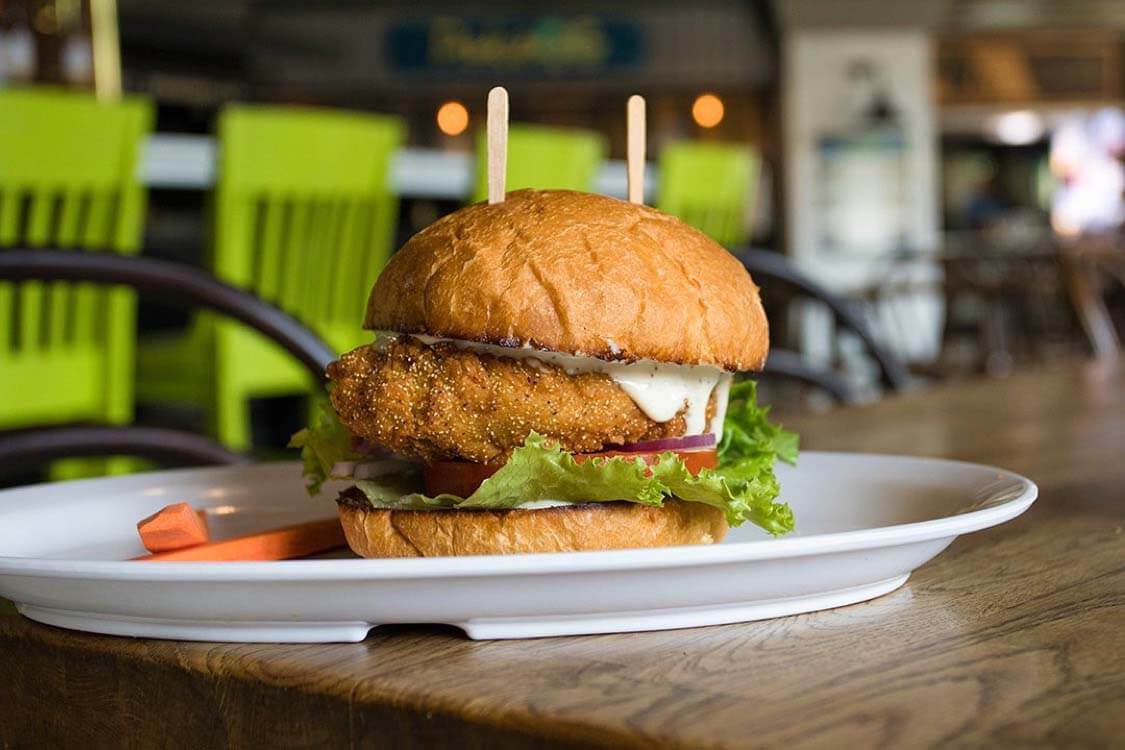 Long Beach, Redlands, Riverside, Fountain Valley, Encinitas, and San Diego
Get your kicks with the Buffalo '66 from Plant Power! This top-notch handheld surpasses the standards of its iconic name with a groundbreakingly delicious makeup. A crispy battered buffalo chicken breast, ranch dressing, lettuce, and tomato grace a pair of toasted buns to construct a sandwich to remember. For something less spicy, entreat your stomach to their "Chicken" Sandwich painted in BBQ, ranch, chipotle, or vegan honey mustard.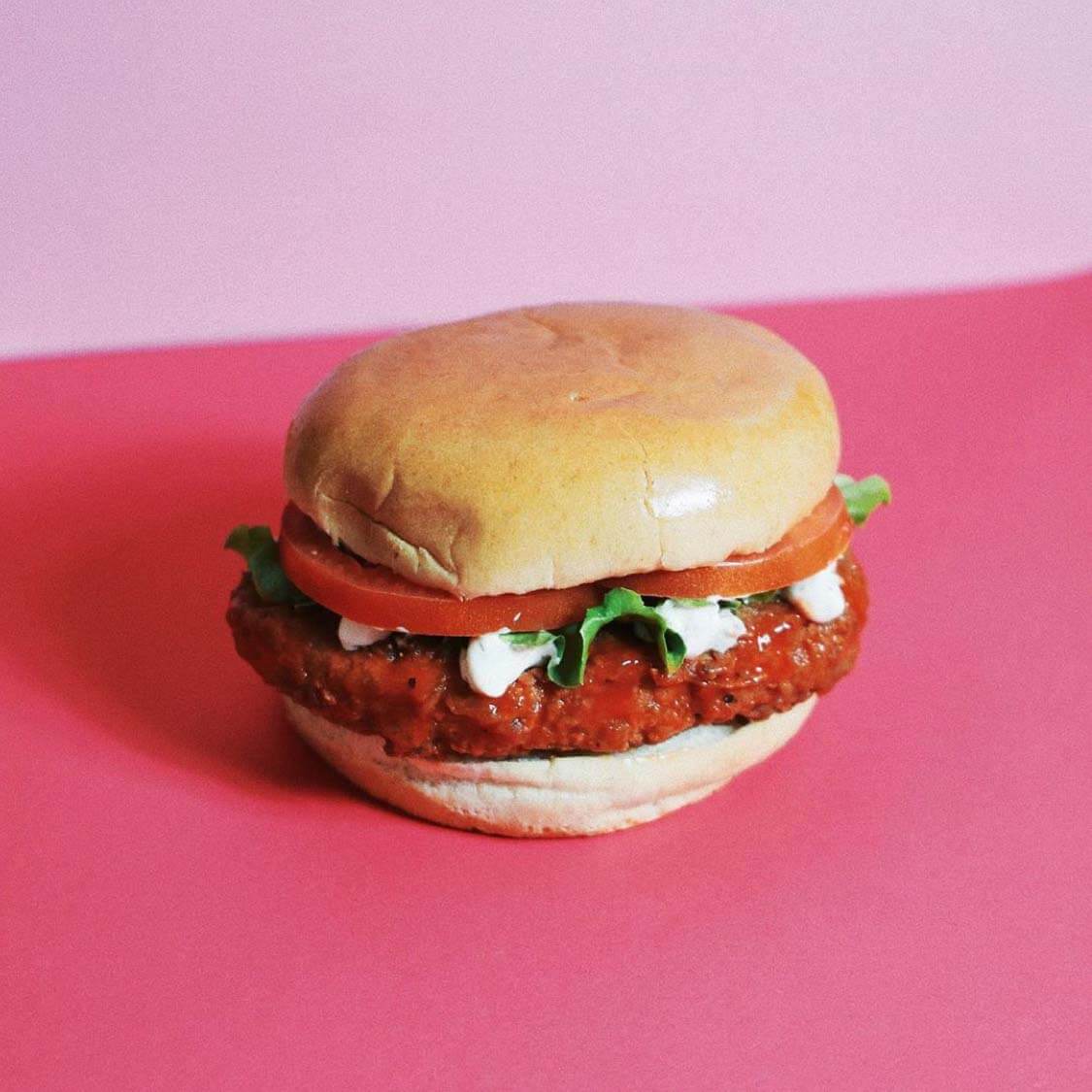 Fairfax
This hip and trendy vegan burger joint took on the challenge of making their own fried chicken from scratch—and they do a darn good job at it! The VOWchickn Sandwich showcases their house-made Nashville-style patty with coleslaw, pickles, and garlic aioli on a set of perfectly buttered buns. One of our favorite things about VOWburger is that everything can be made into an affordable combo complete with curly fries and a drink. Pro tip: Be sure to order a side of Peruvian green sauce for your fries. You'll thank us later!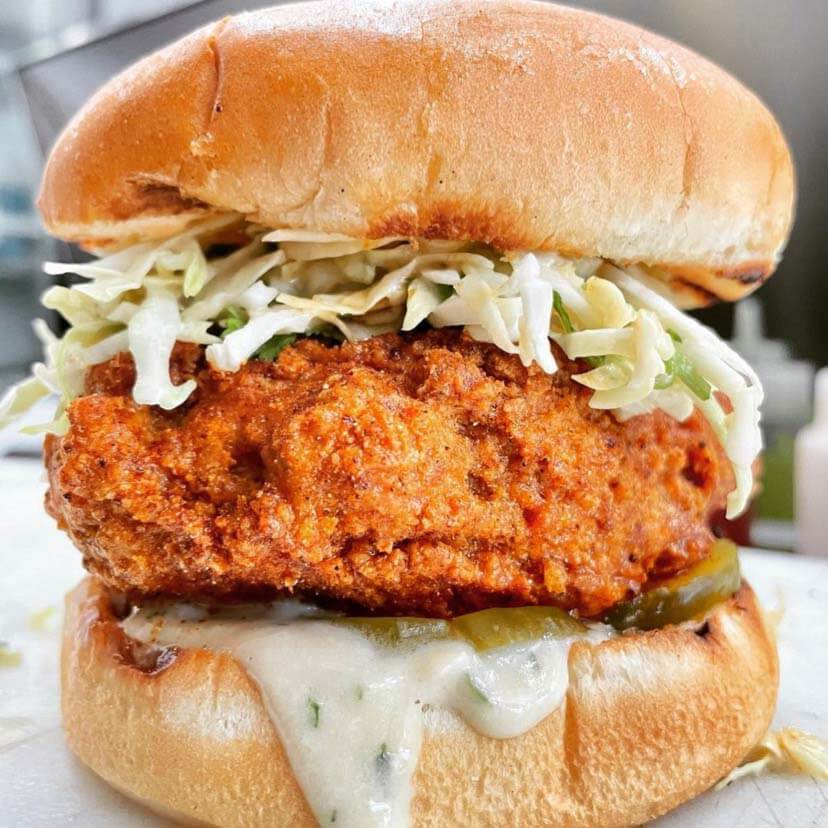 Pop-Up
The Crispy Chick'N Patties from this pop-up are so good, they're available for nationwide shipping and can be ordered at a handful of spots around town—including The Vegan Hooligans, Love Amaro Pizzeria, and more! When they're not fulfilling orders for deliveries and restaurants, Veggie Fam can be found popping up around LA with their iconic OG Hot Chick'N Sandwich, Cheezy Waffle Fries, and other must-have bites. Follow @VeggieFam.LA on Instagram to stay up-to-date on their pop-ups.