From restaurants, food trucks, and pop-ups to clothing and beauty brands, this list covers it all!
In honor of Pride Month, we've gathered a list of LGBTQ-owned vegan businesses and restaurants to support year-round.
Seattle, WA
This new Queer-owned food truck serves yeast-raised vegan doughnuts and lattes that are stunning and delicious. Sounds like a dream come true, right? Dough Joy Donuts offers a wide variety of epic flavor combos such as maple with coconut bacon, mango & tajin, and cinnamon French toast. This month only, the truck will be serving a pride-themed doughnut that's covered in rainbow sprinkles. YAAAS!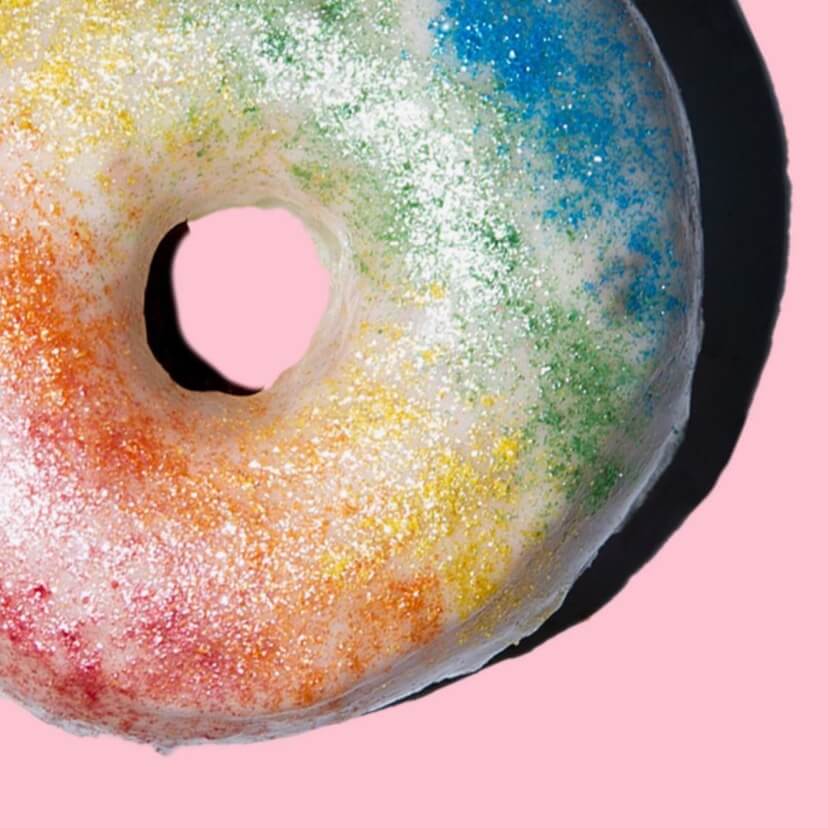 Nationwide Shipping
Let's face it, the beauty industry isn't always the most inclusive. But thanks to NOTO Botanics, there is a way to get beauty products that celebrate all shapes, sizes, skin types, and identities. Oh, and the brand is also vegan, cruelty-free, and eco-friendly! If you're new to NOTO, The Essentials Kit is the perfect bundle to purchase first. It comes with a scrub, serum, and wash in a recycled cotton tote.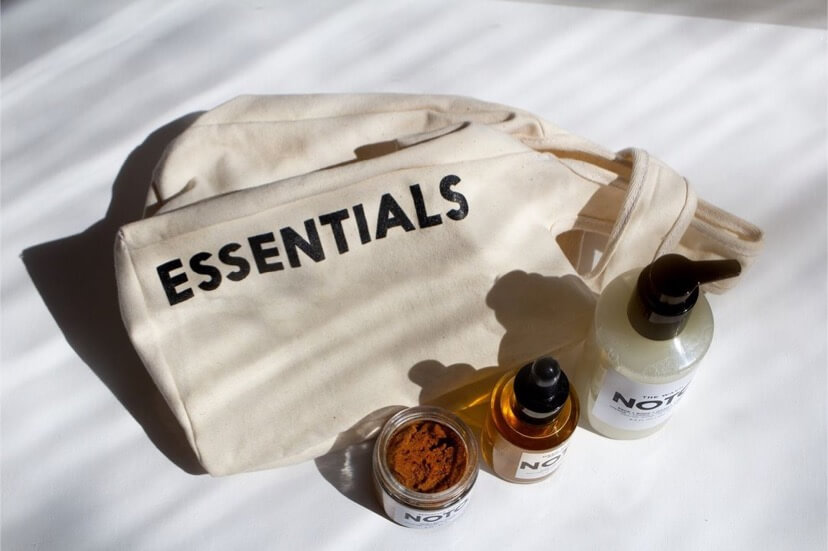 Los Angeles, CA
LA's vegan breakfast sandwich game has advanced since Little Barn Coffee House opened. Not only is this establishment Latinx, LGBTQ+, and female-owned, but it's also the home of some of our favorite vegan breakfast and lunch dishes in the country! From croissant and biscuit-encased breakfast sandos to salads, burritos, and tamales, there really is something for everyone.
New Paltz, NY and Nationwide Shipping
One of the best ways to brighten someone's day is with an indulgent box of chocolates! Thanks to Lagusta's Luscious, ordering vegan chocolate has never been easier or more delicious. Their offerings include classic bars, bonbons, caramels, toffee, and fruit or nut-infused bark, among others! For the month of June, you can try the brand's Pride Bark which is made of a big hunk of 66% bittersweet chocolate with dried blueberries, raspberries, edible flowers, and more. As if you need more convincing, 20% of each sale from the limited-edition bark will be donated to Hudson Valley AMPS, a Queer-organized music camp for girls and gender-expansive youth.
Nationwide Shipping
Next up on our list of LGBTQ-owned vegan businesses is this vegan men's fashion company, founded in 2010 by Joshua Katcher, a fashion designer, author, activist, and educator. While there are plenty of stylish and cruelty-free clothing and shoe brands for women, finding stylish and sustainable options for men is a bit more difficult. Brave GentleMan fills that gap in the industry by constructing some of the sickest tops, bottoms, shoes, and even, made-to-order suits. Holla!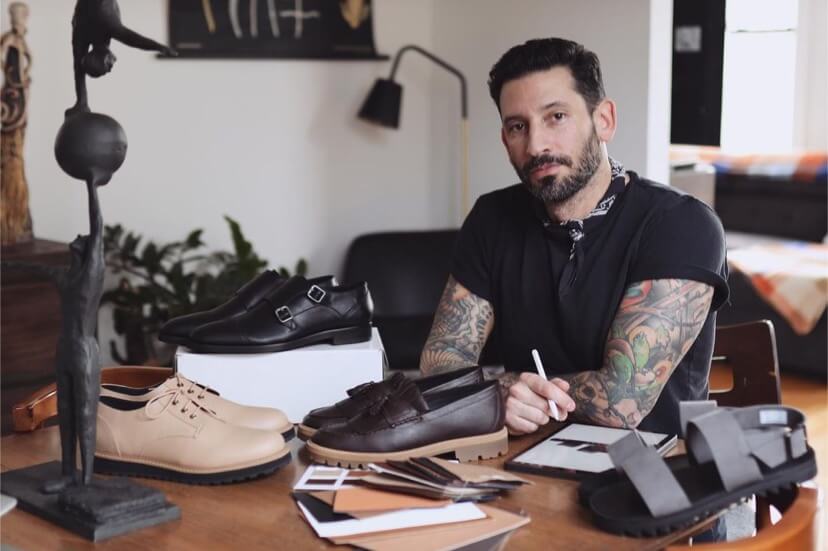 Nationwide
Charcuterie boards are all the rage these days, which is why we're so glad to have great vegan cheese options from brands like RIND so we can make our own rendition of the appetizer. This brand specializes in French-style vegan cheeses made from a blend of nutritious ingredients, cultures, and old-world methods. The cheese varieties range from Classic Cambleu, Porcini, and Paprika to Lapsand and Bleu. You can find these products at select retailers and restaurants in CA, NJ, NY, PA, and TX or order them online through GTFO It's Vegan!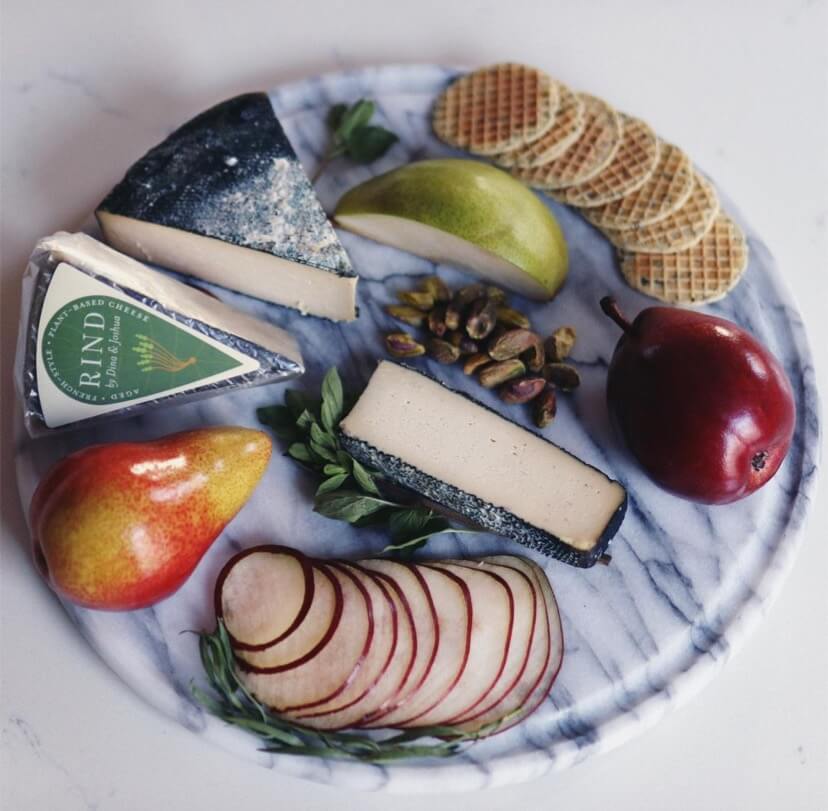 Los Angeles, CA
Summertime is all about smoothies and soft serve—who's with us? Honey Greens Juice Bar is an LGBTQ-owned raw juice bar and vegan soft serve truck. They offer some of the most saliva-inducing swirls of fruity goodness. We've been specifically eyeing the Dragon Fruit Float which features pineapple soft serve in a cup of pink dragon fruit and freshly juiced citrus as well as the Raspberry Cheesecake Cup which contains layers of vegan and gluten-free cheesecake pieces from Baked Vegan Vixen, raspberry cheesecake soft serve, and frozen raspberries.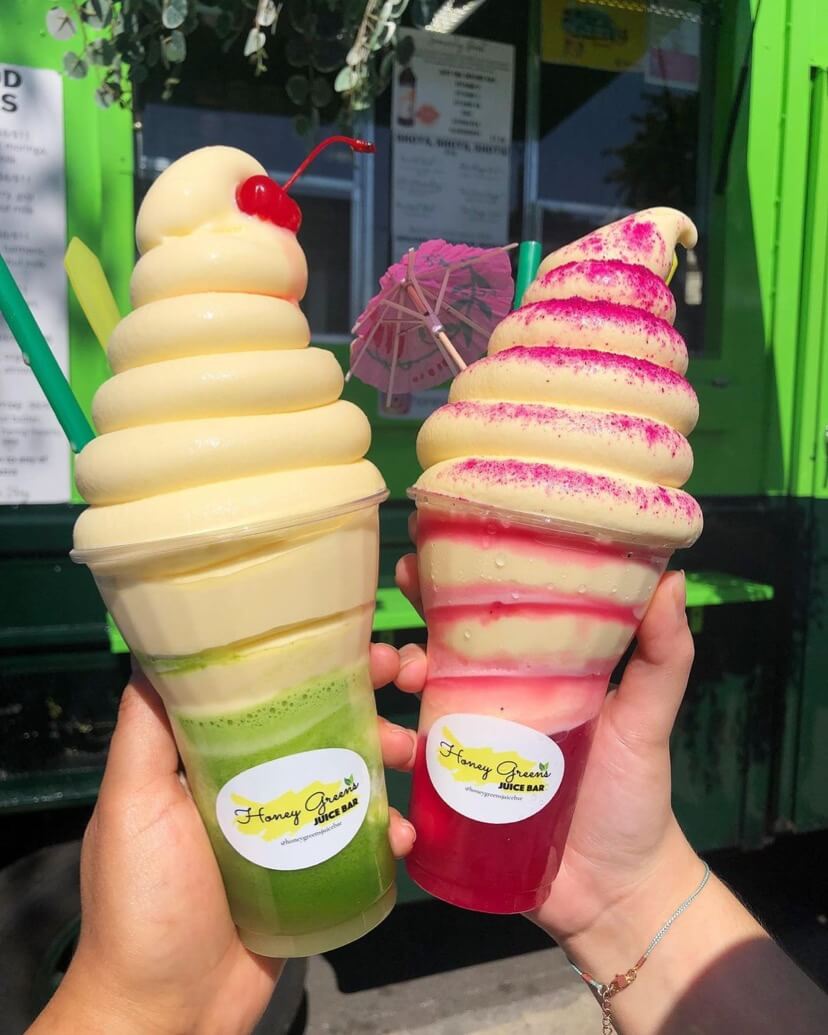 Philadelphia, PA
In this day and age, it's much easier to find plant-based versions of all your favorite treats. If you've been looking for vegan babka, challah, rugelach, knishes, or other New York-style Jewish noms, Lil' Yenta's has you covered! This locally-owned bakery has a menu that showcases all the classics as well as more innovative confections like Strawberry Swirl Babka with icing and sprinkles or Rainbow Challah Bread. Mmm!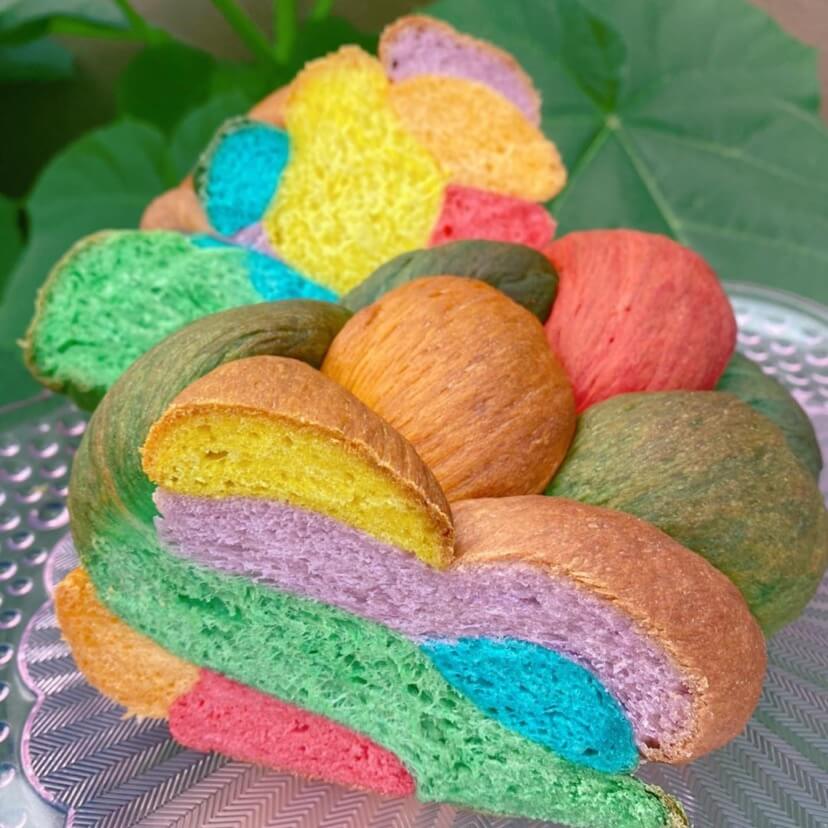 Los Angeles, CA
Who could go for stuffed French toast or chik'n & waffles right now? We could! This vegan comfort food restaurant serves drool-worthy noms from brunch to dinner. One of their most popular items is the Chive BLT—a sandwich with bacon, avocado, grilled cheese, slow-roasted tomato, tangy roasted garlic-chive aioli, and arugula on buttery grilled potato Texas toast.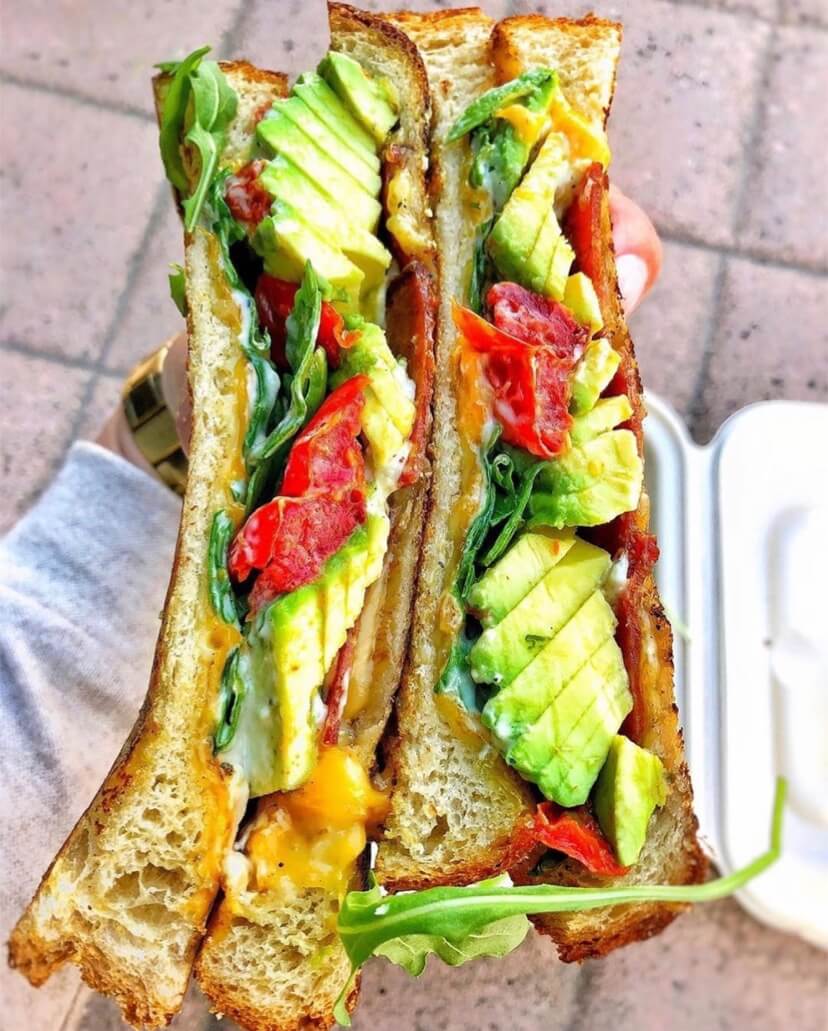 Photo credit: @msvegan on Instagram
Philadelphia, PA
This Black and Queer-owned vegan market puts community, compassion, and convenience at the forefront of everything they do. From sunny-side up eggs, bacon, and pizza rolls to sprinkles, danishes, and banana pudding, V Marks the Shop has one of the most unique and diverse lineups of vegan products we've seen. The store is currently open for pickup or delivery in the Philadelphia area. To make veganism more accessible to all, this shop accepts EBT and SNAP as payment for pickup transactions.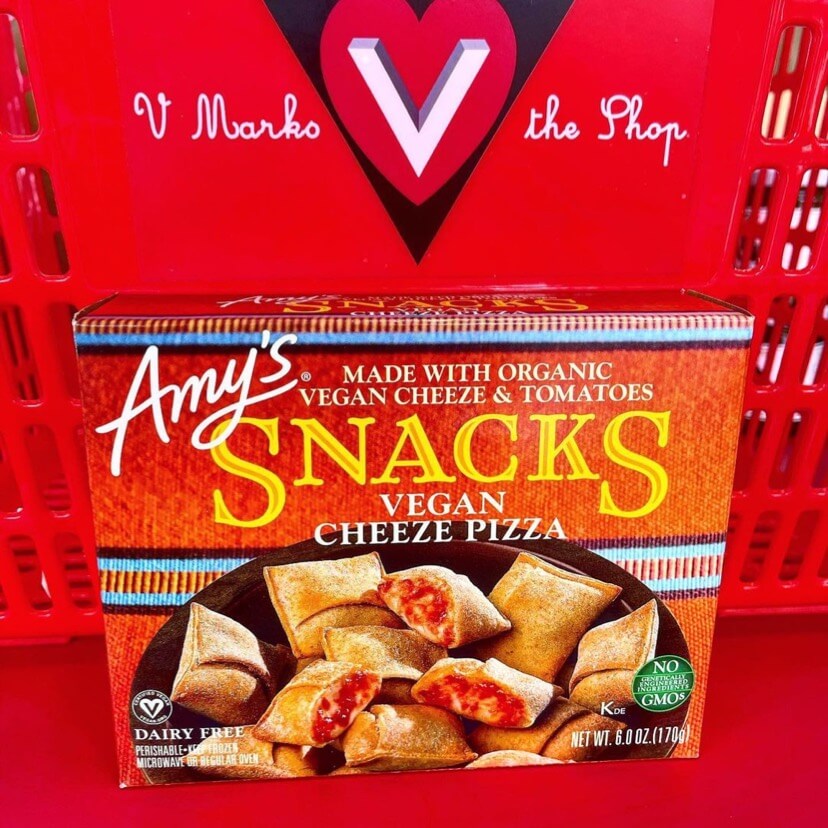 Nationwide Shipping
For all your beauty and makeup needs, look to W3ll People! This vegan cosmetics brand offers a plethora of makeup and skincare products as well as brushes and tools. One product we'd definitely recommend purchasing this summer is the Bio Tint Multi-Action Moisturizer SPF 30. With all of the days you'll spend in the sun, this is a great way to protect your skin from getting sunburned.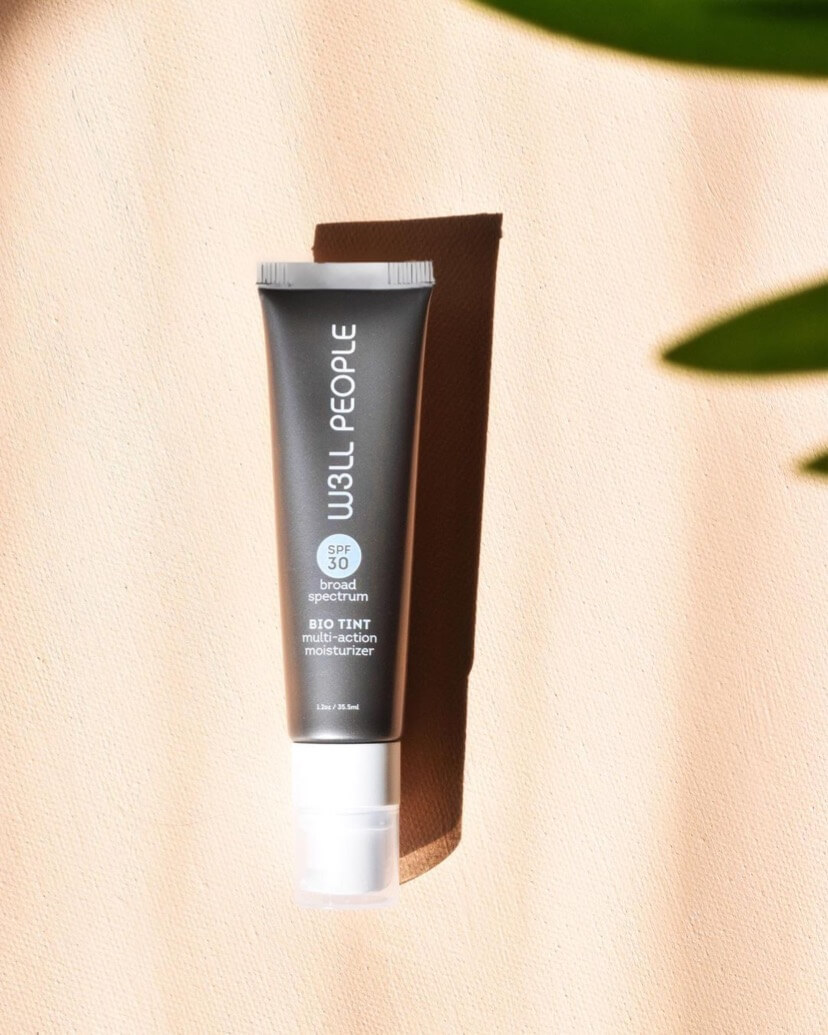 Los Angeles, CA
Dear Mama LA is another Latinx-, LGBTQ+-, and female-owned business in Los Angeles that we love. Although they operate as a pop-up with a rotating menu, you can expect to dig into vegan versions of Mexican classics such as tamales, pozole, nachos, ceviche, esquites, and more. Most of the dishes are decked out in craveworthy toppings along the lines of chipotle mayo and cashew cotija cheese.
Nationwide Shipping
Dragun Beauty was founded by a trans woman, Nikita Dragun. She created this cruelty-free makeup brand in an effort to make beauty products that are great for all shapes, skin tones, and sexualities. There are a few specific stand-out products we'd like to highlight—the DragunEgg TRANSformation Kit (which was created to help feminize one's face and define their features) and the DragunGlass Full Fantasy matte liquid lip bundle.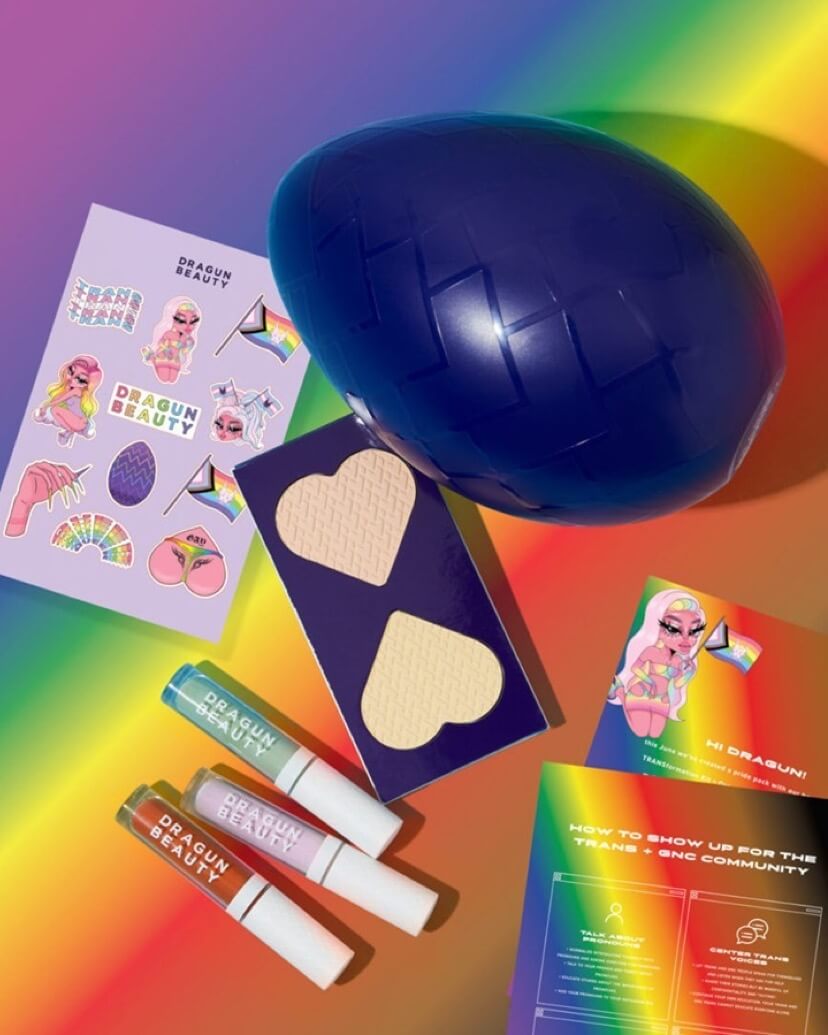 Heidi Ho!
Select Retailers in OR and WA
O-queso, we've gotta tell you about the vegan cheese dips from this Queer female-owned brand! Heidi Lovig founded Heidi Ho! after graduating from culinary school and becoming a vegan chef. With a passion for veggie and flavor-filled foods, she's been able to create insanely satisfying cheese dips in the varieties of Queso, Smoky Bourbon, and Beer Cheeze as well as crafting satiating soups. You can find these products in select Whole Foods locations across Oregon and Washington.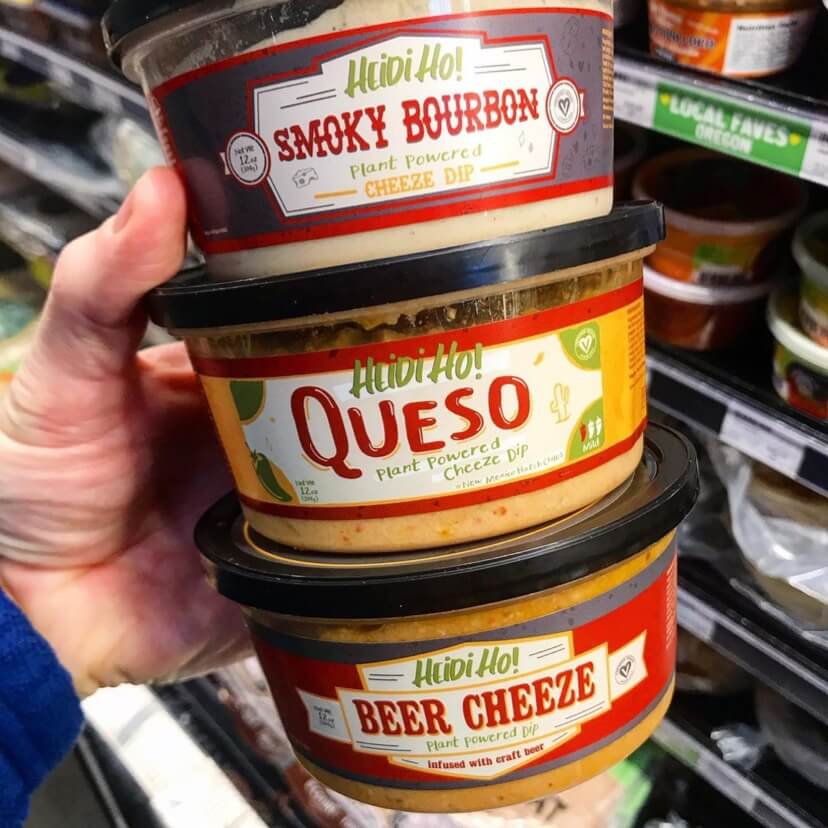 Photo credit: @ask4vegan on Instagram
Nationwide Shipping
Is anyone sketched out by the ingredients in traditional hot dogs? With Yeah Dawg, there's no need to worry about what's in your links. Their vegan, gluten-free, and soy-free sausages have that same nostalgic taste from baseball games and cookouts but this time, the ingredients include nutritious items like fresh beets, sweet potatoes, potatoes, carrots, and sunflower seeds. Whether you choose the classic Yeah Dawg or Chxn & Shrooms Bratwurst, you're bound to have one doggone tasty meal!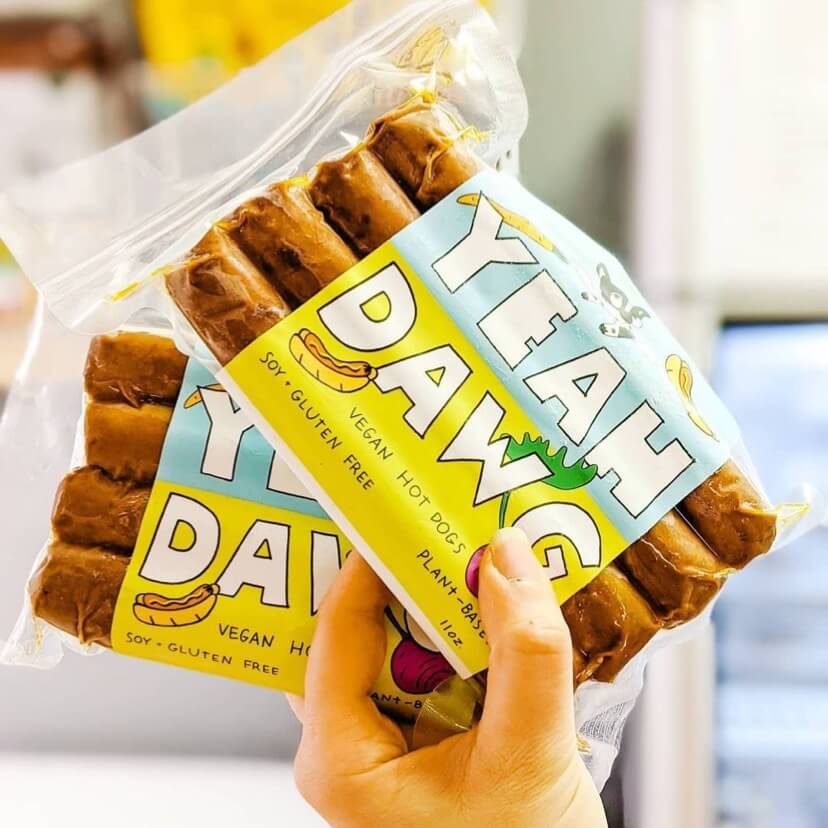 Nationwide Shipping
We love a good graphic tee just as much as the next person, but it can be hard to find vegan styles that fall in line with the hottest and newest streetwear trends. If you feel the same way, you'll absolutely fall in love with the sustainably made garments from BEETxBEET. Matching sweatsuits, tie-dye crop tops, and pins are just a few of the sick items you can purchase from this female LGBTQ-owned brand.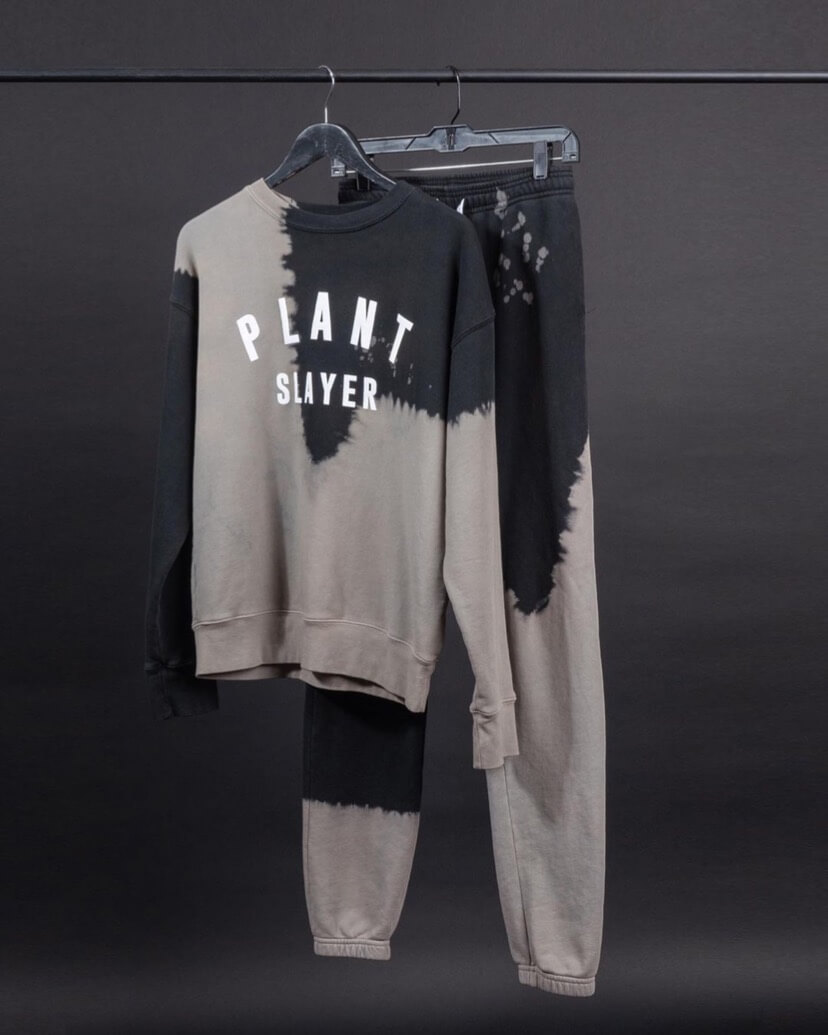 Portland, OR
Mapo Tofu, Congee, Vegan Crab Rangoon, Chili Oil Wontons—are you hungry yet? Well, good thing there's a restaurant that serves all of the dishes we just listed (and more). Ichiza Kitchen is a vegan dim sum restaurant with a stellar menu and an even more stellar slogan, "Fake meat saves lives!" Yes, yes it does. Add this LGBTQ-owned vegan business to your must-try list.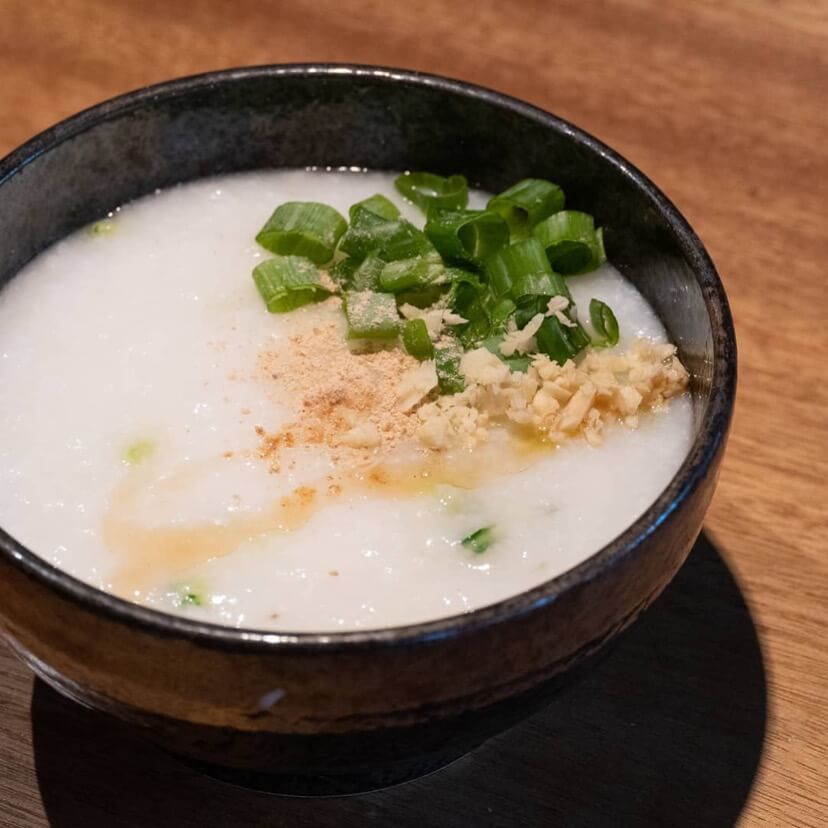 Brooklyn, NY
ICYMI: The popular vegan bakery, Pisces Rising, and the plant-based deli brand, Seitan's Helper, teamed up to open an all-vegan cafe in Brooklyn! Do you know what that means? You can get a plant-based ham sandwich, pepperoni by the pound, and mac 'n' cheese as well as scones, croissants, and cake slices all in one place. In addition to being LGBTQ-owned, this establishment is operated by the workers, which means the owners are the ones preparing your food behind the counter.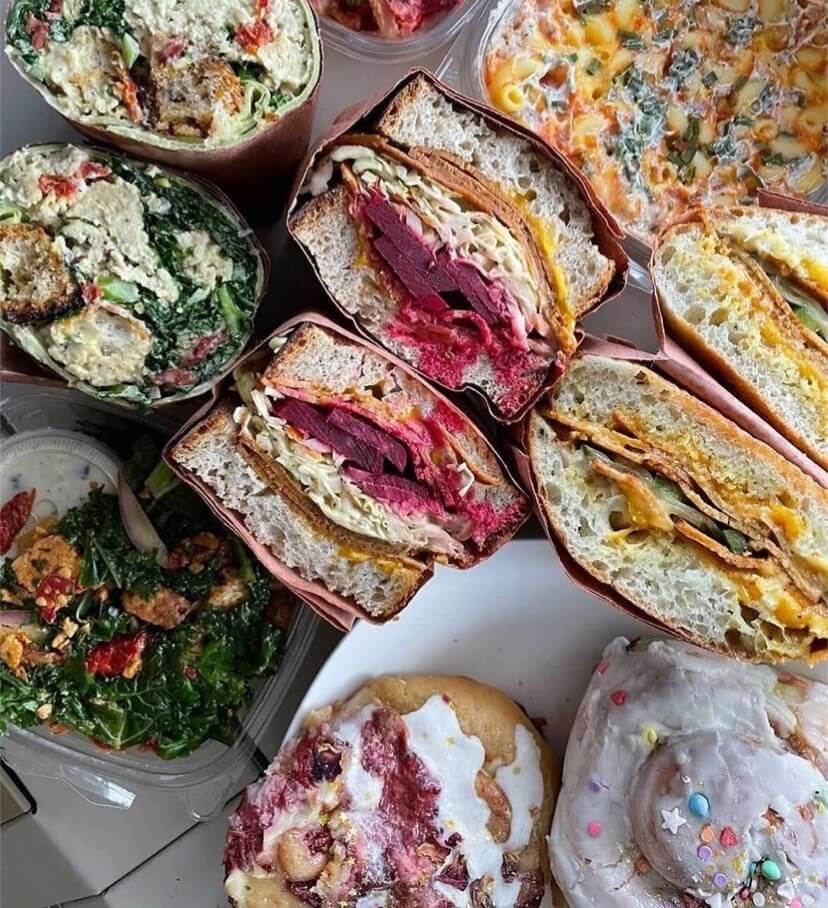 Frederick, MD
Are you craving some classic diner food? This spot has all you need! For savory noms, we'd suggest ordering the Tofu Fried Egg Sandwich or Huevos Rancheros. For something on the sweeter side, we'd recommend trying the Cookie Dough Griddle Cakes or Layered Maple Parfait.
Oakland, CA
If you've ever wondered what happens when vegan buffalo fried chicken is sandwiched in between perfectly browned waffles, visit Gay4U Vegan Eats to sample the innovation firsthand. If you haven't wondered, you should still head to Gay4U Vegan Eats because their whole menu is fire! Trans POC always eat free!